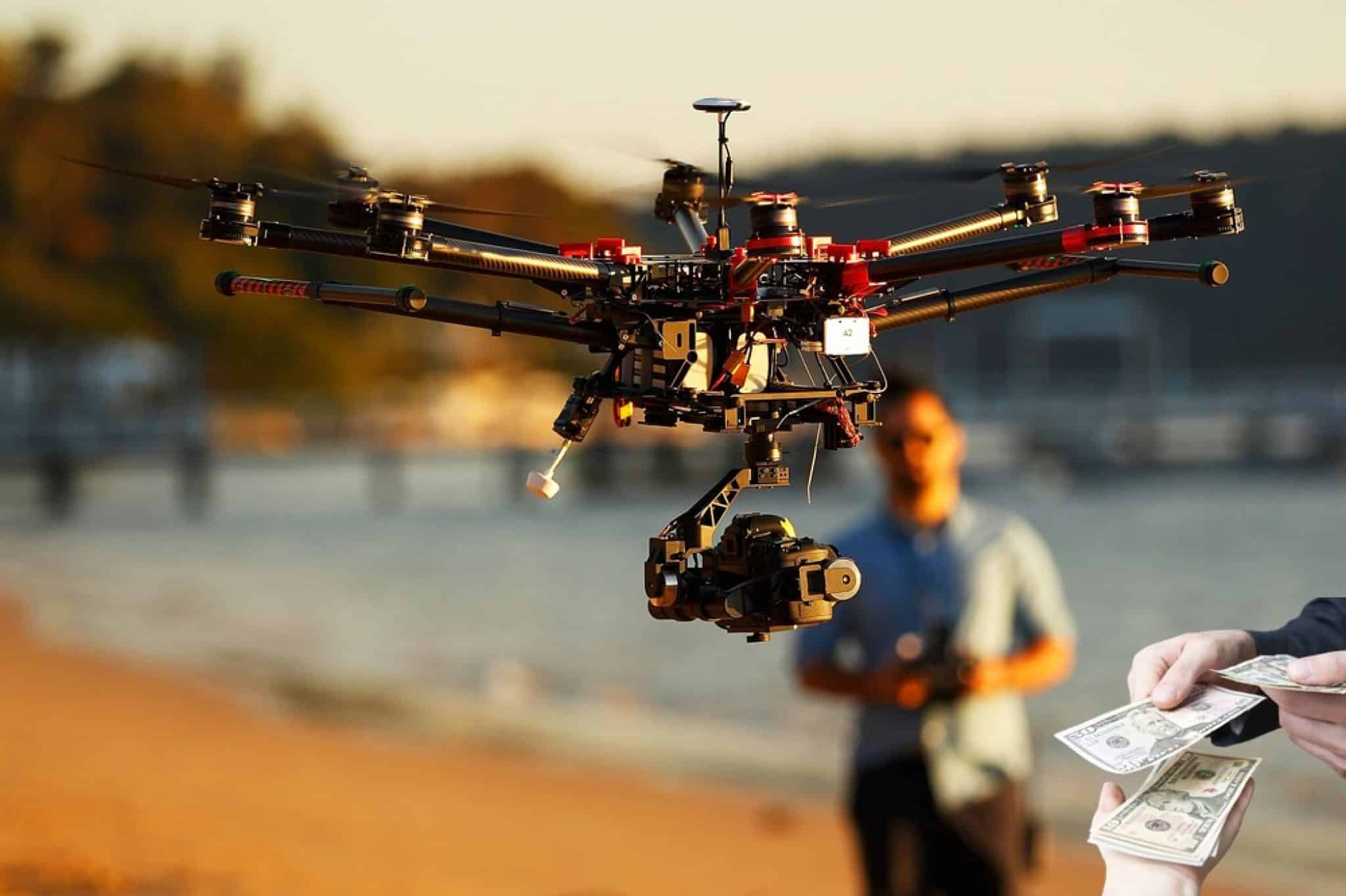 You may be wondering, "I'm buying my first drone. How much is a drone worth?" For beginner, I would recommend those cost performance Drones to start!
Best Drone for the Money

Comparison
---
Top Drones for the Money Reviews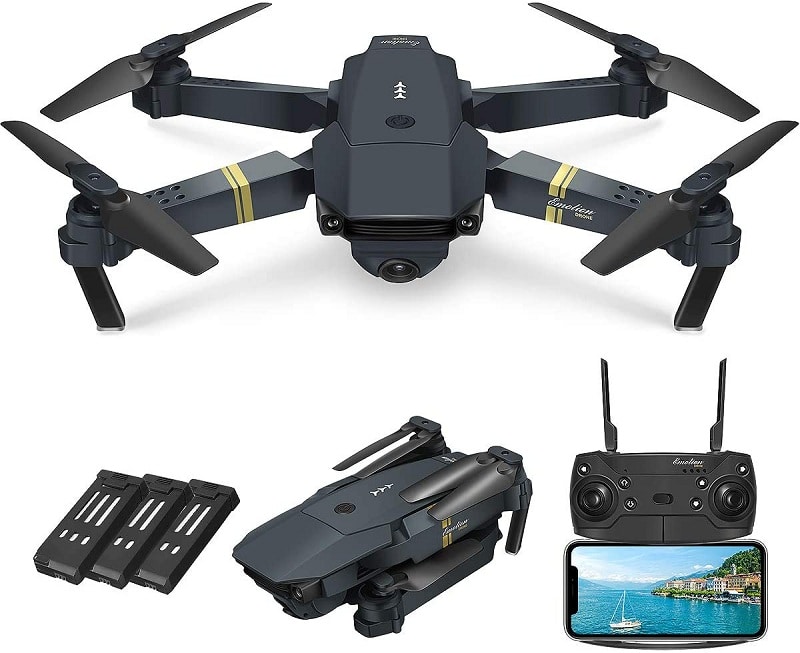 Check Pricing and Availability
The Eachine E58 Quadcopter is one of the best cheap drones that you will find on the market. Not only is this unmanned aerial vehicle good for beginners but as well as for professionals. The drone is equipped with a 120 degrees wide-angle 720p HD camera which shoots high-quality videos and pictures. In addition, it has the Wi-Fi real-time transmission FPV system that allows you to connect the drone to your phone and see the horizon above as you capture photos and record videos.
Features
2MP camera
Shoots video in 120 degrees wide angle 720p HD
Charge time of 60 to 70 minutes
R/C distance of 80 to 100m
30m First-person view range
7 to 9 minutes of flying time
Wi-Fi real-time transmission FPV system
APP controls with 3D VR function, sensor function, and trajectory flight
3D flip and one key takeoff/landing
The 2MP camera drone can be carried around with much ease as it is made of clever folding design and it is lightweight. If the arm or motor breaks down accidentally, you don't need to worry as they are both replaceable. The drone is also very easy to fly with the one key takeoff/landing, one key return, and altitude hold mode functions. You can easily fly it off the ground and land it safely.
Take clear photos and shoot quality videos with the altitude hold mode. All you need to do is to accurately lock the height and location, then shoot from any angle. The procedure is very easy that even a beginner can control this drone. Simply download the App and start having fun with this affordable Wi-Fi FPV Quadcopter drone. It can fly up to 100 meters and has a maximum flying time of 9 minutes.
PROS:
It is very easy to fly straight out of the box
It has easy to use with responsive controls
Assembling this drone is very easy and fast
It can be carried around and has a replaceable drone arm
It is suitable for all kinds of pilots
It is very affordable with outstanding features
It captures high definition videos and photos
CONS:
It doesn't fly too high
It performs poor in windy conditions
The drone is slightly slower than most drones on this list
It flies for less than 9 minutes in the air
---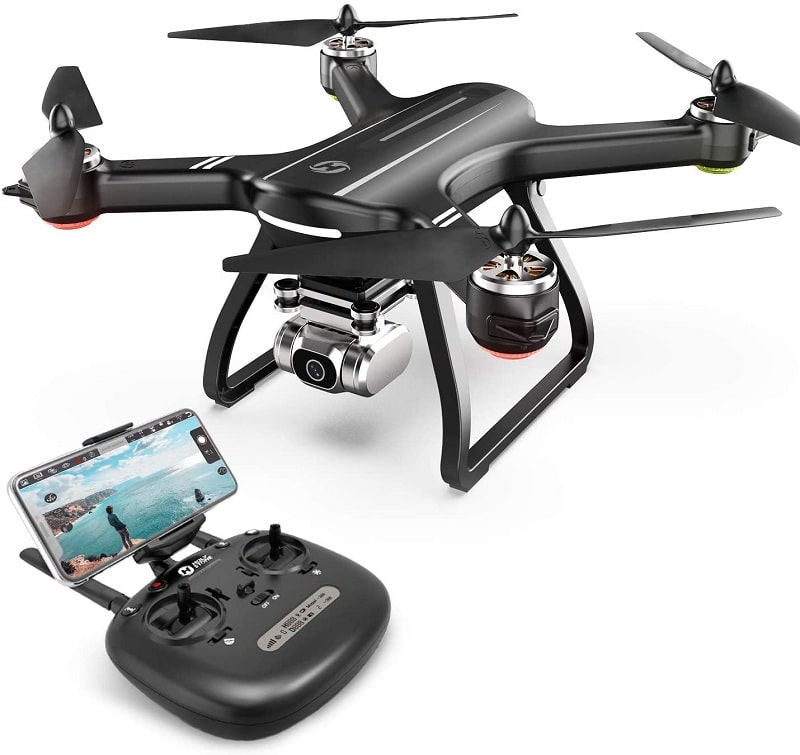 Check Pricing and Availability
The Holy Stone HS700 FPV drone is an exceptional drone for beginners. This device is very easy to use with simple controls. It is also sold at an amazing price but it offers great features. The HS700 drone features a 1080p HD camera that captures high-quality videos and photos. The 5G 1300 ft transmission ensures that you shoot videos in real-time and it is great for selfies.
Features
5G 1080p FHD Camera
20 minutes of maximum flight time
Low-power alert
Quiet brushless motor
110 degrees field of view lens
GPS assisted flight
Wi-Fi enabled
Simple control
Quick release propellers
Compatible with both iOS and Android
Featuring the brushless motor, you will be surprised at how powerful this drone is but you won't hear it make funny noises. It is also easy to control as it has a quick launch by just pressing one key and the altitude lock allows the pilot to take clear photos while the drone is running in the sky. The 2800 mAh batteries will last for 20 minutes in the air, which is a great time when compared to other drones on the market. However, the batteries take longer to charge as you will have to recharge them for at least 5 hours or more.
The HS700 drone is very easy to set up as no screws are needed to fix the propellers. One of its unique features is the GPS location. This is a vital function that allows the drone to follow you with the camera pointing to you, making shooting photos to be easy and fun.
PROS:
It is sturdily built to last long
It has an excellent flying time of 20 minutes
It is very easy to set up straight out of the box
The 5G Wi-Fi connection to the phone app is amazing
The camera can be interchanged with GoPro cameras
The GPS functions allow you to shoot with ease as the drone can find you
It is very quiet in operation but still very powerful
CONS:
It takes 5 hours to fully recharge which is a long time
The instructions are vague making it quite challenging to use
---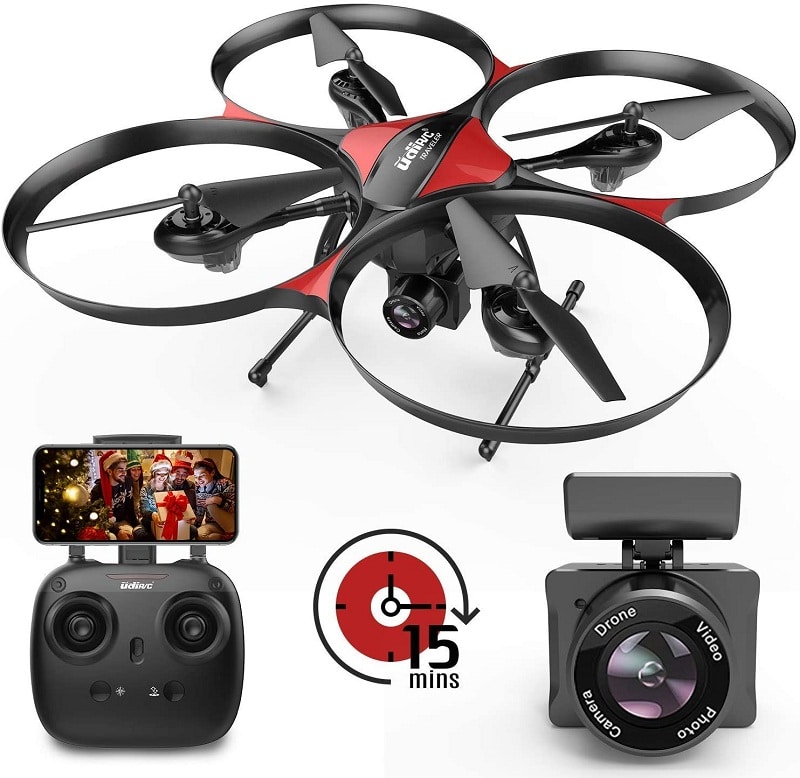 Check Pricing and Availability
If you love to travel a lot or record sports events, then you will fall in love with this drone. The Drocon drone is one of the best remote control cars under $200 but it has some exceptional features that will give you a great flying experience. The device can be flown by small kids, beginners or even professionals.
Features
120 degrees wide-angle 720p HD camera
150M flying height
3DVR mode
3-speed modes
WIFI FPV function
LED lights
One-key takeoff/landing
Altitude hold mode
15 minute flying time
Optical anti-shake
Out of range alarm
The Drocon traveler WIFI FPV drone comes with a 120 degrees wide-angle 720p HD camera that captures a lovely panoramic view and clear photos. All you need to do to see what your camera is seeing with a live video is to connect it with the flyingsee app on your mobile phone. Besides, you can access functions like gravity control, custom flight route, and 3D VR mode for more fun.
The drone is very easy to set up and control, making it suitable for parties and fun. Powered by a 1, 000 mAh 7.4v lipo battery, expect this drone to run for 15 minutes in the air before having to be recharged. It can also reach up to 150 meters in height, which is great for its price. With the altitude hold mode, the pilot can fly the unmanned aerial vehicle at a certain altitude for perfect images and videos.
It is easy to take off or land the drone as it has 3-speed settings that allow the pilot to start on a lower speed and increase as they go higher. In addition, the controller alarm alerts you when the battery is low for safe landing of the drone.
If you're looking for a cheap drone with a camera, then the Drocon WIFI FPV should be on top of your list.
PROS:
It flies for 15 minutes
It is very easy to assemble out of the box
It is easy to use with straightforward controls
It flies very well and up to 150 meters
It is easy to handle and do tricks even by small kids
It shoots stunning photos and videos
It is lightweight and easy to carry
1-year of assurance and lifetime technical support
CONS:
It is not ideal in strong winds
The controller is somehow large which may be quite challenging for kids
---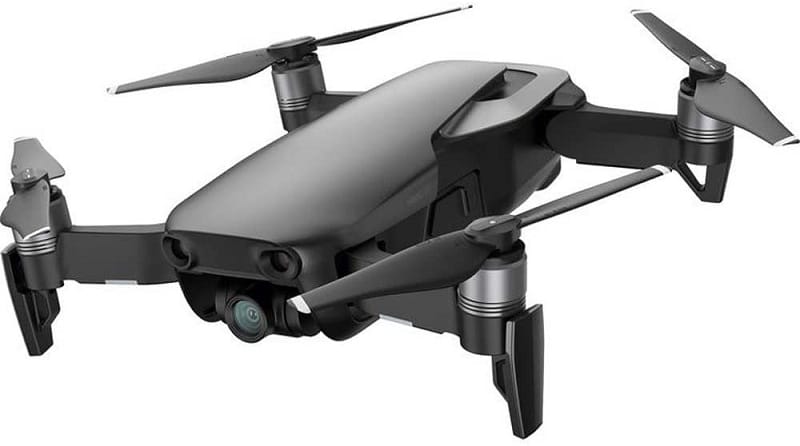 Check Pricing and Availability
The DJ Mavic Air Quadcopter is a great drone for professionals with exceptional features. It is lightweight and compact, which makes it be ideal for traveling with. Furthermore, it has a foldable remote controller with a low-profile and ergonomic design for convenience during use.
So, if you're looking for a high-quality drone under $1, 000, this is a good drone to acquire.
Features
Supports 4k video at 30 fps
User-friendly remote controller
DJI GO editor
21 minutes of flight time per charge
0 MP sphere panoramas
12MP with Adobe DNG RAW support
Foldable design
8 GB internal storage
Foldable remote controller
QuickShots
Featuring the 3-axis gimbal camera, the Mavic Air shoots videos at an outstanding 4k 30 fps for incredible videos and photos. Also, you don't have to worry about flying time as the drone comes with the Mavic Air Intelligent Flight batteries that offer a great run time of 21 minutes. When in the air, you can easily control the drone from up to 6562' away with the dedicated remote controller. Alternatively, you can control the drone using your smartphone instead of the controller.
With the ability to record 1080p 120 fps slow-motion videos, this drone can capture all your breathtaking scenes and store them on the 8GB card. Travel with the Mavic Air to all your adventures and view scenes that you've never seen before.
Other important features are ActiveTrack, Geometric elegance, QuickShots, SmartCapture, and FOC ESCs and Propulsion. The Mavic Air is definitely a great drone for the money and can be the best gift for dads.
PROS:
It is durably constructed
It is compact and foldable
It has an excellent fly time of 21 minutes
The SmartCapture function makes it be easy and fun to use
It is easy to use with the foldable remote controller
It has a huge storage area of 8GB
It is lightweight and portable for easy carry
It shoots at an outstanding 4k 30 fps for quality videos and photos
CONS:
Many users have complained of poor customer service
The remote and the drone stop communicating when it goes up very high or when it heats up
---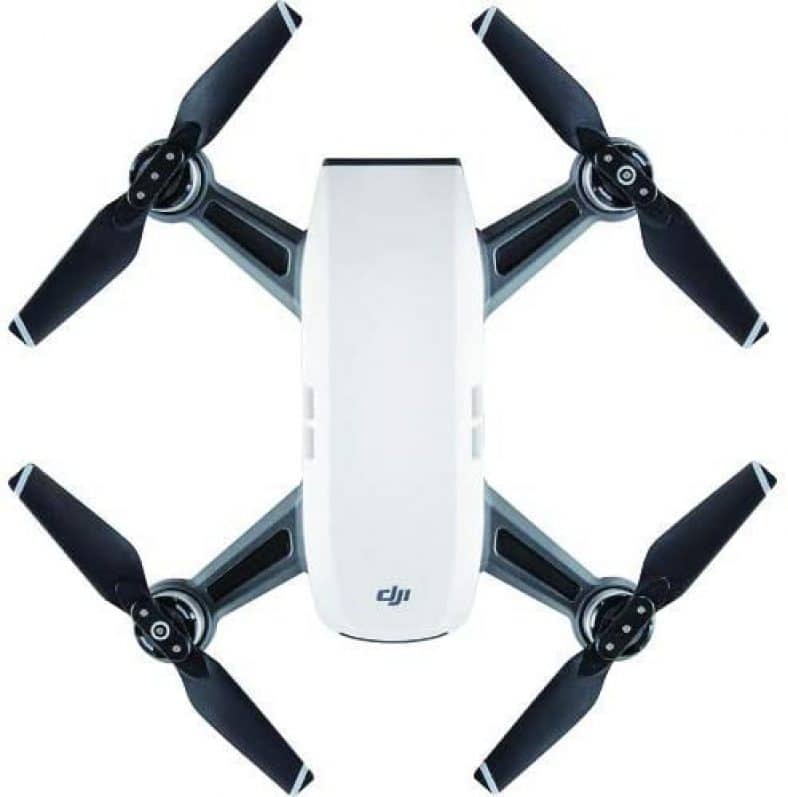 Check Pricing and Availability
DJI has created a name for itself as it offers some of the best drones on the market. The DJI Spark portable mini-drone is an exceptional mid-range drone that both beginners and professionals will love. The gadget features intelligent flight control options, a camera with outstanding image quality, and a mechanical gimbal that will inspire your flying experience.
Features
HD Wi-Fi technology
1080p and 12 MP
16 minutes of flying time
Lightweight and slick design
f/2.6 wide-angle powerful lens
1/2.3" CMOS sensor
Spark's 2-axis mechanical gimbal stabilization
ActiveTrack
The DJI Spark mini-drone is very easy to use as it takes off and lands with a simple hand motion. Take photos or even videos with a hand gesture. Nevertheless, you also have the option of using the remote controller or a mobile device to control the drone. If you want to share the photos instantly, simply edit and share them by turning on the HD Wi-Fi and connect it with your phone.
This is an excellent device as it stays in the air for more than 16 minutes. Moreover, it propels through the air easily even when there is a strong wind. This is all thanks to the aerodynamic, lightweight, and slick design. Also, the powerful propulsion gives the drone a steady flight in strong winds so you don't have to worry about the weather when flying this 12 MP drone.
With the mechanical gimbal stabilization, powerful lens, ActiveTrack, and gesture control, you will be able to shoot high-definition videos and photos with much ease. DJI Spark is one of the best mini-drones that you will find on the market.
PROS:
It is very easy to use with simple hand gestures
You can edit and share there and then
It takes off and lands easily and quickly
Active Track lets you stay on target
It is easy to take selfies with a simple hand motion
It shoots high-quality videos and photos with the 1080p
It stays in the air for 16 minutes
Its strong propulsion makes it be stable in strong winds
The HD WIFI allows shooting of real-time videos from up to 2km away
CONS:
Poor customer support
It is quite difficult to set up
The instructions are not very clear
---
FAQ on the Best Drones for the Money
How high can a drone fly?
The altitude a drone can fly heavily depends on the type of drone you acquire. For instance, the DJI Matrice can fly up to 8, 000 feet while the DJI Inspire 1 can fly up to around 14, 000 feet. However, even though drones are capable of flying thousands of feet above the ground, the FAA has restrictions that allow pilots to only fly up to 400 feet.
How is a drone controlled?
A drone can be controlled through remote control or via a mobile application. Remote control usually has a few buttons to operate the drone and in some cases an LCD screen showing information like range, altitude, battery status, and much more. With the new invention, a drone can be controlled using a tracking device instead of a remote or app.