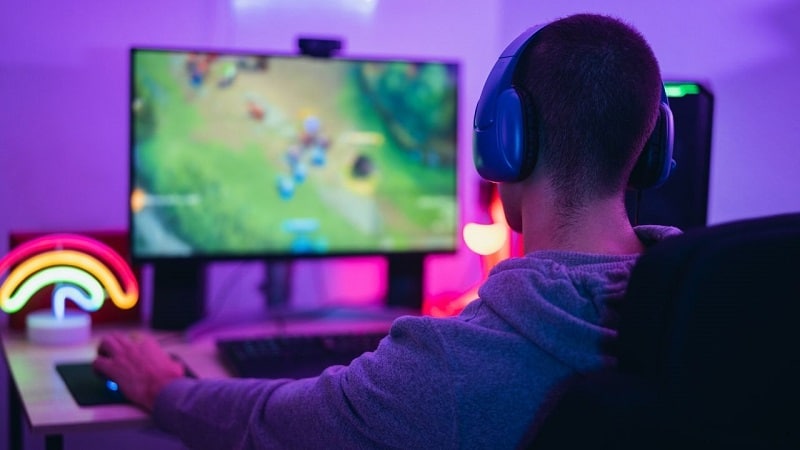 When you start searching for gaming intro makers for YouTube, thousands of reliable results will jump in front of you. However, you should not go for all of them because only a few of them will suit the requirements of YouTube gamers.
There are only a few that will genuinely help you in converting more viewers into subscribers. If you have this keen interest in coming up with your very own YouTube channel, make sure you have a dashing gaming intro which is only possible by going for a good quality games video editor.
Your gaming intro should have the potential of hooking the viewers and have them keep watching your video till the end.
Read on to know the right way of taking your gaming videos on YouTube to a completely new level with these intro makers:
---
1. InVideo
Of course, InVideo helps you in making videos in just 5 minutes, but it is also one of the most excellent gaming intro makers. This video editor boasts thousands of videos, stickers, text boxes, and images to choose from in order to make some excellent videos. You can say that Invideo is the best Games Video Editor right now in the market at a nice price range.
The app's gaming intro maker allows users to edit and make the most powerful and edgiest intros for their gaming videos on YouTube and various other channels. The users get to choose from a large number of stock images from the library for making videos that can easily be related to the latest trends in the field of gaming.
Videos can also be made to relate to the latest gaming reviews and various other types of marketing content. With InVideo at your disposal, you can make gaming video intros with a bang.
The gaming intro maker available with this tool allows users to customize the intros to all their social media gaming content without going through any hassle. Users also have the flexibility of including professional branding, customized soundtrack, images, captions, and various other elements to introduce videos in a very slick manner.
There are no editing skills required for making gaming intros with InVideo. The things you actually require are the passion for gaming and the creativity to make the best intros.
---
2. FlexClip
FlexClip is one of the most favorite gaming intro makers among gaming enthusiasts and video makers for YouTube. This app is the one and the only thing you require for making a top-quality gaming intro.
It features powerful and rich functionalities that can help users in customizing their YouTube gaming intros by using vibrant logos, backgrounds, texts, special effects, and music. Everything is online and absolutely free of cost.
The FlexClip intro maker can be used very easily, and almost any individual, whether a beginner or an expert, can create stunning gaming intros within just a few minutes with the use of this tool.
What users really love about this intro maker is its ease of use and the fact that it is available without any cost. There are no watermarks, while stunning special effects are surely going to mesmerize the users.
Users get to edit their videos in minutes with features like loads of readymade video templates, several royalty-free media resources, and HD resolution support. The app comes with an easy and modern interface, while its web interface allows access from almost any device.
FlexClip is a very powerful gaming intro maker that not only satisfies the requirements of its users but also allows them to work on their gaming intros straight from their internet browsers.
The signup procedure for this tool is quite simple. Users can easily sign in with Google, Facebook or create their account with a mailing address and password. This will take the users straight to the dashboard, where they can start with the job of creating their very first gaming intro.
---
3. Panzoid
This is yet another superb quality gaming intro maker for creating YouTube gaming intros online. The tool offers a plethora of intro video templates in different assortments like music, animation, and gaming.
Panzoid helps users in editing their video backgrounds, adding music, adding effects, and in generating quick clips for fulfilling their amazing gaming intros. One of the most attractive points about this tool is that it comes free of cost and works fine provided you have a good internet connection.
Since Panzoid is available for free and works fine online, beginners can switch to the editor easily from almost anywhere and anytime simply by using their mobile devices. This is free to use tool that gives users the flexibility of completing their editing and intro-making activities with highly advanced 3D animations.
---
4. Introcave
This gaming intro maker will help you in creating different intro videos within a matter of few seconds. The tool offers some of the most stunning and wonderful intro templates. All the templates available with this software are exclusive, and they even come with some of the coolest special effects.
The templates also feature sound within and can easily be customized. It is the best intro maker available online that comes with an easy-to-use interface along with amazing special effects.
Coming up with a gaming intro from scratch requires good time, knowledge, and skills, along with a highly advanced animation tool. However, you can forget about all this if you have Introcave right at your disposal.
You can use this online intro maker for making customized logos, animations, intros, and outros. Fully customized gaming intros can effectively be used for branding YouTube channels along with Facebook, gaming channels, Instagram, and Twitter.
---
5. Renderforest
This is yet another popular gaming intro maker that comes with a wide assortment of customization options and video templates. It helps you in creating your very own YouTube gaming intros completely free of cost by using its highly advanced features.
This richly featured gaming intro maker comes without a watermark and is not just fast and easy but highly affordable at the same time. It offers users a wide choice of different video templates and facilitates the process of creating gaming intros.
---
Conclusion
That's all for the 5 best gaming intro makers. From the list above, you can definitely find one that suits your requirements. Go with it and enjoy your games on YouTube.