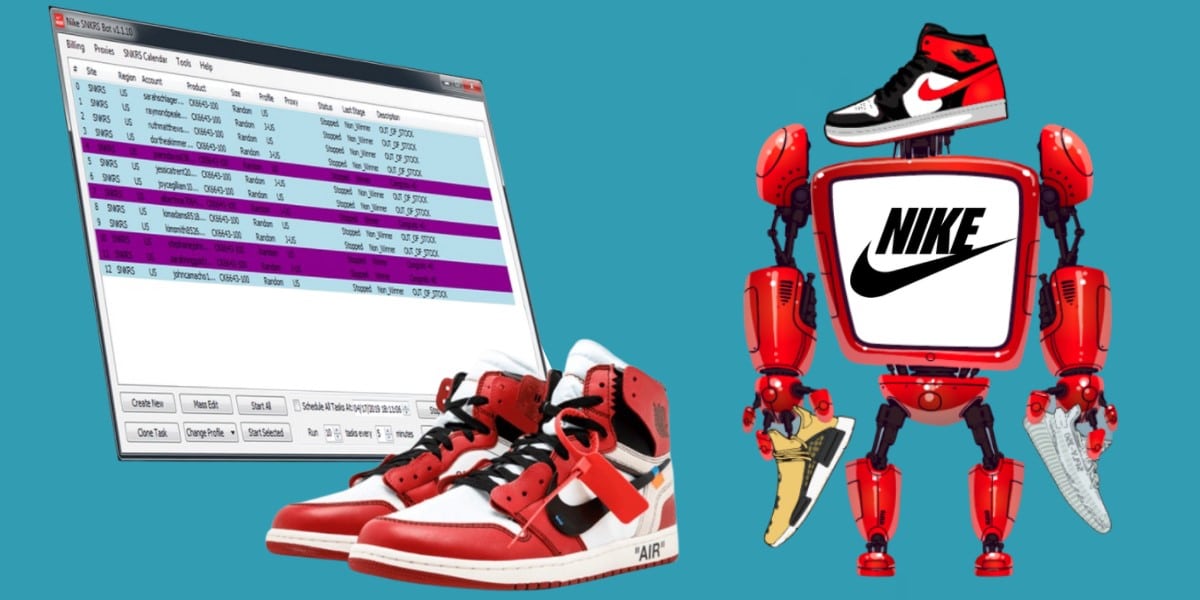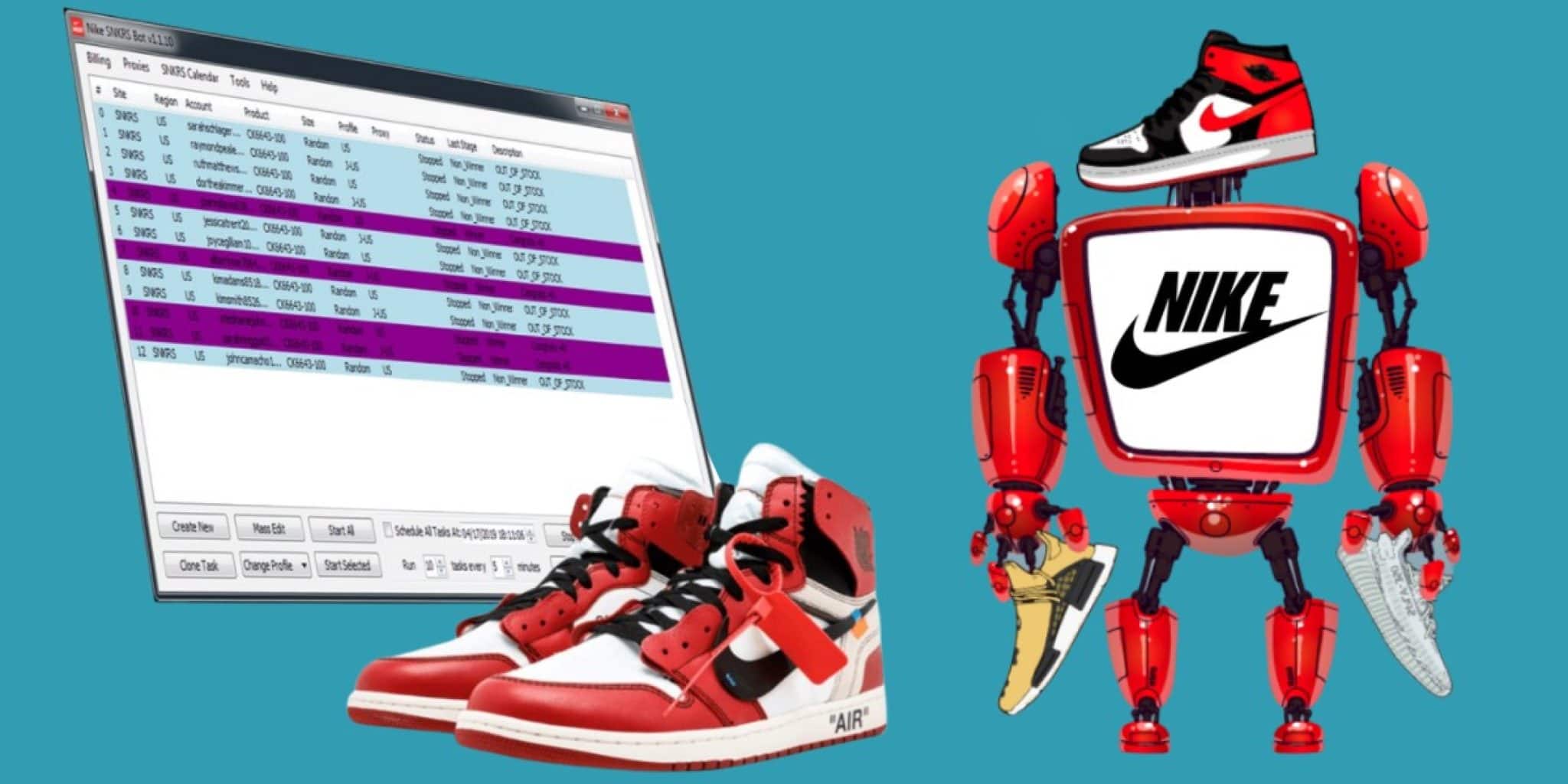 Do you want to buy the latest Nike sneakers with no hassle? You can use a sneaker bot to purchase enough sneakers that you can even resell and gain profit. The bots are useful for both Nike fans and shop vendors.
Nike is striving to find ways to prevent people from using sneaker bots to make many purchases. The primary objective is to regain consumer confidence and ensure everyone has an equal chance of getting the shoes.
Additionally, Nike has been working on an anti-bot technology to make it better like before. The disadvantage of the use of sneaker bots is that it feeds the secondary market with limited releases by reselling. The automated sneaker bots make purchases faster than humans.
The first way Nike did to modify this, is by experimenting with augmented reality bots to sell limited editions shoes through the SNKRS app in iOS. This tech has come close to eliminating the bots.
8 Best Nike Bots of 2021
To create an account in the Nike Shoe Bot – first,fill in your shipping and billing details. The second step is to choose the shoes you prefer. Remember, to follow all the provided release instructions and when a release drops, click on start. Check your email for order confirmation and instructions on how to download, install, test, and use the bot on Nike release day. The support staff is also amazing to ensure all your issues are sorted.
Additionally, NSB is easy to install and cop Nike shoes at the retail price. When you acquire this bot, you can cop online releases from Nike, Adidas, Shopify, Supreme, Footlocker, Footaction, Eastbay, and much more.
It has a multiple captcha feature for maximum security on the site. The smart login allows you to counter sites that require login. Hence, you won't have trouble on the Nike website when trying to get many sneakers.  It has a great task management system that is great for massive editing. The high-end technology ensures a fast checkout. It works on both Mac and Windows. Ultimately, it brings you the best coping experience.
---
This is another bot that can help you to get limited sneakers shoes once they are released. The AIO Bot is 1000 x faster than humans. This allows you to get a wide variety of Nike shoes that you can sell for profit. It has helped many people to cop over 300,000 + items at retail.
To create an account, you simply need to add your billing and shipping information. The AIO Bot allows you to create unlimited profiles to skip the 1 customer limit on sites. The next step is to select the sneaker sites that you want to cop from. It supports over 200 + sites that include Adidas, Nike, Footsites, Yeezysupply, and much more.
When the sneakers drop, start your tasks to get the best shoes for reselling. The fact that it allows unlimited profiles, means you won't get any limitations while copping Nike shoes.
---
If you specifically want a bot for Nike, you can get the Nike SNKRS bot. It is ideal for getting enough sneakers that you can resell to get a profit. There is also the All in One bot and the supreme bot that has more features.
Moreover, it is an easy-to-use Nikeadd-to-cart bot that can help you to get limited releases. It supports 40 + of your favorite sites such as 1Yeexy, Nike, and supreme shoe varieties. The bot features a Twitter sniper to detect any Nike tweets and supports the countdown to help you add to the cart before the countdown ends. If you add like 10 Nike accounts they will all work at the same time – it allows many accounts to run at the same time.
---
This Shit bot is one of the best and has featured over a 96% success rate. Moreover, it supports over 50+ regions. Upto now, the shit bot has gotten 92 out of the 95 hyped Nike SNKRS releases. Hence, their success rate is on another high level.This proves that it is one ofthe best you can use to cop Nike sneaker shoes. They also have a great support team to help you in the coping process
You can use it to create unlimited tasks on different releases. It supports both SNKRS and FCFS Nike releases. It will help to edit your shipping address to cop multiple pairs and avoid any kind of order cancellation.  It has multi-threaded technology to ensure a smooth purchase experience.
---
This is another sneaker bot that you can use to get Nike, Yeezys, and AirJordans sneakers. It has outperformed many footsites.Up to now, thousands of pairs have been secured for many users. Not only does it support footsites, but it dominates.
You get to enjoy special tools that include a browser spoof, a proxy tester, anda profile converter. Thereby, you can use the various profiles to make purchases. You are guaranteed of getting the best features, support, and copping experience. The system automatically checks for updates and installs them. It can help you to become the best reseller.
---
This is an amazing bot that works with a wide number of websites to cover all your sneaker needs.This Nike bot is supported in most countries and regions. It includes a Nike + account creator, order checker, and much more. It is one of the best bots that can help you secure a limited edition of sneakers from Nike.
The advantage is that you get unlimited accounts, great support, a verified account checker, product monitor, email, and text notification. This is the perfect bot that you will need for coping Nike sneakers. Not only that but you also get proxy support, multi-threaded, and Twitter API support.
It is only supported on Windows and you can use it to create 5 accounts. Thereby, you can use it on the Nike website to buy a wide number of shoes even with the buying limit.
---
This amazing sneaker bot supports desktop and iOS. With this bot, you get unlimited request tasks, ticket bypass solutions, drop list task creation, restock mode, next-gen captcha solver, Windows and Mac compatibility,proxy support, and discord support.
It also has a user-friendly UI for ease of use of the software. Moreover, it is affordable, clean, and intuitive. It automates the process of making a choice, collects your account details, payment information, and details.
It can then use the information to send web requests on your behalf. It also comes with captcha solvers, proxies, multi-threading, and multi-tasking support. Interestingly, it also supports the restock mode – which monitors the product page and notifies you when they have been restocked.Moreover, it supports the anti-bot systems, hence the Nike anti-technology system won't deter this sneaker from working.
---
This is another sneaker bot that allows you to cop Nike sneaker shoes. It has an amazing auto-fill that works on many websites. It supports various platforms like Shopify, Stripe, Nike GS regions, Big Commerce, Supreme, and much more.
Data is stored locally,hence, you can use it on multiple machines. Moreover, it has an easy-to-use user interface and Mass Nike account password reset request/update.
The bot also provides proxy support to ensure that you can cover a wider range, import and export data.However,the request mode is not supported. It features continuous updates throughout the year.
Conclusion
Finding an ideal Nike bot is essential. It will help you to cop many sneaker shoes when they are released. These 8 sneaker bots are ideal and will help to bypass the anti-bot systems on the Nike platform.
You also need to be wary when using the bots and the restrictions on some sites to prevent you from being termed as doing illegal activities. Try to tame yourself to buying the right amount of sneakers through each account.