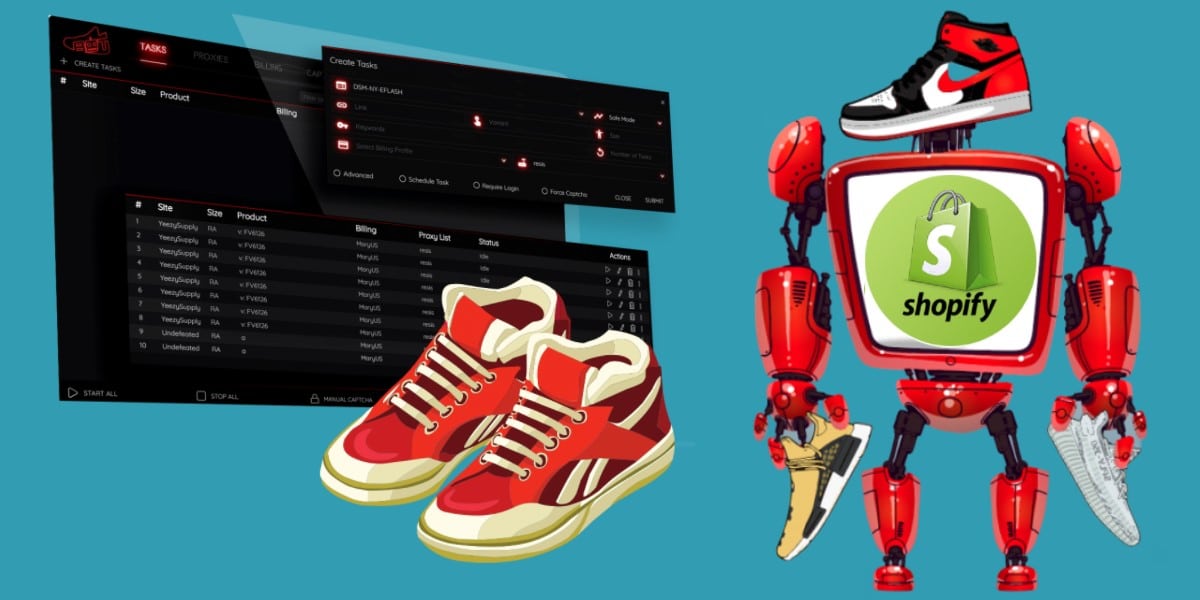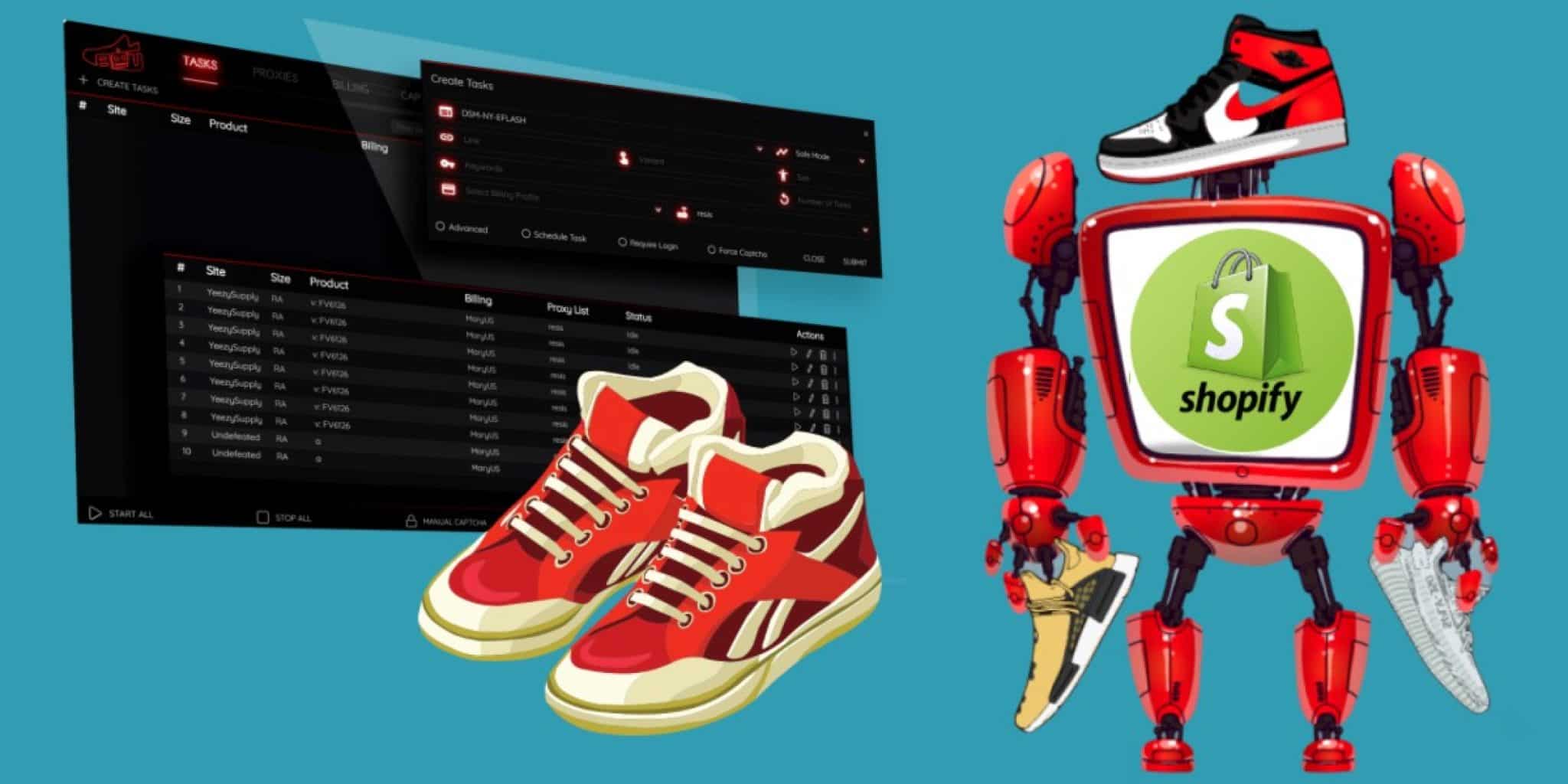 Shopify is preferred by manysneakers-brand stores. If you are a sneaker lover, you need to know the various Shopify stores that you can use to get sneakers. We recommend these top 10 Sneaker bots for Shopify.
Shopify has its product line, and many stores are using it to make its sales. Typically, it is a sneaker's paradise! If you are a new store owner, take it slow and make a great market research. Shopify stores are easy to navigate through. Hence, you need to find an ideal bot to use in copping sneakers. However, be cautious as some bots may not be useful in your case. Here are some top bots that you can use when copping shoes from Shopify stores.
Best Shopify Bot in 2023
Cybersole is an amazing sneaker bot that you can use on Shopify. It is fully multithreaded to provide a fast and reliable experience. It comes with a free mobile app to control your bot. Additionally, you can use it to run as many tasks as possible. The bot is powerful enough, and whenever you miss a drop, the bot will automatically wait for restocks.
Cybersole features a multi-tab and multi-window captcha solver. It can also be used on Supreme, finish line, foot locker and foot action, Mesh, and 270 + other stores.
To add tasks for Shopify using cybersole, simply click "add tasks" in the lower left-hand corner. Select Shopify under sites, choose the sneaker size, related keywords, amount of sneakers, start time, and proxy. You can decide to have a normal task or a custom task.
While creating a custom task, the website field should be filled with the custom Shopify store URL. Remember to also paste the product link URL. There are different modes that you can choose.
Fast is the fastest mode but can't bypass the antibot system.
The safe mode tries to mimic a human checkout. Hence it's slightly slower than the fast mode. However, it can bypass the antibots.
The safe preload is similar to the safe mode. However, it generates a checkout URL to bypass the queue.
In the manual mode, it generates a checkout URL, goes through the queue, and adds the product to the cart then send it out to the webhook.It will wait until you checkout manually.
Cybersole uses a queue bypass to completely avoid the queue for the users to checkout as soon as they add an item to their cart. Some of the errors one can get are error generating checkout URL, error submitting an order, out of stock, and payment error.
---
This is one of the best sneaker bots with a robust user interface. It can work on nearly all Mac and Windows machines. Choose the most convenient platform for you. It is easy to navigate through the menu; add profiles, tasks, proxies,size, and much more. It is more than a desktop application! The developers go a long way to ensure all the users are satisfied.
It is always evolving with powerful techniques to ensure you get the latest techniques. The bot allows you to analyze the success and declined sneakers. It is compatible with Shopify, Supreme, EU Footsites, US Footsites, Finish line, Adidas, and Yeezy Supply. The dashboard also features a calendar of all the upcoming releases, setup guides, and analytics.
---
This is one of the best Shopifysneaker bots with advanced checkout automation. It supports over 200 sites with the fastest speeds in the industry. The bot restocks normally announced on Twitter. Thereby, always be on the lookout. It supports Supreme, Shopify, Footsites, Mesh, Demandware, Adidas, and other individual sites. It features an analytics page, task dashboard,proxy, and account groups.  The account proxy grouping allows you to create separate groups to run multiple site types.
Users can select the proxy group they want to use and tasks to run with different proxies—the Waterfall-monitor feature monitors tasks with a specific keyword or URL. The bot features a mass edit feature to select multiple tasks according to the product's ID or website. You can also use it to edit the size, checkout delay, and much more.
---
It is one of the most successful bots that support many Shopify sites and Adidas. The balkobot is supported on Mac and Windows. Moreover, it has a proxy and server support with a useful discord server.
This bot stands out because of its success on Shopify restocks and Adidas splash releases. Moreover, it increases your chances of being let through the queue. However, balkobot is not an ideal pick for beginners. On balkobot, you can use either residential or data center proxies to make your purchases.
Balko rarely restocks, but you can get regular updates through Twitter. The other alternative is by renting out; however, be sure the middleman is trustworthy. Always remember to test out the bot early enough before the sales.
---
This is one of the best premier sneaker bots in the market. It has succeeded in dominating the drops which made it a bot of choice. It can be used on Supreme, Footsites, Adidas, and other Shopify sites.
It is also high speed to ensure you get the best sneakers once they are released. It comes with multithreaded support that gives it the ability to multi-task. You can create several tasks that can run at the same time. Remember to input different billing information for the various tasks in the same platform. This bot can be used on Mac, iOS, and Windows.
It is also easy to use whether you are a professional or beginner. The Nike shoe bot is secure, reliable, and performs perfectly. They do not save your sneaker site's account details on the server and save all the collected data well. It works with over 100 sites.  If you want to use it, NSB considers having proxies. You can use the residential or data center proxies to make sneaker purchases.
---
You can use this AIO bot to get the best sneaker releases on Shopify. Normally, releases sell out in minutes. However, this AIO bot is 1000x faster than any human. It also uses advanced tech to ensure you never pay for any resell. You can then sell the extra pairs for profit.
This AIO bot has helped many people to cop over 300,000 hyped items. It is one of the most popular sneaker bots. The AIO bot needs stop-notch sneaker proxies to help you in the copping game. Additionally, it has the best customer support, discord server, multiple task modes, and captcha harvester. The harvester generates captcha tokens. It also has one of the best marketing among all the other sneaker bots.
It is one of the most affordable all-in-one bots with a lot of success rates. You can cop limited items on Footsites, Adidas, ChampSports, and other Shopify sites.  The only drawback with this sneaker bot is that you always have to insert a password or username in your botting account. It only supports Windows OS. With the ANB discord server, you can find keywords for drops and early links.
---
This is another sneaker bot that you can use on Shopify sites. It just joined the sneaker bot game recently and has progressed over time.  It has great support, usability, and coping power. The developers are working hard to make it better. Additionally, it has a user-friendly interface to ensure you perform all the tasks without a hustle. The only drawback is on the pricing.
Splashforce bot performs an unlimited amount of tasks without any issues. The splash force bot can also monitor any kind of restocks after the initial. The customer service is also amazing to ensure all your issues are sorted out. From the homepage, you can view and manage all the created tasks. You can even enter the advanced task creator to optimize the setup.
---
It is one of the best sneaker bots that you can use on Shopify sites. It supports up to 200 websites. The 24/7 customer support will help you solve any issues that you may have. Amazingly, you also get access to the discord community and knowledge base.  This bot always allows you to remain in control, fine-tune your tasks, and include the respective delays to avoid checking in unintentional items.
Moreover, you get checkout notifications through mediums like the discord community, slack, and SMS. Remember to input unique billing information for the various user profiles to prevent the bot from being banned when getting sneakers.  The built-in monitor window allows you to track new products and restocks matching your search criteria.
You can also change the color theme of the bot to make it look amazing as you would wish. It supports Footsites, Supreme, Shopify, Yeezy supply ad much more. Something amazing is that you can use a dummy product to try and bypass the Shopify queue. Specifically for Shopify, when the tasks get past this Shopify queue, it sends a checkout URL to your discord.
When you open the link, you can manually finish the discord. It features an image picker; this is useful when you don't know the keywords for an item. Instead, you can wait for the drop and click on the image of the product you want.
---
This is a great Shopify bot that has one of the best checkout tools in the market. It is a Shopify-only bot. It supports Yeezy supply, Bodega, Travis Scott, and much more. This bot has been around for a while and has been progressing relatively well. It is mostly suitable for USA and UK users.
The user interface is easy to use, making it simple and user-friendly. Dashe is limited to Shopify only, hence reducing the number of platforms one can use it for.
---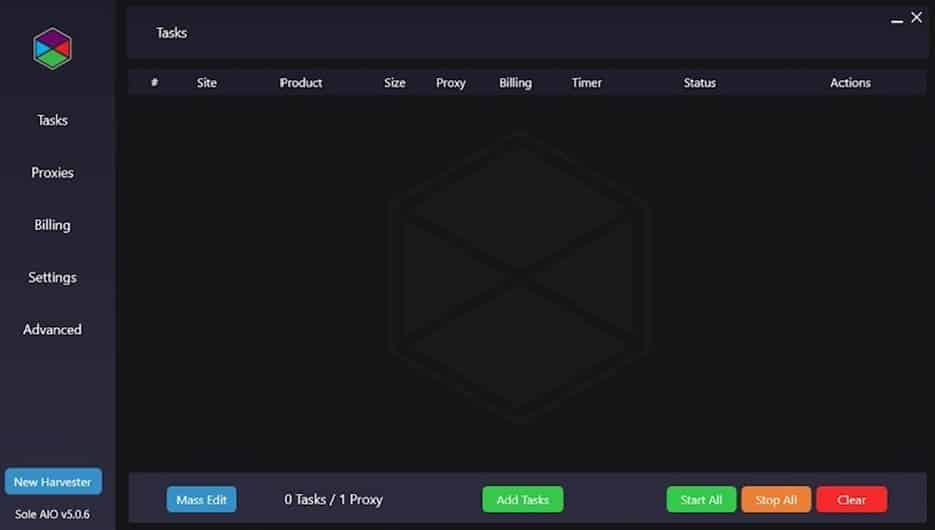 This is another bot that you can use on Shopify sites. It performs Shopify tasks fast! The queue bypass helps to bypass the login part when accessing a sneaker Shopify store. It also monitors pools to check your desired sneakers once they are released. It also supports Supreme, Footlocker, Hibbert sports, and the Finishline.While creating tasks, choose your preferred sneaker sizes, proxy, billing information, and check the status of the products.
Additionally, it has an easy-to-use user interface, easy checkout, supports many regions, and performs well with Shopify custom sites. Sole AIO is a great choice for amateurs and also professionals. The sole AIO developers make regular updates to fix any bugs that may have arisen.
The bot enter Shopify tasks massively into the queue. When a task gets through the queue it sends a link to your discord and allows you to manually checkout. There is also an extension for automatic checkout. It is also ideal for Adidas splash releases but not the best for the Supreme platform. One drawback is that it is hard to find a sole AIO bot for sale.
Conclusion
These Shopify bots are effective. Not only is it easy to create tasks, but it also make purchases in sneaker stores. Find the ideal one for your needs, then start using it. However, do thorough research to know whether it is the best for your business needs. Some may be pricey, while some may not be. All the best in copping the best sneaker releases!