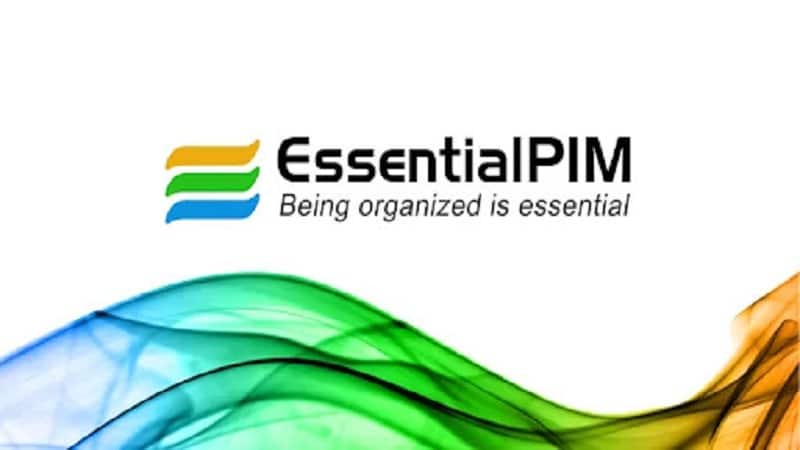 Every business is incubated with the dream of growing big one day. You might start with a single client today, but hard work is bound to add to your client base in days to come.
While prosperity is always welcomed by businessmen, increasing scale of operations can complicate things at work. What you could have managed single-handedly might seem like a work suitable for being delegated to a team of workers now.
All human beings have a personal life outside work comprising of relatives and friends. But growing work pressure might make it difficult to have any self-time left as people get busy organizing and planning their next day work schedule.
Having a secretary to maintain records of everything might be the first solution out of this problem. But human resource is prone to errors and there might be some days when your secretary might be on leave.
Keeping tab over all your appointments, looking after the progress of different teams and sending out timely newsletters to client without your secretary prompting what to do next might seem like a scary reality which none of us want to face.
In such a backdrop, don't you think, it would be wonderful if you could have a personal information manager to keep note of all your appointments, tasks, emails, passwords, notes and contacts in an error-free manner while costing negligible when compared to a human resource.
We bet it would and that is why we present to your EssentialPIM – your comprehensive information management solution. Today we are going to talk about the various ways in which it can help you manage both personal and official information under one roof.
---
Email Management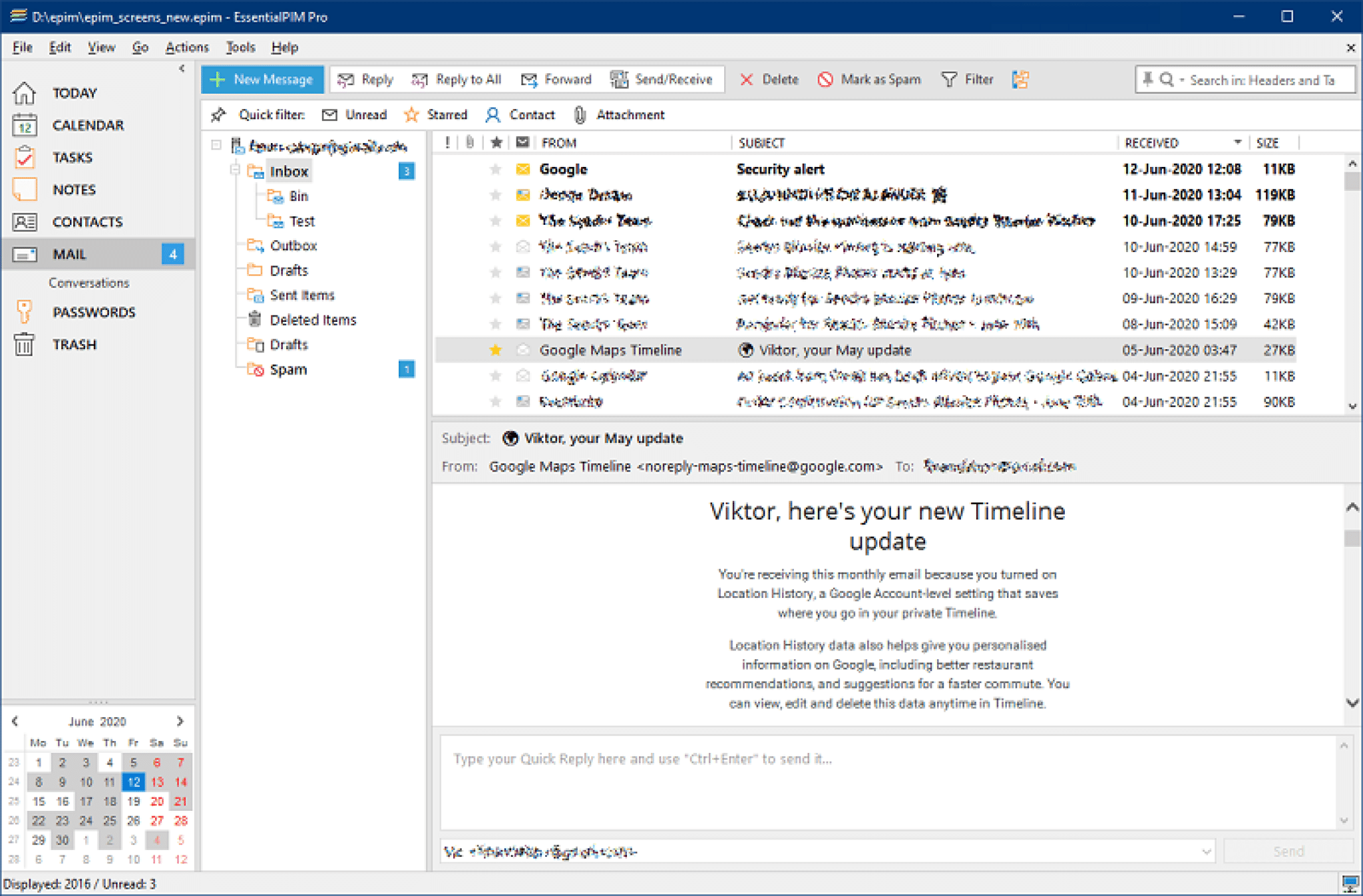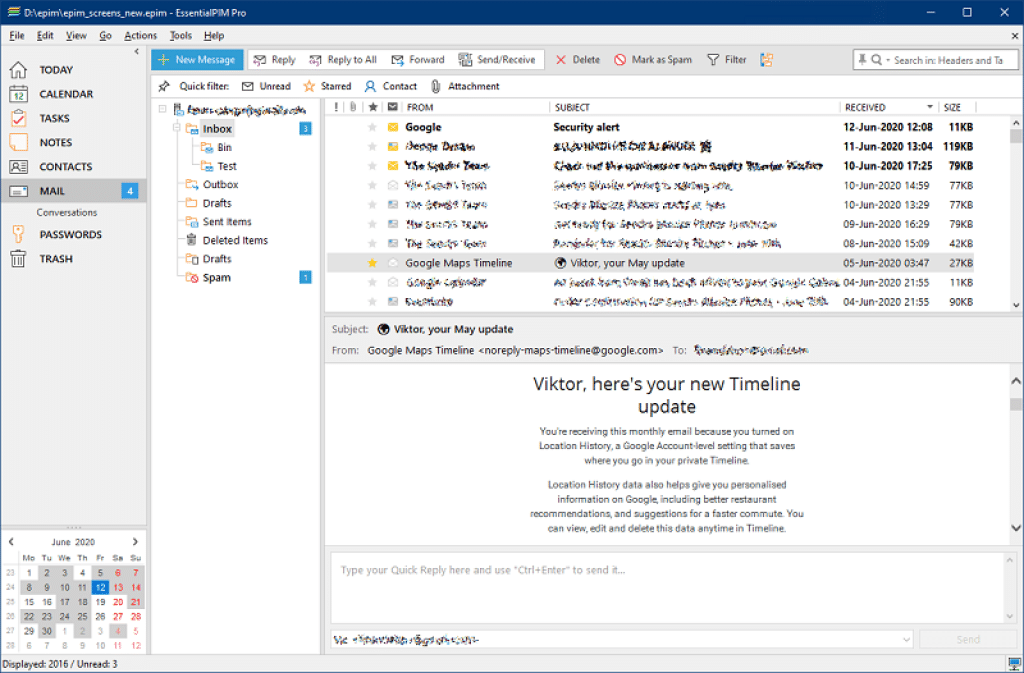 Exercise greater productivity while navigating through your EssentialPIM inbox which allows easy organization of all your contents. It is very obvious for big business houses to have multiple emails from different service providers. EssentialPIM aids in easy management of email accounts even while operating in offline mode. Here you can compose, view or reply to emails which got updated while your device was enjoying an active internet connection.
Users can even exercise complete customization over the color and layout of the email module for a more personalized experience. You can bank on this email client for windows to sort, find, filter and even print emails for future reference.
Privacy becomes a big cause of concern for users especially if they have collated multiple email accounts but full PGP encryption can guarantee you complete peace of mind. The advanced security features prevent unauthorized access of your emails with an encryption key.
---
Data Collation
Storing data in multiple devices can make it difficult to find the same when required. Installing multiple applications in the same device might seem like a viable option, but even in this case you will have to juggle different apps. EssentialPIM collates all your data under one roof to help with easy access of information.
This has specially come to the aid of employees who have been working remotely amidst the covid scare. As the whole world was forced to work from home, it became essential for accessing all work-related information at their fingertips and EssentialPIM helped dramatically with the same.
---
Data Organization
Employees can enjoy a clear view of their daily tasks, calendar and even notes under the Daily Agenda tab of EssentialPIM. Employees having a hectic work schedule can especially benefit from this feature as taking a single look can educate them about their daily proceedings so that they never miss out on deadlines.
The 'Tasks' tab offers a graphical overview of the ongoing work. Users can even group them into categories and take print-outs when required.
---
Data Synchronization
Storing data in physical devices increases chances of data loss due to system failure. EssentialPIM provides a ready-made solution to this problem courtesy its superb synchronization features with popular online cloud services like Dropbox, SyncML, ownCloud, CalDAV, CardDAV, Toodledo, Office 365, iCloud, Google (Contacts, Calendar, Drive and Tasks).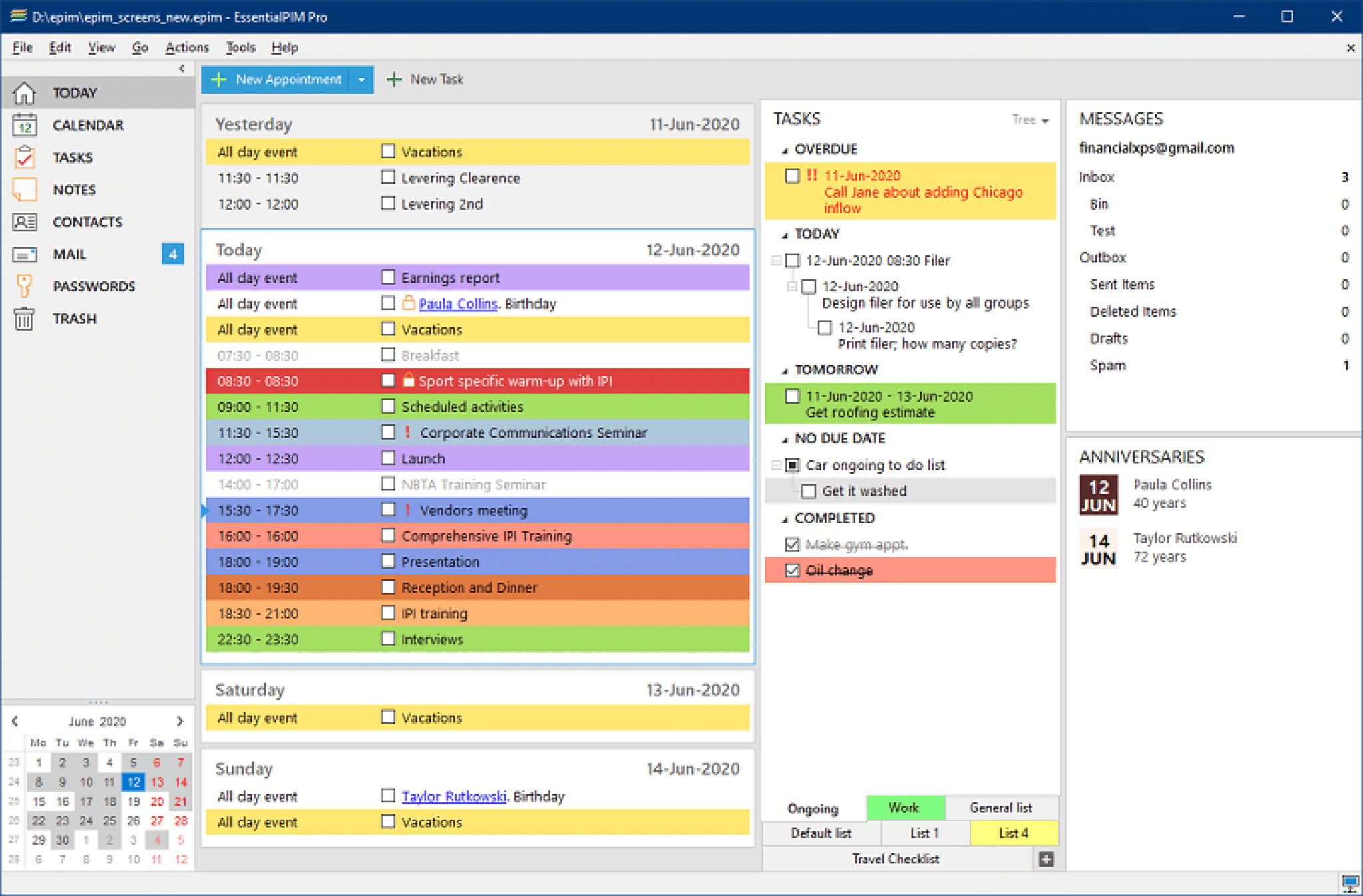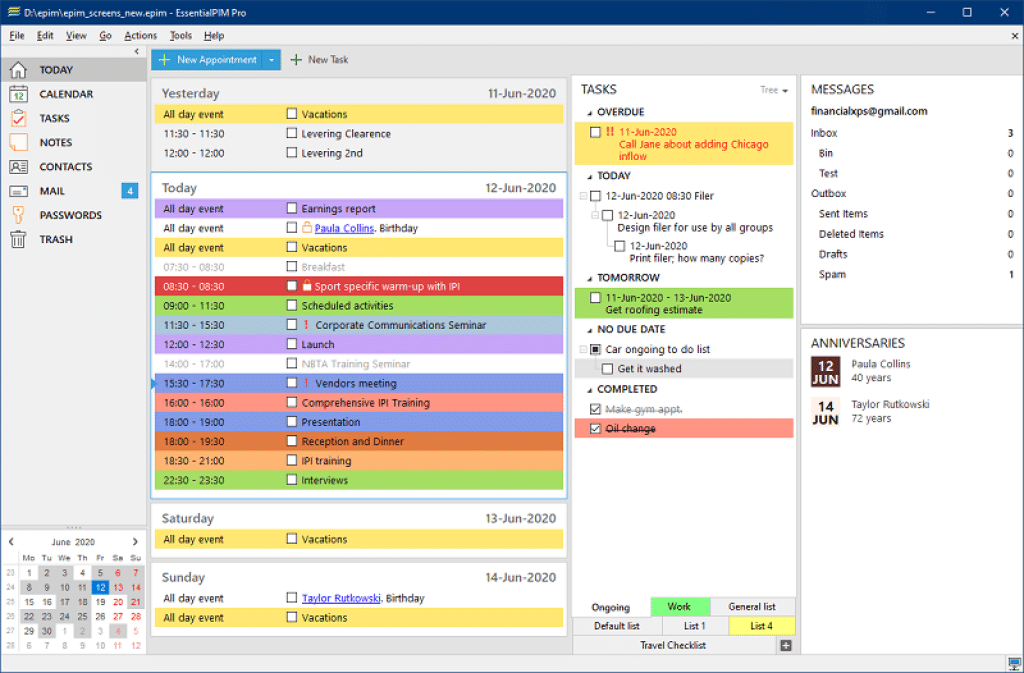 Both one- and two-way synchronizations are supported by EssentialPIM which preserves categories, groups, hierarchies to ensure complete similarity between online and offline data.
The synchronization activities can run in the background without obstructing your current activities or you can schedule synchronizations either after special events or on a recurring basis. SSL certificates which are used in the fields of online banking ensures complete security of the data synchronization.
---
Data Tagging
Data might require frequent changes for keeping the end users updated about the current standing be it of an employee's email-address or telephone number. Using multiple apps for storing passwords, contacts, emails, notes, tasks and appointments might lead to a synchronization error.
Making changes in one field might not ensure its replication amongst the other related ones if they are stored in separate applications or devices.However, all your data remains interconnected with full tagging and linking support of EssentialPIM.
Suppose you have an upcoming meeting with a prospective client in a few days, EssentialPIM can help you set reminders of doing adequate background study prior to the meet. Users can set up tasks and interconnect the same with appointments for exercising maximum efficiency at work.
Similarly, suppose one employee undergoes a change in email address, updating the same in contact details and tagging it with email will help in sending future communications to the updated email address.
---
Data Portability
The USP of EssentialPIM lies in the fact that it can be used directly from your portable device or USB flash drive. As a result, the software doesn't leave back any trace on the host system as the related data is stored in a dedicated folder of the removable media.
---
Data Migration
Users can enjoy extensive data import and export capabilities with EssentialPIM so that they don't face any difficulty while migrating their existing database into the software.
Multiple formats supported by EssentialPIM like XML, EML, RTF, TXT, HTML, CSV, vCard and iCal help in preventing costly and time-taking data re-entry.
---
Pricing
EssentialPIM comes with a plethora of pricing options for catering to the varying requirements of users. A trial version of the premium version is offered by the vendor for 30 days while a free version can help users gain basic knowledge about the utility.
EssentialPIM Pro Lifetime License
With 1 year of free updates
$39.95
With lifetime updates
$79.95
EssentialPIM Pro Business Lifetime License
With 1 year of free updates
$59.95
With lifetime updates
$99.95
---
Final Words
This Microsoft Outlook alternative has a user-friendly interface which can be mastered even by novice users in no time. Its advanced configuration remains segregated into multiple sections which can be further customized by users by simply dragging the borders.
Advanced AES 256-bit encryption can guarantee users complete peace of mind even when they store sensitive information in EssentialPIM. This cross-platform application can take up the role of a safe haven for all modern-millennials with its excellent functionality which can make each day more productive.