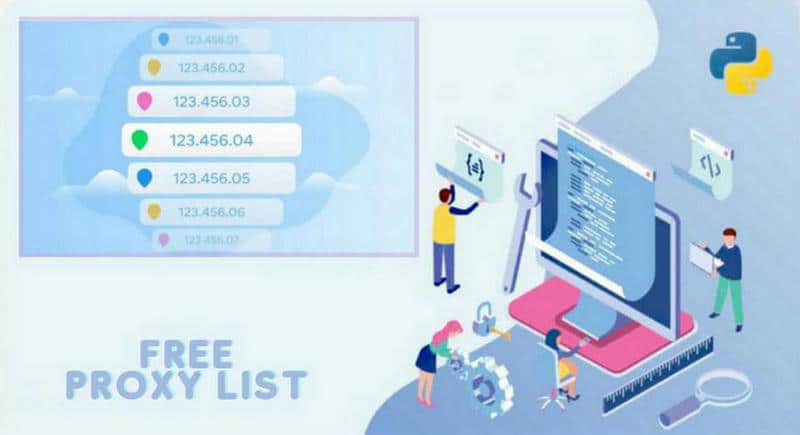 Are you in need of an authentic free proxy? Or are you wondering which free proxies are the best? Do not worry because in this article you will learn the ten best free proxies that you can choose from.
Since the invention of proxies, many internet users have accessed a website without their location being anonymous.  That is because proxies work by routing your IP address to their server's IP, making it hard for the web host server to track you. Also, these users can access geo-blocked applications or websites using these proxies.
Top 11 Free Proxy Lists
Proxies can be premium or free. Therefore, save yourself the hassle of paying for premium ones. Still, premium proxies request much of your credentials. Below, we've analyzed the top free proxy lists to consider.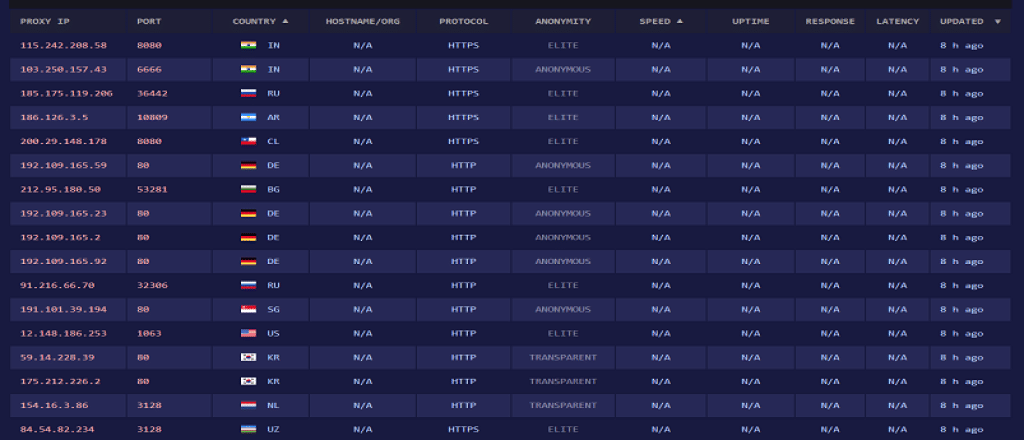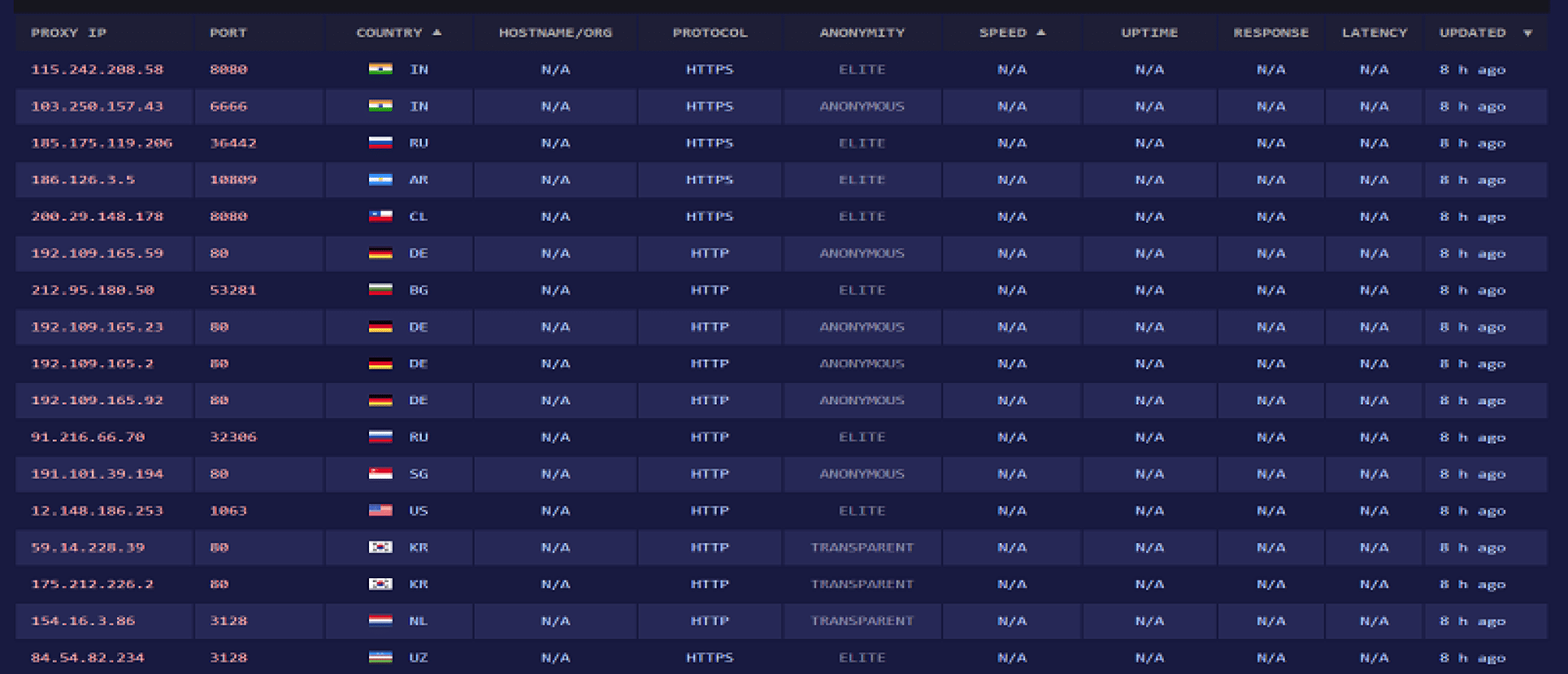 Geonode is the most comprehensive  proxy network providing over 2 million IPs in every country and city globally. We offer alternatives to all your extracting needs with our network infrastructure, dynamic load residential, tilting residential and mobile networks.
Our four networks contain over 9 IP types to switch between them conveniently based on your configuration. Access all of our proxies through a central API point that uses the standard RFC protocols, allowing you to use IPs from over 140 different countries including: United States, United Kingdom, Australia, Russia, Europe & more.
Why choose Geonode? Growing businesses worldwide trust Geonode for all their web extraction needs: Our residential proxies are compliant with all laws and are flexible to fit your specific needs. Unlike our competitors, we have no monthly bandwidth limits. We provide both unmetered and metered services depending on the requirements you may have. Enjoy access to your campaigns worldwide, and never worry about inaccurate data!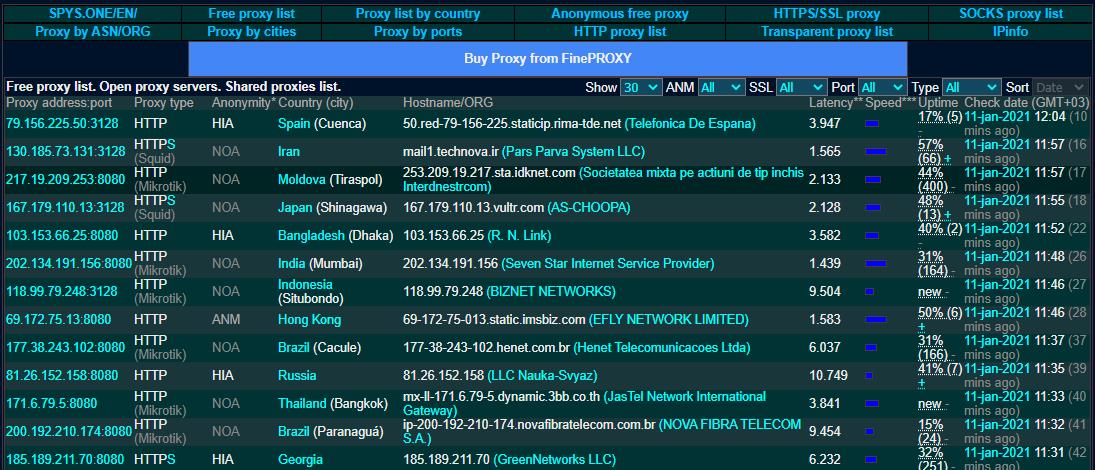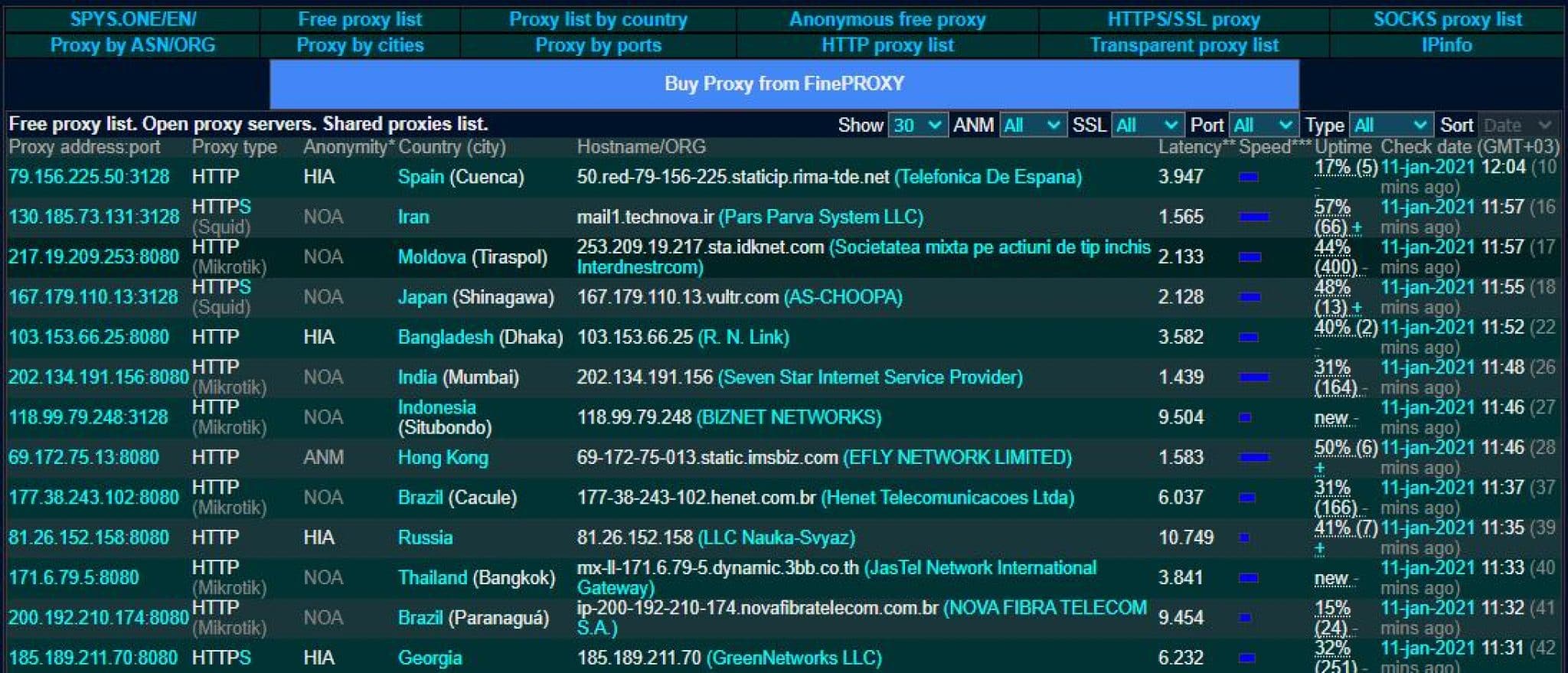 This proxy has a check date icon. That means the proxy refreshes on the time the proxy was last seen. Those newly checked lists mean that they are active, but those old insinuate that their proxies are dormant or 'dead.'
Spys.one is dominant in the United States, Germany, and Brazil, with over eight-hundred proxies of those nations. However, that does not mean that Spys.one is not found in other nations. Its IP address exists in 171 countries with thousands of proxies.
Moreover, this program categorizes HTTPS/SSL, SOCKS, anonymous proxy, and HTTP. Spys.one is also a transparent proxy that alters request icons but transmits an actual IP to an original server. Other features shown in this platform are the domain fastness and uptime.
Related,
---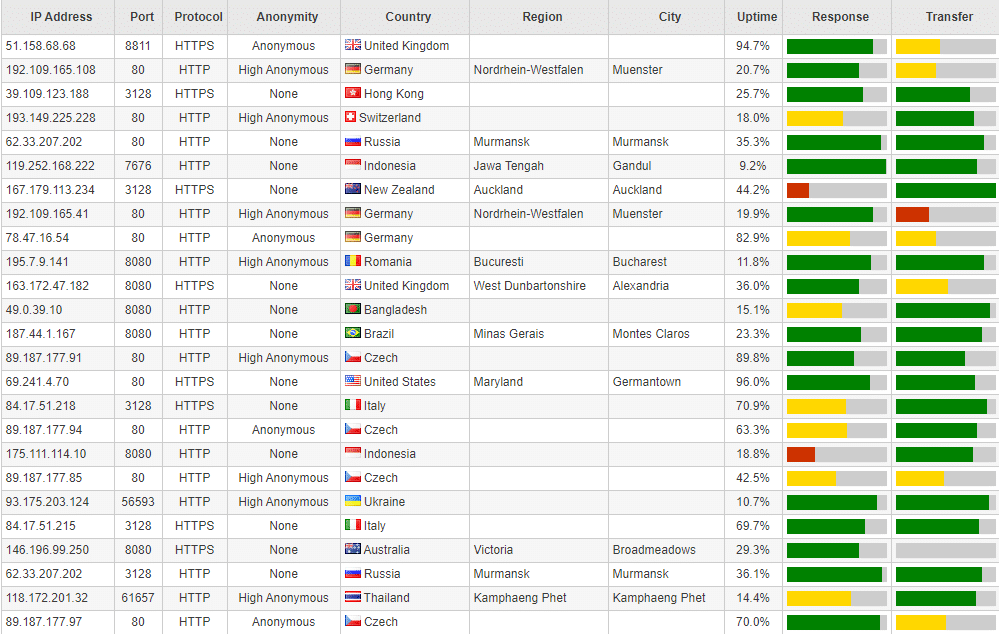 Wondering which is the best web scraper bot? Then free proxy is your answer. With the 7350 proxy program to your service, your computer can automatically access many websites even when you are not executing some commands. Also, free proxy speed is fast and stable.
For accurate measure and protection of data, free proxy runs on HTTP, HTTPS, and SOCKS4 SOCKS5. Most importantly, the SOCKS (session's OSI model) recaptures a connection loss or close and reopens an internet transmission if it suspects hacking or someone tracking your IP.
Another unique aspect of free proxy is the option to choose a proxy from a specific country. Essentially, the free proxy uses an alphabetical format for you to sort the country of your wish.
---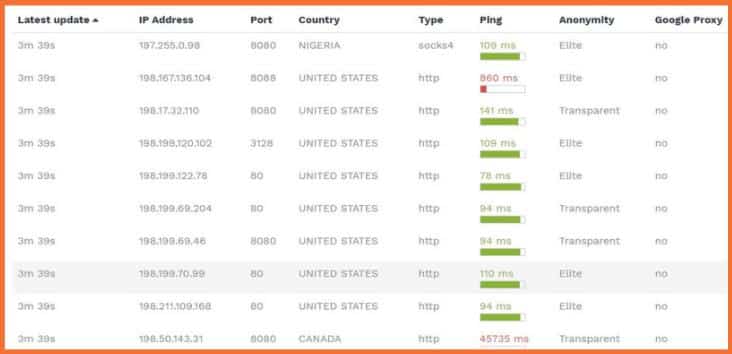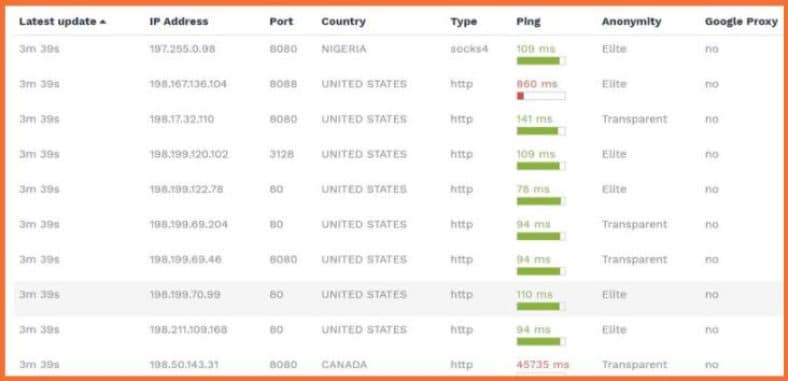 Making yourself invisible is the idea behind free proxies, but Hidestar provides a prolific invisibility test. If you cannot believe this, access your website through Hidestar then review your website history, you'll find out that your browsing tracks vanished like you were never there.
How does Hidestar Work?
The unique aspect of Hidestar is that after you browse, it goes off and comes back with a website goodie. That is, it conceals your identity and automatically searches the website you require. Still, with this free proxy, it does not need you to key in personal details.
When sorting and choosing your proxy list, Hidestar has categories. These categories include anonymity levels, place, Proxytype, port, last update, and IP addresses. There are subcategories for anonymity level that provide for (elite, transparent, anonymous), and Proxytypes include (HTTP, HTTPS, SOCKS4, and SOCKS5).
What are other characteristics of Hidestar?
With Hidestar, you access websites at super speed. Even for videos, you access an HD quality program. That is because the buffering of online streams is perfect.
Hidestar uses an SSL module to protect a user identity in all internet connections like WIFI. Therefore no worries of hackers, website trackers, or other snoopers corrupting or accessing your details. Also, this proxies utilizes 128-bit encoding for maximum identity concealment.
There is no hassle of remembering and typing your passwords, names, or usernames. The system connects you to the internet automatically. Still, you download a proxy list in CSV text, which is proficient.
---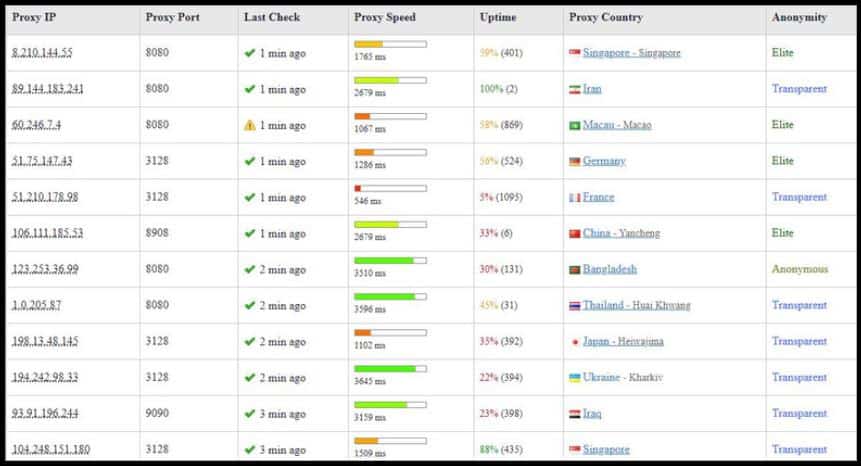 This site updates the recently-checked IPs when you open its homepage. Therefore you can gauge the last IP addresses and the frequently checked ones. Sorting in proxy nova involves the country and range of anonymity. Other features in this platform include the location, speed of net, and uptime.
Unlike other proxies where the information is updated automatically, in Proxy nova, the site is updated manually. Manual updating would seem inefficient but imagine your site refreshing after an automatic updating. That means your data would get lost. Therefore there is a guarantee of your data security even when the internet connection reloads.
---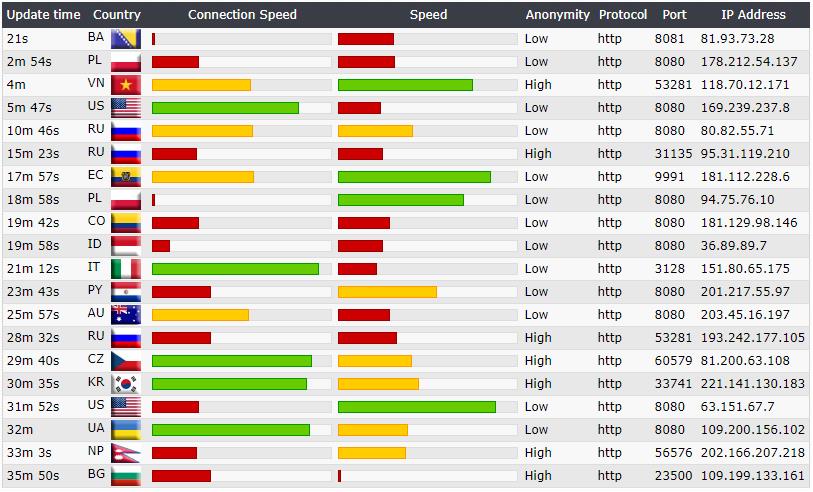 If you want customized proxy settings and ready-made settings in one piece, visit the IDcloak proxy list. That is because IDcloak has two layers, which are the upper and lower part. The upper part provides automated ready-made proxy lists, while the lower section is for customized ones.
Typically, IDcloak boasts thousands of proxies in public portals from vast countries. These proxies are frequently updated, and the system works 24/7. Therefore there is round-clock customer support.
Most significantly, for the upper section, the proxy section is updated for you. You will find a part of recently reviewed and updated proxies. In the lower chamber, you set categories like anonymity level, connection speed, port, protocol type, and IP address. For these custom parameters to appear, you click or type an icon saying "show selected proxies."
---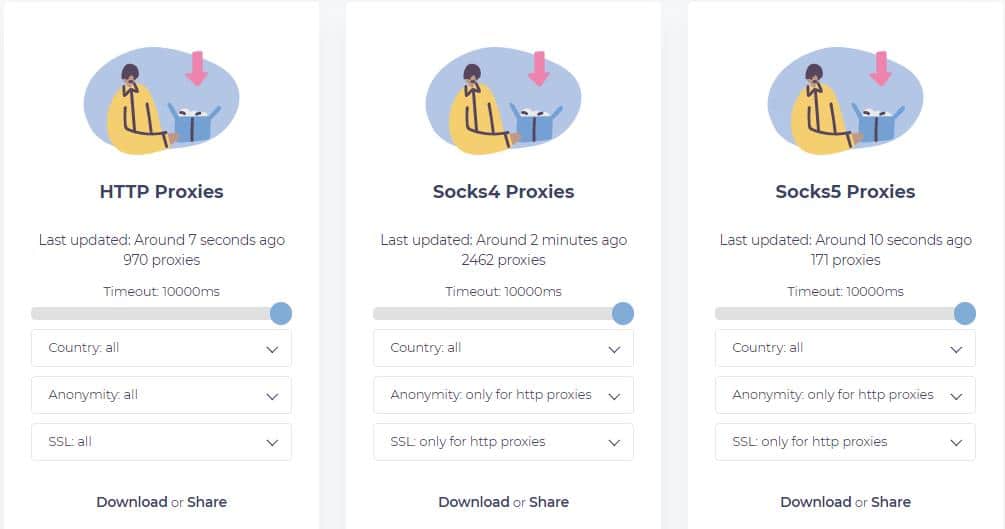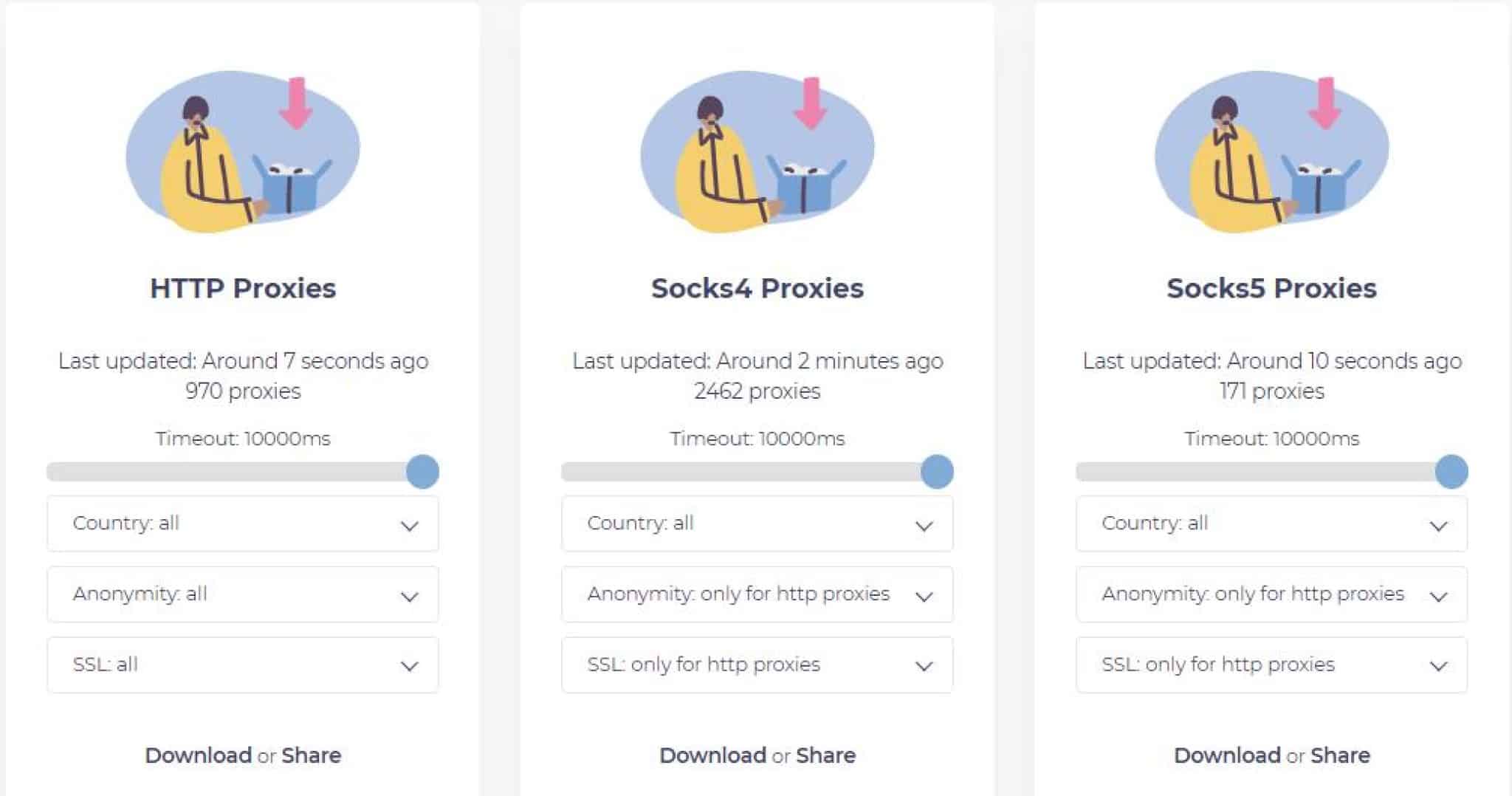 It sounds fantastic if you load plenty of proxy scrapers using different IPs at the same time. Proxy scrape is one free proxy that enables you to do so through its txt file. Still, with Proxyscrape, you have access to SOCKS4, SOCKS 5, and HTTP proxies. That means the security of your data and location is guaranteed.
Sorting your preferred proxy with ProxyScape is much easier compared to FreeProxy. Apart from the country category to sort, you sort with the scale of anonymity and SSL. Proxyscrape also has a unique feature of limiting some proxies that exceed a timeline threshold.
---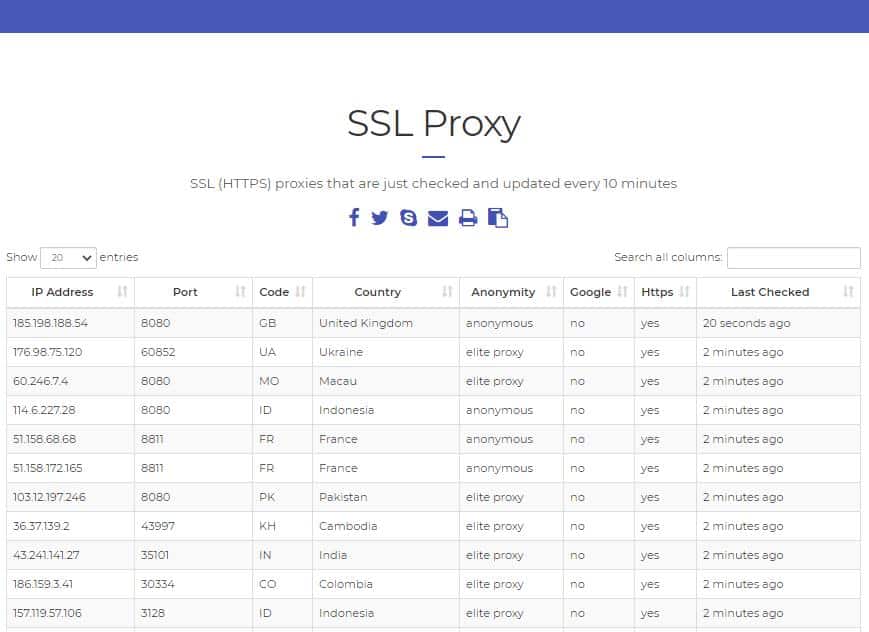 The name SSL would insinuate that the proxy uses HTTPS, HTTP, or SOCKS Platforms. Yes, that is true, but SSL proxy has advanced to a new item called Rotating proxy. This module works the same as the HTTP or SOCKS, but it operates with no applications.
Moreover, with its over three-thousand addresses, and country filters, this site is useful. Concerning the country filters, this program uses a country code and the nation's name for sorting. Another sorting option of SSL proxy is an anonymous or elite icon.
With the anonymous category, you change your request field but with elite proxy, you cannot. But in both cases, the system hides your actual IP address. Lastly, this site has a 'google' field in it.
---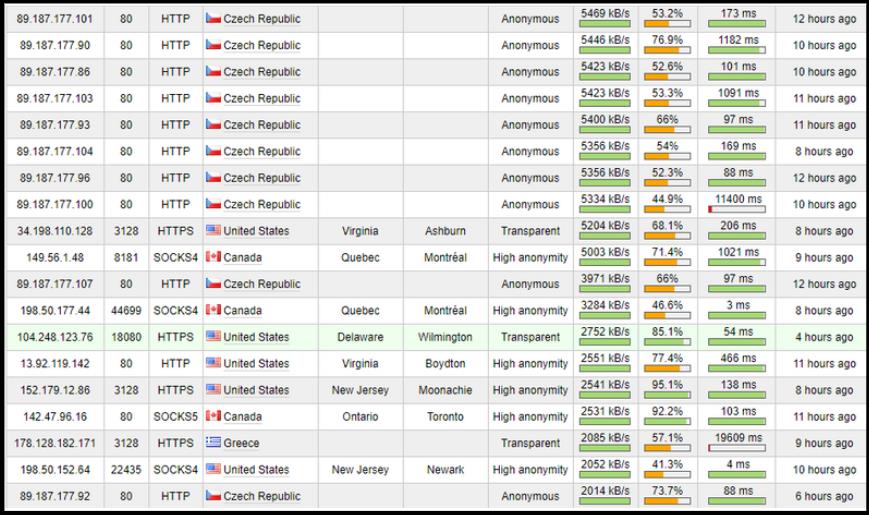 Proxy-cz is a Czech Republic proxy that hosts over six-thousand country IPs. There are different categories to sort your data. They include IP address, port, Protocols like HTTP, country, and anonymous level.
Moreover proxy-cz works closely with a number of external sources.  These sources include the
Since there are millions of websites, free proxy-cz associates many URLs with their likable websites. Therefore you can connect those sites with ease
Files can be associated with their supporting software. For example, their proxy-cz file can link with XTML word, where if you double click it the XTML opens the file.
It is a module that reviews how your proxy-cz requests work on different IPS and it removes possible website inconveniences.
In this case, free proxy-cz uses passive DNS to keep data and prevent it from malicious data insecurity. Therefore you develop countermeasures and you can predict the next cyberattack.
---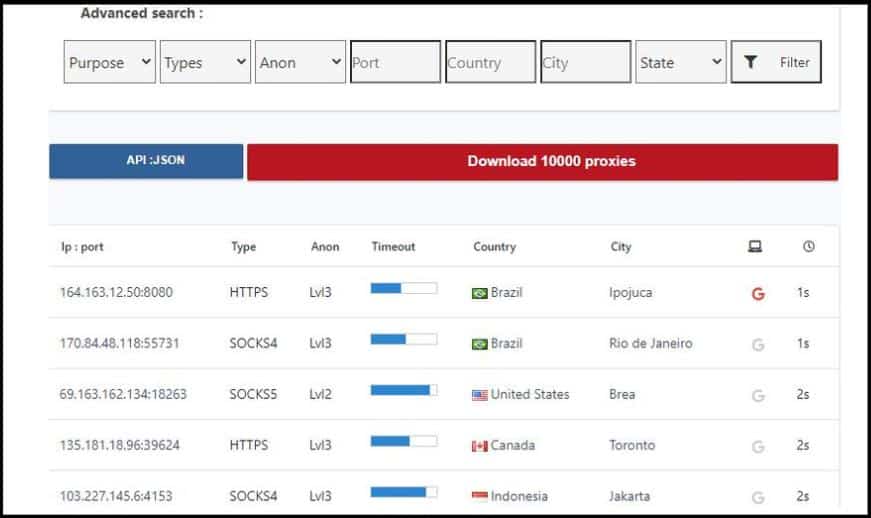 If you want the best proxy for your SEO work, visit Proxydocker. Proxydocker connects you to over a thousand proxies, which you can enjoy. However, sorting these vast proxies can seem tiresome, but Proxydocker automates your sorting parameter to your preferred proxies.
These parameters include purpose, Proxytypes, anonymity (elite, transparent, anonymous), port, country, city, or state. Most importantly, the purpose parameter brings the SEO aspect here. Apart from SEO, the purpose icon has other lists like general browsing, google, bots, or social media marketing.
How is Proxydocker used for SEO?
You click the SEO icon in the purpose dialog box of the Proxydocker site, and you create the following SEO attributes. They include the topic title, Meta description, keyword clouding and others. Proxydocker uses the following tools for SEO.
HTML ratio– computes the relevance of a web page by dividing the percentage of a web page text over HTML code percentage.
GZIP compression-Proxydocker compresses files for quick network transmission effective in SEO.
IP canonicalization– a system where you optimize an IP to your website broadcasting server
XML Sitemap– XML highlights URLs for crawling and provides details about your website's update, number of visits, and URL importance.
---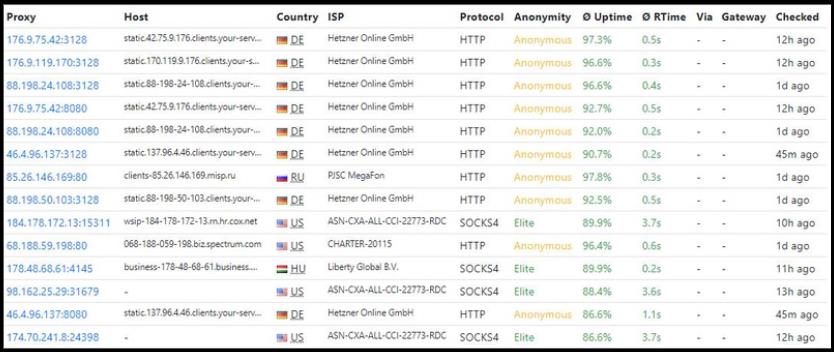 Last but not least, we have ProxyDB that has a structured proxy layout. The layout includes a proxy list, proxy tools (filter, extractor, Geo-lookup, scraper), dB stats, donate, anonymity check, and contact. Proxy list includes (HTTP, HTTPS, SOCKS4, SOCKS5, and a country filter.
Apart from the elite, transparent, anonymous, there is a distorting feature of anonymity level. This feature is different from others because it configures its proxy settings using a false IP. Therefore you appear like you were in a specific place.
What do we have in ProxyDB tools?
A proxy extractor is an icon that separates proxies from the raw proxy list and configures them as IP ports.
Scraper-it is a program that inspects websites, extracts IP addresses from websites, and uses a rotate API module to remove the information and block any tracking.
Proxy filter -ProxyDB allows you to code with text, HTML, or XML to configure the proxies in IP Port format.
Geo lookup is an automated tool that scans geo-location information -like country, Zip code, city, state, or city-in lists of proxies.
---
Summary
These free proxies save your wallet, but accessing premium proxies is instrumental. First, remember that many people will use this open platform, which causes slowness in internet speed.
Also, many free sites do not protect you from hackers. Still, many website operators compromise the free proxy's longevity. Typically, these free proxies stop their free services regularly to entice you to go to their premium services.
Read more,