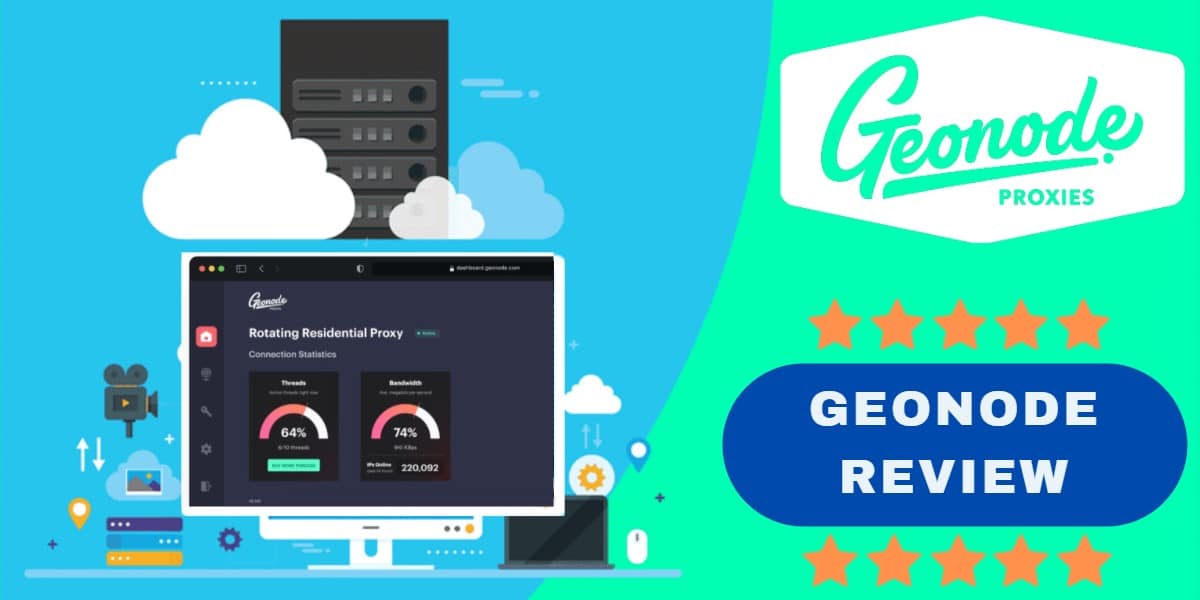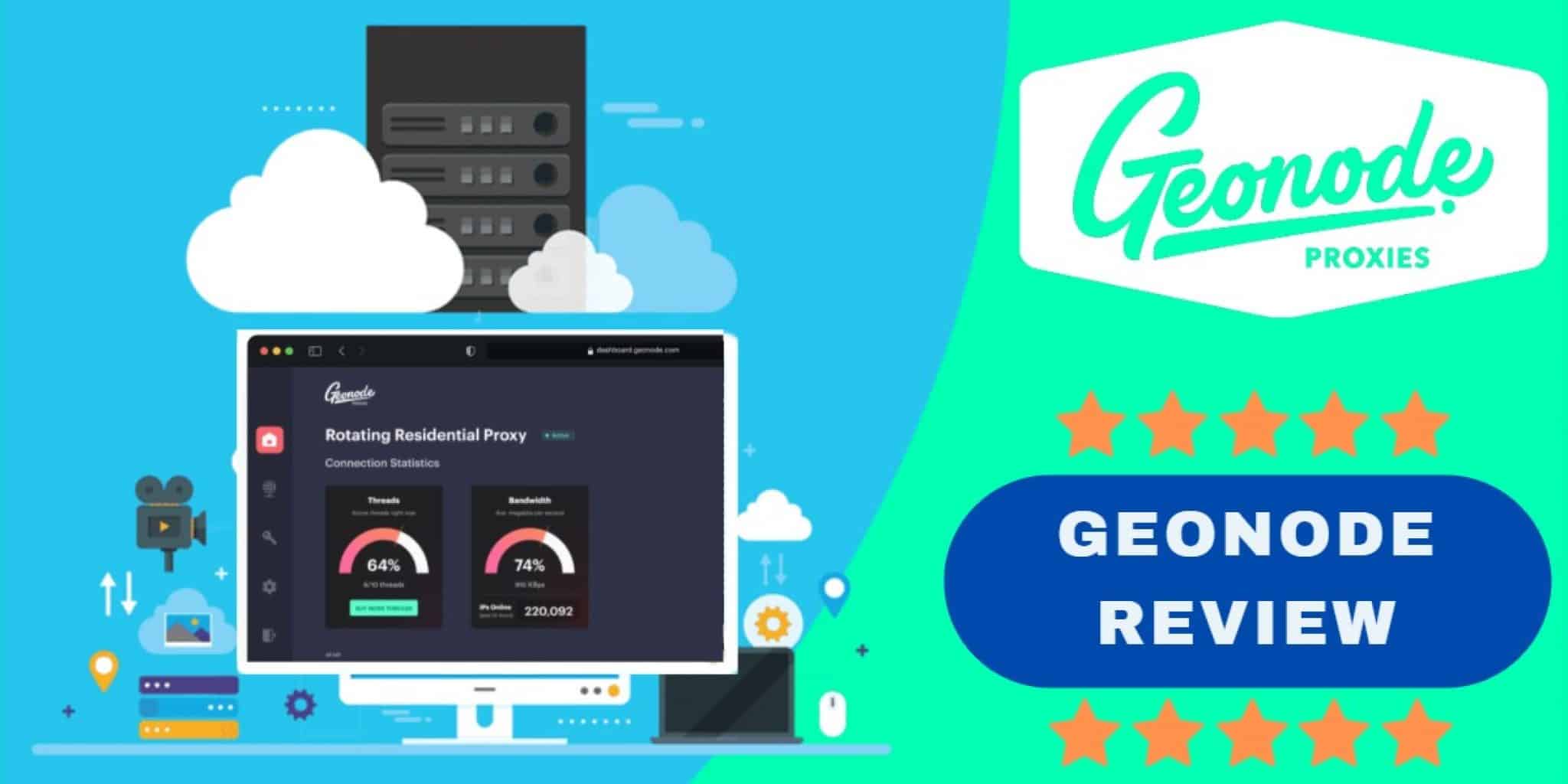 If you are looking for information about Geonode proxies, then you have come to the right place. Here is an in-depth review of the proxy and how you can benefit from it.
Geonode is a newer proxy seller that has been in business since 2014. It aims at providing unmetered residential proxies with premium quality. Their proxies are based on different backgrounds, IP types, locations, and facilities to meet the needs of different users.
They mainly sell US residential proxies but have recently started selling to other countries, such as AU, UK, and many more. Currently, Geonode sells residential proxies with speeds ranging from 100Mbps to 1Gbps, proving to be one of the best proxy providers available.
---
Geonode Overview
Geonode offers some of the best features in the proxy industry despite being a new player. They are one-of-a-kind proxy providers who offer unlimited scraping without data caps. They also have a fantastic instant delivery with multiple locations and static IPs with a high success rate. On top of that, here are other features you'll get from Geonode.
High IP anonymity
Large Proxy pool
Code Generation for API
Industry-Leading Speed
User RatingUser Reviews
Geonode Review
0 out of 5 stars (based on 0 reviews)
User Reviews
There are no reviews yet. Be the first one to write one.
---
Geonode Pros
If you are not sure about opting for Geonode as your proxy provider, it is excellent and worth investing in. Here are some of its top strengths and benefits you stand to gain from it.
Rotating Residential Proxy Provider
Geonode emphasizes delivering quality proxies, and this can be seen from their proxy rotation. Unlike other providers, Geonode rotates its residential IPs in 5/10/15/30 and 60 minutes' intervals for a long time to ensure that you get what you are supposed to get. Their proxies are highly durable, and you do not have to worry about the safety of your online activities.
Unlike other proxy providers where you have to be careful of how much data and bandwidth you use, Geonode has unlimited bandwidth. This means that you can make as many sessions as possible without worrying about caps and fines.
Geonode provides residential proxies from different locations. This allows you to choose the best proxy provider that suits your needs and requirements in terms of quality and location. Their Geo-targeting feature allows its users to target specific countries with their residential or business proxies.
You can use these features to target countries you want to penetrate the market and enjoy enhanced speed and connection. This is a good way for affiliate marketers to gain higher conversion rates and businesses to optimize their profits by increasing sales in foreign markets.
Authentication IP Refreshment
They offer username and password authentication, which helps you log in to your account instantly. This is better than IP authentication, making it hard for you to log into your account using several devices.
Geonode rotates its proxies to ensure that you get reliable service at all times. This feature ensures that your account would be safe even if the same IP address is detected because of the rotating process. They also support different protocols including HTTP, HTTPS, SOCKS5 in HTTP and non-HTTP modes.
Geonode has one of the best pricing in the proxy market; they offer pocket-friendly prices and reliable data plans. Their lowest proxy package plan starts at $ 47, with which you can enjoy many great features. This plan gives you access to unlimited bandwidth and an available amount of IPs. You will only be limited to a total of 10 threads for this plan.
They have other bigger plans like $77 for 50 threads and the highest being $8000 for 20 thousand threads. These bigger plans will also enable you to upload external resources such as images, CSS, and large JavaScript files.
Refund Policy and Free Trial
Geonode has a straightforward refund policy. If you don't feel good with their services, you can request your money to be returned and even ask for some credits that could assist you in getting other Geonode services. With this, there is no risk involved when purchasing Geonode proxies.
You must pay a non-refundable charge of $1 for their free trial, after which you will be allowed access to utilize the service for seven days. Once you are done with the free trial, the connection will be cut, and you will have to purchase a preferred plan.
The $1 fee was implemented to combat spam and fraudulent users who did not want to pay a penny but wanted to utilize premium proxies for free.
One of the significant setbacks when dealing with other proxy providers is the lack of informative customer support. Geonode, on the other hand, has an excellent and reliable customer support service that aims at assisting its users in all possible ways, including problems during and after purchase.
You can quickly get help by using their live chat option, which is very reliable and responsive. Alternatively, send them a message at their official email address. You can also send them a message using their social media handles, including Twitter, Facebook, and Discord, among others.
Geonode Cons
Just like any other business, Geonode also has its fair share of cons. Here are some of the problems you are likely to encounter when using Geonode Proxies.
Does not Support Some Popular Websites.
Currently, Geonode doesn't support certain websites such as Google, Instagram, and YouTube. This is mainly the case for websites that have stringent anti-spam filters. However, they are working on resolving the problem and incredibly believe it will be over soon.
It is Still a Growing Provider.
Geonode is still a growing company that is trying to prove itself to the market. As it competes with giant proxy providers that have an established reputation, all they do is make promises. Interestingly, they are still in the development stage and have many functions being worked on.
One of the significant developments underway is making the proxies compatible with popular web services like Instagram and Google. They are also working on making the dashboard more advanced and user-friendly.
---
Conclusion
Geonode is one of the best proxy providers; they offer the best quality services and responsive customer support. On top of that, the company is working hard to compete with the big fish in the industry and is undoubtedly giving them a run for their cash. Although they still have a lot to work on, we recommend it as an excellent proxy to choose.
---
Submit your review