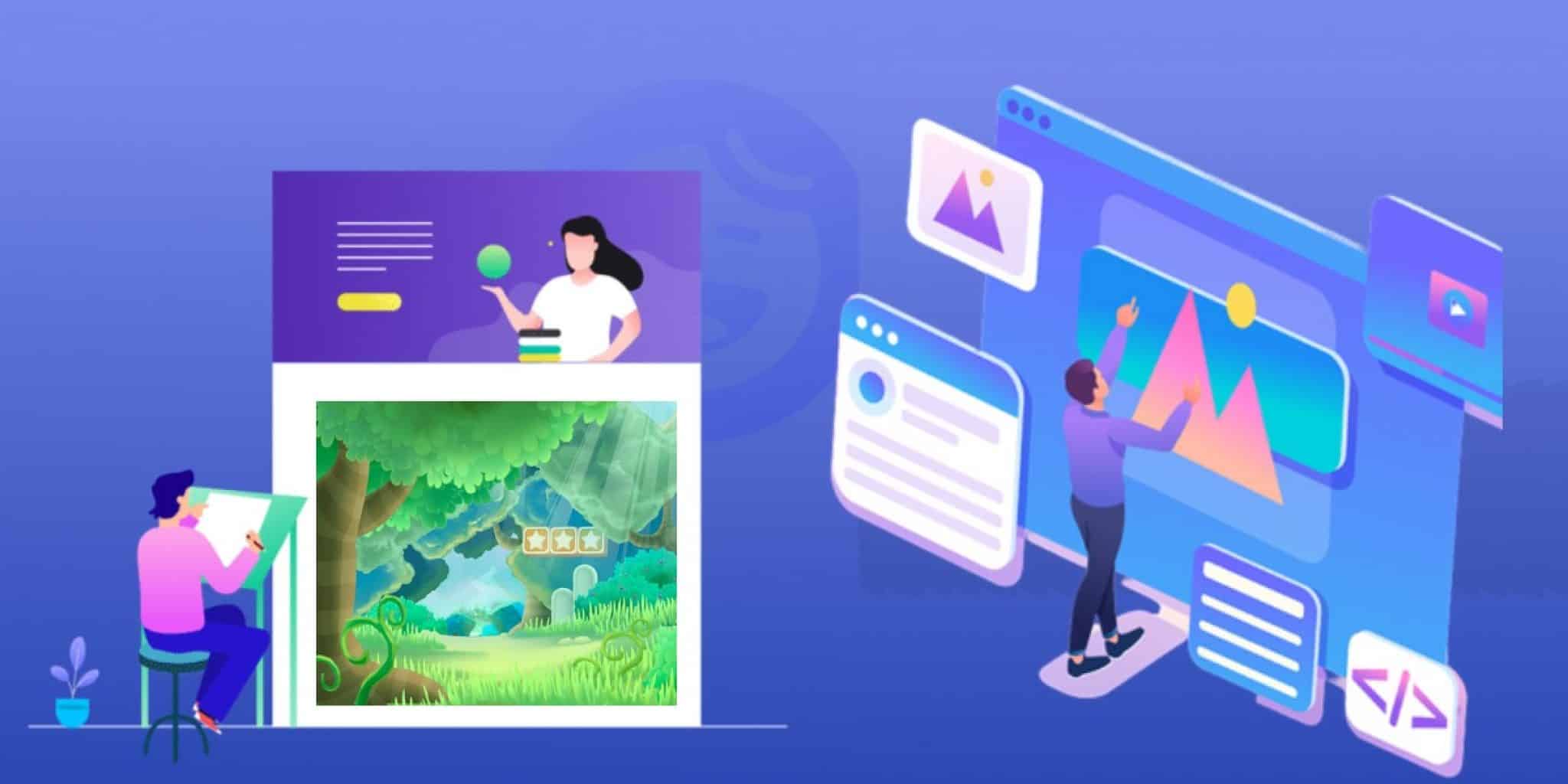 Elementor is a powerful tool for creating stunning animations, using parallax effects, horizontal and vertical scrolls, adjustable transparency, blurring, rotating, scaling up and down, 3D tilt, and unique templates.
You can design an attention-grabbing website by choosing the right Elementor themes. Gone are the days when a developer had to rely on bulky codes for this purpose.
---
How Does Elementor Work?
Elementor in motion is a thing of beauty and enjoyable to watch. You can create the whole section, column, or widget inside Elementor. Background can also be stylized and scrolled up or down. Motion effects in the tool include mouse and scrolling.
Let's see how you can create stunning animated backgrounds with this tool.
---
Scrolling Effects 
Some of the best themes for Elementor have in-built scrolling effects. These scrolling effects help create excellent animations that offer interaction with the user when a page is scrolled. This is what causes a parallax effect, which is something straight out of the dream. Usually, you can have three types of scroll effects: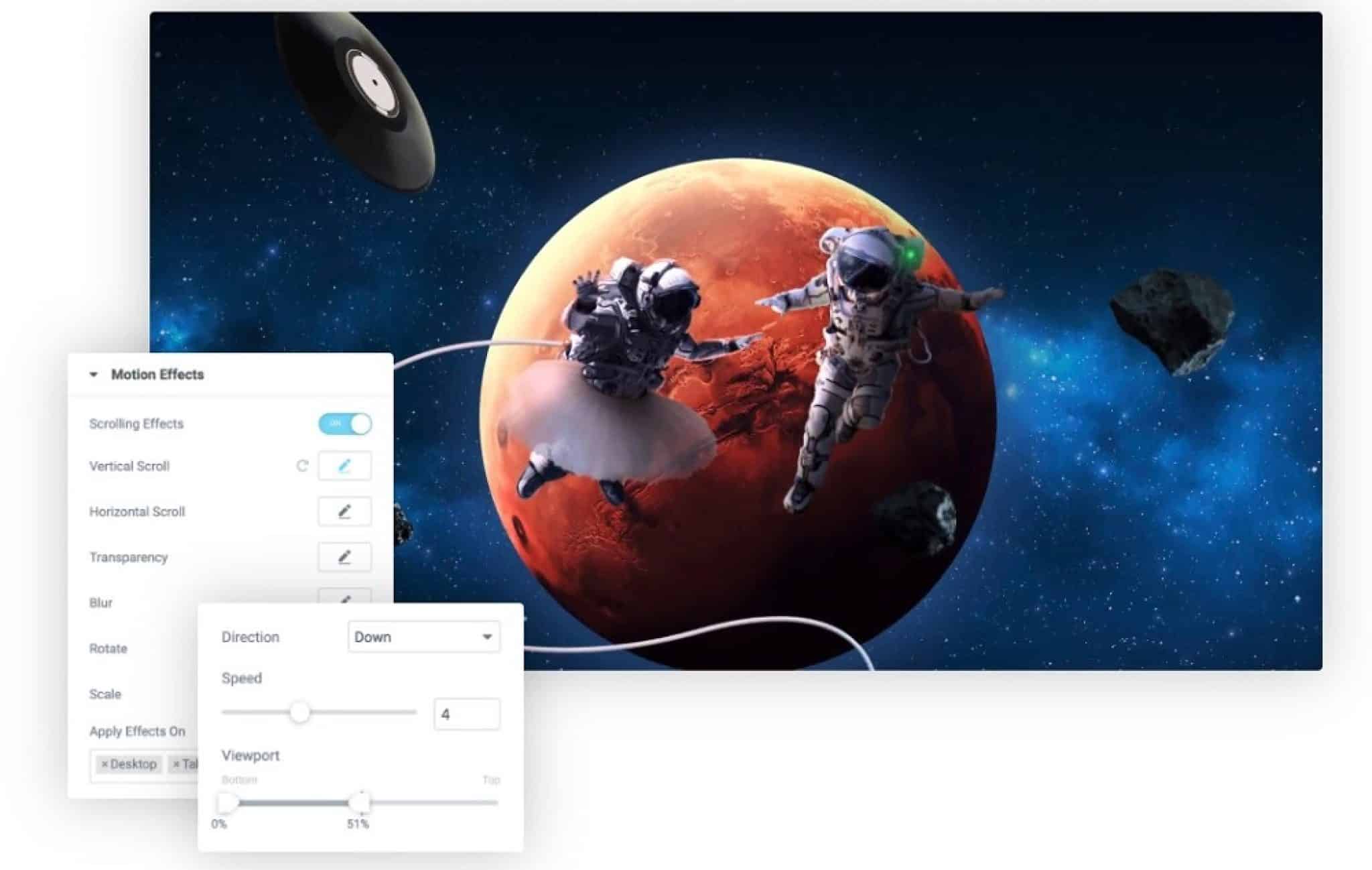 It makes the page move up and down at the speed of the user's interaction with the same. The viewport is the region that the user can scroll through. It is calculated using the visible height of the screen.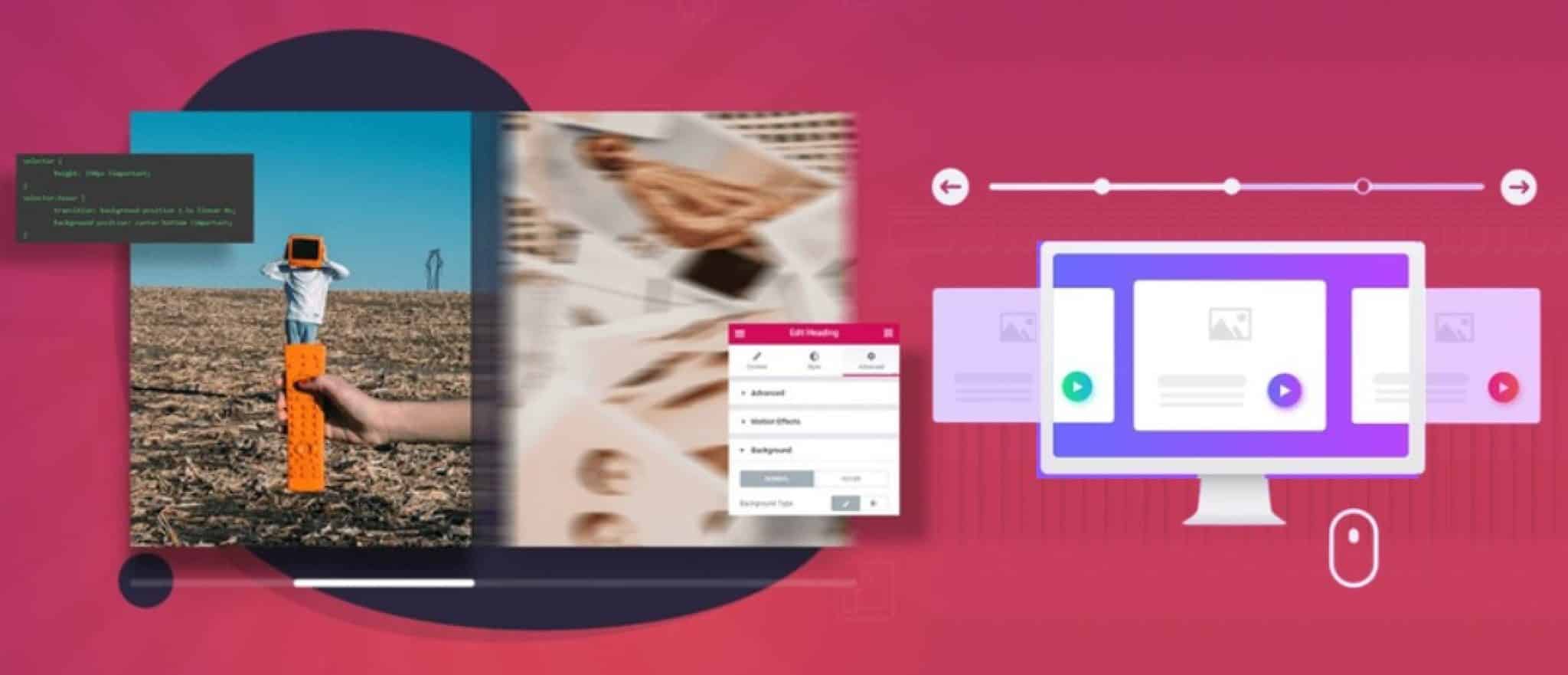 It helps make the elements move at a pre-defined speed but horizontally. When both are combined, you'll get a diagonal representation.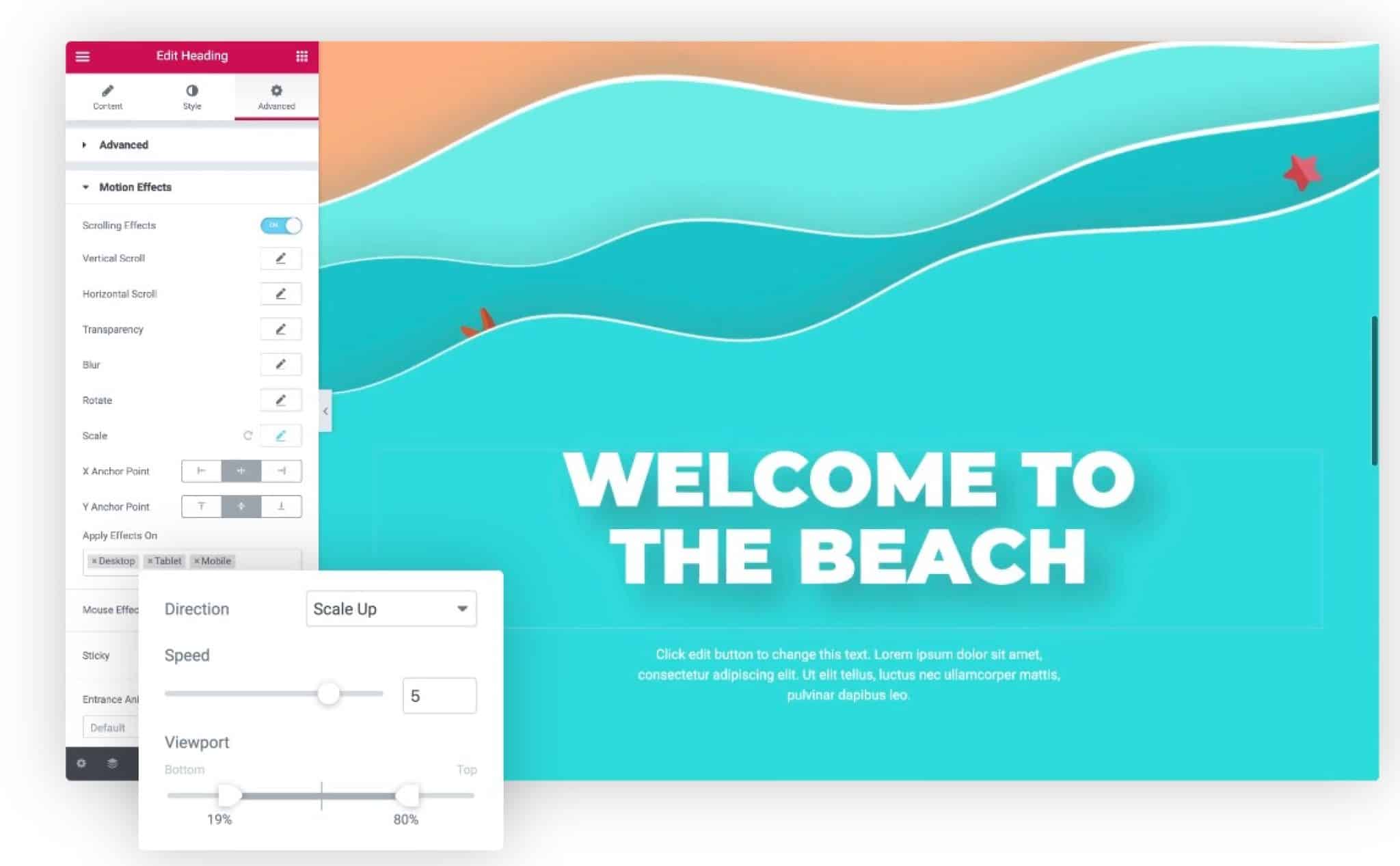 Scroll effects let the user grow and shrink the object in question as they scroll up or down. Scaling can be done up (element become large as the user scrolls the page), Scroll down (where the objects start large and are then reduced in size), scale down up (scale up things and bring them to a small size and then grow them again), and scale up-down (scale down things and bring them to a large size and then shrinks them in size).
---
Transparency on the Background Image or the Displayed Elements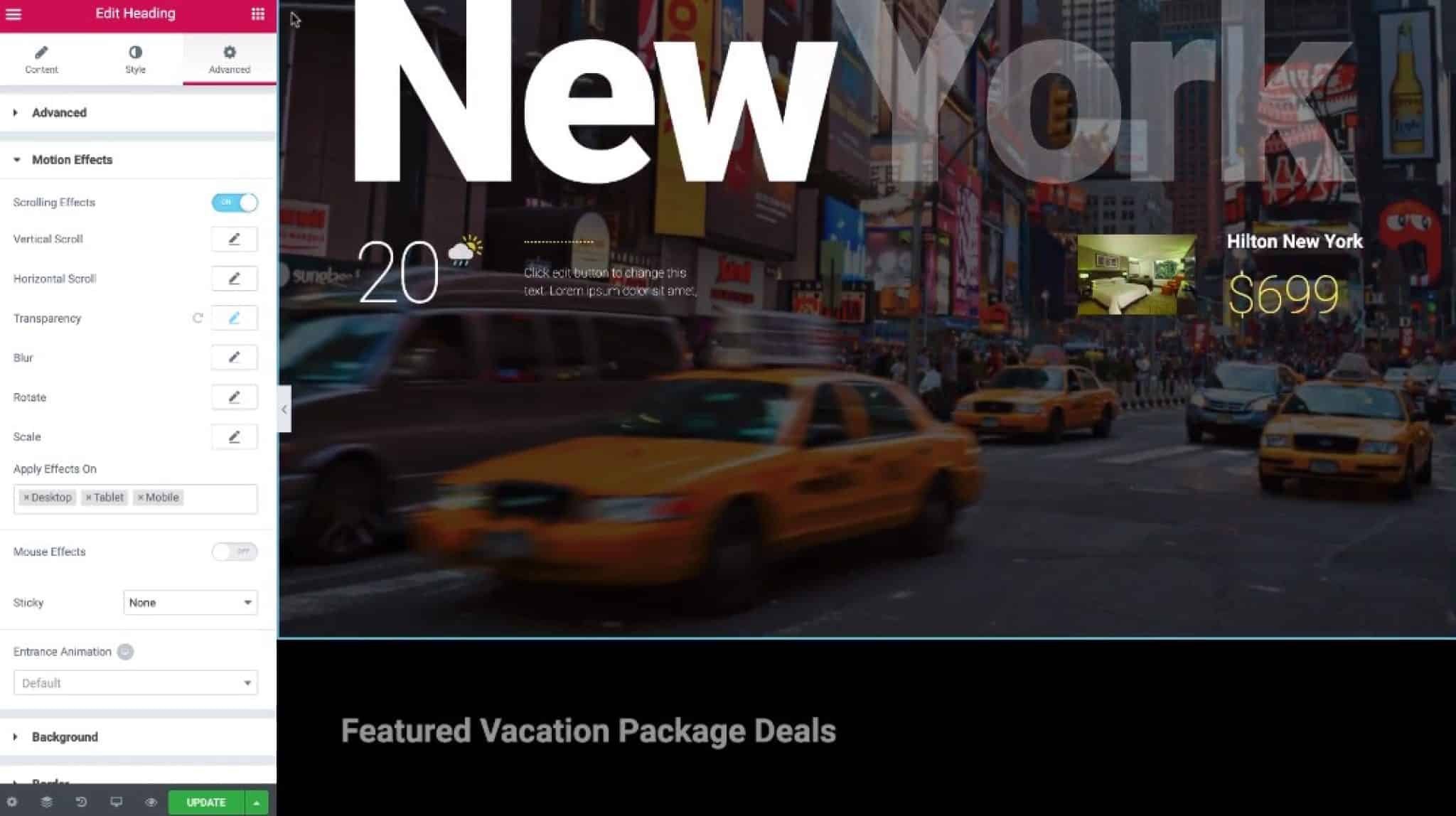 You can progressively make an image or element on the web page lighter or darker, such as disappearing and reappearing page titles.
This can happen in four directions:
An element starts as transparent and slowly becomes opaque.
An element starts as opaque and slowly becomes transparent.
An element starts as transparent and slowly becomes opaque and goes transparent again.
An element starts as opaque and slowly becomes transparent, and becomes opaque again.
---
Rotating Motion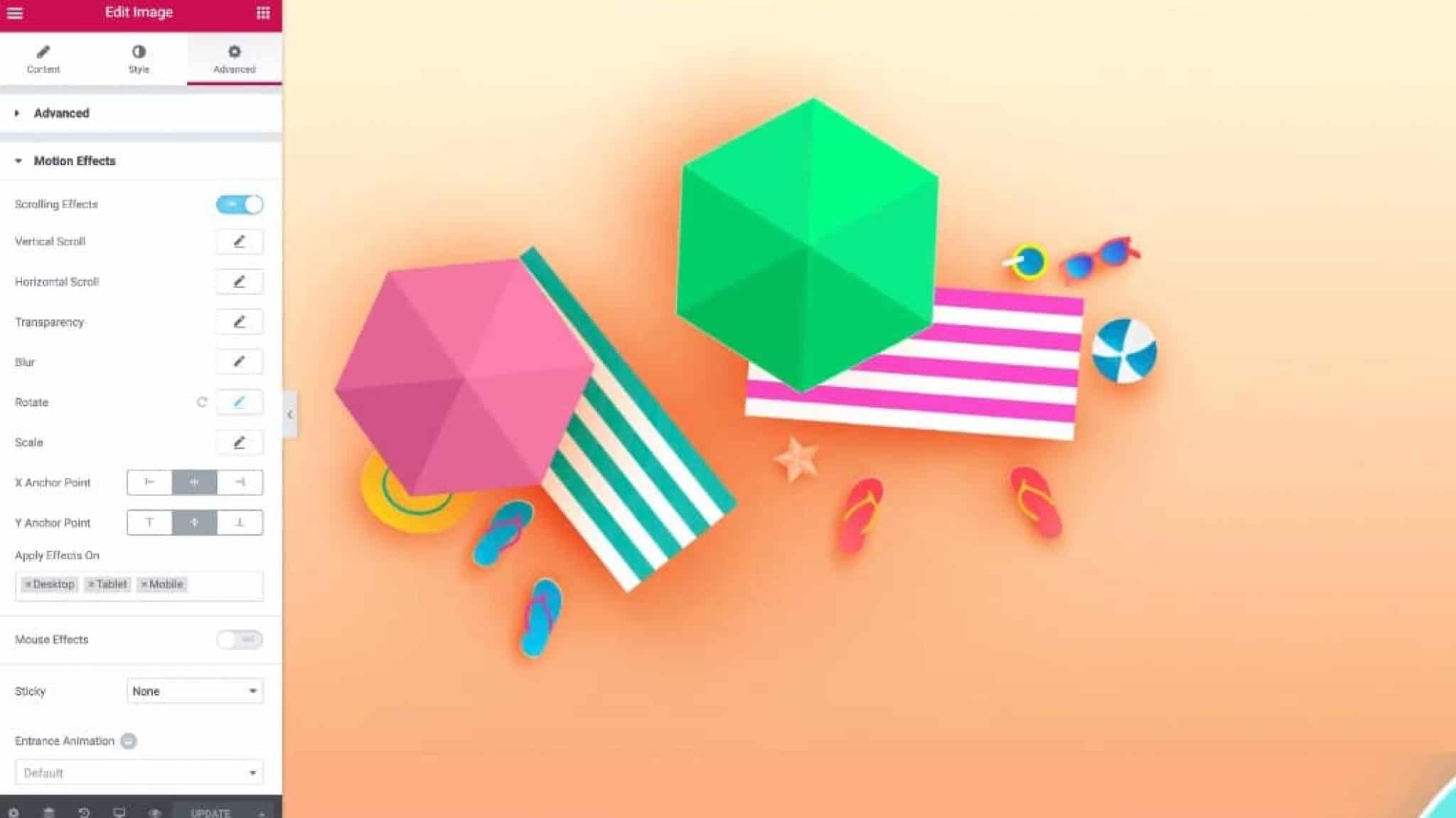 Rotate makes the animation slowly rotate at a fixed point on the page. This feature is provided in the best themes for Elementor that can be purchased if you find default themes a bit lackluster.
Rotations can be set in 2 directions, clockwise or anticlockwise. This can be combined with scroll and transparency to give it a classy look.
---
What Should You Know About Motion Effects?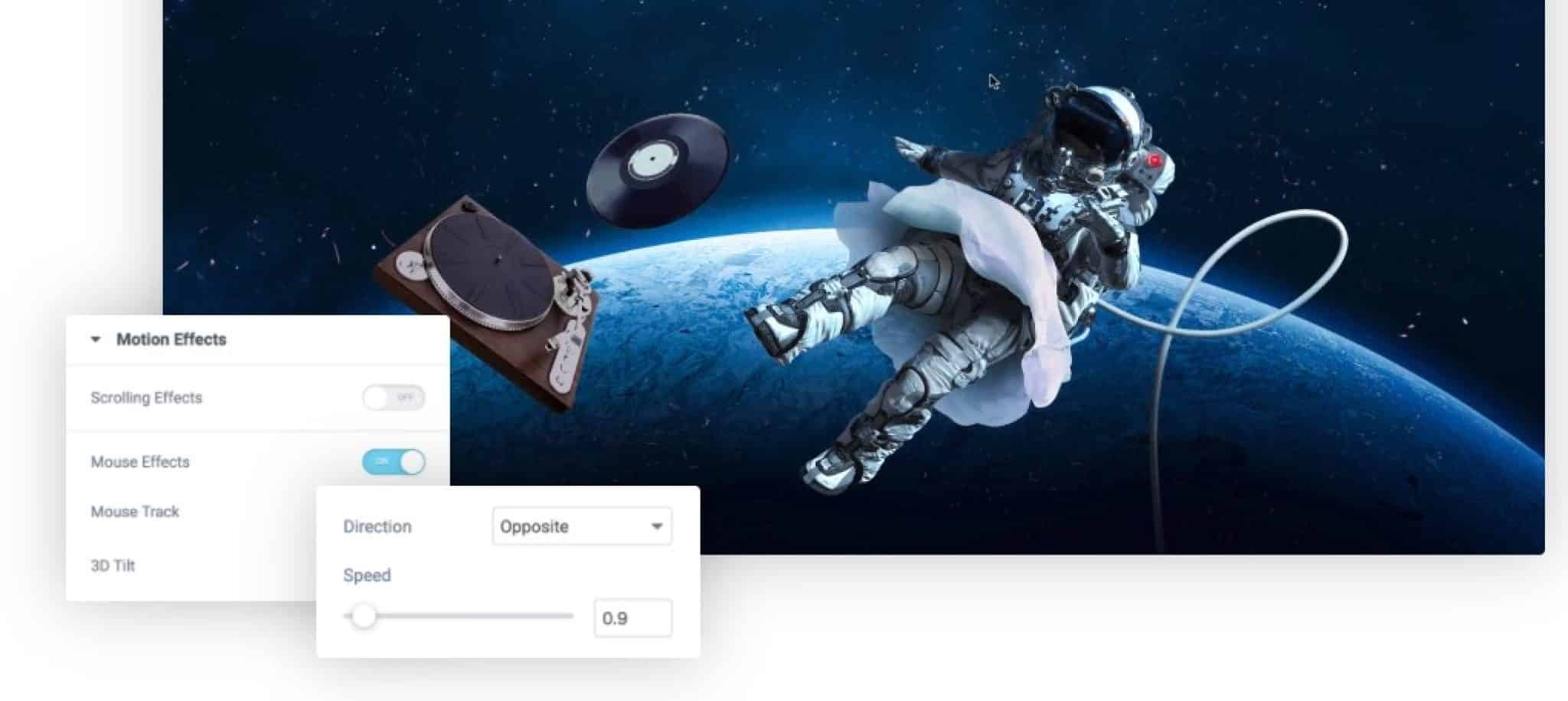 Developers always have the library ready, or they can build it from scratch. To roll out the highest quality features, several external libraries are also involved in the process.
Scrolling effects should work on mobile sites and different browsers. The effects should apply to every device and renowned browser.
---
To Sum Up
As one of the premium brands used by website builders everywhere, it helps web professionals, like developers, web designers, and marketers. Elementor drastically simplifies website design processes by removing the frequently occurring failures and creating a web page according to the consumer's expectations.
Adding unique features to your website is easy if you let the professionals handle it. The Elementor also carries stunning animation tool kits that can be used to create different formats and designer pages. Choosing the best theme is essential to make the process smooth.