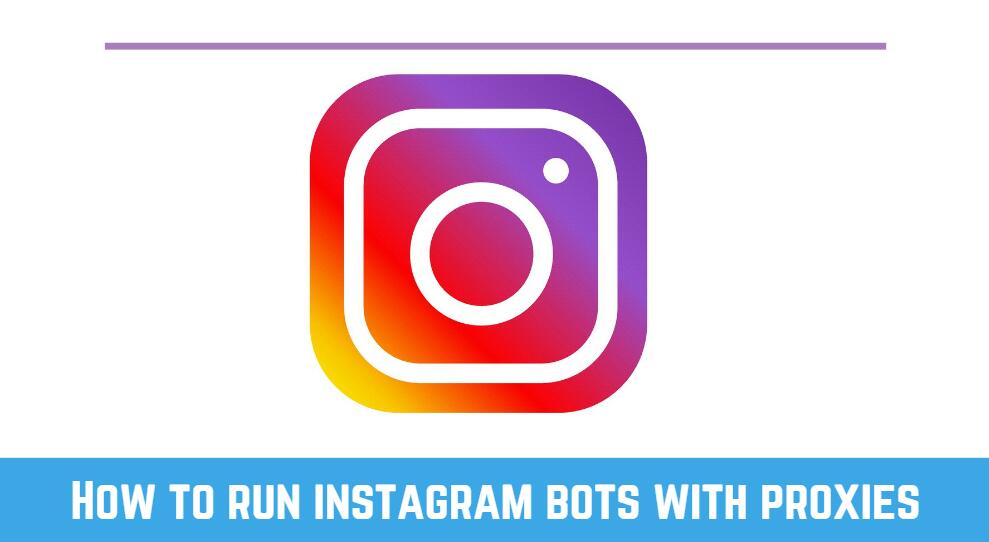 There has been an enormous increase in the number of people making a tonne of money off the internet for the last few years. And why wouldn't they? Making money on the internet has never been easier. Social media platforms provide us with the best opportunity to make a decent amount of income by doing the things you love.
Take Instagram, For example. If you're an influencer on Instagram, You can make a lot of money by a process called Affiliate Marketing. If you have a decent fan following and have a lot of people under your influence, Affiliate marketing is the best way to make a decent income off Instagram!
Don't know about Affiliate marketing? Don't worry, We'll guide you through it!
---
What is Affiliate Marketing?
Basically, Affiliate marketing involves signing up with a brand and promoting their products, and with each sale of their product, you get a referral cut. If you have a decent fan following on Instagram and have a lot of fan following on Instagram, Influencing people to buy the products you list on your profile isn't too hard once you get the hang of it.
There are hundreds of companies that pay you for affiliate marketing on Instagram, Like Amazon. If you have a lot of followers, You can send these affiliate companies email and they'll provide you with a link. These links can be rather long, so you can use services like bit.ly to shorten these links and make money off bit.ly as well.
In this way, Every time someone uses your affiliate link to purchase something, you will receive 10% of the commission. In a similar manner, There are a thousand other companies on Instagram offering the same affiliate services.
When it comes to affiliate marketing on Instagram, you want to convince your followers to buy the products using your affiliate link. For this, you want to promote your products on your profile. The best way to do this is to automate multiple Instagram accounts using Automation software like Jarvee.
Using this software, you can sit back and enjoy while Jarvee automatically does all the work for you like automated posts, Liking the profiles with the same niche as yours, etc.
There are certain things that you should have to properly carry out Affiliate marketing. These are:
If you don't know what these are, Don't worry. We'll guide you through each step!
---
Setting up a VPS using Vultr
VPS is an essential part of your affiliate marketing on Instagram. A VPS stands for Virtual Private Server. A VPS is very essential for running apps on your computer 24/7 without having to run your computer all day. A VPS acts as a computer and keeps the apps you want running without damaging the health of your computer.
Using a VPS, you can add the Instagram automation software to the VPS and you won't have to keep your computer on all day and Jarvee can run on the VPS doing all the automated actions you set it to do!
There are a lot of websites where you can buy VPS. However, for this guide, We will be using Vultr as an example of our VPS configuration.
Setting up Vultr can be tricky, but here's how you do it!
Visit https://www.vultr.com and create an account.
After creating an account, Select the amount of funds you want to put in for your VPS.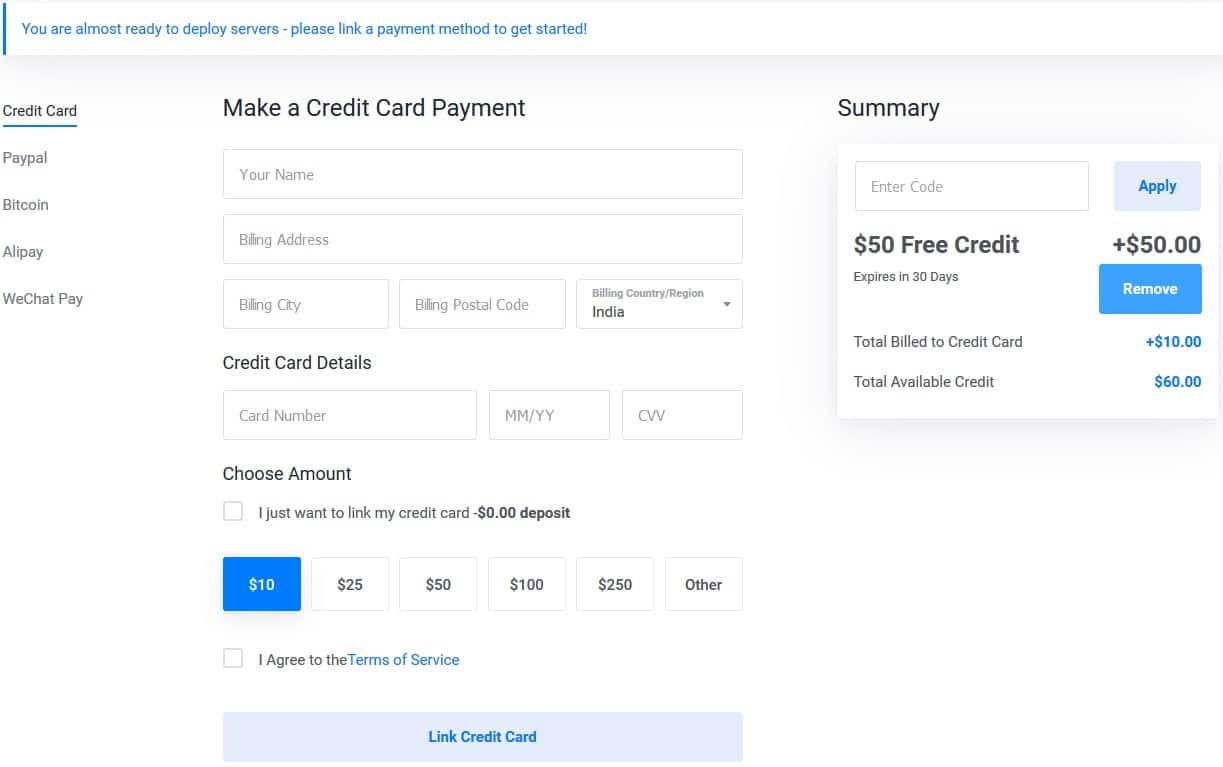 After that, Verify your email address. After your email address is verified, You will be asked to choose the server location. Choose the location which is the closest to you.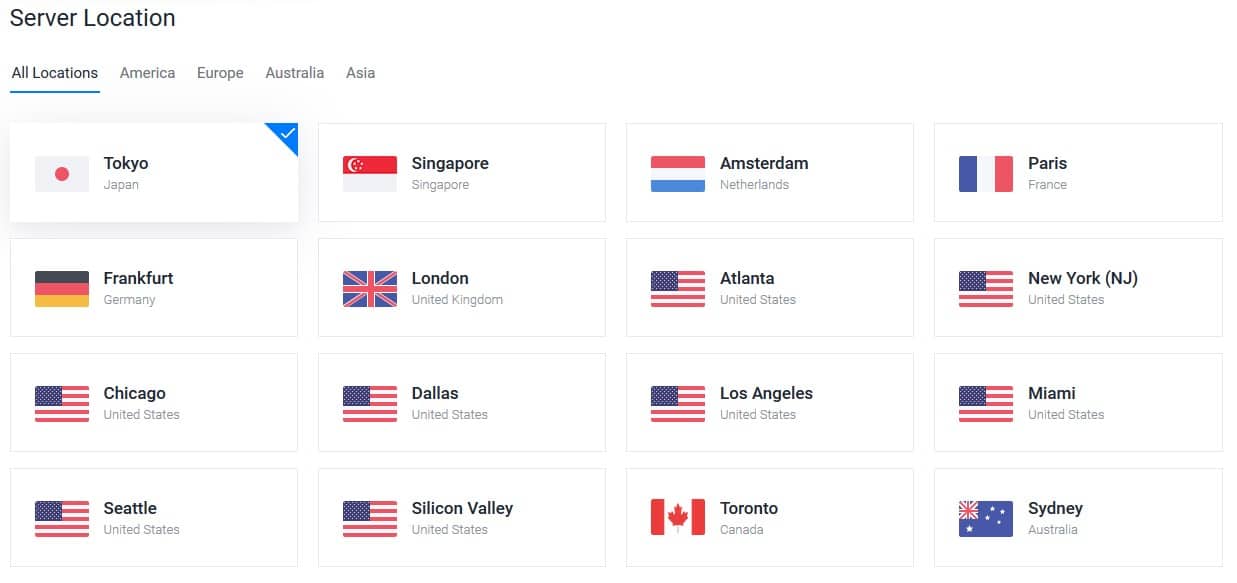 After that, select the type of operating system that you want. For using Jarvee, Choose windows.

After that, select the package the best suits you want. It is recommended to go for the 4GB RAM package as Jarvee will run smoothly on it!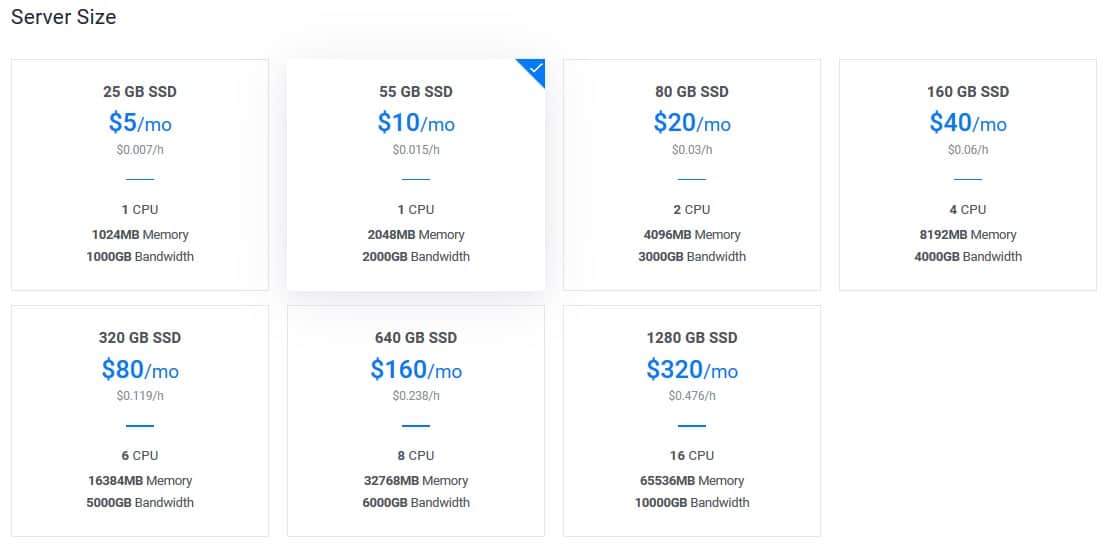 After selecting the package, Give your server a label and a hostname. Then add your root password you're good to go.

After you're done with this, Go to windows search bar and search for Remote Desktop Connection and open it. You'll see the following window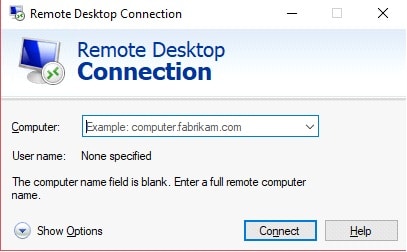 Enter your VPS IP details and click connect. Then enter your root password when it redirects you to the VPS server and et voila! You have a VPS server.
From here on, You can use the VPS server as a normal computer. Install Jarvee on the VPS and continue with the next guide on how to set up Jarvee
---
Setting up Jarvee
Jarvee is an Instagram bot that lets you schedule automated posts and does stuff like liking, commenting, following, and unfollowing users. The aim of this is to increase your presence on Instagram and hence increase User engagement on your Instagram profile.
Setting up Jarvee is really easy. Here's how you do it.
Visit https://jarvee.com/get-now/ and choose one of their packages. We recommend using their trial version if you're new.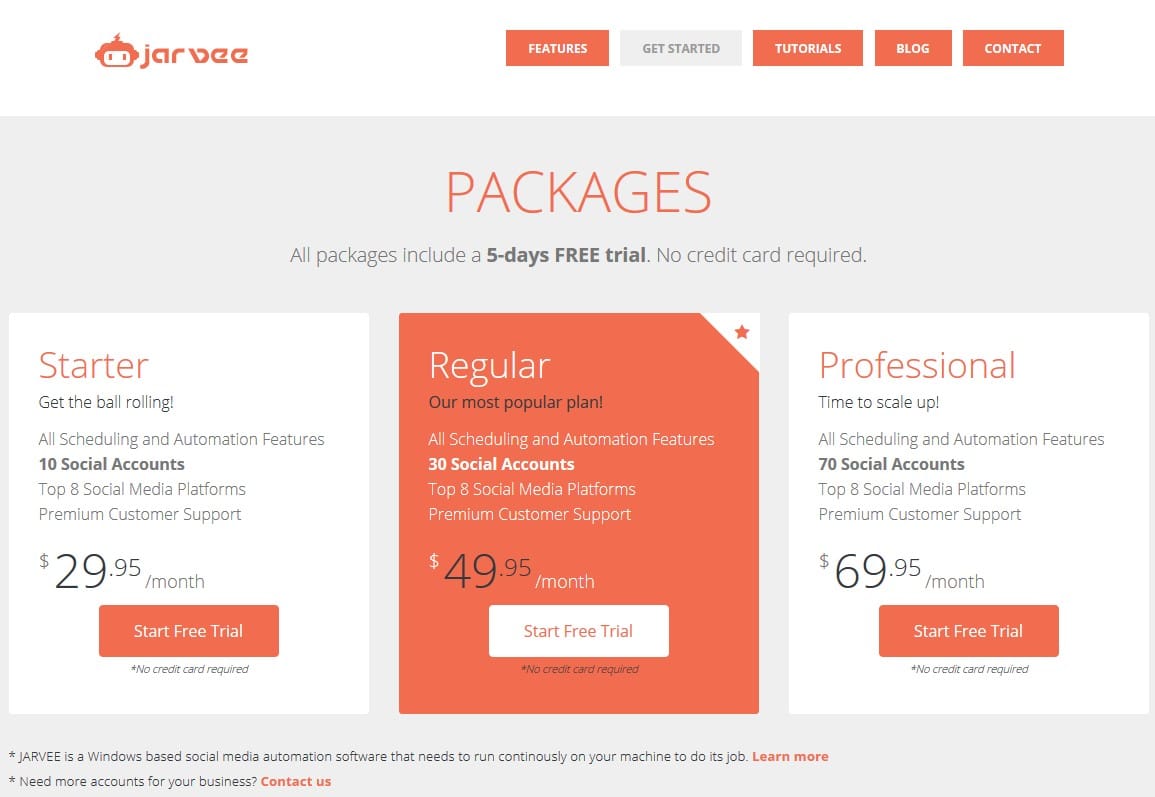 After entering your email, Click on download and Jarvee's setup will start to download. After the setup is downloaded, Install it using the Jarvee Install Wizard.
Once it's downloaded, Open Jarvee. You'll see the following dashboard.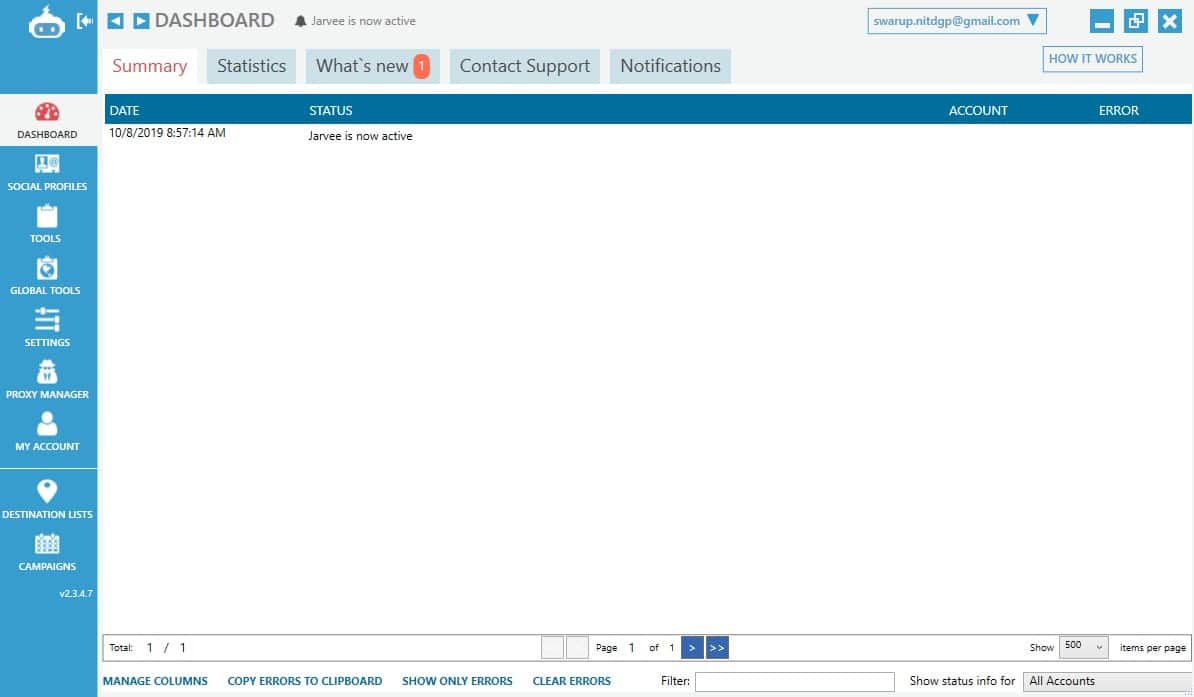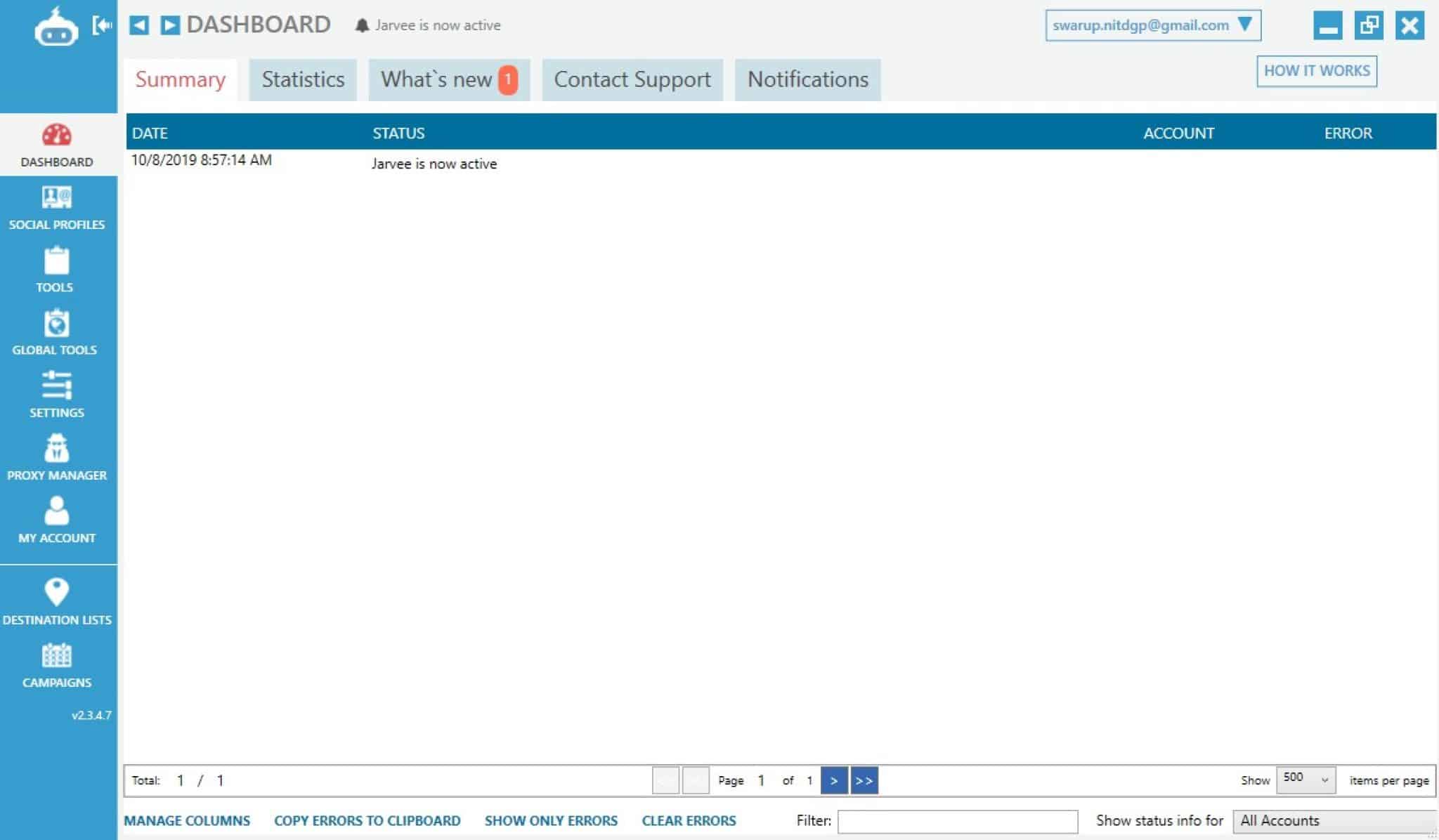 Now what we need to do is add your account. Click on "Social profiles" > Add profiles > Instagram Profile.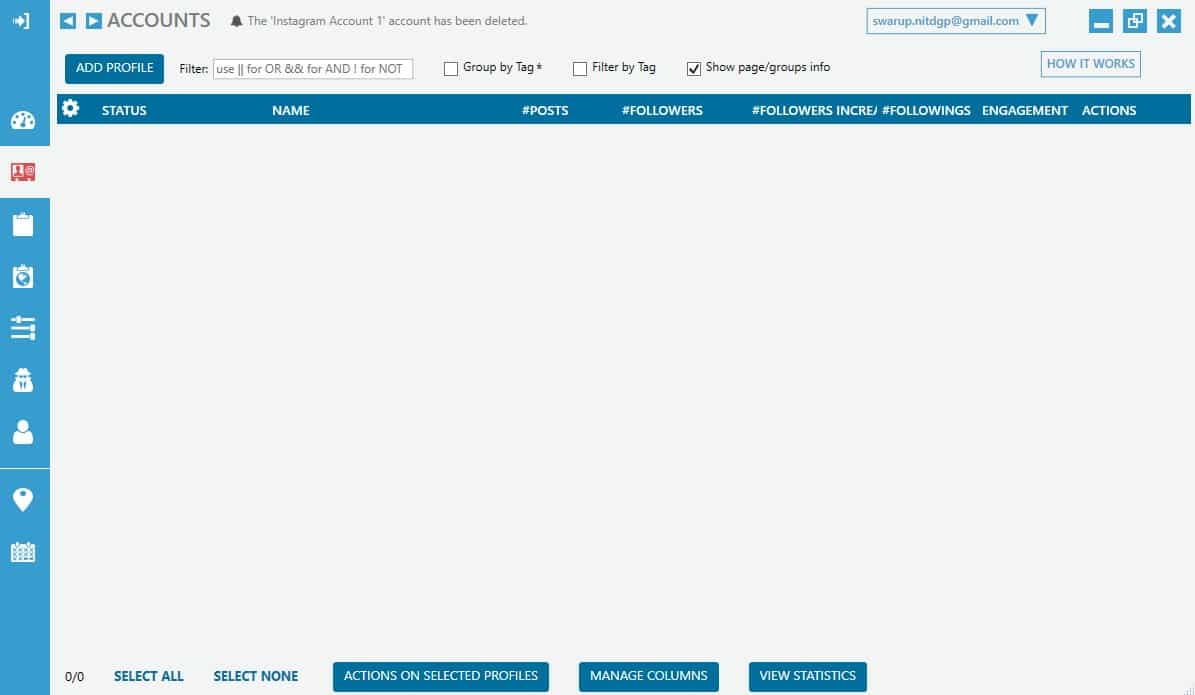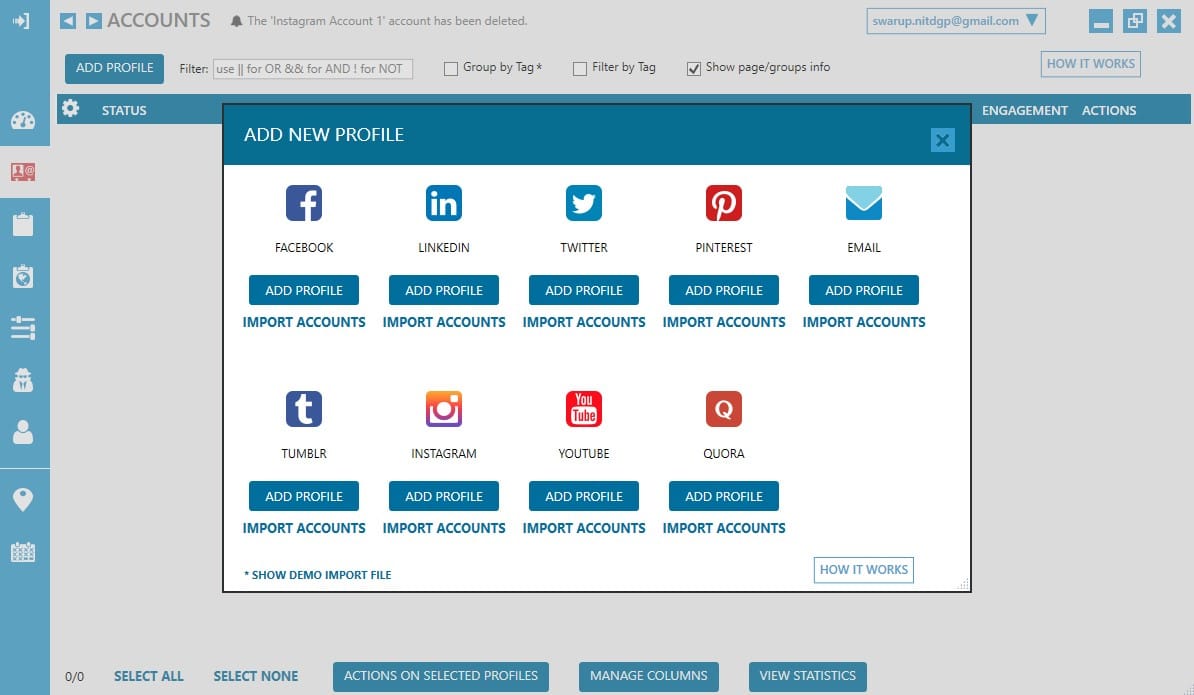 After that, You will be directed to the following page. Add your Instagram account here and click verify account.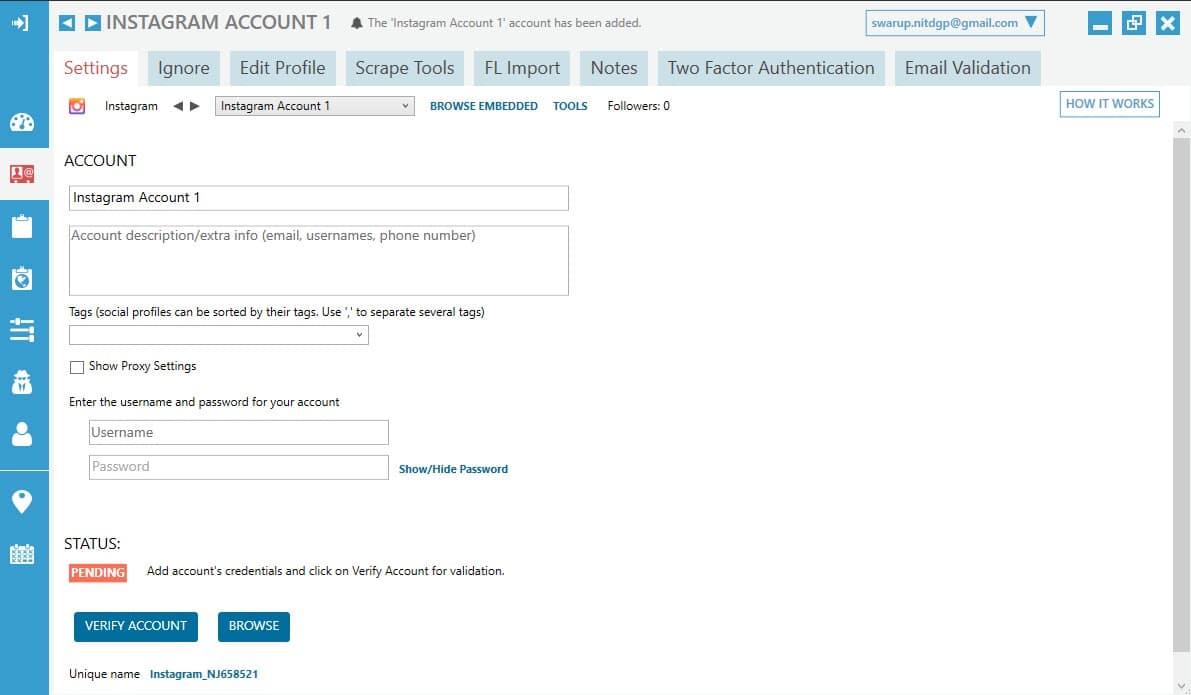 After clicking on verify account, wait for a couple of seconds and then it will tell you that your account has been verified.
From here on, You can change various things like account name, description and everything else. You can also check out the automated actions like following back, liking and commenting settings under "Tools" tab.
---
Setting Up Proxies on Jarvee
Setting up proxies on Jarvee is the most essential step. Without proxies, It is not recommended to use multiple accounts on Jarvee as Instagram can ban your IP addresses if they find out that you're using bots to boost your engagement.
Services like StormProxies, MyPrivateProxy, and HighProxies provide the best proxies for Instagram. You can easily buy one of their Instagram proxy packages and add the proxies in Jarvee.
You can easily add the proxies in Jarvee for all of your Instagram accounts using the following steps.
Open Jarvee and select "Proxy Manager" tab.

After opening the proxy manager, You will see the following page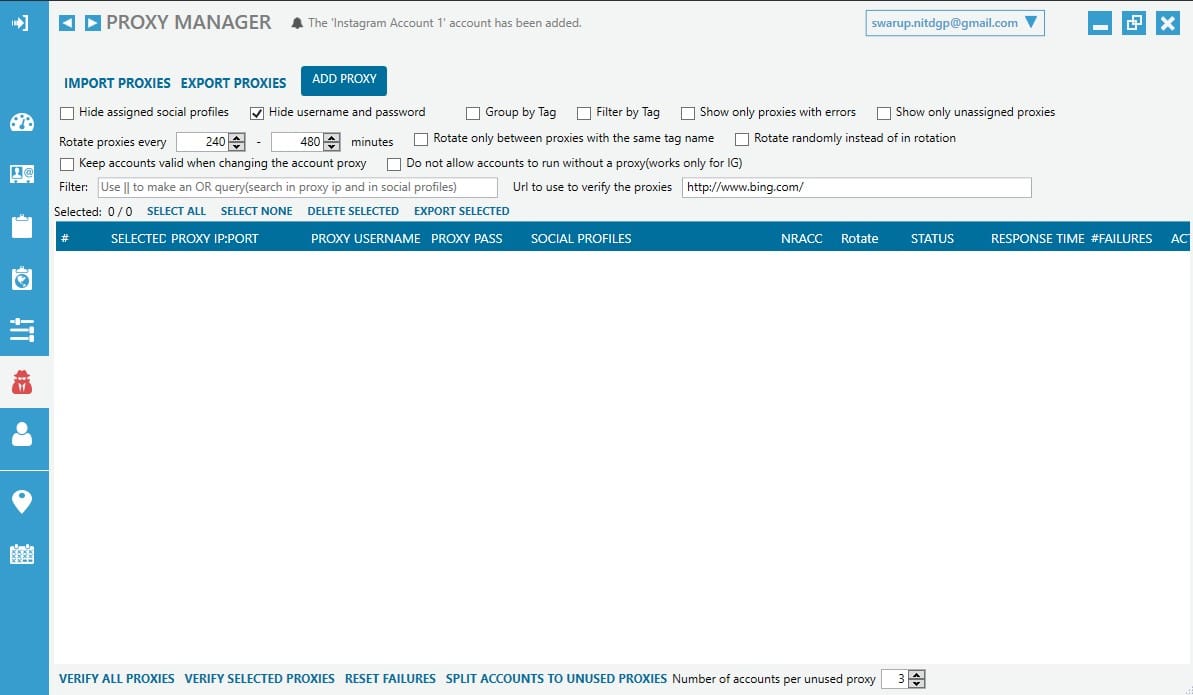 Now put the IP: Port of the Instagram proxy that you bought, Add the username and the password associated with that proxy. After that, select the account that you want to associate this proxy with under the "Social Profiles" tab.
After that, click on add.

After that, Click click the checkbox on the proxy you just added, and in the bottom, Click verify selected proxies. It will verify the proxy and your proxy will be added to the account!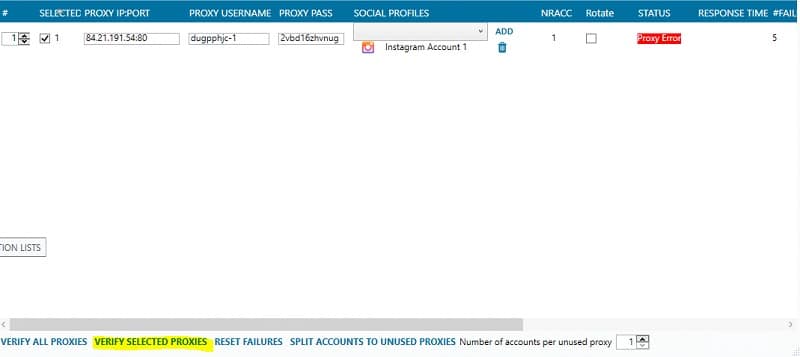 ---
Final Verdict
Affiliate Marketing is a great way to earn money on Instagram if you have a moderate fan following. Using a VPS, An Instagram automation tool Jarvee and a couple of Instagram proxies, You can start an Affiliate market business on Instagram with little Investing money!