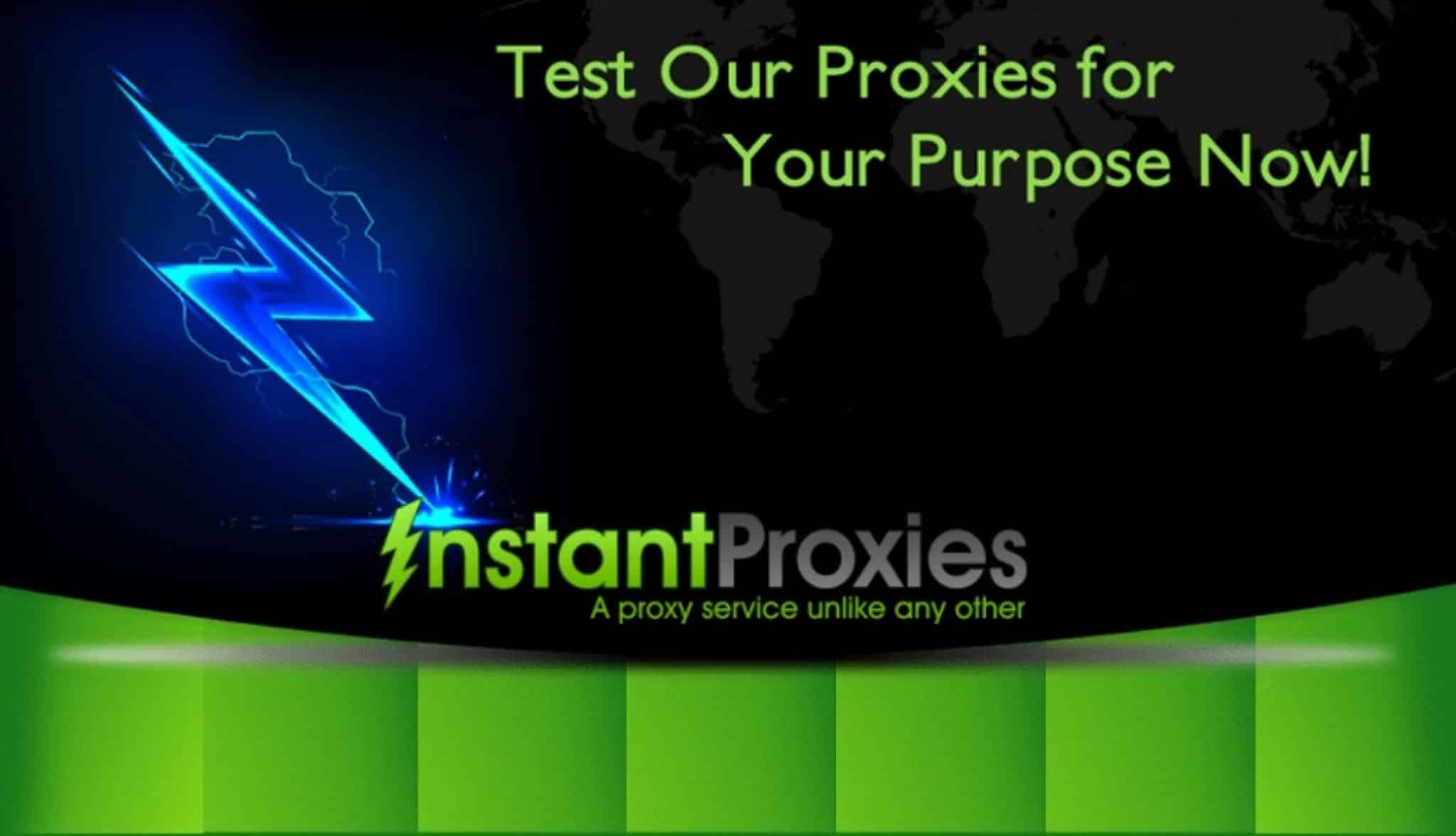 InstantProxies is one of the cheapest proxy selling companies on the internet. Not only do they sell cheap proxies but the quality of these proxies is far better than the price at which these proxies are being sold.
That is why it is one of the most known proxies selling companies on the internet. And why shouldn't they be? Who doesn't love a pack of cheap proxies?
---
Overview
Currently, InstantProxies is currently providing only one type of proxy on their website. However, you can choose a specific use for the proxy that you are buying from their website from the drop-down menu on the purchase page. Here you can select different categories for which you might be using the proxies, e.g. Instagram, Youtube, Craiglist, etc.
InstantProxies DetailsUser RatingUser Reviews
| | |
| --- | --- |
| Dedicated Proxy | Yes |
| HTTP/HTTPs Proxy | Yes |
| Socks5 Proxy | No |
| Speed | 1000 Mbps |
| Multiple Cities | Yes |
| Multiple Subnets | Yes |
| Bandwidth | Unlimited |
| Uptime | 99.9% |
| Non – Sequential IP's | Yes |
| Customer Support | 24/7 Ticket Support + Live Chat |
InstantProxies Review
0 out of 5 stars (based on 0 reviews)
User Reviews
There are no reviews yet. Be the first one to write one.
---
There are a lot of people using InstantProxies for their businesses. The feature which makes them a better choice for a business is their low price, as it can prove very reliable for people who require a ton of proxies for their business. Those people can buy proxies from InstantProxies at a cheap rate and carry out their work without any difficulty at all.
InstantProxies, as the name suggests, provides its clients with instant proxy activation. Seconds after purchasing the proxy from their website, you will get an email from them which will redirect you to your activated proxy. They are a great choice for people who are in a rush and want to get their hands on a lot of proxies in the minimum amount of time.
InstantProxies provides its clients with multiple cities to choose from for their proxy location and offer unlimited bandwidth.
Their proxies are highly anonymous and protect your identity on the internet. They have good support. However, there is a debate on the internet that their promise of "24/7" live support may not be true, as several people have claimed that they have really slow support.
InstantProxies is currently offering only one type of Proxy authentication, IP Authentication. You can whitelist up to 10 IP addresses and use them to access your proxy.
InstantProxies is a good proxy provider which provides the cheapest rates on the internet. If you want fast and reliable proxies with the cheapest packages rates, then InstantProxies is your option.
---
InstantProxies has been in the proxy business since 2012 and has been providing quality proxies at a cheap rate. Following are the advantages that you will receive when you are using InstantProxies.
Quality Proxies at a cheap rate
InstantProxies has been on the internet since 2012 and has been selling quality proxies with the cheapest rate on the internet ever since. They have a huge customer base and have surely developed their name among the leading proxy providers on the internet. Although they are only providing private proxies on their website and not other proxies like shared proxies, Instagram proxies, etc., they provide quality and working proxies on their website for a price that is very hard to believe. For a price of 1$ per proxy, InstantProxies has been the number one choice of the people for the cheapest proxies on the internet.
Being an old company, InstantProxies has highlighted their name in the famous proxy companies on the internet. With over seven years of experience in the proxy business, InstantProxies has been providing the best proxy services on the internet.
It is always seemed better to buy proxies from a known proxy provider that has enough experience in the field actually to know how to please their own customers. Fortunately, InstantProxies has enough experience in the proxy business to fulfill all of your needs.
USA and European Locations
InstantProxy provides both USA Based locations and European locations for their proxies on their website. If you wish to have a specific location for your proxies, you can submit a ticket before purchasing the proxy, and they will check their database if the specific location is available for your proxy and will let you know accordingly.
However, InstantProxies does not itself disclose the proxy locations that they are providing on their website for various unknown reasons. But using their ticket system, you can ask for your own specific locations if you need.
Affordable Proxy Package

As discussed above, InstantProxies is only providing Private Proxies on their website, and they do not have a huge list of proxies provided on their website. However, they provide really cheap proxies starting from 1$ per proxy. Following is the proxy package available on their website.
| | | | |
| --- | --- | --- | --- |
| Package | Multiple Cities | Multiple Subnets | Price / Month |
| 10 proxies | Yes | Yes | $10 |
| 25 proxies | Yes | Yes | $25 |
| 50 Proxies | Yes | Yes | $50 |
| 100 Proxies | Yes | Yes | $100 |
| 250 Proxies | Yes | Yes | $250 |
| 500 Proxies | Yes | Yes | $500 |
Proxy Authentication and IP Refreshing
Proxy Authentication is a way for proxy selling companies to allow their customers to secure their proxies. Currently, InstantProxies is only providing one method of proxy authentication.
Only One type of Proxy authentication method is giving on their website. There is no option for Username/Password Authentication. On a positive note, IP authentication is a great way to authenticate your proxies. You can easily register the IP addresses that you wish to authenticate and use them to access your proxies whenever you want.
Moreover, InstantProxies offers you a monthly IP refresh that you can use to refresh your IP address of the proxies every month after paying your proxy renewal payment for the next month. Although they provide fresh IP addresses for their proxies, Having a second option for an IP refresh is great!

Unlimited Bandwidth
All proxies that you buy from InstantProxies comes with Unlimited bandwidth. This means that you do not have to worry about any sort of data limit when you're using the proxy, and you can use the proxy to the fullest.
Most proxies come with a bandwidth limit, and once you finish up on that limit, you cannot use the proxy anymore. In the case with InstantProxies, there's no such thing as a Limited Bandwidth.
There are no restrictions when it comes to using your proxies limitlessly. You can use your proxies as much as you want, provided that you pay for them each month. Cheap proxies with unlimited bandwidth. What more could you ask for?
Blistering Speeds and 99.9% Uptime
InstantProxies provides blistering speeds on their proxies with 1000+ Mbps server speeds. Having a greater server speed ensure the better quality of the proxies which provide a smoother experience once you start using the proxy on the internet. InstantProxies provide faster speed on their worldwide servers which makes their international customers a convenient way to choose their proxies and get the proxy speed they want
Their servers have an uptime efficiency of 99.9%. This means their servers are always up and running and there is hardly ever a time that their servers are down for maintenance or any other reason.
5-day Refund Policy
InstantProxies provides its customers with a 5-day refund policy. This means that if you don't like their proxies, you can easily return the proxies that you have purchased from them in a five day period.
This makes it easier for newer customers to check the quality of the proxies that they are buying at the time of the purchase and they can easily return the proxies if they do not like the proxies.
No Debit Or Credit Cards accepted
Unfortunately, InstantProxies is currently only accepting three types of payment methods on their website, and it does not involve paying through your debit or credit cards. The payment options that they are currently providing are :
Proxy Authentication
InstantProxies only supports a single type of proxy authentication method which is IP Authentication. They have not provided a second authentication method which is Username/Password Authentication.
The need for a secondary authentication method is essential and necessary as it provides more control over your proxies and makes it easier for proxy users to access their proxies.
Slow Website Support
If it's one thing that InstantProxies isn't the best known for, it is their support system. They have an incredibly slow support system on their website, and it can usually take hours before you can get in touch with one of the customer support representatives.
People all over the internet have complained about the slow support of InstantProxies, and in our opinion, they should definitely take some measures to better their support system.
---
Do we recommend InstantProxies?
Yes, we definitely do. InstantProxies is a great website if you're looking for cheap proxies to use for common purposes. They provide quality proxies with the lowest price on the internet. InstantProxies has established itself as a trustworthy and leading company on the internet when it comes to proxies, and they are definitely worth giving a shot!
---
Submit your review