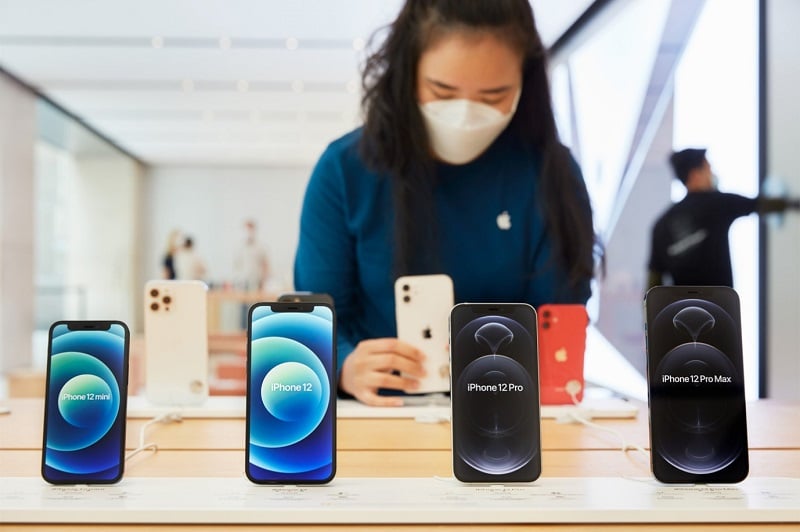 After months of trying to find the best ways to supply the market with the latest generation of iPhone devices, the Apple executives are now in a position to reap the benefits. Even though international commerce is not at its best right now, the new iPhones are already selling like crazy, generating billions for the American tech giants.
Apple's decision to launch a variety of devices for the 12th edition of iPhone allows for the targeting of a wider audience. The surprise at this early stage, comes from the mini version of the device, as thousands of people seem to be leaning towards buying the iPhone 12 mini instead of the other options.
---
iPhone 12 Mini – Price Point
The iPhone 12 Mini is the cheapest of the range, but it's not as if it's being touted as a budget phone by Apple. It starts at $699 for the 64GB version, going up to $749 for 128GB and $849 for 256GB. The table below shows the comparison between the different versions of iPhone 12:
| | | | | |
| --- | --- | --- | --- | --- |
| | 64GB | 128GB | 256GB | 512GB |
| iPhone 12 Mini | $699 | $749 | $849 | N/A |
| iPhone 12 | $799 | $849 | $949 | N/A |
| iPhone 12 Pro | N/A | $999 | $1,099 | $1,299 |
| iPhone 12 Pro Max | N/A | $1,099 | $1,199 | $1,399 |
Apple had to go the extra mile when developing iPhone 12, as the competition in the mobile phone industry is getting bigger and fiercer. Samsung and Huawei released top-of-the-line mobile phones, and if Apple were to keep up with mobiles such as Galaxy S20 5G, then they would have to make iPhone 12 a lot better than its predecessor. In many ways, Apple managed to deliver on that promise, but there are a few things that could have been better.
In this case, "could have been better" translates to equipping iPhone 12 devices with a much better battery. Some versions of the new iPhone have a shorter battery life than that of the previous model, and at times when people rely on their phones for everything, this can be considered bad for business. Luckily, this is not the case for iPhone 12 mini.
The mini version of the new iPhone is a great trade up phone for iPhone users, especially if they are switching to iPhone 12 after owning a device released before iPhone X. The processing power of the mini is impressive, no matter if you are using your phone to play Mega Moolah at www.slotsheaven.com/uk or if you are streaming a three-hour movie like Avengers: Endgame through the Disney+ application. With an iPhone 12 mini, you will get the same screen size as the one you would have for the much heavier iPhone 7 Plus and a faster and smoother functionality than that you would have if you were using an iPhone 11.
---
Specs Overview:
The main marketing point of the iPhone 12 Mini is that users are getting the same amount of power and performance (well, almost) as the standard iPhone 12 – it's all just squeezed into a smaller device. Moving up to the Pro or Pro Max will give you added features like Telephoto, a LiDAR Scanner and 4X Optical Zoom Range. But between the Mini and standard iPhone 12, the difference is really just size alone:
4" Super Retina XDR Display
133g weight (4.70oz)
Dolby Vision HDR video 30 fps
2X optical zoom range
A14 Bionic Chip
5G
15 hours video playback (standard iPhone 12 has 17)
Water resistant up to 6m and 30 minutes
---
General Notes
In terms of carrying around, using the mini will save up some space in your pockets and even though this might not feel like much during the winter when the multiple layers of clothes allow for more pockets, it is something that one will appreciate during the summer months. Having a smaller phone is not for everyone of course, but for those who need a screen with a display that is bigger than the mini's 5.4 inches, there is always the Max version that comes with a 6.7 inch display. Nevertheless, trying to fit a phone as big as iPhone 12 Pro Max in your skin-tight jeans is not going to be easy.
---
Is it Worth Switching from iPhone 11 to iPhone 12?
Many iPhone users say that you do not really get that much in return when you switch to a new iPhone after using the model that was released right before it and this is not far from the truth. The 12th edition of iPhone is very similar to the 11th, despite the fact it wears slightly better hardware parts. The main difference, in this case, is that iPhone 12 is the first Apple phone that comes with 5G. If you are not among those who are sceptical about using 5G and if you want to have an iPhone that connects to a 5th generation mobile data network, then buying an iPhone 12 is your only option.
As for choosing the Mini over the other iPhone 12 models, it really is a question of what you feel comfortable with in your hands and pockets. Many of us (this author included) welcome having a smaller device, especially one that packs in the performance of the larger models. The Guardian, in its review of the device, called the iPhone 12 Mini, "The King of Small Phones", and it's hard to disagree with that assertion.