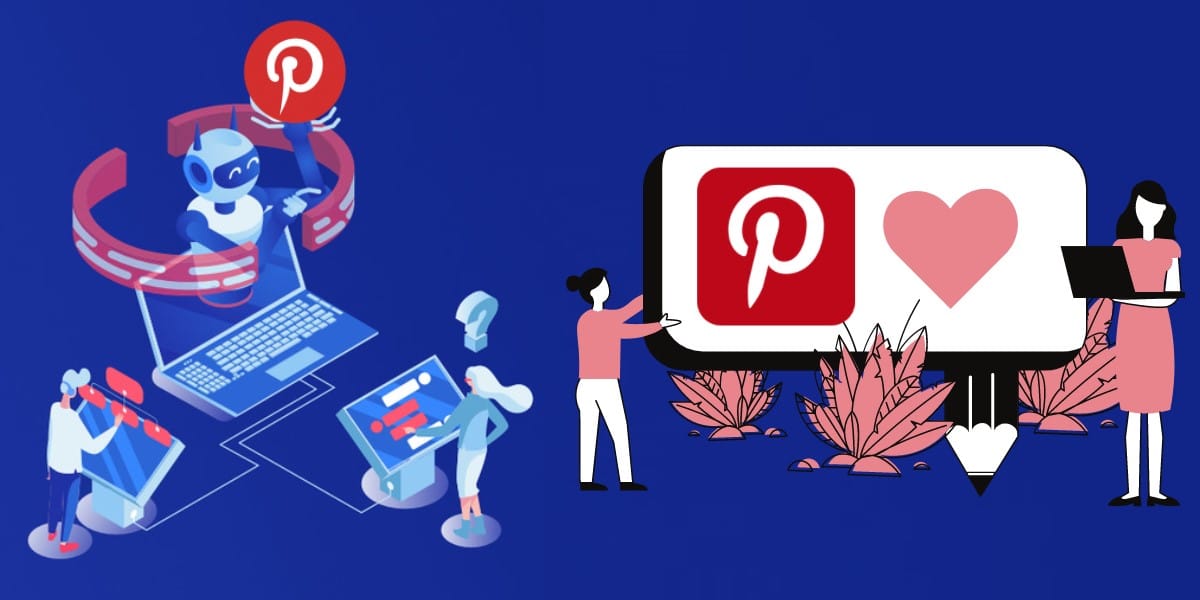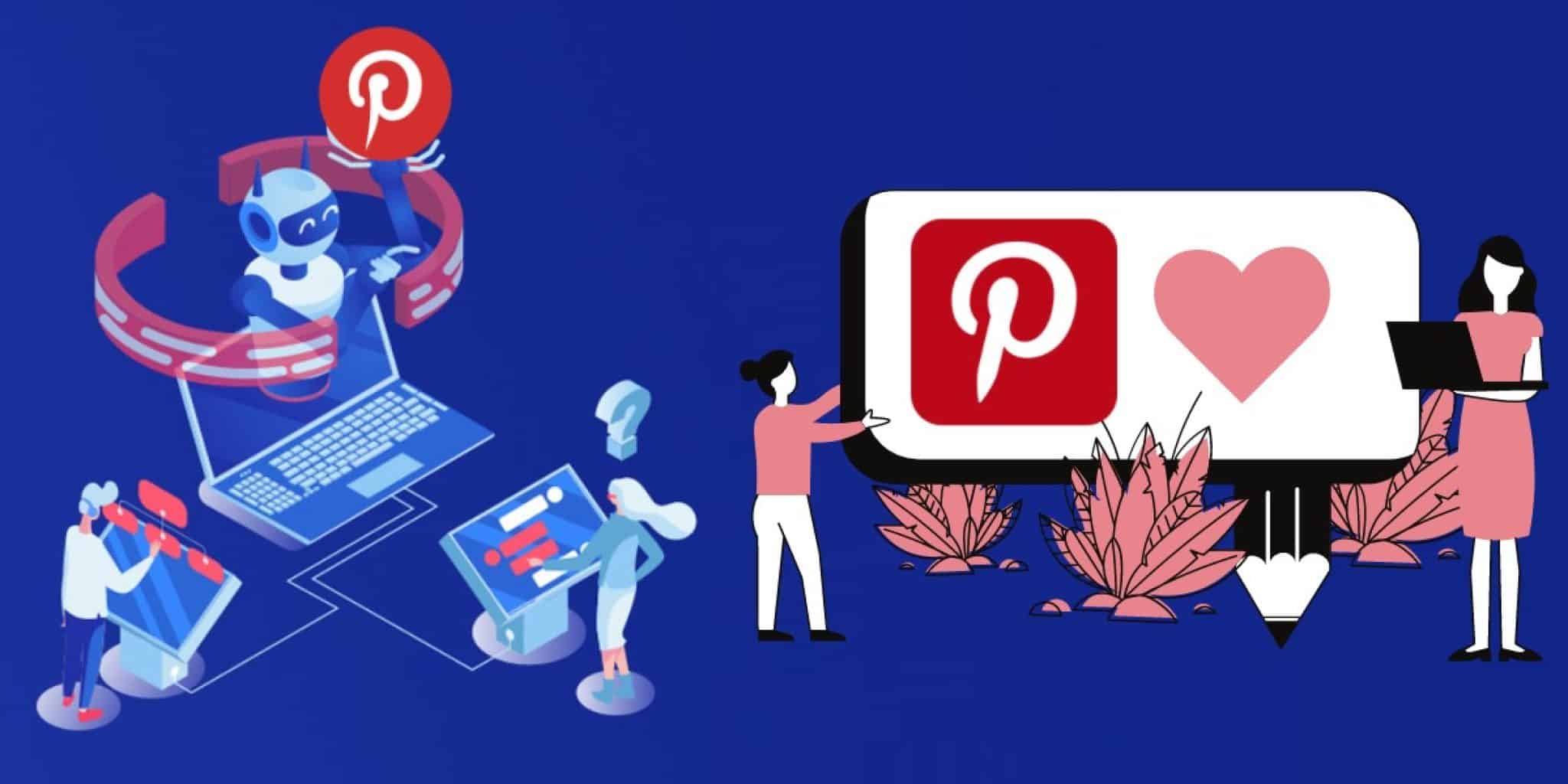 If you are planning to scale your business through Pinterest, a bot can help you automate all your tasks. How to choose the right one? Read more here to find out.
Pinterest is a social media platform with tons of tips and ideas making it the best place to get skills and hone your passion. Anyone looking for dressing tips, cars, furniture designs, and more will find Pinterest a rich resource. How do the businesses that post content manage their Pinterest accounts? If businesses must post tons of content, they can benefit a lot from the use of bots.
What is a Pinterest Bot and Why Use It?
A Pinterest bot is an automated software that schedules pins for posting in your Pinterest account as well as creates boards. A bot is excellent for performing menial tasks that you consider boring and time-consuming. A good Pinterest bot will automatically get you followers who are interested in your boards. Bots can also send invites to people who are potentially interested in your boards.
Best Pinterest Bots & Tools
Sprout Social is an excellent Pinterest bot that allows you to visualize pins and has special tools that help to inspire ideas. This tool can also manage other social media platforms within the same interface. It lets you automatically schedule and publish pins on Pinterest with minimum effort. The tool also helps you set up and preview how they will look like once published. Sprout Social also comes with a calendar that helps you view your activities.
Features
It has an excellent analytics tool that measures the scale of your engagement
It has a tool that tracks URLs across different platforms telling you where the traffic is from.
It is a great tool for teams providing excellent workflow and ideation
You can schedule and post different pins according to the set configurations
---
This is an excellent Pinterest bot that comes with several features that help in managing your social media account. Before publishing, it lets you choose a date and time for posting or it can do it immediately as instructed. If you're not finished with curating your content, the bot lets you save the content for further review before posting. Crowdfire is capable of managing various social media accounts using the same interface.
Features
It is great at content curation and it allows you to choose topics and it also offers related subtopics.
The tool lets you get the RSS feed from other sites and integrate it with the bot and share.
The bot also suggests popular and relevant hashtags to help optimize your posts
It has an easy-to-use interface that even a newbie can work with.
---
SocialPilot is a bot with powerful features for social media management. It helps your team to schedule and post pins on Pinterest at set intervals. The tool can also be used on many other social media platforms. The plans offered are cost-friendly with the lowest price being $25 per month for accounts. It provides excellent analytics, client management tools, and more. The bot can be used on the go as it is accessible on both iOS and Android devices.
Features
You can schedule posts for different social media accounts including Pinterest.
Its calendar feature helps it track posts from different platforms.
Excellent analytical and reporting tools
It can be accessed from mobile applications
---
This is effective cloud-based software that can support any business's social media activities. It helps in scheduling Instagram posts, managing content, planning, marketing, and tracking audiences. The tool allows businesses to have customized capabilities for posting and handling content through various platforms. Links can be customized, also RSS feeds, you can edit in bulk, and have several user accounts. The software allows you to distribute roles based on seniority and also is supportive of third-party applications.
Features
It lets you plan for marketing activities and track their performance
It has a friendly interface and can be used by several team members
It is fairly priced and it has a 14 day free trial period
It can be used for managing content on several other platforms
---
Jarvee is a widely used social media automation bot that helps make tasks easier. It supports several other social media platforms other than Pinterest. Users can import content through RSS feeds, generate keywords, as well as scrape. It is safe and secure with no history of hacking. Jarvee also provides a free trial period and they have a refund policy. Though a great platform, it is a challenge to work with, for non-tech people and newbies.
Features
 It is Windows-based software and works better with Windows 7 or higher.
You must install Jarvee on your computer for it to efficiently work
The bot can detect and deal with fake blocks
It can send direct messages to followers and target people
---
This is a social media management tool that claims to provide real followers and pins. The bot provides you with pins helping your business to be popular. The company offers to drop replacement at no cost within 15 days. It is a curated software that ensures all providers are authentic and well-vetted. Appsally, however, cannot provide pins from countries such as the USA, Canada, and the UK.
Features
It is a safe and secure tool with no history of hacks
It uses hand vetted professionals to provide authentic pins
Users have a 15-day free credit replacement period
It has an easy to use user interface
---
Followersup is a social media management platform that can help you run your Pinterest account. It is also compatible with several other social media platforms and delivers packages within 24 hours. It also has 24/7 responsive and supportive customer service and its site is safe and secure. You can buy Pinterest followers for as low as $5 and claim to be organic.
Features
The user interface is user friendly
It has a secure payment gateway
It is compatible with several other social media platforms
It is fairly priced
---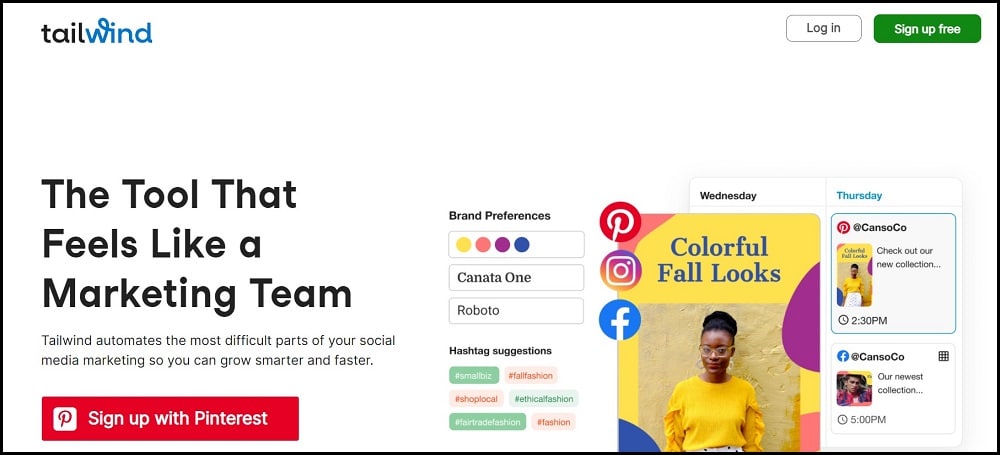 With a single calendar, users can manage several accounts from the same place. Tailwind is an all-in-one platform because it allows you to create and schedule within the same medium. It optimizes your posts by suggesting the time to post. The interface is customizable as users can change the fonts, colors, and logo. It is a good hashtag finder that can reach tons of users and you can connect to the community of creators.
Features
It is great at scheduling tasks
You can manage different platforms within the same software
The community section allows other creators to find pin your posts
It has a good customer support system
---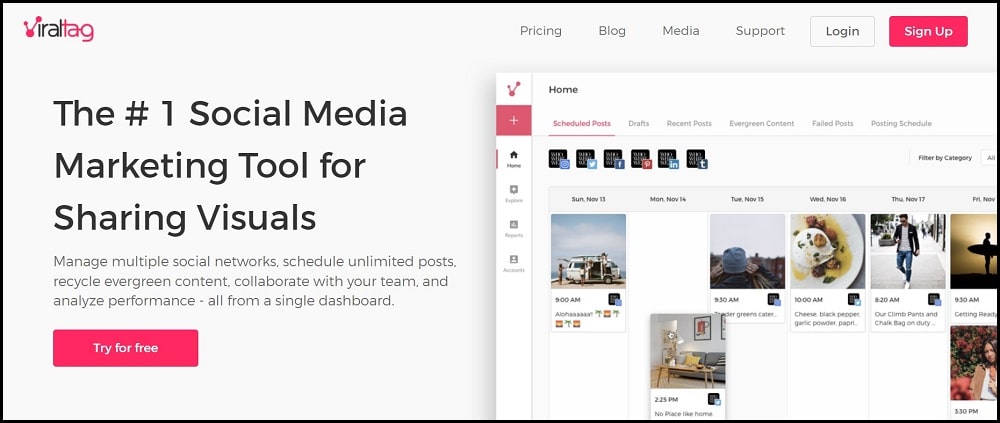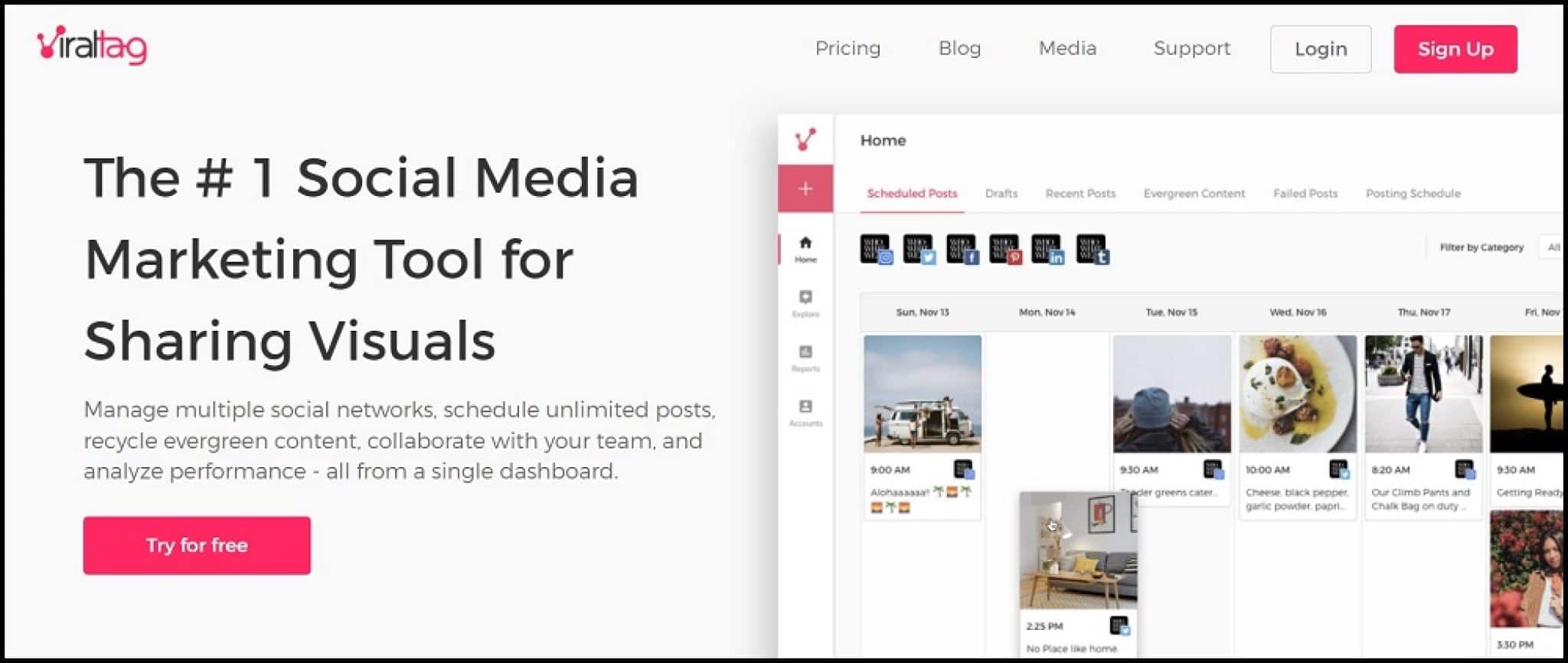 Viraltag lets you manage different accounts from the same platform and it is a cloud-based social media management tool. It allows you to schedule posts, customize texts, and image measurements swiftly. This bot integrates with Canva allowing users to create graphics for post customization. It also has a 14 day free trial period with no credit cards required.
Feature
It is an easy to use social media management platform
It can integrate with other third-party tools for better post customization
You can schedule posts in bulk to hundreds of boards
It is best for small businesses and agencies
---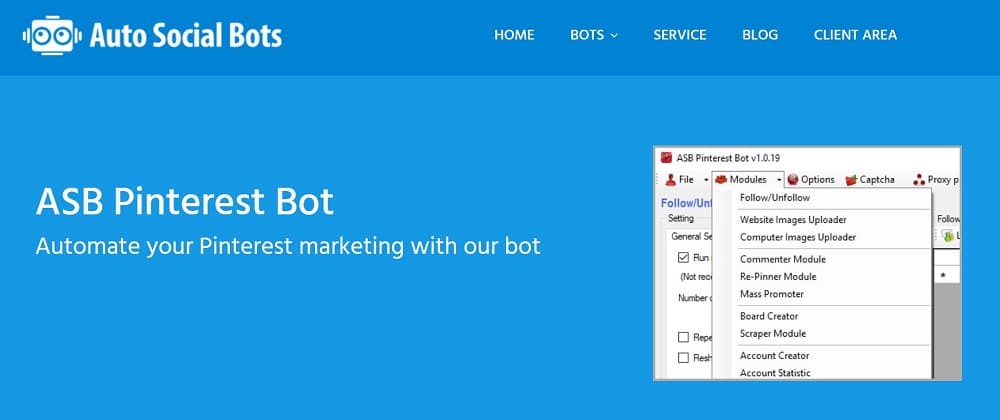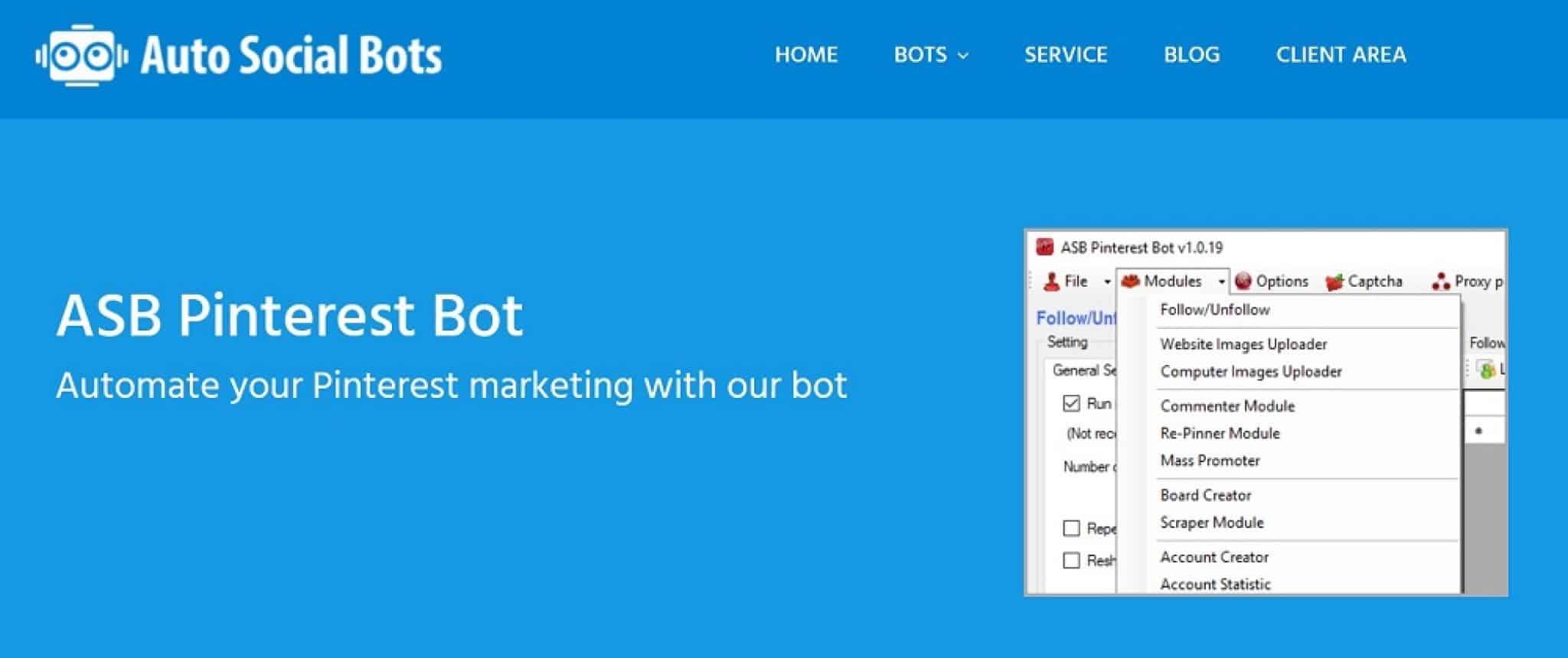 Auto Social Bots is an excellent social media management bot that allows you to have unlimited Pinterest accounts. It is fast and their website is HTTP secure therefore safe to use. The bot is regularly updated and they have a 7-day money-back guarantee on any cancellations. The bot auto pins, schedules posts, auto comments, scrapes, and create boards. Users can have the bot at $39 and it also uses proxies to avoid detection.
Features
The bot is regularly updated
It automatically schedules posts according to the timelines set
You can create unlimited Pinterest accounts
The bot is safe and secure to use
Conclusion
As you shop for a bot that fits your needs keep in mind that Pinterest does not allow users to use bots therefore be careful to not get discovered. Start with the list we have provided in this review before making a decision. Posting your content on Pinterest through bots allows you to get likes and repins thereby helping your account to grow.