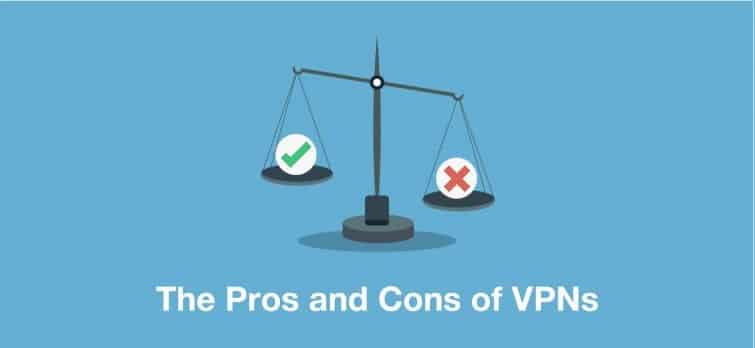 VPN or Virtual Private Networks is a method of establishing a secure encrypted connection to another location in order to access their local resources or to browse the internet. VPNs have benefited almost every netizen around the world. Not only do they provide access to your office resources but they also protect you against the prying eyes of hackers and other cyber criminals.
As is the case with everything in the world, VPNs have pros and cons relating to their uses. In this article, we shall be enlisting both, pros and cons of using a VPN.
---
Let's Start With the Benefits of VPN
Cost efficient – VPNs reduce the cost of operation by eliminating the need for long-distanced leased lines. Most of the work can be carried out through VPN network only. Cost cutting in telephone charges is also made possible by using VPN connection.
Provides flexibility to the employers and the employees – Communications over a VPN connection are secure and cannot be easily intercepted. Further, VPNs allow the worker to work remotely from any location. No more do they have to worry about the availability of office resources.
Enables easy inter-networking – VPNs are also used to bridge different networks together. Creation of an extended intranet can be easily done using VPNs, by joining several different networks together.
Easy file sharing – Sharing files with several co-worker is easily done by creating a VPN network. Since, different employees are on the same network, so a file shared by anyone of them is accessible to the entire network. No longer does one need to ask someone to hand over a certain file or other resources. Everything is present on the network.
Anonymous Surfing – VPNs create an encrypted connection between you and the server, which avoids chances of being deciphered by hackers and the snoopers. Using a VPN provides complete anonymity while accessing of all web applications and websites.
Better performance – Several VPN providers provide you with better bandwidth and efficiency via your network. Several paid VPNs provide you the option to choose your preferred server location. Choosing a secure server located nearby, helps you to enhance the performance of the network as a whole.
Wi-Fi Security – Using a public Wi-Fi exposes you to many spying and monitoring activities. A VPN connection keeps your private data and browsing sessions completely private and confidential.
Masks IP Address – Using a VPN masks your IP address with another IP address. This protects your online identity as well as helps you in accessing geographically restricted websites.
Accessing blocked websites and bypassing filters – VPNs are known for bypassing internet filters. Blocked websites are easily accessible through a VPN. VPN's ability to bypass geographical filter and web restrictions has made it a preferred choice in countries where heavy censorship is practiced.
Malware protection – There are VPN providers like HideMyAss that provide you protection against malware. Regular alerts are provided by such VPN services and they also block websites infected with malware.
---
Disadvantages of a VPN
Speed limitations – The speed of a VPN is dependent upon the server location. If the server through which connection is being made is fast and reliable, then it ensures good speed. Unfortunately, most of the free servers are slow and sluggish.
Compatibility issues – VPNs from different clients have compatibility issues due to which they may not work well together.
Complexity – VPNs are complex compared to other methods of using a similar service. Using a VPN requires a certain level of technical knowledge. Knowledge about networks is also important to fully understand the way VPNs function.
---
Conclusion
No doubt, VPNs have been helpful for a significant portion of the society. They have been of immense help to the countries or universities with strict internet censorship issues. No longer are people concerned about their online security and privacy.
However, like every other thing in the world, VPNs have their limitations and cons. However, upon comparing both the pros and cons of VPNs, we realize that benefits of VPN outweigh the disadvantages by a huge margin.