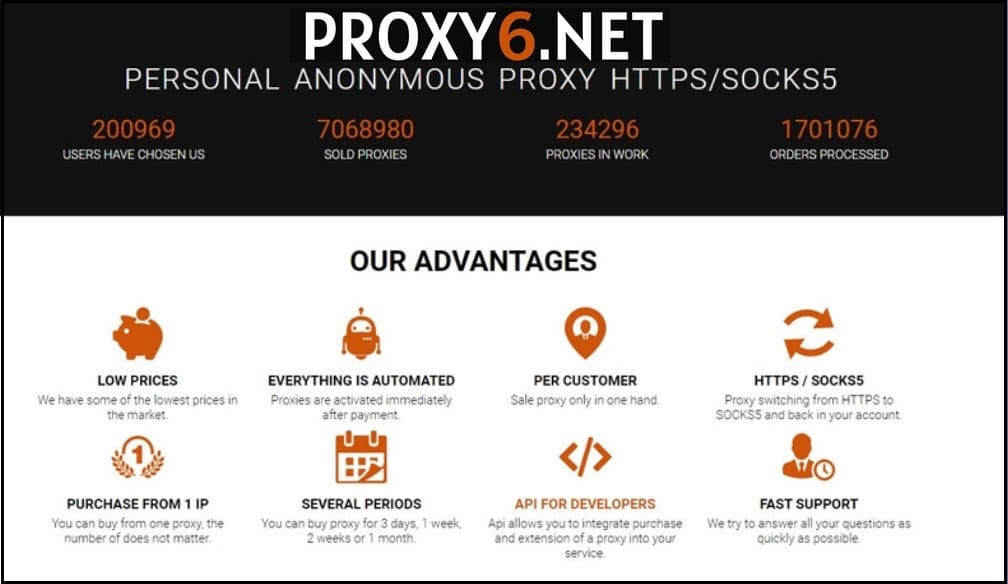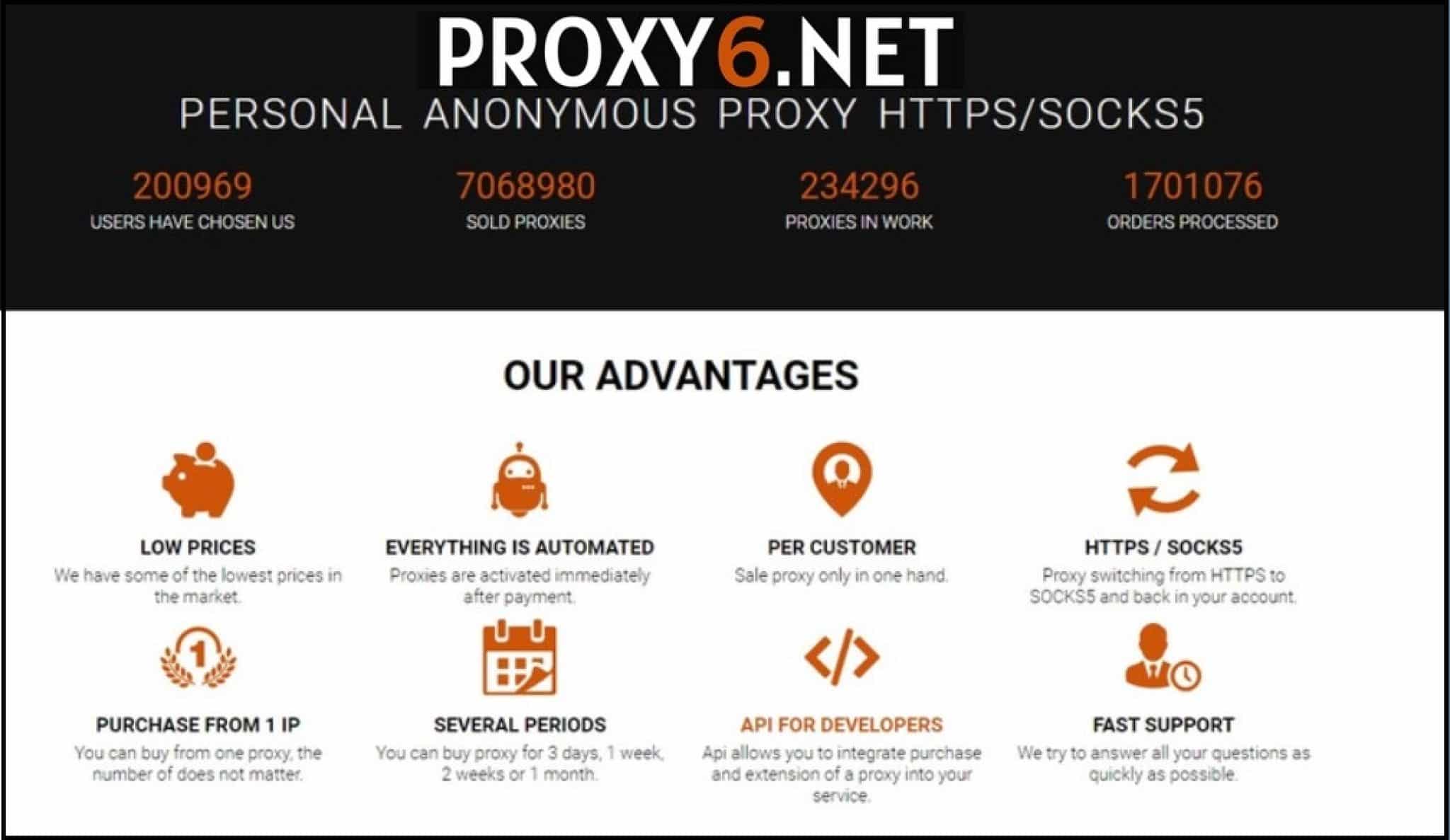 Proxy6.net is a private and shared proxy provider on the internet run by the Russians. They provide both HTTP and SOCKS proxies.
This proxy provider provides highly anonymous proxies and has been doing so for the last seven years or so. They provide elite proxies with HTTPs and SOCKS protocol. They have been providing high-quality proxies at some of the cheapest price points on the internet for the last seven years or more and have made more than 100,000 customers since the time of their foundation.
---
Overview
Currently, They are providing 3 types of proxies
IPV4 Proxies (Internet Protocol Version 4)
IPV6 Proxies(Internet Protocol Version 6)
IPV4 Shared Proxies (Internet Protocol Version 4)
Proxy6.net DetailsUser RatingUser Reviews
| | |
| --- | --- |
| Dedicated Proxy | Yes |
| HTTP/HTTPs Proxy | Yes |
| Socks5 Proxy | Yes |
| Shared Proxies | Yes |
| Multiple Cities | Yes |
| Multiple Subnets | Yes |
| Bandwidth | Unlimited |
| Uptime | 99.9% |
| Non – Sequential IP's | Yes |
| Customer Support | 24/7 Ticket Support + Live Chat |
Proxy6.net Review
1 out of 5 stars (based on 2 reviews)
User Reviews
They are total Scam I paid 2 times but all those proxies were dead before I received it via email..
I request a refund but not a single reply till now. ..
Guys don't waist your time on www.proxy6.net
Useless 👎
I Purchased a proxy and after purchase I receive the proxy but when I checked using proxy checker it's dead. . . I already paid another 2 proxy but still same problem. . .
This is a scam site.
When I asked for refund they terminate all the proxy and put the money in my account on their website, so they expect me to pay again. . . .
TTotal Scammmmm
---
Buying a good proxy is essential if you're willing to go anonymous on the internet. The quality of the proxies that you buy should be great and the price that you're getting the proxies should be reasonable and shouldn't be too expensive on your pocket. Proxy6.net provides cheap proxies for basic use on the internet for as low as $1.25 a month.
Proxy6.net provides dual authentication methods on their proxies which makes it easier to access proxies from anywhere and easily without any problems. Having a dual authentication method not only increases the security of your proxies but also increases the mobility of your proxies and makes it easier for you to access them from anywhere.
Proxy6.net is providing a lot of locations from all around the world. They have different locations for different proxy plans unlike other proxy providers out there. They do not provide specific proxies like Instagram proxies or Craigslist proxies. Rather than that, They have proxies Like IPV4 Proxies and IPV6 Proxies.
Proxy6.net provide unlimited bandwidth on all of their proxies. Moreover, They do not have a special proxy plan for any type of proxy. Rather than that, You can simply type in the number of proxies that you want under the corresponding type of proxy. After that, It tells you the price of the proxies that you put in. You can easily select the location that you want from there, and you can easily buy the required proxies.
Difference between IPV4 and IPV6
IPV4 and IPV6 are two different versions of internet protocol (IP). In a nutshell, IPV6 is the enhance upgraded version of the IPV4 Protocol. There are various  differences between the IPV4 and IPV6 protocol, which can be understood from the following comparison table.
| | | |
| --- | --- | --- |
| Features | IPV4 Protocol | IPV6 Protocol |
| Number of addresses |  4.29 x 10 9addresses. | 3.4 x 1038 addresses |
| Representation of address | Normal Decimals | Hexadecimal |
| Encryption | Not Provided | Provided |
| Authentication | Not Provided | Provided |
| Address Configuration | Manual And DHCP | Auto- Configuration |
---
Proxy6.net  was founded eight years back and is one of the oldest proxy providers on the internet. Following are the advantages that you will receive upon using the proxies provided on their website.
Cheaper Proxies
Proxy6.net is providing very cheap proxies starting from $1.25 a month! These cheap proxies definitely come in handy if you have a low budget and want to get basic proxies for use. Proxy6.net offers the cheapest proxies on the internet, and if you're a little low on budget, you should definitely go for Proxy6.net's cheap proxies.
As we discussed previously, Proxy6.net is only selling 3 types of proxies IPV4,IPV6, and IPV4 Shared Proxies. Following are the proxy packages with the prices that they are providing.
IPv6 Proxies
IPV6 is more like the upgraded version of the IPV4 protocol and deliver better performance and speed with the proxies. However, they are relatively new in the proxy world and do not work as good on websites as the IPV4 proxies and are still in the making process. Following are the packages of IPV6 Proxies
| | | | |
| --- | --- | --- | --- |
| Package | Multiple Cities | Multiple Subnets | Price/Month |
| 5 proxies | Yes | Yes | $02.25 |
| 10 Proxies | Yes | Yes | $03.38 |
|  25 Proxies | Yes | Yes | $08.84 |
| 50 Proxies | Yes | Yes | $15.00 |
| 100 Proxies | Yes | Yes | $26.25 |
| 200 Proxies | Yes | Yes | $45.00 |
| 1000 Proxies | Yes | Yes | $150.0 |
IPV4 Proxies
| | | | |
| --- | --- | --- | --- |
| Package | Multiple Cities | Multiple Subnets | Price/Month |
| 5 proxies | Yes | Yes | $06.24 |
| 10 Proxies | Yes | Yes | $12.84 |
|  25 Proxies | Yes | Yes | $31.21 |
| 50 Proxies | Yes | Yes | $62.41 |
| 100 Proxies | Yes | Yes | $107.1 |
| 200 Proxies | Yes | Yes | $214.2 |
| 1000 Proxies | Yes | Yes | $1071 |
IPV4 Shared Proxies
| | | | |
| --- | --- | --- | --- |
| Package | Multiple Cities | Multiple Subnets | Price/Month |
| 5 proxies | Yes | Yes | $02.95 |
| 10 Proxies | Yes | Yes | $05.89 |
|  25 Proxies | Yes | Yes | $14.73 |
| 50 Proxies | Yes | Yes | $29.46 |
| 100 Proxies | Yes | Yes | $53.57 |
| 200 Proxies | Yes | Yes | $107.14 |
| 1000 Proxies | Yes | Yes | $535.7 |
Wide Range Of Locations
As discussed previously, Proxy6.net provides different locations for different proxy plans mentioned on their websites. They have a total of 15 different locations available for their proxies. However, for IPv6, Only 10 locations are available. For IPv4, all 15 of the locations are available, and for IPV4 Shared proxies, only 3 locations are available. Following is the summary of the locations which are available for different proxy plans.
IPv6 Proxy Locations
Locations
USA
Australia
Singapore
United Kingdom
France
Germany
Ukraine
Russia
Japan
Netherlands
IPv4 Proxy Locations
Locations
Netherlands
France
Canada
Spain
Ukraine
India
Denmark
United Kingdom
Sweden
Germany
Italy
Romania
China
USA
Russia
IPv4 Shared Proxy Locations
Authentication and Refreshing IP's
Proxy6.net  is a really old and experience Proxy providing service, and like all good proxy services, it comes with a dual authentication method. Proxy6.net  currently Supports both types of authentication methods ;
IP authentication
Username/Password Authentication
This provides you with a better approach to your proxies whilst adding mobility and flexibility as well. You can easily authenticate your proxies with either of the methods indicated above without any problem at all.
Moreover, Proxy6.net  comes with an option to refresh your proxies every once a month. Although their proxies come with fresh IP's, adding an option to randomize the IP address every once a month provides an extra layer of security as well.
Unlimited Bandwidth
All proxies that you buy from Proxy6.net  comes with Unlimited bandwidth. This means that you do not have to worry about any sort of data limit when you're using the proxy, and you can use the proxy to the fullest. Most proxies come with a bandwidth limit, and once you finish up on that limit, you cannot use the proxy anymore. In the case with Proxy6.net , there's no such thing as a Limited Bandwidth. There are no restrictions when it comes to using your proxies limitlessly. You can use your proxies as much as you want, provided that you pay for them each month.
Faster Speed and Better Uptime
Proxy6.net  provides blistering speeds on their proxies with 1Gbps + server speeds. Having a greater server speed ensure the better quality of the proxies which provide a smoother experience once you start using the proxy on the internet. Proxy6.net  provide faster speed on their worldwide servers which makes their international customers a convenient way to choose their proxies and get the proxy speed they want.
The trial period, the Refund policy and Customer Support
One of the many features of Proxy6.net   is that they allow you to test their proxies for a time period of 24 hours. This ensures that you are getting the proxies that you are paying for and helps new customers in checking the quality of the proxies before they buy them. If for any reason the buyer does not like the proxies and wishes to get his money back, He can easily contact the website and get his refund in 48 hours without any fuss. However, This trial version policy is only limited to a few plans in the proxy packages.
They also provide you with a refund policy, but it has to be made on the same day as the day of purchase. They have a strict policy regarding refund and will carefully speculate the reason for refunding before refunding the money for the proxies.
The Customer Support of Proxy6.net   is great, and they have a ticket based support system. You can easily contact their website support at any time you want. They respond to queries as quickly as possible and solve the queries of their customers.
---
The proxies are instantly activated once the payment goes through and the entire process is automated.
The users can switch the proxies from HTTPS to SOCKS5 through their account.
The service provider offers API integration for the developers.
The proxies provided in all packages are extremely anonymous.
The proxies can be renewed directly from the control panel accessible by every user where they can choose the period of extension of the proxy.
The speed of IPv4 and IPv4 shared proxies is 10Mbit/s.
The speed of IPv6 proxies is 30 Mbit/s.
The proxies can be authenticated by either IP validation or using a username and password.
Proxy6.net offers a one-day money back guarantee where the proxies can either be refunded or they are replaced. Usually, the refund only happens in a few cases for a reason like slow performance and the proxies not working due to bugs. There is no refund if you can't access a particular website.
The proxy service provider also starts with a minimum billing cycle at 3 days and one month.
There are several modes of payments that the portal accepts including debit and credit cards, PayPal, Bitcoin, Webmoney and a few others.
While the proxies offered by Proxy6.net are of extremely high quality and are sure to work on all niche web portals as well as generic websites, there are few platforms that are not accessible.
The banned platforms include port number 25. The proxies provided do not have email deliveries activated.
The service provider also has a strict policy against spamming. It has completely banned social media spam as well.
---
No specific Proxies
Proxy6.net only provides two types of proxies which are categorized as IPV4 and IPV6. It does not provide shared proxies or the proxies which are specified for certain purposes like Instagram proxies, Craigslist proxies, etc. Having a separate proxy for specified purposes ensures the satisfaction of the customers and also guarantees the working of these proxies. The absence of these specific proxies is a serious downside.
Lower Proxy Speeds
According to the FAQ section of the website, the speed of the proxy connections is as follows.
| | |
| --- | --- |
| Proxies | Speed |
| IPv4 | 10 Mbps |
| IPv6 | 30 Mbps |
| IPv4 Shared | 10 Mbps |
The speed provided by Proxy6.net is slower than most proxy providers out there and is a huge downside in our opinion.
---
Do we recommend Proxy6.net?
Aside from a few downsides, Proxy6.net is a great proxy provider and provides quality proxies at some of the cheapest price points on the internet. They have a great website and have been providing quality proxies for a long time since their time of foundation. Proxy6.net is an elite proxy service and are more or less recommended.
---
Submit your review