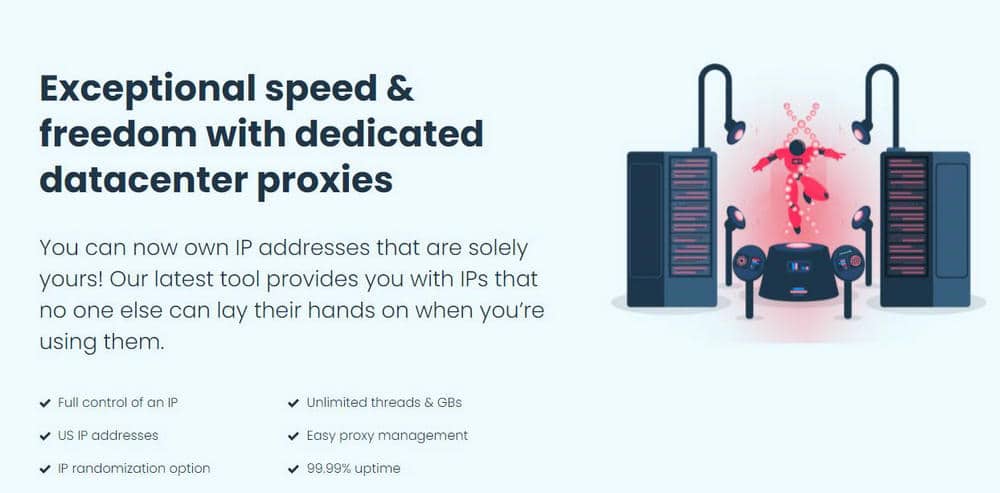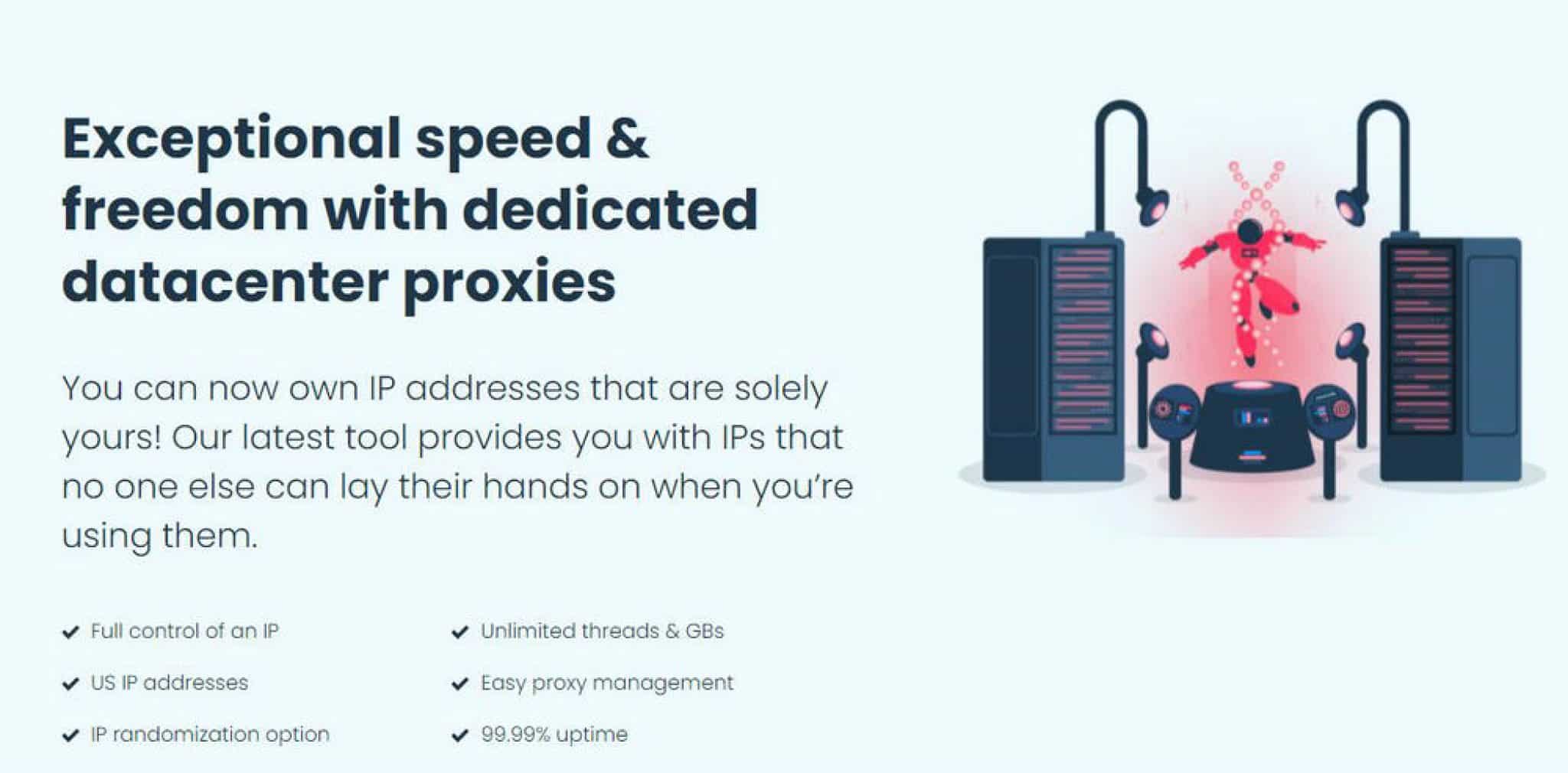 Smartproxy is an outstanding proxy provider. Their products are popular, Dedicated Datacenter Proxies launched, more enriched their product types. So what makes this new product unique? Please follow us to find out.
Many internet marketers use dedicated datacenter proxies. You attest to this if you have consistently been reading about proxy usage. While dedicated datacenter proxies are detectable, they are as well not compatible with most complicated sites. But this does not imply that datacenter proxies do not have been used. Mostly, they are used in social platform automation and marketing. You can use Dedicated datacenter proxies on complex websites too.
Although there is rotating and static, the decision depends on you and your needs. So in this article, we will be reviewing the dedicated datacenter proxies from the Smartproxy provider. This provider has launched these proxies this year, and they seem to be the best on the market. Before e dive deeper into details, let us first look at its features.
Feature of Smartproxy Dedicated Datacenter Proxies
Smartproxy is currently specializing in dedicated datacenter proxies. Their proxies have unique IPs. This feature helps users have reduced risks of being blocked, have full control and ownership of their IPs, trust, and access healthy and fresh IPs. They have exceptional features as listed below.
Faster than Residential Proxies
While residential proxies are popular and reliable, they are not as faster as dedicated datacenter proxies. Their speed is slow. The Smartproxy dedicated datacenter proxies have a stellar speed, giving users 100% full control of their IPs. They come with unlimited GBs and threads. Data scraping has now become faster, unlimited, and Zippy-Nippy.
More Reliable than Datacenter Proxies
The Smartproxy dedicated datacenter proxies are reliable than any datacenter proxies. This is because most of the datacenter proxies are detected and flagged by anti-spam. While dedicated datacenter proxies are private and hard to detect because they offer rotating and static yet unique IPs.
Price Advantage
The dedicated datacenter proxies from Smartproxy have the lowest price starting from $39, including VAT. More options are relatively dependent on your use and need. Once you purchase them and activate them, users have unlimited bandwidth with no restriction.
Focus on US Location
This might sound like a drawback, but other users find it as an advantage. Most people use US proxies when copping limited edition sneakers and automating social media accounts. However, you must realize that the closer the dedicated datacenter server location to a geo-target region, the higher the success rate. Tus, focusing on US location, targets the obvious sneaker sites while optimizing speed.
More Possibilities
Since this is a new service from Smartproxy, we don't doubt their endless possibilities. The free replacement of the blocked or banned IPs is soon coming. Thus, customers will spend less not only enjoying fresh IPs but also having full control. This feature has only been available while using residential before the inception of DDC. We are keeping an eye on this to let you stay updated.
IP Randomization and Easy Management
The user has 100% control power thus can change IP at any time and many times as your subscription is active. You can neatly organize, download the IPs, and copy them. The service is top-notch.
How to Use Smartproxy Datacenter Proxies?
Using Smartproxy DDC proxies is simple. Follow this step-by-step procedure to the end. They provide endpoints to help users filter IPs by region.
1. If no account exists, register an account for Smartproxy. Getting an account will let you access features.
2. Login to the dashboard, and you will see something like this displayed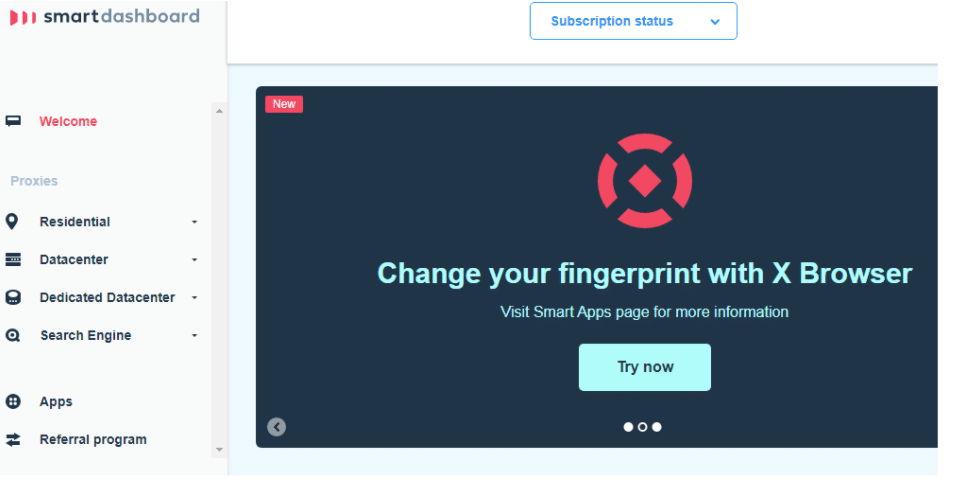 3. Navigate to "Dedicated Datacenter proxies as shown above.
4. Before using the proxies, you must commit to a package. Click pricing to purchase your package. Select from the list as shown below: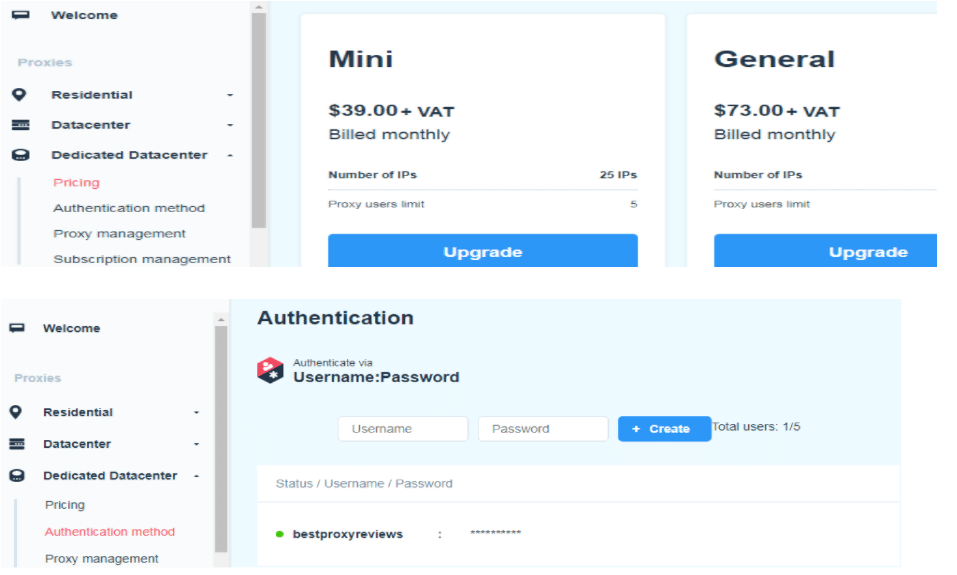 5. Select the authentication method. You can create and edit anytime. And this allows up to 5 users only.
6. Navigate down to proxy management, and you will access your available proxies dispensing with your subscription. Based on your selection, you can generate the endpoints, and in our example, we have rotating IPs from the USA.


To use the above IPs endpoints, you can copy or download and paste them to any software to start using the proxies immediately. As well, you can cancel your subscription anytime so that your subsequent purchase is automatically canceled. You can still access your active subscription until the end, and your dashboard will remain active.
Conclusion
Smartproxy dedicated datacenter proxies are new in the business but are taking the market by storm. They are now being used in web scraping, social media account automation, and sneaker copping in less restricted sites. The proxies have lightning speed with unlimited threads and GBs.
The dedicated datacenter proxies are cheap, and all pros can attest that you can use them to scrape data simultaneously without being blocked. Even though they are US IPs, they are fresh, and users have 100% power to control them. Stear clear using dedicated datacenter proxies from the US and evade flags or bans. Try it, and you won't be disappointed!