This week has been particularly exciting for platform redesigns and innovative features. Make sure to check them out on your device and let me know what you think in the comments below!
---
Snapchat discover looks different
According to Snapchat, it's "news" section of the app called "Discover" has been hardly used by Snapchatters. This is where particular number of publishers publish their news and articles in a native form which suits the behaviour of a Snapchat user. The articles are short and funny, featuring a lot of animations and videosYou could find Snapchat Discover when swiping to the right or see round icons featured in the stories page. This time, new Discover shows more content rather than just brand icons. Right now everyone can get their stream of articles in the stories page and when swiping to the right a scrollable stream of articles appear. This makes content way more visible and appealing to the eyes of a Snapchat user.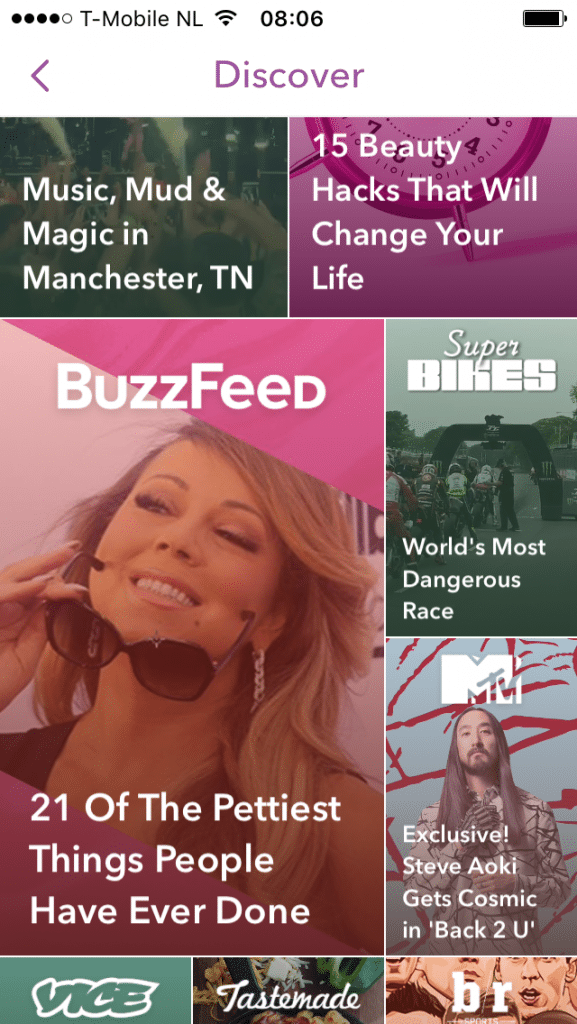 The stories screen has also got a redesign – "Live" stories are no more shown as bullets above our own stories, but they're pushed below and look similar to the articles. This allows the user to see their friends' stories first, and then scroll below to see what's happening right at this moment in the world.
What's also new? You might notice little tweaks to icons and navigation. For example, new chat windows, three redesigned icons which by the way also appear in the stories and chat windows.
---
Facebook now allows for 360-degree videos
2016 is definitely the year of virtual reality and thus 360 videos and photos. This week, Facebook as introduced us to a new concept – you can now view videos with the full 360 degree perspective as well as sound. By swiping on your mobile device (or clicking and dragging the mouse on desktop) you can see everything that's happening the point of focus. See an example from National Geographic:
To make a 360 degree video, you would need to make sure your camera is able to film such movies as well as it has necessary metadata in the file for Facebook to read that it's a 360 video. You can also play with virtual reality sound and link to Facebook 360 Spatial Workstation. 
Traditional editing techniques still apply but require new and creative thinking to put the viewer inside your story.
All tools and more specs are available in a special Facebook group made for videographers and developers: Facebook 360 Community. If you have a Samsung phone you will see a special logo "Watch in VR" on 360 videos in News Feed, letting you know that this video can be cast to Gear VR or Oculus Rift.
Facebook has also enabled 360 degree photos – you can shoot them with your iPhone or Samsung phone. Anyone will be able to upload 360 videos or images provided the file contains the metadata necessary to be recognized as 360 content. Here is a guide made by Facebook to explain how the technicalities work.
From now, Facebook users will be able to view 360 images and videos on their newsfeeds. Facebook has attached a special icon as an overlay, so that you know you can drag it in any direction. Mark Zuckerberg has already posted his snap of US Supreme Court:
Facebook is introducing publisher tools, insights and metrics to understand how a 360 video is viewed. More on all upcoming developments here: https://facebook360.fb.com/
---
Twitter partnered with NBA
This time it's Twitter's turn – the platform now enables 360 videos too. Although Twitter is not yet ready for scaling it up like Facebook did. First tweet from NBA has featured a 360 degree perspective of NBA finals – see the backstage here!
This makes virtual reality scene very interesting for Samsung Gear, which at this point partners with the biggest social media platforms. Facebook 360 videos and photos, Twitter 360 videos and YouTube 360 live streaming videos. Apple – any news? 🙂