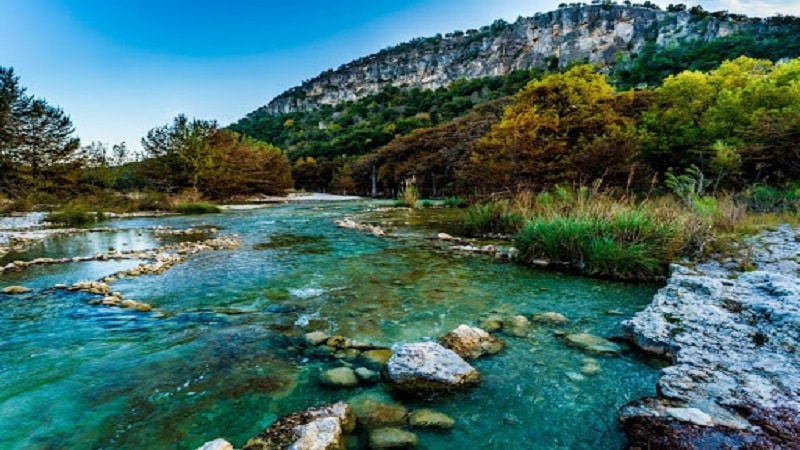 Ready to set off on another camping trip but not sure where to go? We got you covered! Here're 5 best camping spots in Texas for the most enjoyable pastime.
Among the 48 contiguous states, Texas enjoys the title of the biggest one, with a 100,000 square miles gap separating it from California. As a result, there are hundreds of picturesque places that make for fine camping sites. Truth be told, you can have a great camping trip practically anywhere if you don't mind primitive camping. In all honesty, we at gritroutdoors don't mind that at all.
However, there are several places that every Texan outdoor enthusiast should visit. Texas is quite big, so we chose places from 5 parts of the state so that at least one of them wouldn't be too far from you. Unless you happen to be equally far from each. Then take our heartiest apologies.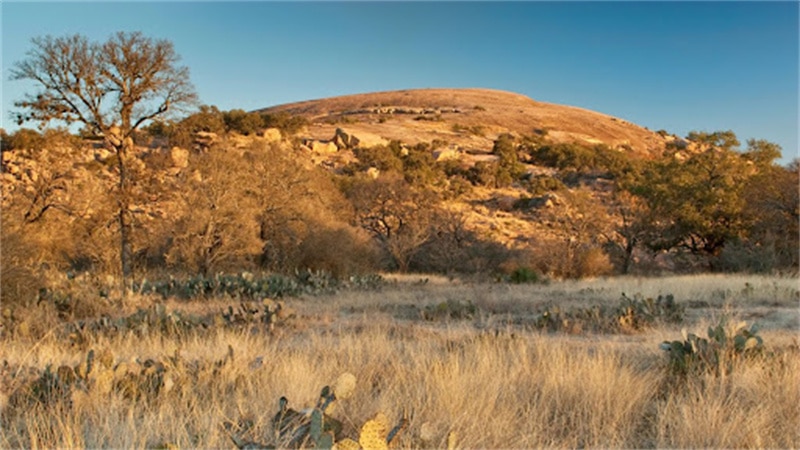 ---
Enchanted Rock State Natural Area
It seems only appropriate to start our tour from the Texas Hill Country, region housing views so picturesque and camping opportunities so plentiful that overlooking it is a crime against the spirit of the outdoors.
We could theoretically dedicate the whole article to the region's camping sites and exceed the 5-place threshold with ease, but that would be a topic for another time. Enchanted Rock State Natural Area is a big, shiny pearl embellishing Texas Hill Country's brooch. Campers can find both respite and entertainment in the towering shadow of this pink granite mountain, famed for the legends surrounding it.
If you are not particularly interested in the stories of the monolith rock, local vistas and landscapes won't leave you indifferent. Regardless of your preferred style of camping, there are dozens of spots you can take advantage of. There are 35 tent-only sites with access to water, equipped with restrooms and shower facilities.
The area also features 20 hike-in campsites that take a mile-or-two trek to reach. If you want to diversify your trip, there are plenty of opportunities for caving, hiking, and rock climbing, so your survival gear kit will come in very handy. After a full day of activities, you can prepare for a good night's sleep by watching the stars. Stargazing at such large expanses is an experience you don't want to miss.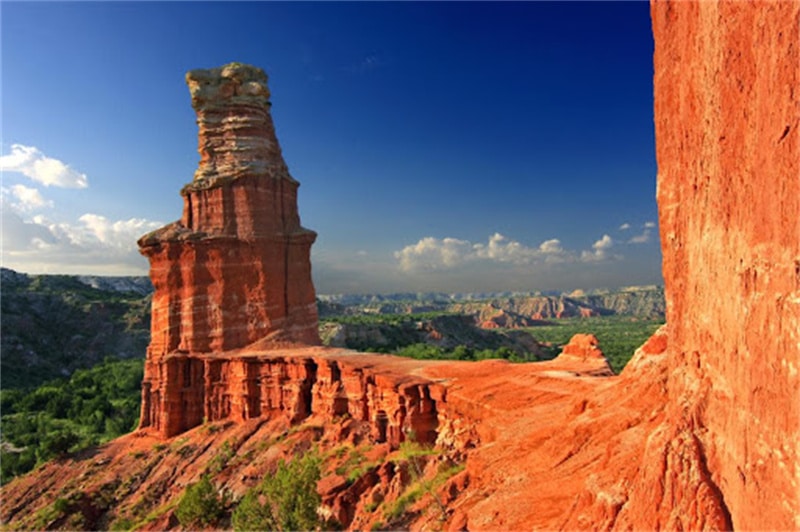 ---
Palo Duro Canyon
Continuing the topic of rocks, we leave Texas State Country to visit the state's own Grand Canyon. Not quite matching the splendor of its more famous relative, Palo Duro Canyon is nonetheless a sight to behold. It's a must-visit spot for all rock connoisseurs and anyone seeking to experience every climate zone in Texas.
If you think that lush forests enjoy the most vibrant color palette, the seething cauldron of multi-colored layers of rock and steep mesas will prove you wrong. The canyon's impressive size determines the abundance of trails and camping sites with different amounts of amenities. There are rentable cabins located on the canyon rims and floor, primitive campsites, and well-equipped camping spots.
Whether you prefer a tent or an RV, you'll definitely find a place to rest your head for the night. Among several means of exploring the 30 miles of canyon trails, horseback riding is hands-down the most thrilling one.
Several campsites are equipped with hitching posts so that you don't have to part with your hooved companions until your trip is over. A sunset hike to the famed Lighthouse is sure to become one of the most memorable moments of your life.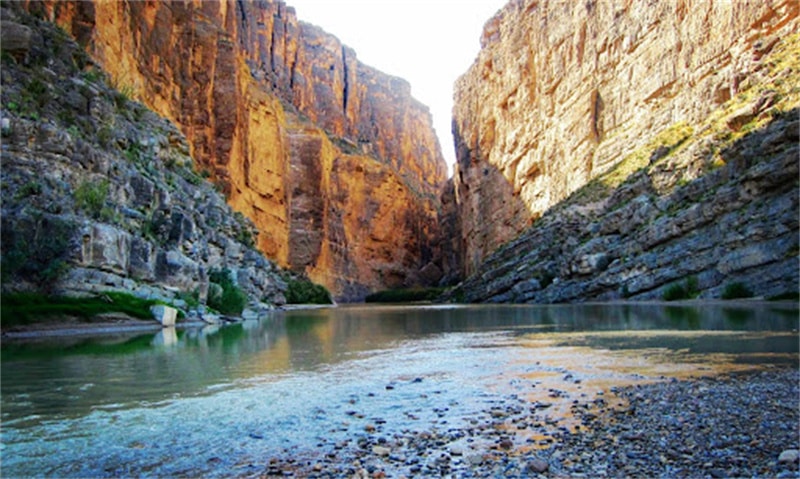 ---
Big Bend National Park
Moving on to the southwest of the state, we come across Big Bend National Park, yet another treasure trove of mesmerizing vistas of canyons and mountains. The Rio Grande River permeates the entirety of the park, granting its visitors countless camping opportunities.
The influence of the Chihuahuan Desert made this area significantly different from other regions of Texas, bringing diversity to both landscape and wildlife. It never gets boring here, either because the activities are plentiful or the views are simply breathtaking.
Big Bend National Park is known as the best place for primitive camping in Texas, with dozens of backcountry campsites accessible via backpacking, horse riding, river rafting, and off-road vehicle driving. If you prefer a more civilized camping experience there are over 100 sites, half of which are reservable ahead of time.
Those not willing to share this trip with crowds of fellow travelers can seek peace in private campgrounds.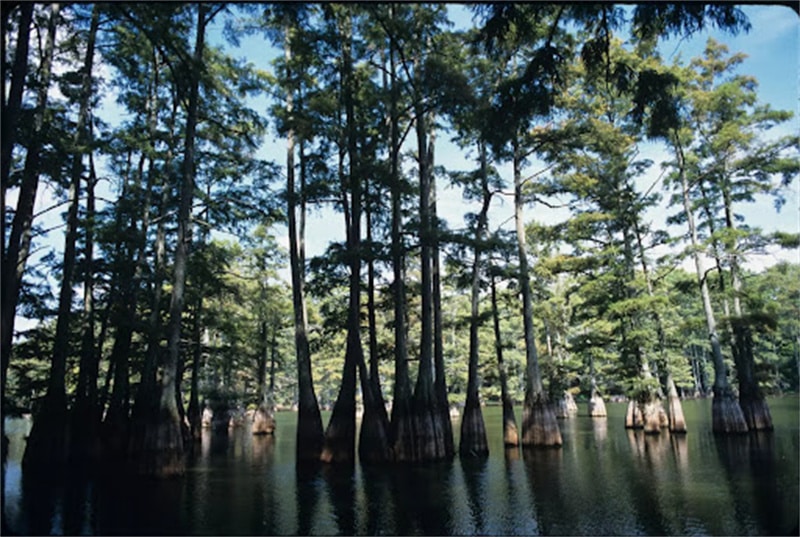 ---
Big Thicket National Preserve
Having seen all shades of rocks and cliffs, we now enter the densest forest region of Texas. A genuine delight for primitive camping enthusiasts, Big Thicket National Preserve shows us a different side of Texas' nature.
It's a must-visit for everyone who finds joy in exploring and observing flora since Big Thicket boasts plant diversity unmet anywhere else in the state. Researchers have counted at least eight ecosystems in the area, so monotony will never be an issue. Camping across Big Thicket National Preserve is like watching an ever-changing kaleidoscope of ecozones merging into each other.
Since natural order dominates the land, backcountry camping will allow you to get the most out of your trip. Traveling from longleaf pine forests to cypress-lined bayous, from floodplains to mixed-grass prairies, you will get enough impressions to say you've seen it all. You can explore the grounds by riding a bike or horse, paddling in a canoe, or walking on your own feet.
There are 112,500 acres of land waiting to be explored, and thousands of species of plants and animals to be seen.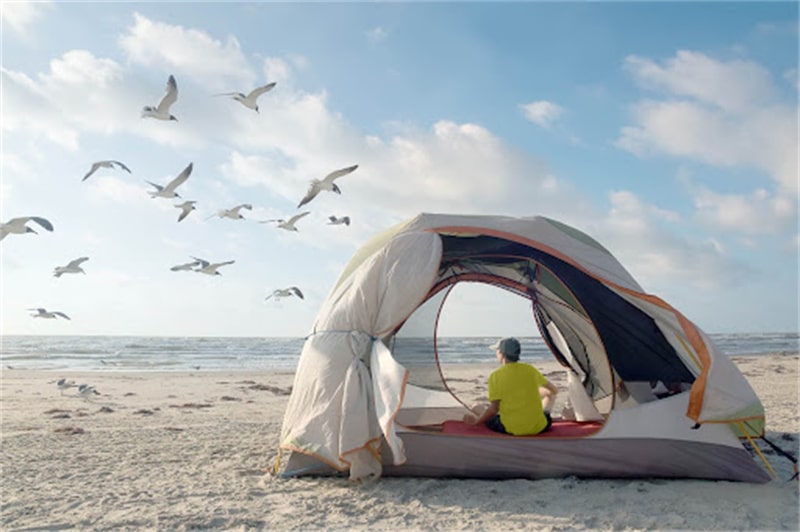 ---
Padre Island National Seashore
From peachy cliffs through lush forests we finally made our way to the big water. With the views of the Gulf of Mexico in front of our faces, we settle on a sandy beach of Padre Island National Seashore. This is the world's longest barrier island that shelters 16 wildlife species with federal or state conservation status.
At the same time, it is home to a bustling resort community, an island that attracts thousands of beach-loving campers each year. Considering the 130,000 acres of wild space, the camping options are always plentiful, even the best spots are always occupied by early birds.
The first come first serve principle, ruling this place, encourages people not to sleep through the chances, as there are always plenty of other people, willing to admire the beauty of the gulf and the triumph of life.
If you are lucky enough or have thoroughly planned your trip in advance, you'll get the chance to see newborn turtles making their way into the embrace of the ocean. As there are very few amenities available on the island, be prepared to rely on what you bring.