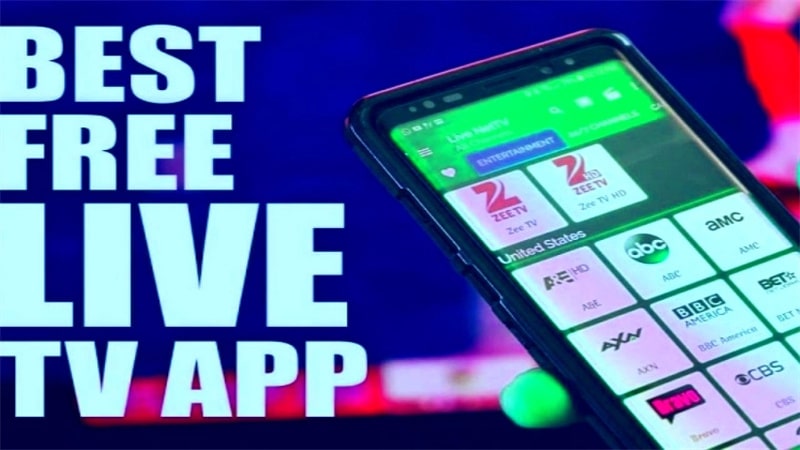 Wondering about the best free Live TV Apps for your Smart TV. Here in this guide, know the expert suggest best free app for your TV.
Let's face it, cable subscription prices have increased considerably. Hence, paying for subscriptions monthly or annually is always a major setback. It takes away the fun from watching your favorite TV show or film.
So, are there any free live TV apps for your smart TV? Yes, there are a lot of free apps where you won't even have to pay a penny to watch your favorite series.
Speaking about the smart TV apps, Tech Journalists Nicole B and Tabitha Baker mentioned these top 14 free live TV app that you can't ignore!
Now, let's us know the suggested Live TV apps:
---
1. ABC
ABC is a fore-running streaming app that has some of the most popular shows in the world. From Grey's Anatomy to Modern Family and How to Get Away with Murder, you have a variety of shows to choose from.
You can access the content through Apple TV, Samsung Smart TV, Amazon Fire Tv, etc.
---
2. PBS Kids
According to Nicole B, Tech Blogger, one issue with major apps is that they do not have any kids' entertainment section. So, without the cable subscriptions, your kids are missing out on their favorite shows. But, don't worry as we have the perfect app to entertain your children.
PBS Kids has all the shows that your kids need while they are free. Not only do they provide fun content, but they also have engaging educational content. What better way to enjoy while learning something?
---
3. NBC
Who doesn't love watching Saturday Night Live all cozy on the couch? But if you have missed it, then you can watch it on NBC's app for free.
From different series to movies, NBC will keep you entertained with its binge-worthy shows. Although some of the content remains locked for subscribers, there is a lot that you can watch for free.
---
4. Peacock
Peacock has recently come to light due to The Office US as Netflix removed it from their database. But apart from this popular series, there are a lot of other films and series for your perusal. The major advantage is that it is absolutely free.
---
5. The CW
Are you tired of paying heavy subscriptions to Netflix every month for the series that you can watch for free? From series like Riverdale to Supernatural, for which you have to pay for on Netflix, you can watch it for free on The CW.
CW is available on all Smart TV platforms so that you don't have to look for content anywhere else!
---
6. Cartoon Network
We all have such great memories of watching Cartoon Network before going to school. You can now access all the shows that your kids love without the cable. Moreover, all the shows that have ever been on Cartoon Network will be available on your Smart TV.
However, some of the content on the Cartoon Network app is blocked for free users and you can only access it once you have paid for it. But you don't need to worry because the majority of the content is free.
---
7. Tubi TV
Tubi TV will not disappoint you because it is one of the best out there. It has the content of all major production houses and around 7000 movies and shows for you to watch.
But there is only one issue with this app, and that it is full of ads. Unfortunately, the frequency of ads is very high, which may give you a typical cable experience.
---
8. Crackle
Crackle is similar to Netflix as it has its own shows and a variety of content that has already been produced. In addition, it has some of the most popular TV series and movies that are available on Netflix or Amazon Prime with a subscription.
You can easily access it through your Smart TV and binge-watch the free shows.
---
9. IMDb TV
Everyone knows about the IMDb ratings, but very few people know that it has its own TV platform. It has an array of films and series for you to enjoy without paying a penny. You can access it across all Smart TV brands.
---
10. Popcornflix
Popcornflix has content that dates as far back as the 80s and 90s. From sci-fi to horror and other different genres, you can find any modern or classic film and series on it.
It does not need any subscription, but you'll have to watch a couple of ads to compensate for that.
---
11. Pluto TV
Pluto TV will give you the same experience as cable TV. The content is assorted into categories such as entertainment, kids, news channels, anime, music, movies, etc. However, this app will feel like cable TV due to the numerous ads it showcases.
If you don't want to go for cable TV due to its high prices, this is the best option for you. Additionally, it is available across all brands of Smart TV.
---
12. NewsOn
Being in touch with reality and your everyday surroundings is imperative. What better way to access news without cable TV? NewsOn is a great app to be in touch with your local and international news.
This app gives you access to the whole world's news. You can choose any country and see what is happening in the world.
---
13. Crunchyroll
Anime series and movies have taken the world by storm. Anime lovers are already familiar with Crunchyroll because it is the one-stop destination for their content.
For others, if you want to give the anime world a try, then Crunchyroll is the app for you. It is available across Android, iOS, and Windows devices.
---
14. Xumo
Xumo is similar to Pluto TV as it too has an assortment of different genres and channels to choose your content from. But it has a live TV option that is unique to only a few apps. Most of the other apps have the content stored in the database.
Additionally, it gives you the cable TV experience with the on-demand request.
---
Final Thoughts
Cable TV is undoubtedly versatile as you can get different content genres, but it is expensive and not worth the money when you can access the same content for free. We hope this article helped you know the different free TV apps for your Smart TV.