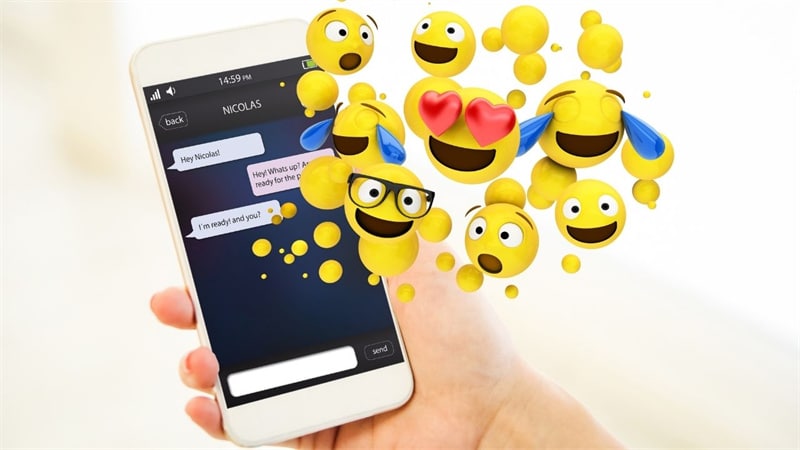 Do you need to communicate with team members to get work done? If the answer is yes, then you should definitely be using a team chat app for your business.
Workplace chat apps are one of the best solutions to improve your team's productivity and optimize workflows for your business. You'll be surprised at how many of your business communications you can consolidate into one place and how much that boosts your team's efficiency!
---
Benefits of Using Team Chat Apps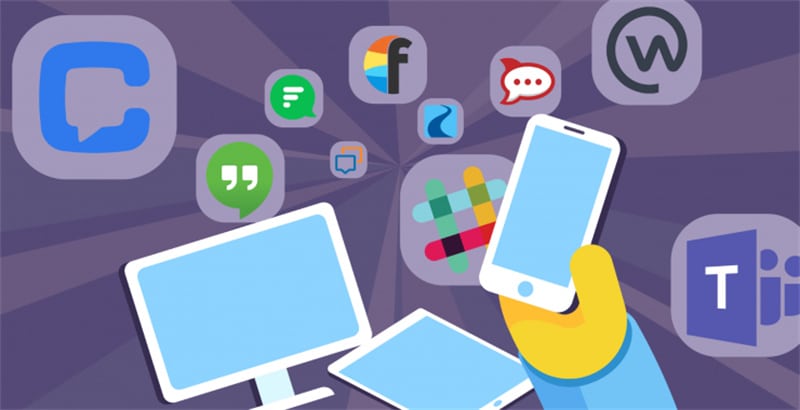 Better communication and traceability
If you're shifting between emails, phone calls, meetings, and informal discussions, it's easy for important information to slip through the cracks or get totally forgotten. Using a team messenger app allows you to keep all your communications about projects in one place.
Built-in search and filtering tools let you rapidly find any piece of information or an answer to a question you forgot.
More organization
Since team chat platforms let you organize your team members into different chat groups, it's much easier to stay organized and make sure everyone has access to the information that is most relevant to them.
For example, you can have a company-wide chat group for general information that everyone needs, as well as smaller chat groups organized by project or client teams.
Team building
Workplace messenger apps allow everyone on your team to stay more connected, no matter where they're located. When your team members are constantly in communication, they build good working relationships and are more productive together.
Individual employees can get to know one another better, or you can create social chat groups where employees can discuss exciting news or shared interests outside of work.
Easy virtual meetings
The best team chat apps have built-in video and audio capability, so you can hold instant virtual meetings to discuss project progress. For instance, you can hold a daily stand-up meeting with your remote team members in which everyone gives updates on their tasks, and you can all plan out the next steps together, helping to ensure the timely achievement of goals and objectives.
You can even add outside partners or clients to your business chat platform to include them in meetings when you need to.
Improved project management
Work messaging apps also function as all-in-one project management hubs, where you can create to-do lists, assign tasks, and store important project information, including files.
You can sync chat platforms with your email to receive inbox notifications when you're tagged in something or set up notifications for your team chat app right on your phone. You'll never miss an important task or deadline again.
Reduced time spent on emails
Sifting through cluttered email inboxes takes time away from other tasks, and incoming emails cause distractions throughout the day, ultimately hurting productivity. With team chat apps, you can quickly ready and reply to messages that are actually relevant to you.
It's even possible to receive your most important emails as chat messages. This gives you back time that you would normally spend dealing with emails, so you can use it on time-sensitive tasks instead.
---
What's the Best Team Chat App?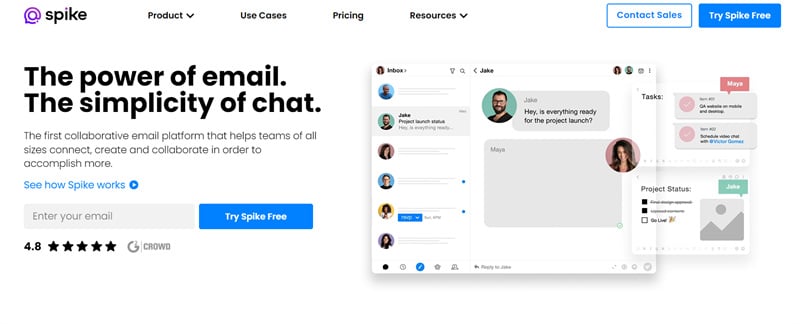 For unifying all your team's communications in one central workspace, we recommend Spike. Spike is a unique instant messaging tool for business applications that turns your emails into chat-style conversations.
So, instead of having to scroll through long, confusing email threads in your inbox, you get to view all your back-and-forth communications as easy-to-read message bubbles in a chat conversation window. This makes it much faster and more natural to read and reply to important work emails, whether you're on the go or at your desk.
You can also create regular chat groups with your team members, organized by team, project, task, client, or however else works best for you. This makes collaborating and executing in real-time a breeze.
Additionally, you can make collaborative notes, tasks, and to-do lists and share them with your team to centralize all your project info in Spike, where everyone can easily access it and discuss it.
Spike also knows that chat sometimes isn't enough, and that's why it also has built-in video meetings and voice messages. These features allow you to provide more detailed responses or hold virtual meetings whenever necessary, thereby boosting productivity and improving team communication and collaboration even further.
We love Spike because it's truly a one-of-a-kind collaboration and productivity platform that offers so much more than just messaging. The conversational email flow is something you won't find anywhere else, and the other built-in tools and features are the icing on the cake.
If you're looking for an all-in-one team messaging app for your business, we highly recommend you try Spike today!
---
Start Using Team Communication Platforms Today
Hopefully, this article has provided you with enough evidence to convince you that it's time to start using a team chat app to get more done and improve your business's overall productivity.
By consolidating your team's communications into one place on a team chat platform, you can greatly improve communication, organization, project management, team connectivity, and much more.