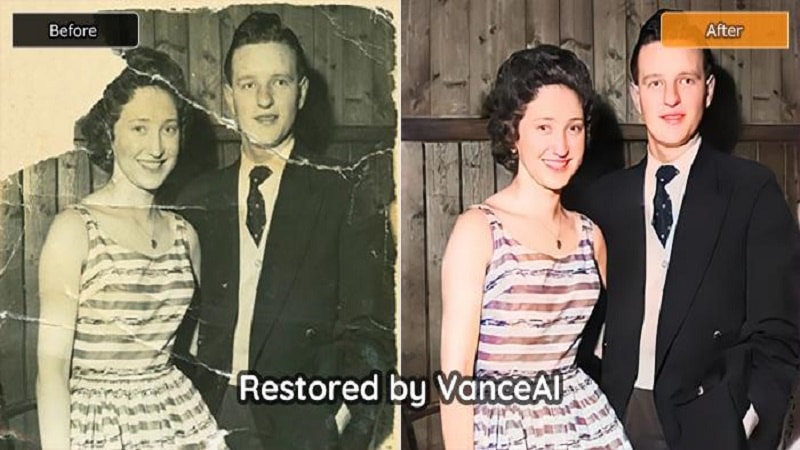 Photo restoration is one of the best choices you can make to repair and print vintage photos for your own use, social media, or even marketing.
 Old photo restoration and image editing in general have a lot more to offer now compared to before due to newer types of markets that we have online. For instance, print media, picture framing, digital marketing, etc. all existed before but are now bigger than ever.
As a result, photo restoration is a term and process that has increased in popularity as well. Considering how easy it is to remove scratches from old photos online, there are many users looking for a good photo restorer application.
With that said, we will be taking a look at VanceAI Photo Restorer and how AI can help you get great restored photos that you can go on to use on social media and more.
---
Part 1: Why choose an AI Photo Restorer?
As mentioned in the previous section, one of the many advantages of using an AI based application is that it is automatic and hence you can get restored images much quicker as compared to traditional software apps without AI technology. The AI algorithms that are placed in these apps are designed to automate image editing as much as possible while still being thorough when it comes to processing the images.
Therefore, when you are using an AI based tool from VanceAI, you will only need to upload an image and manage preferences, if you want. Everything else is taken care of by the app itself. A dedicated software such as Photoshop is way more complex to use though it also offers more options overall. Most users, however, require apps that are quick and effective, which is where AI excels.
Through the AI and even Machine Learning design, the new kind of image editing applications are more accessible. Not to mention that nowadays many AI based apps are also available on mobile phones such as iOS and Android. AI also tends to be cost-effective, as it requires less resources to enhance old photos.
For example, with VanceAI, you can bring back old photos to life for free, although only for a limited amount of uses. Regardless, the cost of a subscription with an AI based application is usually lower than purchasing a software app. Moreover, AI photo restoration doesn't really require users to have a high-end system either. A software like Photoshop will at least need a decent system to run smoothly.
---
Part 2: How to Restore Old Photos with VanceAI Photo Restorer?
Here, we will simply go through the simple steps of using VanceAI Photo Restorer with a bit of info given about VanceAI overall.
1. This AI photo restoration link will take you to the webpage of the photo restorer tool itself. From there, you just need to click on Upload Image to prompt open the upload window.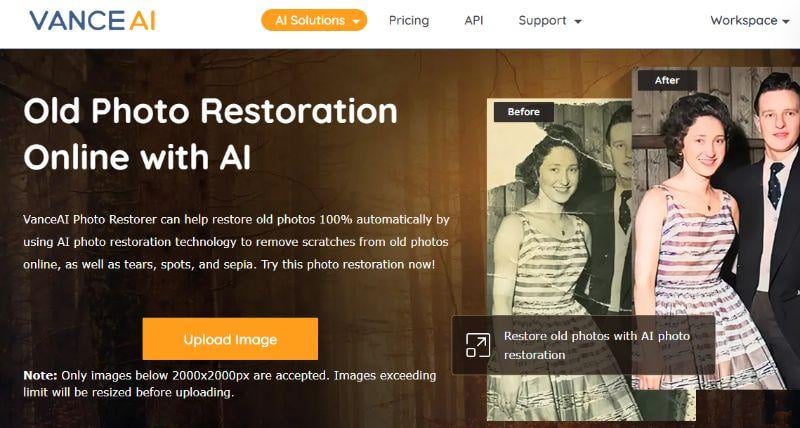 2. The VanceAI Restorer Workspace is the place where you can upload images, choose tool preferences, check image credits, and more. After uploading an image, click on Start to Process to proceed ahead.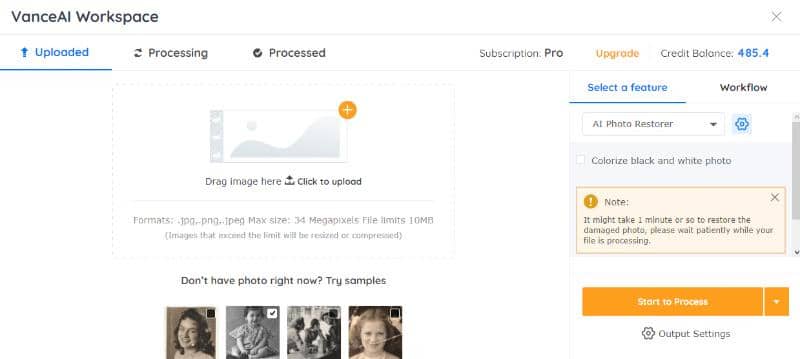 3. You will notice a pop-up on the Processed tab after a few seconds. Head there and click on the Preview icon on the right. After that, use the Download Image button to save the image.

---
Part 3: Old Photos Restored by VanceAI Photo Restorer
Let's take a look at a few photos restored or enhanced by the VanceAI Photo Restorer to check the outputs given by the app.
1. Old Photo Fix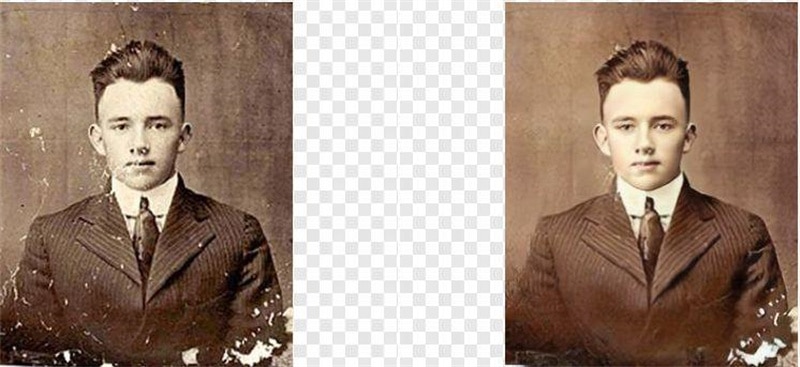 Compared to the Before image, the After image is much cleaner with better details and colors. The old image is covered with damage marks that are especially quite distracting towards the face and on the bottom left. After processing the image through the VanceAI app, almost all of it is erased.
2. Clean Portrait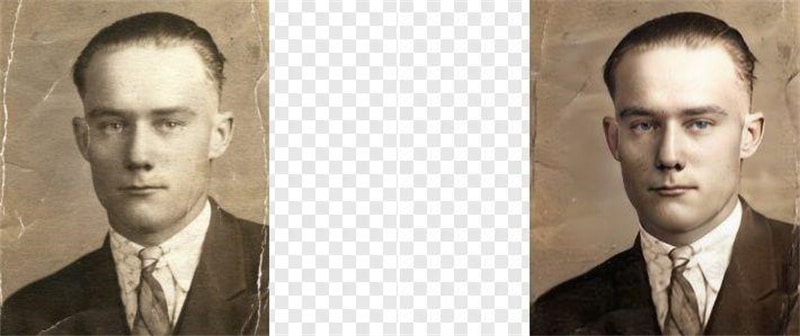 In this case, the old image not only contains damage marks but also a lot of image noise. The VanceAI Photo Restorer manages to get rid of pretty much everything, including the image noise. You can instantly notice a better color fidelity in the new image as there is no image noise to block it.
3. Old Park Colorized

Besides face enhancement and photo restoration online, you can also modernize old images by coloring them automatically. While the old image here doesn't really have any damage issues other than minor image noise, it is still in black and white.
If you want to change that, you can simply select the colorize option in the Workspace and get a fresh new image like the one you see on the right.
---
Conclusion
VanceAI and by extension, VanceAI Photo Restorer, offer users many options for their images. You can simply use an app like this to restore all of your personal images that have been damaged or just need to be enhanced in some way. However, this app is powerful enough to provide more.
As the topic of this guide says, you can restore old photos first from the Photo Restorer and perhaps enlarge it through any VanceAI tool in order to print it for physical copies. Other than that, you can also get some really great contrast images where one is black and white and the other is colored. Many marketers use this to their advantage for advertising image editing tools and more.
---
Additional Choices from VanceAI
Speaking about options, VanceAI is an online image editing application that is constantly growing and looking to offer more and more features to the users. As such, it has many other tools besides the AI photo restoration tool. One of those tools is VanceAI Image Enhancer.
The VanceAI Image Enhancer is a really great tool for improving the quality of an image without needing to upscale it. Its algorithm can detect normal images to portraits and specialize its image processing accordingly. Another example can be VanceAI Photo Colorizer, which can fit perfectly with the Photo Restorer since it can colorize basically any kind of image in a short span of time and make images look fresh.
Overall, you can touch upon many aspects of image editing and enhancement through just one application.