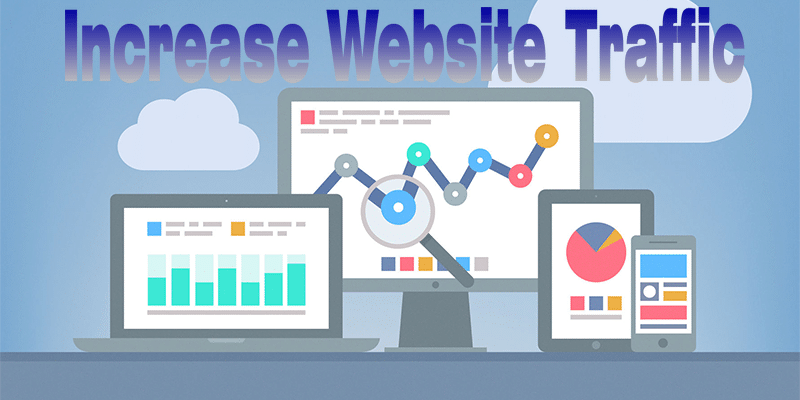 Unsurprisingly, everyone loves to be popular in order to feel the charm of being loved by many, and businesses love to attract as many customers as it can, in order to increase sales volume and generate heavy profits.
So in the same way, websites need more and more traffic to their sites in an attempt to earn revenue of an unprecedented level. These have been many tools and ways which the websites often use to increase the level of traffic to their websites or increasing website traffic. Here in this article, you will learn Top 10 ways to increase website traffic.
Top 10 ways to Increase website Traffic
If one tries to Google it, he or she can find more than dozens of the articles and blogs available on traffic generation for websites. Many blogs suggest that search engine optimization (SEO) and good quality content are, interestingly, the only fundamental skills that are needed to help the website to set new records of traffic attraction. However, as the matter of fact, one must not put all eggs into the single basket. The website, of any kind, in this regard, ought to diversify its approach to have more opportunities and tool at hand to target people's attention and enhance website traffic massively.
Excitedly, there can be a lot of content and the articles available which provides you with multidimensional means and way to increase website traffic, but what is missing in them is effective, time-tested and appealing strategies that are needed the most. What is the purpose of applying those tactics of increasing website traffic if it does not do any good? It might be because options have become outdated, in actionable and cannot work anymore to benefit website.
So let us help you with effective strategies which are not only easy to adopt and use but also helps to target millions of viewers. Here are the best five ways you can, dramatically, improves the image; build a brand and extend the reach of the website to the maximum number of people.
Advertise your website
This is a obvious one, which most authors tend to forget. It's not just about publishing content, but also promoting the website and the content inside it. This tool is one of the most effective and popular strategies across the world. This helps to get your word and idea across the customers and target audience.
There seem to be dozens of ways of advertisement such as social media marketing—which includes Facebook and Twitter that considered being the fastest and most attention grabbing. Moreover, display advertisement is also the need of the time to build your brand image and its long-lasting reputation in front of customers. Thus, learn to be Socially-Friendly, which will help chance of building a loyal following list.
back to menu ↑
Write appealing headlines
Apparently, headlines are considered to be significant enough to make the reader keep reading until the last word of the article. That means that your best quality content will go unread if your blog's article doesn't have compelling headlines. In short, it enables you to add beauty and color to your website so you must select the headline which can allow you to gather adequate and desired traffic to your website. Don't try to go for clickbait titles, although it may seem satisfying seeing your views boost, but that will more likely piss people off and prevent them from coming back to your website ever again.
back to menu ↑
Go for Guest Posting
Guest posting is a great way to transfer fans from another website to yours and also develop backlinks, which is an important factor of SEO. Guest posting is posting articles that relate to one of your articles and leaving a backlink to your original article. Make sure the blog you're guest posting on, has the same niche as your own blog otherwise guest posting won't work. This way, the greatest number of people is likely to be targeted and viewer ship of website will hugely improve. It can invite people to read, share and link to their guest article that will get new readers to reach to your site frequently.
back to menu ↑
Post your content on Social networks
After creating a website/blog, the first thing you should always do is make social accounts and link them to it. Majority of the population uses Social networks, there cannot be a better place to generate traffic than social networks! HOWEVER, there is a lot of competition on famous social networks like Facebook, Twitter etc and you'd have to invest a lot.
But not to worry, if you've a low budget you can go for the following: LinkedIn is a under-rated and the world's largest professional social network which can help you to publish your article and website. It is believed to be a valuable site where you can improve and enhance your profile in your respective industry. Resultantly, the large following can boost traffic towards your site. Other examples are: Reddit, Snapchat, AskFM etc.
back to menu ↑
Conducting interviews
It might aback you to know that there are always many people who'd love to help you expand your business reach and promote your website. So it will an amazing exercise to conduct interviews via email is likely to have your access to responses and feedback of people for your website. And then once you publish that interviews on your website, it would add credibility to your website and increase the traffic levels as people feel better for the website which focused on two-way communication.
back to menu ↑
Usage Of Social Media 
Create your website pages on top social networking sites like Facebook, Twitter, Google Plus, Pinterest  etc. Also put sharing links below every article. So your visitors will share your content with their friends. Using social media strategy you can get high traffic. It is the most effective way to get traffic.
back to menu ↑
Commenting 
You can get traffic by commenting on other similar websites as yours. Also posting on forums will help you to get traffic. You can use your website link in signatures in forums. Remember, dont spam other site. Post quality comment and link to your site.
back to menu ↑
Website Design
Pay attention to your website design. It should be simple, user friendly.Sometimes it's even better to turn off comments to keep the site looking clean and attractive. Dont put too many advertisements. Also give attention to your website loading time. Users dont like websites that took long time to open, that have too many advertisements or that have confusing layout.
back to menu ↑
Run Giveaways
Your website visitors will love your website if you offer them some freebies. When running giveaways ask visitors to share your content on social media. Using this method you can get huge traffic.
back to menu ↑
Email Subscription
Offer your visitors new content notification direct to their inbox. If your mailing list is stronger, it will help you to get unlimited traffic.
---
Conclusion
Its easy to build a blog but its not easy to get visitors. There are millions of other blogs in your competition. You should know ways to increase your website traffic.
We hope that all the above ways, to help you increase the traffic to your site are well established and pragmatic in nature. We believe that these means can make your website to get you a lot of success in the shape of getting higher traffic and ultimately higher incomes. Good luck!