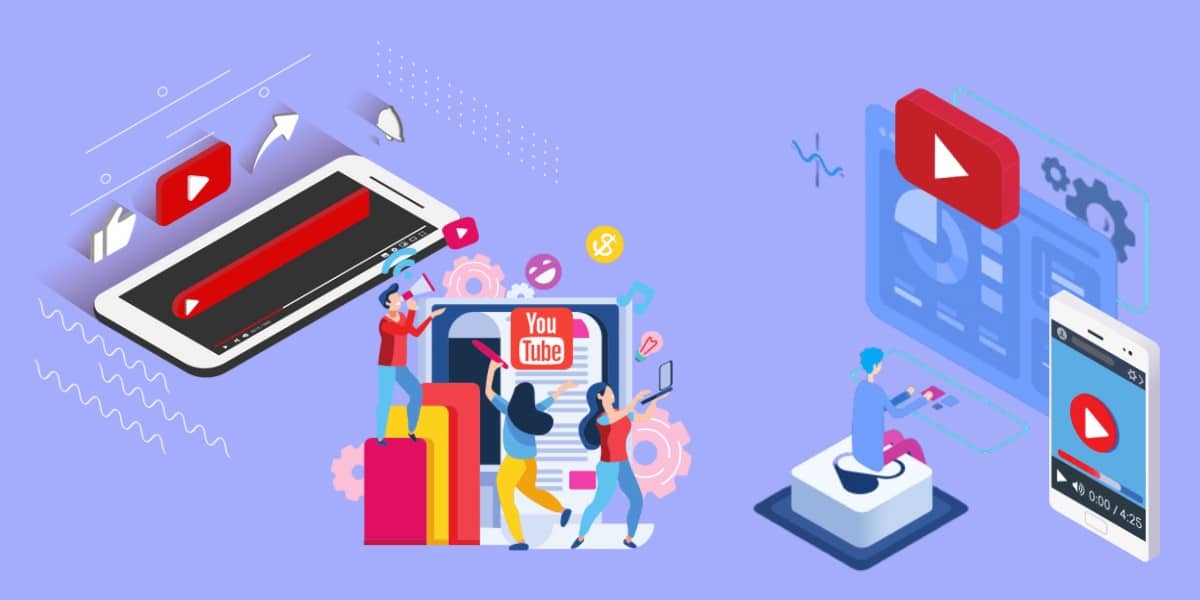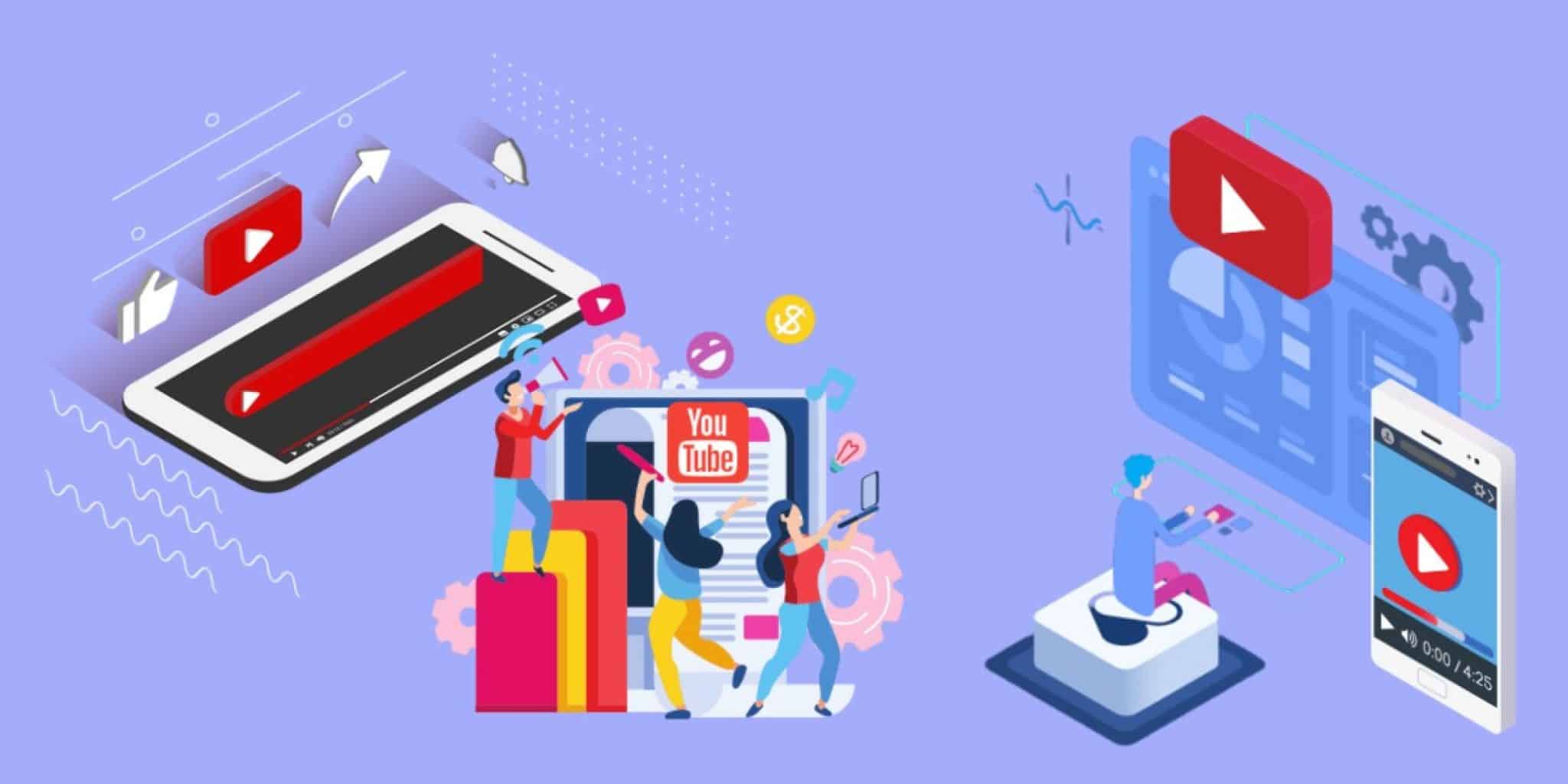 Creators and businesses need clever tools to build traffic on their YouTube channels. Using our top 10 picked automation tools, you spend less time working on it to focus on creating content.
What is YouTube Automation
It takes a lot of work to manage and popularise a YouTube channel. But what if there are ways to automate by letting technology do the heavy lifting for you? Having great content is one step, promoting and managing the channel is the other. Automate your YouTube channel by using clever tools that will boost your channel's viewership and manage interaction with its viewers.
YouTube automation is the process of using people and software tools to increase viewership and engagement. Automatically, this translates to increased revenues from YouTube ads. You might be asking, is it legal? If it is allowed, then yes. You only need to follow the guidelines set by YouTube for uploading, managing, and promoting your content. Read on to learn the best tools for automating your YouTube channel.
Best YouTube Automation Tools

This analytics and social media management tool is among the first in this industry. Social media managers and businesses use Sprout Social for scheduling posts. They also use it for keeping track of mentions as well as getting analysis reports.
What we like
Scheduling of social media posts: Sprout social will help you schedule YouTube posts well in advance and advise you on the best time for posting.
Monitoring social media: You can easily check and manage mentions on your YouTube channel and search using the keywords given.
Analytics reports: It provides excellent analytics reports for all social media platforms. Reports include the number of clicks on your link, any increase in followers, and more.
What we don't like
The platform is a bit pricey
You cannot customize the reports
---
---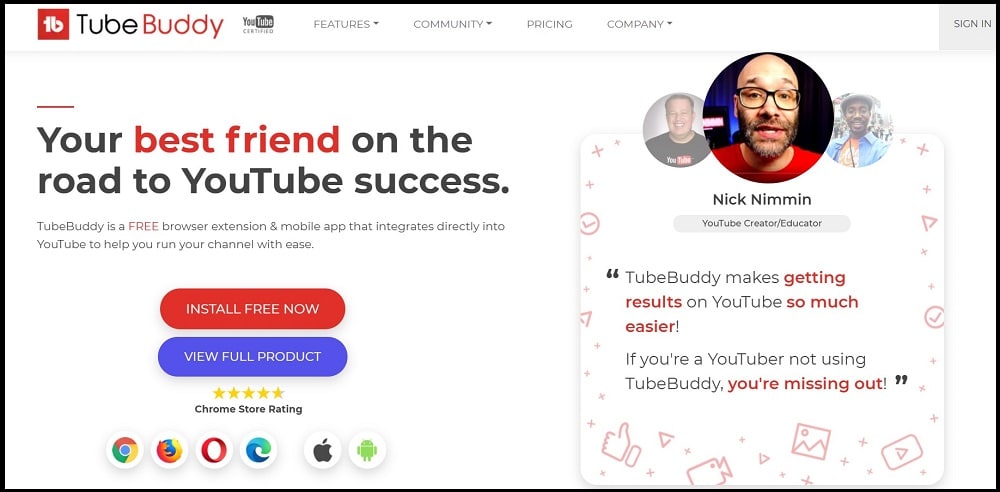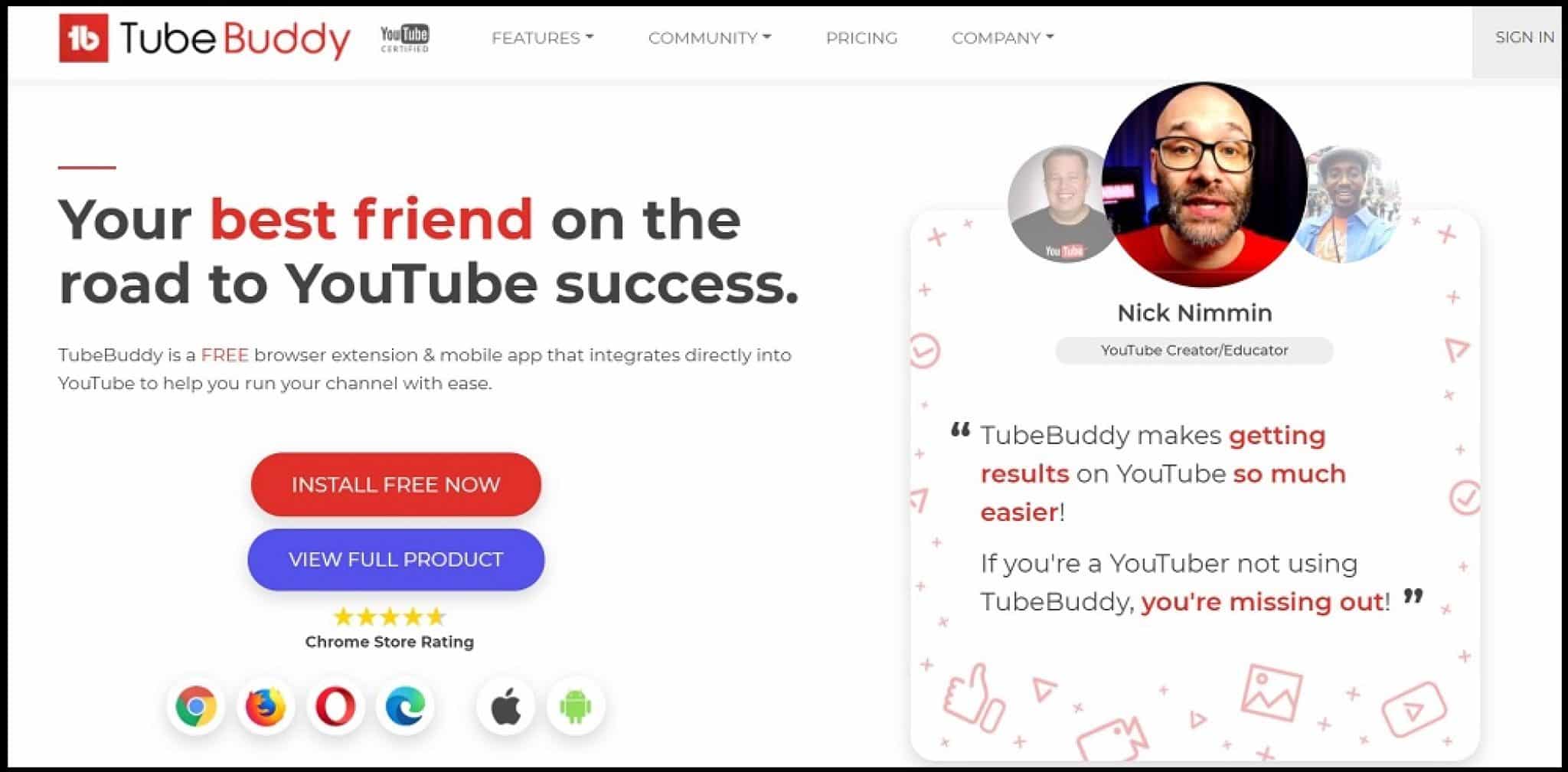 TubeBuddy is an excellent application for automating your channel and it is YouTube certified therefore safe to use. It is a widely used app by YouTube creators for promoting and publishing videos. Creators can embed codes for their playlist, note remarks from new subscribers, add emoticons, and more.
TubeBuddy is a highly regarded social media management tool for ranking YouTube channels and managing user engagement.
What we like
You can easily rank your video content to Youtube's first page. This will greatly improve your channel's placing on the platform.
It suggests the best keywords to use when uploading your video to make it rank better.
It provides you with an SEO checklist to help your video content get more views.
What we don't like
Any changes in your YouTube channel such as its name does not automatically update on the application. It shows the old information instead of updating it to the new one.
The channel doesn't have adequate free tools for users to test to know how well it works.
---
---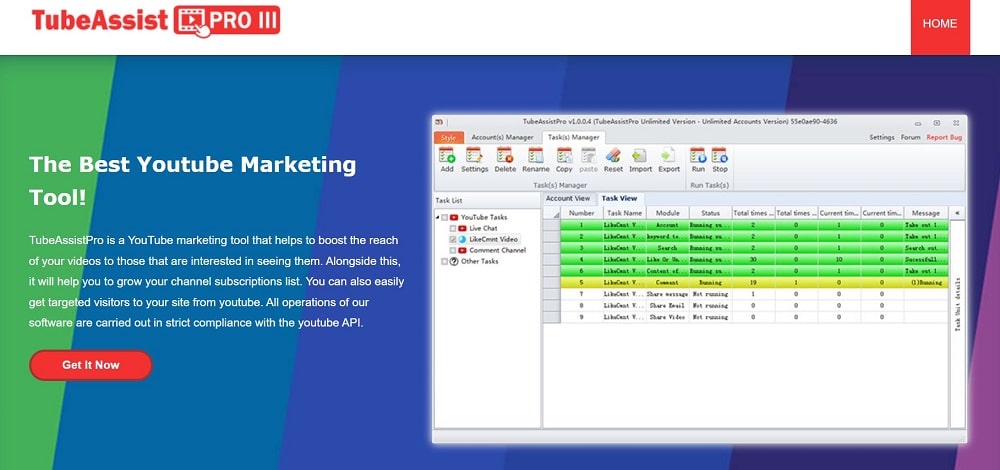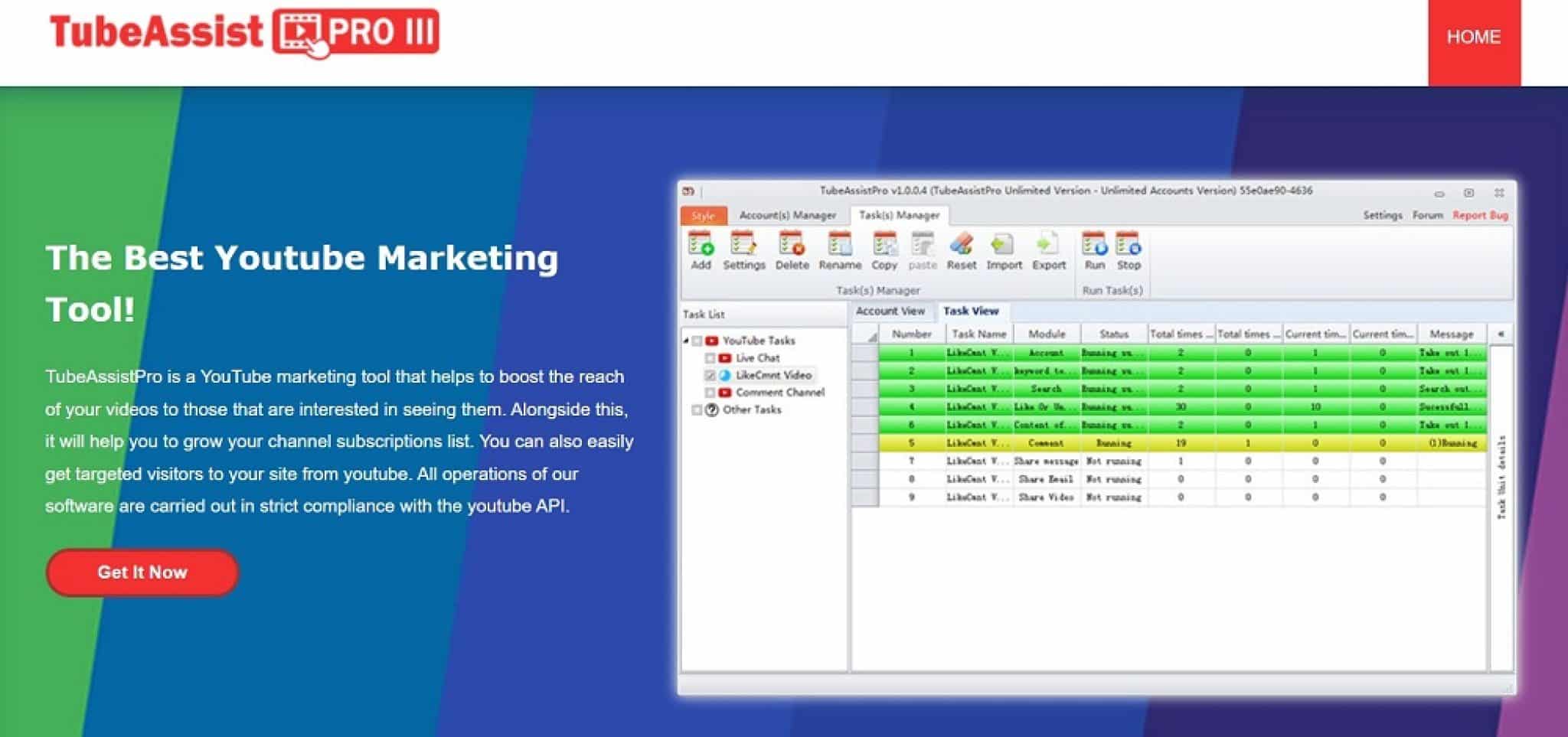 Tube Assist Pro is an excellent YouTube bot that helps to maximize your channel's performance. It can automatically like or dislike a YouTube video and even post comments and share videos. This YouTube bot also auto-plays the videos in your channel helping you increase your viewership.
Tube Assist Pro comes in three packages for automating your channel and the ultimate version goes for $139. This is a bot that will automatically increase views on your videos and help them rank fast.
What we like
Automated video sharing, commenting, and replying.
You can private message your subscribers with this application
It can do a thorough and systematic search for videos on YouTube
What we don't like
It can be challenging to search using keywords
---
---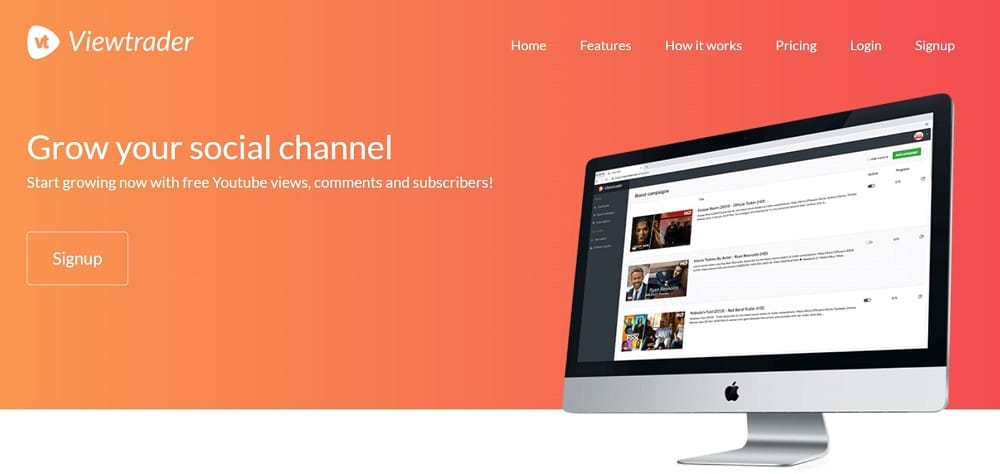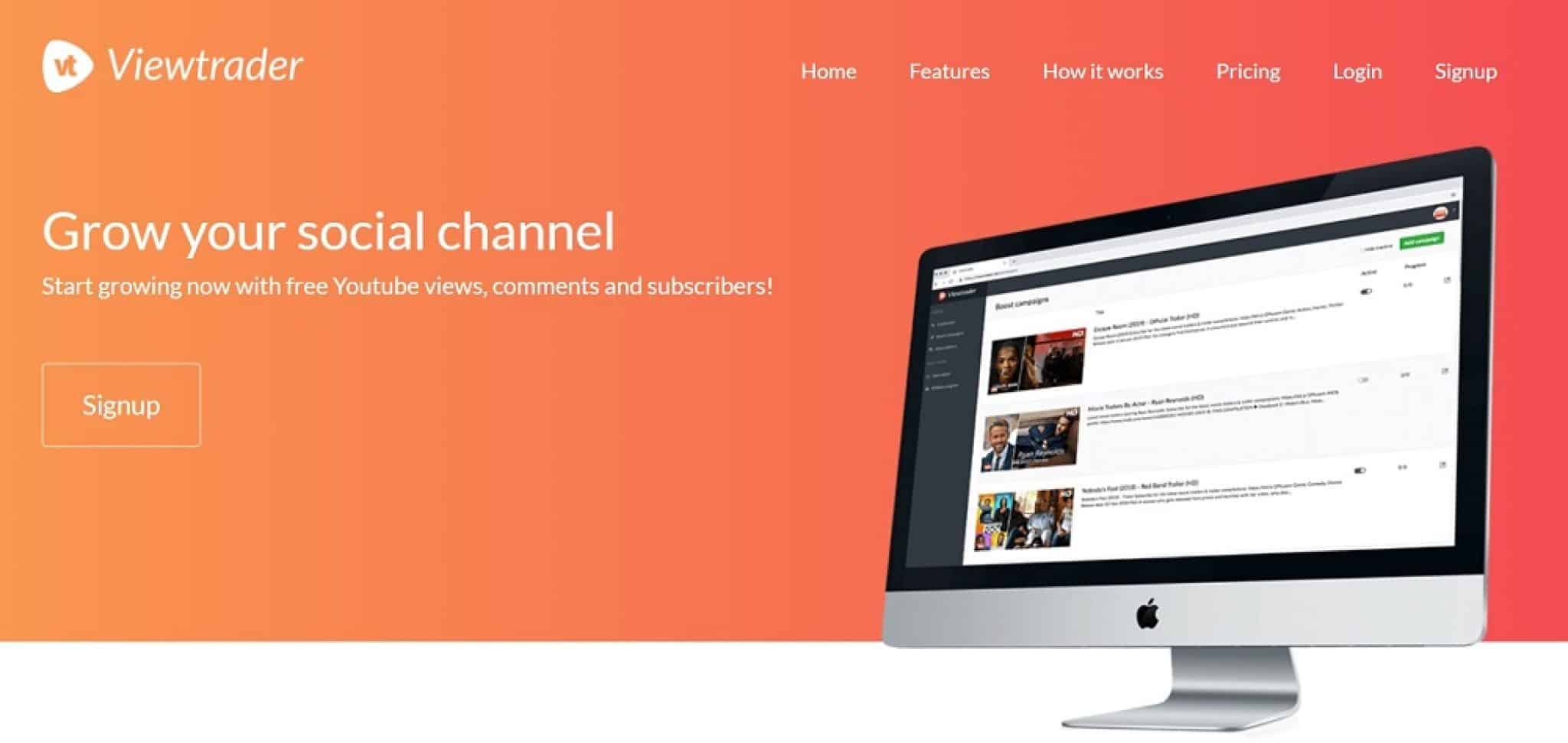 This YouTube bot automatically plays your YouTube videos directly increasing the viewership of your channel. You can also configure the bot to the number of views you want every hour. You can also use this bot on various other social media platforms such as Facebook and Instagram.
By enabling OAuth, you get extra features such as liking and commenting on videos and subscribing to channels. This bot offers a good way of increasing the popularity of your channel on YouTube.
What we like
The application will automatically play your videos to increase the number of views for your video.
You can manage several Youtube channels from one account.
You can make some income from their affiliate program
What we don't like
A section of content creators fear using the application because their channels could get deleted
---
---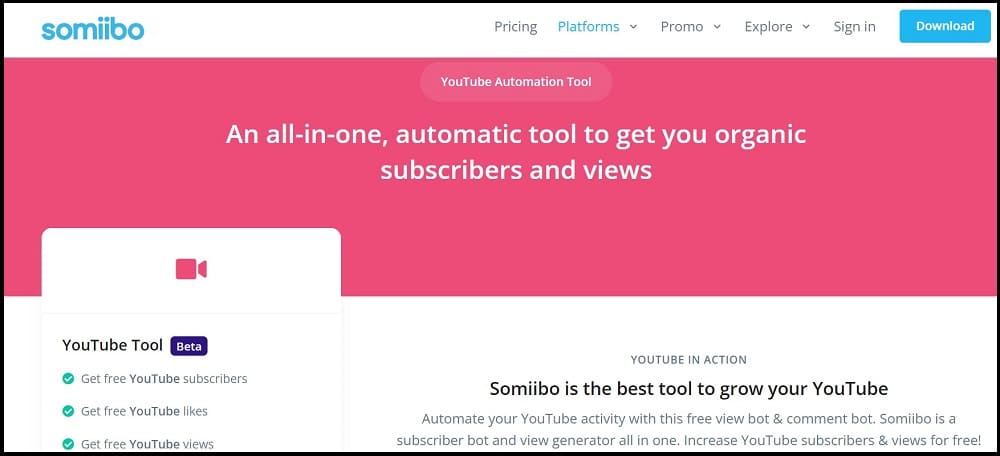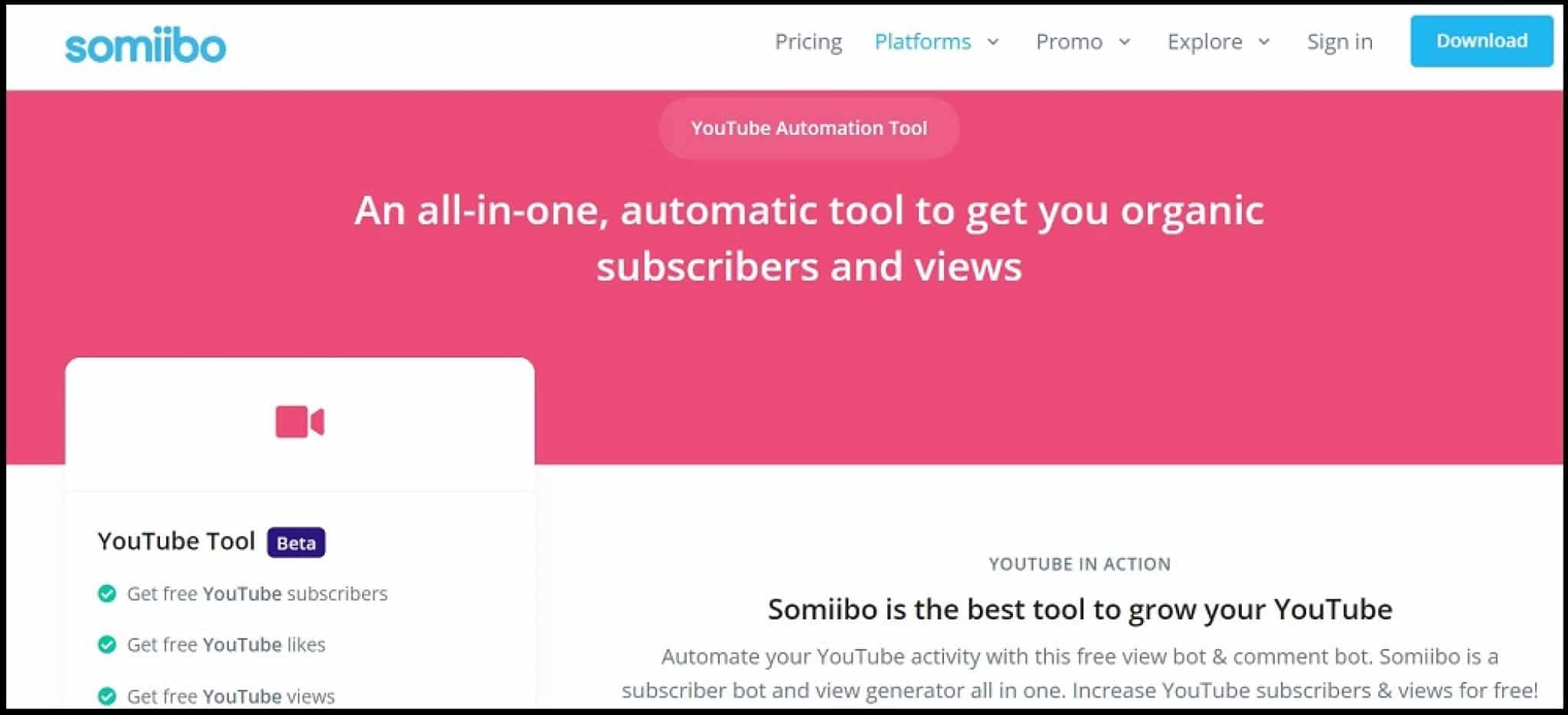 This social media bot has been in the market for some time now. Not only can you automate your YouTube channel but also other social media platforms like Instagram, Facebook, and Twitter. Somiibo automatically likes and comments on videos saving you a lot of time.
Somiibo allows you to search hashtags, phrases, check how many likes you have from every post. This bot lets you automate your marketing repeatedly through several platforms at the same time.
What we like
It supports several accounts at the same time without constantly needing to log in and out of different platforms.
It provides different proxies for every module. This means that the browser cannot tell that it is the same person.
You can also schedule how many times in a day you want the bot to make runs
What we don't like
The bot can have glitches at times
Their customer service is not great as they take a long to respond
---
---


Viewsta is a company that focuses on social media growth and can be used on several accounts. It offers an entirely automated service and also offers packages for followers and engagement boosting. The more you get followers on your YouTube channel the more the likelihood of being followed by others.
Unfortunately, this platform has had a lot of bad reviews from the online community. Some are good but many are bad. You wouldn't tell if the service is good unless you buy a package from them to find out. Many feel that this service can become overwhelming at times because the packages come with different guarantees and parameters.
What we like
They offer a fully automated service
It can be used on many other platforms such as Telegram, TikTok, and others.
It has several packages to offer
What we don't like
The platform does not provide free trials
Not much is known about the company
---
---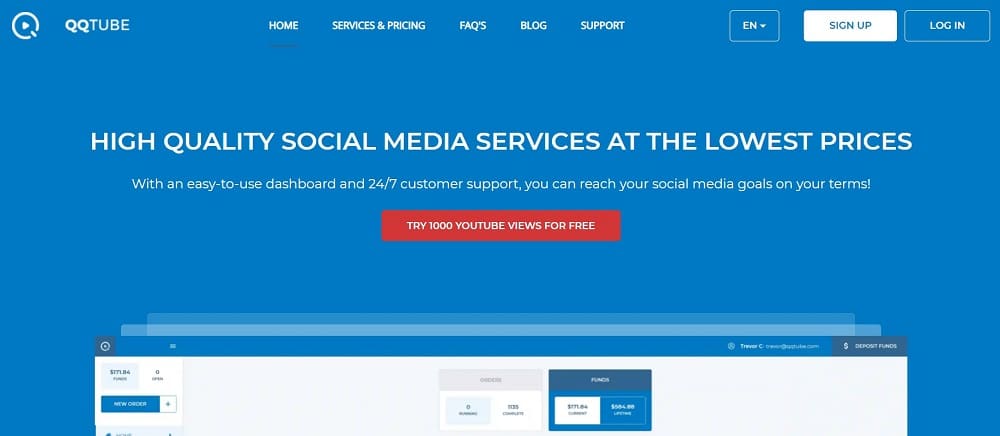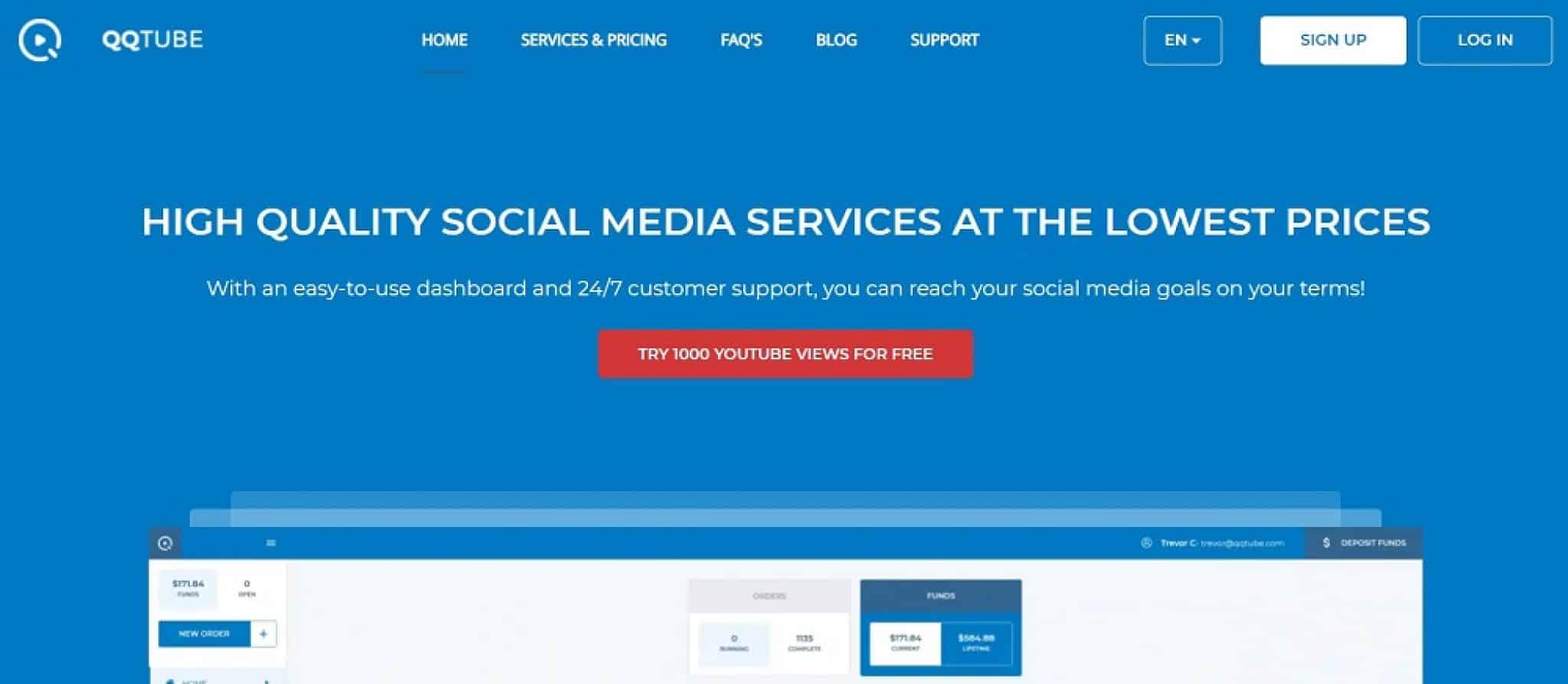 This is yet another social media growth organization. It lets you buy views and followers to increase your channel's competitiveness. QQTube is quite cheap as you can buy 1,000 Youtube views for only $2. These views are not real but can be good for someone who needs to scale their Youtube business.
Using QQTube to buy views will save you time while helping your YouTube channel to grow faster. With more views, you rank up faster on YouTube which may take you years to do. You also get a better chance with the YouTube algorithm which determines the content that appears on your viewers' screen.
What we like
Its packages are offered at very low prices
They have a free tryout period
Responsive customer service
What we don't like
Buying views and following is counterproductive in the long run
---
---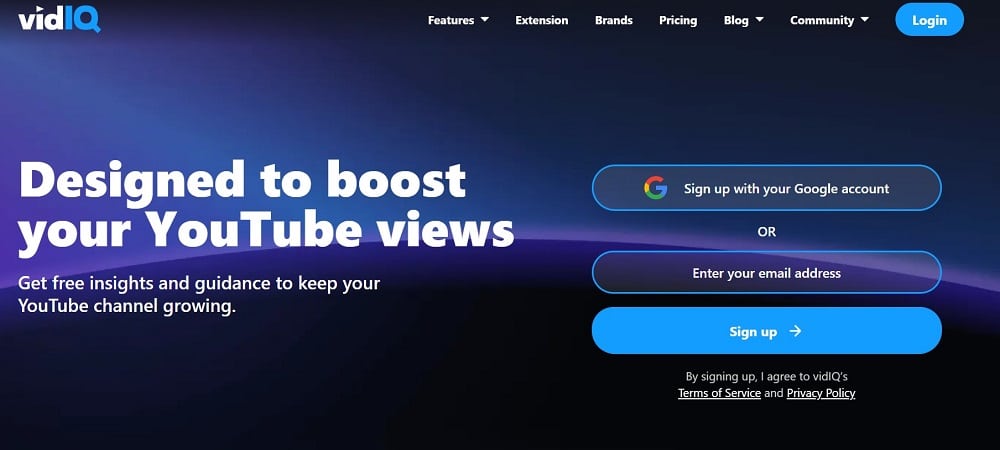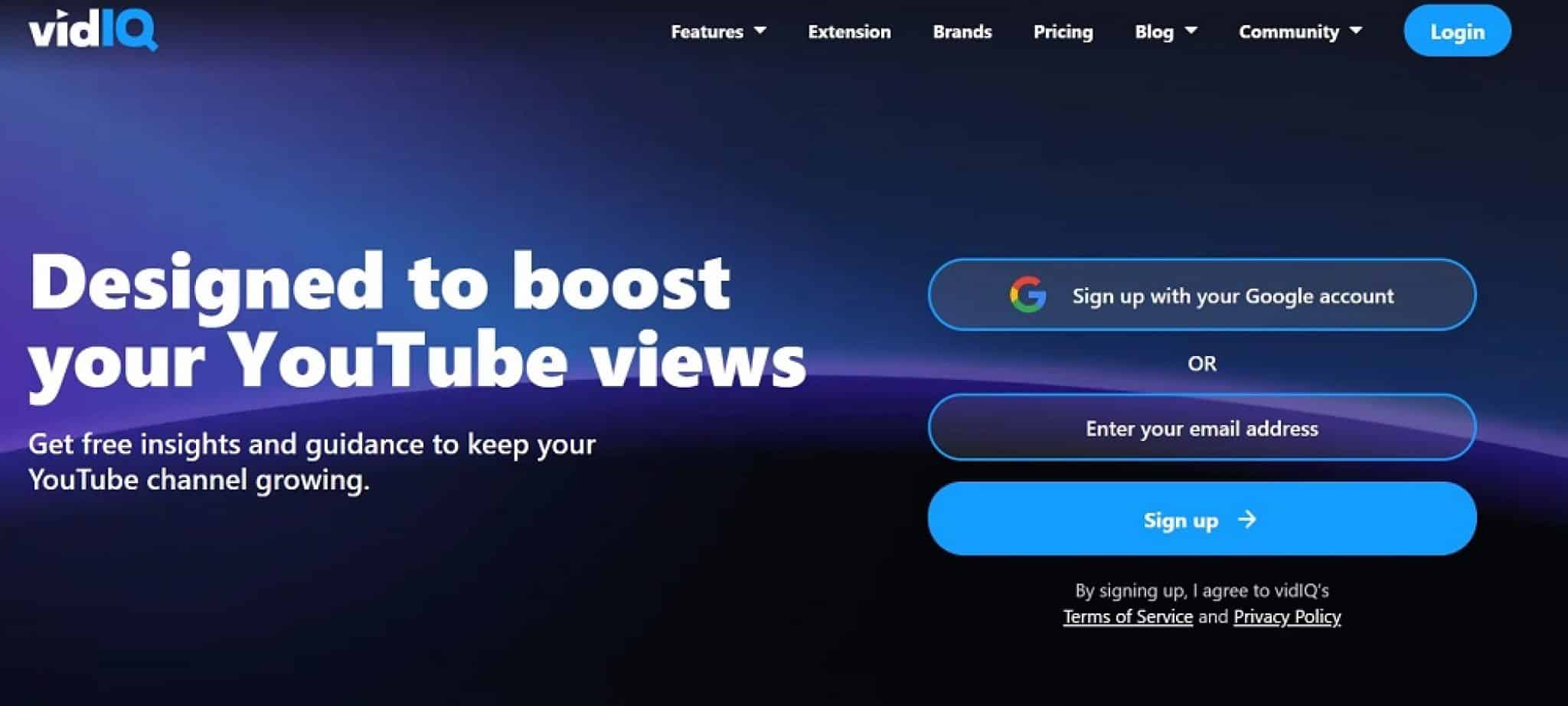 VidIQ is a very important tool for people who want their YouTube channel to grow. This tool provides excellent analysis for all your YouTube videos. It even tells you how you're performing compared to your competitors which is very helpful. Users also get SEO scores, a checklist for optimizing their videos and suggest hashtags for your content.
VidIQ is very user-friendly and the analytics are easy to read as well as understand. The Thumbnail generator is easy to use and has good graphics.
What we like
It has an excellent keyword research section that provides popular terms searched, the average subscribers, and views.
You can configure the software to send alerts on trending topics and you can specify the kind you want.
Its productivity tools allow the users to bulk copy end screens and cards, reply to comments, and more.
What we don't like
You cannot manage more than one account with this software
The software is only available for the Chrome browser. It doesn't support other browser sites
---
---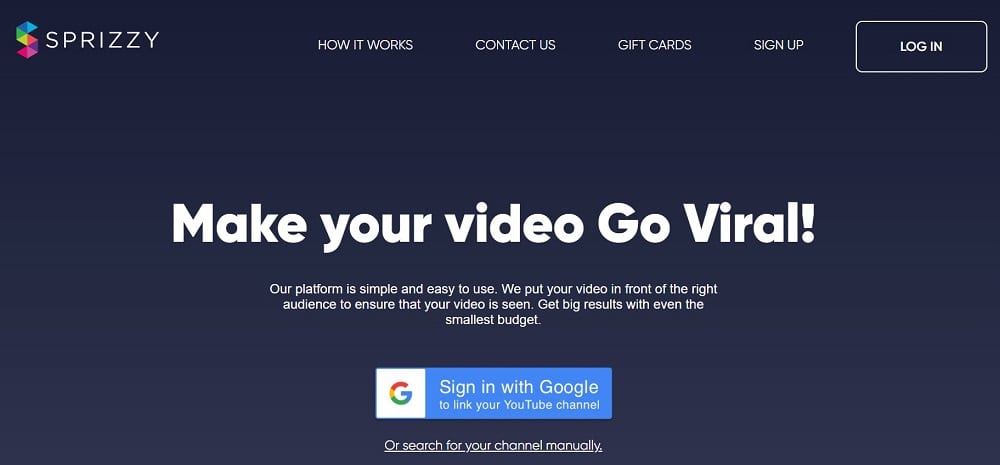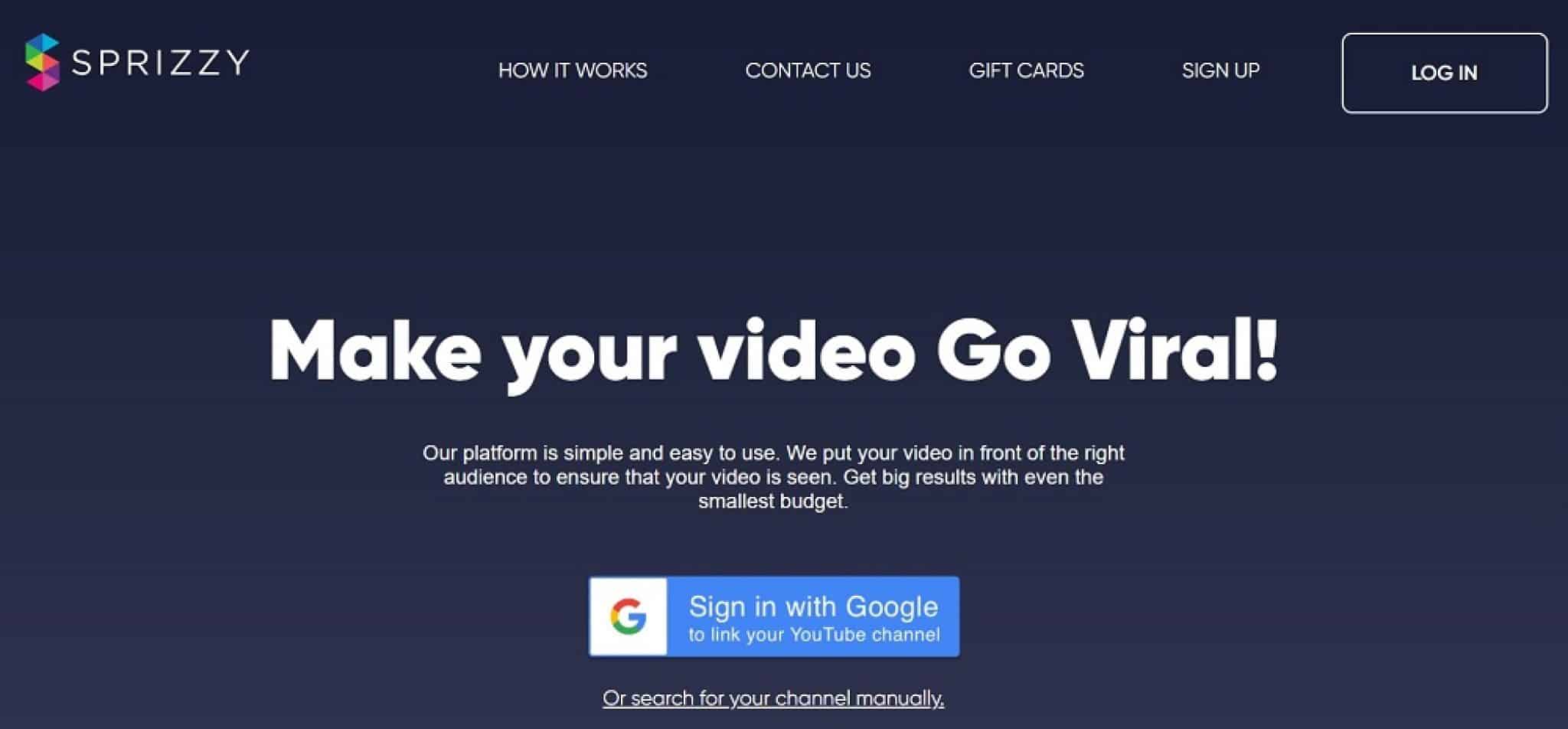 This is a YouTube growth service that aims at making your channel viral through the use of ads. Sprizzy also provides analytics in real-time, provides engagement, and has a clever algorithm for smart targeting. This software claims to filter out viewers that have low engagement such as children using their parents' phones.
This software tool has also had some bad reviews at Trust Pilot and, therefore, you may need to dig deeper about their services. Their pricing is based on the number of views you want starting from $50. Sprizzy also doesn't seem to have good customer service therefore their legitimacy can be questioned.
What we like
Filtration of low engaging watchers such as kids
Engagement from actual viewers
It has a smart targeting algorithm
What we don't like
It does not have a free trial or plan
Not much is known about this company
---
---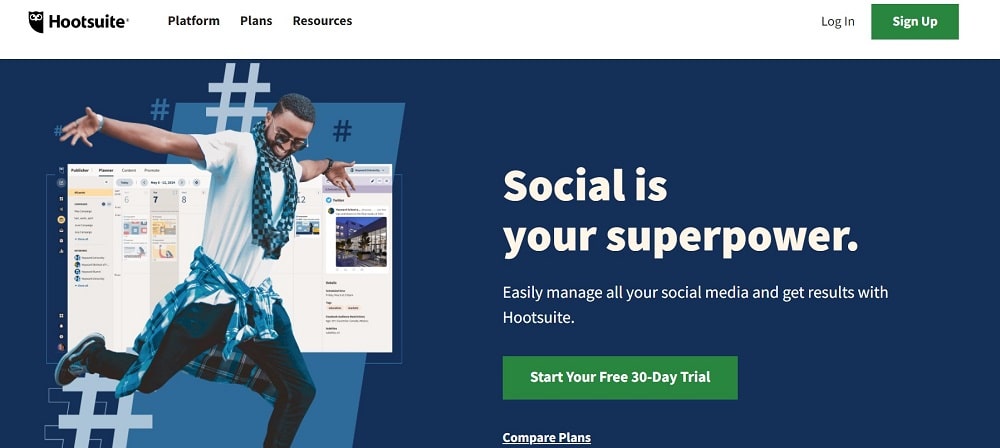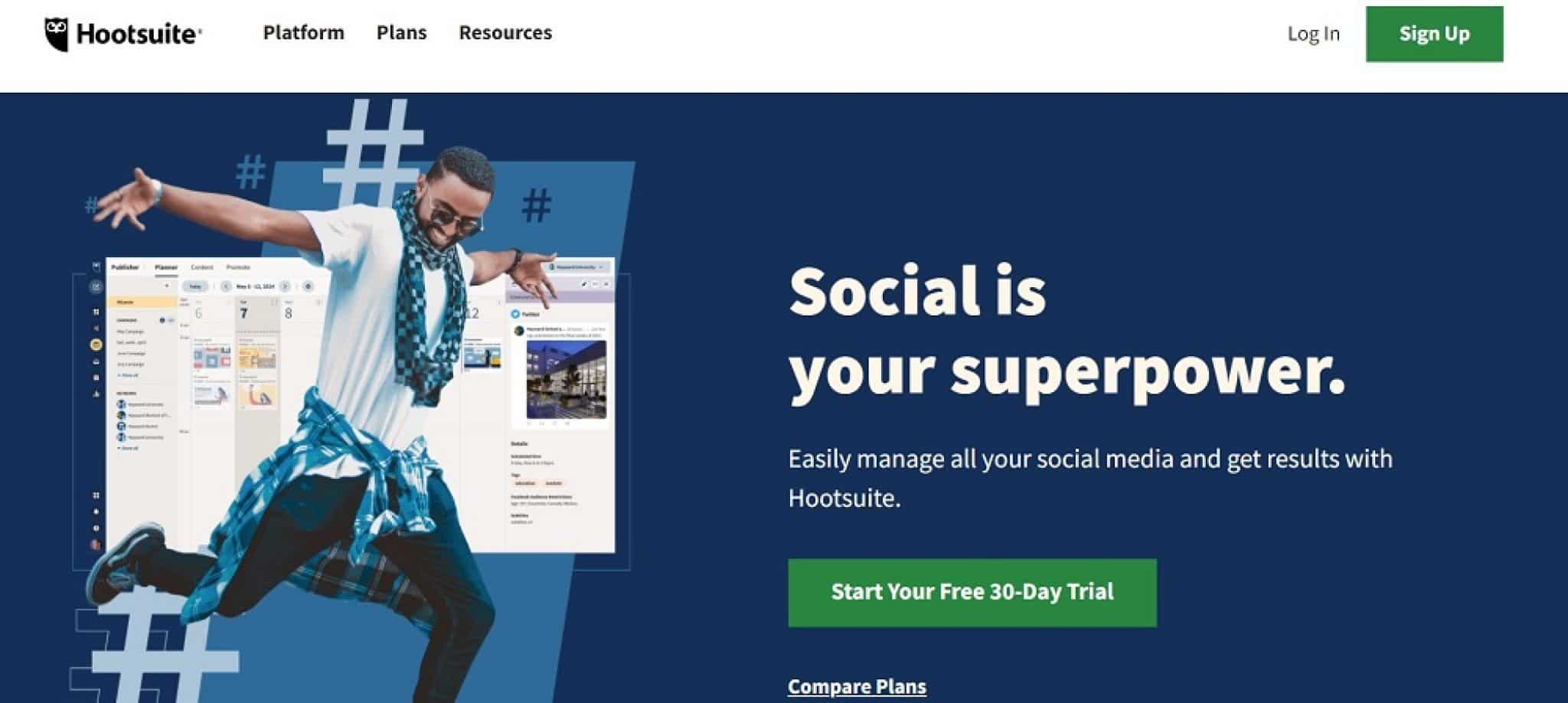 Hootsuite is among the most used social media management applications today. It allows its users to see several streams in one go as well as monitor engagement with viewers. The application empowers one to schedule their messages, check performance statistics, as well as read responses. It is an excellent tool for social media listening, and you can easily share your videos.
Hootsuite is a wonderful tool to use and is very efficient therefore one of the best in the market. Scheduling and posting YouTube videos is easy and while saving lots of time for other things.
What we like
You can easily manage your social media management team and tell who is posting or has scheduled their posts.
Hootsuite allows you to see questions from your viewers in one interface, and you can save template replies to FAQs.
By social media listening, the software tracks main terms and phrases across the posts.
What we don't like
Users cannot manage several accounts at the same time and it doesn't support certain platforms.
Setting up this tool can be a little confusing and difficult at the same time. This can be a bit frustrating.
---
Conclusion
Creators and brands have realized how important social media is in creating awareness and advertising. Using YouTube automation tools is a good step towards managing your Youtube channel. These tools provide important analytics and let you manage the engagement with your viewers. With the tools highlighted here, you can strategize how you market your videos in a way that works for you.