Google Adwords, programmatic buying and recently – Facebook, Twitter, LinkedIn and Instagram ads. If you're an online marketeer, those forms of digital advertising mentioned above should sound familiar to you. Some platforms might be better than others and we all have built our own learnings. Time for something new! Do you want to know what the most recent opportunities are for digital advertising in 2016? I will walk you through the biggest trends you should be considering already!
---
(Video) Ads on Facebook Instant Articles
Few keywords to remember here – "video", "Facebook" and "Instant Articles".
During the F8 Conference in 2016 Facebook as clearly discussed its focus on video content and also making it your "go to advertising platform for videos".
If your business has a Facebook business page and you managed to build sensible following and engagement, your next step is to try Facebook advertising. Actually, you should be already investing dollars here and testing different variants to come up with good insights about what works for your business and what doesn't. If you're still hesitating – go back to my Facebook Ads 101 series, where I explained every doubt or question you might have about this advertising platform.
Instant Articles have been introduced just few weeks ago – and it's already revolutionising the way we publish and consume media on Facebook mobile. Your business should already think and draft strategies specifically for mobile and for this kind of post format.
So what's new in digital advertising in 2016? Facebook has just announced it will place their mobile ads within Instant Articles as well as they will release pre-mid- and post-roll video ads on third-party publishers. USA Today Sports Media Group and Daily Mail already began releasing their advertising space via Facebook Audience Network (more publishers to be announced soon).
As a marketeer, you will be able to place video ads "in-stream" (just like on YouTube) and "in-article" (within Instant Articles). Check the demos below to see what the placements and formats will look like:
Regarding video ads, this is a direct attack on YouTube's pre-rolls, which have been always displayed before we wanted to watch a YouTube video. Facebook is adding more to that – a mid- and post-roll (they haven't published the time requirements yet). I wonder if this will be an effective way to bring more external traffic or rather a even more annoying way of advertising to regular readers. "In article" ads (if targeted well on an audience and content theme level) will be probably less intrusive.
The goal, according to Facebook, is to begin focusing on brand awareness and recall.
– says Adweek.
---
Facebook Messenger
With the recent announcement of bots on Facebook Messenger (more about the news here), brands (big corporations as well as local businesses) need to start thinking about artificial intelligence, digital personal assistants and incorporating them in marketing strategies. What I mean here is how a local pizzeria could take advantage of Facebook Messenger to reach new customers.
There are many big brands which begin to experiment with bots already (developers are free to use Facebook's technology) however nothing concrete has been mentioned yet e.g. in Europe. I only heard about the KLM check in application as well as customer care. This space is definitely worth observing.
---
Google Mobile Ads in Image Searches
This is completely new for Google Adwords – a new placement for mobile will be possible in 2016! Google has appreciated the importance of image search as well as where the mobile traffic is heading to and came up with new possibilities for marketers.
The ads will be displayed next to related product images and will let viewers click through to retailers' websites, so when somebody searches e.g. for "Fitbit", as in the image below, pictures of those items will appear alongside store links.
View the demo here and read more about the ads on Recode: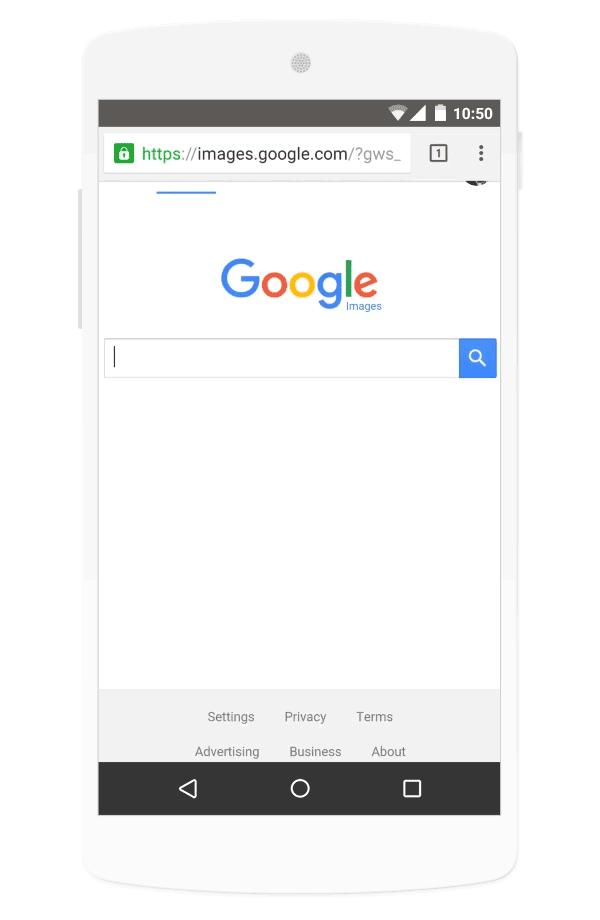 ---
Snapchat Interactive Video Ads
Snapchat is a difficult one – it's not yet open to all publishers, there is no advertising dashboard (nor analytics on its' followers base) and the CPM prices are ridiculously high. According to recent reports from Digiday, Snapchat is charging advertising a minimum of $40 CPM for interactive video ads, even if no one engages with the interactive aspect of the ad.
What does "interactive video ads" mean anyway? You might have come across this term "3Vi ads". The interactive part is new and means the ads are clickable; people can swipe up on them to watch a longer video, install an app, shop. If you want your ads to be non-interactive (purely for brand awareness), you will be charged less.
Right now Snapchat works only with big publishers and brands and only few sales representatives share their prices with media agencies. The possibilities to advertise are mainly exploited in the USA and Canada (for Europe all campaigns need to run via UK) and those are possible formats:
Sponsored lenses (the daily price starts from thousands – you need to pay a fixed fee per day, depending on the country)
Geo-filters (you can buy them right now only in the US).
3Vi ads (mentioned above): minimum of 4 cents per view for interactive ads and 2 cents per view for non-interactive ads.
Discover section: the most expensive placement on Snapchat available to the biggest. According to Adweek, publishers featured on Discover rise to even $750,000 per day. Snapchat makes it clear to marketeers – access here doesn't come cheap.
More about advertising opportunities on Snapchat here.
---
UPDATE JUNE 2016: IBM'S Watson Interactive Ads
IBM is already serving marketers around the world with their analytics solution Watson however this time, the tech giant is attacking the advertising space. Watson will be simply an audio-interactive advert, whereby users can ask questions whilst a relevant advertisement will come up. "For example, one might ask by voice interaction, 'What can I make for dinner tonight?' Based on its machine learning and reasoning ability from the data it has ingested, Watson can sort through ingredient and flavor profiles to make recommendations based on the weather, time of day, location and even ingredients users have on hand—all surfaced via dynamic ads.
Cognitive advertising is the new frontier. With Watson Ads, we believe that we are humanizing the ad experience for consumers.
– Jeremy Steinberg, global head of sales for The Weather Company (in coorporation with IBM Watson).
Who's excited to try out new channels, placements and formats? Let me know what your experiences with digital advertising in 2016 have been so far! Do you have more guesses for what's coming up this year? WhatsApp maybe? Curious to hear from you!