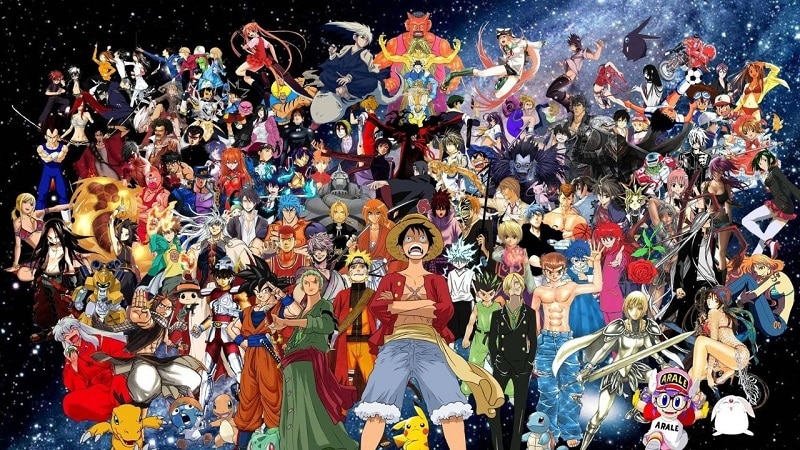 Anime deserves the best! No true anime fan ever says they are ok with streaming their favorite anime in bad resolution knowing that better sites are out there.
None of them lets ads and popups interrupt their adventure in the anime world knowing that there are ad-free anime sites. Why settle for less when you can simply choose to watch free anime online at the best site of all time?
Every anime site claims that they are the best, but in fact, many of them should be avoided at all cost. Looking for a decent site to watch anime is not an easy task, it can be risky at times, as many sites are filled with malicious ads.
That is why we have done extensive research to find our readers the best 3 anime sites of all time to help you save both time and effort. Let's take a look at the list and see why they make it to the top!
---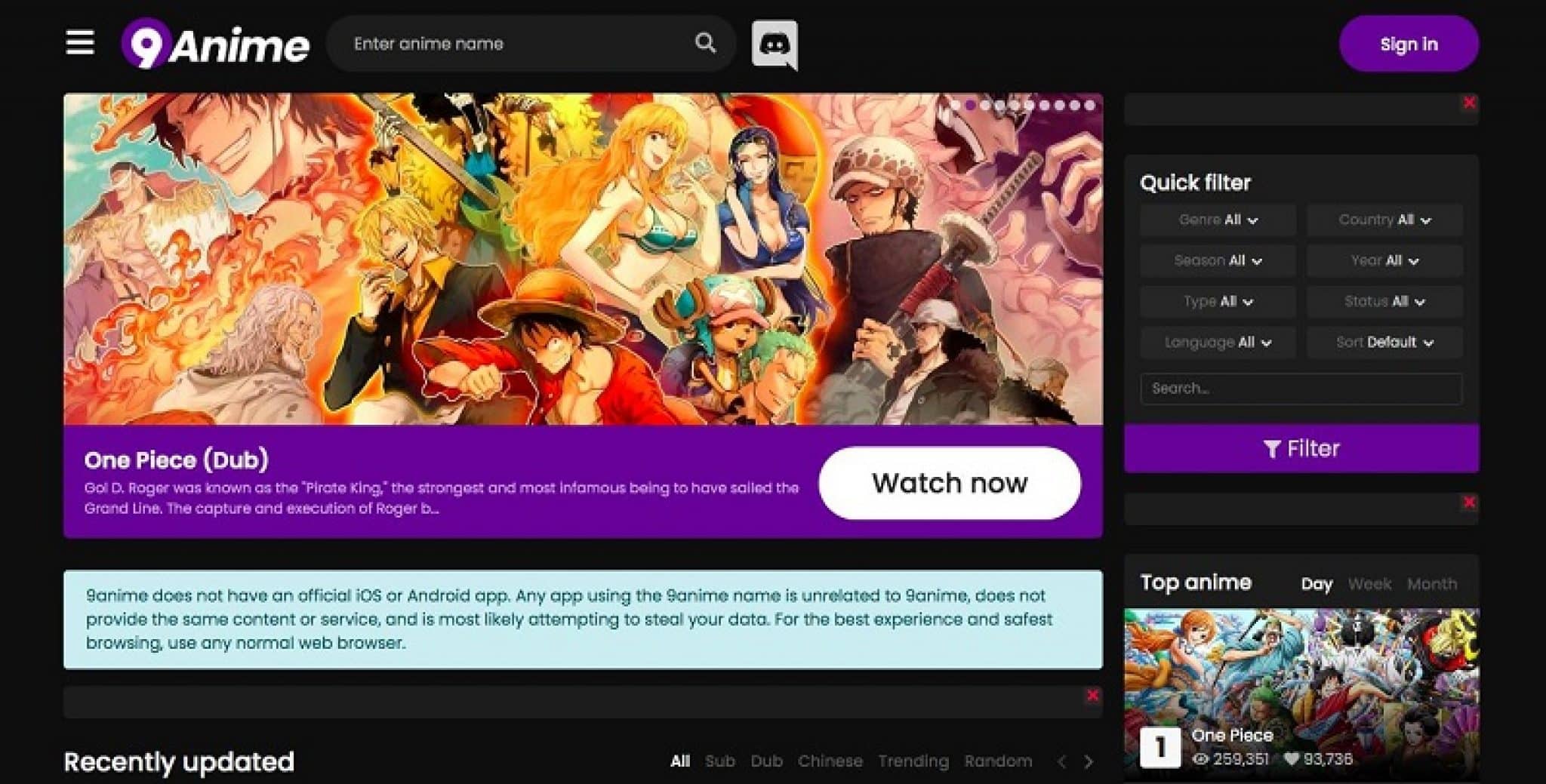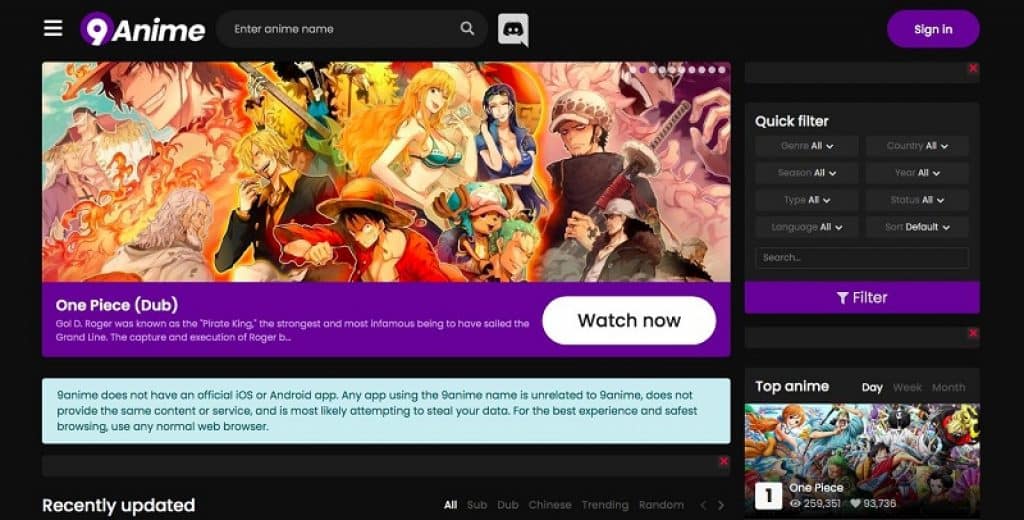 9Anime seems to be a fan favorite as anime lovers frequently vote it as the best free anime site. The site is so popular that there are many fake copies of it such as 9Anime nl, 9Anime ru, and 9Anime tv.
PROS:
To be in this list, 9Anime surely stands out from the crowd thanks to its impressive features.
Safety: Although 9Anime is not a legal site, users feel safe on the site. No user has reported any issue with the site, such as viruses and malware. However, for complete safety, you should still turn on your VPN, anti-virus program, and AdBlock extension.
Extensive content library: The collection of subbed and dubbed anime is enormous. You can find here movies, tv shows, ongoing series, brand new series, OVAs, ONAs, as well as specials.
Resolution: The resolution 9Anime offers might not be the best but it is decent enough (720p) if you choose rapidvideo server.
Fast updates: 9Anime updates its database frequently to make sure we can catch up with the anime world.
Simple user interface: It is extremely easy to navigate and browse through. We like the Dark/Light mode of the site.
No account or registration needed: Users don't have to make an account to access the site's content library and features.
Customer service: 9Anime prioritizes its users' overall experience. If you have any problem with the site, feel free to report it or leave them a message.
CONS:
Although 9Anime is a great site to watch anime online for free, it is nowhere near perfect.
Loading times: Loading speed on 9Anime is sluggish, which makes it less appealing than other sites.
Rampant ads and popups: The number of interruptions we get from redirects, ads, and popups can reach to the point of annoyance.
Overall, 9Anime has done a good job serving the anime community. However, with its drawbacks, it might not be for everyone, especially those who are not so patient.
---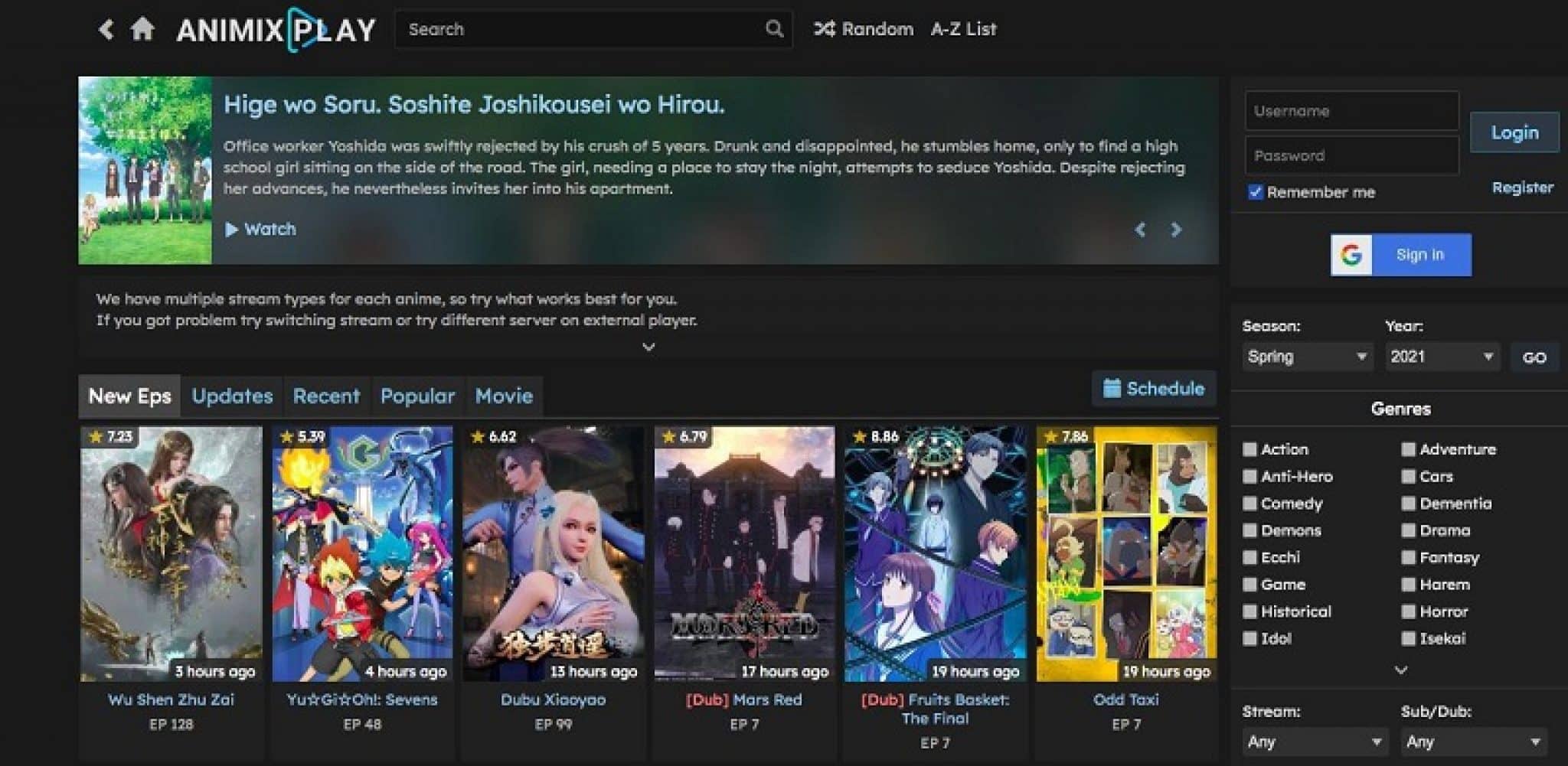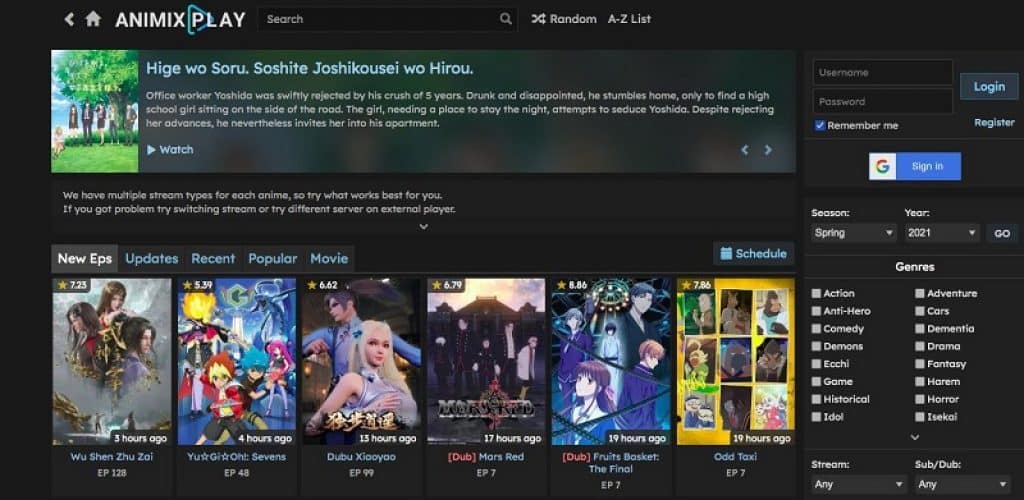 Although AniMixPlay is not as popular as 9Anime, it deserves its spot in this list. What 9Anime fails to do is fixed at AniMixPlay. This site is ad-free and its loading speed is superb. Now, let's dive in to see what the site has to offer and what it lacks.
PROS:
AniMixPlay has been gaining massive recognition recently thanks to its huge database of anime, array of useful search tools as well as extra functions.
Safety: As the site is ad-free, users are completely safe from viruses and malware.
Extensive content library: AniMixPlay's collection of anime shows is impressive. The site also provides multiple language subtitles and audio tracks for its content.
Resolution: The site offers HD quality (720p) for all of its titles.
Fast loading speed: Your video of interest starts right after you click the "Play" button. No lagging, no buffering, no redirects or ads and popups.
Fast updates: The site updates new titles frequently.
No ads: This is the best feature the site owns. With no ads, there is no risk or data loss, identity theft, or corrupted network.
No account or registration: Users are not required to sign up to access the site's content and features.
CONS:
Unfortunately, AniMixPlay also lacks some features that contribute to 9Anime's success.
Customer service: We fail to see an option to request a title or to simply connect with the AniMixPlay team.
User interface: The search bar is not so noticeable, which makes it inconvenient for those who come to the site for the first time looking for their anime of choice.
Image quality adjustment: The site should provide us the option to adjust the image quality as our Internet connection might go weak (especially if we stream anime on the go).
Overall, AniMixPlay seems to be a decent ad-free site to watch anime online. It learnt from 9Anime's mistakes but it has its own mistakes.
---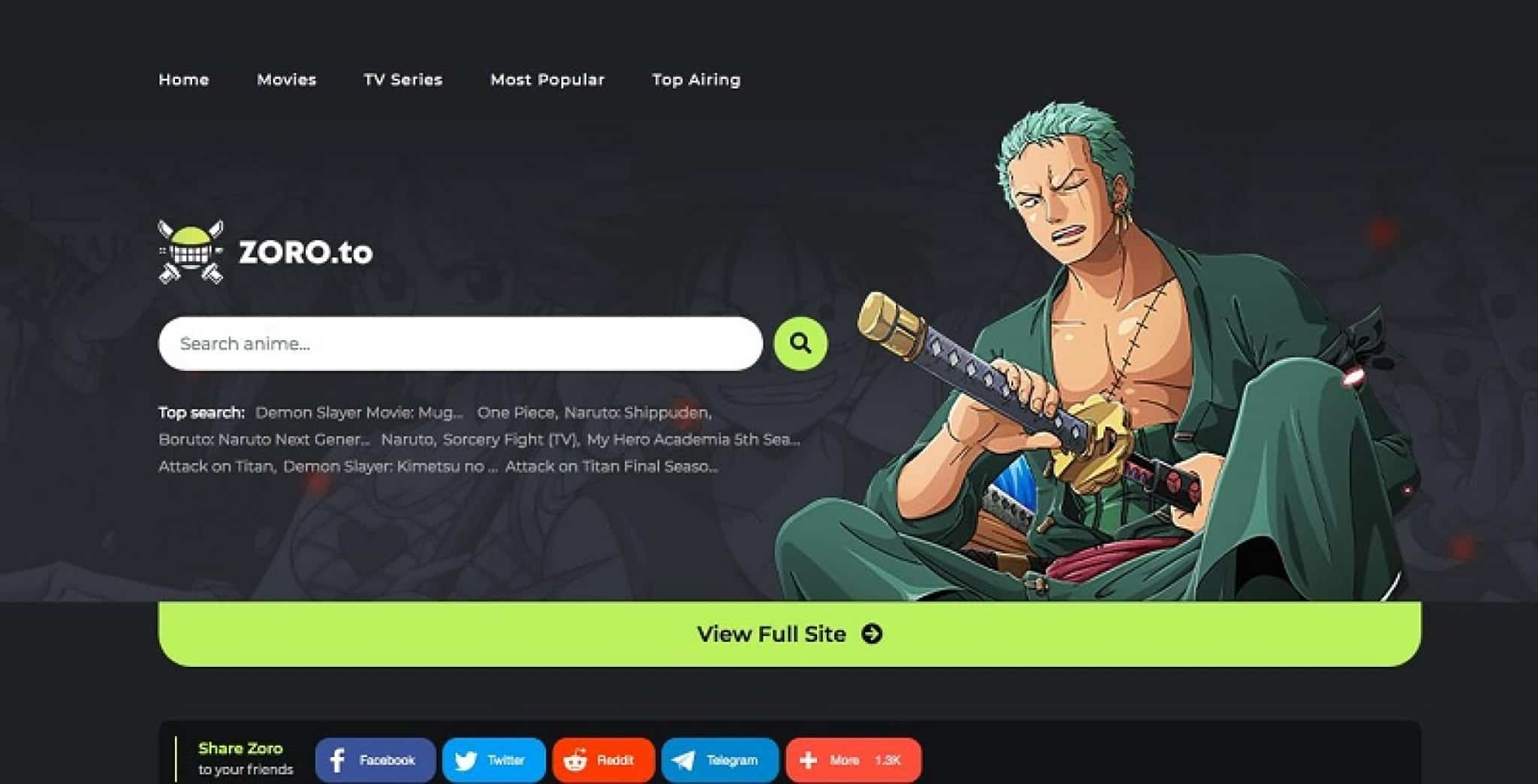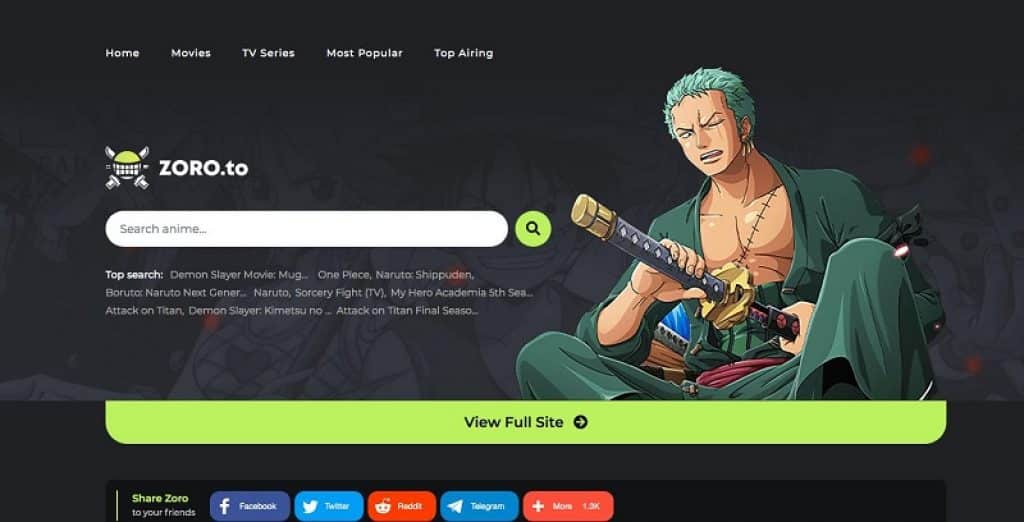 Don't lose hope yet! Whatever you don't like on 9Anime and AniMixPlay, Zoro.to has fixed it. The Zoro team has learnt from all the leading site's mistakes in an attempt to create the best streaming site ever for anime fans. It explains why it is hard to find any drawback on this site.
PROS:
If you can picture a perfect anime site in your mind, we are confident that Zoro.to can meet most, if not all, your expectations.
Safety: As there are no ads and popups on the site, there is no risk of you clicking on malicious ads, getting virus and malware. The site doesn't require any signup or registration either, therefore, your private information is kept confidential.
Extensive content library: With thousands of titles in its database, Zoro.to is highly likely to have whatever anime you are looking for.
High resolution: Zoro.to is the only site among the three to offer Ultra HD quality (1080p) instead of HD quality (720p). However, you can even go as low as 360p thanks to the site feature to adjust the video quality.
Fast updates: New titles come on the site on a daily basis, including the latest releases, new episodes, and requested titles.
Superb streaming capabilities: Streaming experience on Zoro.to is completely seamless without any lagging, buffering, redirects, ads, or popups. Load times are even faster than many premium services.
Simple user interface: It should take no more than 10 seconds for users to figure out how to use the site. The huge search bar is placed in the center of the page for utmost convenience.
Great device compatibility: As the site is mobile-friendly and Chromecast supported, it is compatible with most devices, including smart phones, desktop, laptop, and smart TVs.
Excellent customer care: As the team understands that our overall experience matters the most, they listen to us carefully. They are on active mode 24/7 to fix broken links, update requested titles, and answer our inquiries.
CONS:
If you have fallen in love with Zoro.to, don't worry, you won't be disappointed with its drawbacks.
Legality: Like any other free anime sites, Zoro.to isn't considered a legal site. However, you can easily solve this problem with a VPN to stay completely anonymous. Even when you forget to do it, you are highly unlikely to get in trouble, as Japan's copyright control law is not strictly enforced.
App: A mobile application will make it more convenient for users. We believe the site will come with one soon.
---
Overall, Zoro.to is the best anime site you can find on the Internet right now. Knowing that the Zoro team is committed to improving it day by day, we can be sure that Zoro.to will stay as the best destination for anime lovers for long. Bookmark the site to be a part of this legendary journey!