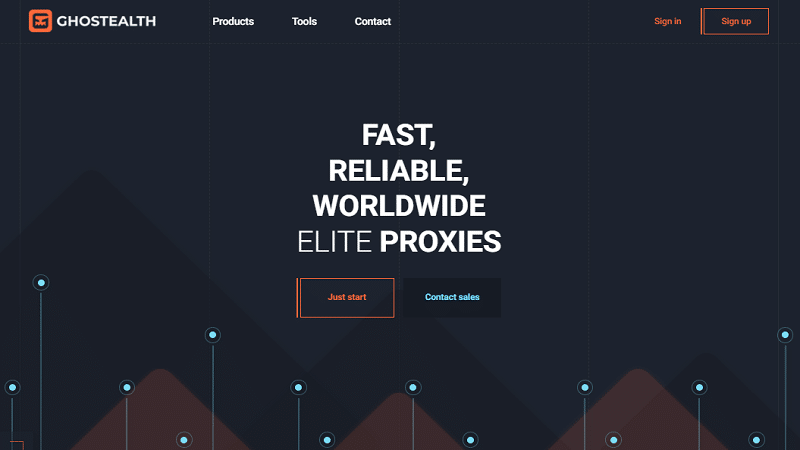 Privacy is a fundamental human right that needs to be protected. In the digital world, it has become more difficult to maintain anonymity.
This is because of the data collection that takes place by companies.
At this point, it is important to make the right decision on the subject of proxies. With this review, we would like to give you an overview of Ghostealth.
---
Overview
Ghostealth is a rotating datacenter provider that has been on the market since 2017. Since then, the proxy servers have been running without interruption.
With more than 5000 customers already, they have a good and solid standing.
In the following lines, I would like to highlight the features of Ghostealth. This will make it easier for you to decide whether Ghostealth is a suitable proxy provider for you.
---
Unlimited Bandwidth
Ghostealth has configured its offer in such a way that each customer has unlimited bandwidth. This ensures that once the proxy has been purchased, it can be used without restrictions until the end of the subscription.
Special consideration was given to customers who perform tasks with proxies that require high bandwidth. Ghostealth's high-performance datacenter proxies can provide this.
---
Flexible Pricing
Ghostealth allows you to get started on a budget for only $50 a month. Of course, there is some scaling here as well. Depending on your needs and purpose, plans up to $350 per month are possible.
---
Datacenter Proxies
Data centers are becoming more and more popular as a way to store data. They offer a lot of benefits, but there are some drawbacks that you need to be aware of.
Data centers can provide better access speeds for accessing the stored data than your home or office computer can provide. This is because they have better network connectivity, and they often have higher bandwidth available than what is available at your home or office location.
Data centers also offer redundancy in case one part of the datacenter goes down – this means that if one part goes down, then another part will still be able to handle all the requests.
A data center proxy can serve multiple purposes. One of them is to provide security by filtering out any malicious requests and making sure that the network is secure.
Another benefit is to reduce latency and increase stability in the network by caching content closer to the user.
This is exactly where Ghostealth proves its strength. Since its founding, the company has specialized in datacenter proxies. The advantage is that these proxies are always available – your connection can never be interrupted.
With the purchase of a subscription, you get direct access to 50,000 different datacenter proxies.
---
Rotating Proxy Server
In addition to their superior speed, the rotating proxies are distinguished by the fact that you receive a new, unique IP address with each request.
This means that you are not only entirely anonymous on the internet at all times, but you also always have a high-speed and reliable connection. We provide you with IP addresses from up to one hundred different countries.
---
Refund Policy and Customer Support
Ghostealth offers a 3-day refund policy for all its new customers. However, what is special about this is that before deciding to purchase, the proxies can be tested for free. Ghostealth offers all its customers a free trial. This can be easily reguested after registration. Within a few minutes, you will get an answer as to whether the trial was approved or rejected.
We have also had good experiences with Ghostealth's customer support. The fastest way to get an answer is to contact them via email. Requests are usually answered within an hour.
---
Authentication and Socks5 & Http/s format
The proxy authentication method is set to IP authentication only. For each subscription, one IP can be authorized. For each additional IP, they are charging $5.
The proxies support all protocols. They can be used as socks5 as well as HTTP/S proxies.
---
Ghostealth Cons
Only Datacenter Proxies
The product range of Ghostealth is still quite limited. At the moment, only datacenter proxies are offered.
No Specific country targeting
Ghostealth offers the possibility, after the purchase of a subscription, to filter the proxies for: US, EU and a world-mix. However, individual countries are not selectable.
---
Conslusion
Ghostealth is the perfect provider for those who are looking for datacenter proxies and do not want to be limited in their bandwidth usage. The low entry price and the free trial should make the decision easier.
However, if you are looking for residential proxies that can also be filtered by country, you will not find them at Ghostealth.
Instead, they rely on rotating proxy servers that guarantee maximum anonymity on the Internet.