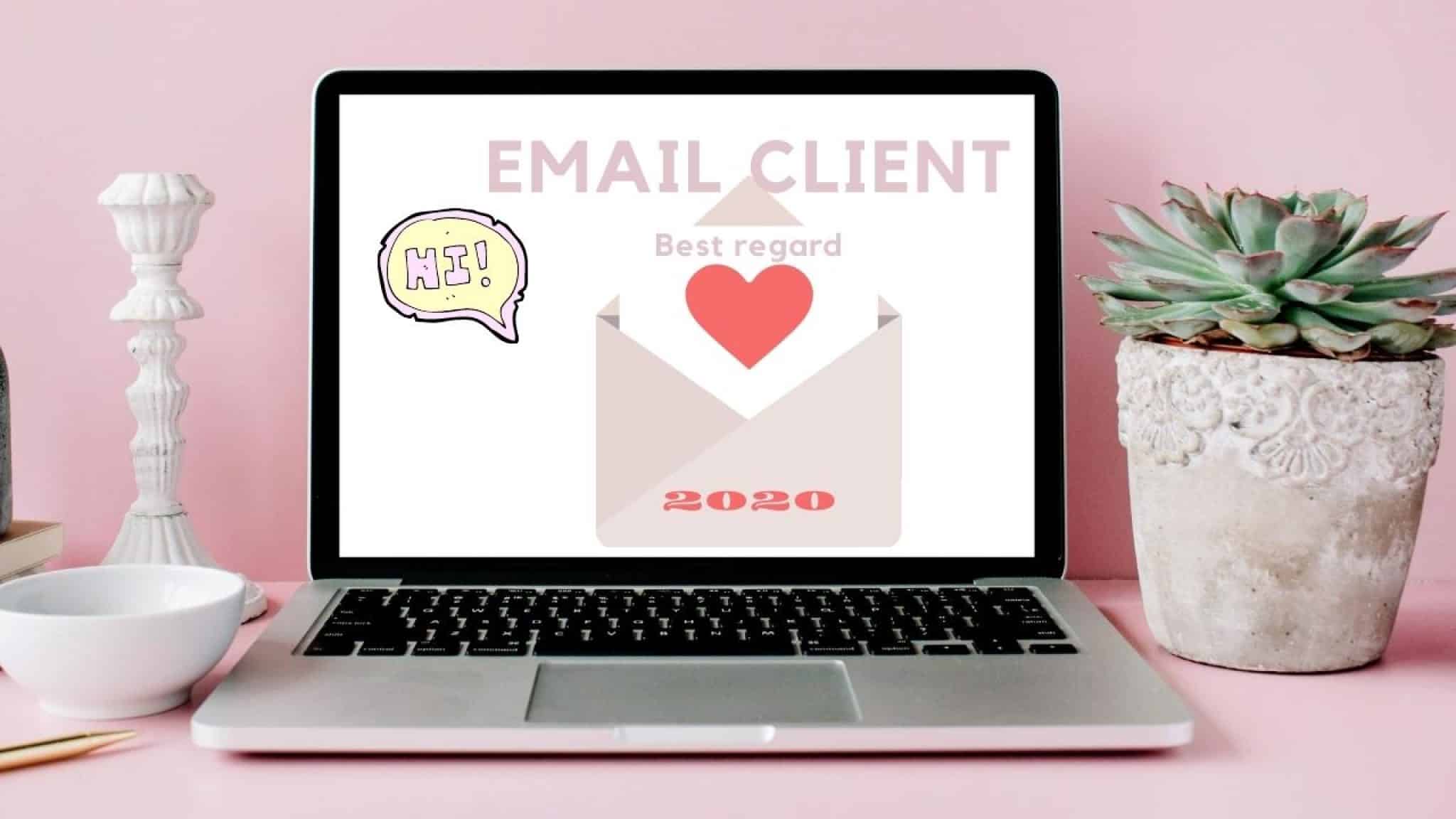 Irrespective of what you do online, you need a functioning and reliable email client that helps you keep track of your online business. Email will always remain a vital cog in communication and it's not going away anytime soon.
Windows 10 comes with robust features and you will surely need a dependable email client that ensures portability and high functionality. This article will explain to you the best email clients and why they are the best. You will also learn how much it cost, the pros and cons.
---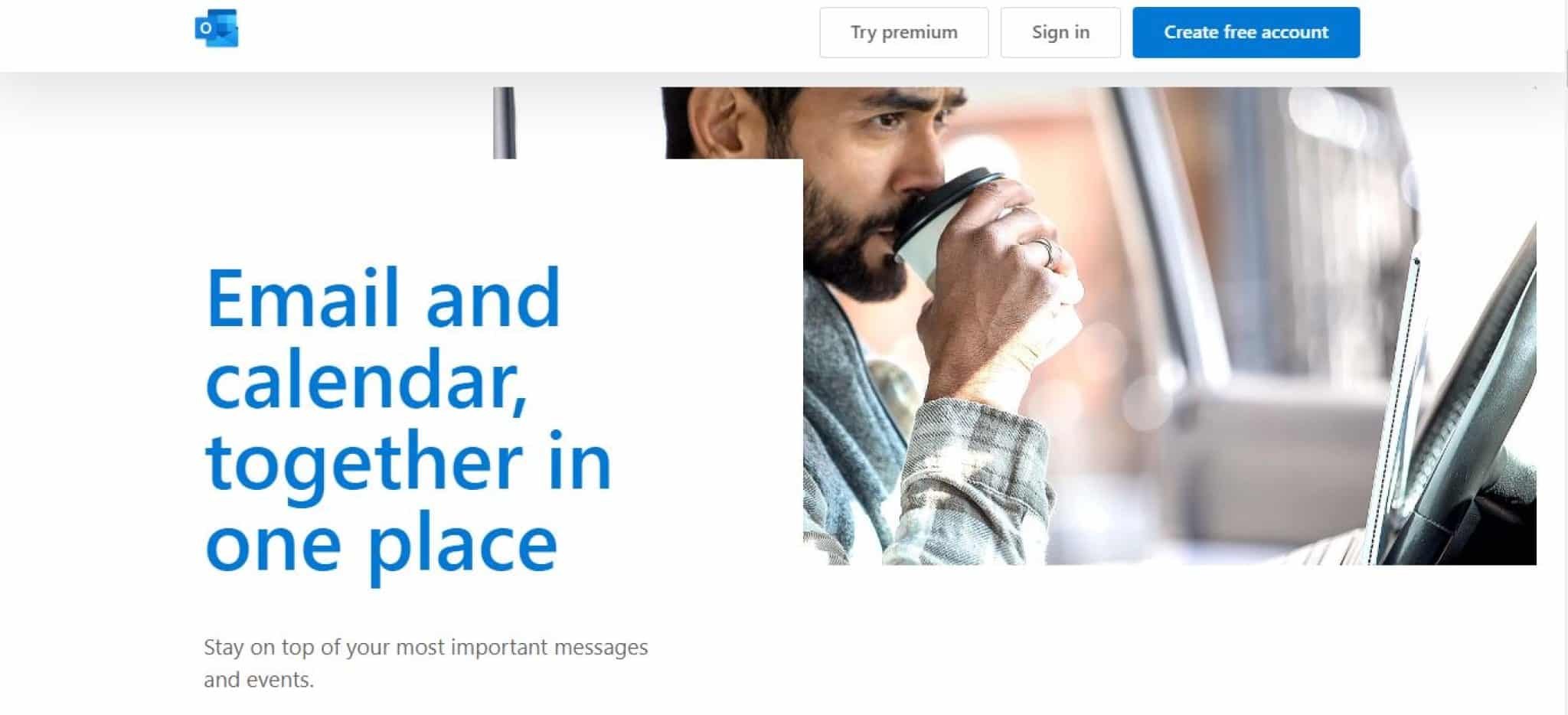 The outlook is an inbuilt mail client desktop application that forms part of the Microsoft's Office mobile productivity suite, the stand-alone subscription package of Office 365.
This is an email client that is compatible with practically most of the other email services. It creates a central location that allows proper email management and tracking of all addresses. It comes with wide range of useful features like third party integration, security authentication, and its high reliability is second to none.
It is the trusted email client in the business world. And its integration with Microsoft Office and outlook calendar makes it a favorite for most businesses and enterprises on windows 10. It is also supported across mobile platforms.
Pricing
Microsoft 365 Personal starts at US $6.99/month
Microsoft 365 Family US $9.99/month.
PROS:
It offers all-round integration with all Microsoft productivity suites.
CONS:
With its cool and variety of features, it comes at a price, You will need to make either a monthly subscription package or yearly.
---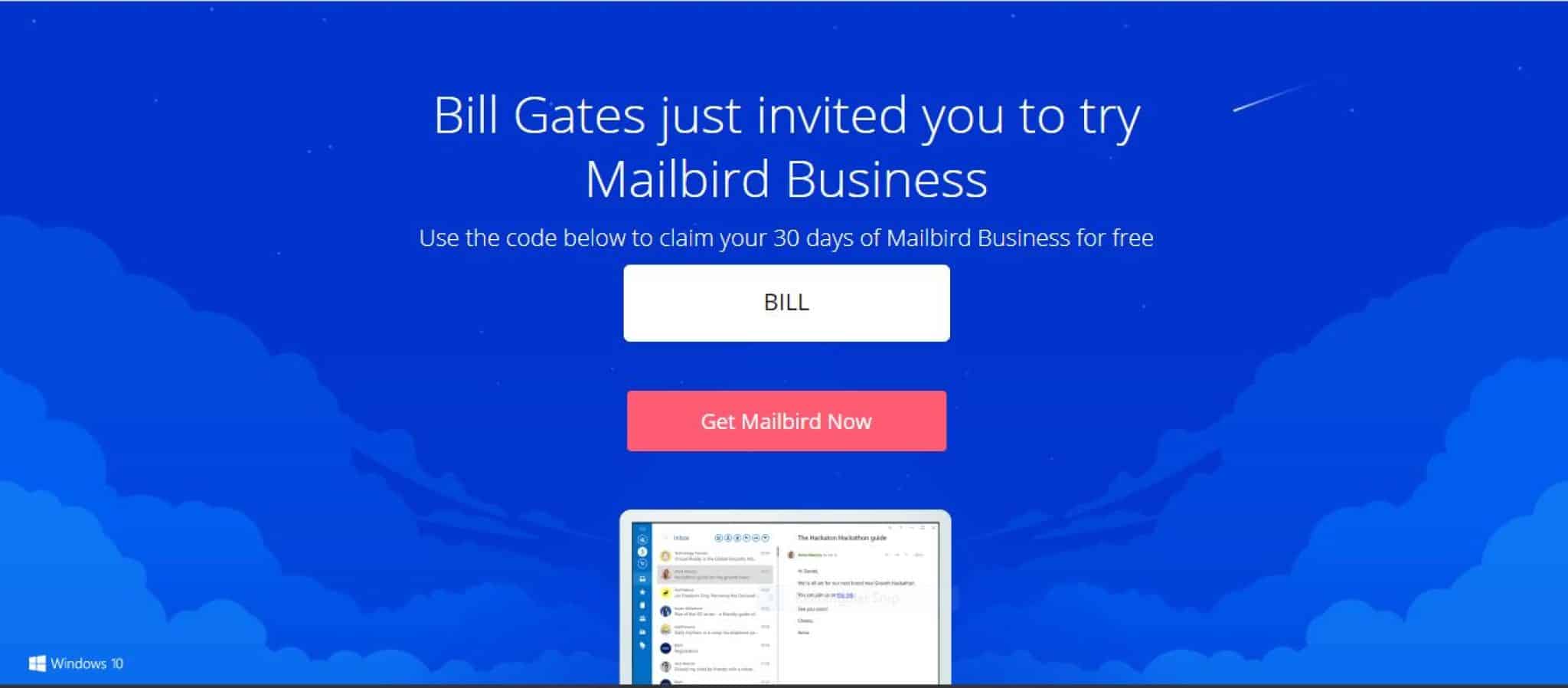 Mailbird is a powerful and innovative email client that was inspired by Mac's Sparrow with numerous customization options. It perfectly integrates with most emails client and other productivity tools.
It is an email client that provides a hassle-free way of managing multiple email accounts, contacts from a single location. It is highly regarded as one of the best email clients for windows 10 because of its various usable features and speed.
You can even integrate apps like dropbox, Facebook, Video calling Apps, or even Google calendar with a unified and intuitive Mailbird inbox.Mailbird offers a free version with very limited functionality and a paid subscription which grant you access to Mailbird complete cool features.
Pricing
Mailbird comes in three packages.
Mailbird Personal: This comes at $3.25/ month. Billed annually ($39 per year)
The package allows unlimited email accounts.
Unified accounts.
Apps integration.
Mailbird Personal: This is a one-time payment of $79.
This package allows unlimited email accounts
Unified accounts
Snooze email
App integration
Mailbird Business: This is a business package that comes at $4.92/month. Billed annually ($59 per year)
This package comes with extensive access like
Exchange support
Business apps
Priority support
Bulk order discount
PROS:
It is a beautiful and customizable email program
Mailbird integrates well with third-party applications
It's available in more than 15 languages.
CONS:
Mailbird does not have an advanced email search engine to easily find a specific email.
It does not have bulk email automation clean up.
---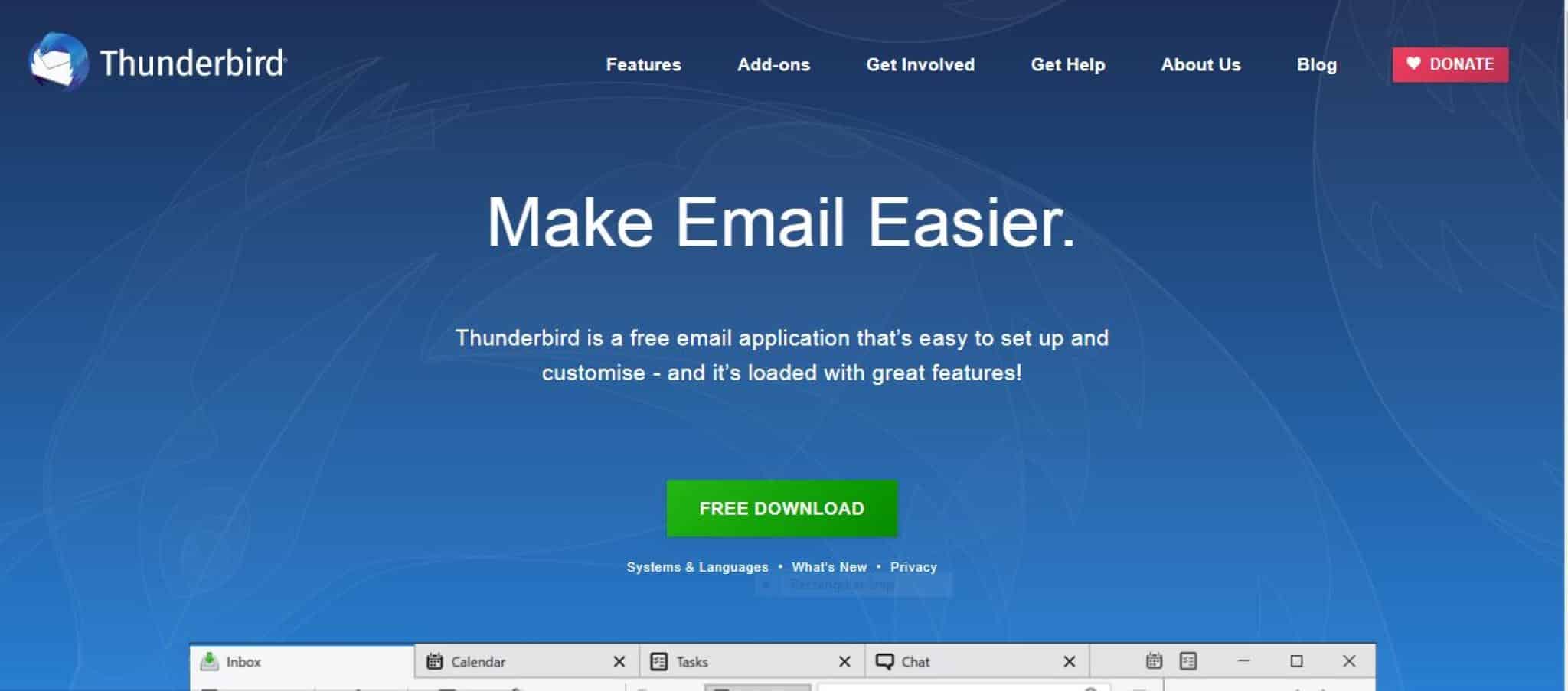 This is one of the few high-quality open source email clients that is available for windows 10. Officially released in 2003, Thunderbird is a Software of Mozilla with a great browser experience. It offers RSS feeds and allows you to manage multiple accounts using IMAP, SMTP, SSL/TLS protocols.
Thunderbird development was halted in 2012 but still function well on windows 10. It comes with some great features like the quick filter toolbar, search tools and the message archive to mention just a few.
PROS:
It is available on both the Windows and Mac Operating System.
It is a free email client and available as open source with lots of add-ons.
CONS:
 It does not have frequently update versions.
It does not have full support for Microsoft Exchange server
---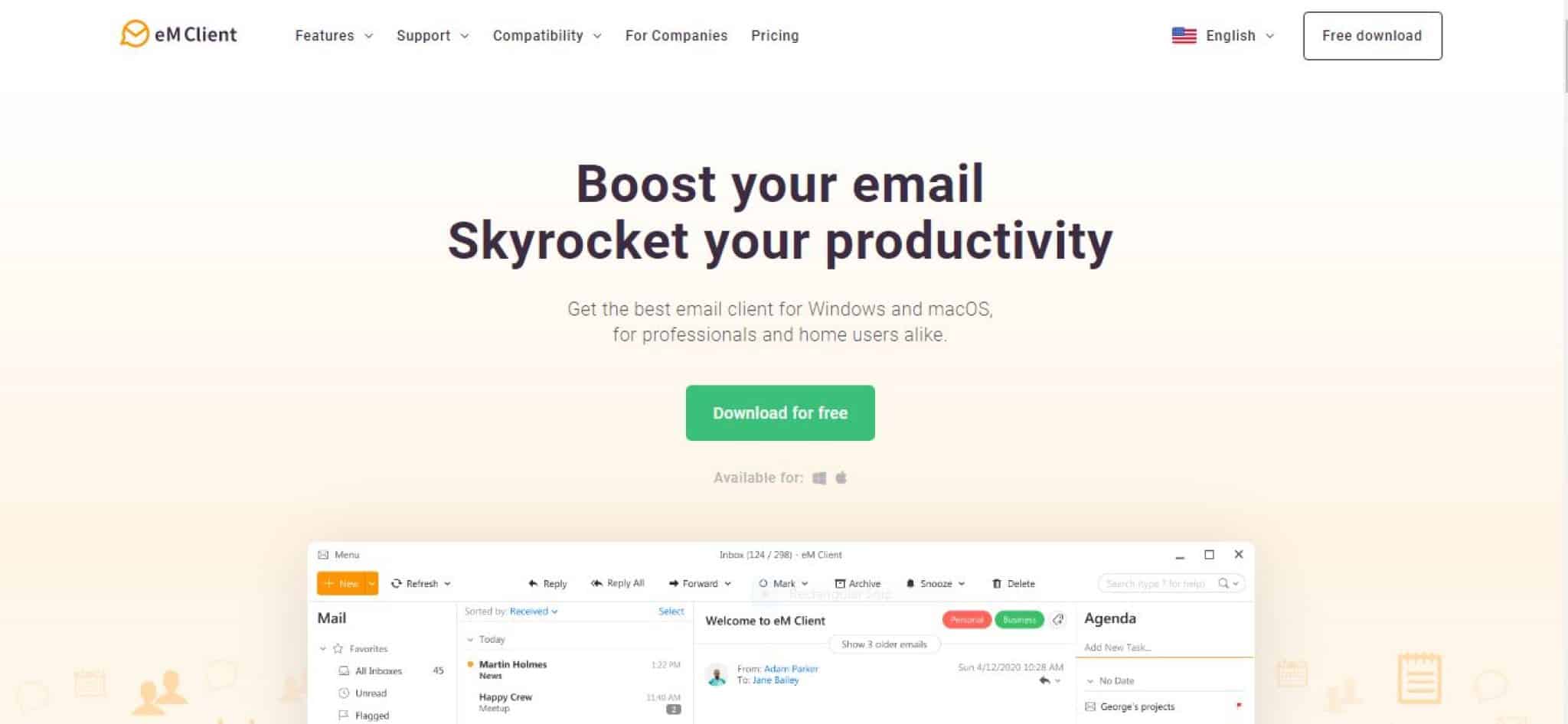 EM client has grown to be a close competitor to Microsoft outlook because of the various functions embedded in its email software. It offers various unique and standard features like calendar, contact, chat option, PGP encryption, backup, editing functionality, auto-reply, auto signature, and many other cool features.
It also allows easy import and export of mails, contacts, and calendar from the different email clients. You also have the option of managing each email separately. Its target market is individuals and businesses who want a bundled package.
Pricing
EMclient comes in three packages, the limited free package and the premium package you can upgrade to for a fee.
Free: This is free but with limited access.
Pro package: This is a one-time payment of $49.95 that grants unlimited access to the EMclient features for a single user.
Business package (For Companies) This offers all features in pro package and also extended users up to 10. It cost $188.95.
PROS:
 It supports Add-on features like dark theme with a stylish interface.
CONS:
It is known to occasionally crash when in use.
---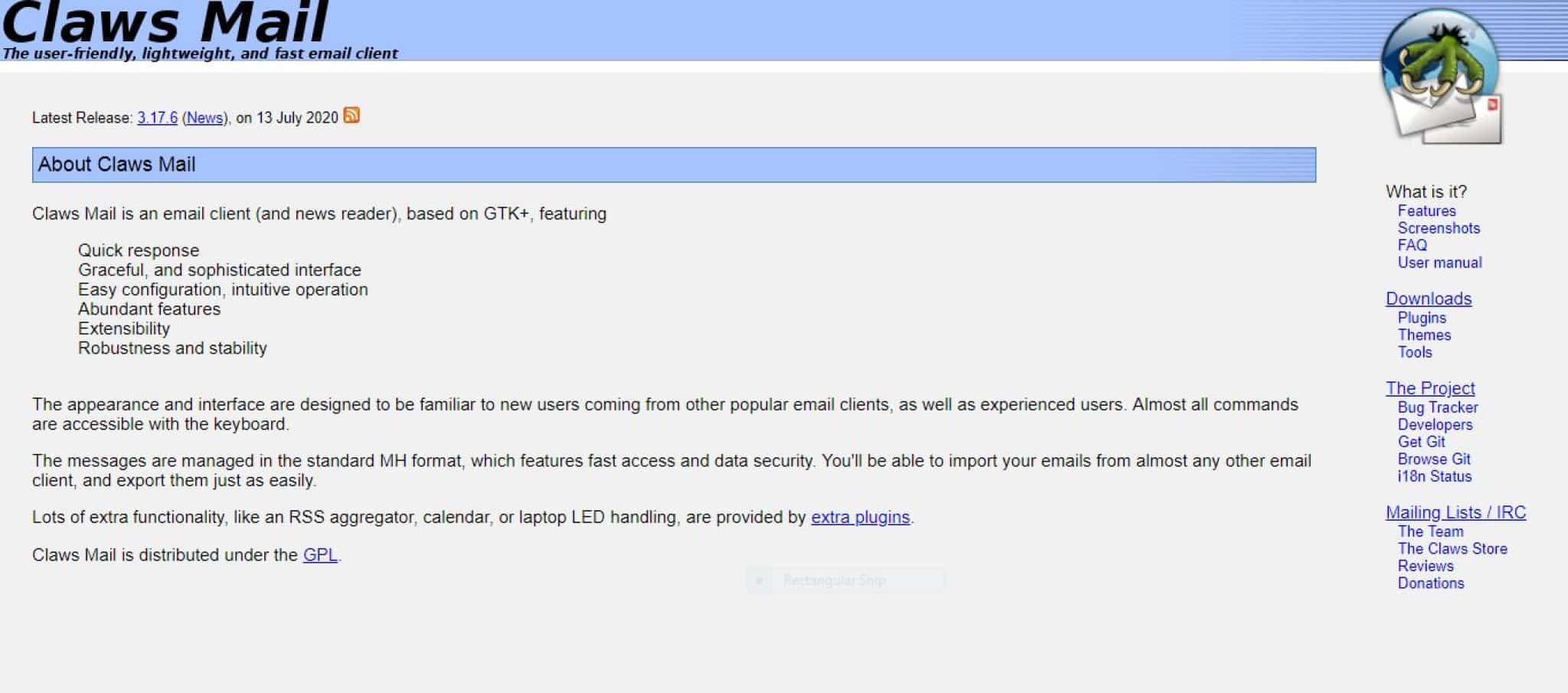 Claws Mail is a desktop-based free email client that comes with a beautiful interface and extensive features like the calendar, RSS aggregator that allows users to read favorite newsfeeds. It comes with a filter option (BSFilter), a Bayesian anti-spam plugin.
It is flexible for adding custom integration and it creates a central location for accessing all your email accounts without having to log in through a web browser. It is lightweight and highly configured email client.
Pricing
It is 100% free email client.
PROS:
It's an open-source email client.
It has a well-organized message queuing and drafting feature.
It has a good Filtering capability feature.
CONS:
It can be difficult to setup.
It can be difficult to use if you have no prior knowledge of the email tool.
---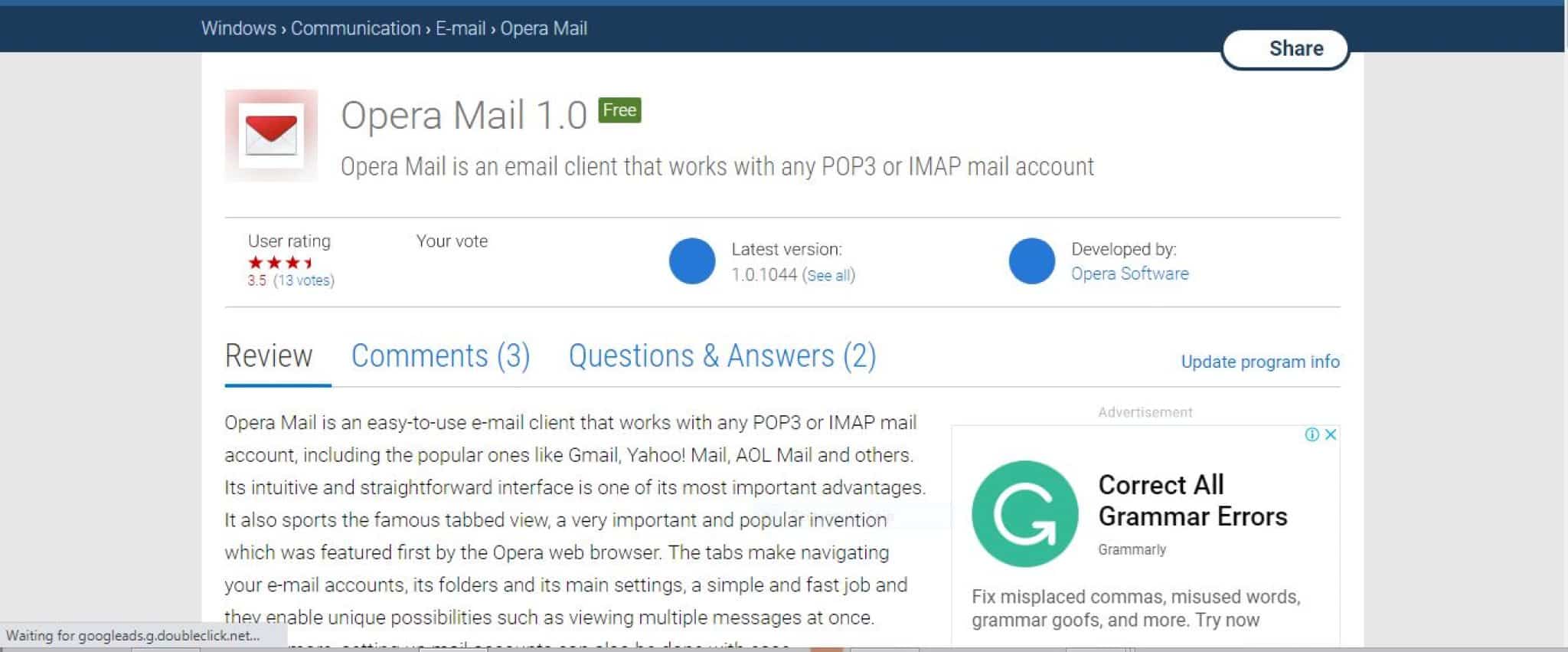 This is another free email client. Though it has been discontinued, it is still worth mentioning. It is an email client that is unbundled in 2013 from the opera web browser. Just like Thunderbird, the stand-alone Opera mail consists of helpful features like in-line spell check, spam filtering, assign labels, read and manage fields.
It also supports POP3, IMAP, and RSS feed with a few other exciting features. It allows you to manage multiple email accounts with a cool tagging mechanism and also keep a backup copy offline. Opera Mail is no longer supported as its last update date back 2016. However, you can still download online for free.
Pricing
It is open source which means it's totally free.
PROS:
It is a free email client
You can have unlimited no of email accounts
A cool feature is its low bandwidth consumption
You can backup emails offline.
It has an impressive tagging mechanism.
CONS:
It is not actively supported
It does not have a steady update
It does have some helpful features. However, it doesn't have enough to be in the same class with household names like outlook and Mailbird.
---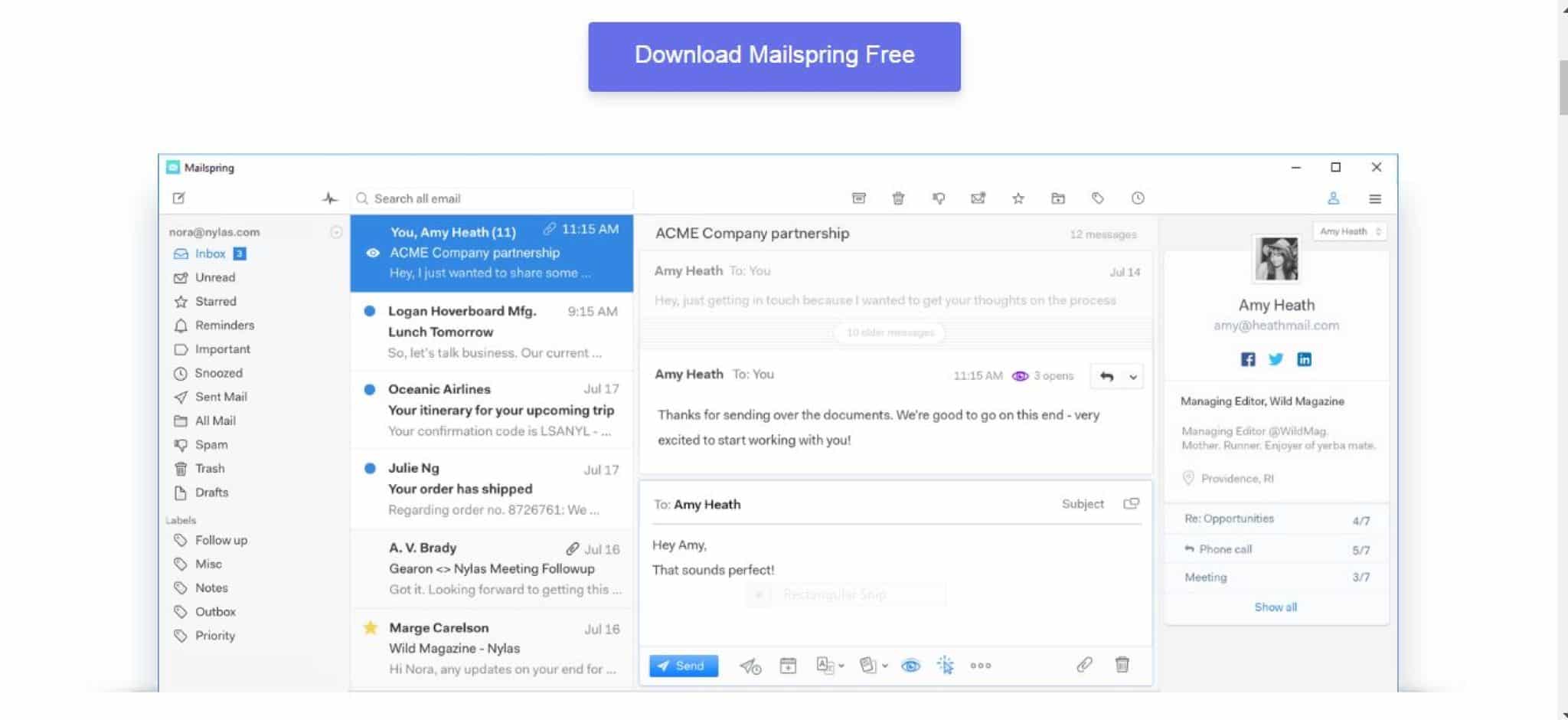 Mail spring offers an exquisite desktop email client with attractive modern features that support all IMAP vendors. It offers a unified view to access different email services like Outlook, Gmail, I Cloud, thunderbird, and many more.
With an advanced search engine, you can locate any particular email in thousands of emails. Mail spring comes in different major languages with various layout and snooze options. It is localised into 9 languages which shows its popularity.
Pricing
Mail spring is free but for extensive use of extra features like snooze option, send later, send reminder, and read receipt; you will need to upgrade to Pro package which cost US$8/month.
PROS:
It comes with an attractive user interface.
It supports multiple accounts.
It offers a unified inbox folder.
CONS:
It doesn't support Microsoft Exchange.