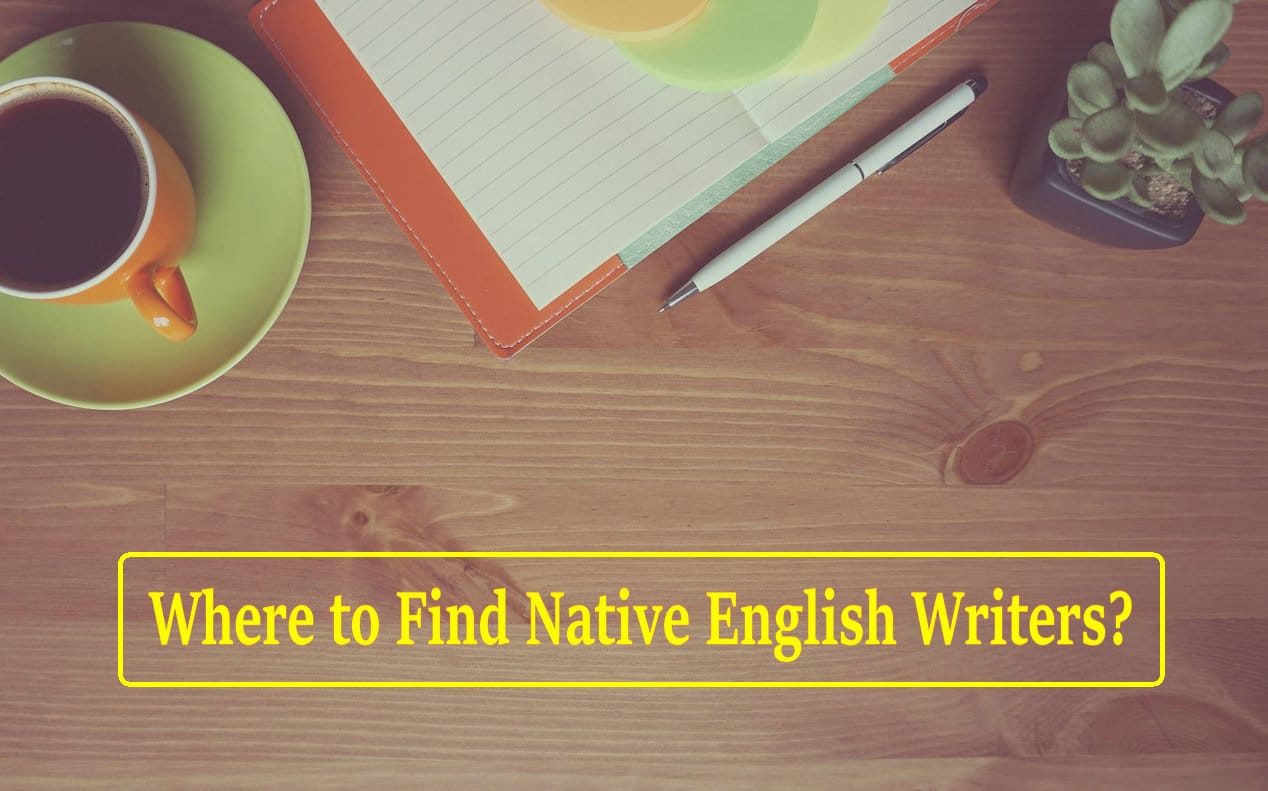 If you are not a native English speaker, creating engaging written content in English for your readers can be difficult. Blogging requires an excellent command of the English language in order to capture visitor's attention and leave them inspired by your work.
To be a successful writer not only will you need to write fluently and use proper grammar, but you'll also need to be knowledgeable about your selected niche topic. Finding the right balance between a talented writer and an individual who is intelligent on the subject matter can be very difficult to do.
Thankfully, online freelance platforms have been created to help users find native English writers for their blogs and websites. Some of the most popular freelance platforms focus on providing native English writers for non-native speakers. These platforms allow entrepreneurs and content creators across the world to provide their audiences with well-written English content.
Some of the writing needs that you can accomplish with these native writers are blog posts, article writing, copywriting, report editing (such as HARO), and even literature books, as well as translation and research services.
If you read this guide, you'll learn about the four best freelance platforms available to find native English writers to take care of these needs. Follow this guide and your blog or website can also have engaging and well-written English content tailored to your target audience!
---
4 Best Freelance Platforms To Find Native English Writers
This guide will detail some of the best available online freelance platforms to find native English writers. Finding native English writers in your own city may be difficult, but online there is a digital world full of native English writers who produce high quality written pieces for their clients.
When you are looking to find native English writers, it is important to use the online freelance platforms like fiverr listed in this guide. These online platforms have revolutionized the way business is conducted across the globe. These online platforms have tremendously cut the search time for finding quality writers that fit your needs.
When searching for your next native English writer, try some of the online freelance platforms listed in this guide so you can get a first-hand feel for the user interfaces, fee structures, and customer service options. It's important to keep in mind the costs involved with using these services, so you can make sure that they will fit within your budget.
Two important costs to keep in mind while evaluating these freelance platforms are purchaser fees and freelancer fees. Purchaser fees determine how much you will have to pay the freelance platform for connecting you with the freelance writer. Freelancer fees are the amount of the money that is taken from the freelancer's paycheck and sent to the freelance platform as a payment. It is essential to find a platform that fits your needs, but also fits your budget. Some of these can become expensive and it's important to keep these costs in mind.
Another important consideration when choosing between these sites is the country of origin of most of the writers. Some platforms have a lot of Americans like the Upwork Platform, while some others can feature native English writers from other parts of the world such as the United Kingdom like popular site People Per Hour. All of these factors are great considerations to keep in mind when choosing your own native English writer, and all of this will be covered in detail in this guide. Read on for a full comparison of the top four online freelance platforms that will help you find native English writers today!
Freelance Platform
Purchasing Fees
Freelancer Fees
Key
Features
LINK HERE
Upwork
Standard 2.75%
20%
10%
5%
American Writers / Low Purchasing Fees
Visit Site
Fiverr
$2 Less $40
5% Above $40
20%
Smaller Gigs / American Writers
Visit Site
People Per Hour
10%
20%
5%
Primarily UK Writers
Visit Site
Freelancer
3% or $3.00 (fixed)
3% each time (hourly)
10% (Hourly)
10% or $5.00 (fixed)
English / American Writers
Visit Site
The number one freelance web platform to find native English writers is Upwork. There is certainly no comparison between the other platforms, this is hands down the top platform and it has earned our number one rank. It is true that Upwork boasts the absolute most native English freelance blog and web writers. Upwork is an industry leading platform that will undoubtedly provide you the ability to connect with native English freelance writers at the touch of a button. Not only does the site have the most number of active users with roughly reported 37 million active web visits a month, they generate 25% of their monthly traffic from the United States.
How Does It Work?
It's now easier than ever before to connect with native English writers based in the United States and Europe. Upwork is a safe and secure way to find the perfect writer for your needs. The process is simple. All you have to do is follow four steps. First, post an ad online describing your needs. Then you'll be sent proposals for your job showing you freelancers and their qualifications and their pay range. You select the best fit for your own needs and hire them to do the job. Once they have written their pieces they'll send you the high-quality work for your review, and if satisfactory you'll submit their payment.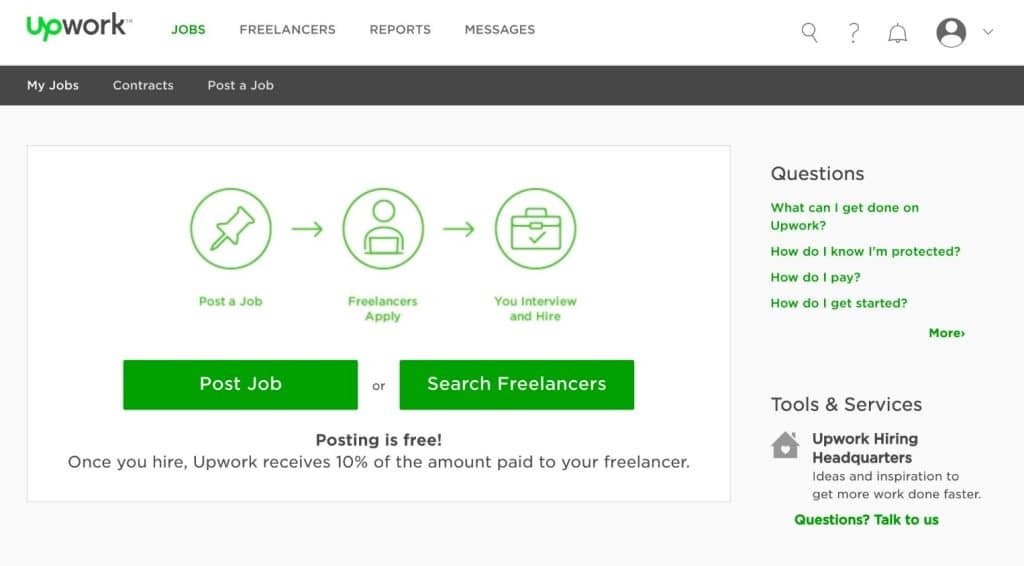 Fees
The fee structure on Upwork can be a little confusing at first. There are two main types of fees that need to be considered when selecting from the available freelance web platforms. The first fee that we will look at in detail is the purchasing fee. This is the fee you pay when you find a freelancer and they complete work for you. It is usually calculated as a percentage of the total cost of the job. For Upwork this purchasing fee for buyers is a flat standard fee of 2.75%. This is a pretty low fee, and comparable or less to most of the other freelance platforms on the web.
The next fee to be considered is the freelancer fee which is taken directly from your payment to the freelancer and given to the online platform as payment. This is where things can become a little complicated. Upwork operates on a sliding scale where the more work a freelancer performs for a client, the less the freelancer fee becomes.
For example, Upwork uses a three-tier freelancer fee table with percentages ranging from 20%, 10%, to 5% all based on the freelancer's number of lifetime earnings with that client. The first $500 a freelancer bills you, they will be faced with a 20% freelancer service fee. When the freelancer has billed you between $500.01 and $10,000 then the percentage fee is %10. Finally, when a freelancer has exceeded 10,000 the fee becomes %5. These fees may seem insignificant to you as a buyer and not a freelancer, but it's important to select freelance sites with low freelancer fees to attract different writers to your job postings. Sites with higher fees will attract less writers to your job postings, thus slowing down the process and lowering the talent pool.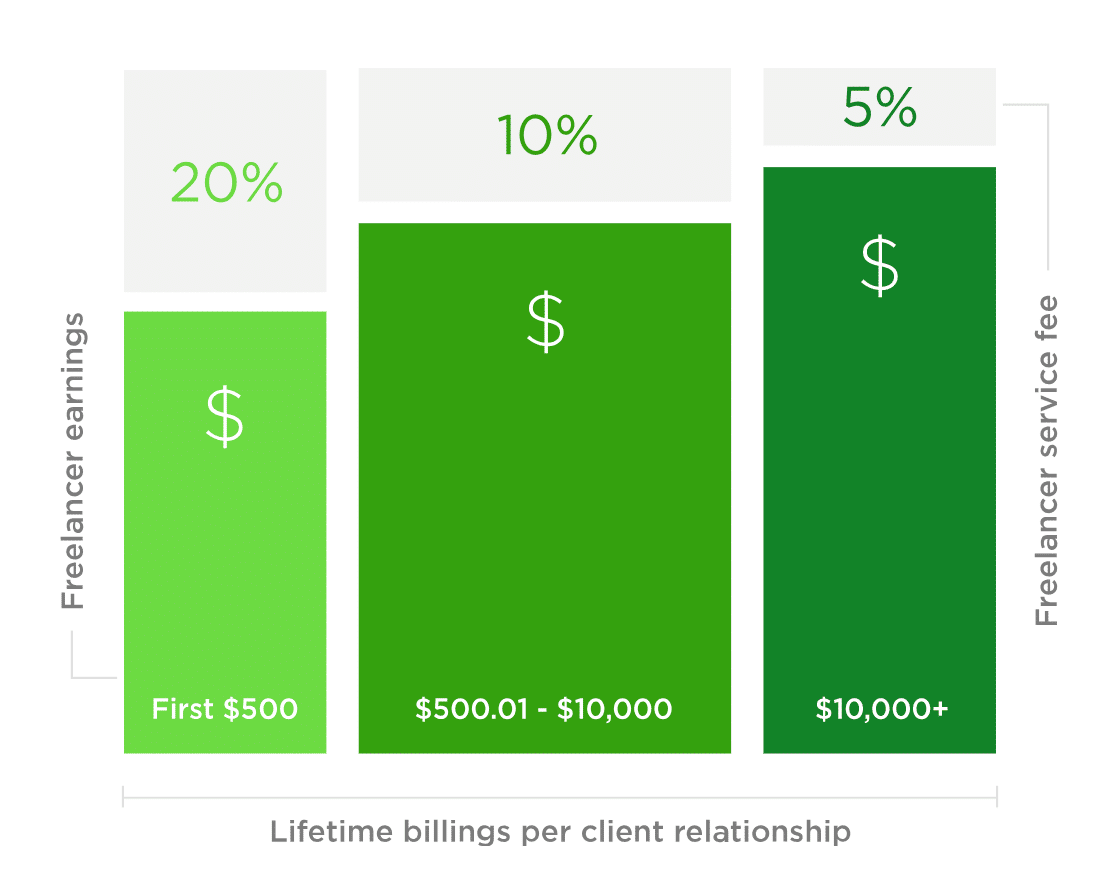 Features:
Short Term Tasks
Recurring Projects
Full-time contract work
Invoicing / Reporting Features
Advanced Reporting Features
Global Payment Protections
Not only does Upwork provide more proficient native English writers than any other freelance web platform, they also have some of the best features that you can take advantage of. Many entrepreneurs like the advanced invoicing and reporting features that Upwork provides its users. On this service, you can find the authors of scientific articles about Viagra generics. You can generate billing reports for writer's work and easily keep track of work history together with Upwork's online reporting features. This is an easy way for you to track your budget and account for your spending on freelance writers.
Upwork provides its users with an easy to use and navigate interface when hiring and working with freelancers. Important statistics such as hourly pay rate, total money spent, work diary, and transaction history are easy to find when working with your native English writers. You can easily rehire the same writers if you think they did a good job, and even award a bonus as an added incentive for your writers.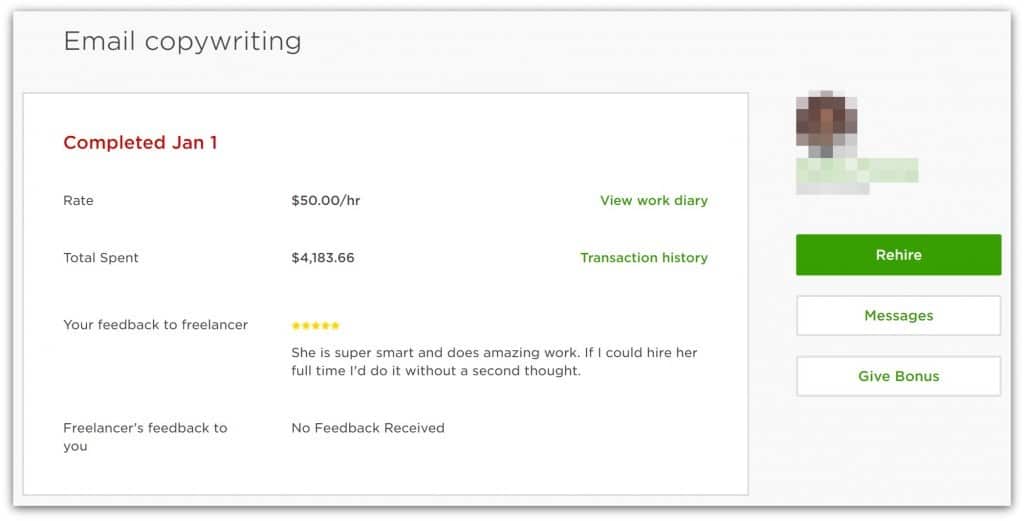 Upwork's 2017 "Freelancing in America" survey study showed that 57.3 million Americans freelance and that by 2027 the projected majority of American workers will be freelance workers. This comprehensive study analyzed the size of America's growing freelance economy and provided major details about the U.S. based workforce.
Upwork is the leading freelance web platform in the United States and the world. Using this site is absolutely the best way to find yourself a native English writer. The possibilities are endless when you find the proper candidate for the job. Thanks to Upwork's sliding freelancer service fee scale, freelance writers are incentivized to work for the same clients on a repeat basis. This consistency ensures that you get high-quality English content for your blogs and websites! With the top-notch customer service and fair service fees, Upwork continues to be the most secure and efficient online freelance platform in the world.
---
Launched in 2010 the freelance web platform Fiverr has emerged as a leading player in the industry. Fiverr is very popular in the United States and is a close second to Upwork as one of the most widely recognized industry giants. Fiverr has a large user base of American freelancers and they report that their 35 million views per month are comprised of nearly 23% American users. When you analyze the traffic by countries it's impressive to see such a large user base in country. If you are looking to hire a native English writer, then Fiverr is a great choice among the several available online freelance platforms.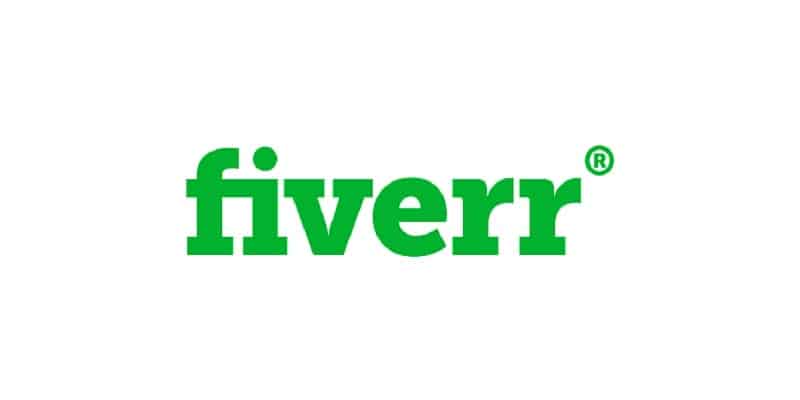 Some of the writing tasks that Fiverr can help you with include Articles and Blog Posts, Professional Business Writing, Copywriting, Research, Translation, Proofreading, and Copyediting and they are referred to as "gigs". Fiverr is a practical service that helps pair you with a freelancer that will not only fit within your budget but meet your deadlines and your goals as well. Peace of mind comes with Fiverr gigs as all payments are secure and safe, making it the number two selection on our top four list of online freelancer platforms to find native English writers.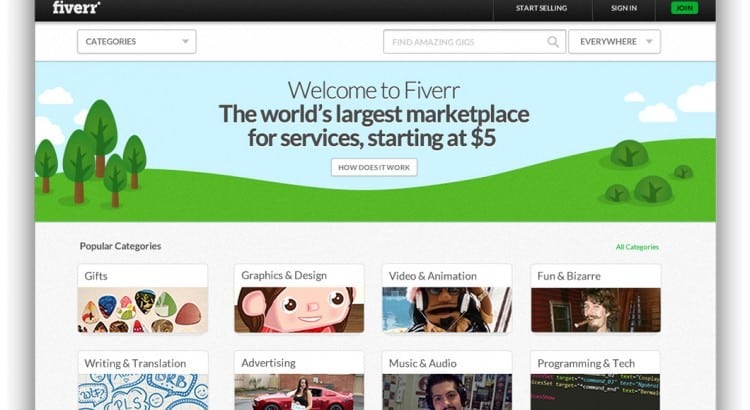 The service fee structure for Fiverr is fairly straightforward. The purchasing fees when you hire a native English writer will either be a flat fee of $2.00 or they will be a 5% fee. If the gig performed is valued less than $40.00 then a flat $2.00 purchasing fee applies to the sale, and you must pay it as the "buyer." If your contracted gig is worth more than $40.00, then a 5% fee will apply towards the allotted amount. It's important to note that when contracting for larger gigs over the $40.00 threshold, the purchasing fee is almost double that of Upwork. For that reason, Fiverr is more expensive when you're hiring a native English writer.
The freelancer fees on Fiverr are set at a 20% fee. There is no sliding scale like Upwork, and freelancer's will always see 20% taken out of their paychecks. This doesn't affect you as the buyer in a dramatic fashion, but unlike Upwork there is no sliding scale to incentivize long term relationships among the freelancer and the client. Ultimately, Upwork provides a better long-term relationship often times than that of Fiverr. These are some great considerations to keep in mind when deciding between the two platforms.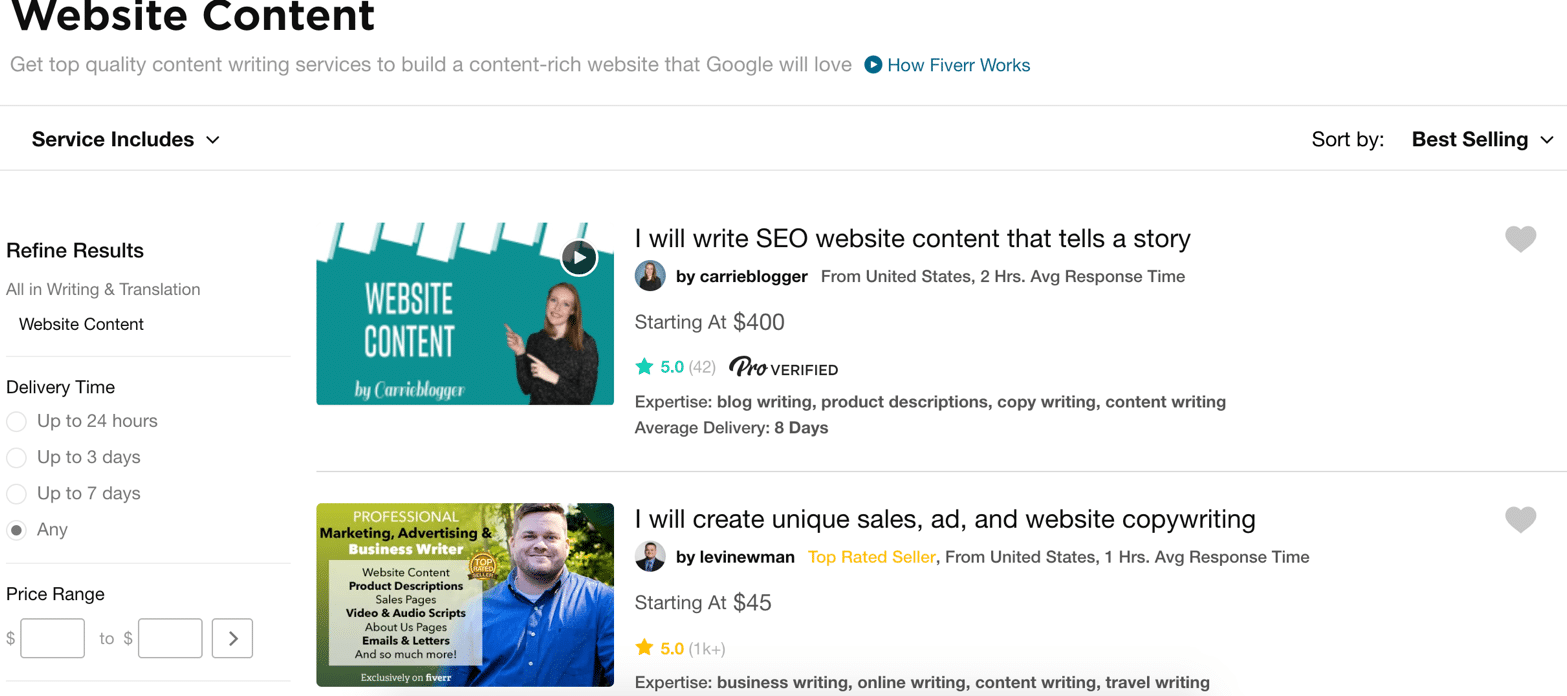 Features:
SEO Writing
Some Freelancers Offer 24 Hour Delivery Time
Gigs Starting at 5$
Secure Payments
The increasing popularity of Fiverr is evident in their statistics, as it is shown that they are responsible for the completion of over 25 million gigs since their inception. Remarkably, their site boasts the line "a gig is bought every 5 seconds." One of Fiverr's coolest features when selecting your native English writer is the ability to choose between different packages. Each gig will have three packages you're able to choose from. Essentially, these act as three tiers of service you can expect to get from your writer. The most cost-effective solution will be the basic package. But if you'd like to pay a little more and receive some additional features, then you can select the standard package. If you want a native English writer with all the bells and the whistles, then you can select their "premium" package and receive the absolute best they have to offer for your selected gig. This freedom of choice gives you as a buyer great freedom to pick exactly what you need from the writer.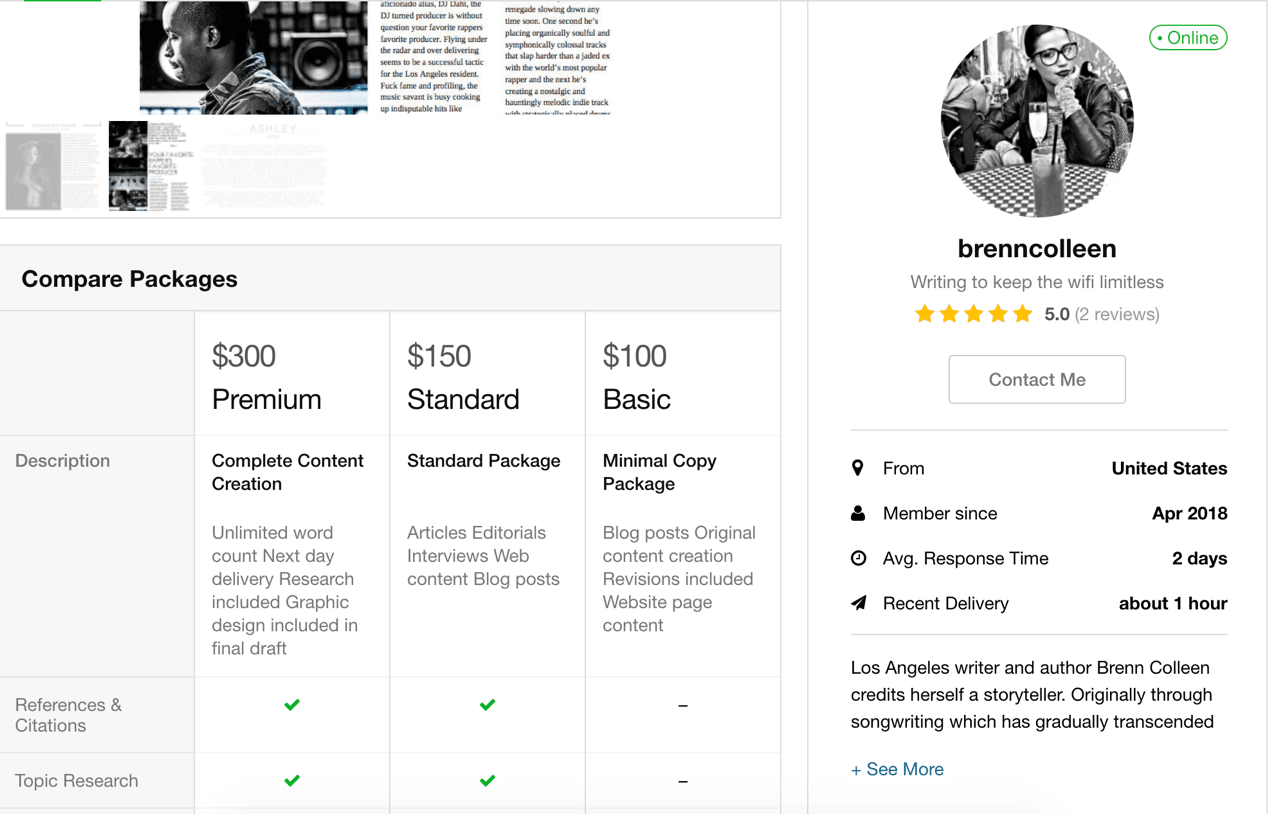 Fiverr is a great option if you're looking to hire native English writers for your next project. However, the purchasing fees are higher than that of Upwork, and there is no sliding scale for freelancer fees to incentivize building long term relationships between you and the freelance writer. But, it still features some of the largest numbers of American and native English writers out of the online freelance platforms and for that reason, it is number two on our list. It also has great features and secure payments for ultimate peace of mind. When looking for your next native English writer you should be sure to check out some of the gigs on Fiverr.
---
Third on our list of the top four online freelance platforms to find native English writers is People Per Hour. This website connects you native English writers that are primarily based in the UK and the United States. People Per Hour was founded in 2007 and is one of the leading freelance platforms in the world, reporting that their freelancers have earned over 100 million dollars. In our research we found that People Per Hour is the freelance site with the largest number of native UK English writers and for that reason it is number three on our list. However, there are some caveats that we will discuss below that need to be considered.
People Per Hour reports that they have seen a 64% jump in the amount of UK freelancers in the last 3 years. They also report on their blog that there has been an astonishing 234% jump in the amount of UK freelancers who have worked for non-native English countries such as China, Japan, Pakistan, and the Philippines. With over one million people using the site on a daily basis it is becoming one of the larger freelance platforms in the industry and you cannot afford to overlook it when selecting your next native English freelance writer.

Features:
Browse Fixed Price Hourlies
Contact Freelancers Directly
Escrow Protection
People Per Hour has been criticized for their high purchasing fees and that reason is one reason PPH was not ranked higher on our list. The purchasing fees when using People Per Hour are a staggering 10%. This is the highest recorded purchasing fee that you will run into on our top four list. The reason that this whopping number has not dragged People Per Hour lower on our top four list is because the site still boasts the largest amount of native UK writers on the web. If you really need excellent high-quality writers and don't mind paying the rather expensive 10% purchasing fee, then People Per Hour is probably for you.
People Per Hour also has seen backlash for their high freelancer fees. Although operating on a multi-tiered system most freelancers will see a freelancer service charge of 20% for their work billed that month up to $650. After the freelancer's work has exceeded $650 they will be charged a 5% fee. This sliding scale is similar to Upwork in that it incentivizes freelancers writers to build a relationship with you the buyer, so their personal freelancer fees will go down.

It's important to take customer feedback into consideration when deciding between some of the available online freelance platforms. Some users have complained about poor customer support from People Per Hour. Several customers online have stated that they have experienced issues with messaging, and several technical issues each month. These are things to keep in mind and realize that there are some limitations to this service. With only a few hundred employees to keep the site running, there are bound to be technical issues. If you constantly revolve around tight deadlines, it may be wise to look at one of the other contenders on this list.

---
Coming in at number four on our list of the best freelance platforms for finding native English writers is Freelancer.com. This platform receives roughly 11 million total visits each month. The great news is that about 12% of the monthly traffic comes from the United States. Freelancer.com is a great platform if you need to hire a native English writer from the US to write your content then Freelancer.com is a great option to look into.
Freelancer.com can help you take care of many different writing needs ranging from article writing, blog writing, content writing, copy editing, business writing, creative writing, editorials, even content strategy and research. The service currently has roughly 30 million registered users so there is a large talent pool that you can choose from when selecting your own freelance writer. The great thing is that each writer will have their own specialty, so be sure to be specific with your needs! There have been over 14 million jobs posted so Freelancer.com certainly does see a large volume of activity.

Features:
24/7 Customer Service Support
Mobile Applications
 Chat Functionality
Contests
Freelancer Directory
When it comes to fees and pricing, Freelancer.com is relatively fair. The purchasing fees are a very modest 3% or 3.00$ (whichever is greater) for work that is done at a fixed rate. Hourly contracts have a purchasing fee of 3% for each payment. While relatively inexpensive, these rates can add up if you pay multiple writers on an hourly basis. I would recommend you use a set fixed rate when hiring your freelance writers to ensure consistency in your spending and budget.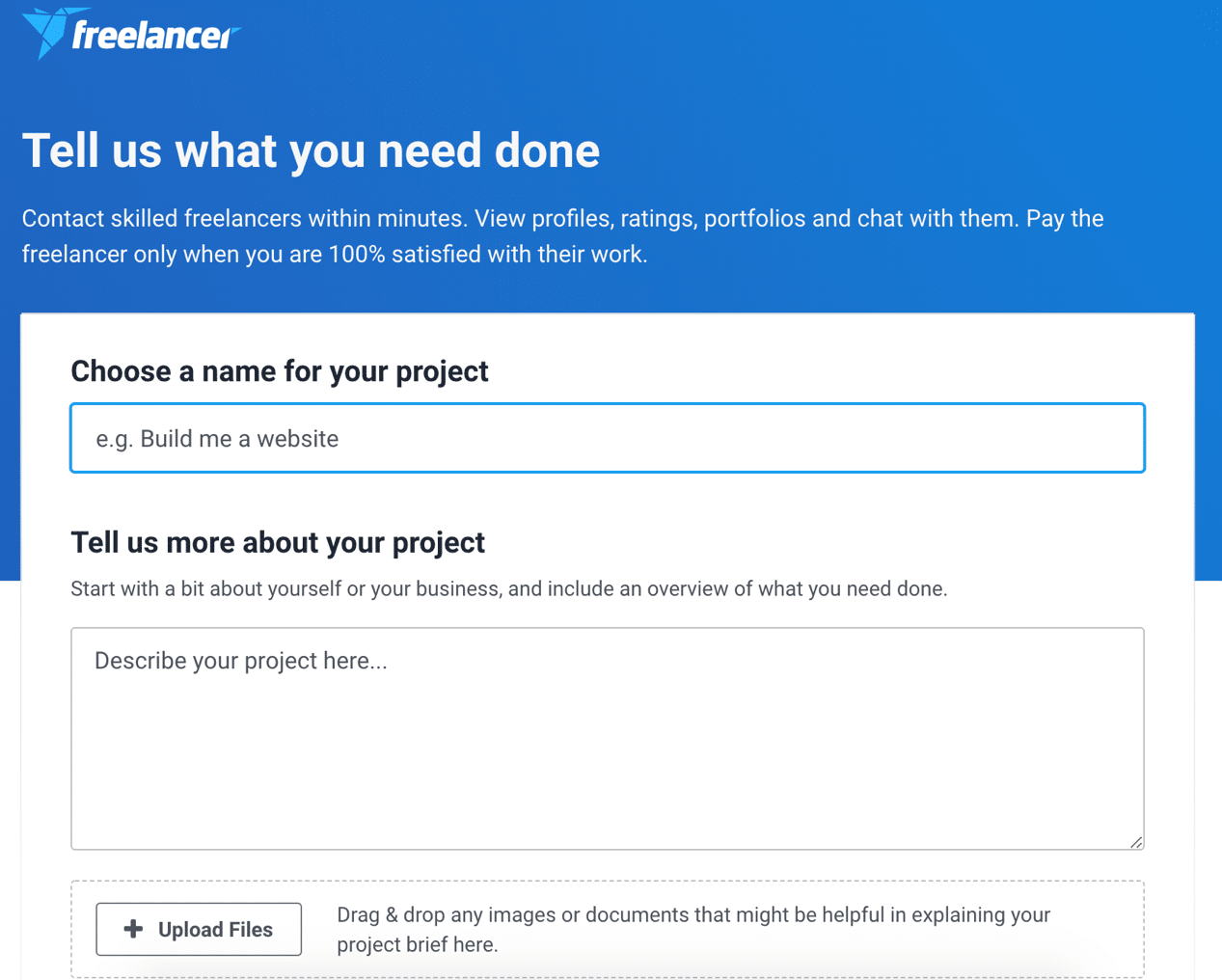 The freelancer fees however are not as user friendly as the purchasing fees. The freelancer fees for the native English writers you hire will be 10% or $5.00 (whichever is greater) for work that is done at a fixed rate. Hourly contracts have a freelancer fee of 10% for each payment. Again, these can add up for the freelancer if they Intend to perform a lot of work and may detract from them wanting to work at an hourly rate.
Try to line up contracts at fixed prices, and if you feel generous, offer to pay your freelance writers freelance service fee when they have done a good job on an article. This is a great way to build a lasting relationship with your freelance writer, so you will be able to work together in the future and spend less time looking for talented new writers.
It's also important to note that the freelancer fees do not operate on a sliding scale like some of the other platforms on this list. Because of this, there is little incentive for freelance writers to continue working with the same clients. For this reason, Freelancer.com landed in the last spot on this list.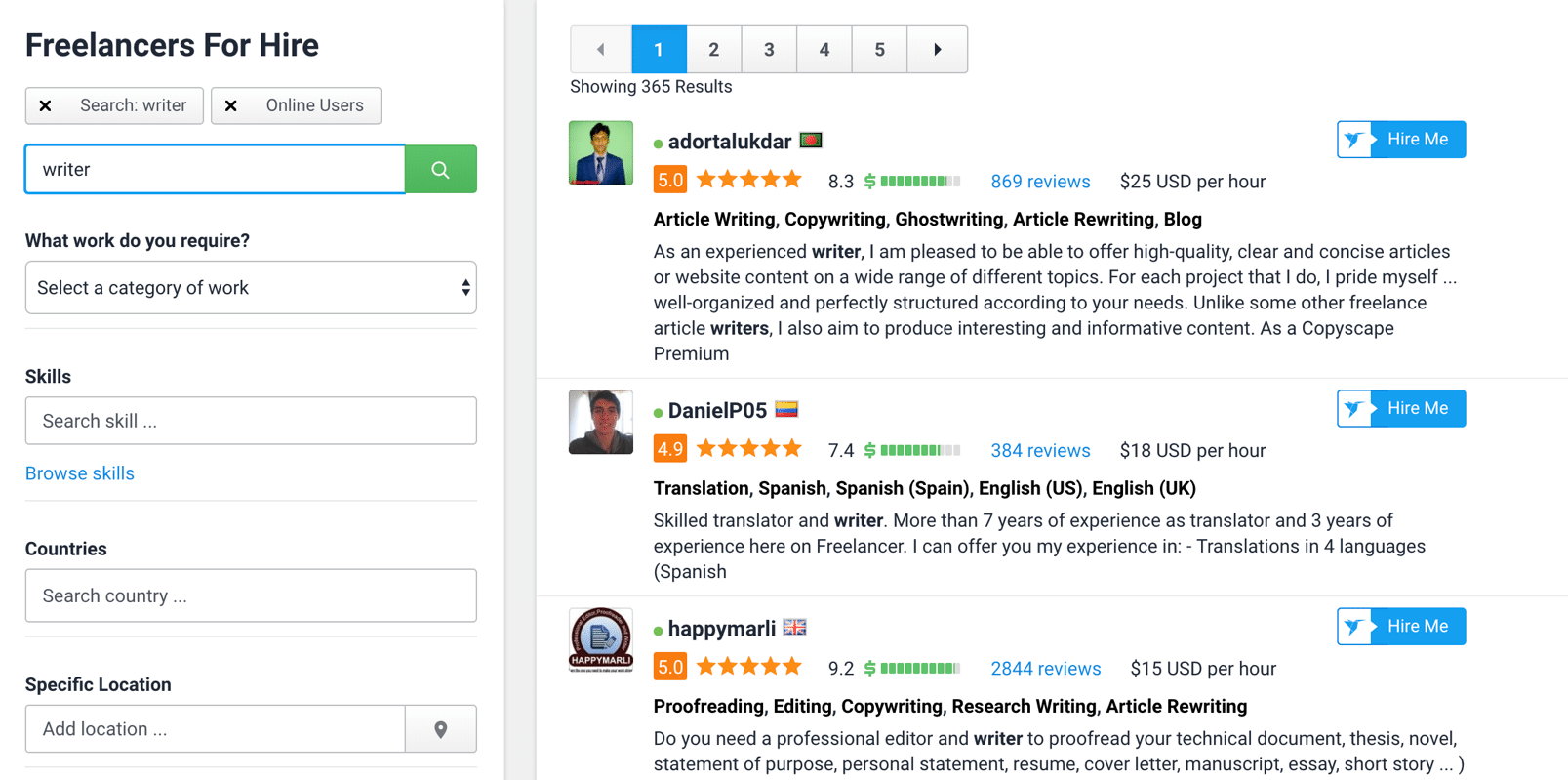 One of the best features about Freelancer.com is the ability to directly contact freelancers within their online directory. This is a great way to find native English writers for your various writing needs. The directory is an easy way to find a niche writer than will fit your needs and stay your budget to help you reach your goals. All of the pertinent information about the potential freelancers are shown in an easy to read user interface for you to use. Important things such as rate per hour, country of origin, freelance rating, as well as reviews and skills can be seen immediately when hiring candidates. You can search the directory using filters such as Country, Specific Location, and Required Skills.
Freelancer.com is a good option if you're looking for a native English writer for your next project. But, because it lacks a sliding incentive scale for freelancer rates, it has landed at the bottom of our list for best online freelance web platforms to hire native English writers. However, it is still a good option and should not be overlooked if you want to obtain high-quality English pieces for your blog or website.
---
 Conclusion
It's very hard to write high-impact articles in English when you are not a native speaker. Thankfully, innovative online freelance platforms like Upwork and Fiverr have made it easier than ever to obtain well-written native English content for your online audiences. There are thousands of native English writers on these online platforms waiting to connect with you, learn your needs, and make your dreams turn into realities.
Finding native English writers for your latest blog post or web article is a breeze when you take advantage of one the freelance platforms detailed in our guide. These online platforms are the absolute best methods of finding native English writers for your digital content whatever your niche and vision may be! These innovative websites connect clients and colleagues across the globe at the push of a button.
If you are an entrepreneur or online blogger and you want to take your content to a whole new level, try producing some articles written in English. If you want to produce the highest quality content possible for your audiences, then be sure to hire a native English writer for the job. These talented native English freelancers know exactly how to make your goals become a reality. Taking advantage of the online freelance platforms listed in our guide is essential if you want to publish online content in English using native English writers.