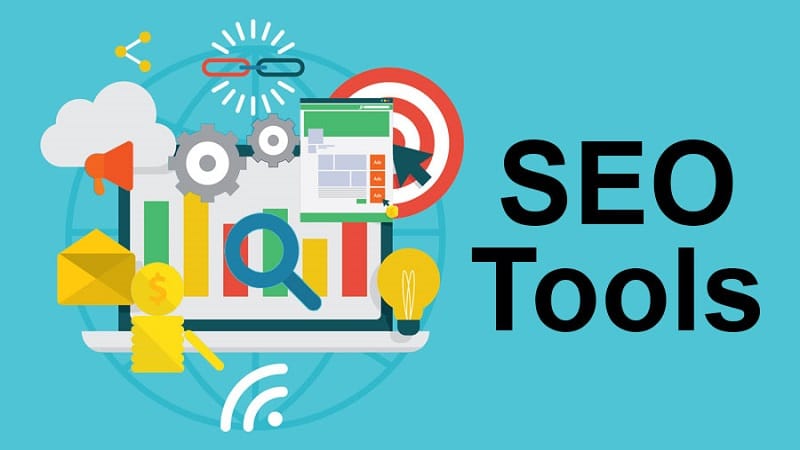 Every SEO needs efficient SEO tools to make their optimization campaigns successful. The market is jam-packed with SEO tools big and small, cheap and costly, and they are all great by description, so how do you know which is the best fit for you?
This post covers a few powerful SEO tools for desktop that deserve your attention.
---
1. SEO PowerSuite
SEO PowerSuite has been leading SEO software for desktop, running successfully in the market for almost two decades. The bundle includes four tools that can be used separately or together in a single workflow: Rank Tracker, WebSite Auditor, Backlink Checker (formerly SEO SpyGlass), and LinkAssistant. Each tool serves a specific SEO task, which is easy to guess by their names.
To start with, let me say a few words about the interface. The software is well-designed and pretty intuitive, considering the scope of tools and tasks under the hood. All SEO PowerSuite's workspaces are highly customizable: you can duplicate and adapt to your needs every workspace; apply flexible filters, use custom search operators, or run custom site crawls with your unique set-ups.
All tools organize data in subsections related to each particular SEO topic: on-page SEO, crawl errors, indexation issues, etc. For each task, there is a detailed list of all pages affected. Alongside, you will get tips on why this  issue is urgent and how to fix it.
The tools are reliable and accurate. First, because the rank tracking tools can perform local rankings checks. You can narrow down your checks to precise keywords and locations, set up specific search engine crawls, etc.
Second, the tools store and integrate data in such a way that you can get back to your history, cross-verify, and compare across multiple sources. For instance, the Backlink Checker has its own database, but you also can import a database from other sources, e.g., Search Console.
Third, they calculate several SEO metrics that help SEOs make estimations. These are Keyword Difficulty, InLink Rank (a close analog to PageRank), and Domain Strength (similar to Domain Authority).
Rank Tracker checks SEO rankings, and this desktop tool is unsurpassed by its alternative online rank checkers because it does not sell limits on keyword checks or the regularity of your check-ups. You can check separately desktop and mobile rankings, single out featured snippets and other rich results, look through Google maps features, check ranks in localized versions of Google, or track less popular search engines, like Bing or Yandex.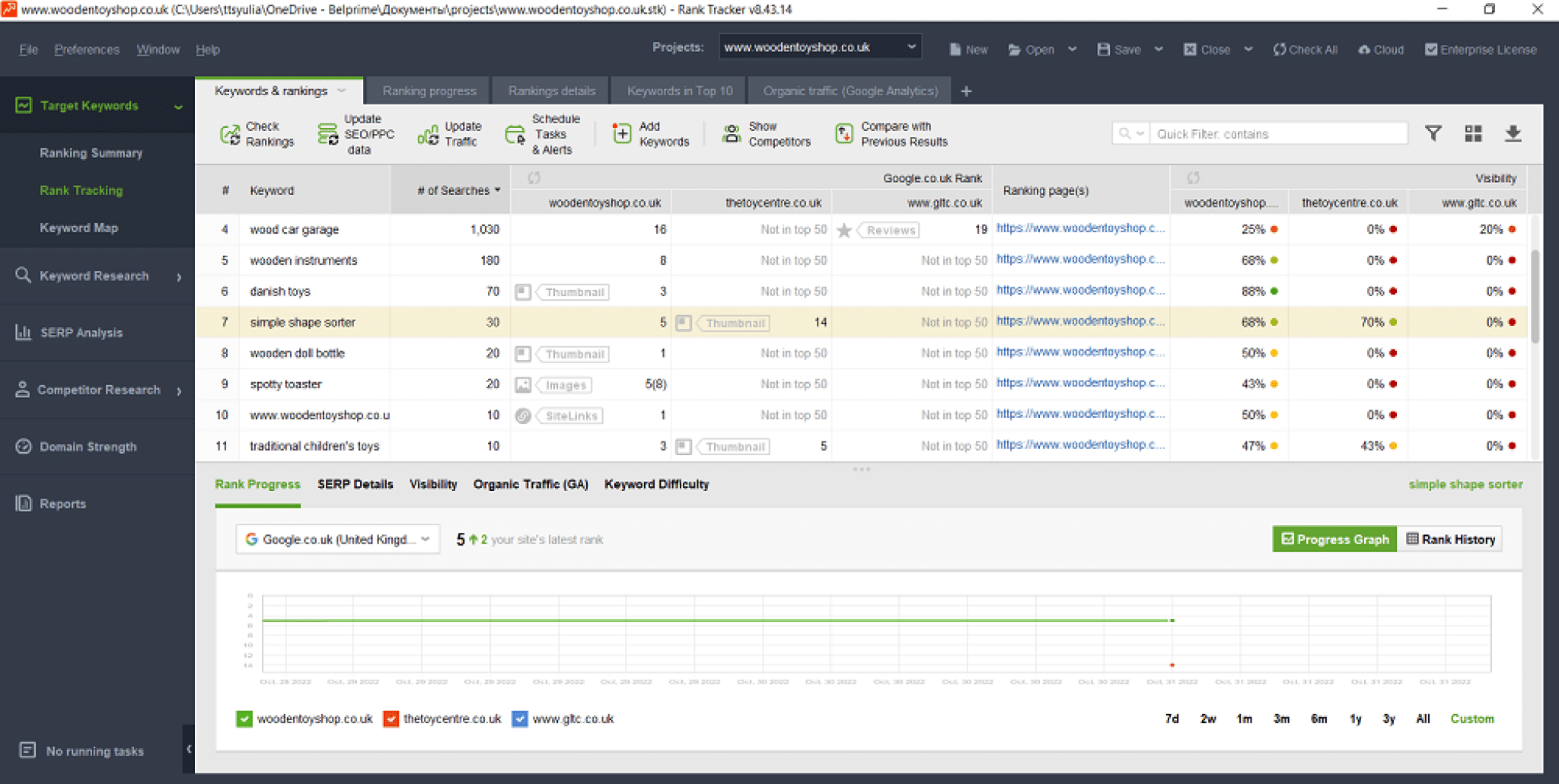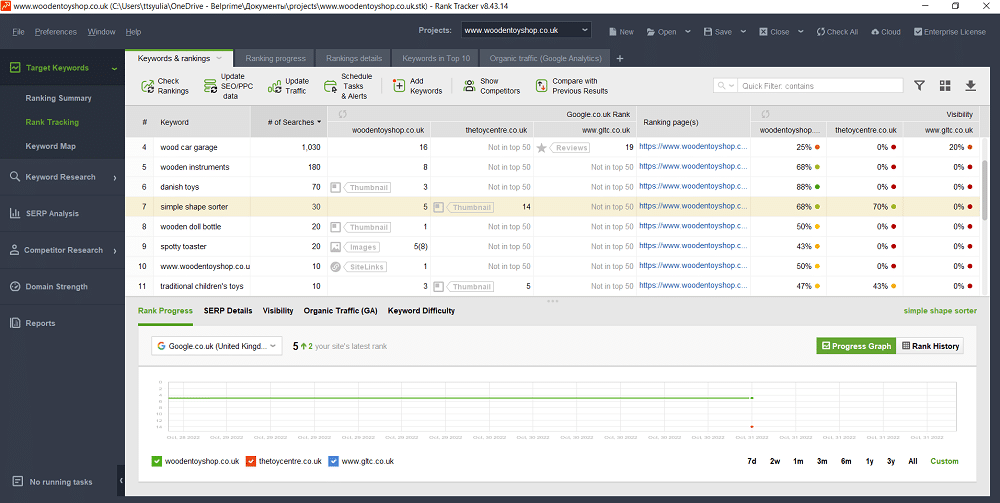 The tool treats YouTube as a separate search engine, so it has several hacks for YouTube video optimization, including the video keyword tool and tracking video rankings. As for keyword tools, they say they have over 20 of them in-built right in the Rank Tracker. Mainly, they combine the most popular keyword research methods, such as Google automatic suggestions, competitor's keyword gap, related searches, etc.
By the way, Rank Tracker contains great competitor research tools, using which you can not only find your organic competitors but also track their rankings in the same project with your website.
Overall, there are no limits on the number of website checks and projects to create, which is another big advantage of this desktop rank tracker. But there is a limit on tracking competitors: you can compare instant rankings with one competitor in the free version of the tool, track five competitors in the Professional edition, and up to 40 competitors in Enterprise.
The second best on the list of SEO PowerSuite's desktop bundle is WebSite Auditor which, judging by its name, is good for site crawls, but not only. This is a combination of an SEO spider and an on-page tool for tech-savvy SEOs.
WebSite Auditor looks for redirection errors, broken links, and duplicate issues, analyzes all sorts of HTTP responses, analyzes site architecture and links, builds a visual sitemap, and does tons more technical tasks. Besides, the tool has an in-built Content Editor and content audit features, which could be a standalone tool for content creators, with an emphasis on on-page optimization.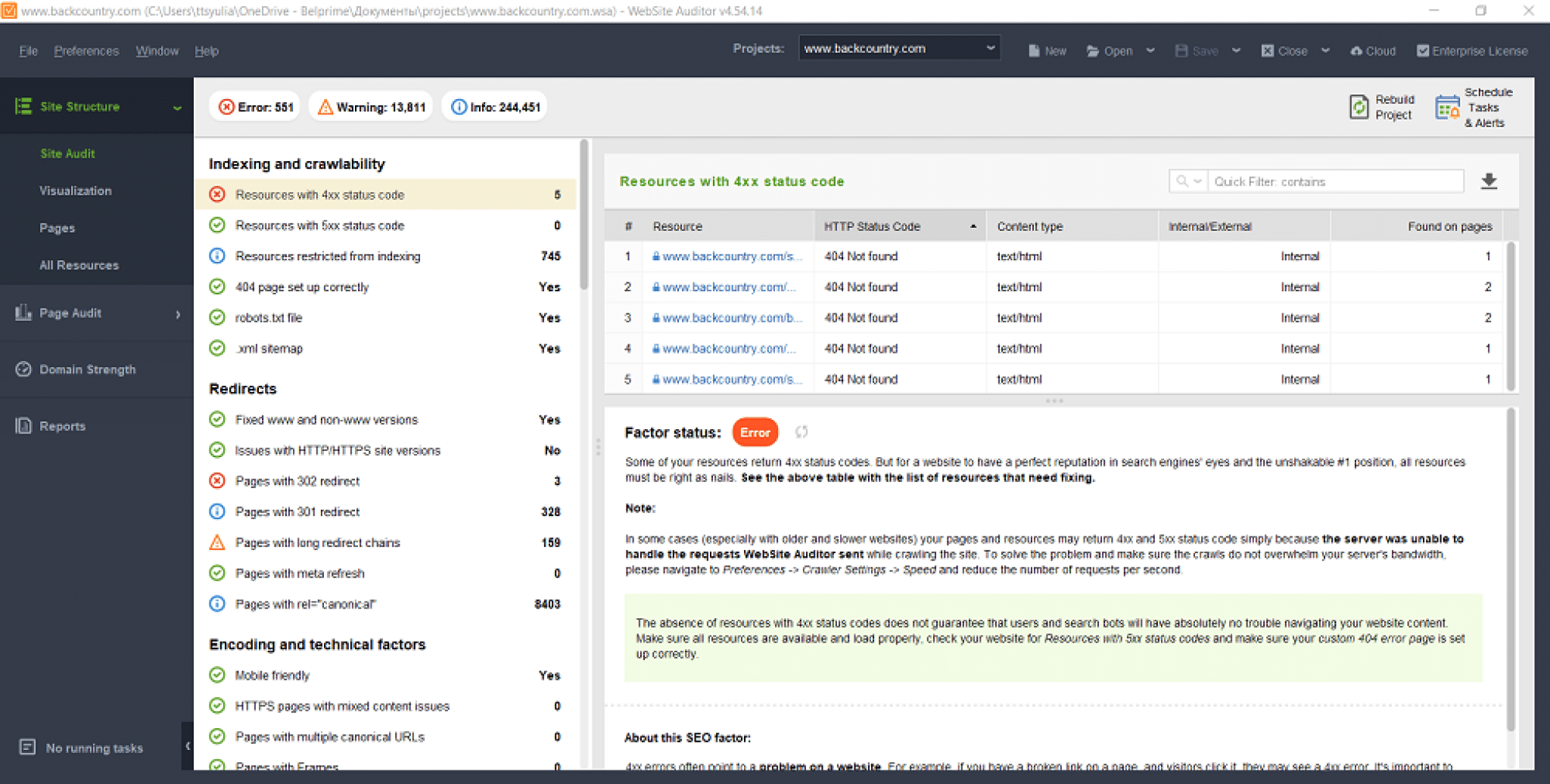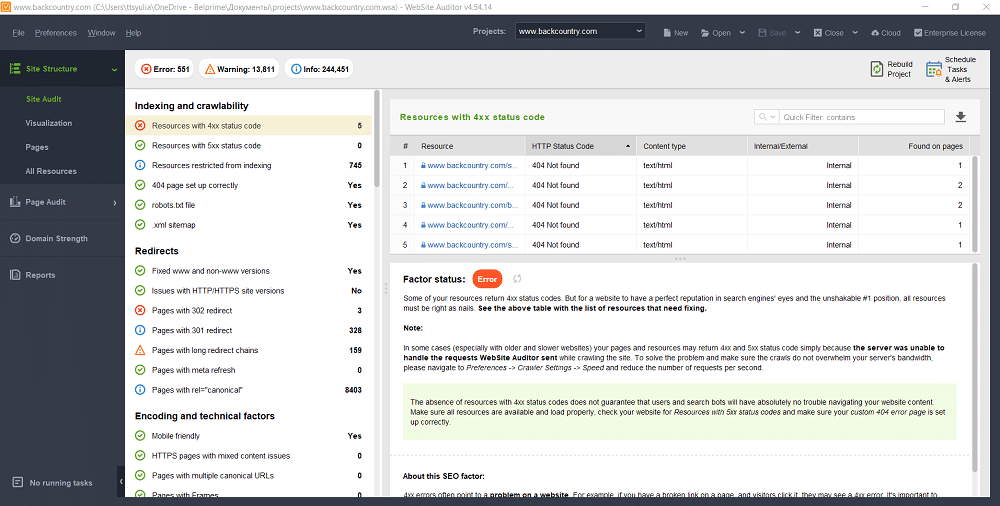 WebSite Auditor also contains several free tools for webmasters, such as XML sitemap generator, robots.txt editor, and hreflang generator, making it a beast of tools for webmasters. The only concern is that the WebSite Auditor, being a desktop SEO tool, relies heavily on the PC performance. So, to scan large sites, with hundreds of thousands of pages, site crawls might be time-consuming and require additional memory allocation to handle JS.
Backlink software, which has been known mostly as SEO SpyGlass, impresses with its ability to audit links deep and wide. With this desktop tool, you can audit HTTP responses and find broken links, examine your backlink history years back, compare the domain strength of your competitors, examine anchor words, and detect spam links or link farms due to intelligent algorithms, analyzing IPs, C-blocks, and the quality of links similar to Google PageRank.
The backlink data are based on the company's backlink database which they claim is comparable to similar backlink checker providers.
The fourth desktop SEO tool, LinkAssistant has been the first of all the tools to appear, and its purpose may look a bit outdated. Namely, this software is aimed at link-building and outreach, so it has inherent link-building features.
For example, there is an opportunity to verify the presence of backlinks and their anchor texts. You can send bulk emails using pre-made templates for link outreach. The templates are customizable, but it may look a bit complicated to edit them as compared to other email-sending tools.
On the bright side, LinkAssistant contains the in-built keyword search functionality and backlink comparison tool that allows performing some searches crucial for outreach: find marketing opportunities in your niche and location, examine competitors, and find contacts for outreach.
Main features:
A bundle of four individual desktop tools for SEO supported on Windows, macOS, and Linux.
Complete localization in all possible search engines (almost 600 SEs supported).
In-app SEO reports with customizable templates.
A free version is available with limited functionality: 500 URLs per crawl, 1,100 backlink checks, no ranking history saving.
Automated rankings checks in the professional version allow running tasks on autopilot.
White-label SEO reports for SEO agencies can be sent to clients' emails.
In-cloud project storage is available for professional and enterprise users.
Integration with Google Analytics, Search Console, PageSpeed API, and Moz API.
Pricing: Free, Professional ($299/year), Enterprise ($499/year); each tool can also be purchased separately.
---
2. Screaming Frog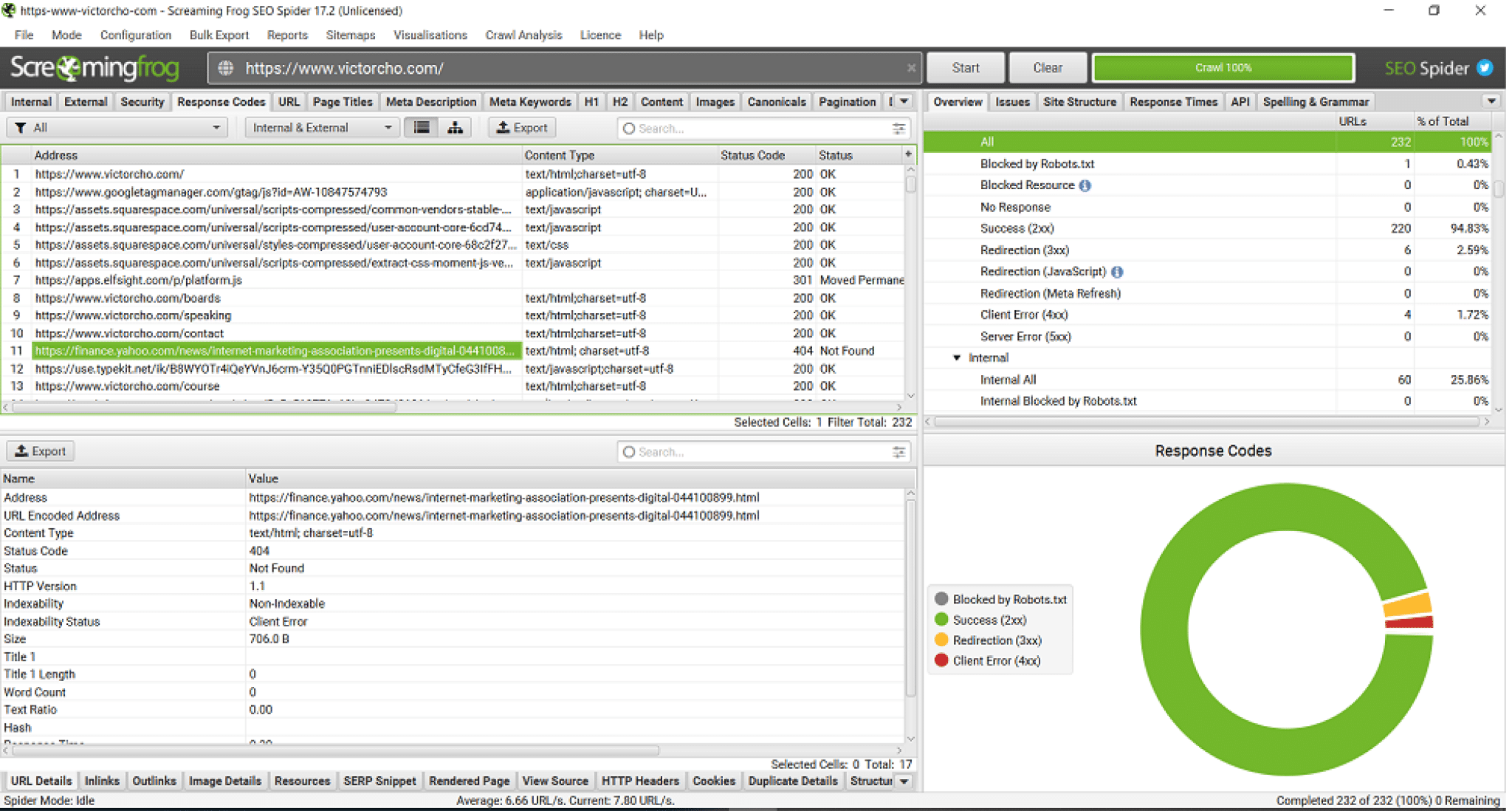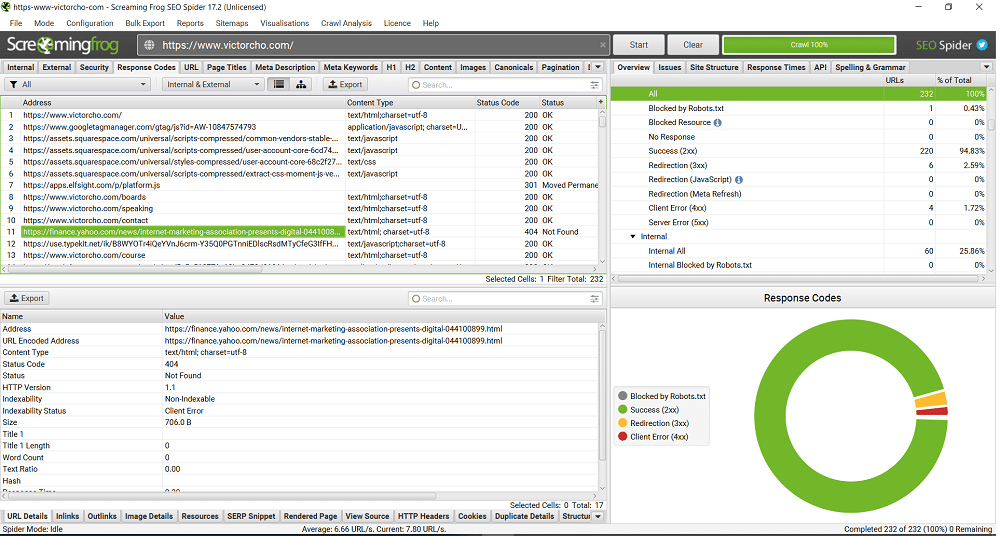 This desktop SEO tool is all the rage among SEOs: users love Screaming Frog for its flexibility and plain UI, which nonetheless lets you focus on the issues you are up to. Screaming Frog is designed for tech-savvy experts who have an understanding of what they are looking for. It doesn't look
Additionally, this tool will guide you through site issues with tips and fixes, — it scrapes all website data, and you pick the vulnerabilities. The tool even helps prioritize your tasks, indicating the gravity of SEO issues.
One of the pros of this desktop tool is the deep customization of your audit tasks and the custom extraction of required issues. Screaming Frog's interface is simple and uncluttered with unnecessary functions. You can pick the tab for the elements you want to investigate, be it HTTP responses, titles, broken links, or content, and see the details in the bottom window. You can also configure your workspace and hide or show tabs of your interest.
Screaming Frog covers all tasks a site auditor must have, from checking a site's technical health to content audits. On top of that, it checks internal and external backlinks, shows a page's meta snippet, and checks spelling errors. It does not track rankings, although it wasn't intended to.
The best part is that Screaming Frog is convenient for saving your data in a spreadsheet with any type of SEO errors you would like to investigate. There is a separate reporting spreadsheet and bulk expert for every issue on earth, from duplicates and canonicals to sitemaps, image issues, or structured data.
Again, since it's a desktop SEO tool, you will need to keep in mind your computer's capacity to perform large site crawls.
Main features:
Up to 500 URLs to crawl in the free version.
Supported on Windows, macOS, and Linux.
Scheduling automated crawls in the paid version.
Configure custom crawls, save crawls, re-upload, and compare crawls.
Integrations with Google Analytics, Search Console, Majestic, Ahrefs, Moz.
Free technical support.
Pricing: a free version and single plan £149 per license annually, discounts for bulk purchases.
---
3. Neatpeak Software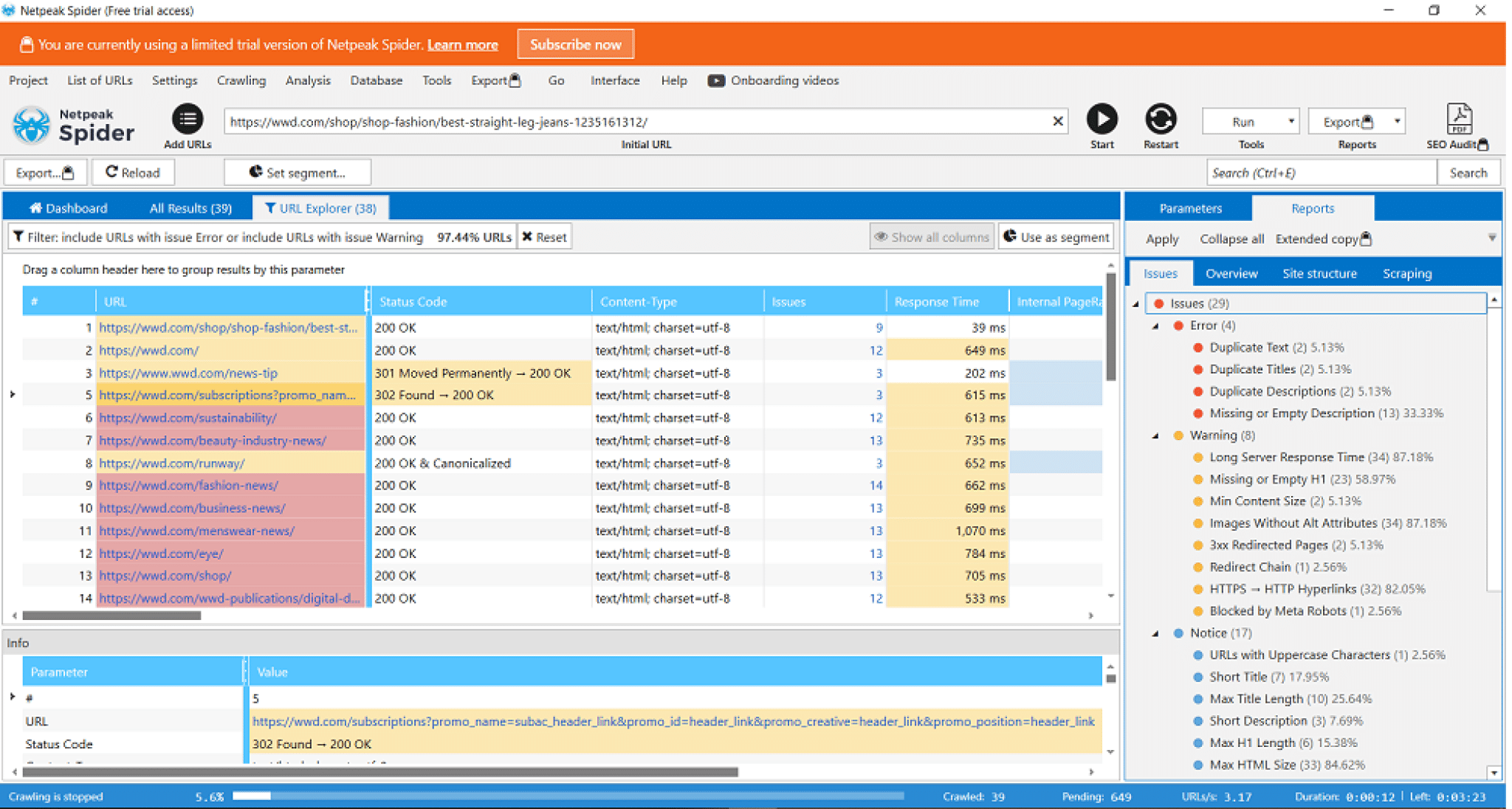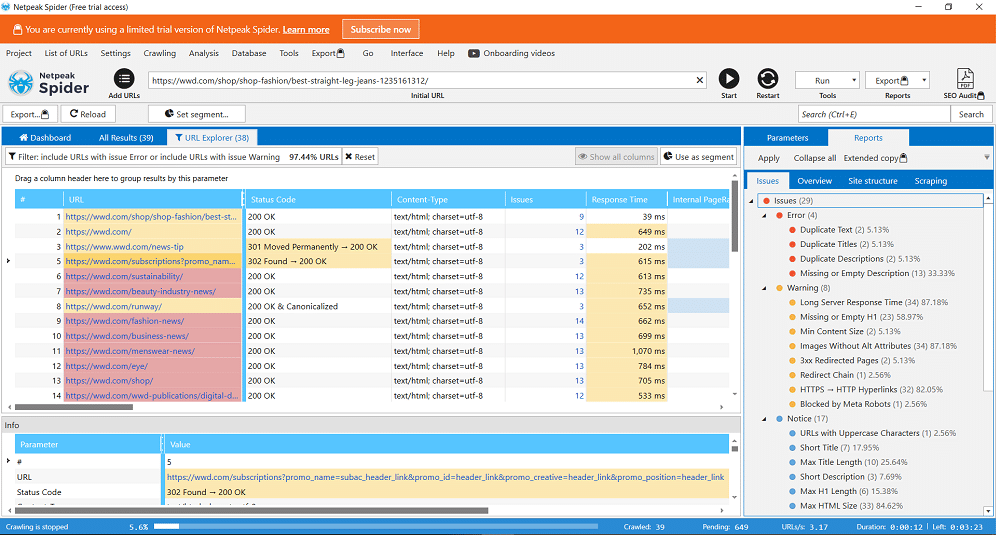 Another desktop SEO tool with a good look-and-feel workflow is Netpeak SEO software consisting of two separate tools — Netpeak SEO Spider for site audits and Netpeak Checker for SERP scraping.
The SEO spider desktop tool allows seeing your site issues similar to the above tools. After the crawl is complete, you will get a summarizing visual dashboard of all issues on over 80 parameters and a detailed overview in the right-hand panel. The information about each selected issue will appear at the bottom.
The tool allows selecting a segment of all scanned URLs with some issue type and visualizing them in the dashboard. It also includes quickly extracted special issue reports as well as downloadable technical SEO audit reports in PDF which can be white-labeled for SEO clients.
This desktop tool supports an impressive number of integrations, including all crucial Google tools, Ahrefs, Semrush, Majestic, Bing, Wayback Machine, and even Facebook. There are some in-built website tools to generate and validate sitemaps, calculate PageRank, etc.
The Netpeak Checker is somewhat peculiar because it is not a rank tracker in its regular sense. It scrapes the data from the SERP for a URL or a query, and you can pick what data you want to see: the contact data or structured data, the plain organic listings, or rich features (including sitelinks). All scraped data will be organized in columns and rows in a spreadsheet. The data can be analyzed with the help of quick filters or exported for further analysis in spreadsheets (in pro plans).
It might get you confused about where to start because the UI and dark theme looks a bit intimidating. But once you get used to it, you'll get the SERP checking job done right. Unfortunately, the tool allows checking SERPs only on Google, Yahoo, Bing, and Yandex, giving way to better-localized rank trackers.
Unlike the previous two desktop SEO tools, Netpeak software offers versatile pricing plans. You can subscribe to an annual plan (which can be billed monthly) or purchase a life plan. There will be a 20% discount for bulk license purchases.
Main features:
Two standalone tools are named Netpeak Spider and Netpeak SERP Checker.
Supported for Windows operating system only.
Limits on the number of URLs to crawl in the free version (500 URLs for site audit and 20 URLs for SERP checking).
200 limit on crawling threads in the most extended versions.
Integrations with Google Analytics and Search Console.
Pricing: free trial is available, Netpeak Spider licenses are priced at $84/year Starter, $144/year Advanced, and $264/year Pro Bundle (includes NetPeak Checker Basic). Netpeak Checker at $96/year Basic, $264/year Pro, and $360/year Max Bundle (includes Netpeak Spider Pro).
---
4. SiteAnalyzer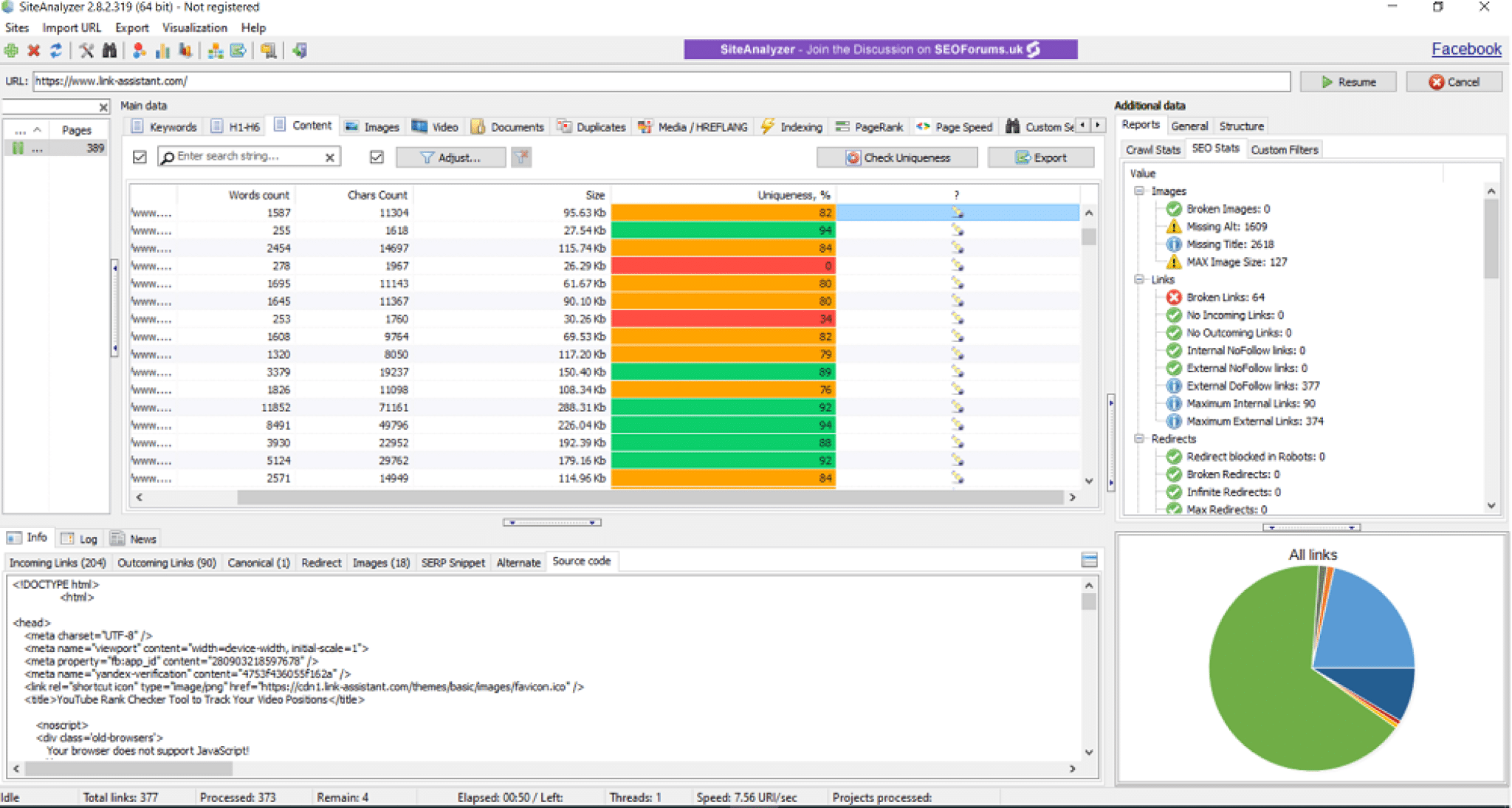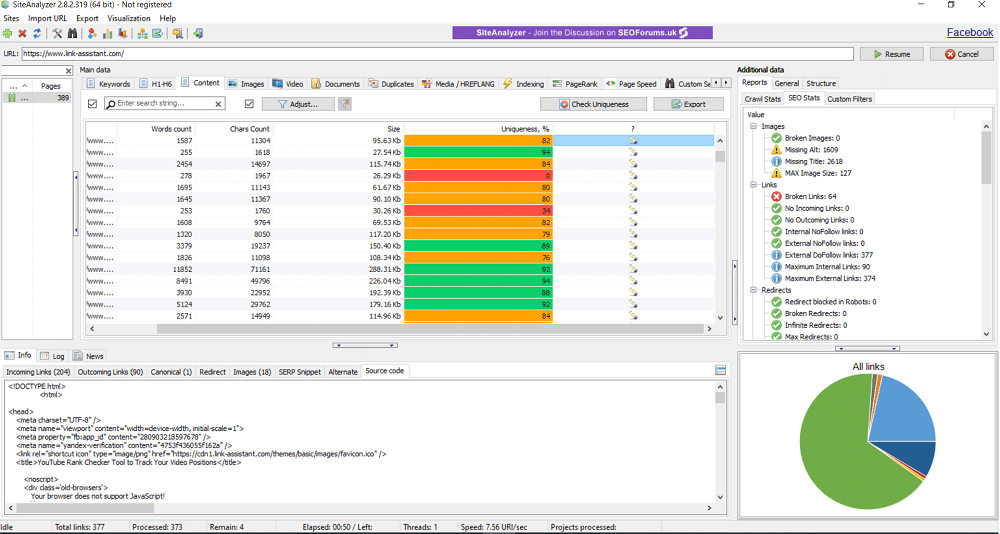 This website scraper is a real go-to tool for auditing sites if you are low on a budget. This desktop tool has been known as a free alternative to Screaming Frog, given that it somewhat resembles it in certain features and appearance.
The interface of SiteAnalyzer is pretty intuitive so it's easy to start with your first project. But you won't find any tips and how-tos, so it's up to you to know how to sort issues out. The Main data workspace contains separate tabs that cover a specific aspect of SEO. The details for each URL are located in the Info panel bottom half, and the overall list of sitewide issues can be found in the right-hand pane.
SiteAnalyzer looks into more than 60 parameters to spot issues in them. You will find the technical statistics of a site (links, meta tags, HTTP response codes, robots.txt directives, etc.) as well as the tab of on-page statistics (title duplicates, blank HTML headings, and the rest). There are automatic filters and a custom search filter for each parameter.
There are visualization tools, such as sitemap visualization or page load performance graph that lets you quickly review page speed issues. The tool highlights different content types and parses images, documents, and videos in different formats. It also has a cool content uniqueness checker to analyze your content for duplication issues sitewide.
You can export selected projects to CSV or Excel format in the projects list. Find the data export menu in the top panel. It lets you export every external link, 404 error, and image in a single report together with all the pages containing them.
SiteAnalyzer is less reliant on memory resources but also a bit slower. On the pro side, you can pause the crawl at any minute.
You can change user-agent and proxy settings, add PageSpeed API, or set up crawling of specific URL groups, without having to crawl the entire website.
SiteAnalyzer has domain analysis modules with a set of 6 modules (WHOIS, CMS-checker, subdomains finder, keyword density analysis, etc.). The scraper uses cookies, as well as exports all the cookie information to a text file.
To use SiteAnalyzer without demo restrictions, you will need to create a personal account and use authorization keys to unlock the full version. The demo version checks up to 500 URLs, stores up to 5 projects, and allows sending only one thread. All in all, the tool looks basic, but for the major SEO tasks, it's good.
Main features: 
Free desktop SEO scraper
Unlimited functionality for links and shoutouts
The content uniqueness checker is good
Supported on Windows
Export to Excel/CSV
Pricing: Free, Personal tariff for a linked mention, Affiliate tariff for drawing at least 20 subscribers.
---
5. A1 Website Analyzer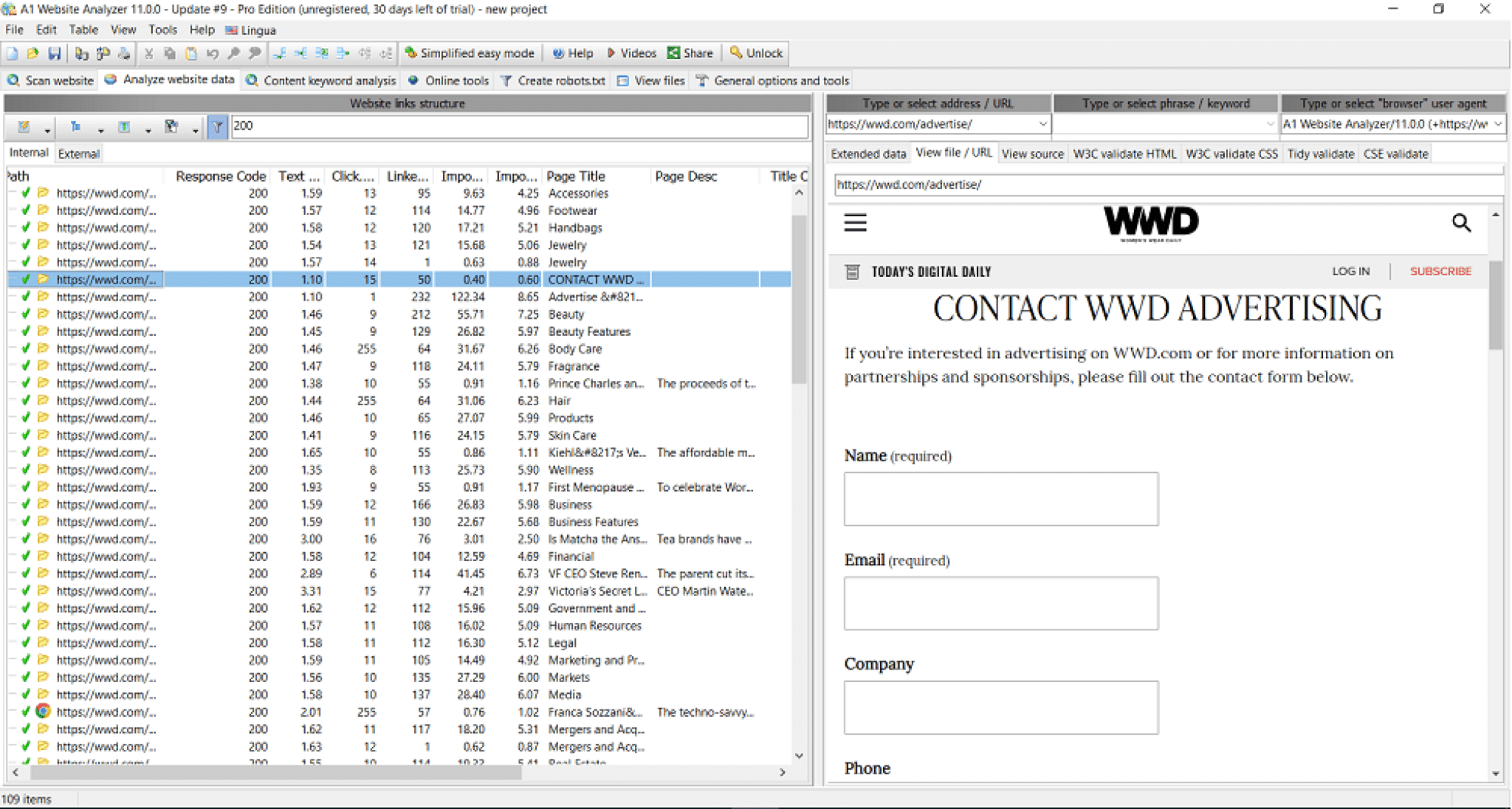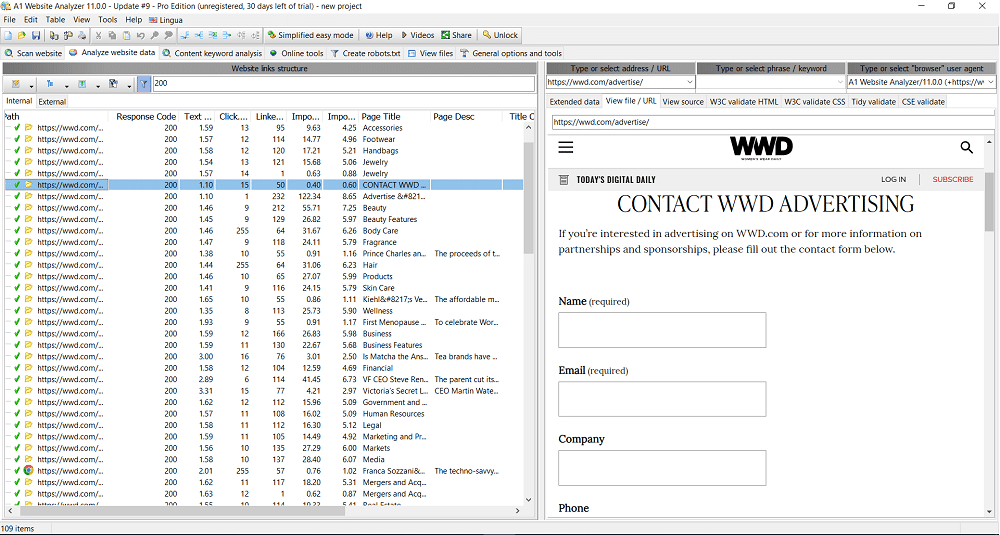 A lesser-known desktop SEO tool that can do all you might want in a site audit is A1 Website Analyzer. This one is aimed at professionals who know SEO like a book because, in this tool, you won't have tips and clues. A1 Website Analyzer downloads your site files to the root folder. Further, you can analyze all you want by yourself, adding filters, using imports from additional sources, etc. This is a pretty basic tool in design yet with powerful capabilities.
The SEO spider is split into several tabs focused on different aspects of SEO. In the first one, you define the site scan settings, and, once the crawl is complete, proceed to analyze the scraped data in the second tab. There you can analyze all technical issues and internal links, validate source data, view HTML source, and even review the downloaded page in the internal browser.
The desktop software has no in-built rank tracking options, however, it lets you analyze content keywords, their density, count, and weight. Besides, you can import data from Google Search Console to check out pages' ranking positions and clicks.
For easier handling of the scanned data, there are in-built common presets to view data reports quickly. For example, you can filter only URLs with duplicate titles or only images, and then copy them or export them in a CSV format.
A1 Website Analyzer allows working equally well with webmaster files, including sitemaps, robots.txt, and server logs. It also includes some general tools, for example, it allows adding your own spell checkers or testing regex expressions.
By all means, A1 Website Analyzer is a powerful SEO spider, yet, out of all the desktop SEO tools on the list, this one is the most complicated for non-savvy folks because you must have a solid idea what of you are looking for in your data.
Main features:
Scrapes and downloads site data.
Preset filters to export data in CSV files.
Import URLs and data from Google Search Console.
Up to 500 URLs per crawl in the demo edition.
Available for Windows and macOS.
Pricing: free trial available, paid option $69 purchase.