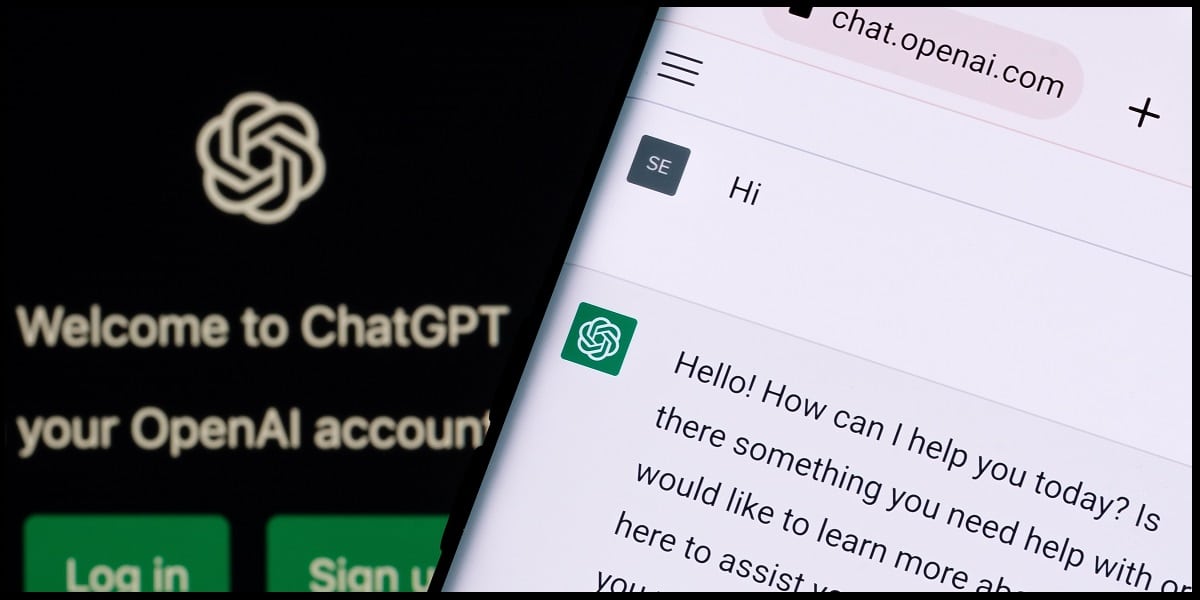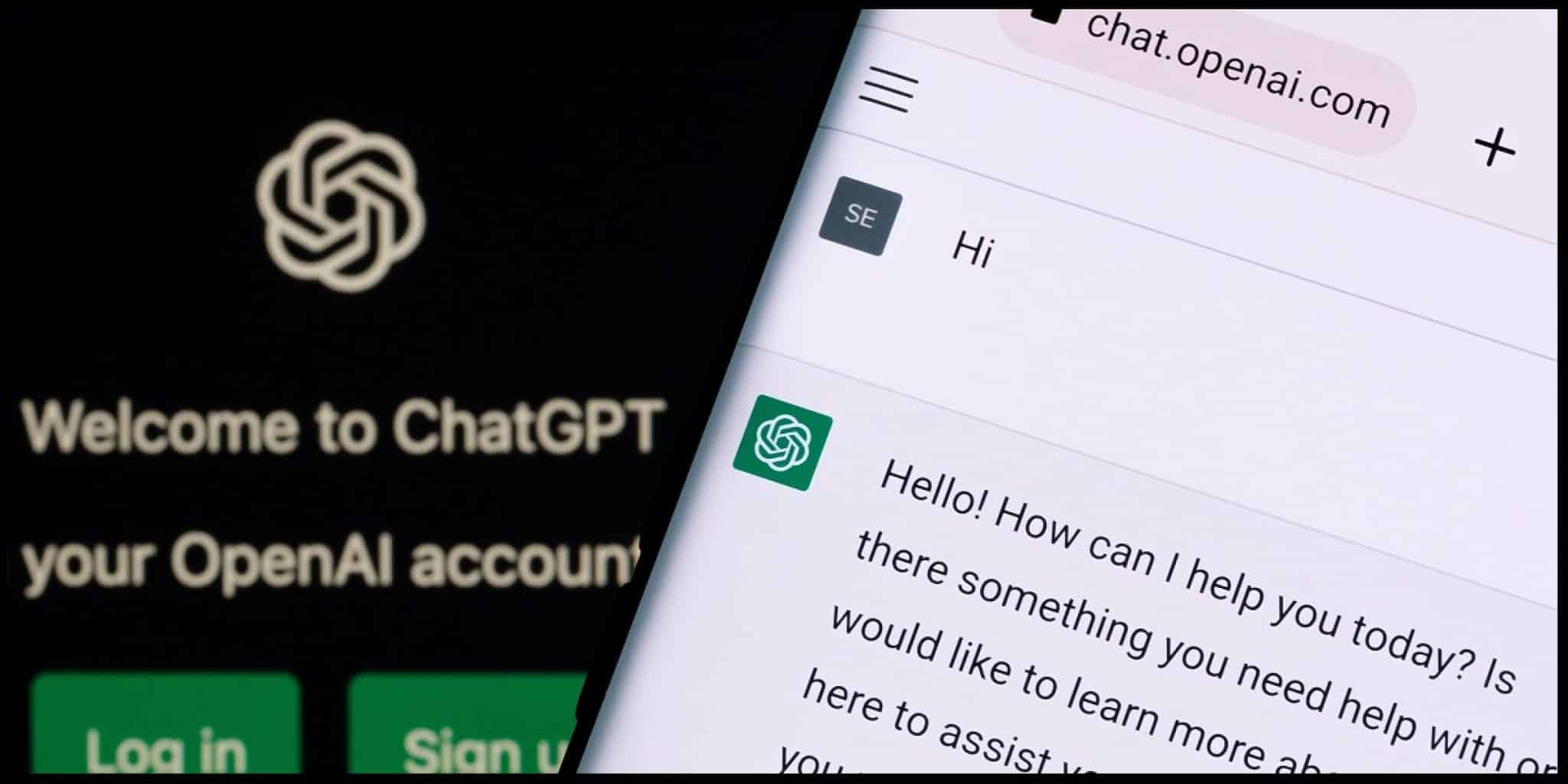 Has ChatGPT given you access to outdated information or slowed responses? Then you need to try out other alternatives. Numerous ChatGPT alternatives have advanced AI writing, research, and chatting features. Let us find out more in the article.
Artificial intelligence is taking over the world by all means. Unless you live under the rocks, you have heard about the famous ChatGPT as an advanced bot. Due to increasing technological innovation, chatbots have emerged, which are replacing the workforce in helping carry out research, and perform simple and complex coding as well as other academic or article tasks worldwide.
Likewise, besides ChatGPT, other online tools offer the same service ChatGPT provides. Still, through the advanced features and guaranteed response time, these tools' ChatGPT alternative gives you an exceptional experience. CHtp GPT, as a conversational AI tool, gives you more than the basics. However, with other options considered, we will take you through a few alternatives that guarantee I'll take your unprecedented experience to another level.
If you want to generate a high-quality search, write articles, chat, or research, then buckle up for a ride as we explore more ChatGPT alternatives. Make your work effortless with these tools and elevate your online experience to a unique height. Before we give you the tools with many capabilities, let us start by introducing the ChatGPT for those unaware. If uninterested, skip to the next section and start blowing your mind.
What is ChatGPT?
ChatGPT is simply a chatbot, an AI tool whose acronym stands for chat-based generating pre-trained transformer. This is a very powerful chatbot model with access to large languages. The chatbot relies on the GPT-3. This means it is trained to access millions of information online.
However, this is only a conversational AI tool that understands your queries and generates a text-based response through its input interface. The most famous founder behind the GPT is Sam Altman, alongside the favorite Elon Musk. Today, these duos are regarded as the founders of the ChatGPT due to their work on the GPT-3.
With its advanced technology, ChatGPT can conversationally handle complex tasks and guarantees high accuracy alongside intelligence. This implies that ChatGPT is not limited to generating typical conversation but also coding and creating content.
With time, ChatGPT will develop to become a force to reckon with and with a special algorithm. That sounds pretty cool. Alright, though, with many drawbacks, there is a need to have a second thought. Before highlighting a few reasons you should get a second option, here are the best ChatGPT alternatives.
Why ChatGPT Alternative?
While we know that ChatGPT is the hype in the AI industry for the conversational world, there are still better alternatives with custom tasks on the market. In the following article, we have covered some of the best ChatGPT alternatives worth checking out.
There are many reasons why you need to try out the above options. Some of these are:-
When you integrate the ChatGPT with Gmail, it brings up multiple add-ons, and this integrates with our normal activities.
ChatGPT is expensive. When accessing the premium package for advanced features, this chatbot is expensive, and most customers worldwide cannot afford those bucks when they need these plus features and increased word counts.
Also, ChatGPT does not guarantee real-time information. This is one of the biggest limitations, as it only retrieves the information before 2021 and after. On top of that, this tool cannot generate AI art for setting aviators or even generating virtual art.
ChatGPT sometimes experiences heavy traffic because many people are utilizing it. As a result, it displays the error message in most cases clarifying that its capacity is low or unavailable.
Lastly, this AI-powered chatbot is not compatible with voice commands. It can never generate voice output, as most people use alternative software.
Therefore, the above ChatGPT alternative guarantees access to custom tasks and comes with a friendly user interface. They are better designed for a particular need rather than wasting time customizing the persona and integrating.
Italy has banned ChatGPT, and if you are based in such a region, it's better to try the above alternatives regarded as the game changer with a unique flavor in your work to help educational professionals, businesses, freelancers, and students around the world. If you still have a question, let us now answer some of the FAQ in the next section as we sum up.
Top 25 ChatGPT Alternatives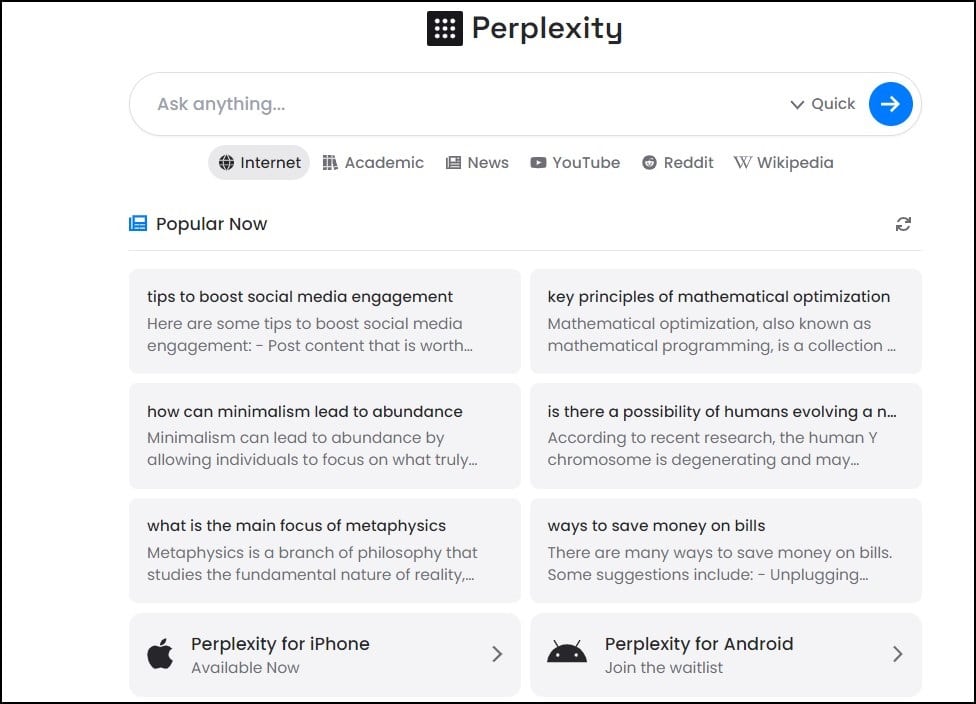 Perplexity AI is one of its unique tools that fall under the perfect ChatGPT alternatives. This tool has been trained to use OpenAI'S apAPI and thus expects an awesome response that ChatGPT also offers. From the website, the tool has been packaged in a minimalist style and comes with a simple user interface for exploitation.
Perplexity AI gives customers access to features like ChatGPT, from holding a conversation to giving you simple but complex or nuanced responses. To make it even more interesting, Perplexity AI cites the sources of the information, unlike ChatGPT. The AI opens up to accidental plagiarism; hence this tool is perfect for academic work and article writing.
Perplexity AI gives users the reference at the end of every sentence, and if you follow these sources, there is no copy-pasting. The tool offers its full diligence with a variety of conversations. However, it doesn't have the multi-turn response capability.
The person talks back; the chatbot also has a dark mode interface. Perplexity AI is free, and one does not need to create an account. This is a perfect ChatGPT tool alternative that is worth checking out. Though, it does not have any additional features at all. This leads us to the next option.

---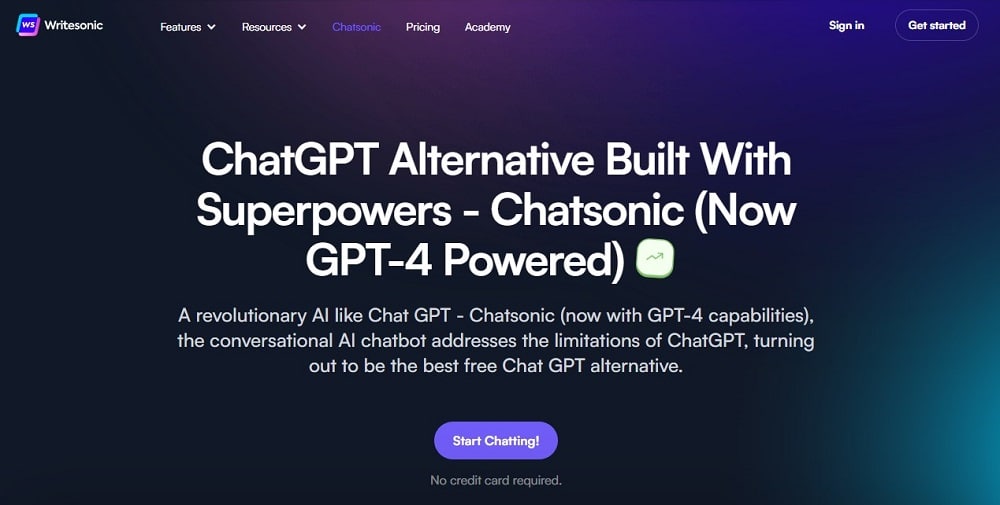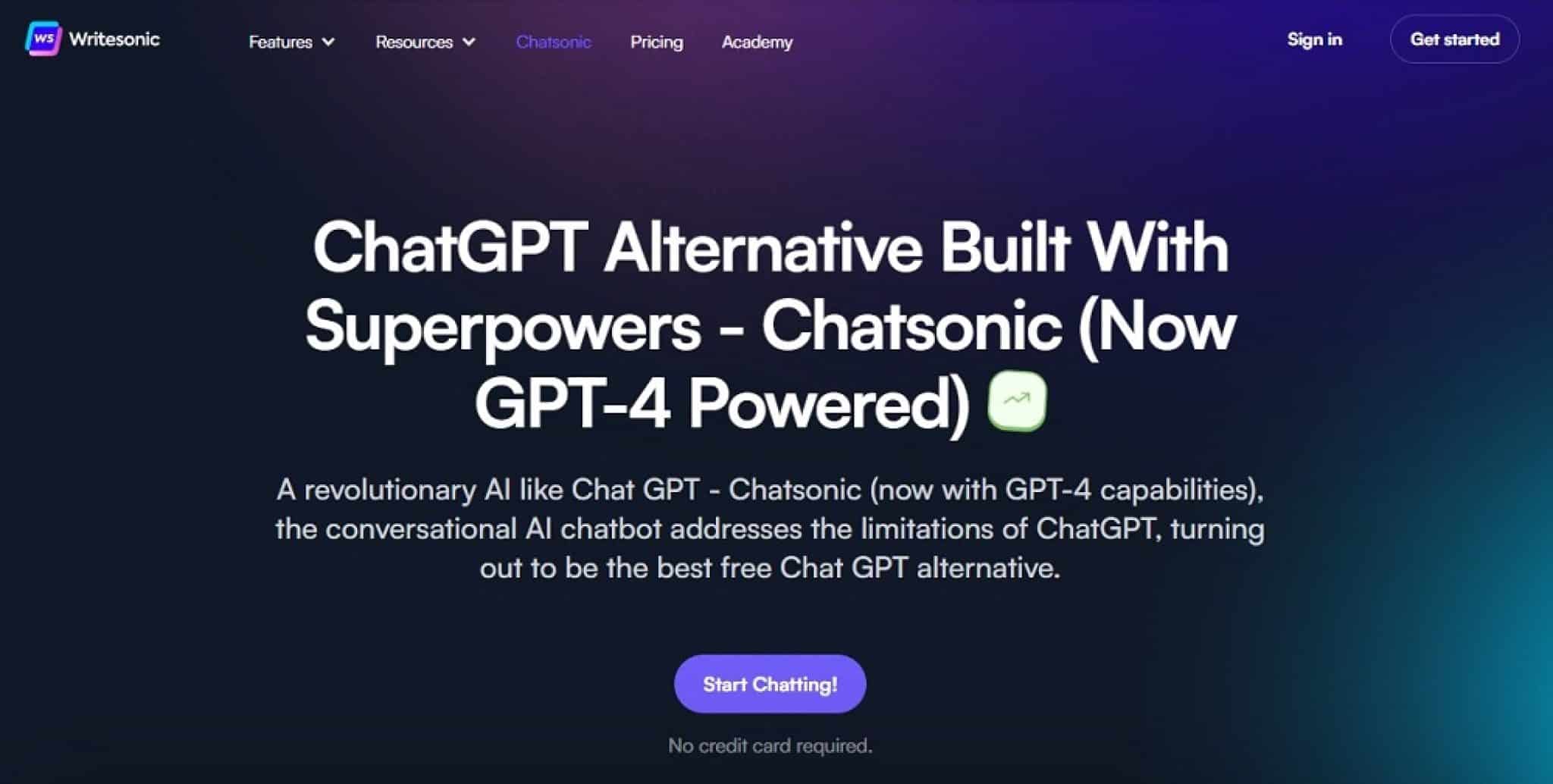 Chatsonic is a Writersonic chatbot but updated, and today, it comes with more advanced, powerful superpowers. It is powered with the GPT-4 version, which guarantees users access to large-scale and pre-trained dialogue response models. It is designed to target the multi-turn conversation. This falls under the best ChatGPT alternative and should be leading the market list. Since it is integrated with Google, users can immediately access the latest information.
This is the perfect chatbot to access the therapist's sage and conversational skill knowledge. It is used by scientists in research, stand-up comedians, and novelists to become more creative and solve challenges. No more the conversation for the awkward silence experienced by the ChatGPT.
You can now access the real-time images, voices, and data on the search. It can also curate the content depending on your input or instruction for marketing and publication. Still, you can generate conversational responses hence the perfect aChatGPT alternative for all customer reviews requirements.
Today Writesoninic has become like the best friend, professor, or barista blended into one site. The possibilities offered by the Chatsonic are countless. This is an interesting ChatGPT in an updated version. The chatbot goes on to fix some of the ChatGPT limitations.
However, remember that to enjoy these advanced features, you must sign up for the premium account, and they will locate your token. Still, this tool could be more efficient in computer coding, unlike ChatGPT, but it guarantees a detailed response. Give it a try, and thank us later. If your budget doesn't allow it, then here also comes another ChatGPT alternative.
---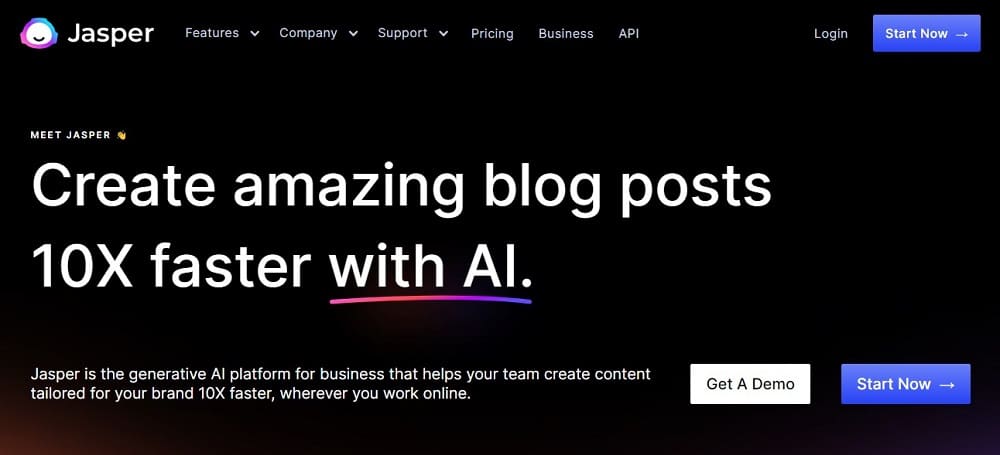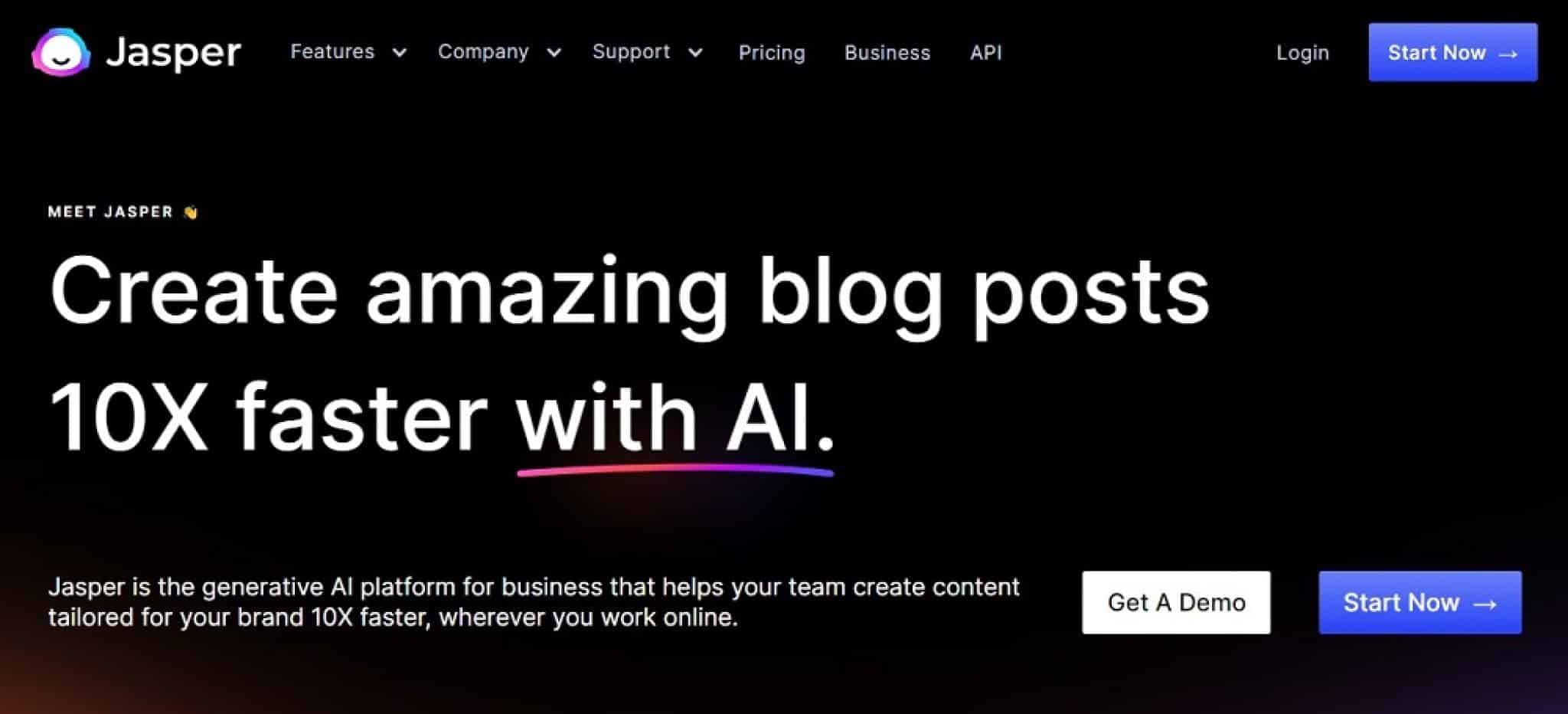 Jasper is also a powerful chatbot, but this software works majorly as a writing AI and thus falls under the decent ChatGPT alternatives today. Rebranded from Jarvis, the software has a reputation when it comes to AI writing services in the industry. Besides Witersoninc and other tools we have covered, Jasper is ideal for generating high-quality work in real-time with a click of a button.
Jasper established the Jasper chatbot and developed an excellent customer interface that guarantees efficient content creation. Coupled with its cutting-edge tech power, the software generates average output depending on the input. This tool comes with many advanced features. For instance, it can answer all questions for the summer of 2021 and beyond. This large amount of content. It also featured the ChatGPT-like customer interface for easy access.
On top of that, it enables continuous conversation online ChatGPT; hence it remembers the premium chat to bring in a better context. However, this tool is only available for use for premium subscribers. There are two plans, boss mode and business plan. Lately, the tool does not offer the starter pack for a reason. Otherwise, the boss mode will cost you a $49 monthly subscription.
---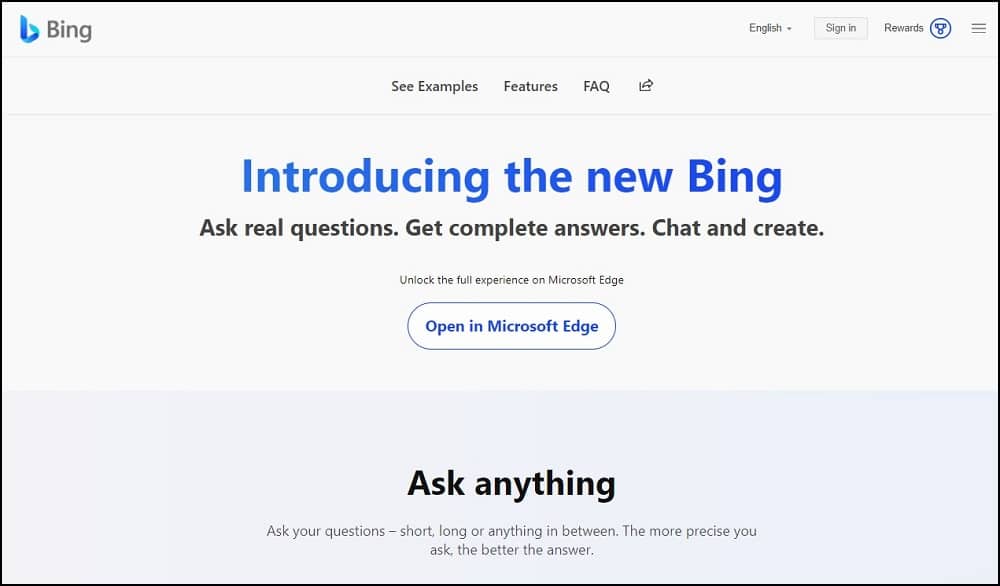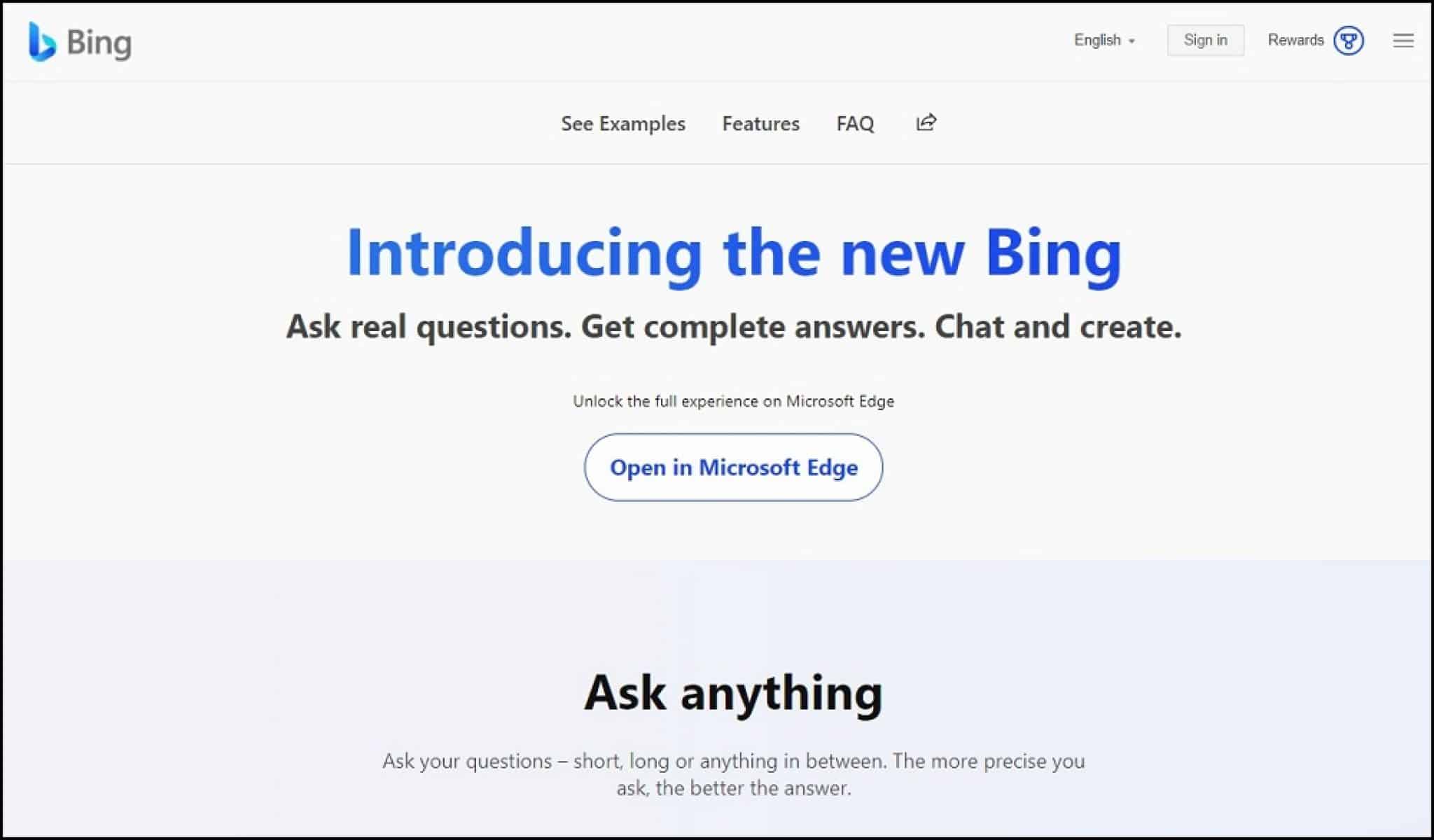 Bing AI Chat, sometimes referred to as the Microsoft AI-Powered Bing, is also a good option as a chatbot on the market. It comes with features close to the ChatGPT. You can access all the information online with this tool. Still, this software also relies on the GPT-4, a recently released version with advanced response time and the latest Open-AI model. Hence, this is powerful and provides a more accurate response than ChatGPT on the free tier.
ChatGPT has millions of active users, giving it a slow response. Bing AI Chat is also designed for tethered access to live online data, expect real-time information and searches on trending topics, ideas, and events. Bing AI Chat promptly gives you up-to-date and relevant information compared to ChatGPT, a regular AI chatbot.
Besides Bing AI Chat utilizing the OpenAI language model, the tool utilizes the Microsoft AI features in the research to attain its cutting-edge power. Thus, it is a leading ChatGPT alternative. The only problem is that Bing AI Chat is hard to access, and customers must join Microsoft's Bing AI queue to access it. This needs you to be patient on the waitlist for your turn.
---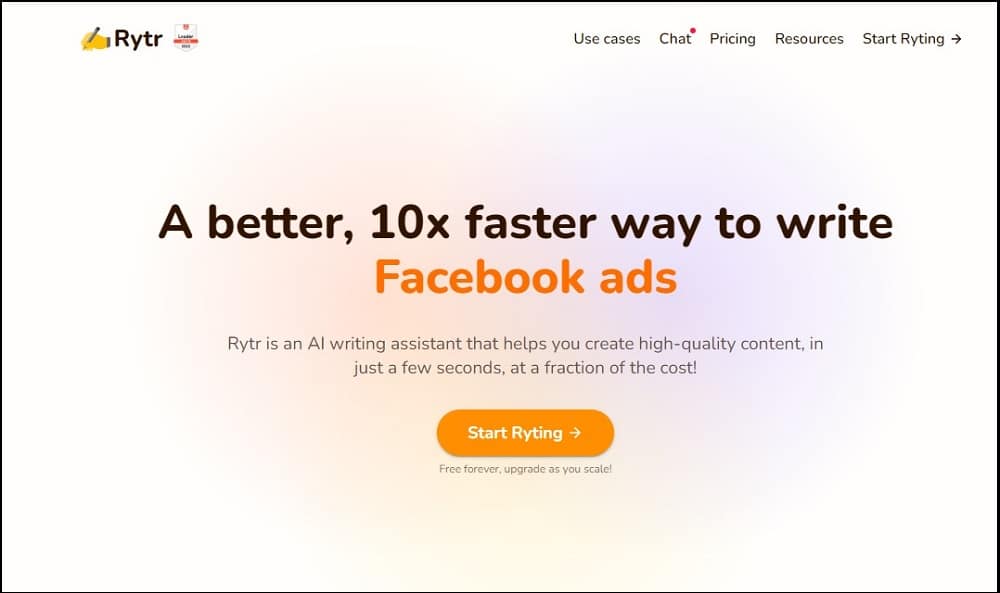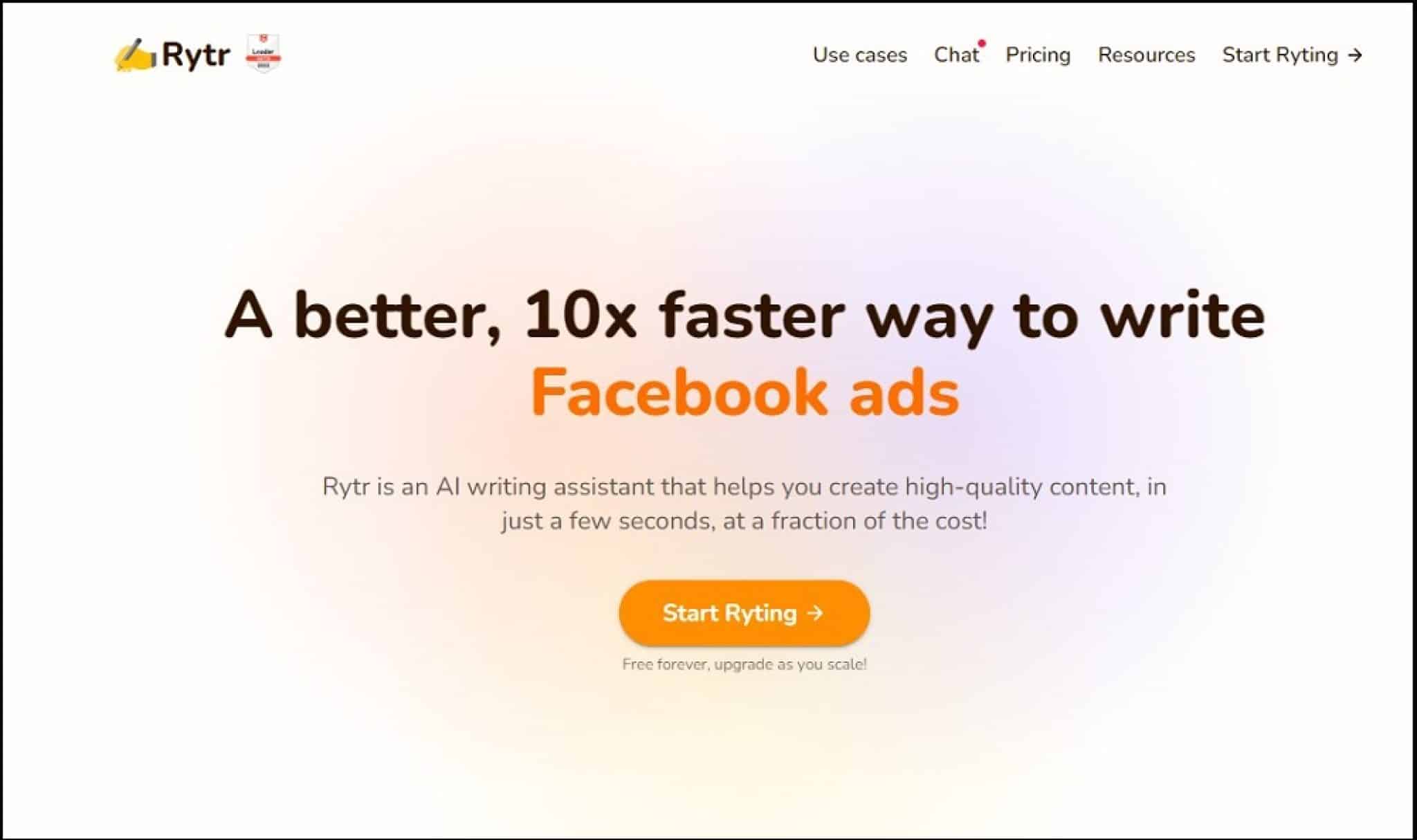 Unlike the chatbot we covered in the above section, Rytr is unique. All the ChatPGT alternatives above offer fact-fiction features, conversational as well as general chats, but when it comes to the Rytr, it is more of guiding you to write.
This tool is a perfect writing assistant that targets to provide you with detailed and creatively generated copies on numerous occasions. Like other chatbots, Rytr is also powered using the AI language model that has built a reputation for helping writers curate content for ideation and plain use.
Rytr has over 20 tones available in the database, and you can access over 40 use cases based on what you want to achieve with this software. Inafcst, Rytr supports over 30 international languages besides English.
From the Platform, these guys boast that their contents need minimal or no editing, hence pitch perfect for publication. Unlike ChatGPT, Rytr comes with SEO analyzer features and WordPress plugins. You can as well download the Chrome extension to gain advanced functionality.
However, Rytr needs you to create an account like ChatGPT before starting. Afterward, you can customize the metrics, including tone, creativity, idea, and use cases. You can easily change the structure of the final response depending on the use case you want.
You can access up to 10,000 characters in the free plan for new users. But you can explore more features by upgrading to the premium version costing you  29 bucks monthly. For copywriting needs, Rytr is an excellent ChatGPT alternative, and it's worth trying.
---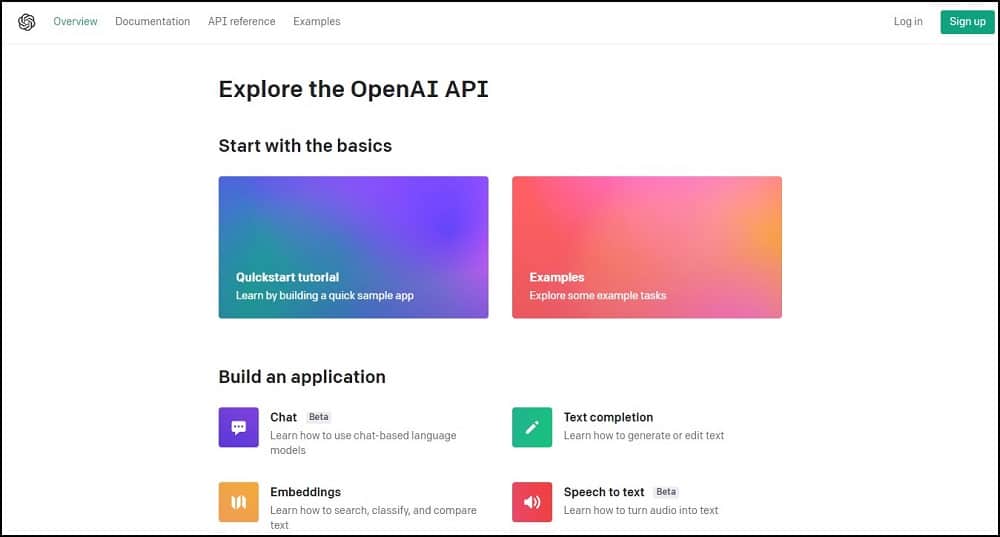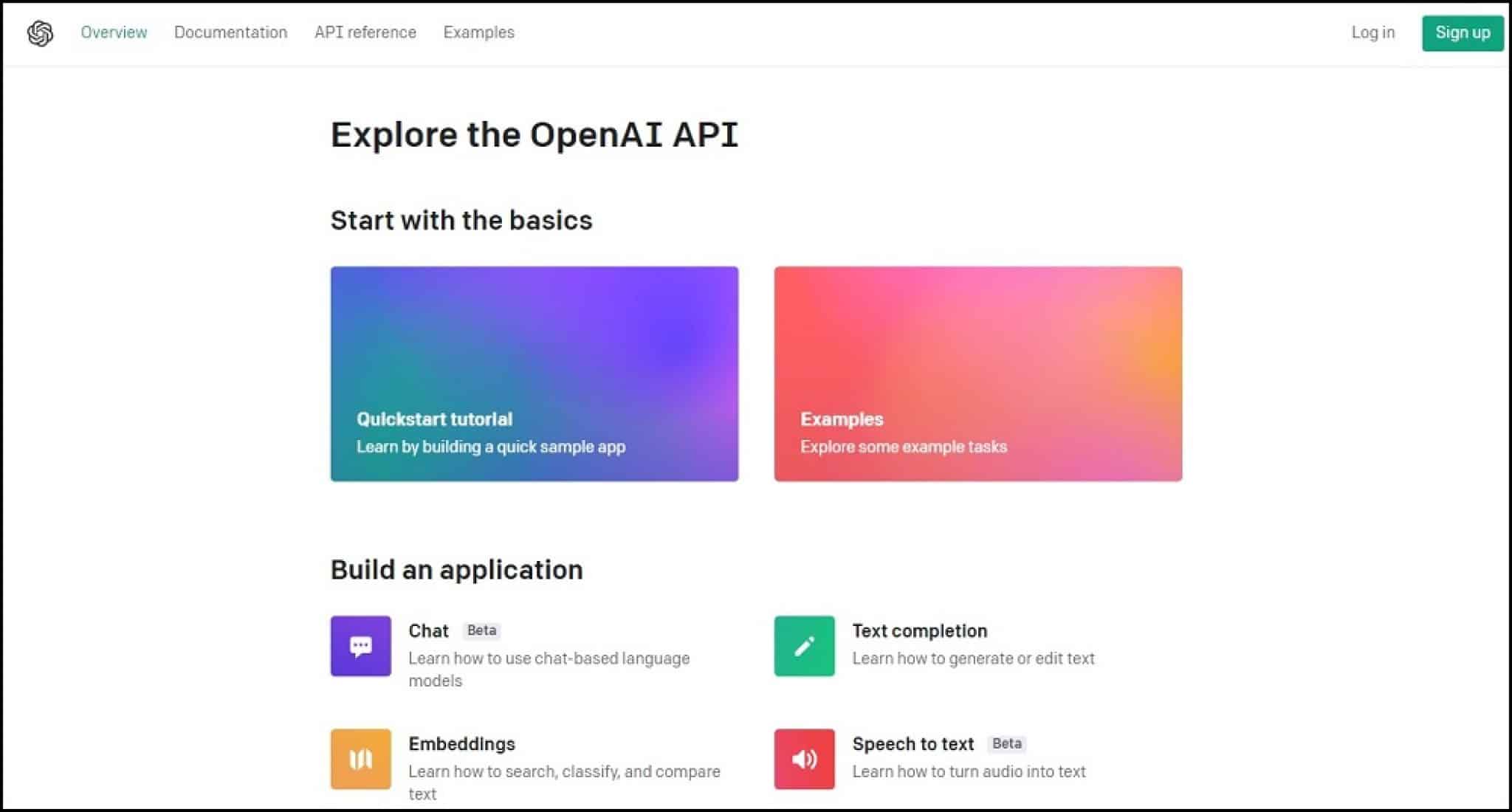 Before anything else, we should mention that OpenAI Playground as a tool is not designed for typical daily users. But if you realize that ChatGPT is slow or locked out of your reach, OpenAI Playground becomes your perfect partner. It also offers the taste and capability of the ChatGPT features. Though web-based,  it gives users access to advanced features and options. You can select a particular language model from the menu as you proceed.
Besides selecting the model, you can go through other aspects like randomness, frequency penalty, token sequence, etc. So far, it is clear that this chatbot is not as simple as typical plug-and-play tools for any daily routine. But if you are an expert with this software, it is perfect for experimentation and offers unique models to offer you what you need.
But note that OpenAI Playground is a demo version of the ChatGPT; their input is on par, and customers can feel the real experience. Unlike ChatGPT, OpenAI Playground never slows down; its response is simply on the fly. Additionally, this bot is free to use, but you need to create an account first. Anytime you feel wasted with the ChatGPT, OpenAI Playground becomes your next alternative.
---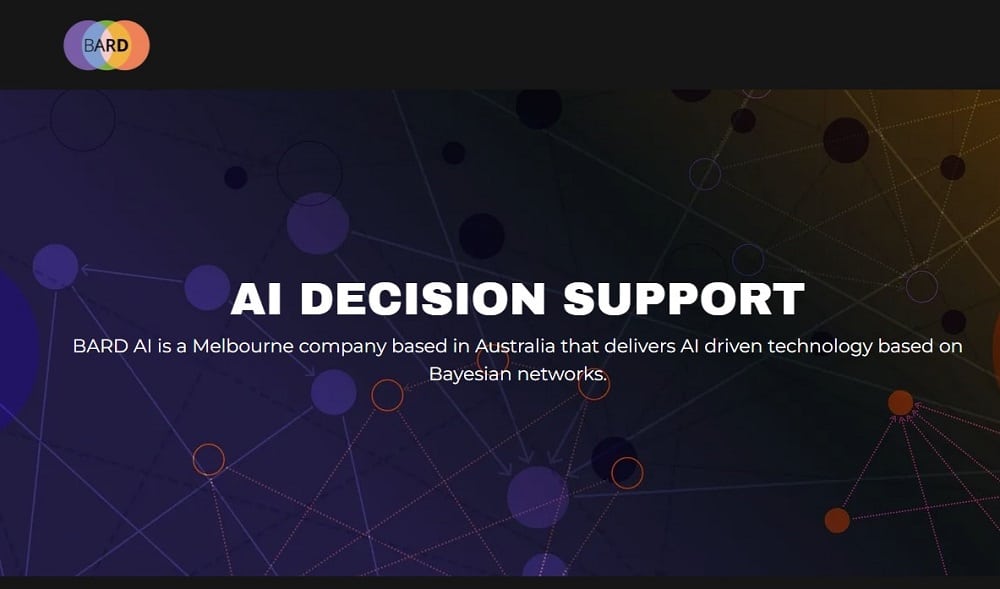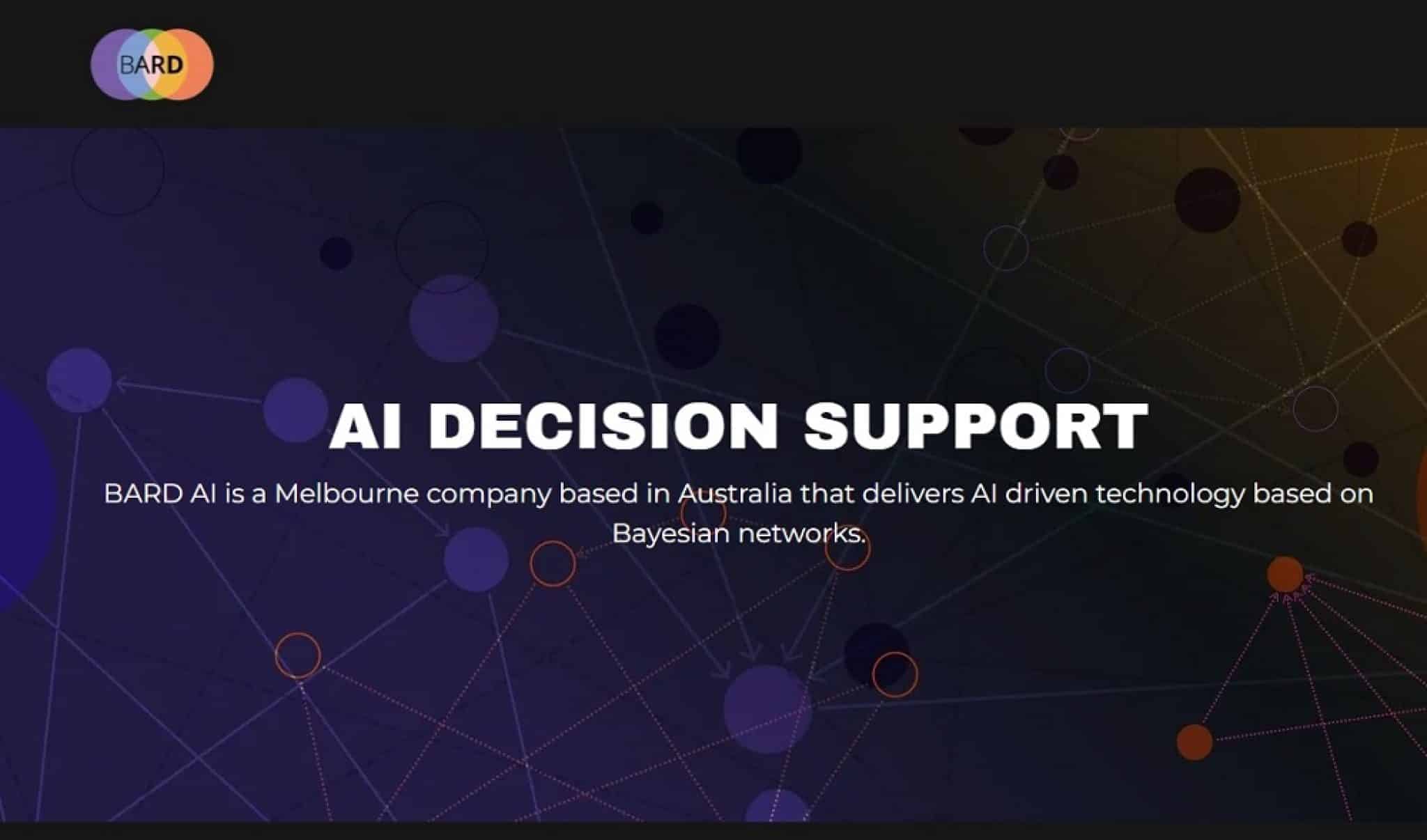 Bard AI  is a chatbot offered by a company based in Melbourne and is still among the newest AI-Powered tools alternative to the ChatGPT. This software was developed through the existing LaMDA AI site; hence excellent conversational chatbot. These guys also promise that this chatbot will have a great impact as the AI industry is concerned. The technology is driven through the Bayesian networks.
Therefore, the work of the LaMDA revolutionizing is responsible for processing natural language capability. It thus allows tools to comprehend and give results limited to specific years and guarantees great accuracy. It also eliminates all the restrictions. Some of the advanced features are the ability to generate, curate and provide answers to inquiries.
The chatbot is not limited to knowledge, but this is only applicable to a particular year. Although it is a Google chatbot, it is sometimes called summarize texts. Google has not announced the pricing plan because the tool is still experimental. However, it offers limited testing and expects more advanced features with time. For now, you must contact the parent company before trying it.
---
<h3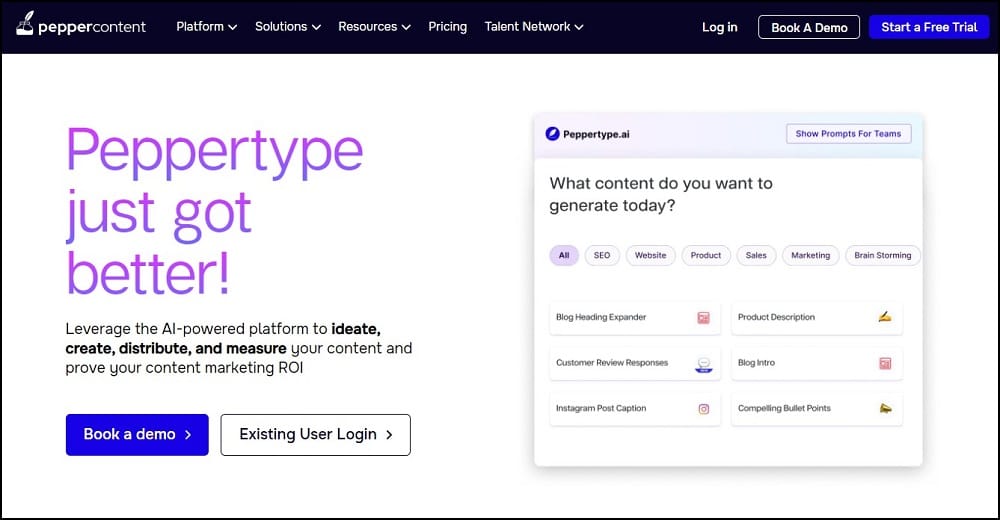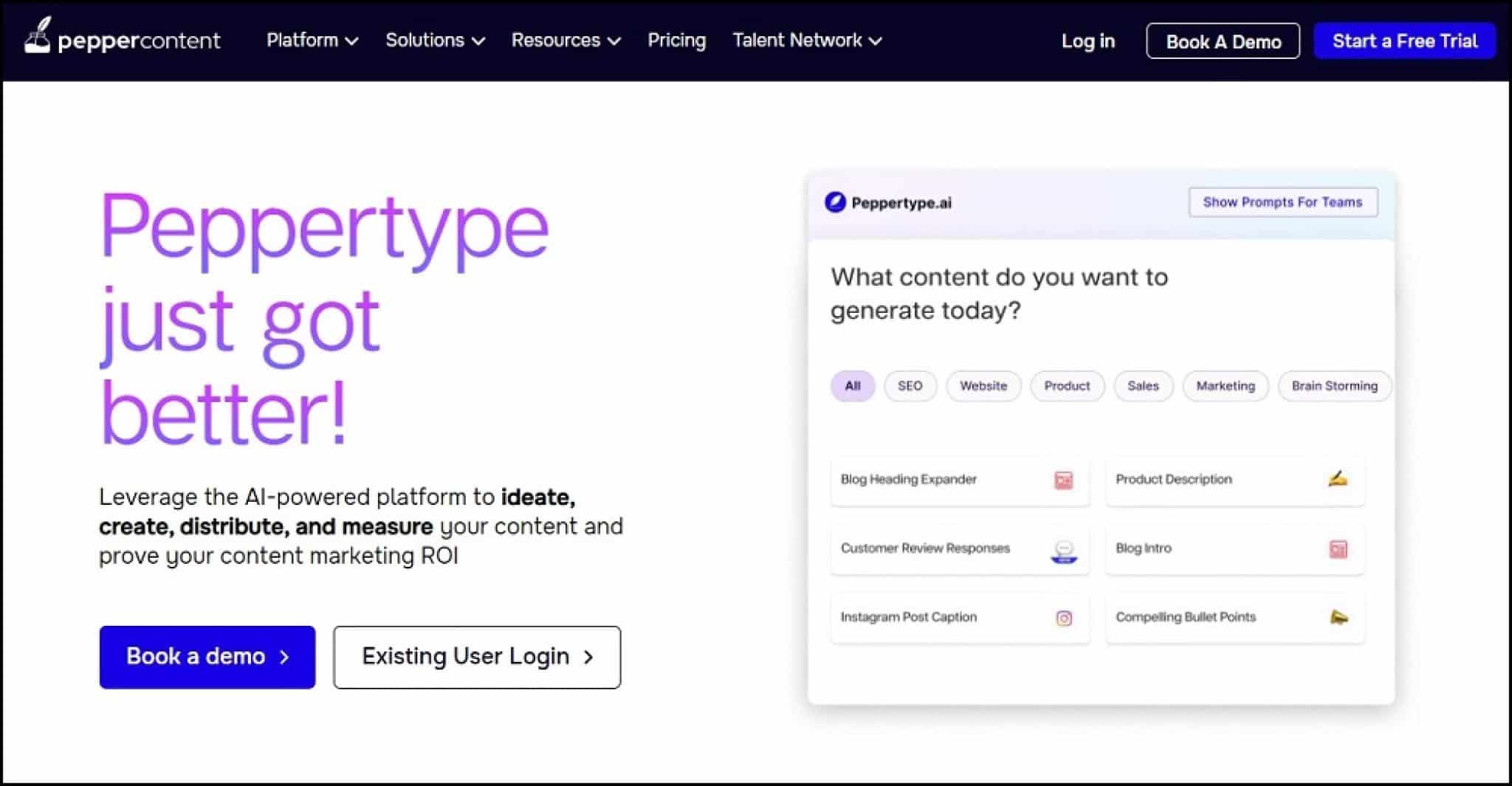 PepperType works the same way as the Rytr AI tool. It can dish a variety of text-based content as the main focus. However, PepperType comes with multiple advanced features for the content platform. These include Quora answers, product descriptions, google and ad copy, conclusion, etc.
There are many options, including content rewriting or paragraphing services. In fact, the software comes with a simple and organized interface where customers can intuitively divide it into various access categories. Besides cases, the tool supports over 25 popular languages to gain wide coverage.
From our experience with this tool, it offered us everything and was an excellent experience. Their output content is accurate with either no or little editing to make it perfect. In terms of pricing, PepperType offers a free plan for starters limited to 5000 words.
There are many premium plans, each depending on the number of words, up to 50,000. It is time to leverage this AI-powered tool to create, ideate, measure, and distribute content. It guarantees a seamless writing experience and the best-in-class integration besides the automated audit for best readability, plagiarism check, and get needed word count.
---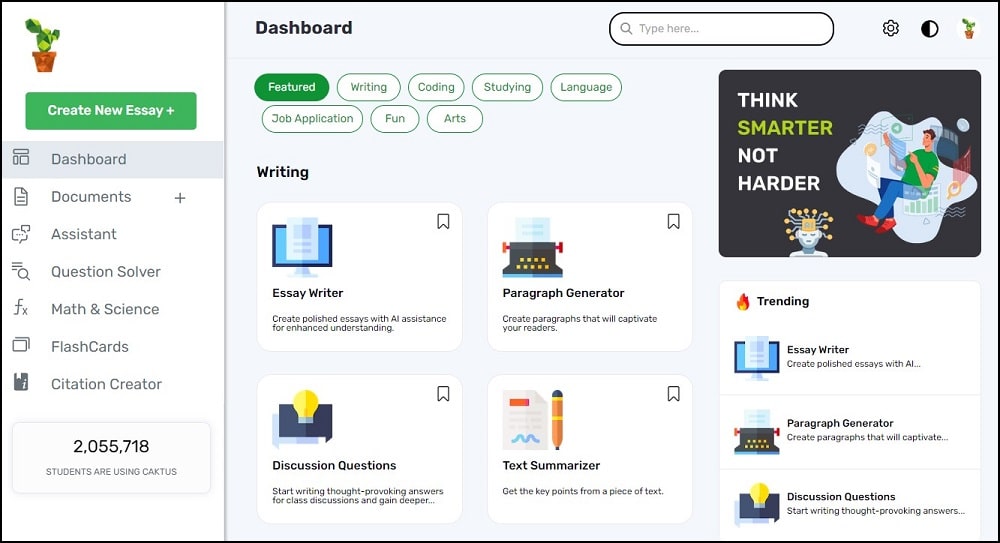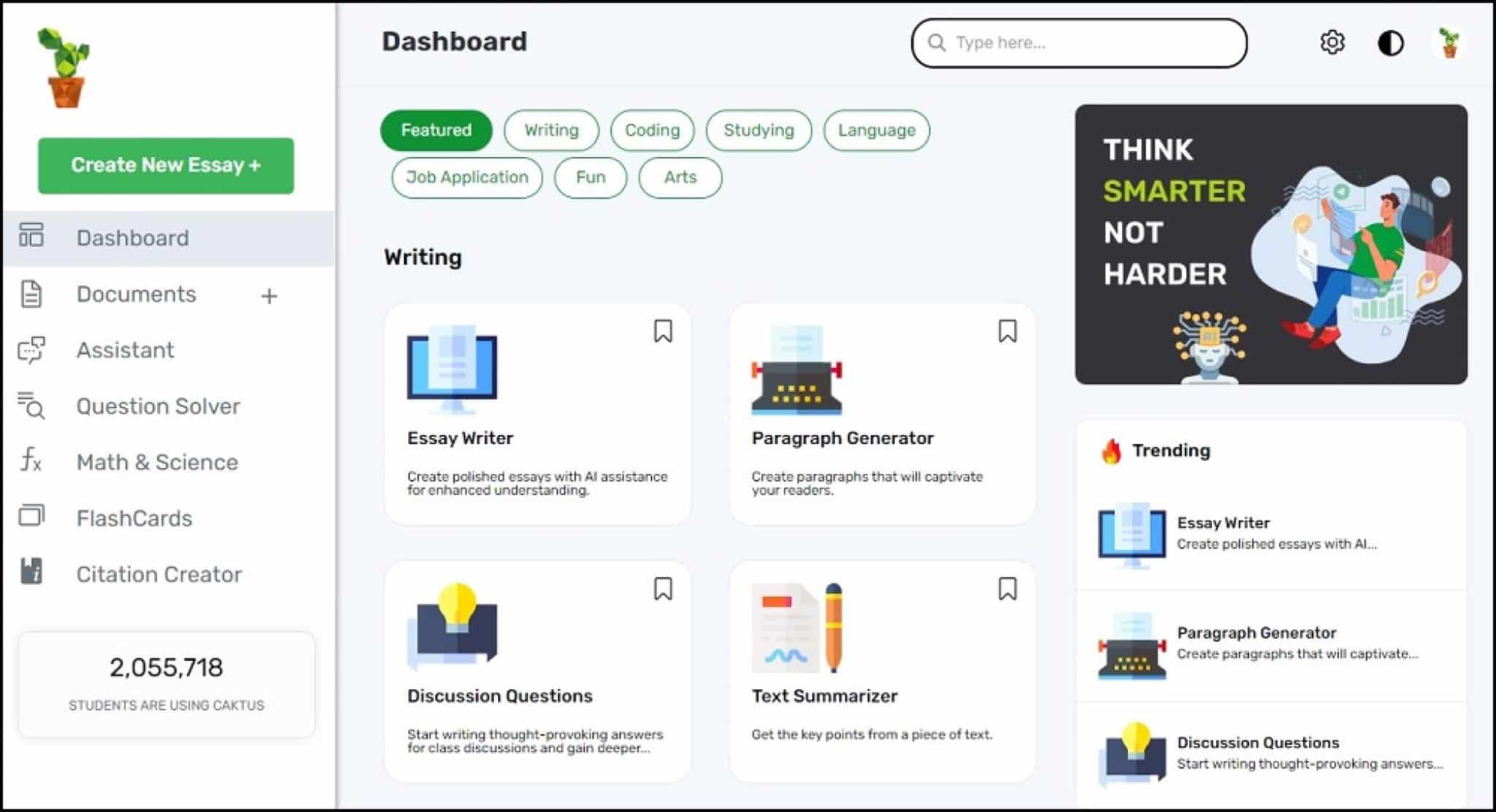 The next ChatGPT alternative is Caktus AI. However, this software mainly centers on helping students carry out research. Based on the information on the webpage, they claim that this site is the First education AI tool that helps students handle their homework, assignments, etc., as they work on other tasks at home.
Therefore, Caktus AI comes with features that suit students. These include the paragraph writer, essay writing, questions, coding, and discussion. The tool is capable of helping students through their career as well as language by offering or writing custom letters and guide through the language teaching classes.
From the Platform, students can choose any tool to get started. You can now simplify writing personal statements, grammar fixers, and other tasks. When it comes to customizing output, Caktus AI is a perfect tool to have.
The tool ensures that it provides the reference as cited work for academic work. Unfortunately, this software is premium without any free trial period. Immediately you tap on the tool, create an account and pay for the monthly subscription. With a subscription, you can enjoy unlimited characters in writing.
Thus, if you have been struggling to locate a ChatGPT alternative for your educational work with guaranteed citation, Caktus AI is the next option. It is dedicated to students with numerous educational features. The dashboard lets you access the languages, job applications, arts, fun, coding, writing, and studying features. The best writing assistant, math and science partners, and question solver tool on the market.
---
wpsm_numhead num="10″ style="3″ heading="3″] NeevaAI [/wpsm_numhead]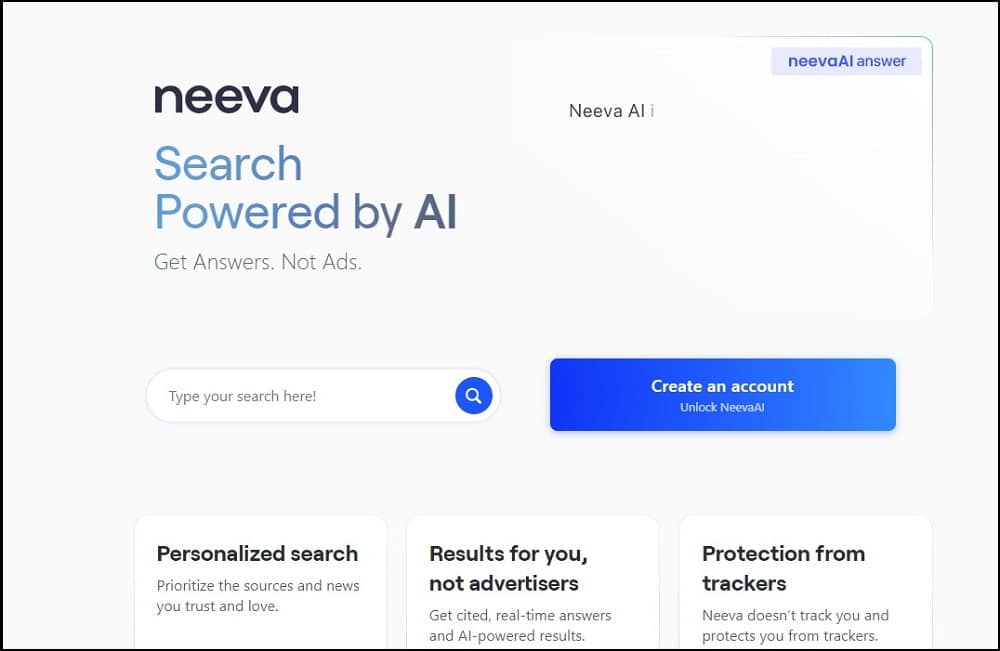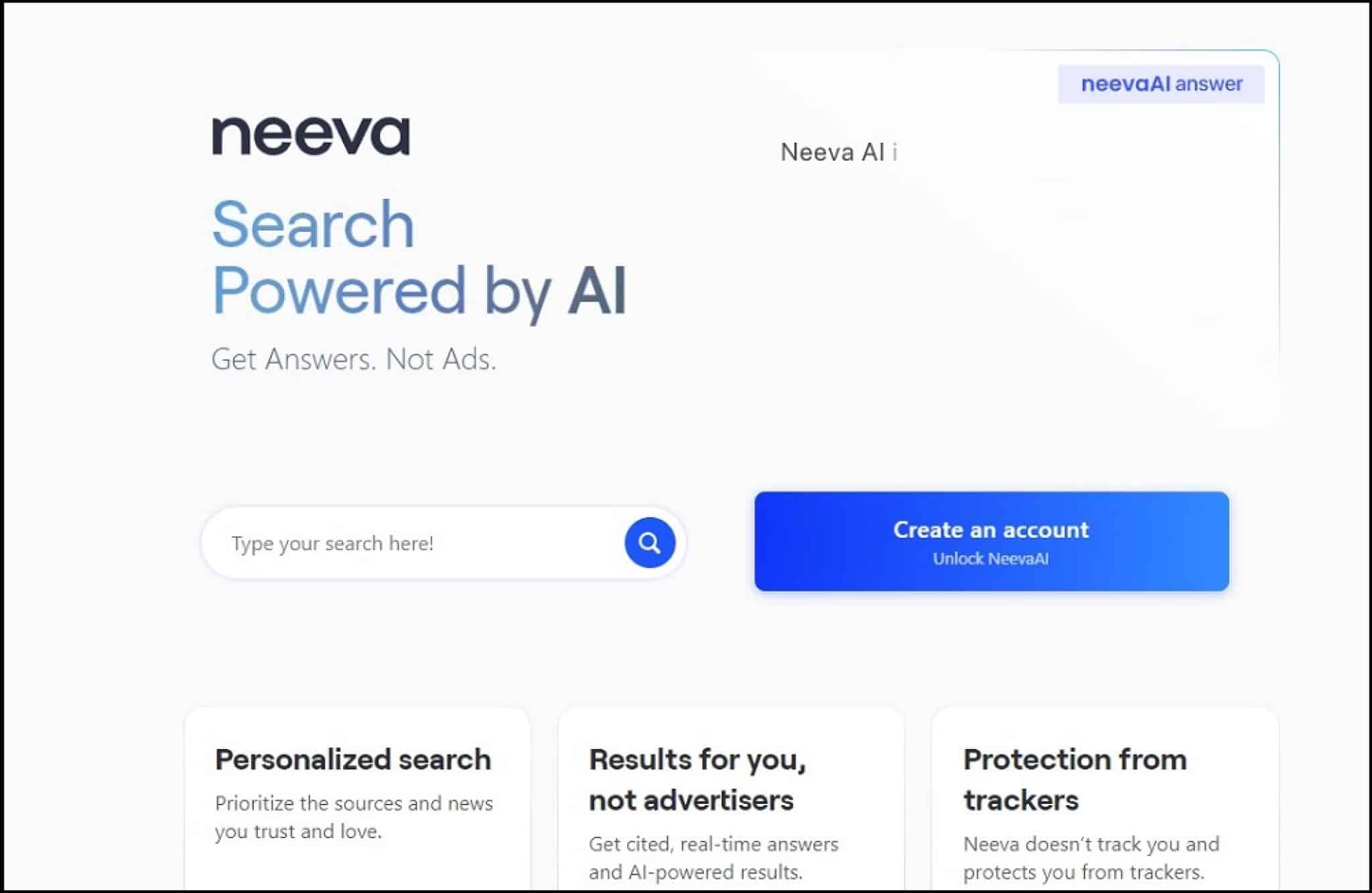 Though you must create an account to unlock the NeevaAI tool, it is the best ChatGPT alternative. It ensures that you get the answers and not ads like other tools on the market. This is a consumer search engine that relies on the state-of-the-art LLM to be able to search with a unique experience independently.
In a blind test by Google, the chatbot has been rated 9 out of 10 based on the capability to personalize the search while prioritizing the source. It offers online privacy to stay safe from trackers.
NeevaAI is available not only on mobile but also Chrome and Windows. With a large language model access, it gives precision to data. The tool was designed by duos, the former tech executive Vivek, and Sridhar, former ex-senior vice president of youtube monetization and Google ads, respectively.
The NeevaAI can search as well as sift in millions of search results to give a comprehensive yet simple response alongside the reference. This is simply a search engine powered by AI, though yet to be a fully-fledged chatbot. Still, it is a good option when ChatGPT becomes an issue, as it overcomes all the limitations you might experience. It has a premium and free trial period for new customers.
---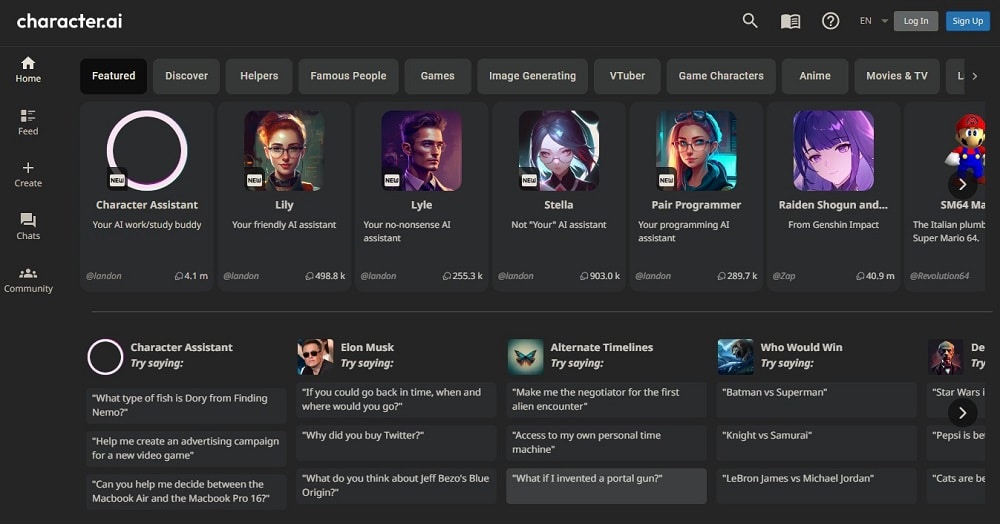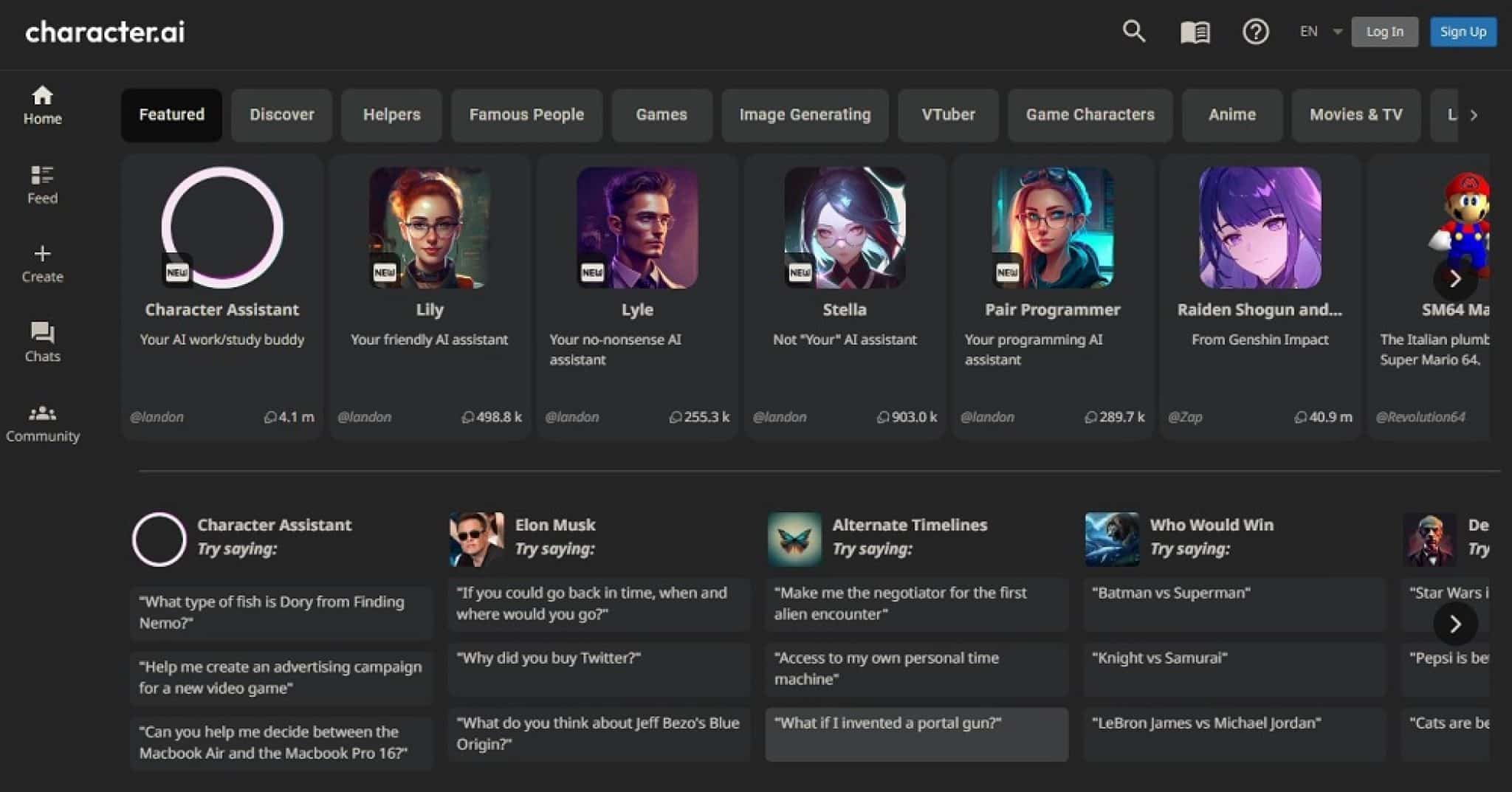 Up in this line is Character AI. While other tools focus on the persona, a concept of the ChatGPT, Character AI bases its focus on the neural language model. It has been trained with a conversational response. The feature that makes Character AI unique is that customers can choose from numerous personalities on the menu rather than focusing on the interaction with individual chatbots.
From the homepage, you can access multiple characters where. The Chock-full includes famous people like Socrates, Elon Musk, Tony Stark, Kanye West, etc. Regardless of the character you select, the AI amends the conversational personalities per your requirements.
This tool also gives you access to the microphone input feature with the ability to access the talk back in numerous voices, which varies with characters. It is now fun to create a character yourself. You can dev=cide the greeting as well as the name of the character, avatar, description, etc. It also offers a built-in image generator tool to obtain a good avatar.
However, from experience, this AI tool is slow but improving. Customers must also create an account to access the services, and anytime you get locked out of the ChatGPT, give Character AI a try to rescue your day and workload.
---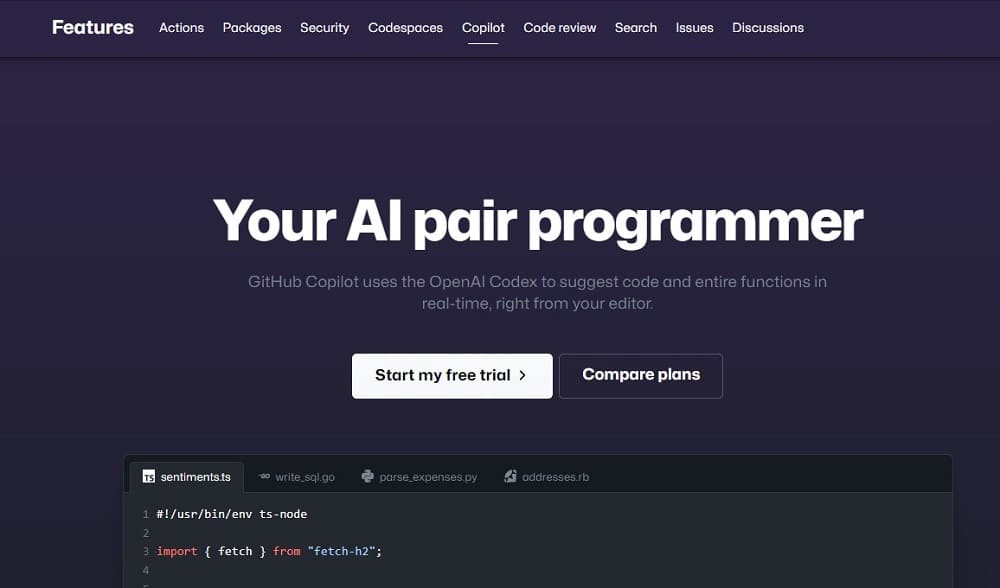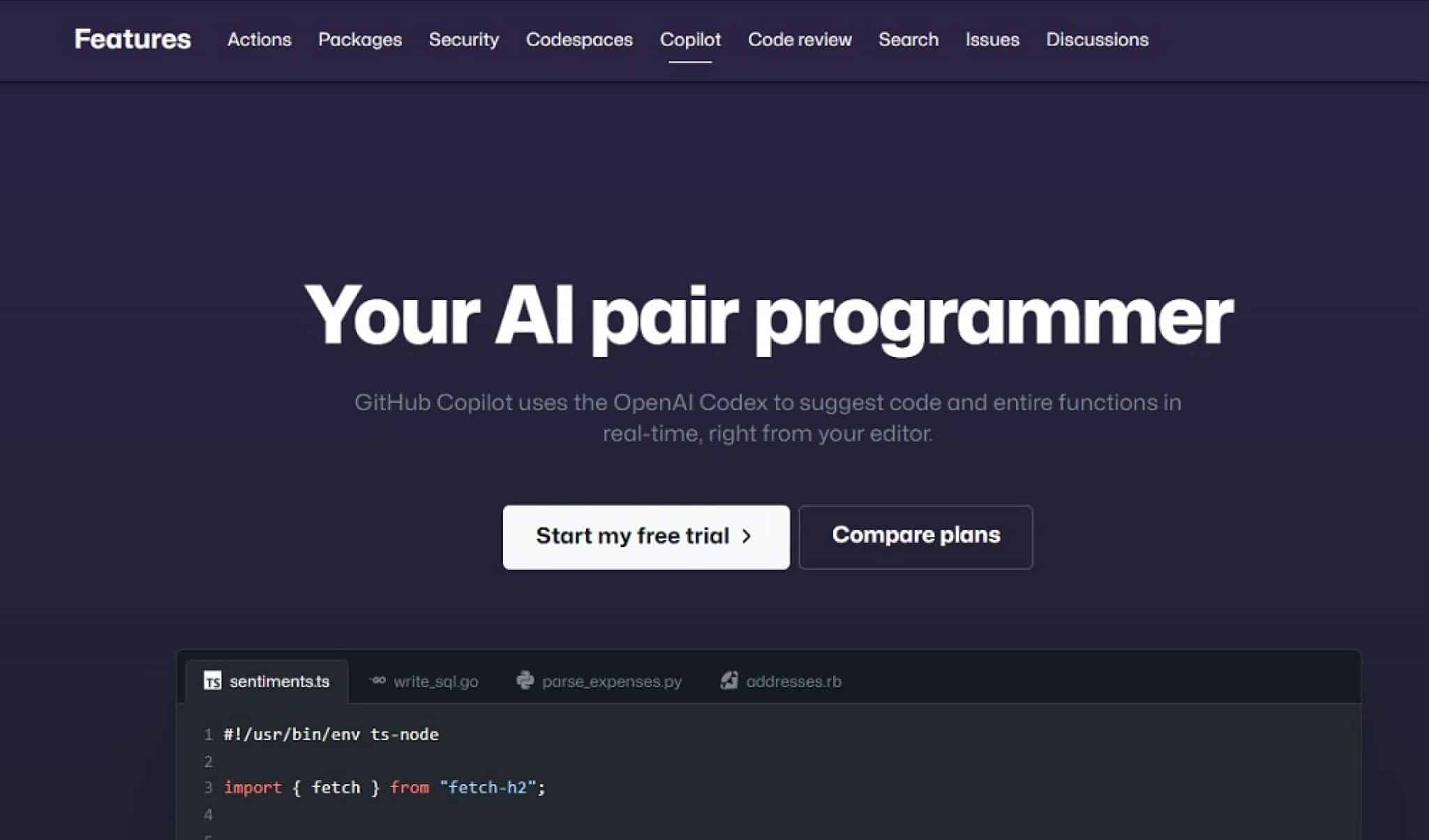 CoPilot is one of the latest and best features from GitHub. It uses the OpenA AI  GPT-3 model codex. This model enables the auto-completion ability of the tool for advanced services. This powerful software is compatible with numerous coding sites, including VS Code, JetBrains, and Neovim. In addition to that, it also enables the power of the cloud workflow through GitHub codespaces.
CoPilot also comes with the support of multiple coding languages. One can even generate multiple syntaxes consists upto the 1 2 languages. Among them are PHP, Javascript, Typescript, Ruby, swift, bash and, Go, Perl. However, this tool is also powered using billions of open source line codes obtained from the public, among the main ones of the GitHub repository.
Therefore, Github CoPilot is among the reliable and outstanding sites that function like ChatGPT with access to numerous coding languages support. If you are a student or even a contributor to open-source work, you can enjoy CoPilot for free. But the rest of the people must subscribe to the monthly plan, which are individual and business plans with different capabilities and features.
---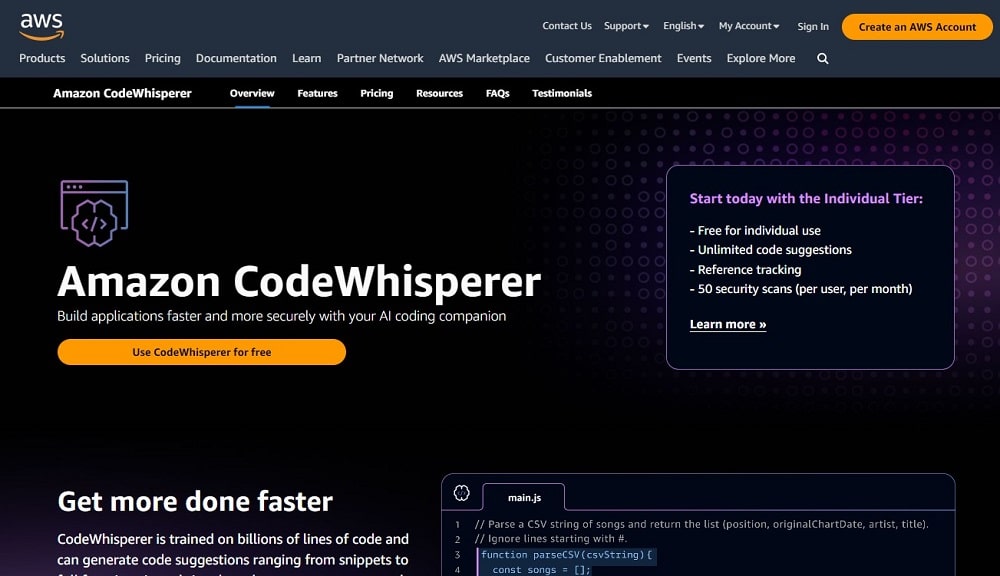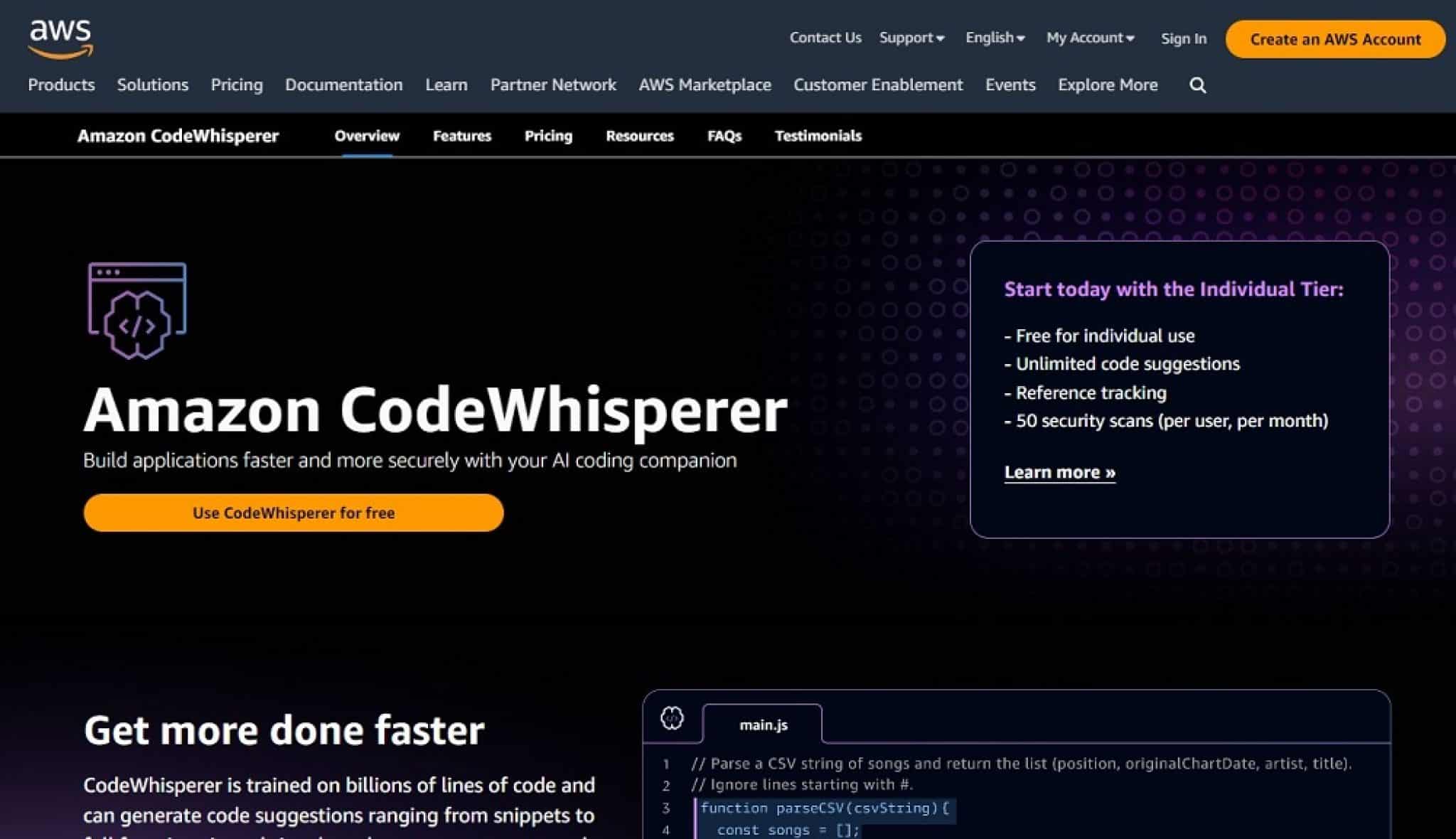 If you are an Amazon expert and need to find a perfect ChatGPT alternative on the Platform, then here comes Amazon Codewhisperer, which an Amazon executive developed. This chatbot can pinpoint and find code debugging and comprehension issues efficiently.
The software is unique as it relies on a complex machine learning algorithm and a combination of the natural language processing power in reviewing and recognizing code and patterns or errors on Amazon. It thus offers the developers a detailed evaluation of the in-depth code action.
On top of that, it also evaluates the performance issues while incorporating the potential bugs and seeks the solution by providing advice. Thus amazon and other developers have an easy time rectifying the bug issues and upgrading the caliber code accordingly.
The Amazon Codewhisperer comes with amazing features. It is easy to design an intuitive user interface with multiple customization features, making it perfect for experts and beginners. Users can easily scale it while working on large code, integration, and development which makes adding workflow simple on sites like GitHub.
When writing this review, the tool offered services to the developers at no cost. Try solving all the coding problems, identify bugs, and get solutions when ChatGPT fails in such cases.
---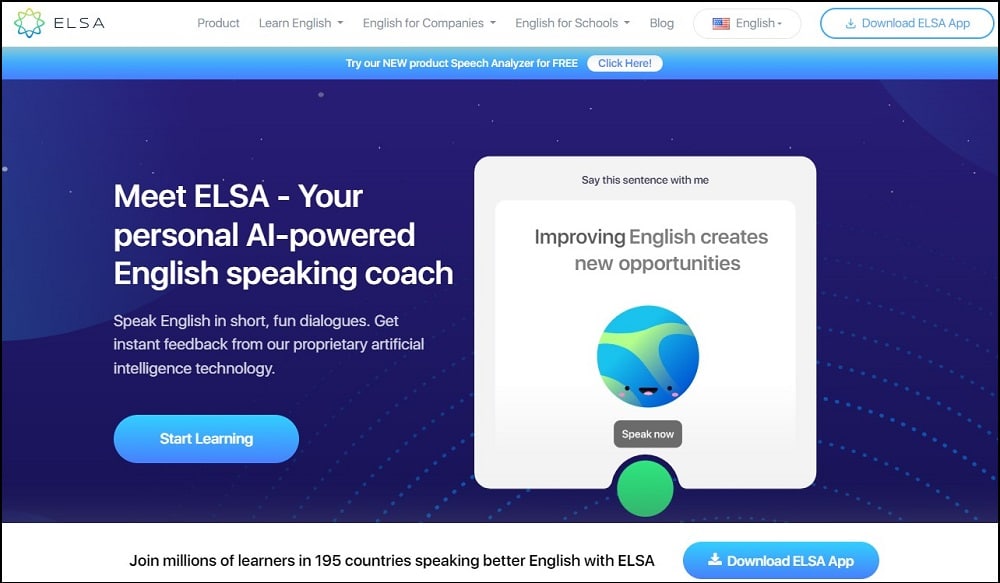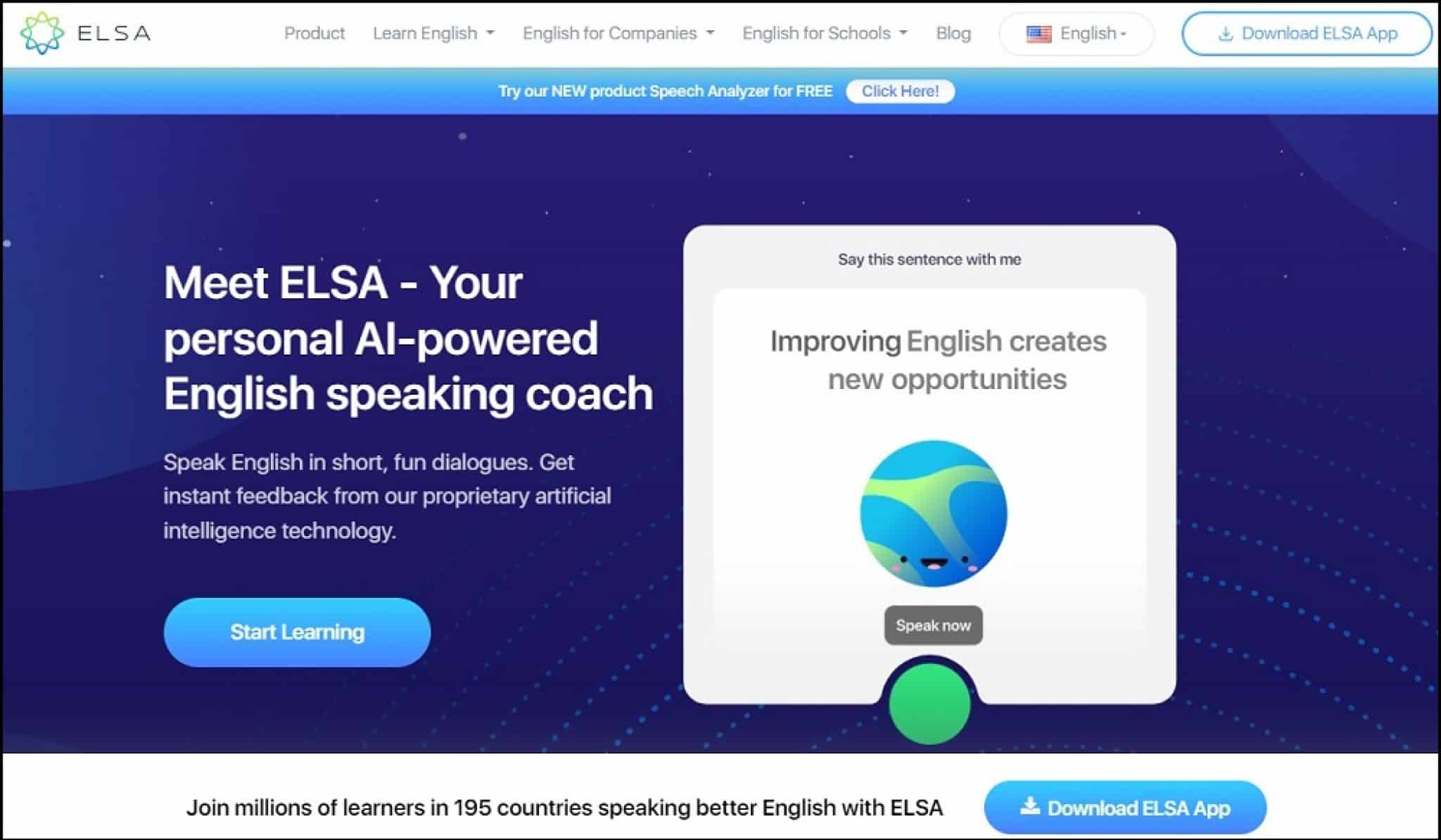 Elsa Speak is one of the AI-based language learning applications and the perfect ChatGPT alternative on the market. With its capability, it can effectively run the user speech examination while formulating tasks for the customer to comprehend easily. This tool also falls under the ChatGPT alternative worth listing in this article. Though an English language speech assistant, it can translate multiple languages to English with a simple click.
This ChatGPT alternative was designed by voice recording from multiple people but speaking English with unique accents. Thus the tool has the power to identify vocal patterns of people that are not native speakers and rate their proficiency hence getting cutting-edge voice recognition capability.
The main features are motivated and focused cAI coaching support, real-time speech recognition,  quick assessment,  progress tracking, and graphs. It offers access to the bit-sized custom lesson for people to improve their English proficiency. This is an excellent tool for billing monthly or annually with a one-week free trial option.
---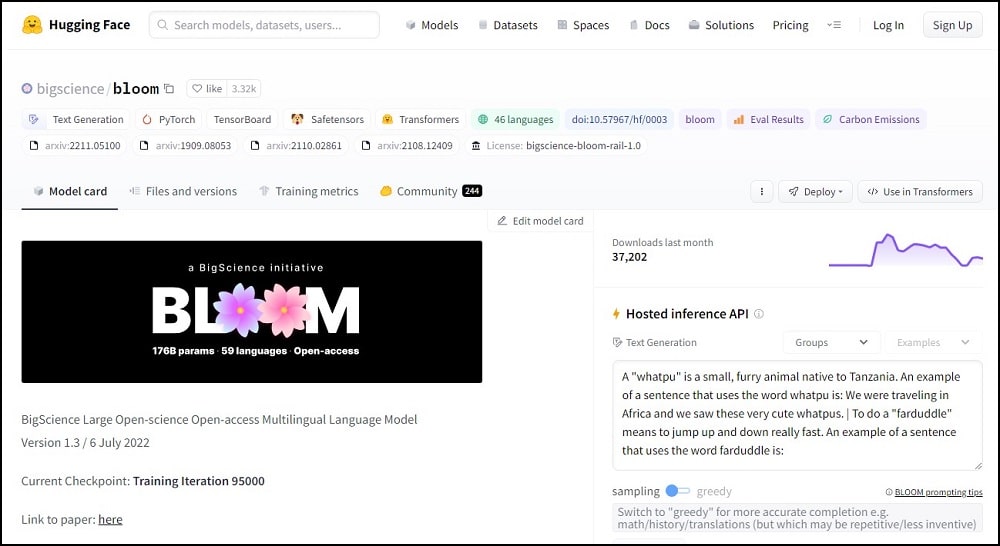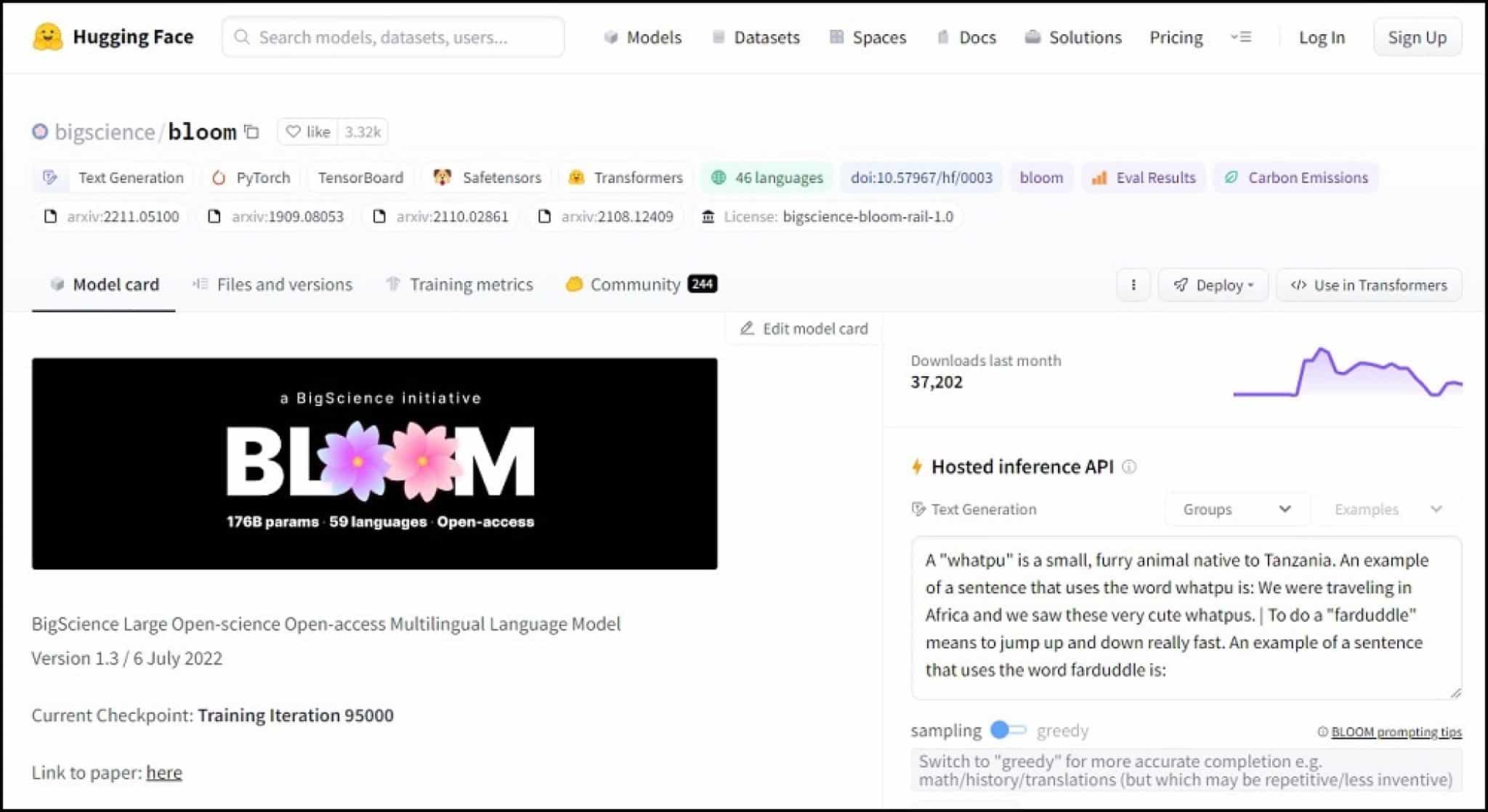 Bloom is an AI tool that has been developed through the collaboration of multiple thousands of AI specialists around the world. This is an open-source platform we consider a great ChatGPT alteration today. While powerful and cutting-edge software, it is also a multilingual language model that has become popular over the past years and gives ChatGPT stiff competition.
This software can generate tests in over 45 languages and supports about 13 programming languages. This is incredible and sounds like human writing in the long run. It takes a text assignment as input and then converts it as an opportunity to generate the text as output.
While the tool has a free package, you can unlock more advanced features through its premium monthly plan. In summary, Bloom is an acronym meaning BigScience Large Open science Open access multilingual language model. This autoregressive LLM offers the prompt text of data from industrial computational sources.
---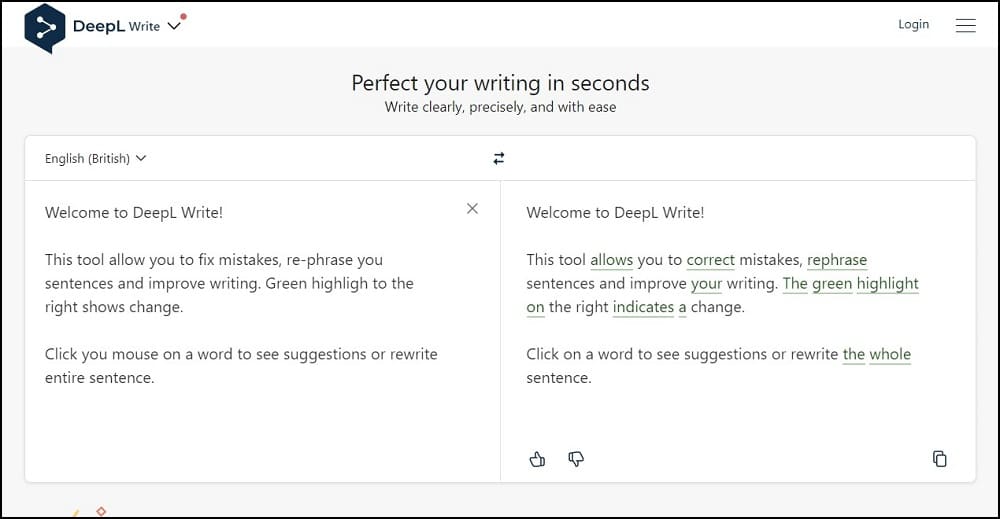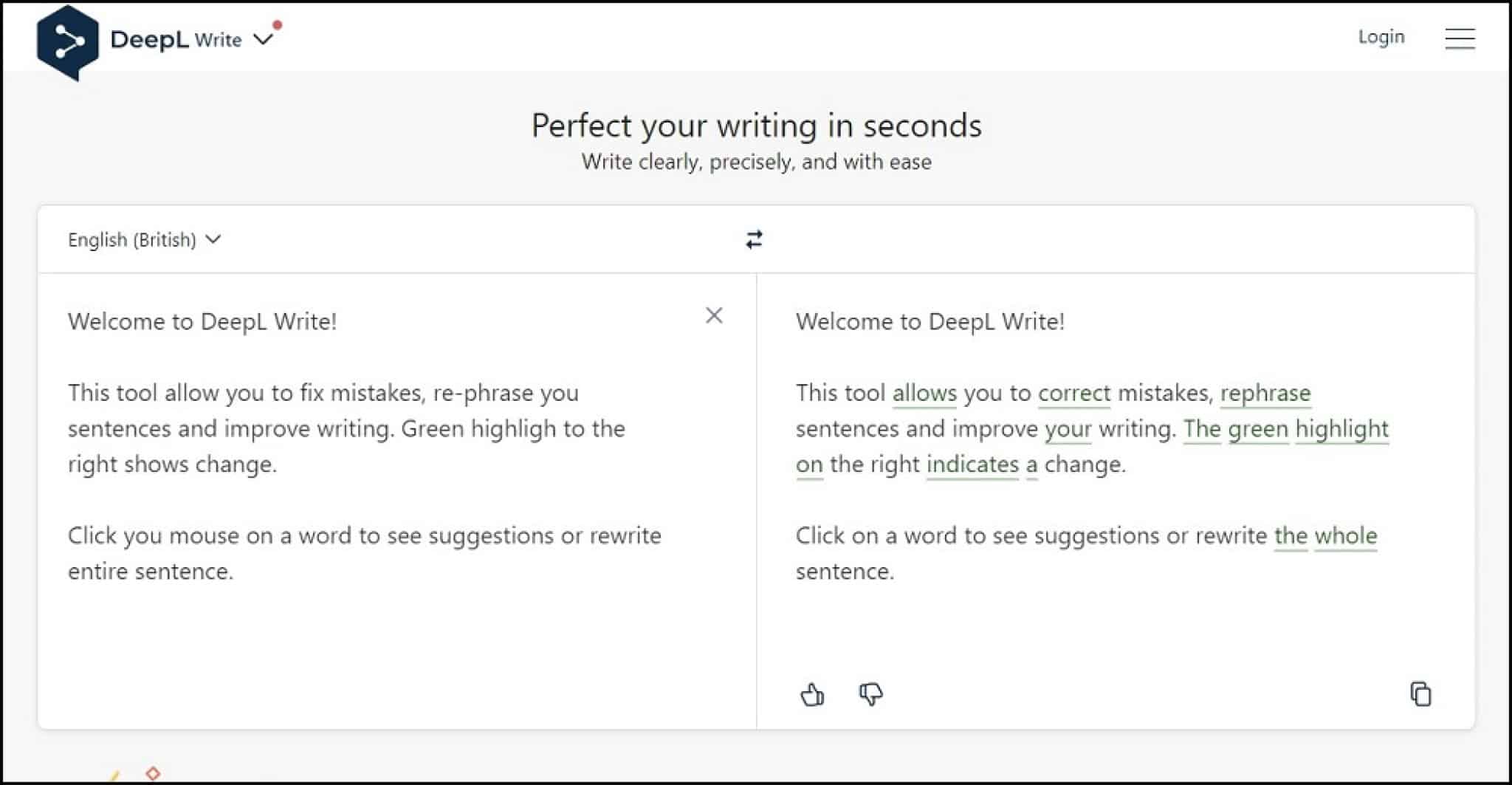 DeepL Write was created by DeepL, a German firm focusing on AI language and translation. While the tool was launched in 2017, this firm is popular for AI language translation. Hence, the software is a perfect AI-writing assistant and comes with more advanced features that target guiding and refining customers' work considering the accuracy and the quality of writing.
If you are looking for the perfect move to evade plagiarism, DeepL Write is a perfect ChatGPT alternative for generating unique content for publication or educational purposes. It also goes beyond offering grammar correction by highlighting important suggestions, recommending the tone, phrasing, and styles, and improving the overall writing.
Thus, DeepL Write guarantees users unique writing assistance due to its flexible writing translation ability. It is perfect for students, researchers, and content creators to help generate effortless content and quick, high-quality, original work. The tool is compatible with many devices, including Chrome and Edge extensions. Though it has free translation, it also includes a premium package for detailed tasks.
---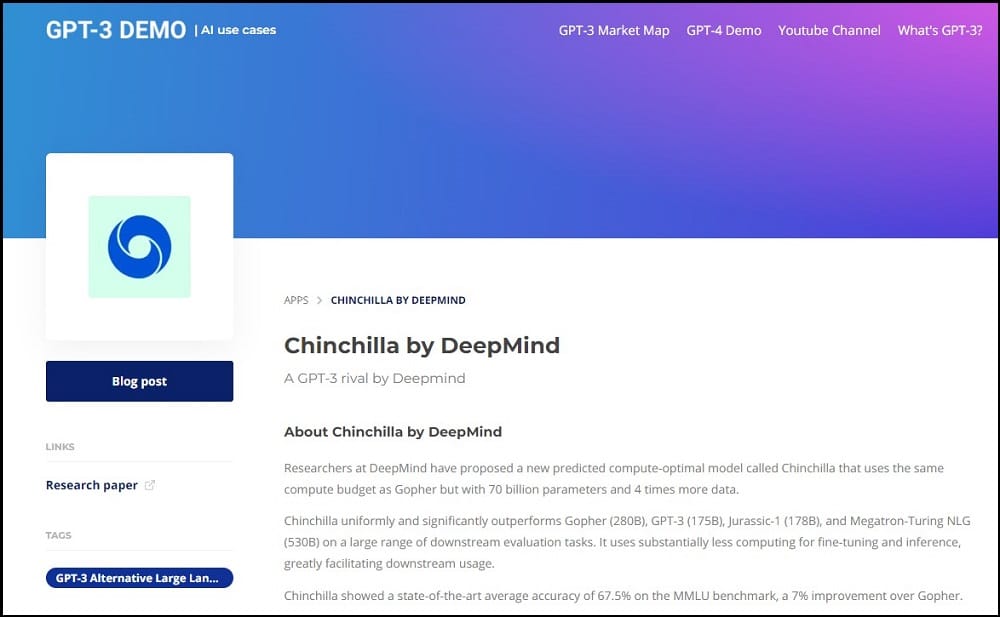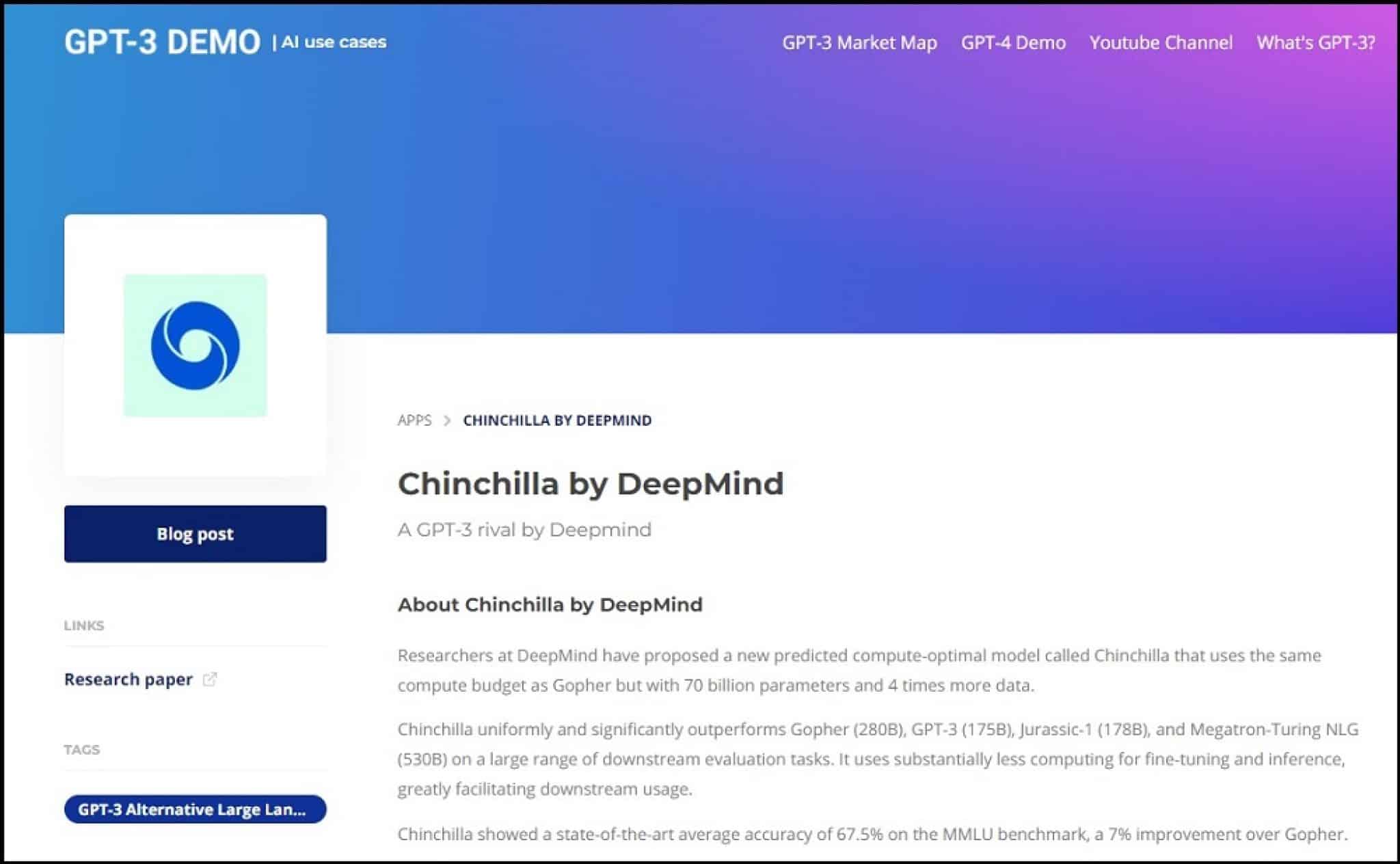 Chinchilla AI  is another level of ChatGPT alternative that gives you the primary use features for all the writing and other services. However, this model was developed by DeepMind and revolved around the AI language. In other words, it is a subsidiary of Google though not similar to google bard. You must note the difference, as the former involves a different language. Many people often refer to the Chinchilla AI  as the GPT killer model.
From the website on DeepMind, these guys claim that Chinchilla AI can significantly outperform the GPT-3 version with the LLM language. We know that GPT-3 is currently the predominant model, and this tool goes beyond to access four times more information on Google.
Unfortunately, since the version has been on trial, it is currently unavailable for public access by the public. But in the future, when you are looking for the perfect, highly responsive, and detailed ChatGPT alternative for coding and writing, Chinchilla AI  will be available for you. The AI tool is rated as the largest language model that simplifies work by fine-tuning the services.
---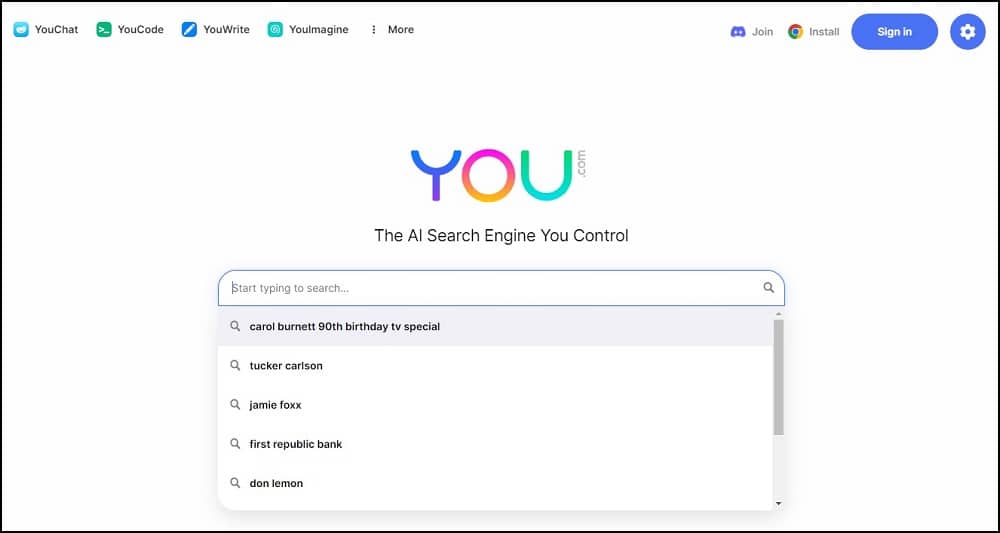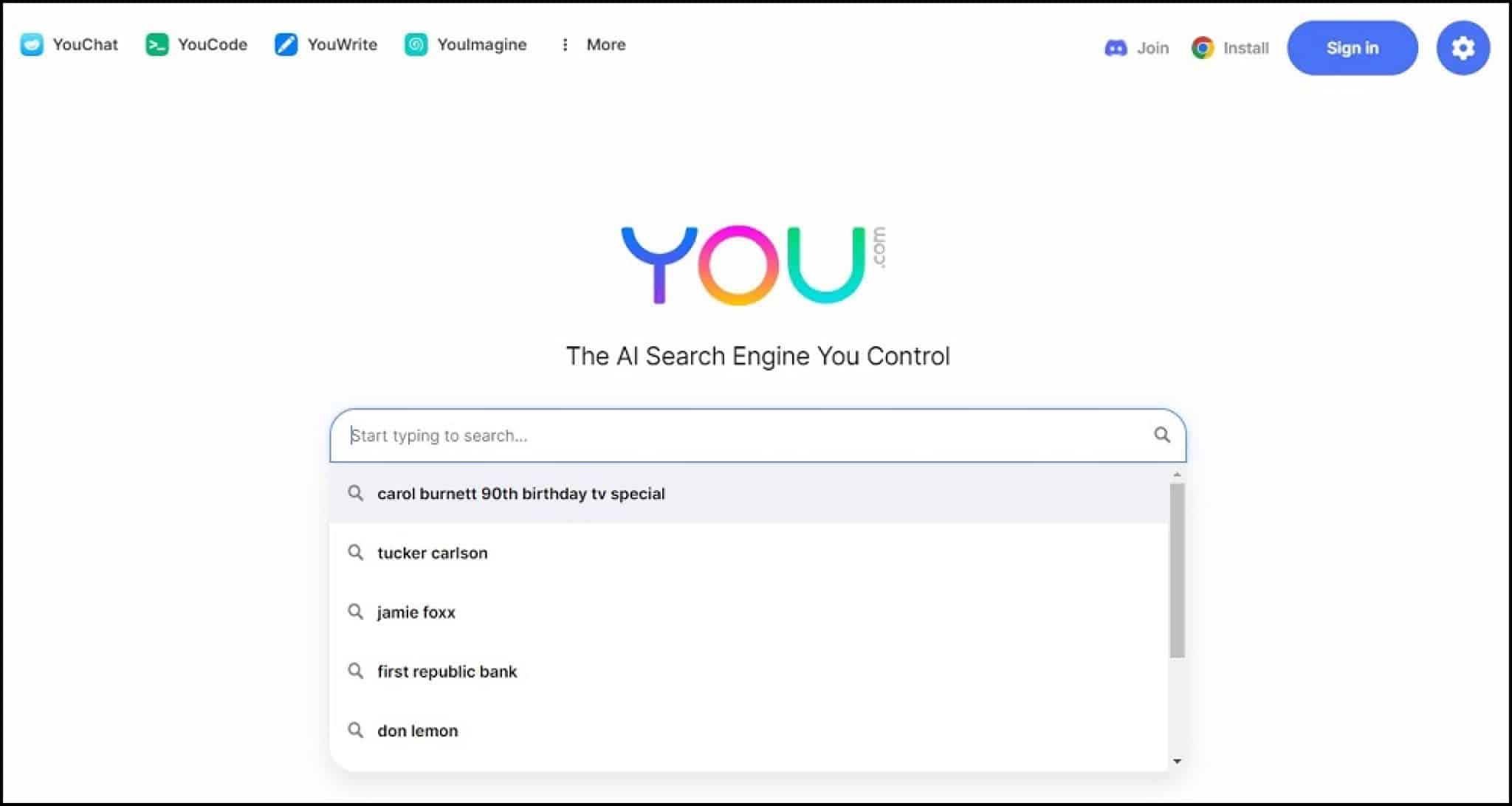 YouChat has also proven to be a superior ChatGPYT competitor on the market. The Youdotcom firm has developed the AI tool and tends to work as a more conversational model on these search engines. It also offers the same service, such as generating chatbots like the above and ChatGPT provides.
Infact, YouChat combines natural language and artificial intelligence in processing, then conversing and mimicking human behaviors. Therefore, you can use it to answer the m general questions, get ideas, summarize a passage, translate, create emails, and carry out your coding under one interface. However, currently, the tool offers average results because it is still in its development phase.
Soon, it will outsmart multiple chatbots online. But you are guaranteed to access the latest information, which might need a few edits and fast checking for verification. The tool has features, and users can select Youtchat, Youwrite, Youimagine, and Youcode with the option to explore 150 other apps under a single roof.
---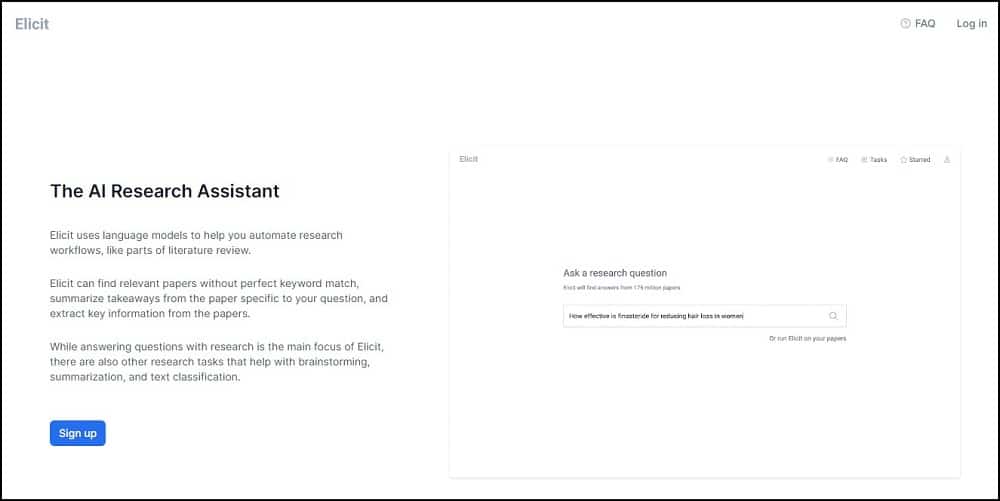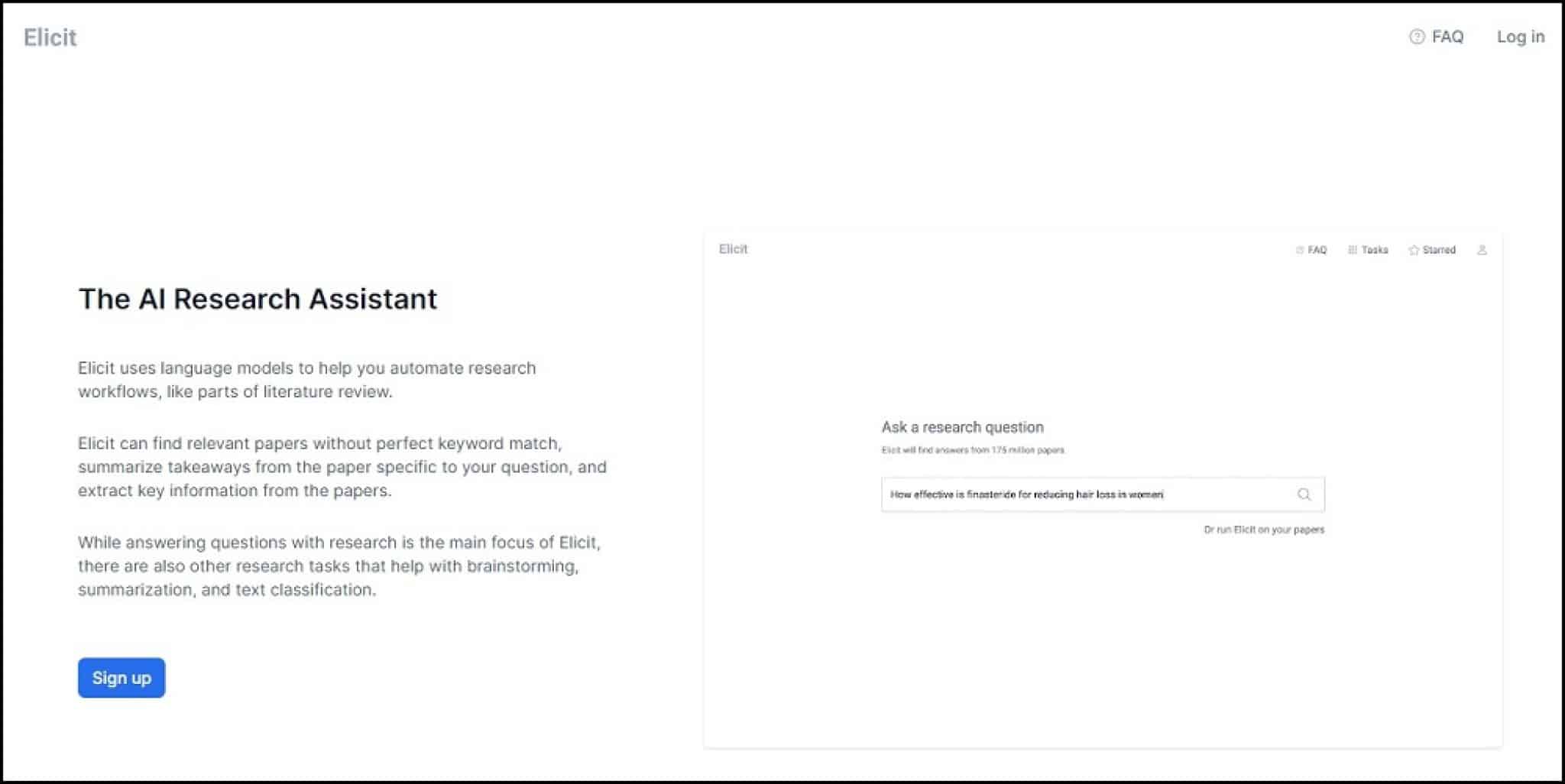 Elicit, from the website, is regarded as a reliable AI writing and research assistant. They use a powerful language model in guiding research access and automated research and majorly offer literature reviews on projects. Elicit can retrieve all the publications and relevant research papers for citation even without a keyword match. It even gives the summary of a paper concerning the question.
Elicit still goes beyond offering text classification, summarization, and brainstorming services. The AI chatbot utilizes the GPT-3 model in streamlining all the literature research work, which is instant with relevant queries obtained from highly rated publications.
This gives you an efficient method to get speedy results and authentic literature sources without much effort, hence dependable compared to the ChatGPT. It offers you access to the analyzed datasets as well as archived work from authors. Students can count on it to uncover the coursework, do assignments, and many more tasks. Please create an account and give it a try.
---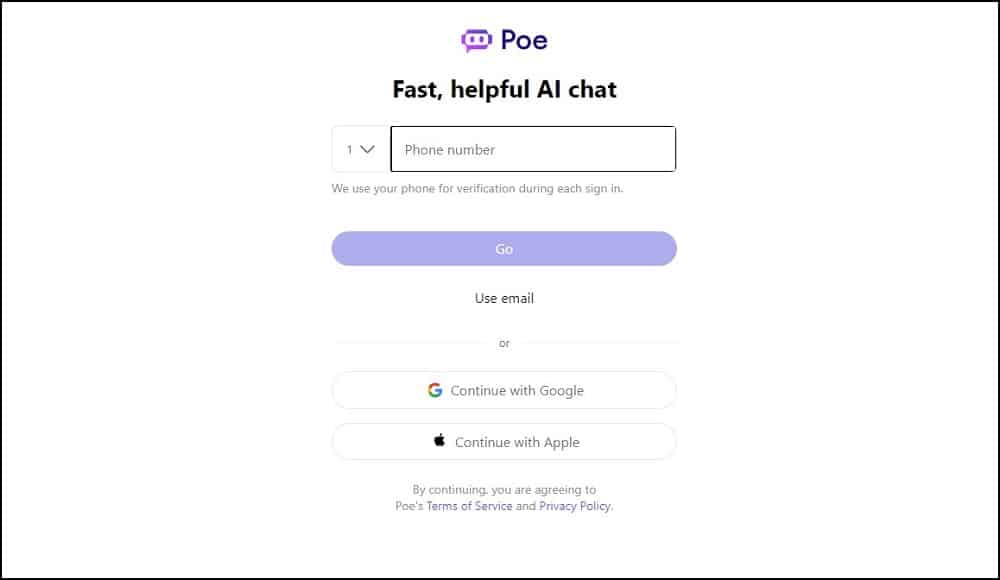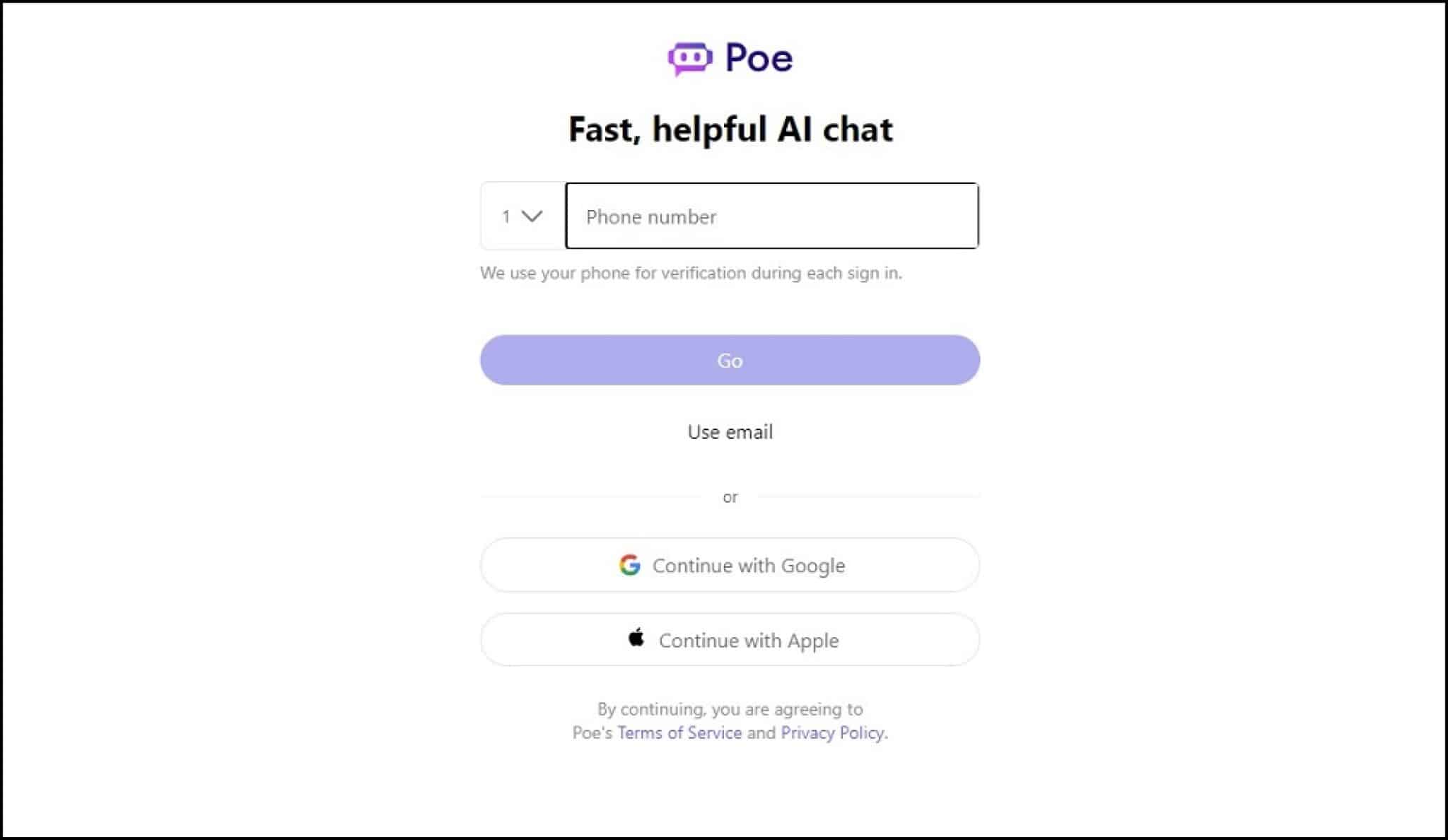 Quora Poe is an AI tool introduced in early 2023 and designed by Quora. However, it's a platform that gives people access to AI chatbots, which do all kinds of writing, coding, and multiple tasks. Therefore, Poe is an acronym that means Platform for open exploration, which gives a true meaning to this AI platform.
Join, experiment, share and explore numerous chatbots instead of a single ChatGPT with guaranteed instant reply. You can chat casually with a chatbot, and when you visit their website, you can chat with bots like ChatGPT and GTP-4 models under one collection. But the site gives you limited access to the two based on a single message daily.
Quora Poe gives you an efficient way to research and get answers on trending coding and poetry topics. It's like Quora Poe has a link on OpenAI, which grants access to multiple chatbots to solve problems and perform writing tasks. They recently incorporated the Open GPT-4 model alongside the Cloud-v1.2.
The tool now offers customers 1000 cloud+ messages and 400 GPT-4 per month before restricting the messages. All th IS used on the Poe are prepared using the anthropic and OpenAI models. Enter a number, verify, and get started.
---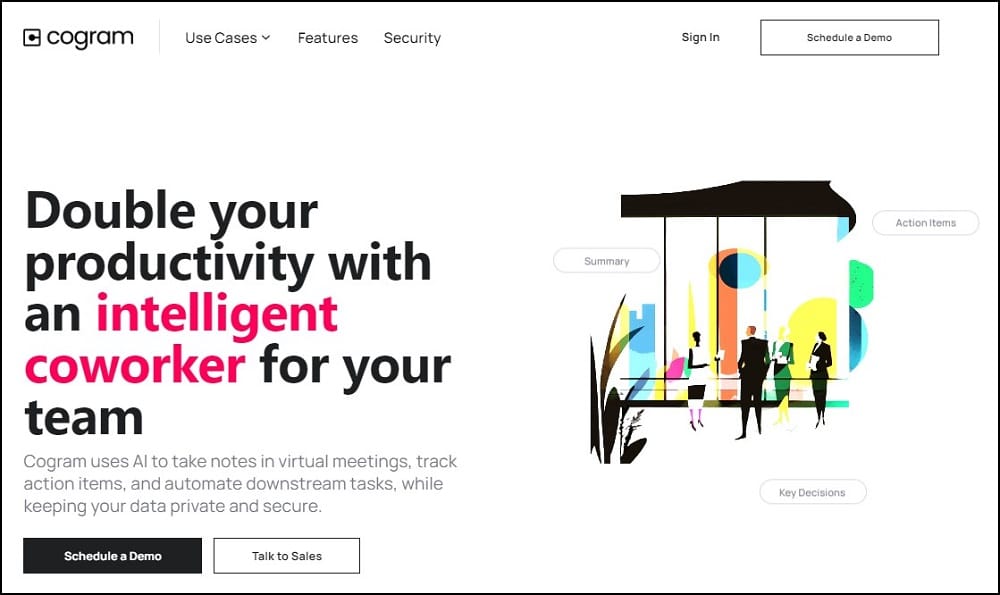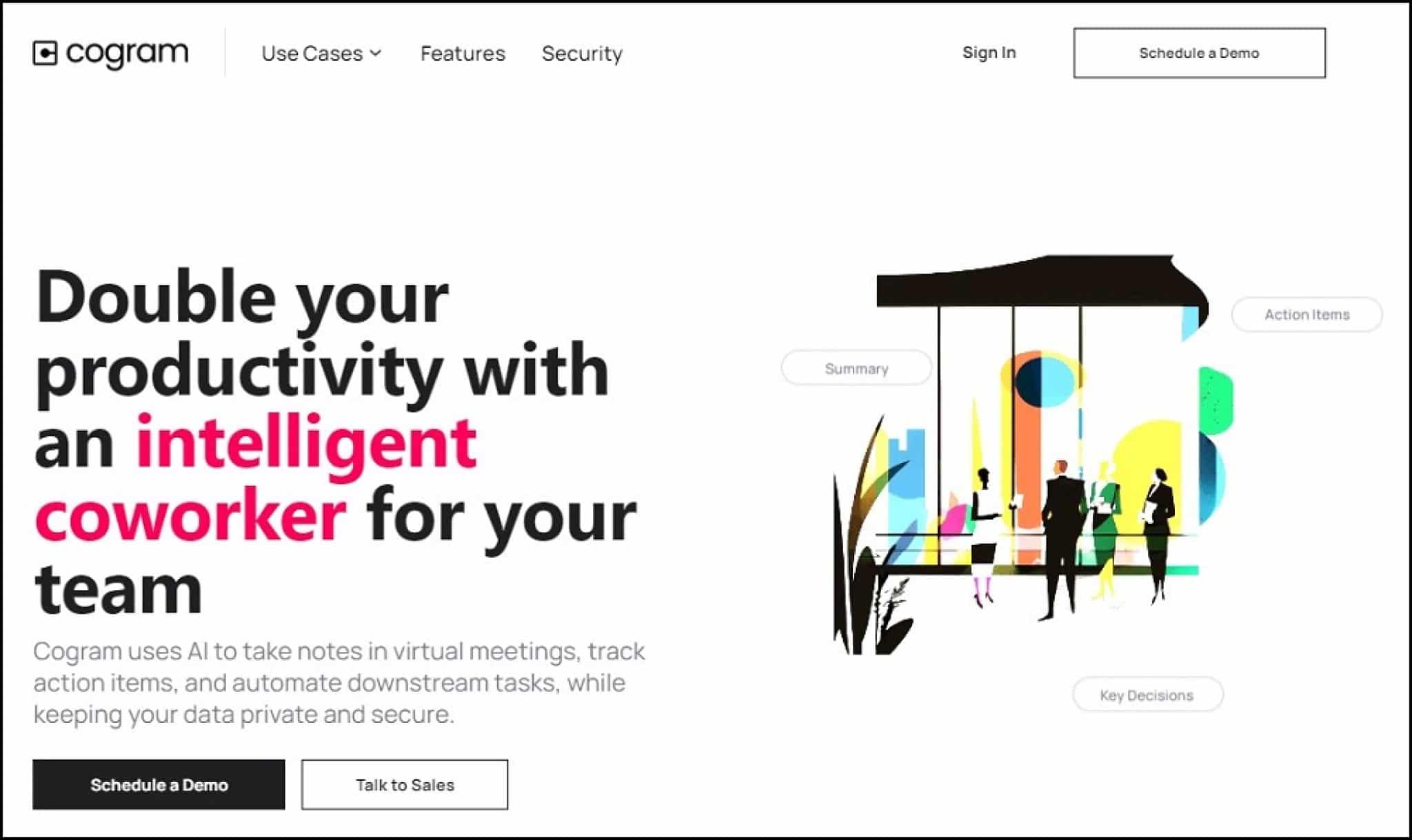 CoGram AI aims at doubling the capacity of productivity through the intelligence of the workers in the team. This tool is designed to help in carrying out multiple tasks. Mostly, it's effective in taking notes while in virtual meetings, automatic the downstream tasks, and tracking the action items.
However, the team ensures that your online privacy is secured and data is kept private. CoGram has positively impacted cases like sales, business development, and project management; besides the client meeting, it has also improved customer success.
CoGram offers faster actionable insights saving you time. It ensures that you combine the succinct summation early, create accurate and comprehensive minutes, and schedule your plans for meetings, and it is compatible with google meet when you blend it, which makes it seamless. CoGram is a perfect ChatGPT alternative for business tasks and online meetings but it has a limited trial version.
---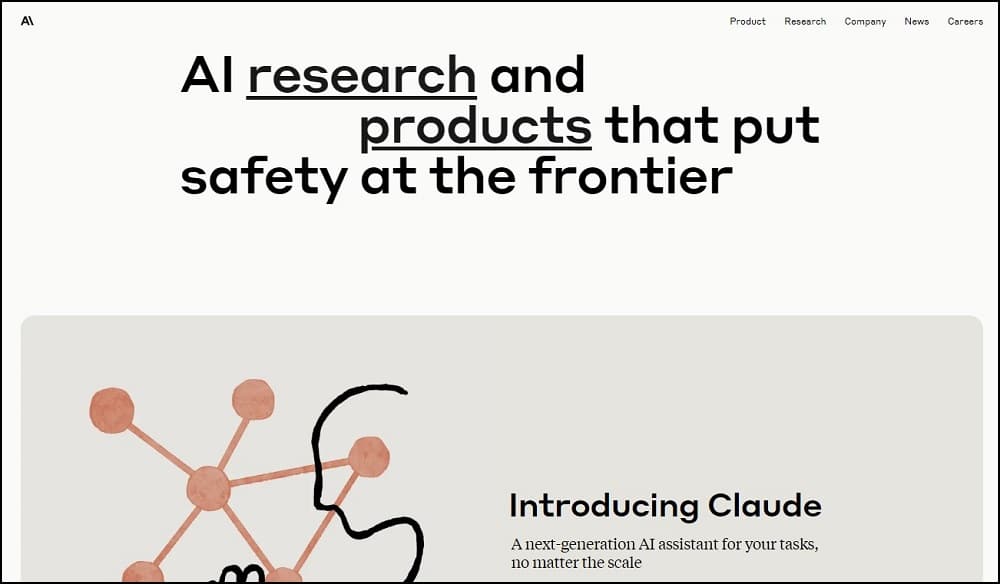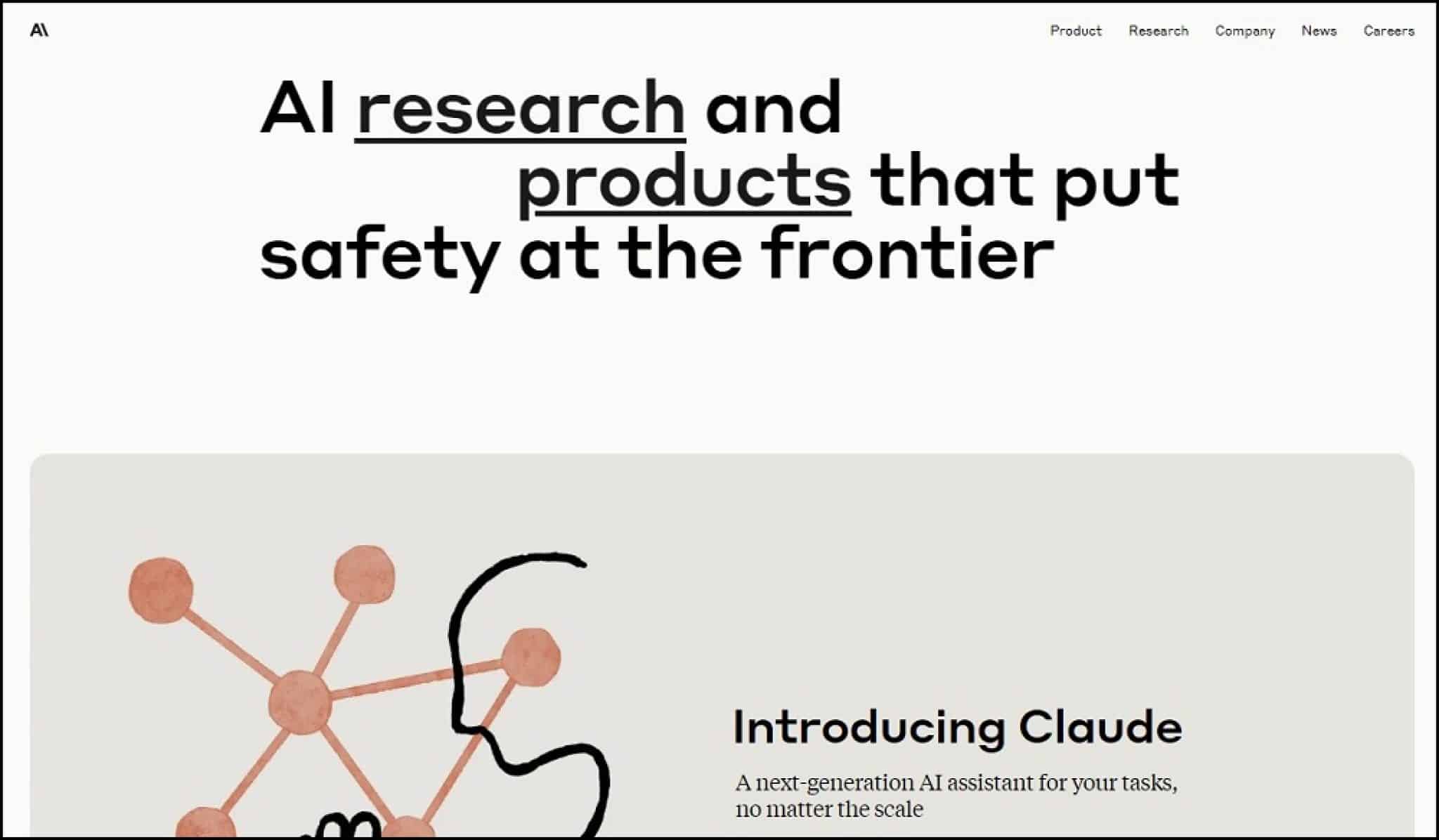 Claude is another unique AI chatbot powered by the Anthropic but found on OpenAI. It began as a typical ChatGPT-like chatbot. On the Anthropic site, the AI bot is regarded as pre-trained,  offering about 52 billion parameters, and relies on the constitutional AI technique and with anthropicLM v4-s3 model.
This chatbot was trained unsupervised based on the GPT-3 model with no clue about LLM and has become a unique software with architectural choices. Like the ChatGPT, Claude utilizes the reinforced learning output and fine-tunes through the preferred generation.
Also, Claude comes in two versions; Claude V-1 is more powerful for generating creative content, offering detailed instructions, and handling sophisticated dialog. There is also a faster but less expensive model known as Claude Instant, which can respond to general questions like ChatGPT, summarize works, analyze texts, and handle casual dialogue simultaneously.
Regardless of the scale of your work, Claude is becoming the next-generation AI assistant. Above all, this tool puts the customer's safety at the front. It is so unfortunate that you can only access Claudia now from the Slask and through NTDev thus, you must first create these accounts to enjoy generating bullet reports, writing all sorts, and initiating conversation.
The tool is free and guarantees quick response though sometimes it has shown hallucinations often. It is the greatest rival of the ChatGPT, where Anthropic, the company behind the chatbot, is backed by Google.
---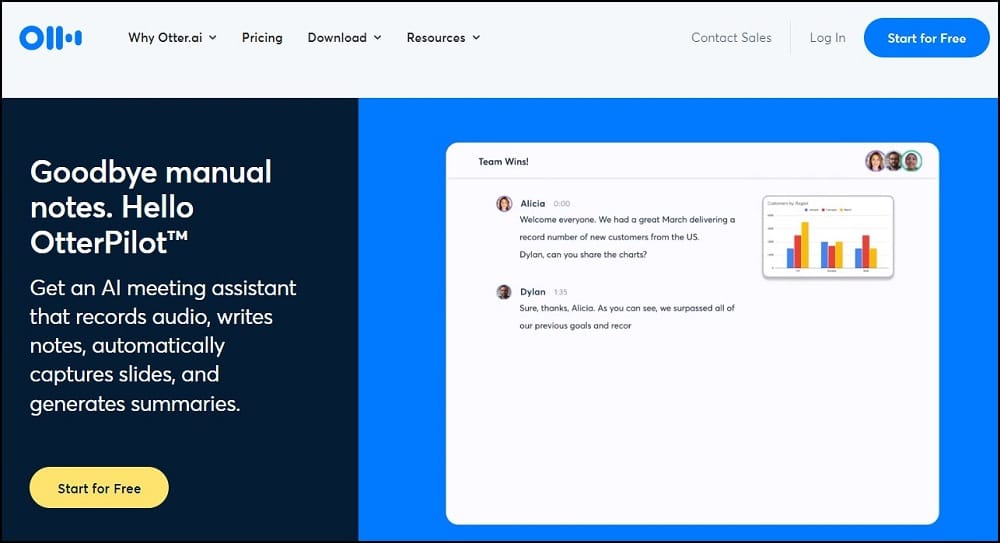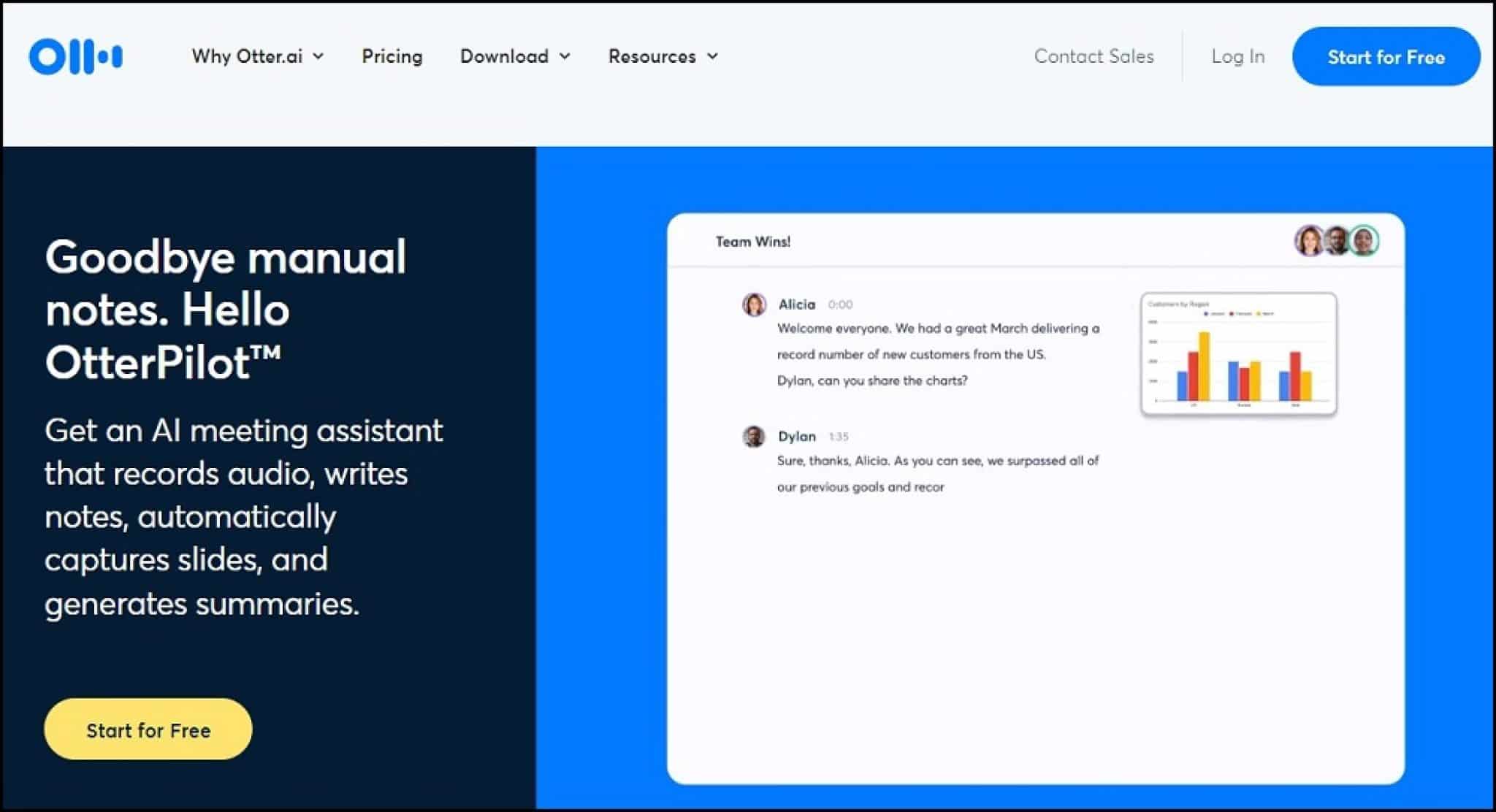 If you are looking for an effective way to improve your routine daily productivity, here comes the Other, a perfect ChatGPT alternative for your workday. In summary, Otter is a personal writing or editing assistant. It can perform multiple tasks, from writing notes to recording audio, summarizing conversations, transcription, and event-capturing slides.
Thus, it can simultaneously take notes while transcribing. Thus if you are a scholar or a lecturer, Others get you tuned abreast of cannabis and other things. It also offers real-time captioning and converts your audio to an article with a click. This aims at maximizing your efficiency at work and specifically in conversation.
No more manual notes as this AI chatbot works at your comfort 30 times faster. The software has helped multiple students as it enabled successful faculty for transcription, empowering productivity, and sorting you in meetings. Though there is a free Otter AI, they have the Otter specifically for businesses and other educational means. Giving a free trial before getting a premium education or business package when ChatGPT fails to transcribe.
---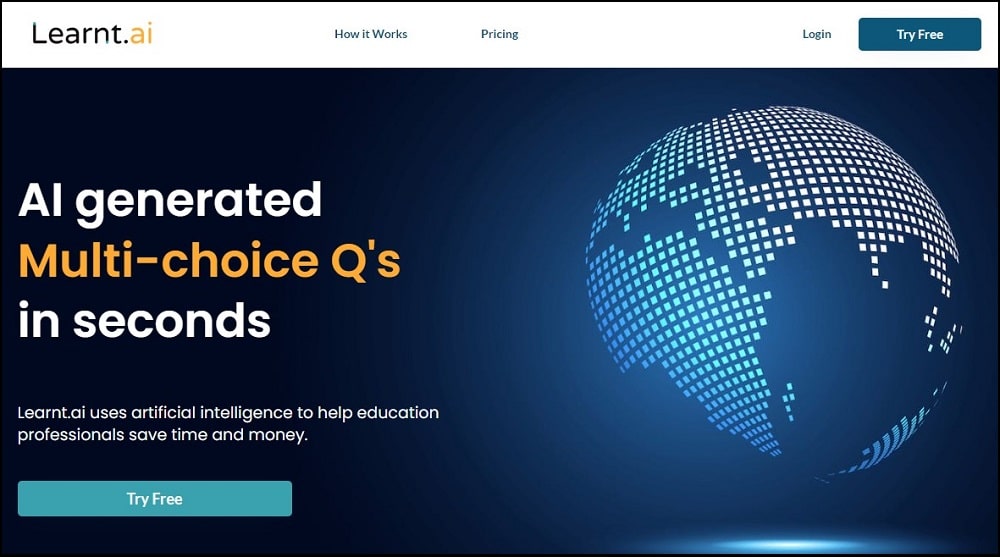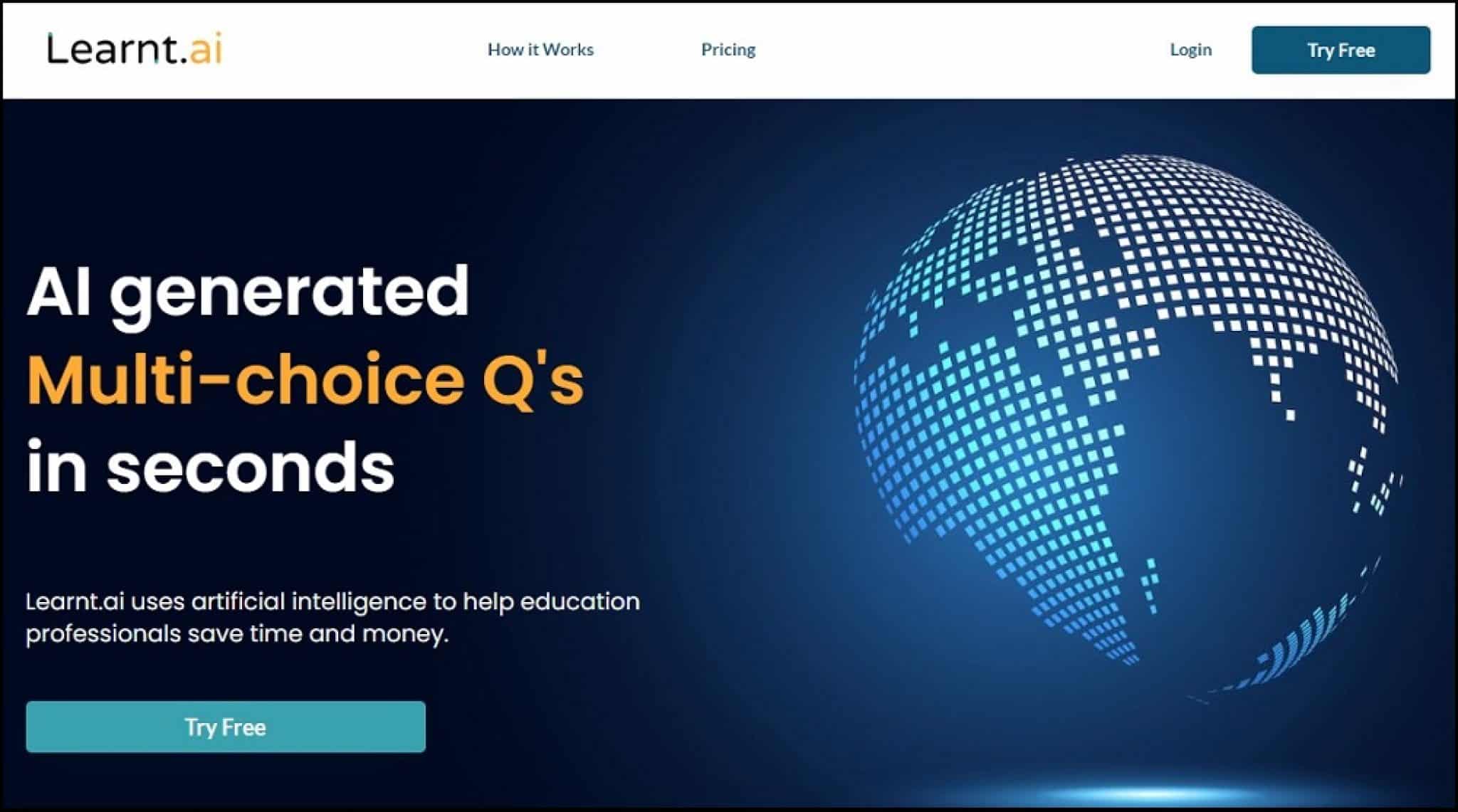 Like the ChatGOPT chatbot, Learnt.ai offers results in seconds covering group activities, homework, set projects, emails, assessments, course outlines, Ice Breakers, feedback surveys, outlining objectives, course titles, and many more.
This tool relies on AI to help the education profession, saving money and time to carry out other tasks. You only need to select a tool, include the prompt, and generate feedback quickly. Learnt.ai chatbot is developed to target the education sector by automating the generation of high-quality academic work.
Learnt.ai is meant to augment rather than replace and inspire education progression in creativity and engaging work while ensuring they adhere to the education practices. Sign up for free and access 65 and above tools with the AI sidekicks. Still, it utilizes the GPT language generation model to mimic human behavior.
---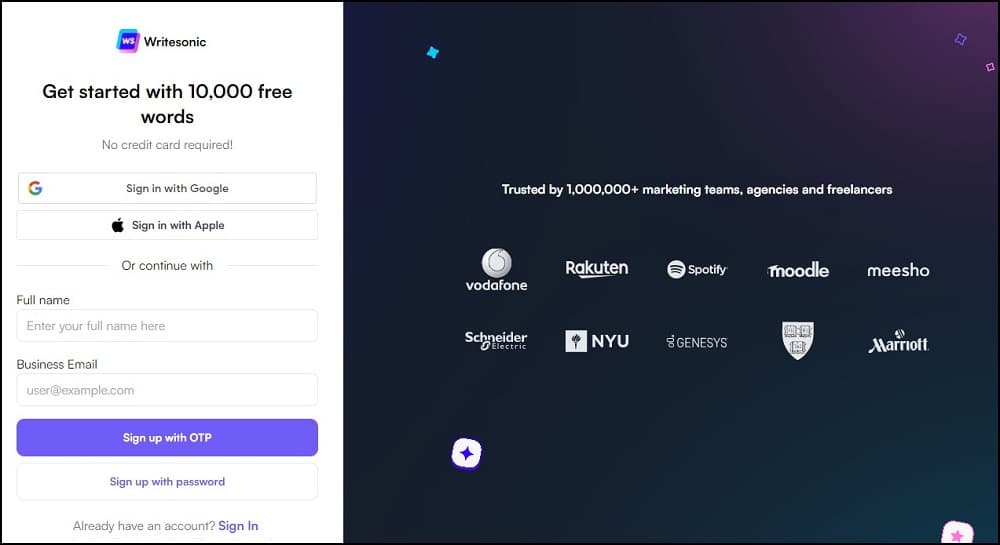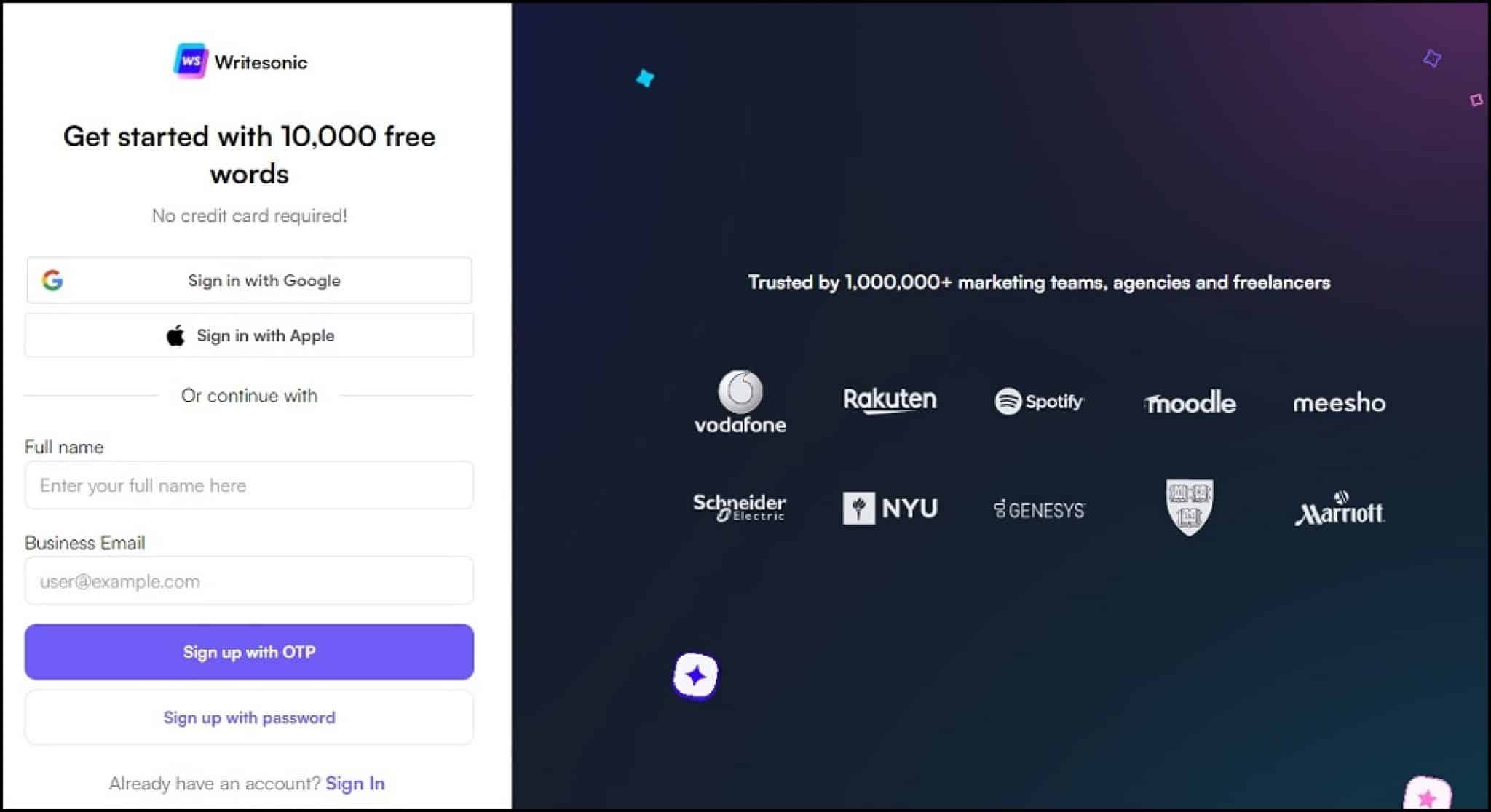 The last ChatGPT alternative on our list today is Botsonic. This is a chatbot developed by Writesonic and comes with a simple as well as user-friendly interface. That is a platform that allows integrating it and customizing your website. You only need the API key or embedded code to get started with this chatbot.
The chatbot also relies on NLP technology which includes GPT-4 model power. For all the customer support services, Botsonic is all you need as a ChatGPT alternative with an ever-advancing customer experience. You can customize the chatbot with a unique color, welcome message, and logo for your business. It also has the option to offer the number on your site when a customer needs support.
This bot is used by millions of freelancers in writing agencies and marketing teams. However, this app is available on the Writesonic application, which means it's a premium chatbot. The bot offers an everyday experience on the site. It creates an automated conversation between customers and businesses or freelancers. Thus mostly used by website owners for managing customer interaction 24/7.
FAQs
1. What is an AI chatbot?
Some people, especially those new to the AI industry, do not understand the AI chatbot. Thus, an AI chatbot is a software, a program, or an application developed to simulate conversation that mimics a typical human's behavior.
Conversing with the chatbot makes you feel like talking to a fellow person. Besides ChatGPT, many AI chatbots have been designed online, ready to take our world to the next step. They will help write academic works, research, website content, business management, and even calculation.
2. Are there better ChatGPT alternatives online?
While ChatGPT is introducing multiple advanced features, there are so many limitations that this chatbot comes with. Therefore, there are always better alternatives that you can count on while evading the ChatGPTlimitaions. In fact, in the above article, we have shared a detailed list of the best ChatGPT alternatives designed for a specific task.
The popular ones include Chatsonic, Blood, Chinchilla, etc., and every alternative we have shared with features curated to offer maximum results on a particular area with minimal edits or corrections to make it perfect. Go through the above list and make the right decision anytime ChatGPTindiactes low capacity.
3. How can I open access to ChatGPT and use it as a Google search engine?
Well, this chatbot is available through the OpenAI website. The chatbot offers free but with limited word counts, and a premium version is paid monthly. The fact remains that customers can never rely on ChatGPT as a Google search engine.
One of the limitations is that it only offers results with information that only goes up to. Still, it was designed as a large language model rather than a search engine. To access real-time data or the latest information, consider ChatGPT alternatives that meet your expectations. Such includes Chatsonic etc.
4. Why is ChatGPT always indicating the capacity error?
First, ChatGPT has been down lately and indicates low capacity when you request something. OpenAI designs this chatbot, which means it is AI-powered. Due to its popularity, many people use it to generate data through its natural language.
The chatbot can access even archived publications while mimicking unique writing styles. At the same time, numerous requests overload the servers, indicating capacity errors. Users have now left, complaining of being unable to access the ChatGPT services often. To overcome such, the developer thus decided to limit the users accessing the services over time.
5. Who is the founder of ChatGPT?
Going back, ChatGPT is based on the PT-3 model, and OpenAI owns it. This is a research laboratory that focuses on artificial intelligence. But because of its popularity and the large number of users worldwide, the chatbot has faced challenges, capacity errors, always being down, etc. The good news is that the above alternatives work well in handling specific tasks depending on your needs.
Conclusion
ChatGPT is a popular AI chatbot designed by OpenAI to simulate conversation while mimicking human behavior. While it's been excellent and delivered limited data, it gained many users that now overload the server with simultaneous requests. For this reason, the chatbot has been down in casting capacity errors often, which calls for a second alternative.
In the above article, we have shared numerous ChatGPT alternatives developed for specific tasks. Form academic work to article writing, coding, and generating artwork. Try them and enjoy the solutions, speedy results with guaranteed efficacy, with access to real-time information that outperforms ChatGPT. Worry no more and work efficiently.