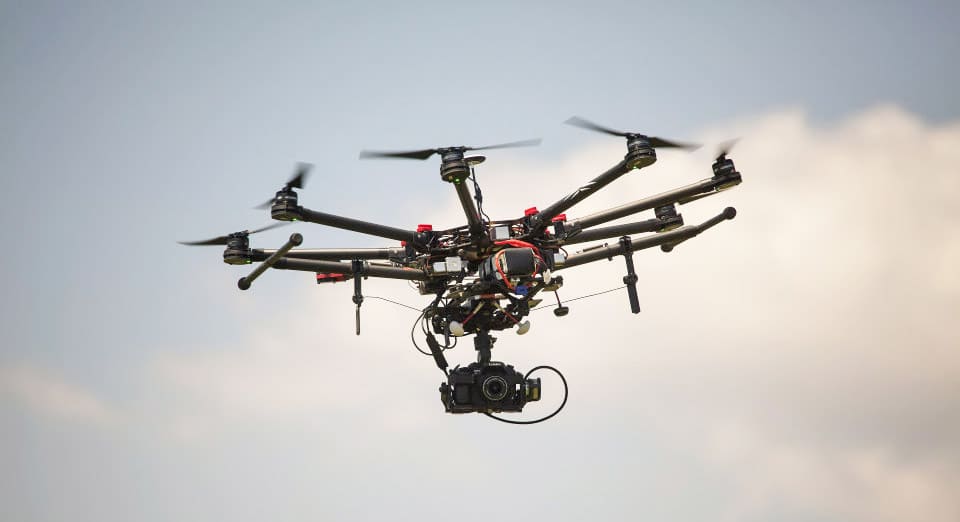 There is still a bit of stigma against drones for some people. Some see drones as a nuisance, used by creeps and other weirdos to spy on people. Others see drones as a dangerous tool to perform crimes. However, these misconceptions can't be further from the truth. There are plenty of innocent activities you can do if you have a drone. These include:
A unique perspective for photographers. Whether you're a hobbyist or a professional photographer, the mobile drone camera can take some unique shots. You can see unique angles from above your house, from the trees, and anywhere else you can't reach. It can be a great selfie tool. There are plenty of good photo drones for sale if you want to get some great shots.
This is the same appeal as photos. If you want to capture an unseen side of nature, get a unique perspective to your vlogs, and do anything else that you couldn't normally do without flying, this has you covered. The drone camera footage you can get with these drones can be amazing.
Flying for fun. Just like some people like to play with toy cars, playing with a drone can be good for fun. There are no ill intents when it comes to flying your drone around and figuring out its limits.
It can be good for your job. If you take photos for a living, this is an obvious one, but they can also be good for a relator who wants to sell a house, a journalist trying to get a scoop, and inspecting buildings you normally couldn't easily reach. If your job could use a drone, buy one.
It's a good social tool. There is a community of drone flyers for you to discover, and they are all cool people who just want to have fun. You can get out and meet them, trade tips and tricks, and make some new friends. Also, flying a drone encourages you to get outside, which is awesome if you're sedentary.
---
Top 10 Drones to Check Out
You may be wondering, "I'm buying my first drone. How much is a drone worth?" Whether you're on a budget or you have some money to spend, here is a diverse list of drones you should check out.
Why We Like It:
Let's begin with a drone that is purely made for flying, and targeted towards kids. At $23.49, it's affordable for all budgets, but it's not that useful for people who are serious about drones. Instead, it's a cool little toy for young children, for children at heart, or for those who want to try a drone out and want to do it through the most inexpensive way possible.
The drone looks like a flying RC car. Looking at it, it makes us a bit jealous that we didn't have these when we were children. RC cars are cool and all, but they are quite limiting. This thing can fly and can even do a few tricks, such as rolling around.
Despite its cost, it's still built to be stable, having a 6-axis gyroscope that can keep things stable even if it feels like the drone can collapse at any second. Even though it's an affordable children's toy, the last thing you want is your child to be upset after their favorite drone crashes. Luckily, this product seems to entertain, even having LED lights for some night time fun before bedtime.
The remote is simple, having your basic controls for a drone. It should be easy for any kid to figure out, as they probably have done more advanced moves in their favorite video game.
Overall, it's a drone for kids and not much more. If you have a kid, or just want to try it yourself (no shame in that,) what do the reviews say? Reception has been positive at 4 stars average. Many parents have children who enjoyed the product, and for the price, you get a lot of fun out of it. Reading the reviews, however, you can see that the drone is best for indoors, or limited outdoors. Just make sure your child doesn't crash the drone into anything valuable.
Why We Hate It:
Most have pointed out that the drone is a bit fragile, with even a gust of wind affecting it. Obviously, it's not built to last like more of the advanced models out there. Others have said the drone came in broken, but that may just be a defective product.
It's a drone for kids; what more can we say? If you have a small child, it's definitely worth it, as it can make them reach for the sky.
---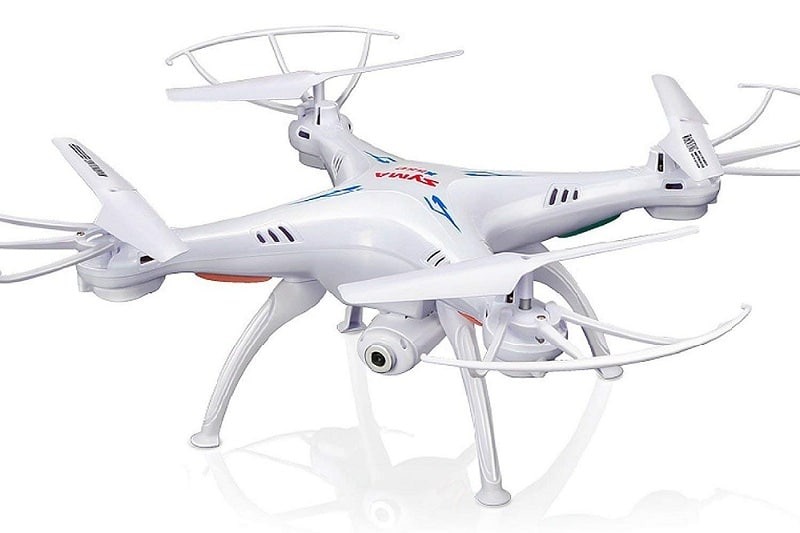 Why We Like It:
This is one of the cheapest drones available for photos, so it's good whether you're a beginner, or still unsure if drones are for you, the Cheerwing is a drone without much investment. It's only $35 with Amazon Prime. It has a Headless feature, which allows the drone to move forward without affecting the nose. This makes it a lot easier for pilots to fly the drone without much hassle, making it great for kids or newbies.'
It has an HD camera for video and photo, but it is basic HD at 720p. Don't expect more than webcam quality when flying this drone. If you want a DSLR experience, you have to pay more. Despite this, it's a great way to test the photography of a drone. We highly recommend giving it a try if you want to enhance your photos. You can connect it to your phone to look at your photo as the drone is performing.
Many drones do tricks, and this drone has a 360 degree roll option. It's definitely lacking compared to other drones, but for a budget drone, that is to be expected.
Let's look at the reviews. On the Amazon page, the reception is a bit mixed at 3.5 stars. There are over 1,500 customer reviews as well, so this makes it a bit interesting when it comes to digging through opinions. Let's look at some of the most helpful reviews to help filter everything out.
The positive reviews have pointed out that despite its price, it's quite durable. One reviewer said the drone crashed into a tree, fell off, and was perfectly fine. Others have pointed out how easy it is to change the parts if you want to enhance it or make repairs. The simplicity of the drone has also been a plus, with many reviewers pointing out that it's great for a child.
Why We Hate It:
Being a cheap drone, plenty of people had some more negative experiences, however. A few people have said that the drone didn't follow directions, flew away, and then disappeared. While it's only $35, losing the drone is still painful. With cheaper models, there is more of a risk for this happening, so beware.
Overall, it's a bargain drone. It's good for beginners, but you need to be prepared and monitor the drone carefully, as it may fly away.
---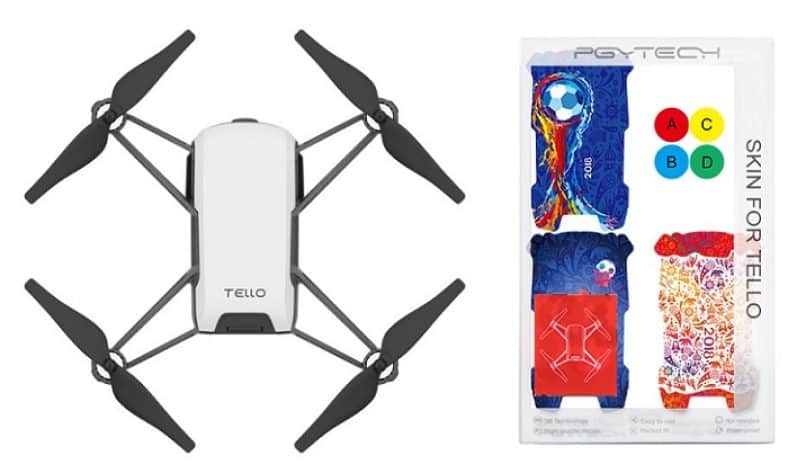 Why We Like It:
If you're looking for a budget drone, this is one of the best. It's just under $100 if you want to get it without the controller. If you really need that controller, the drone is around $24 more. Either way, it's a cheap drone, and this makes it good for beginners who want to get the experience without paying too much and risking their bank.
The drone itself is good for any age. For kids, it can teach them more about coding and flying. If your boy wants to grow up to be a pilot, this may be a good way to teach them. The drone has some VR headset capabilities, which make you feel like you're in the drone watching the sky around you. The battery is quite good for the price, and you can always have the option to buy an extra battery if you please. It's a stunt drone, so you can make it do some cool flips too.
And of course, the drone comes with a camera that takes decent photos for the price. You can easily share them and the drone has a feature that does some of the work for you.
Now, let's talk about the reviews. What are the people saying? This drone averages at about 4 stars on Amazon, making it a highly rated drone for the price. The positive reviews point out that it's a good drone for the price and can take some good photos that are quite crystal clear. For many, they had an easy time setting up and flying the drone.
Why We Hate It:
Some reviewers had a hard time connecting the drone with their phone, and their Wi-Fi connectivity was spotty. Others pointed out that the drone doesn't fly that high, but that's to be expected with a drone of this price. Overall, if you're interested in a drone for beginners, this may be a good first step. However, with a budget drone, expect some shortcomings and be prepared to hit up customer service a few times should the drone have problems.
---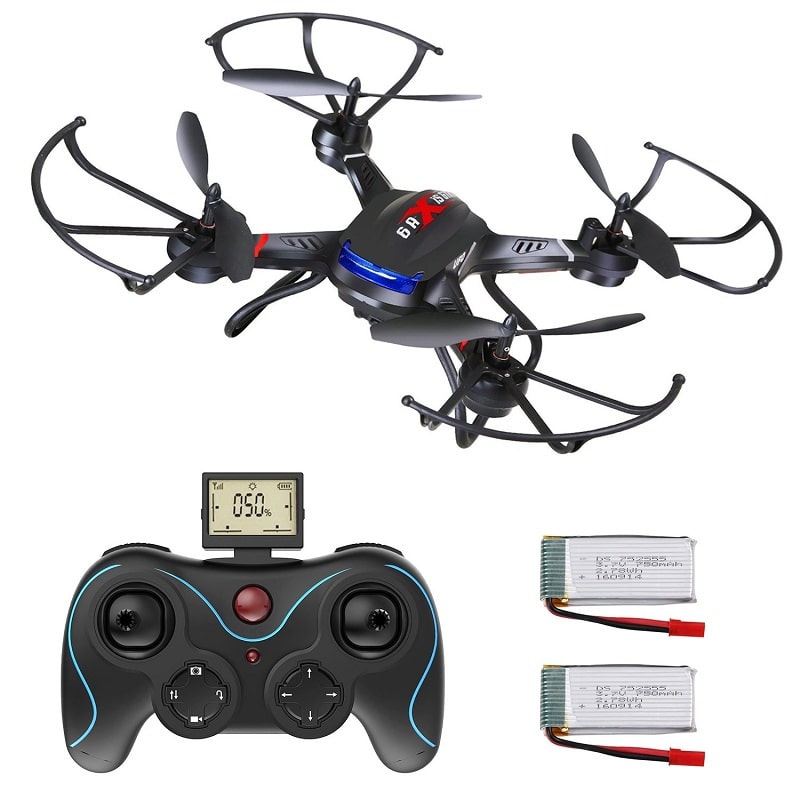 Why We Like It:
This drone is made for children, so most adults won't find much use out of it unless their budget is stretched really thin. It's about $50, so expect no amazing features out of it. However, for the price, you do get quite a bit.
It comes with a camera that uses Micro SD as storage. The camera itself is HD, but only goes to 720p, and there is an option for videos as well. As you can expect, the drone is extremely easy to fly. Being made for children, kids and adults who can't figure out a more advanced drone can fly this in peace. It can do some unique little flips and rolls, but don't expect it to go too high. With that said, it does have a 6-axis gyro and it's 2.4 GHz.
The drone does include a feature known as Headless Mode, which helps you find the drone and prevents it from being lost. With a press of a button, you can be able to call the drone back should you lose it. Being made for children, it naturally comes with features to make sure your kid doesn't lost it.
While the drone is budget, and made for children, the reviews have been extremely positive. It has a 4.5 star review on Amazon, but to be fair, there are only six reviews as of this post. Both kids and adults had quite a bit of fun using this drone, so don't feel like you can't buy it if you don't have children. People enjoyed the decent battery life, the fact it could resist some damage, and just its overall performance. While it lacks the features for advanced flyers, it's considered to be a great drone for those who are starting out.
Why We Hate It:
One criticism is that the drone sometimes doesn't listen to you when you're trying to tell it something. The headless mode seems to have some problems, and the camera can be finicky if you tell it to do something. However, being a budget drone, you can't expect perfection.
If you're skeptical about getting into drones, and don't want to risk spending too much, this drone may be the best for your buck. Overall, it's well worth the price if you just want a drone that can do the basics.
---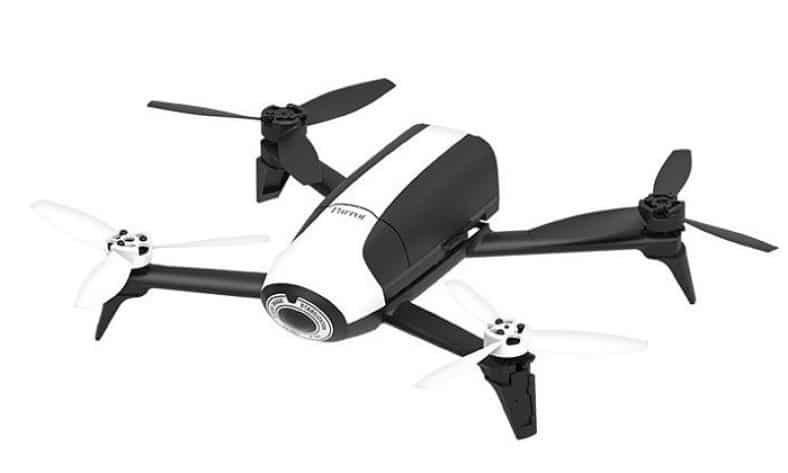 Why We Like It:
The Parrot Bebop is one of the cheaper drones offered by Parrot, costing about $300. It's a drone meant for those who want a portable experience. It's only about one pound, and is able to take some decent pictures, shooting in 1080P for videos and having a 14MO camera. Its stabilization system means you don't get blurry photos even if the drone is shaking a bit. Also, the camera is quite versatile, allowing you to shoot in JPEG, or shoot in RAW or DNG for those who want to have some advanced editing on their photos.
It comes with its own pair of glasses, allowing you to see from a VR point of view. You'll feel like you're small and piloting the parrot as it travels across the sky and around the general area. The flight time is up to 25 minutes, making it quite decent.
Now, it's time to look at the reviews. The reviews have a little mixed, ranging at about a 3.5 star rating on Amazon. People love the quality of its photos and how well it flies. Some have pointed out that it's not exactly a beginner's drone, and you may need to have a little preparation if you want to get the best experience possible out of the Parrot Bebop 2.
VR glasses give drone flyer a first person view of cockpit
1080p camera
Free flight Pro app
Why We Hate It:
Many of the reviewers have complained about Parrot's customer service, with some even saying that while the drone itself is good, the customer service is not. They've struggled to have parts replaced, get a refund for drones that came in defective, and have gotten the runaround when talking to customer service.
What is interesting is that most negative reviews have a comment from Parrot telling them to contact them to make things right. This is a little frustrating for a potential consumer. Did the customer read the comment and try contacting them again? Did things get resolved? It's a mystery. With that said, a drone company needs to have good customer service. And it's hard to tell whether or not a company has poor customer service or if the consumer didn't read all the conditions and is complaining about nothing. With that said, get the Bebop at your own risk and make sure they have a good return policy. Take a ride in the Bebop and hope you get your bounty.
Outer construct made from plastic
---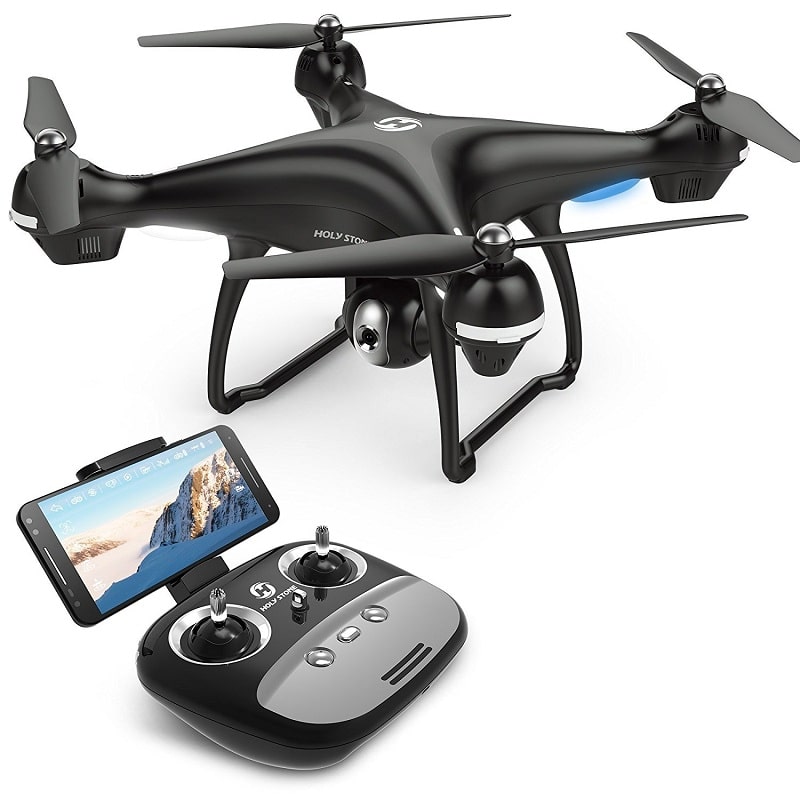 Why We Like It:
This is a bit of a more expensive drone, but it's still at the cheaper end of things at $250. As the name implies, it is GPS assisted, which means you can see where your drone is at every time. There is an RTH (Return to Home) feature, which allows the drone to come back to its starting point when you have a low battery or if the signal starts getting weak. The last thing you want is the drone disappearing because the battery is weak. This drone also has a Find Me Mode, which means the drone will follow you wherever you can go.
It does include a basic HD camera that you can adjust to get the best angle. It also has video options as well. What is unique about this drone is that you can see from the camera's point of view by looking through the drone.
Its battery life is a bit shorter than others, lasting up to 15 minutes. If you want to fly this drone, make sure it's properly charged first before you fly it. Overall, the operation of the drone is quite good, and both beginners and veterans will have fun flying it.
What are the reviewers saying about Holy Stone? As it turns out, this drone has been highly praised. With over 1,300 reviews and an average of 5 stars, you have plenty of experiences for you to look at before you make the purchase.
Reviewers love how easy the drone is to fly. Despite the drone being aimed at older audiences, people have demonstrated their children flying the drone with ease, despite its recommendation that you must be 16 years or older to fly the drone.
Why We Hate It:
The negative reviews have been minimal, but with thousands of experiences, you are going to come across some negative experiences. Most experiences are negative because the drone came in defective. If you're ordering this drone, make sure you can exchange it. Almost all the time, you're going to get a working product, but sometimes, you get a product that doesn't work.
Other reviewers have criticized the customer service, saying they were unhelpful or it was hard to reach. When contacting customer service for this, or any product for that manner, make sure you try email, phone, and every other outlet possible. This can help you get the best customer service possible.
---
This drone is for those who have money to burn, and who want the best quality experience possible. The Parrot quadcopter drone is a whopping $650 for the base alone, but it's worth it. You can spend a little extra and buy another battery if you're going to get more use out of it. For $800, you can get the extended package, which has two additional batteries and a pack you can use to carry the drone. First, it's good for a photographer or videographer who wants the best quality money can buy. You can expect 4K quality and a 21 megapixel camera with this beast. When you're filming, your drone can last around 25 minutes, and it charges very fast so you can continue flying it. It includes other photo features such as a timer and a mode that shoots 10 photos a second, for when you really need the perfect shot. There are other photo wizards the Parrot includes to help you out.
This is a portable drone. You can take it out, unfold it, and then store it whenever you need to travel again. This is a must for people who are travelers, or just people who like a little more portability in their lives. It's not for those who are looking for a beast of a drone.
The drone moves quite fast and can even handle some bullets, in case someone tries to shoot your drone down. It can go up to 55km, or around 35 miles an hour. The controller you use can fold out and it's quite easy to use, making it ideal for flyers of any skill level.
Finally, you can update the drone in order to help it improve. Every software update can help make the drone more reliable and perform better. If you want the best Parrot drone experience possible, you should update the drone regularly.
Why We Hate It:
Some reviewers have criticized the drone for not having obstacle detection and for having to pay to unlock certain features. With any drone, not everyone is going to have the best experience, so make sure you have a return policy handy.
---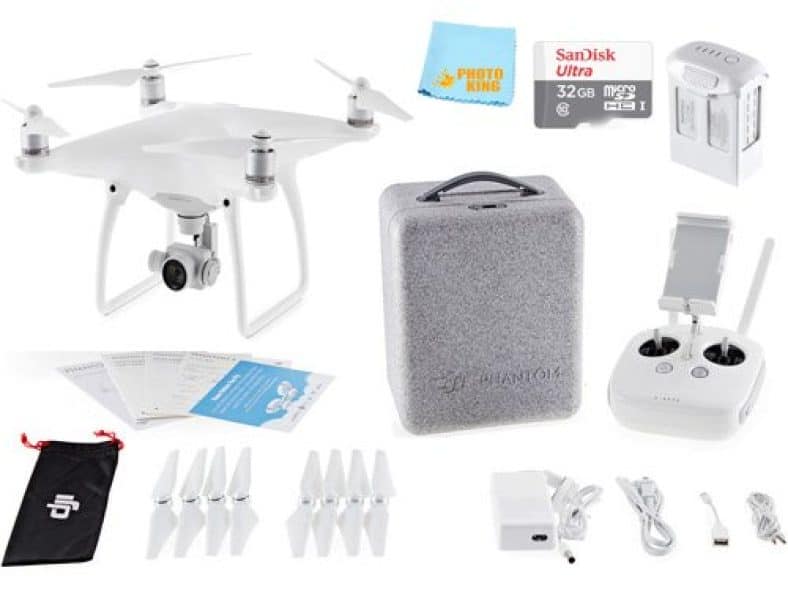 Why We Like It:
At  $839, the Phantom Drone's price is quite big. If you're looking for the best buy when it comes to the Phantom Drone, you may want to get an earlier model that is refurbished. But the fourth model packs quite an amazing punch, and gives you a lot for what you pay for. It has 4K video, 12 megapixels, and the camera comes with a powerful visual sensor. If you are flying in an area with a lot of obstacles, this may be the drone we recommend, as it can help quite a bit. The drone has a futuristic vibe to it and it can survive quite a bit of damage. Its top speed is quite fast, going almost 45MPH. Controlling it is quite easy and you can do quite a bit with it. The battery is known for being long, and you can get almost half an hour of flying out of it.
But don't take our word for it. What are the reviews saying about it? Many of the reviews have been praising this product, but there are only three so far, being that this a new model of the Phantom series. People not only love the drone's performance, but one reviewer pointed out that you get more than what is included in the bundle. Many people love the accessories that are included with the drone, so that's a plus. Some of the things included are a memory card that carries 32GB, and a cleaning cloth so that you can make the drone nice and shiny after a day of flying.
4k video
Very light weighing in at 8.82 lbs
Top speeds can hit 45 MPH
Dual Compasses
Visionary Intelligence enables drone to avoid toughest landscapes
Why We Hate It:
One reviewer did complain about the drone's charger not working. With any electronic product, there is always a risk of your package coming in defective. Make sure the product has a good return policy, and you buy from a reputable seller.
Flight time is limited to 27 minutes before batteries need recharging
Storage space limited with 16GB Mircro SD card
---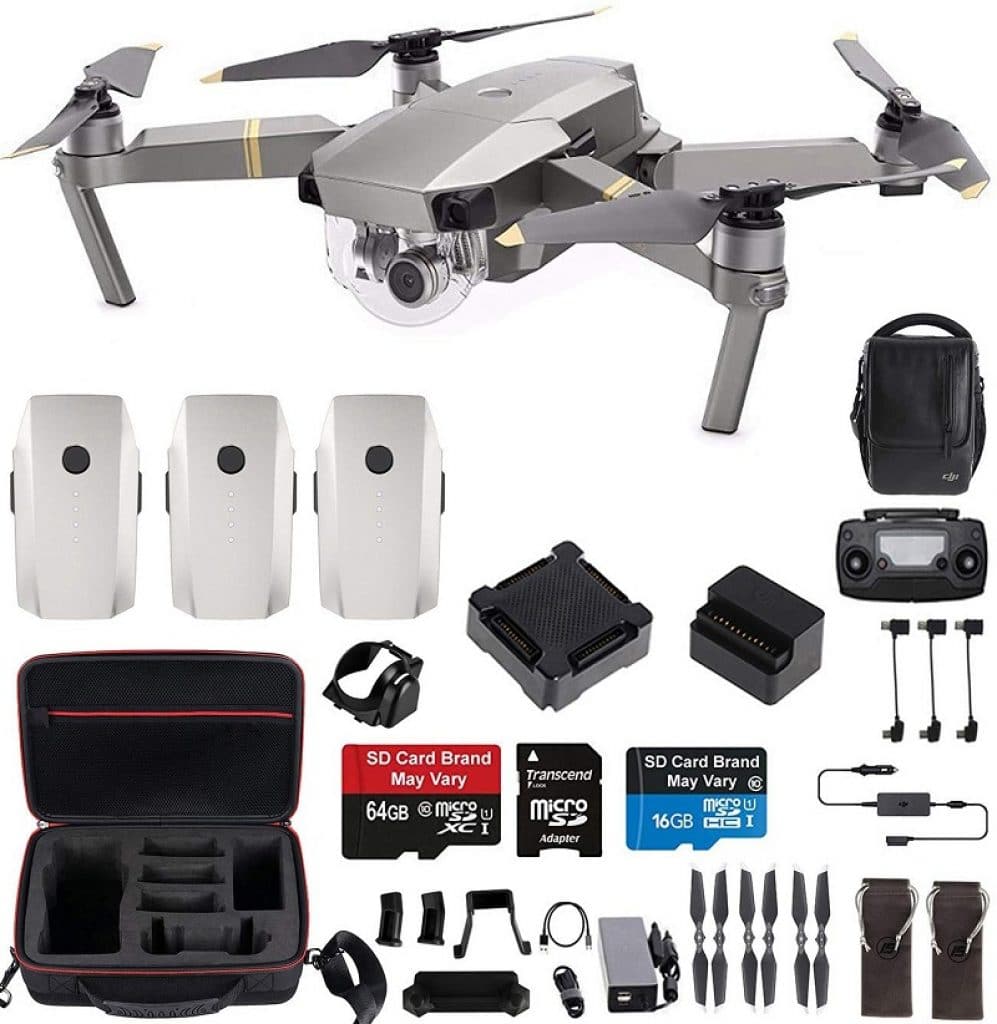 Why We Like It:
This drone is for those who want something luxurious. At almost $1200, it's quite the pretty penny. You can buy a decent used car for less than that. However, if you're a drone pro, and are serious about flying your drone, this may be worth the price. Before you take out that credit card, let's look at some of the features.
Its 4K camera is one of the most powerful cameras out there, giving you the most crisp photos possible whenever you're trying to take some photos. For those who live for photos, this is a sound investment.
Some people want a quieter drone. Maybe they don't like the noise, don't want to disturb others, or need a stealthy drone to photograph sensitive animals. The DJI Mavic drone has low noise technology, with 4 dB less noise than most products.
So far, this is the only drone with a flight time up to 30 minutes. One thing that should be noted with these drones is that you sometimes need to adjust its features in order to have the most battery life possible. It's like any electronic device. There are ways to get more performance, but use less power, and vice versa.
This drone comes with various accessories as well. It comes with an SD card with 64GB, some extension legs to make landing easier, a lens hood to get that pesky sun out of the way when you're taking pics, and much more, including a carrying case.
Now let's look at the reviews. It has 40 reviews so far, with a 4.5 star average. Reviewers have praised the drone for being powerful and easy to fly regardless of your skill level. People have taken some crisp, beautiful photos using the drone. People also enjoyed every accessory that has come with the drone as well.
Why We Hate It:
No drone is perfect. Most of the negative reviews come from the fact that they received defective products. However, they may have bought the drone at an unauthorized dealer, or a third party seller. When buying a drone, make sure that you buy it from an authorized seller that has a warranty and an easy return policy. If you buy it from Joe Schmoe, prepare to be disappointed if you have to take it back. Don't buy from a shady seller just because they charge less.
---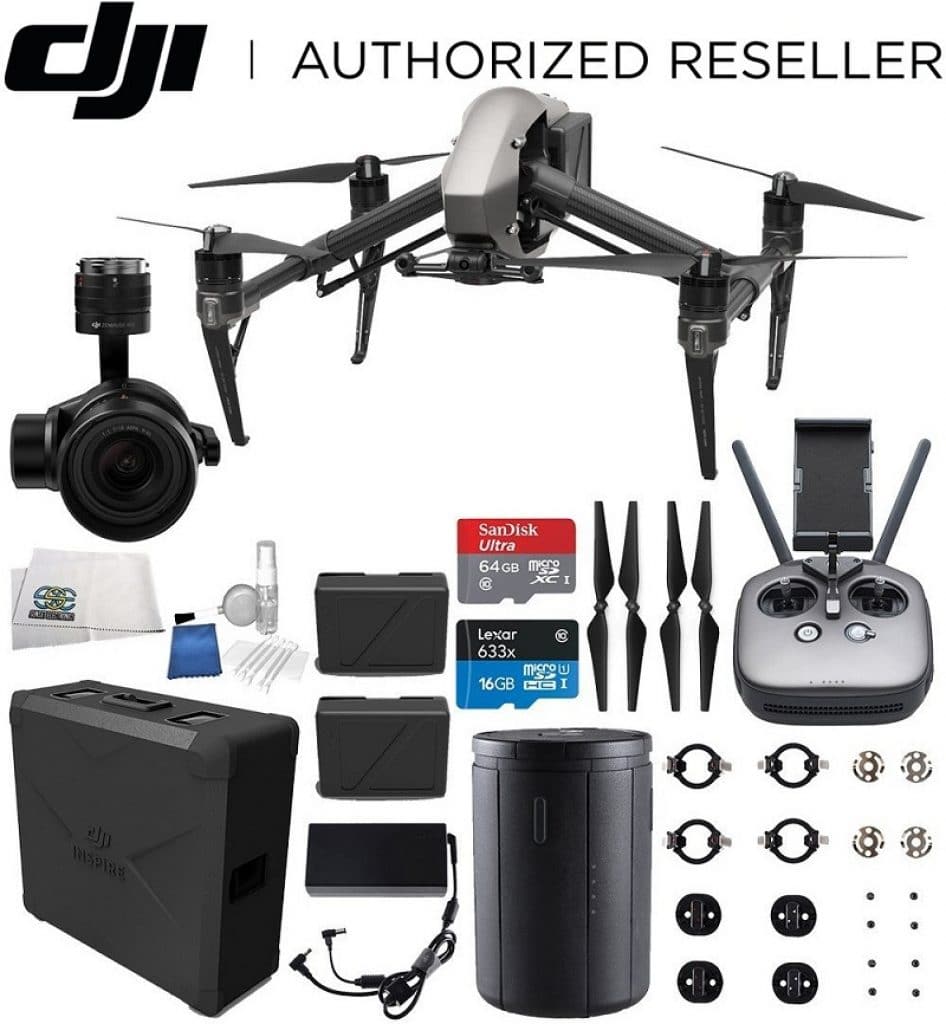 Why We Like It:
For the typical person, they can't afford the DJI Inspire 2. Pushing at almost $5,000, it's a drone meant for professionals who need it to ultimately make a profit, or for someone who is rich. If you are in either of the two camps, or you're a drone enthusiast who saved up a lot of money, you're in a for a treat.
First, the video quality of the DJI is incredible. It has 5K video and comes with a a 2 axis stabilized FPV camera, this limits camera from shaking while inflight.  Some people might not have even realized you could get video that goes up to that, but here we are. The dual battery allows for a long flight time, and it has some of the most advanced obstacle detection out there. It can dodge things you can barely see.
As we said before, this drone isn't for the average person, but if you can somehow afford it, you got yourself a piece of equipment that makes you feel like you own a piece of military equipment. It looks tough, and it can survive quite a bit.
So what do the reviews say? There are only two reviews on the page so far, probably because it's out of the price range of most people, but there are more on bundle pages. The bundle pages include more accessories, and you can expect to pay over $10K for the whole package.
Obviously, reviewers love it due to all its advanced features. The people who buy this product know what they're getting into and will gladly pay the big bucks to get the most out of the drones. There is one critical review, which is three stars. The person didn't like all the updates  you had to make to the drone to make it work. With an advanced drone like this, updates are needed to make sure it's running properly and so that it can improve. The person also didn't like the RAW files the images give out, and how you had to edit them. However, this drone is meant for professional photographers, and most professional photographers take all their photos in RAW format.
If you somehow, someway have the money to blow on this drone, it's going to last you for a long while. Otherwise, you may be better off getting yourself a drone in the hundred dollar range. Don't take out a second mortgage to buy yourself a drone; pay based on your budget.
58 MPH top speed
Cleaning kit included
Speeds of 0 to 50 MPH in about 5 seconds
Strong durable material made out of magnesium-aluminum
Why We Hate It:
Flight time is limited to 27 minutes before batteries need recharging
Storage space limited with 16GB Mircro SD card
---
What to Remember When Flying Drones
These are all some good drones for you to fly, but with that said, here are some tips to make your drone experience as smooth as possible.
Fly legal. With the drone industry booming, many states and countries are trying to keep up, and the laws you'll face depending on your country, your state, or your local area may change. You may need to fill out some paperwork and register your drone. There may be zones where you're not allowed to fly your drone. While some drone flyers may wrinkle their nose at the idea of the government trying to intrude when it comes to their hobby, the law is the law. Click here for a list of laws by state. If you're still unsure, talk to a law expert.
You don't need to go to a flight school and spend years of training to fly a drone, but if this is your first time with a drone, it's best you try a flight simulator before you go out and fly. There are plenty of flight simulator apps that can make the job much easier. Test out a few of them and get to flying. If you feel confident with those, you can fly the real McCoy.
Be aware of your environment. Obviously, avoiding giant obstacles and birds is one thing, but there are many obstacles that are tough to detect with the naked eye. Power lines and other thin wires are a good example. You may not be able to see these obstacles well, but your drone will be feeling it if it crashes into them.
Try to avoid flying your drone near animals. Even if you don't hit them, the sounds the drones make could scare them, and not only does this affect the animals, but you may be facing the consequences if the animals decide to attack you or the drone.
Don't fly the drone in front of a busy crowd. This may be tempting, but people get distracted easy and this could cause chaos. The real nosy people may even try to attack your drone, and you don't want that!
Make sure you look at the Return to Home altitude RTH before you fly. When you preset this altitude, your drone will fly at a certain altitude when it's heading back to you. This can help you avoid some obstacles that may get in your way whenever you're flying the drone.
Make sure you have a strong GPS signal! This may sound like an obvious one, but many people overestimate a weak signal and then they have to suffer the consequences when their drone starts acting up. Always make sure the signal is as strong as it can possibly be.
When flying the drone, be gentle. Don't push the control stick aggressively. This isn't a video game where you mash buttons to wins. It can be a slow process, and you shouldn't force it.
Finally, regularly check the obvious. If you're flying, make sure your battery isn't low and the weather isn't bad. These tips may sound like common sense, but all it takes is you forgetting to charge the drone, or you not checking your weather app for disaster to strike.
Have fun! Fly smart, but take risks at the same time. Get the most out of your drone and enjoy it as best as possible.
There are quite a few drones here for you to pick from, and you may find one for your need. For the family, there are drones meant for a young audience. For the traveler, there are drones that are lightweight. For the serious photographer, there are drones that can shoot in HD, sometimes in 4K and beyond. And for those who are serious or own a business, there are higher end models. While we have our favorites, it's up to you to find the best drone for your budget. Pick one today.