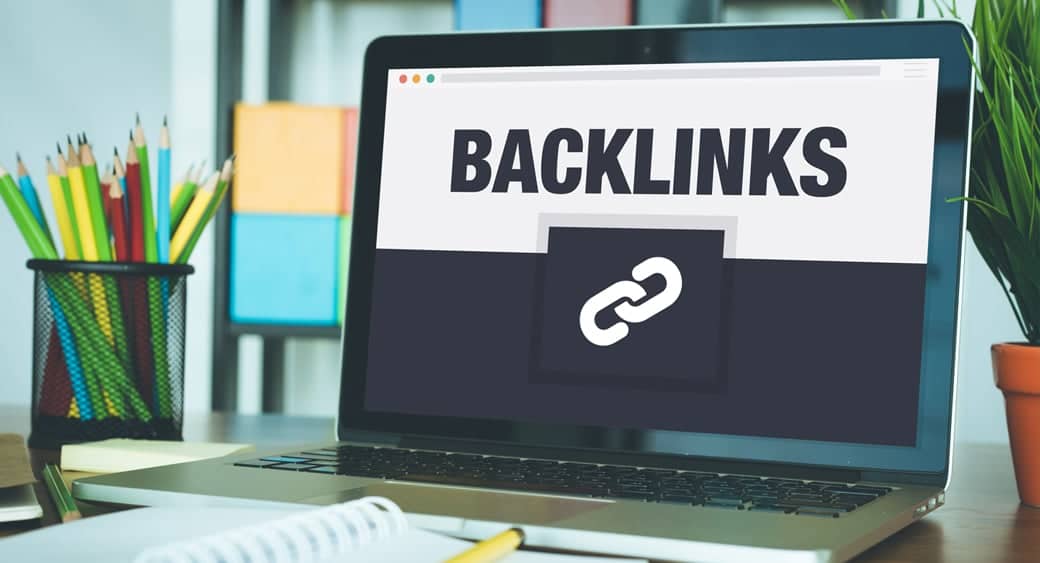 Let's end this debate once and for all – backlinks are important for your business, period! In fact, not just any backlinks, but those of your competitors. Backlinks have long been used to improve the authenticity and credibility of countless websites, and yet we remain unaware of its outstanding benefits. The good news is that we have been benefiting from them all this time. You see, when you are browsing something and find that the information provided does not give you a clear picture, you come across an embedded link that takes you to another website, where the information is explained much more thoroughly.
In layman terms, a backlink is created when a website links to your web page. Your business's online presence can easily go viral through SEO, but in order to make it popular amongst your audience and in your competitor's eyes, you need to have a solid link-building strategy.
Think of back-linking as a movie. The Terminator was, and still is the greatest Sci-Fi movie to be ever created. Arnold Schwarzenegger did a spectacular job in the entire series. At first, James Cameron was the director, but later on, the franchise was sold to Jonathan Mostow. Now, assume that the parts of the movies are websites and Jonathan is the backlink. When people read about the 1st and 2nd parts of The Terminator and want to know further, they are directed to Jonathan Mostow's Terminator 3.

The whole process is pretty simple, so if you are thinking that your business will somehow take a hit if you add backlinks to your website, then keep on reading further. We have a couple of sound arguments that will convince you why backlinking is great for your business. Let us start with a formal intro into backlinks.
---
What are backlinks?
As established above, an essential part of an effective SEO strategy is to build strong backlinks, but without understanding the main concept, you may just be wandering off in the dark for a solution. A backlink is essentially a link of another authority or popular website that leads to your webpage. Technically, these are incoming backlinks that are needed to put a bit of your marketing burden on the shoulder of other websites, so that you can enjoy the popularity and boost the flow of traffic to your site. However, it is not as easy as it sounds. A mix of knowledge, tech-smart attitude, research as well as practice is needed to achieve the goals you have set for your website.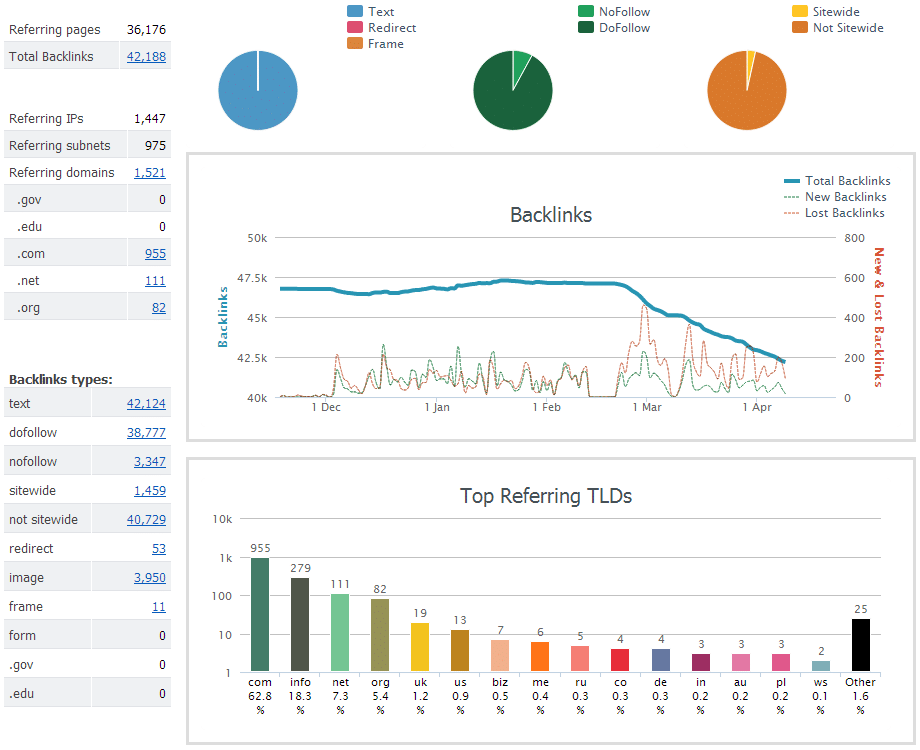 When we talk about backlinks, here are a few terms that you may come across if you are new to the whole scenario:
Link juice is the authority or credibility that is passed on from authoritative websites to your content when you successfully create a backlink. This improves domain authority. You can stop the link juice from passing to other websites with a no-follow tag.
Links often connect from one page to another on the same domain. These are called interlinks, and the process is referred to as 'interlinking' or 'internal linking'.
A no-follow link is a link from a website that has a no-follow tag. This means that they will not contribute to your link building, and are therefore deemed to be a waste of time. Usually, webmasters use no-follow tags when they are linking to an unreliable or irrelevant website.
These links are all those that contribute to your link building, which means your ultimate goal to increase traffic to your website is achieved.
These links come from spam sites, automated sites, harvested sites, and even porn websites. These links actually do more harm than adding value to your website.
Therefore, if you have opted for the easy way to build backlinks, i.e., you have resorted to buying low-quality links that won't do you much good. You need to stay away from low-quality links that may undermine your credibility and ranking.
It refers to the backlinks that come from a unique domain. If a website links to your website more than once, only one linked root domain will be considered. Therefore if you are trying to link your article more than once to the same website, you are not adding value to your page.
Anchor text is the text that is used in hyperlinks. Anchor text works best in situations when you are creating backlinks for specific keywords.
---
Why are backlinks important?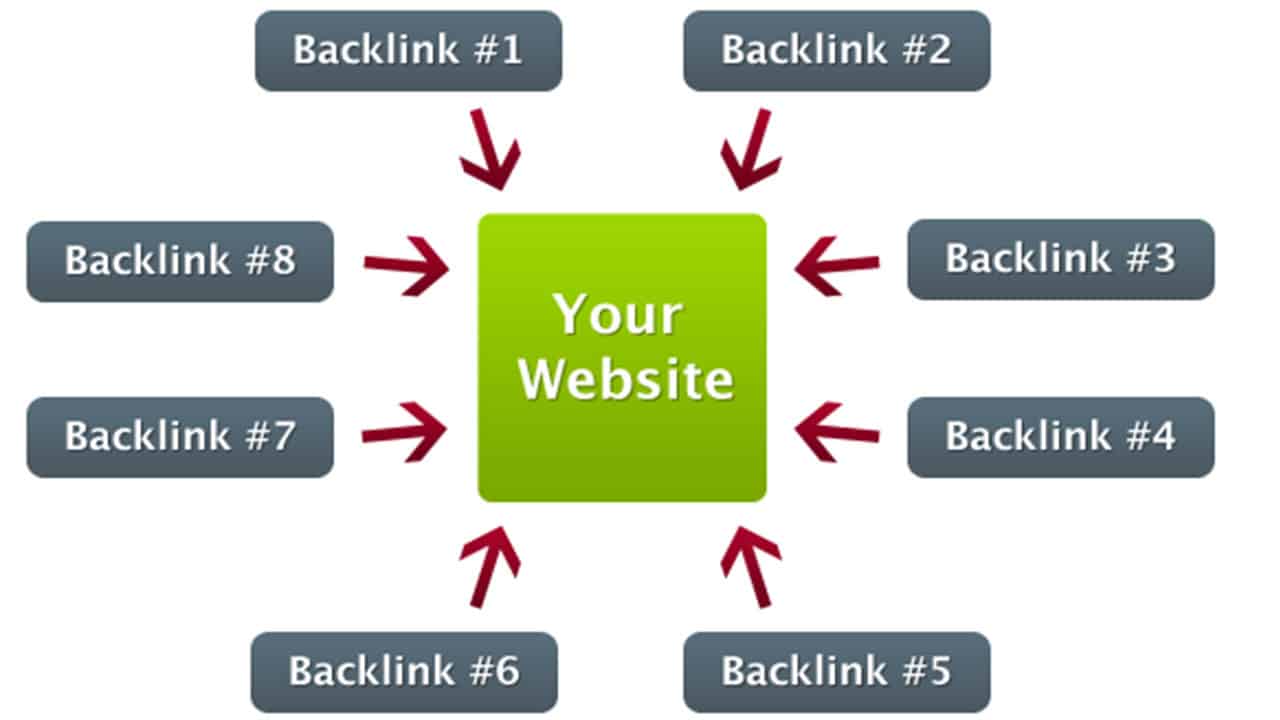 By now, you must have a clear idea of what back links are, so let's take a deep dive into the topic in order to gain a deeper understanding of why they're crucial for your website. Backlinks can be referred to as votes given to your website from other websites. The world of SEO works on ranking, and therefore these votes are a proof of the legitimacy of your website. Popular search engines like Yahoo, Google and Bing use votes to rank websites. These votes provide the reassurance needed to prove that the content on the website is unique, relevant and valuable to its visitors. Therefore, the more quality backlinks (votes) you have, the more likely you are to enjoy a higher search engine ranking.
Algorithms for ranking websites often change to keep the game fair and valuable to the end consumer, since counting the number of backlinks remains at the top in the list of website ranking methods. The links add context to a website, and the web spiders crawl all over the internet to find more relevant web pages and make your content findable. However, not every authority or popular website will help in ranking your website unless it is relevant to your content.
For example, linking your online bakery to a friend's marketing blog may not make the difference in your ranking that you expect, since the two websites belong to two different sectors. In summary, backlinks are important for the following reasons:
They improve organic ranking
Help with faster indexing
Help in getting referral traffic
Let's assume that Mr. Clark has been running a business for 6 months now. His business strategy is all about making sales. He has one product that has a somewhat diluted reputation in the market, which works well in his favor because he is selling his item at a lower price. To save money, he took help from one of his graphic designer friends to build his website. As a new business owner, he decided to make it on his own. The only SEO strategy he leveraged was keywords. Sadly, his webpage was dominantly stuffed with keywords, which created an unusual content style. Months went by and analytics showed, his website was being seldom viewed.
You are probably wondering where he went wrong, right? Well, there are dozens of marketing strategies out there that Mr. Clark could have made use of to boost his website's presence. His misconception about backlinks is what brought him down.
In fact, according to Backlinko, the more the backlinks in a website, the higher Google ranks it in the search engine. If the length of the URL is under 50 words, you will find your website on the first page of Google. From lead magnets to affiliate programs, SEO and backlinks… all these things were lacking in his website.
To make a long story short, after a quick search on the internet, he found out he was damaging his business. So, he immediately hired an SEO Melbourne agency to optimize his website.
---
What makes a high quality backlink?
A high-quality backlink is one that is relevant to your website in terms of content and context. More specifically, focusing on creating linkable assets is better than expecting backlinks from low quality, non-authoritative websites. A linkable asset can be defined as an informationally-driven webpage or blog post. When you create a quality backlink, you do not just add value but also make it more scalable in the long term. Moreover, you continue to obtain new backlinks without additional effort if you have done it right, i.e. created the right content in the first place.
To make sure that you are creating quality backlinks, here are seven indicators:
Relevance
Authority
Link Quality
Traffic
Editorial Standards
Outbound Link Quality
Indexation
Here we have compiled a comprehensive list of the top 5 SEO tools you can use to spy on your competitors and generate outstanding quality backlinks. Let's begin with an all-inclusive product comparison table first!
Compare & Review – Backlinks
Product / Features
Link Opportunities
Verify Link Quality
Building Link Strategy based on Competition
Find Sites That link To You
Verify Links for Link Types
Extra: Link Analytics
Comparison of Sites
Historic, Lost & Live Links Reporting
Anti-Penalty Link Audit
Basic Link Quality Factors
Advanced Link Analytics
Backlink Audit Reports
Import & Analyze Links from ANY Source
No. of Sites Check
Local Rank Tracking
Years in the Market
Price (yearly)
Majestic
√
√
√
√
√
√ Basic
Basic comparison of overall link counts
√
√
√ Basic
√ Unlimited
11
$947
SEMrush
√
√
Possible BUT no special tools
√
√
√ Basic
√

Basic

√

First Seen, Last Seen

√

No-Follow Anchor Text, external & internal links on pages

√

anchors report, IPs report, TLD, referring domains,

√ Unlimited
 √
7
$839
Ahrefs
√
√
√
√
√
√ Basic
Basic comparison of overall link counts
√
√
√ Basic
√ Unlimited
4
$2,148
Moz
√
√
√

Basic Research

√
√
√ Basic
√ Basic
 √
√

No-Follow Anchor Text

 PA / DA, referring IP
√ Unlimited
 √
11
$1188
Raven
√
√
Possible BUT no special tools
√
√
√ Basic
√
√
 √

Very inconvenient Import

√ Unlimited
8
$1188
Product Reviews
You can create high-quality backlinks by using sophisticated software and applications that will make finding competitors' backlinks and your journey to the top rank quicker and easier. Here are a few product reviews to help you get started:
It is one of the most popular backlink checking tools that has helped numerous SEO technicians boost the flow of traffic to their desired websites, since backlinking using several schemes or 'Black Hat' link building tactics were banned by Google. However, the practice of link building can never die and Majestic is here to prove this.
With Majestic's backlink explorer, you can swim around in the sea of links for days without being bored. All you need to do is search for competitors' links and create backlinks for your own benefit.
Once you have decided which website to examine, Majestic will take you to its summary tab and show you the following: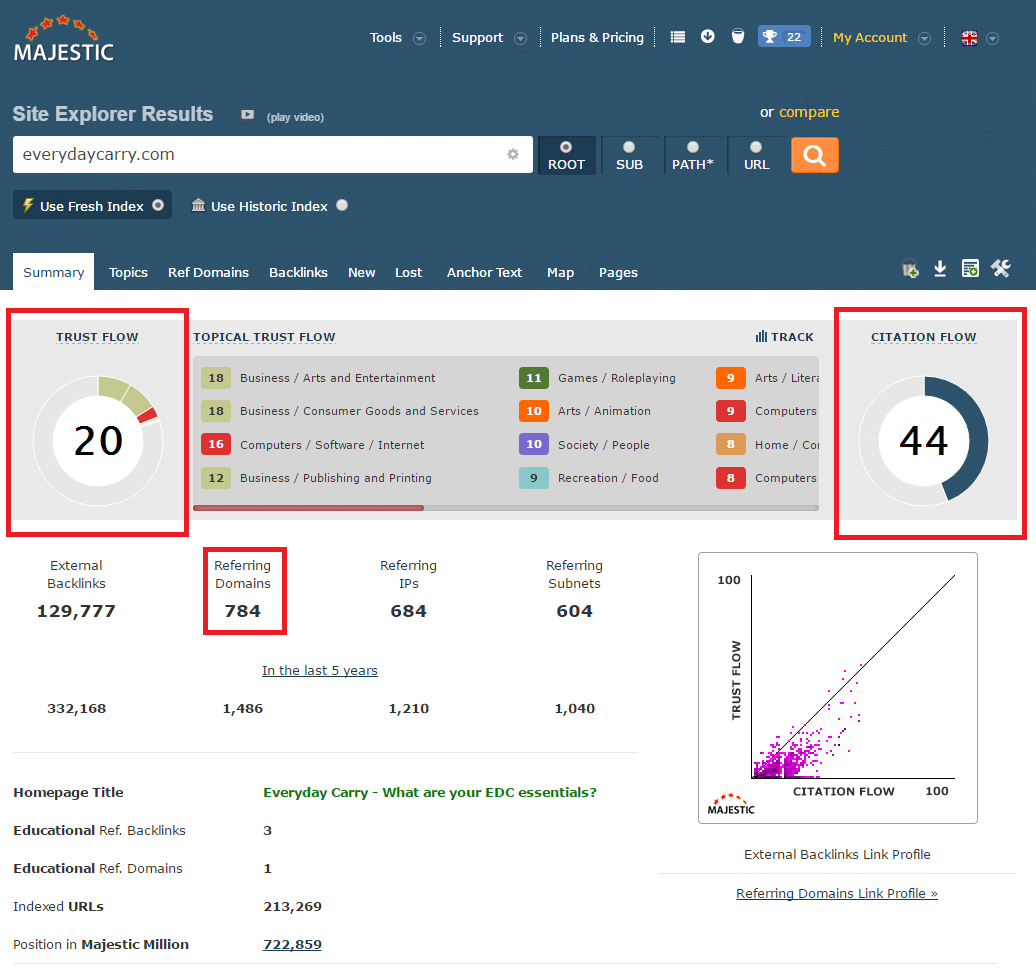 (Majestic SEO Tool)
The Trust Flow – It shows trusted websites from Majestic's review of the web that is done manually. It shows the closeness of your website to a trusted website.
Citation Flow – This is an estimation of the Page Rank, also referred to as link equity. The value is based on the number of web pages that link to your website. The more authoritative your website, the higher is the citation flow.
This explains how many different web pages are linking to the website you are analyzing. This way you quickly understand the ranking power of your competitors. Referring domains contribute more to ranking than the number of domains.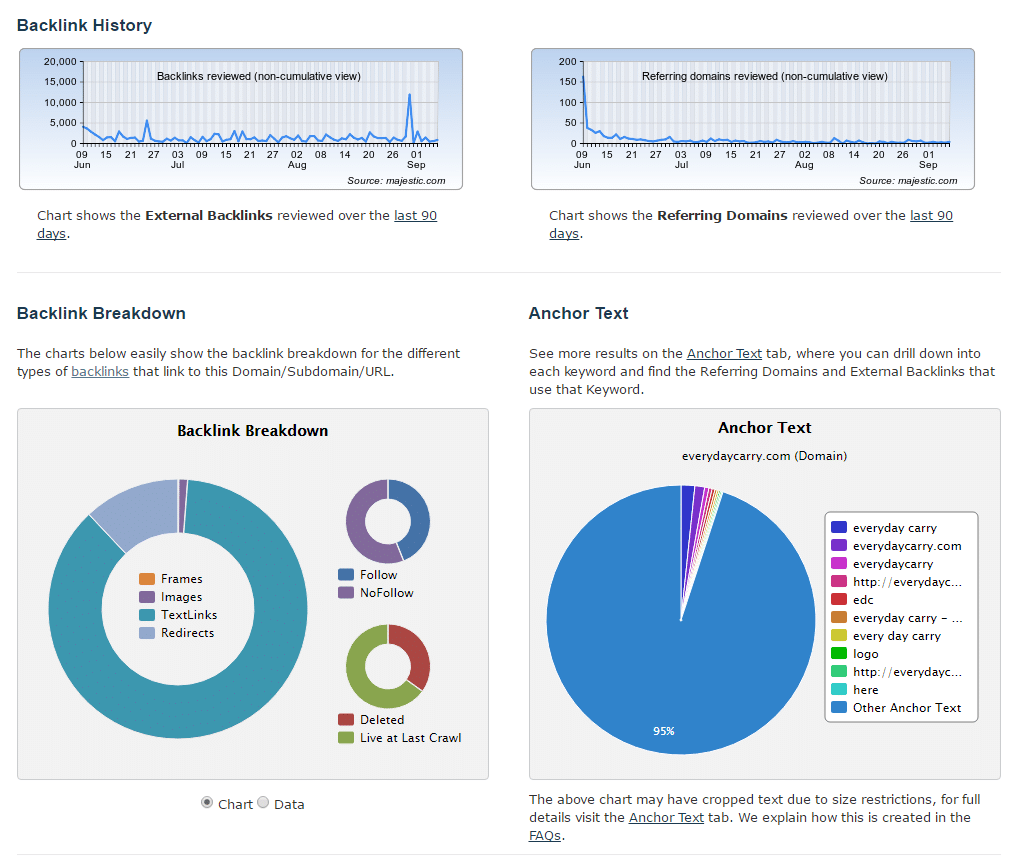 Scrolling down the summary tab, you will also find your competitors' backlink history, backlink breakdown, and anchor text. Stick to the past 3 months and match the spikes from the left graph to the right. Remember, spikes that do not correspond in the right means that those links should be avoided.
The breakdown of backlinks will show what to follow and what not to follow, and any links that have been deleted since they were found. You should focus on Text Links as well as Do-Follow links.
The words that are used in a link reflect anchor text. It helps in understanding what your online business or activity is all about. If the anchor text is abused, which is often done easily, Google punishes the manipulator.
In summary, Majestic offers the following features:
Features:
Keyword Analysis
URL Submission
Backlink Checking
One-click Functionality
Toolkit is a replacement for several expensive tools
PROS:
A Comprehensive SEO solution
Quick & Easy Functionality – Just type in the URL and the site explorer will do the rest.
Printable Reports
Monitoring effectiveness of SEO Strategies for Historical Analysis
CONS:
Difficulty level is assessed as high for beginners
Advanced tools are accessible at a high cost
Majestic is an amazing software that highlights every detail through the summary tab, and also allows different tabs to show the breakdown of the analysis. It offers "Lite" and "Pro" plans, costing $49.99 and $99.99 a month, for one user, respectively. You can find more details on their website or scroll up to review the product comparison table.
---
SEMrush is one of the leaders in the SEO industry that generates vital information to help you with your SEO and link building strategies. It is like a mole in your competitor's profile that helps you track their every move and enjoy the success and popularity they are enjoying. As with several other software, SEMrush also offers a free account and paid services, but the quality of services and facilities that it offers remains unmatched!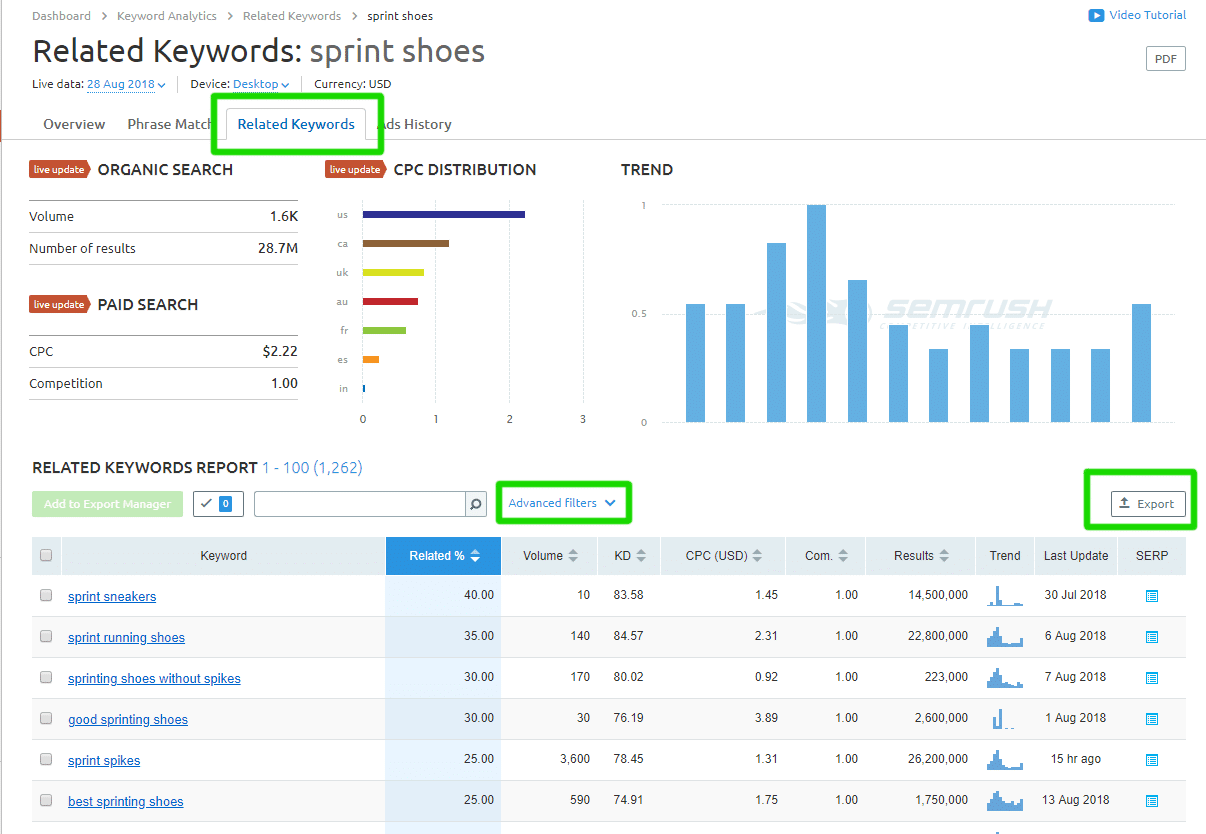 SEMrush effectively categorizes every feature from searching links to anchor text, finding competitor backlinks, related keywords and more. It also helps create links that redirect your website users to a different webpage if your previous link has expired, for instance, the product is no longer available. Moreover, you can even track links according to their geo-location.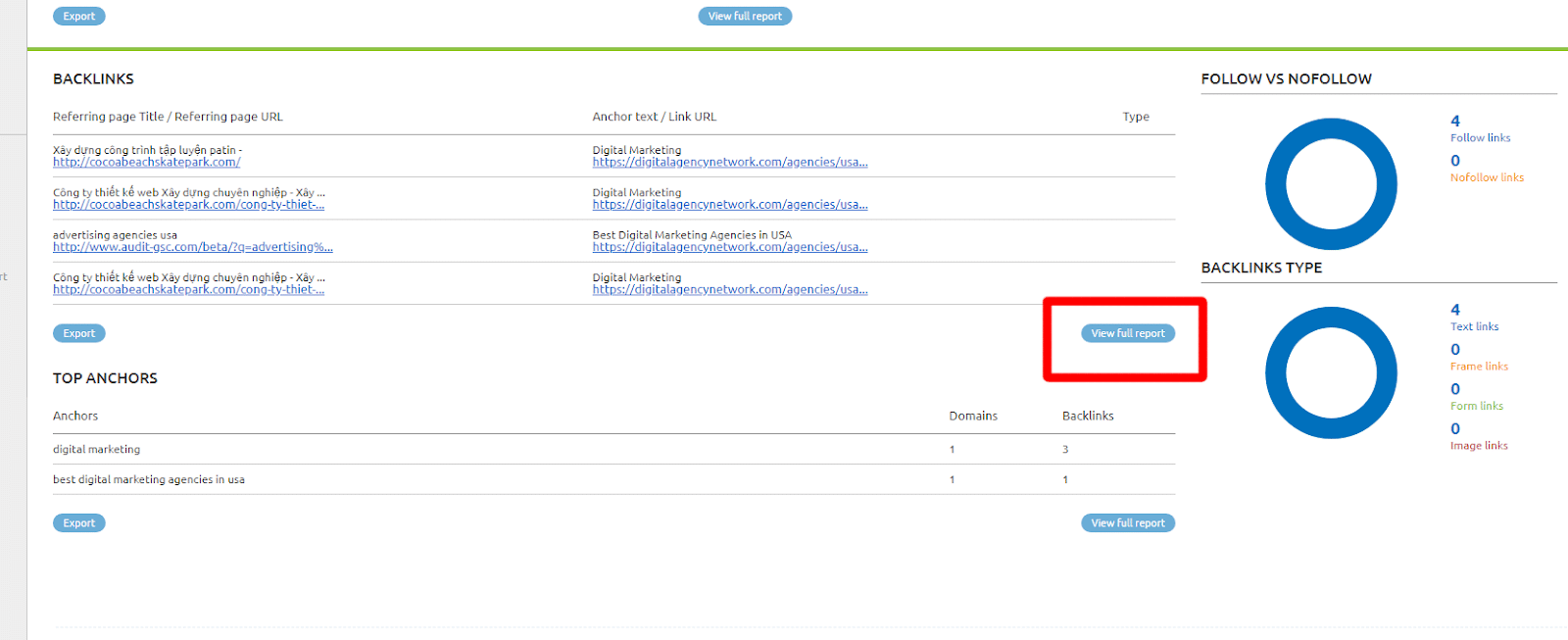 Features:
All-in-One Keyword Researching Tool
Access to Social Media Channels for References & Keywords
Create Keywords and Monitor Project Progress
Backlink Analysis
Competitive Analysis
Website Audits
Organic Traffic Statistics
Keyword Recommendations
PROS:
Exhaustive research of keywords
Prompt recommendation of keywords
Tracking of backlinks
CONS:
No management of keywords
Becomes expensive as you go for advanced options
SEMrush is a complete solution to help you discover the unknown and play better than your competitors. In addition to the free account that limits its features, SEMrush offers "Pro", "Guru" and Business" plans, starting from $99 to $399 a month. You can find more details on their website or scroll up to review the product comparison table.
---
Ahrefs is yet another tough competitor in the world of SEO that is often put second to SEMrush, however, while discovering its features, you will come to know that it is equally credible and capable if not superior. It is one of those software that offer multiple options for SEO enthusiasts and outranks Majestic in terms of performance and analysis. It offers everything from onsite explorer to keyword and content research, site and backlink audits, backlink research, competitive analysis, and rank tracking.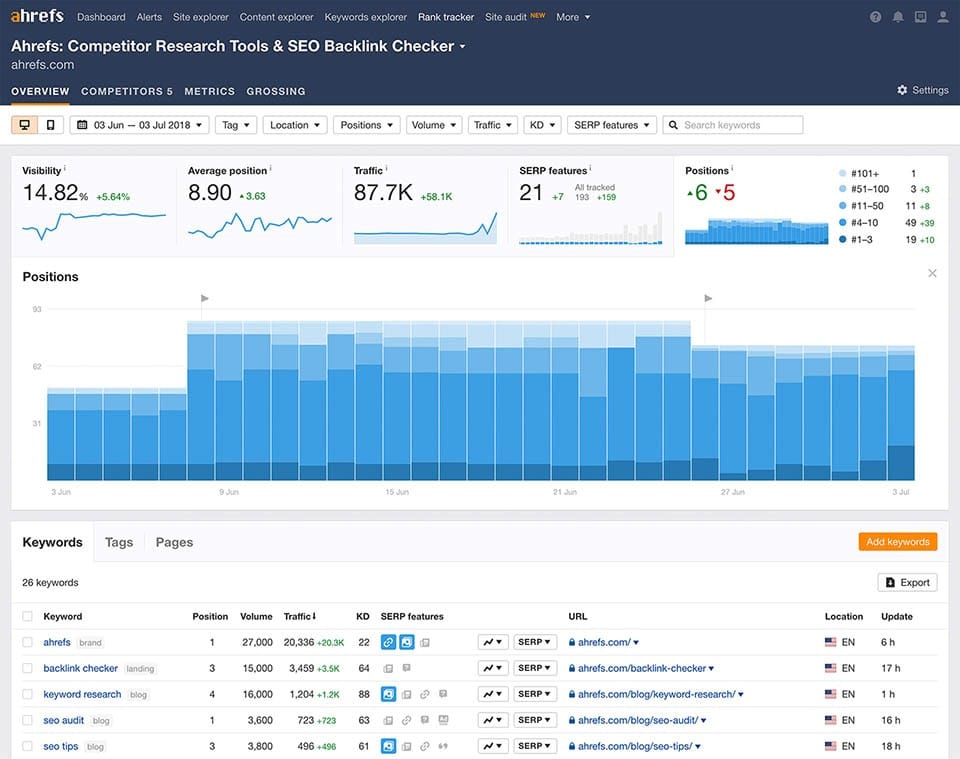 Ahrefs specializes in niche backlink and keyword research, which is more valuable to a business since you may not be targeting the whole world at first. With a simple dashboard and all the features clearly visible at eye level, your hours of work will be reduced to a few clicks and the desired results will be in front of you. Ahrefs also allows its paid users to enjoy some extra features that include Batch Analysis, Domain Comparison, Content Gap and Link Intersect.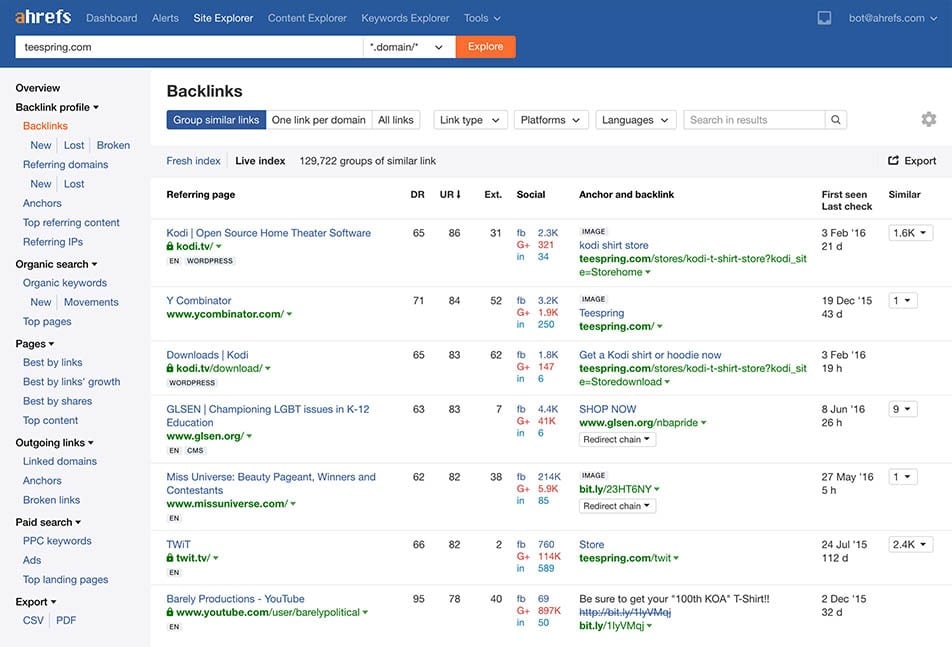 Features:
All-in-one SEO tool
Analysis of competitors' websites for higher ranking
Research on keywords, organic traffic, backlinks & much more
Paid users can enjoy extra features like
Batch Analysis
Domain Comparison
Content Gap
Link Intersect
PROS:
Crawling robot is massive
Email alerts
A huge backlinks database
CONS:
Integration with Google Analytics is not available
Some tools do not function every time
Very expensive
Ahrefs provides several common and unique features through a user-friendly and fast interface. It offers "Lite", "Standard", "Advanced" and "Agency" plans, starting from $99 to $999. You can find more details on their website or scroll up to review the product comparison table.
---
Moz is also one of the widely used SEO software, which combines a vast range of productivity tools. It caters to every SEO and blogging enthusiast through its efficient SEO and marketing tools. The list extends by Keyword research, SEO audit & crawl, rank tracking, and backlink research. It also offers a very capable SEO toolbar.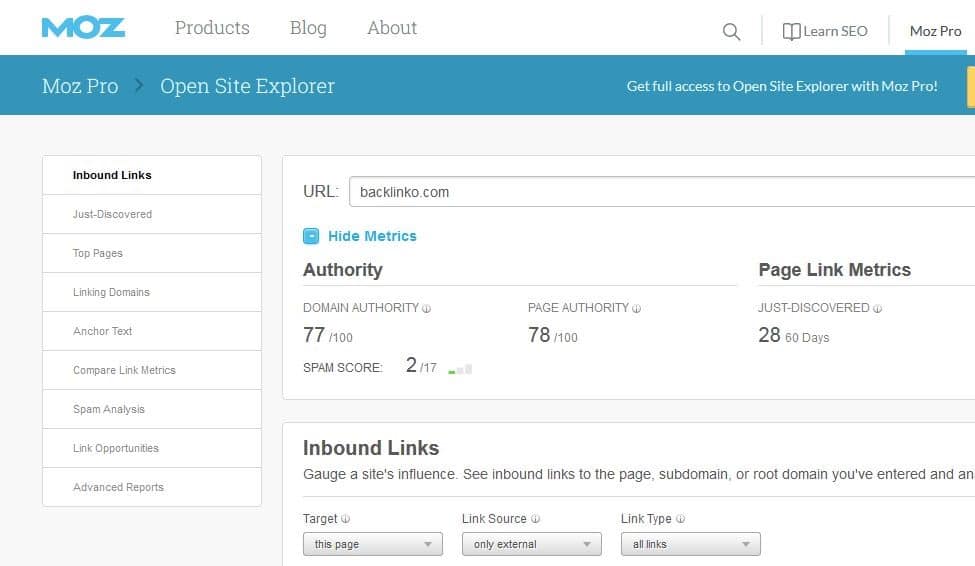 With one of the strongest keyword research tool, Moz also offers detailed backlink analysis as well as the strength of backlink domains. Moz Bar is one of the popular tools recommended for any SEO user (beginner or advanced), who prefers Chrome. Just clicking the Moz Bar icon will bring up all relevant information of a website like Meta Tag, Title Tag, Page Authority, Domain Authority, and much more.
Features:
Custom searches (categorized by country, city or region),
Instant Link Metrics
Deep evaluations of backlink research
Page Overlay
On-Page Highlighter
Authority discovery & scores
Data Export to CSV files
PROS:
Enterprise-level SEO tools at a very affordable price
Intuitive design that allows flexibility and accessibility even for SEO beginners
CONS:
Even powerful SEO tools available, but at a significantly higher price
Search data is not completely accurate. It is a close estimation.
In addition to a 30-day free trial on a number of SEO tools, Moz offers all-in-one Website SEO through "Moz Pro" and SEO-Integrated Business Listing through "Moz Local". The price of the Pro package starts from $999.40 a year. You can find more details on their website or scroll up to review the product comparison table.
---
Raven SEO tool also competes in the running for the best SEO tools around the globe. It is not a dedicated SEO solution, but a digital marketing platform that offers a complete solution – from white label reporting on SEO to paid, social and email advertising campaigns.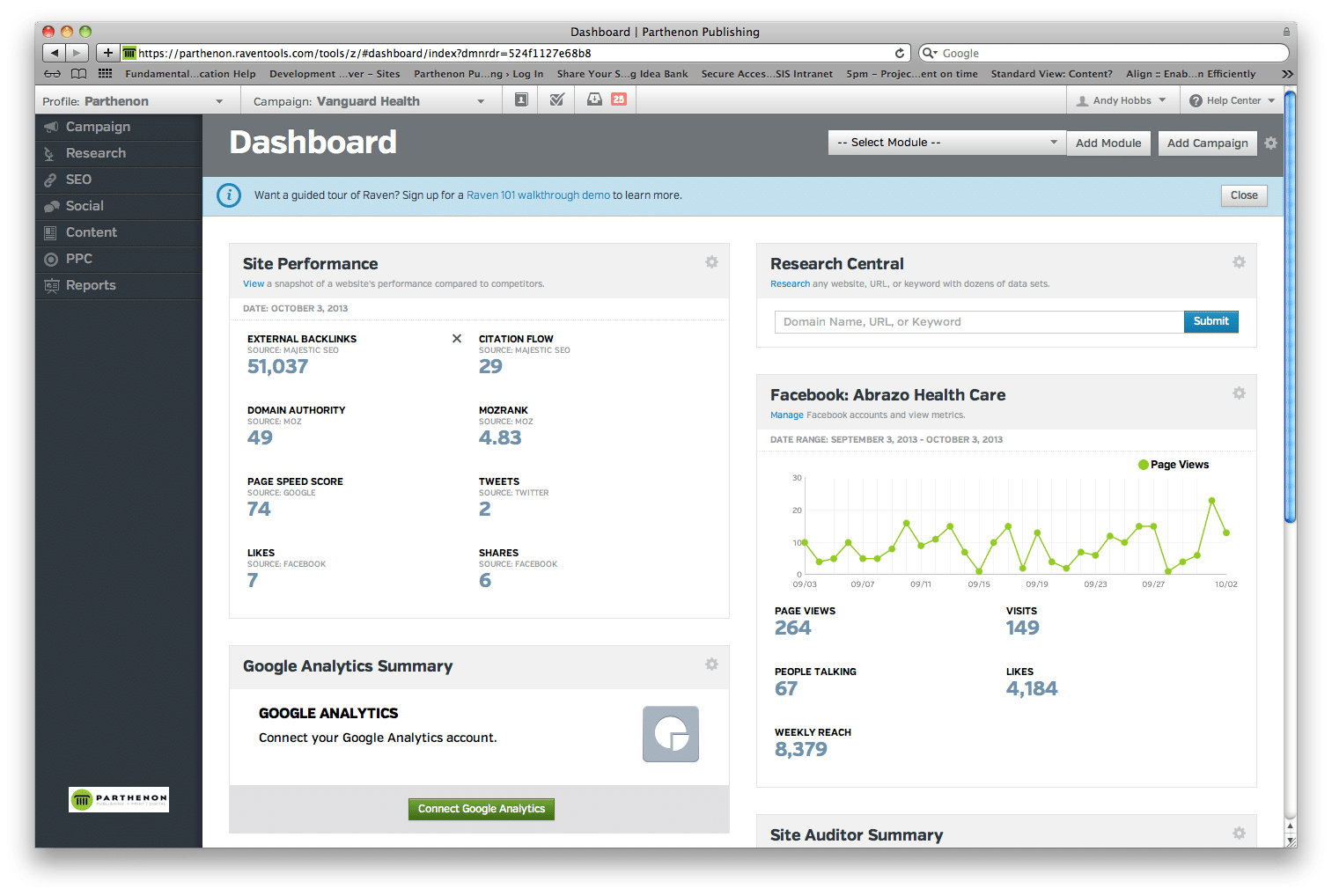 Raven offers amazing branding features as well as countless data connections including Twitter, Facebook, Search Control, and Google Analytics. On the other hand, many users regard it as the number one digital marketing tool with SEO capabilities but do not consider it as a fully capable SEO solution.
Features:
Rank Tracking
Rank Position Checks (from Authority Labs)
Building & Monitoring of Backlinks
Competitor Research
Comprehensive website audits for effective and organically-powered marketing campaigns
Integration with Google Analytics and other applications
White Label Reporting
PROS:
Drag and Drop, as well as custom reporting using a combination of features
Search ranks using Google Search Console
Users report Raven's willingness to introduce new features on customer feedback
Affordable in terms of all tools, (SEO as well as marketing) in one place
CONS:
Complicated UI, which makes getting around difficult
Lack of customizable visuals for presentations
In addition to a 14-day free trial on its "Start", "Grow", "Thrive" and "Lead" plans, Raven is the ultimate all-rounder that offers a starting price of $99 for its all-in-one Marketing & SEO Platform.
---
How to find your competitors' backlinks in order to create a solid link-building strategy?
If you don't know how your competitors are generating quality backlinks, you need to get on to it ASAP. One of the quickest and most effective methods to building high-quality backlinks is knowing what your competitors are doing to get to the top in search engine results. Quality content and relevant, less-complicated keywords carry importance in building a strong link building strategy. Keeping a close eye on your rivals' ranking efforts can help uncover their practices and keep you from straying.
The first step is to establish who your online competitors are, which can be accomplished with a number of SEO tools such as SemRush and Ahrefs, or just by searching on Google and noting down the names of the first three to five search results. The competitors who are at the top have exceeded the expectations of the search engine algorithms; hence have been awarded the prime position. It is actually exciting to enjoy success with minimal efforts, thanks to technology.
When you enter a competitor's backlink profile, you will find that the focus today is more on interviews and resource pages as well as their marketing efforts instead of blog comments, press releases and directory links. You may also find high-tier magazines, low to middle-tier websites and authoritative websites. Analyzing your backlink profile can help you learn your mistakes, for example, any spam websites that you have linked to or any anchor text that you need to disavow or remove to boost your ranking in SERPs.
Your focus should be on websites that have high domain authority as well as high page authority. Google PageRank can be used to evaluate the quality and authority of a website, but it cannot be solely relied upon to evaluate the credibility. You can follow the following steps:
Check the indexation by Google.com – Websites that do not show up are either dead links or facing a penalty.
Conduct an audit of your competitor's website on a regular basis.
Create a spreadsheet to record the healthy links.
Replicate the backlinks from your competitors. For example, just comment on an authoritative website with a link to your blog or website.
---
Link building strategies
Whether you have domain or page-level competitors, here are a few tips on how to build a link building campaign:
Discover linking opportunities by following your competitors' links.
Find rivals' posts or comments and write for the same.
Find your competition's "Super Fans" and connect with them.
Find easily duplicable links by finding web pages with Links from your competitors.
Nab links from page-level competitors – Be smarter!
Track rivals' newly found backlinks and grab the opportunity.
Broken links can also be used.
---
Conclusion
Maximizing your links in the race to achieve and maintain a top ranking on search engines is not a piece of cake, but it definitely is not impossible. All you need is the right knowledge, tools and willingness to dive into the pool of countless SEO possibilities. Hope you find the above information and product comparisons useful when taking a decision for your SEO and link building campaign. Stay tuned for more tech juice!