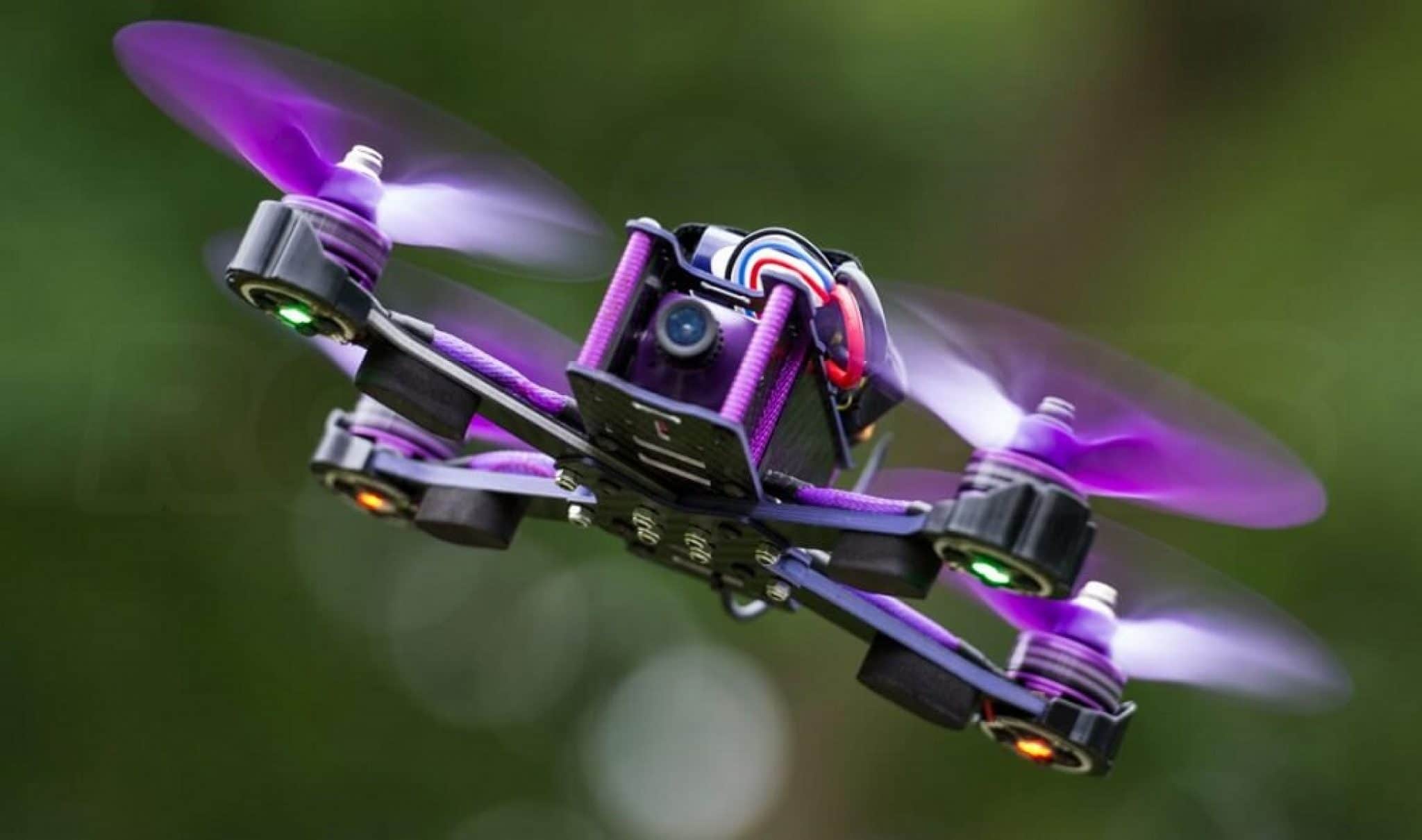 There was a time when the word drones was synonymous with sci-fi and being attacked by something wicked. Well, the drone may be wicked, but they are wicked cool in my book and they took the country, the world by storm.
Fact: The U.S. reported the sale of almost one million consumer drones over the 2015 holiday season.

Fact: Markets and Markets, a leading research firm estimates a compound growth rate of 32% between 2015 and 2021 resulting in a $5.6 billion industry.
Flying a drone can be just plain fun. Sure, you might have a task to accomplish, but you might simply be outside enjoying the day and decide to take a flight, I know I have and there are thousands like me.
Maybe its been simply a dream, a quadcopter you planned to fly one day, you just haven't (yet), gotten around to it. Well, friend, take heart, the tech behind the experience has journeyed far in a very short period and you, yeah you, are in a perfect place to reap the benefits. Like the proverbial "kid in a candy store", new models are breathtaking to see and worlds ahead of last year in the quality of video and stability of the copter.
Okay, that was Christmas morning, now it's time for a reality check, like anything; you get what you pay for. If you're looking for stunning visuals, be prepared to spend the bucks and not just a few.
Be Informed When You Buy A Drone
Since, potentially, the purchase price can add up when you take the unit and accessories into account, it pays to do some in-depth price and feature comparison. Lucky for you, that's exactly what we are about to do here, if you stick with this post until the bottom you wont be a drone expert but you will know whats new in the 2017 drone world. Sit back, grab a cup of Joe and let's fly away.
If money is no object (but it usually is), you'll likely consider extensive customization of your drone but if money was of no object at all you would likley commission a research facility to create a drone for you after carrying out some custom research!
For this post we've are going to look at some of the best ready to fly drones (RTF drones).
You can certainly find bargains on Amazon or eBay, but even so, you'll end up spending close to $500 if you want anything that is not toy grade but for your $500 you will get a good, solid flyable copter, stable in the air and likely packaged with a quality camera, just as camera phones are now the norm (when was the last time you saw someone with a phone with no camera attached) camera drones are also becoming more and more of a standard.
DJI Phantom 3 Standard
We'll start with the DJI Phantom 3 Standard, which dovetails nicely into the criteria above. The camera kills it with 2.7K video, usually found only on more expensive models, i.e. Phantom 3 Advanced. Your range will be slightly less, but good enough for most aerial jaunts, the mistake lots of people make when chosing a drone is simply looking for "the best everything" – do not fall into that trap you need to decide what the drone will be used for and shortlist accordingly.
Xiro Xplorer V
A close competitor is the Xiro Xplorer V, also priced around $500, but lacking in video quality, with only (said with a smirk) 1080p, which is only lacking when compared directly to 2.7K, zo if's worth taking a look.
Xiro Xplorer V pros
Stable platform.
Good Range.
Easy to fly.
Auto takeoff and landing.
Return to home feature.
Modular.
Xiro Xplorer V CONS
Lens barrel distortion.
Proprietary image format.
Phone clip too small.
Video 1080p.
Spending Less Than $500
Parrot Bebop
Not all of us want to spend $500 on what some (spouse, GF, significant other) would consider a toy. Don't worry, we've got you covered with the Parrot Bebop which you can find for $350 with a bit of searching. Now one thing, you're paying less, so you do need to understand the copter's limitations. You won't be going high or fast, but it's still an excellent way to spend a lazy afternoon doing a little aerial ballet.
Important Note: While this isn't a limitation, be sure you understand you'll be controlling your quad with your smartphone or tablet. Sure, you can spend the money and interface with the Skycontroller $486.73 at Amazon, but that sort of defeats the point of going for a cheaper drone, go with the phone option – you can use your phone to control your air con, heating and TV so why not your drone too? It's your call and if you really want a controller that is fine but it makes more sense when buying a first drone (as you are likely considering if you are reading this) to spend the extra money on a better drone than on a control for a lower priced drone, go for the overall upgrade not a retrofit!
Bebop 2
The Bebop 2 is now online with either the tablet configuration or Skycontroller, which is reflected in the price. The primary unit goes for $550 while the Skycontroller interface bumps it to $800.
For the purpose of this article, we're going to review ready-to-fly models, one you can take out of the box, charge the batteries, and take flight. If you're a pro, armed with a soldering iron and gimbals for DSLR, enjoy the read, but you've likely already graduated from the basics to the pro models.
Note: In most cases your need to supply your own Android or IOS tablet or phone if you want a real-time viewing and most of us probably do. There are a few models which include the Yuneec Typhoon Q500 4K, Typhoon G, and Blade Chroma, that come equipped with the very own Android built into the remote, very cool.
We purposely avoided the pro models, as that's the subject for another article and most won't require some level of expertise to have them winging away.
Be Safe Out There!
Each of the models discussed below has a limited amount of built-in safety features. Even the lowly (price wise) Bebop, which isn't suitable for long range flights, has a built-in GPS and Return-to-Home feature in case of signal interruption or a low battery warning.
Note: Most drones have around a 20 minute flight time before needing a recharge or switching batteries.
Safety Note: While the Return-to-Home feature is great, and in most cases works flawlessly, if you want to be truly safe and avoid an accidental flyaway, consider adding a GPS tracker. A good choice is the Flytrex Live 3G available for many popular models. The Flytrex will send continuous updates to the cloud via a 3G cell connection. That doesn't mean flyaways will never happen, simply that you're covering your bases, read any of the popular drone forums and your sure to read a story or two or more about a flyaway. Don't let those stories worry you, they may be exaggerations, most of us enjoy a good thing, whether or not it's entirely correct is often beside the point, certainly in discussion forums.
U.S. Consumer Drone Guidelines
Fly Free or Die! Beautiful words, but if you live in the United States, you really should fly legally and pay attention to the guidelines, it will make the sport safer and keep you out of legal trouble. These are FAA guidelines, relatively unobtrusive, but they do specify no-fly zones, and you best heed them or be prepared for fines or worse (meaning you might need a lawyer).
For instance, if you're near an airport don't take flight without notifying the local control tower. What you say, you're in the middle of nowhere? That fine, but then don't go above 400 feet. You'll find that most out-of-the-box drones are pre-programmed with these limits, but it's still YOUR responsibility. If you're driving your car and run a stop sign, assuming you get caught, you're getting a ticket, same here, be vigilant and watch where you're going.
Suggestion: If this is your first drone, take the time to read the FAA guidelines. And remember this, if your model weighs in at more than .5 pounds, you need to register with the FAA. It's not that difficult to do, so do and play it safe.
Drone Racing and Toy Qads
While drones are relatively new, particularly quads, RCs (remote controlled aircraft) have been around for decades, my dad used to take me to watch them when I was a kid. That said, a quite a few products are being sold with the drone label attached, that aren't actually drones, only glorified RCs, with no GPS, return-to-home or stabilization.
Note: These RCs won't contain any of the safety features or automated flight programming that makes the modern day drone, well, a drone.
You won't find any of those RCs mentioned below; they belong in a toy review article, we might write if there is enough interest.
If you're into racing, for the sheer joy of "I feel the need, the need for speed" Thanks to Tom Cruise and "Top Gun" for the quote.
Since we can't review a jet fighter (not easily anyway) you might consider checking out the International Drone Racing Association and the Horizon Hobby Blade Nano QX2 FPV BNF £124.99.
Looking for a small drone, something to break out and have 15 minutes of fun? Check out the Aerius, our reviews will be a little more mainstream, let's call them prosumer models for lack of a better word.
Who Makes The Best Drones?
We're not going to make a judgment call on a manufacturer since things are always changing. We can say that DJL dominate the market and that's likely because they deliver on their promises and based on that, you will see them among our top picks. So what promises have they delivered on?
Quality comes to mind, they operate a few steps ahead of the rest of the pack, plus have multiple price points for most anyone from novice to pro.
They've made significant improvements to the Phantom 2 Vision+ with the introduction of the Phantom 3 models which have better video, smoother flight and are easier to use.
And lest we forget, the Phantom 4 is the first to receive five stars from PCMag with obstacle avoidance. With all that going for them, it's no wonder they've risen to the challenge, and we've given them multiple slots in our top ten. And no, we don't own stock, and this isn't a biased review, they only measure up.
Note: We don't recommend buying a Phantom 2 at this time, based on the extensive upgrades made for the Phantom 3 line. The Phantom 4 is sweet, but pricey so the Phantom 3 remains as a good one to look out for many droners out there.
If all the Phantom numbers are getting confusing, then let's see if we can simplify.
The Standard model is great for entry level droning.
Stepping up to the Phantom 3, 4k will give you same Wi-Fi control system as the Standard with much better video resolution, all the way to 4k.
The Phantom 3 Advanced provides video to 2.7k, with the same Lightbridge streaming and controls found on the Phantom 3 Pro and Phantom 4.
And let's not overlook the DJI Inspire 1, designed for the serious droner. With carbon fiber construction, a portable camera and dual controls (one person flies, the other works the camera), the one is a serious contender, but you will need deep pockets. Plan on spending around $2,900 for a single controller or $3,300 to equip this powerhouse with dual-controls.
Does Size Matter?
Big Drones vs. Small Drones
DJI's led the pack in the "Let's get small" department for a long time with the Phantom series, particularly if you wanted a full-featured, stable and safety conscious drone, but times have changed. We took a look at several with one being the Xiro Xplorer V. It wasn't perfect, with clunky software and an older video system (we get spoiled quickly), but it did prove those good things often do come in small packages and caused the guys at DJI to scramble. And scramble they did turning out the super small Mavic Pro while the Vantage Robotics Snap is snapping (excuse the pun) at their rotors. The Mavic Pro went in a slightly different direction, instead of shrinking everything, they use magnets to attach the main chassis to folding props, pretty nifty and quite easy to break down and travel.
Features: The Mavic Pro uses rotors that fold into the body which makes it easy to protect the rotors andeasily transport in a small backpack for a day of fun in the sun.
You'll have plenty of choices if small is what you're after, be sure and take a look at the Parrot Bebop series. And while the latest is the greatest, we've included the original since the price is very affordable.
Market Driven Competition
The lifeblood of any successful industry is competition. Meaning, when you see one drone with all the bells and whistles, you can bet their competition is hard at work to best them which is perfect for droners.
The Yuneec is DJI's chief rival in the bid for this market. It's Typhoon series, which includes the Q500 4k, has gained a league of faithful followers, while other pilots speak of it not holding up in the field. Successful companies listen to consumer feedback and the next model promises to smooth any rough edges.
This brings us to the CES and the announcement of Typhoon H by Yuneec's, which is the company's only entry in our top ten list. Sorry guys, but we like what you've offered so far, six rotors and the ability to keep flying even if you lose an engine or prop. Couple that with collision avoidance and it measures up nice, but then at $1,299, it should. Add in the advanced avoidance system powered by Intel's RealSense tech and we've up to $1,899.
Creating a Winning Drone Isn't That Easy
It's common knowledge that GoPro began a revolution in all things video, at least on the non-professional level. Their innovations allowed a camera to be placed almost anywhere a person could go. It didn't matter the activity, from mountain biking to mountain climbing, motocross to cross country skinning and more. It was about then, some clever person decided to strap on onto a drone, and well, the rest is history. That does not mean that GoPro can easily transition from a video camera to a winning drone, they've had their share of struggles with the Karma drone. The drone launched in 2016 and was quickly pulled off the shelves when the drones started or better said stopped flying, turning into a falling piece of space debris, due to power loss in mid-flight.
Then there is PowerVision, a new kid in the US market announcing two new out-of-the-box copters, the PowerEgg and the pro-grade PowerEye.
Note: We haven't been able to flight test these two as yet, but they are on our "To-Do" list.
Another US player is Autel Robotics who manufacturer the X-Star line. They look very much like the DJI Phantoms dipped in bright orange paint. Again, we've not reviewed them as yet, but on a first look, they compare with the DJI models in price.
3D Robotics is concentrating more on the corporate market and has announced cuts in staff. We're sorry to hear that as we liked their Solo and it had quite a lot of innovations and perfect for a GoPro action cam.
Note: The Solo is, while innovative, had a sub-par battery and a GPS that seems slow (at least in our tests) to get a sat lock.
One of the things definitely in Solo's favor was an attractive price tag. Be cautious before you purchase, with their move toward the corporate landscape, batteries (and other parts) may be difficult to get further down the line. For our money, we suggest looking closely at the Phantom 3 Standard which has a bargain price and has become an industry standard, meaning you can easily get aftermarket parts.
What About Pro Models?
There will be price jumps here, these models aren't aimed at the average consumers, much more cinematographers, and news gathering organization. You'll pay in the vicinity of $3,000 for one of these babies and that does not include a camera. The DJI Inspire 2 is targeting this demographic and comes outfitted with an option that allow a pro to add a 1 inch sensor fixed lens to the camera it carries. This is an option that could be very important to a pro, not so much to a presume.
We're moving up the ladder of performance, cost and what the drone hopes to accomplish. You can expect up to 5.2K video capture when used with the Inspire 2. What's a full equipped model cost? Expect to pay in the neighborhood of $6,200. That the cost of going pro or the age-old adage, "you get what you pay for".
And then, least we forget, Yuneec that has a model equipped with a Micro Four Thirds camera. And if you want something truly big and scary, take a gander at the Tornado H920, six rotors and room for three batteries or 42 minutes of flight time. And the camera? Well, it's a CGO4, which is essentially a stripped down Panasonic GH4, favored by videographers worldwide.
Note: The CGO4 does not record raw uncompressed video as does the Inspire 1 Raw, but the price is much more manageable at $4,999, but still hefty price unless you have specific needs or a bottomless wallet.
So, you have some homework to do. We've done our best to give you the broad strokes, but honestly, any of the drones mentioned in this review will serve you well, it's basically a personal choice on what works best for you.
Drones Featured in this Review
This is the most recent version of DJI's best consumer-grade drone. It comes much improved over its predecessor. It's the or one of the best consumer drones on the market.
This one is sweet with a pro-grade build and upgradeable camera. It supports dual operators when purchased with that option.
DJI Phantom 3 Professional
For those with the money to spend and a need or desire for a more refined experience and superior video quality to its predecessor.
This one has obstacle avoidance sensors and significantly improved camera over the already famous Phantom.
Safety and reliability are the hallmarks for this baby, that plus outstanding video quality. The price is competitive and perfect for an entry-level pilot.
If you're looking for sharp, stabilized 4K video, then this is a model to take a look at. This is a drone much more capable than one would expect based on its size. A great choice for pilots desiring to step-up their game.
There is little to say here, this is a great drone. Full of features and 2.7k video. You'll be flying high (but below 400′) with this one.
If you're into Intel RealSense Technology, the Yuneec has excellent potential. It's not our favorite when it comes to flight and video interface, but still quite functional.
This is proof that good things comes in small packages. And while it doesn't climb as high or as long as some of its competitors, but it's very easy to fly and provides good video.
Disco may be long past, but the FPV is a whole lot of fun. It's probably not the most practical drone, but sometimes practicality isn't what you're looking for, just the enjoyment of flying.
We've intentionally avoided saying, BUY THIS ONE. Instead, we've given you a lot of food for thought. When you buy a drone, you need to look at several things, your budget, your experience, and your mission. Once you're clear on those, you'll be able to make an informed decision on which drone is your perfect fit.