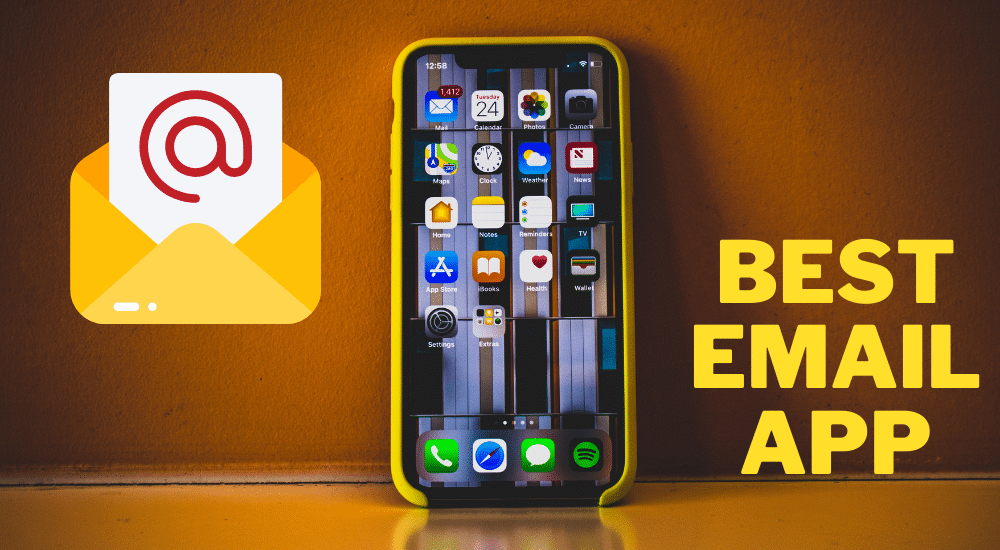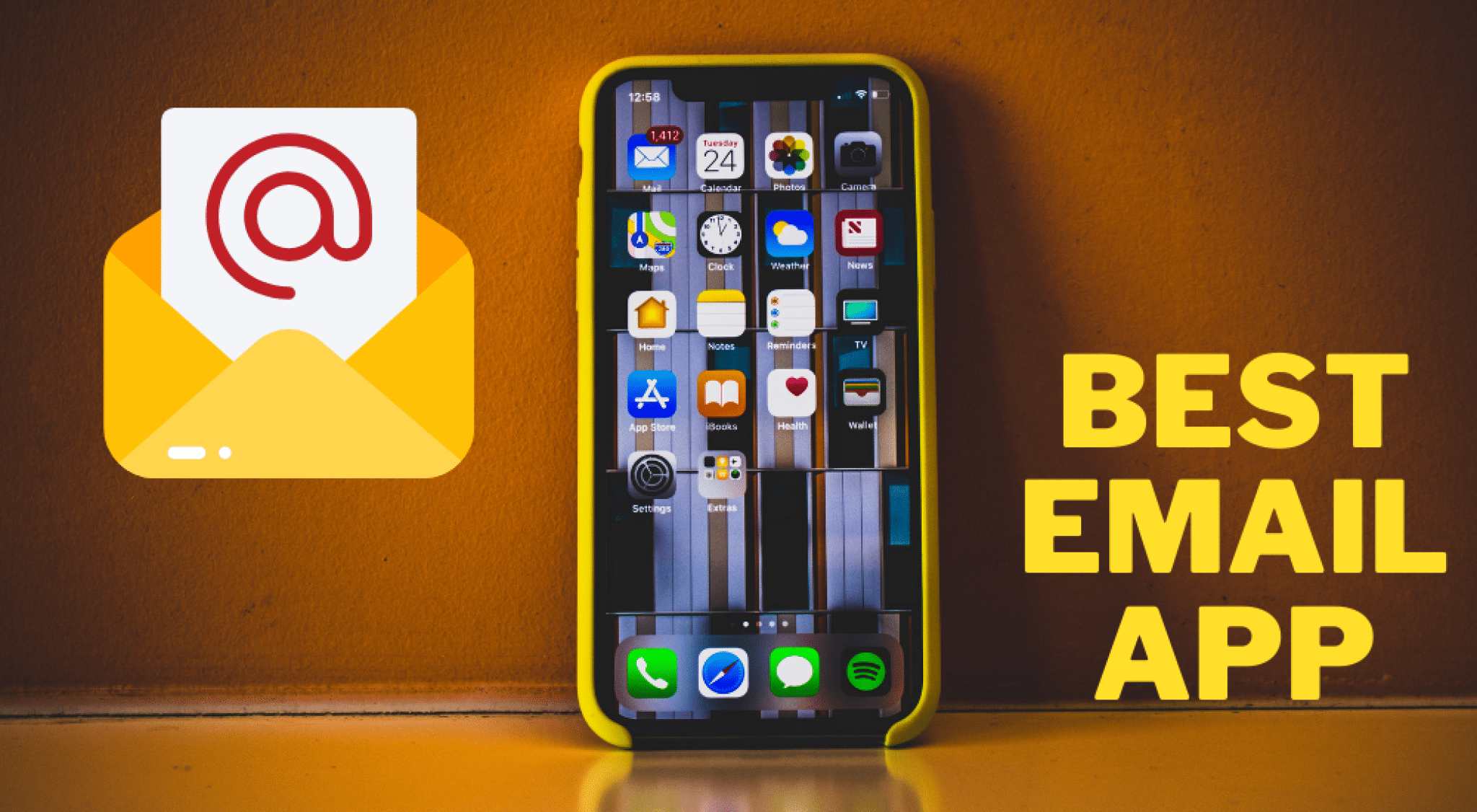 Are you searching for the best email application on the iPhone? Break free from using apple mail and get the best email app for your iPhone. Get more tested and approved apps ins a second. Look no further than by reading our article.
In 2007, all the apple products came with an inbuilt email plication. Then, the app is still known as the mail. At first, there were no other tools. This implies that the email app on iPhone has been around for a long time.
Today, the apple store is a one-stop shop for all the email alternative apps on the internet. However, the challenges come when it is time to decide on the best email application for the iPhone. While there are many third-party email apps, not all are perfect to deliver the needs of the iPhone.
There are other messaging apps, such as Facebook, Whatsapp, Slack, etc., which are efficient on apple products; email still outshines them and remains the official application for communication. There is much you can do with this app.
Therefore, we have covered the 15 best email apps for your iPhone as the options to the olf mail. Without wasting time, let us get started.
---
15 Best Email Apps for iPhone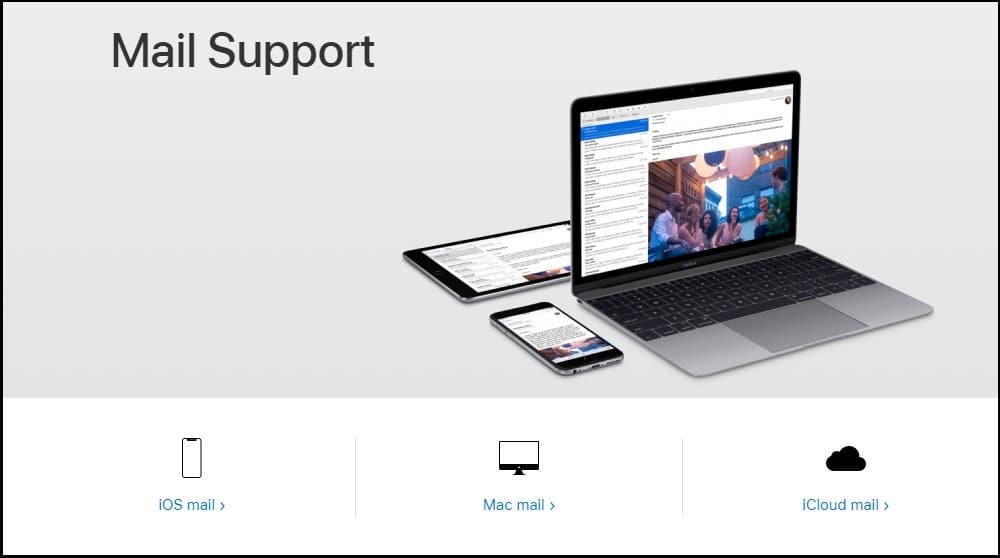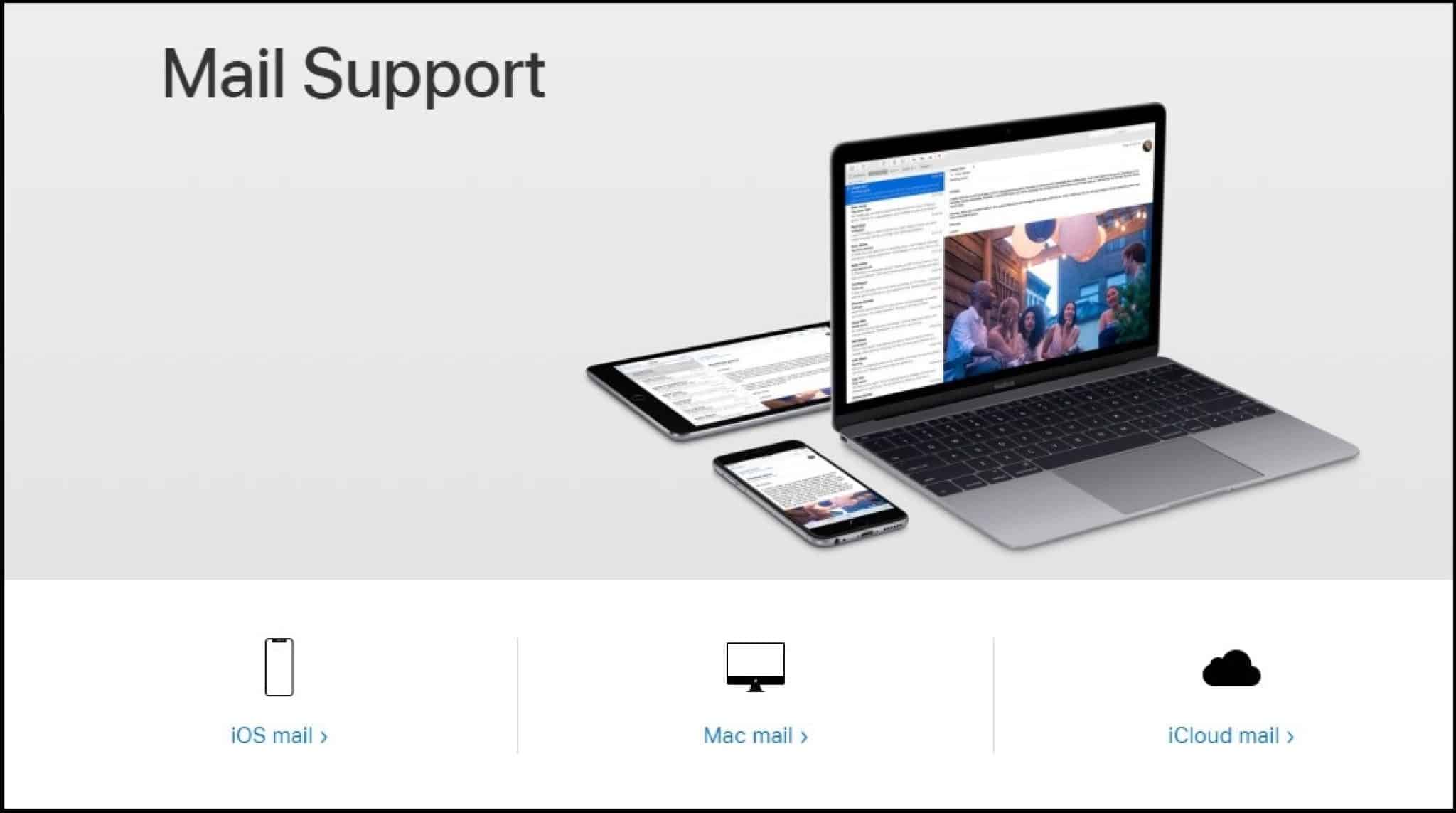 Apple Mail is one of the reliable mail alternatives and is designed mainly for use on iOS devices. Its simplicity makes it the perfect choice to use on your iPhone.  as the mailing app, you can set Apple Mail as your default app on the new iPhone devices.
The app comes with a friend user interface where the inbox section allows the users to access multiple messages under one roof. You can as well sipe the messages to get easy access to the commands like unread, send, and even archive. We hope that these options can meet all your needs. You can even store files to this Apple Mail and access them anytime.
And if you are using a Mac, Apple Mail also allows you to include the symbols and emoji features. This is an added advantage to the character lovers. Besides that, you will also have access to the best customer support anytime you are stuck, access the appel community to answer all your questions, and socialize with the community.
With Apple Mail, you can manage the notifications, arrange your inbox, set the auto-reminder, and other features. This app is up to date and meets all the minimum requirements according to the updated iPhone features.
---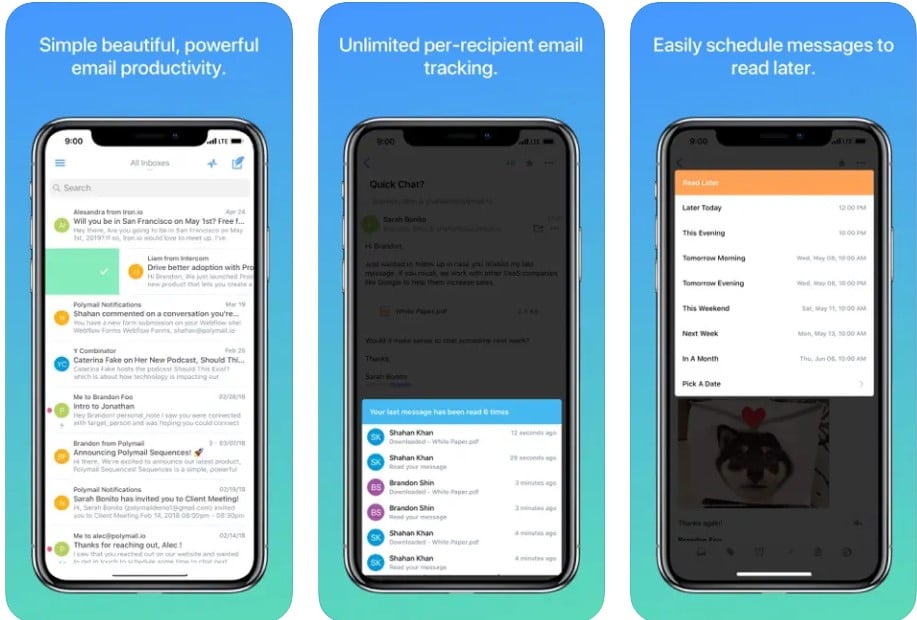 Polymail remains to be the best email app for the iPhone. This is an email app made to work with professionals. The mail comes with an intelligent automation feature. This saves time for the business users and powers up the conversation.
Many companies also trust this app besides apple. The app on iPhone offers the best services as it was designed with the users in mind. Thus, it comes with a simple interface yet powerful feature. And serves you at any time you need and anytime you request. If you want to communicate effectively, then Polymail is meant for you. Developers even turned the inbox appearance into something attractive.
Besides automating, you can also use Polymail to book the meeting and schedule right on your iPhone. No more email clutter. You can also postpone email top read leader with the Polymail iPhone email app. like other apps; you can manage emails, sort by date, filter, and organize them into groups. Though Polymail also supports IMAP, it does not have exchange account services.
---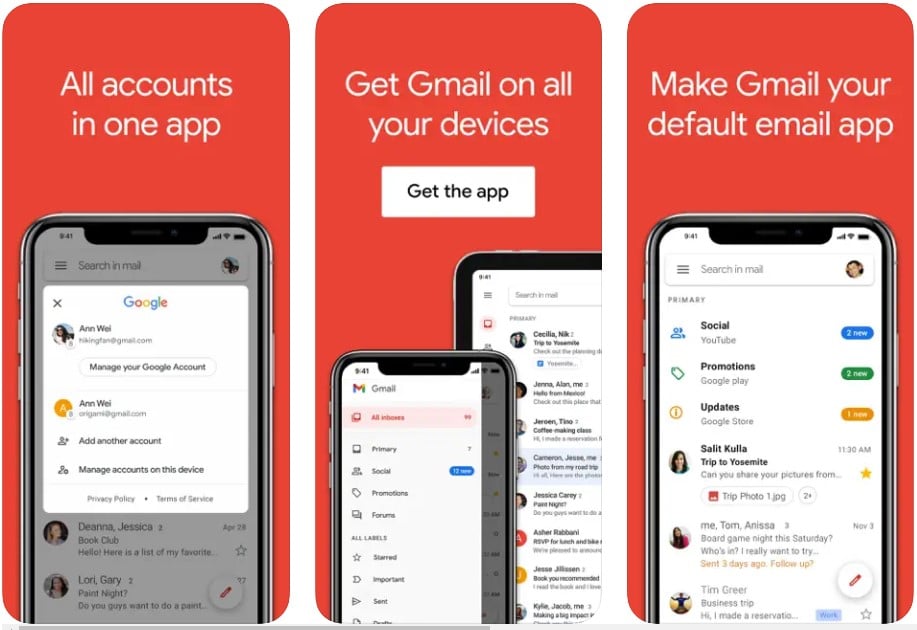 The Gmail app is best for the iPhone and compatible with android and other devices. And it is one of the email applications which guarantees robust security, supports the addition of multiple accounts under one application, real-time notifications, and is compatible with all the mail services.
Therefore, you can use the Gmail app and make it your default email on the iPhone; it gives you to capability to block spam emails up to 99.99%, avoid malware, evade phishing, and run away from the dangerous links when it arrives in your inbox.
As an iPhone user, you have the ability to undo the send mails which is important in preventing embarrassing mistakes. It also comes with google chat which you can turn on and connect with other users and then collaborate.
You can enjoy many advantages with the Gmail app on iPhone. among them are high-quality video calling through google meet, smart reply suggestions, switching between accounts, and organizing emails by labeling them as Starr, spam, etc. You can also swipe to archive or delete a mail from the inbox. This is the best email app for the iPhone. It is popular worldwide since it is one of the google spaces.
---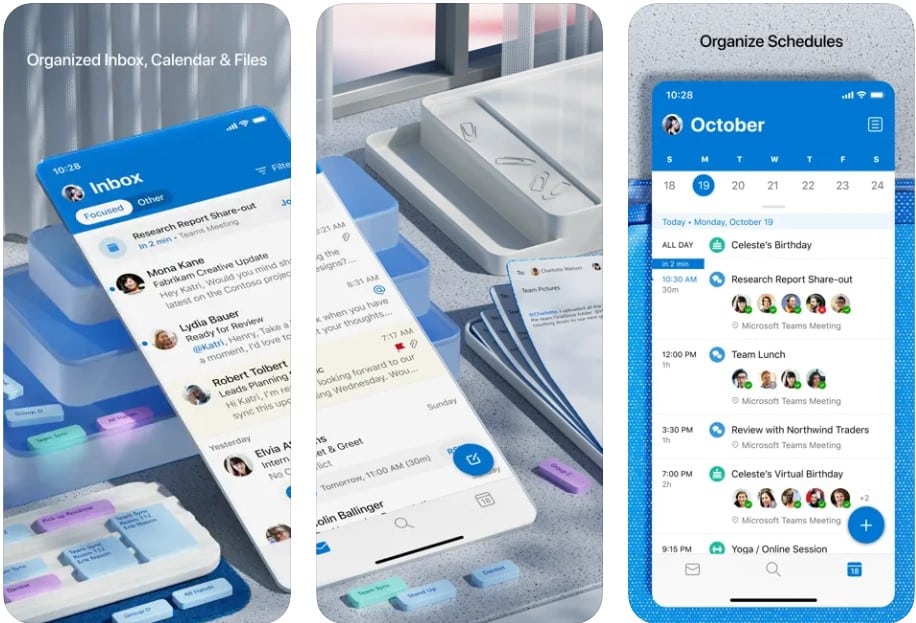 It sounds weird to state that Outlook is the best email application for iPhone. But, take a closer look, and you will understand why we have listed it. This is an excellent choice for well-known reasons though it has been on the market for a long time. While it is a free iOS application, they also provide an in-app purchase to enjoy advanced features.
And today, Microsoft provides Outlook is better than ever and more powerful when it comes to managing and sending emails through your iPhone. in the inbox, you have access to smart control features, and you can snooze emails to read later, which is important.
With Outlook, users also can swipe quickly to perform multiple actions. As you know, most email app does not have this feature. The most important feature of this Outlook is that it comes with a calendar so users can utilize it as the main planner. Thus, your meetings or vents, whether stored on iCloud or google calendar, are always in place. Thus, you will have a calendar and email in one convenient spot. You will always remain connected and organized.
---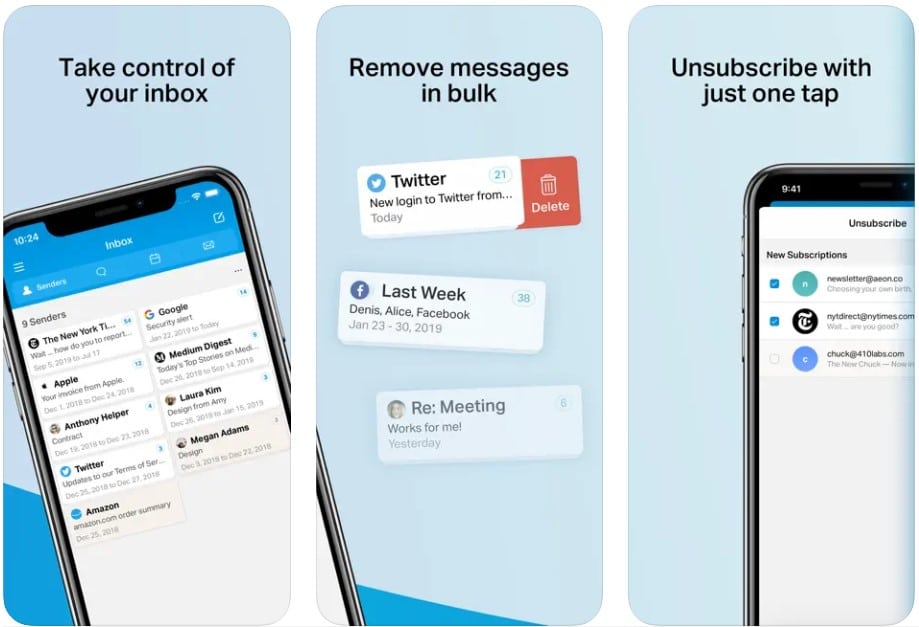 Chuck is another perfect email app for your iPhone. It gives you full control of your inbox. Therefore, you sort your email to view based on the subject, the sender, and even the period in which they were sent. It has advanced features that allow you to analyze the messages in your inbox and decide which one to remove.
There are many more features such as access to the filtering options, focus on one account for faster analysis, use of advanced multiple selection feature to remove all unimportant m=emails, and bale or disable a specific email address from sending you the message.
You can have all the inboxes in one place. However, to achieve this, you must set up the IMAP mailbox, which is simple. Besides the free version, you can unlock Chuck's full potential through a subscription.
---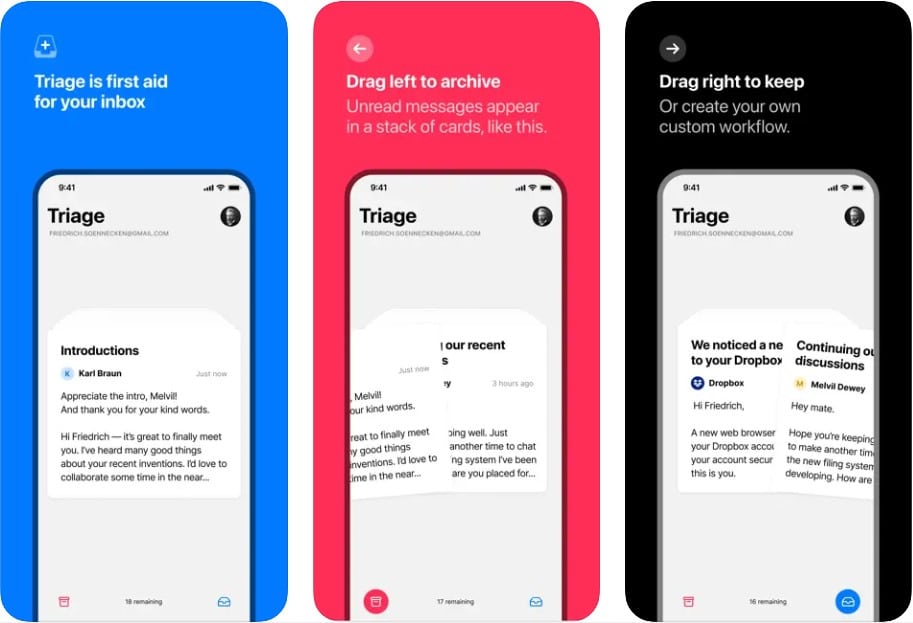 Triage is another best email app for the iPhone with many advanced features. You will never miss anything with the iOS app on your iPhone. It always ensures that you have first-class aid in your inbox. Anything you missed out on other apps is back and better with the Triage app. You can download the Triage 2 app anytime from the app store.
All the drags are left in the archive, while the unread inbox emails are stored in the stack of cards. You can create your workflow or even drag right to keep everything. And with one click, you can expand the message to read the whole thread. Then you will not have to leave the app to send a quick reply.
You can use it as a free iOS app or get an in-app purchase and enjoy access to the advanced features. The data is always available to stay. And it is also compatible with the iCloud, Gmail, and IMPA services.
---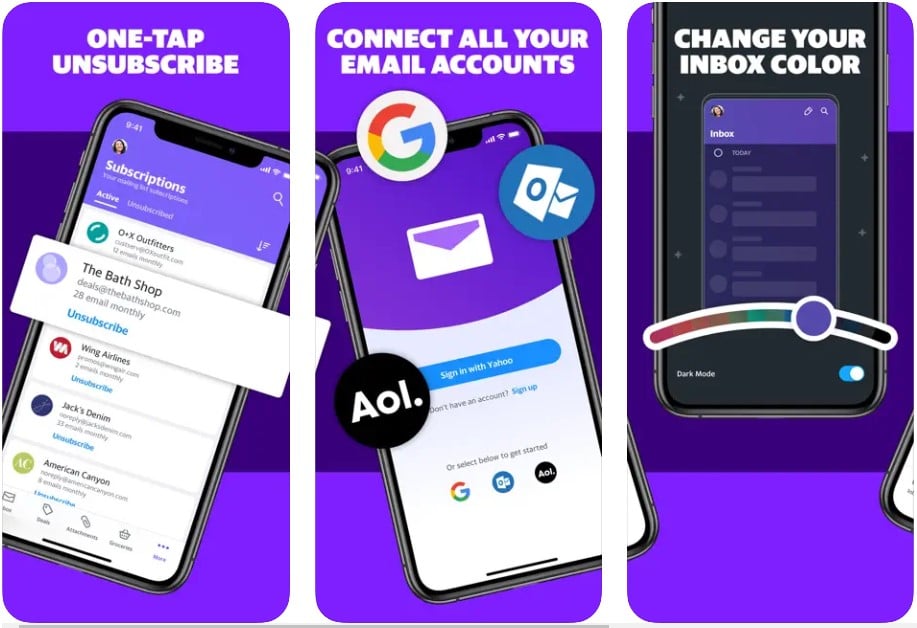 while Yahoo Mail is an old email application, it supports not only iOS, such as iPhone devices but is also compatible with the windows and android like other email apps. This is a yahoo but supports other email services when installed on your iPhone. It is available on the app store as a free application, but you can get an in-app purchase. And a yahoo mail for iPhone comes with a friendly and simple user interface.
This is the best email app on your iPhone to manage Gmail, yahoo mailboxes, Microsoft, AT, and T, as well as AOL under one application. It offers features and added customization options to access the deals, and attachments, get more storage and even get receipts. It gets you covered in either category.
You can start your email to highlight, select a folder, filter, and search in your inbox. It also has a beautiful category such as important travel, social updates, and people. It also has colorful email stationery.
---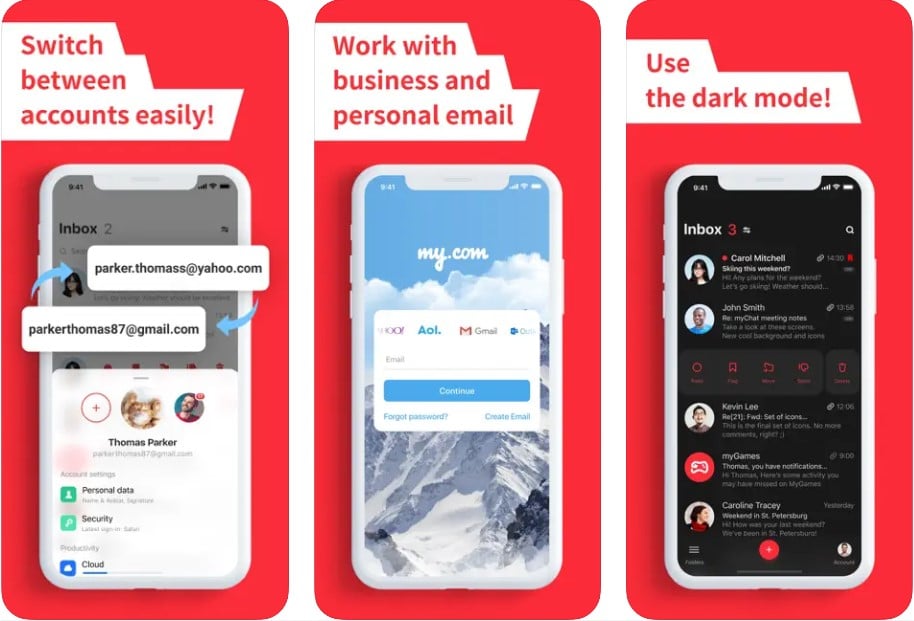 when we talk about the best email app for the iPhone, we might be wrong without mentioning myMail. This simple email app is secure and reliable for iOS devices worldwide. It has a very flat design with a sleek and usable user interface. Like other email apps on the market, you can also import your contacts from the phone and store them in your email account.
myMail comes with plenty of features and gives you full control of everything. So, users can select and decide on when they want to get the push notification, only access what is important, keep notifications private, have a photo of their contacts to the messages, and enable support traffic encryption so that you can protect your data and also the app has a clear and displays the first contact name on the profile.
This myMail app support all the email services on the internet. Thus, it provides an expert way of managing all your email accounts, and you can make them personal and visual. Additionally, you can optimize your email for high performance and when you have high speed.
---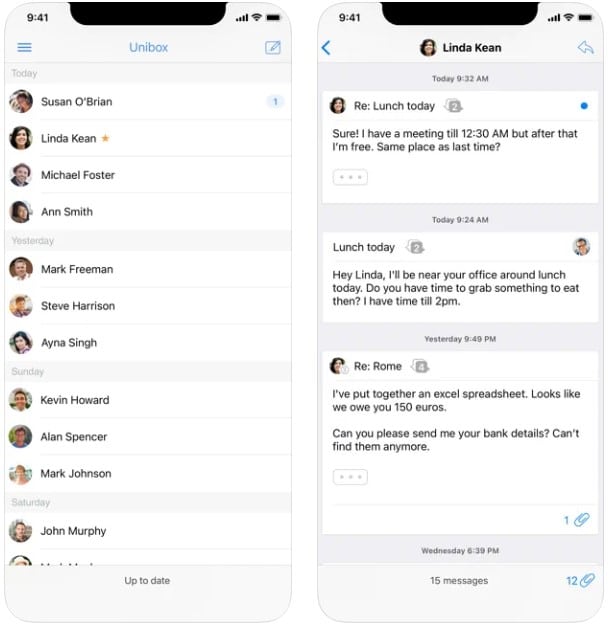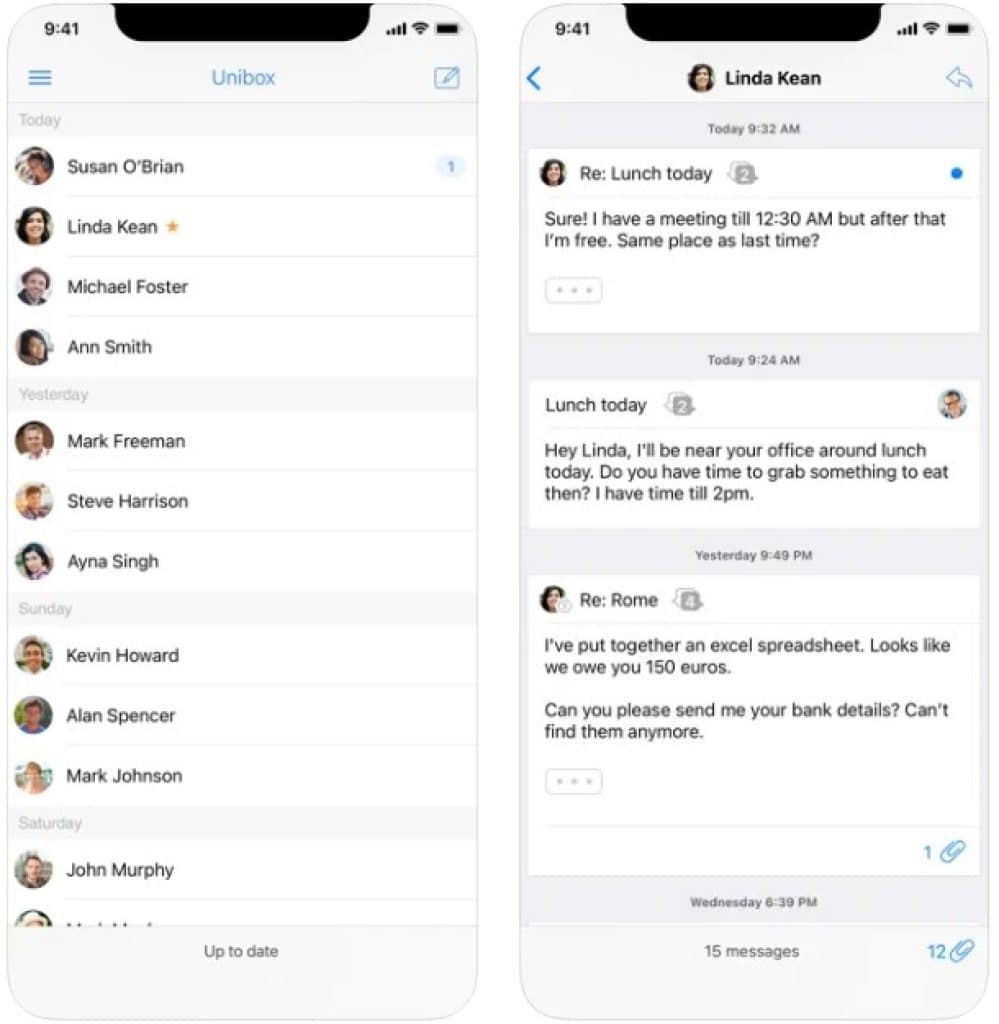 Unibox, from their website, is an email application specifically designed for iOS and Mac devices. It mainly relies on the people-centric email client, which helps organize your messages. Thus you can sort the messages based on the senders and other filtering aspects. It also comes with support for IMAP bot and custom IMAP protocols. Therefore, users have a chance to compose messages even without opening up a new tab or window.
Another thing about this email app is that you can concentrate on one line of communication and access two additional views that have files exchanged between the two as well; you can read and reply to emails under one roof. The email is not any more boring. The attachment reinvented is beautiful and supports many email providers hence flexible operation. Get the app from the app store and start enjoying the features.
---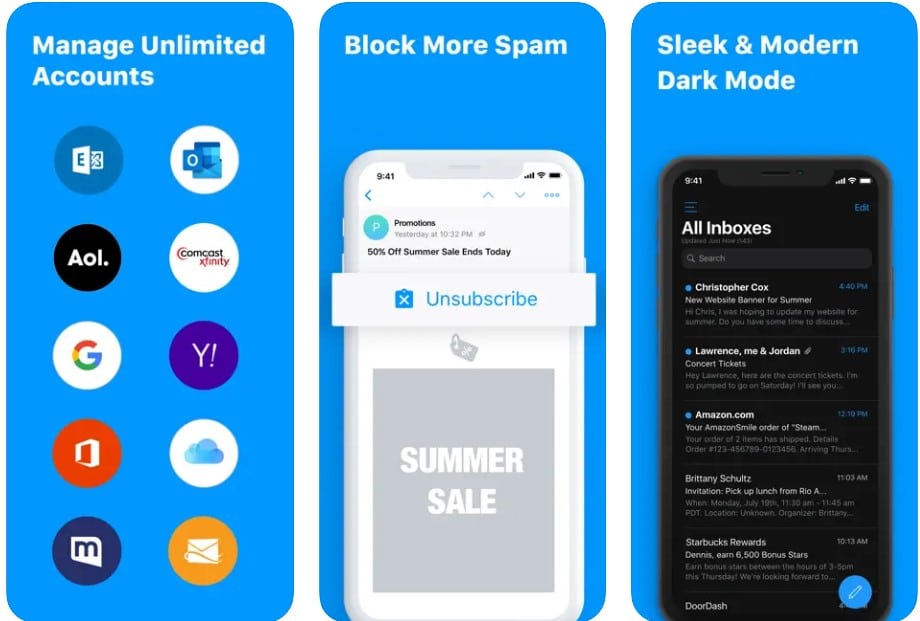 Edison Mail is not only the best iPhone email app on the market, but it is also one of the multi-email apps capable of combining all your inboxes under one application. This is the only app you will ever need for the best iPhone multi-email apps. When you get it, you can have access to various features. You can also unsubscribe to all the junk mail and filter them out in easy steps.
Edison Mail is also one of the fastest email apps among the email apps. They always ensure you do not have time to tip toe tap or wait around. It gets you all your needs in a flash of light. It is a good-looking email app and has a superpower with an inbuilt assistant. Thus, you can use the assistant to filter the emails based on the sender, type, etc. you can also undo the sending to avoid mistakes, but this is only available within 15 seconds.
---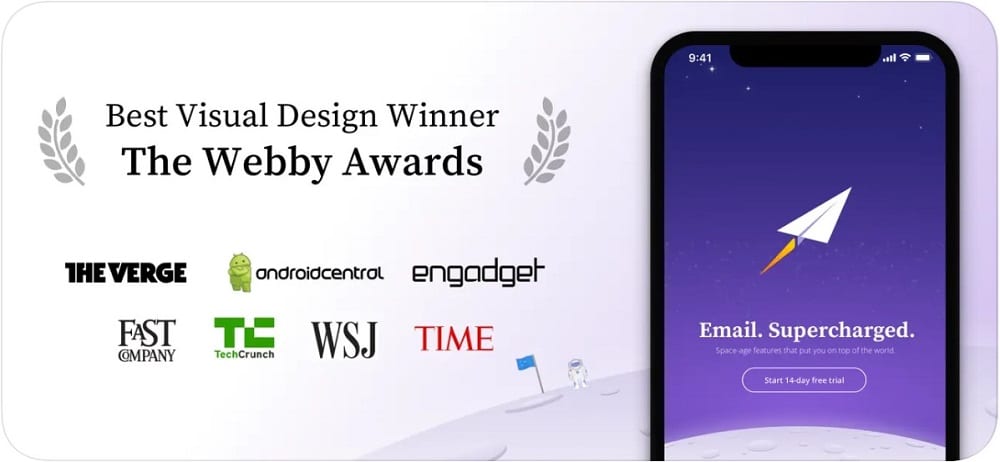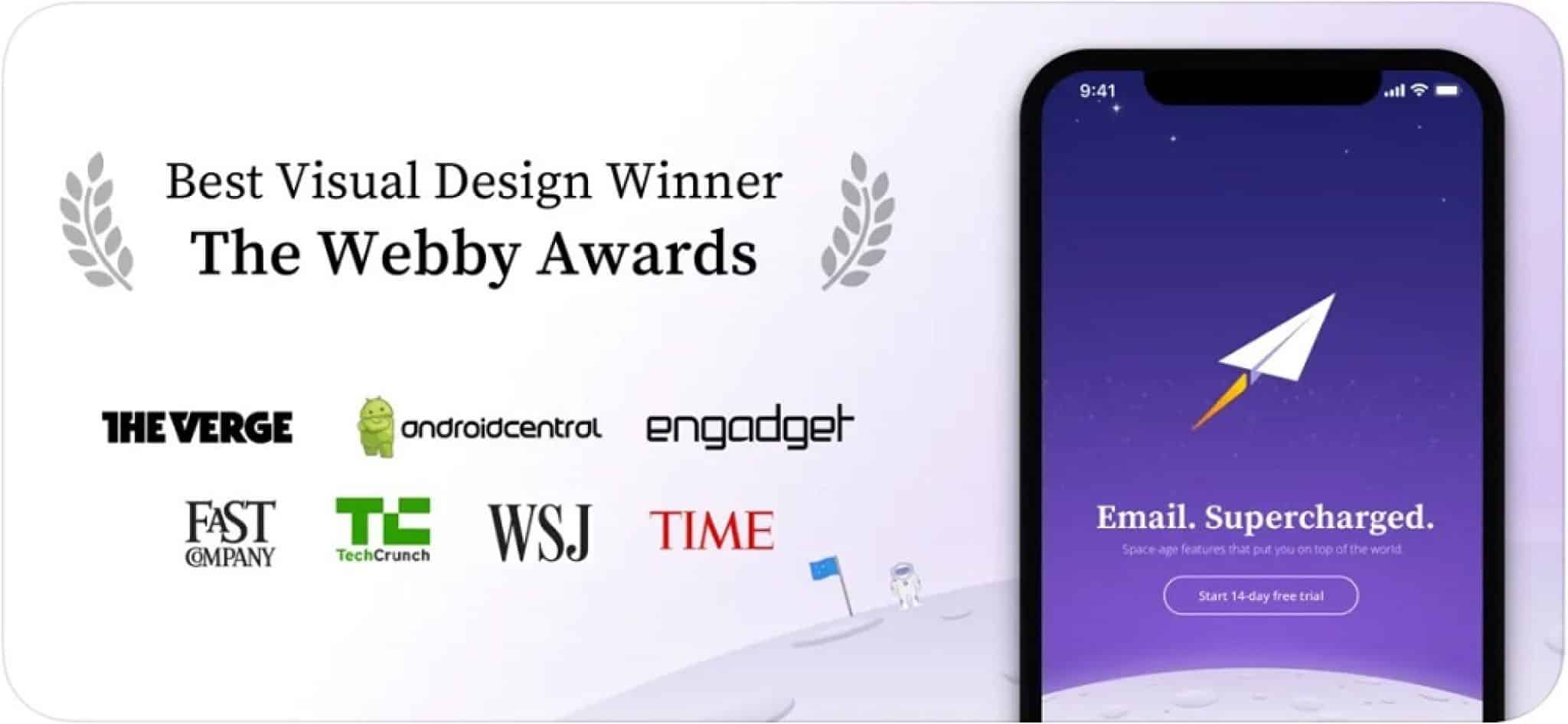 Newton Mai is also one of the best email apps for the iPhone on the internet. It guarantees the iPhone users supercharged email and comes with space-age features that comply with modern-day business communications services. It is now easy to schedule a meeting within seconds than before.
It is not only the best but also has fast delivery and receipt, a beautiful user interface, and reliable services. This is because Newton Mai is designed to delight the users and supports all email accounts on one iOS device. It is also compatible with the desktop and android.
Among the features include the ability to snooze the mails, access connected apps, send later features, access the templates and snippets, and share your email with a link. It also comes with the true dark mode. Security is not an issue as it supports 2-factor authentication and has HTML signature features with the custom folder sync and spotlight search.
---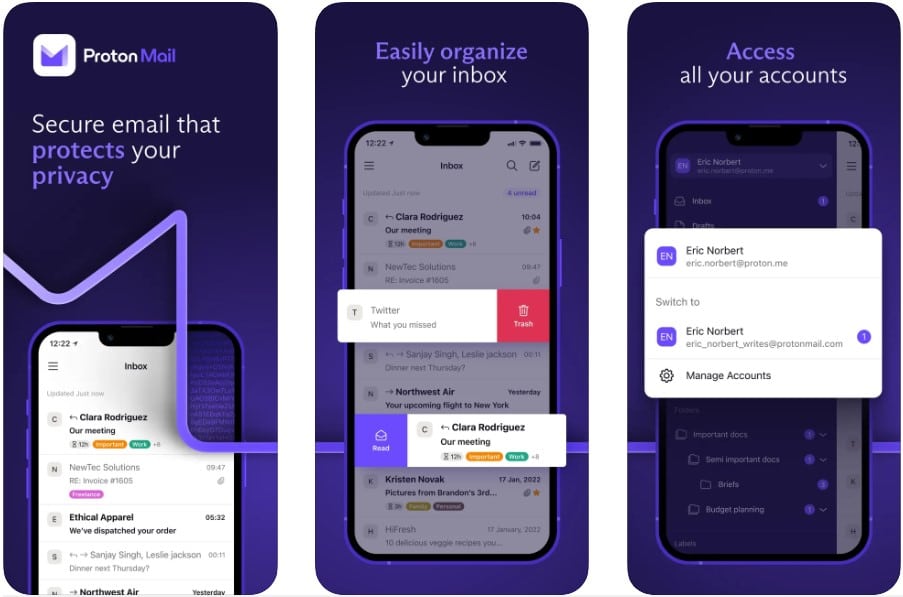 Nother reliable and worth mentioning as the best email app for the iPhone is ProtonMail. Their main focus is on securing your emails and protecting your privacy. Thus, ProtonMail keeps your email private and is encrypted, whereas the app management is based in Switzerland. Otherwise, it is best for iPhone users as an email app since it has many beautiful features.
The unique features that ensure a better experience include access to advanced inbox access, the ability to view your inbox your way, and compatibility with the mobile; it is an all-in-one app for all email accounts and offers the proton mail for the business services.
ProtonMail has a free iPhone app that you can download from the app store, but also you can purchase a premium version to enjoy advanced features. It is an open-source email app offered by MIT scientists in collaboration with the CERN. The good is that you can access your email on any device without installing the application.
---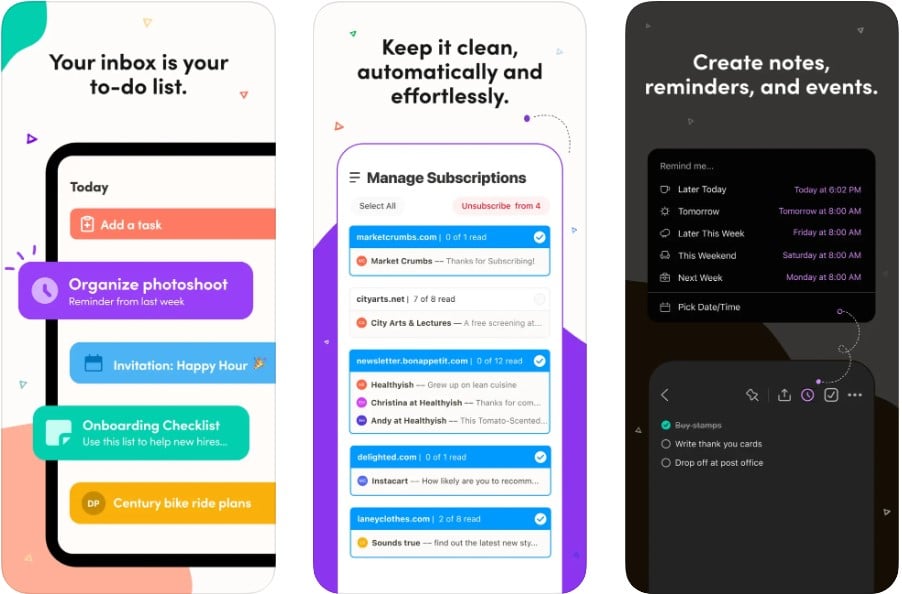 Twobird email app on iPhone makes your inbox your to-do list  . the app curates everything ina the way you need through its simple user interface. Therefore, it separates all the important conversations from other juggling tasks to avoid extra work accessing your meals. Thus, it brings everything into one place but sorts the most important on the to-do list.
You can also clear all the clusters and only have access to what is important. Thus, it has folders such as low priority, reminders, and smarter notifications, and you can also unsubscribe to unimportant notifications. The context is everything, and Twobird makes your inbox less crowded. The app supports all devices other than iPhone. Though not the best start, Twobird is one of the caveat iPhone email apps.
---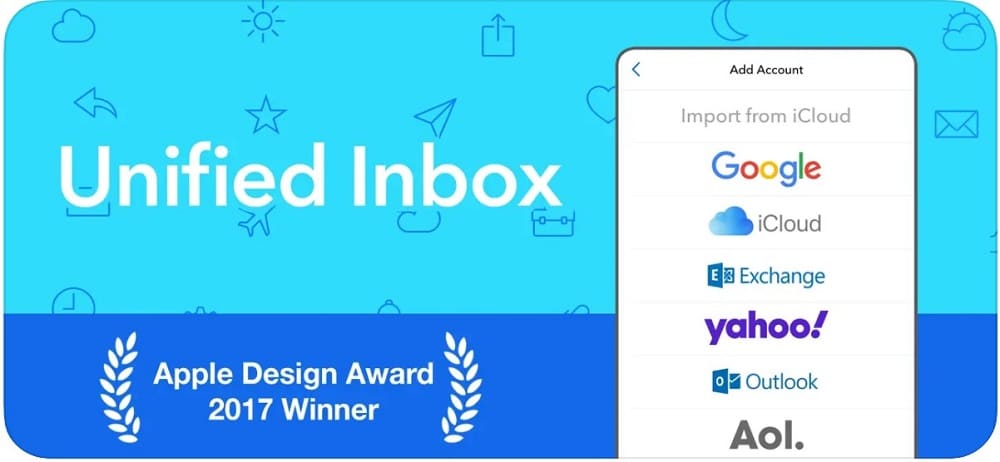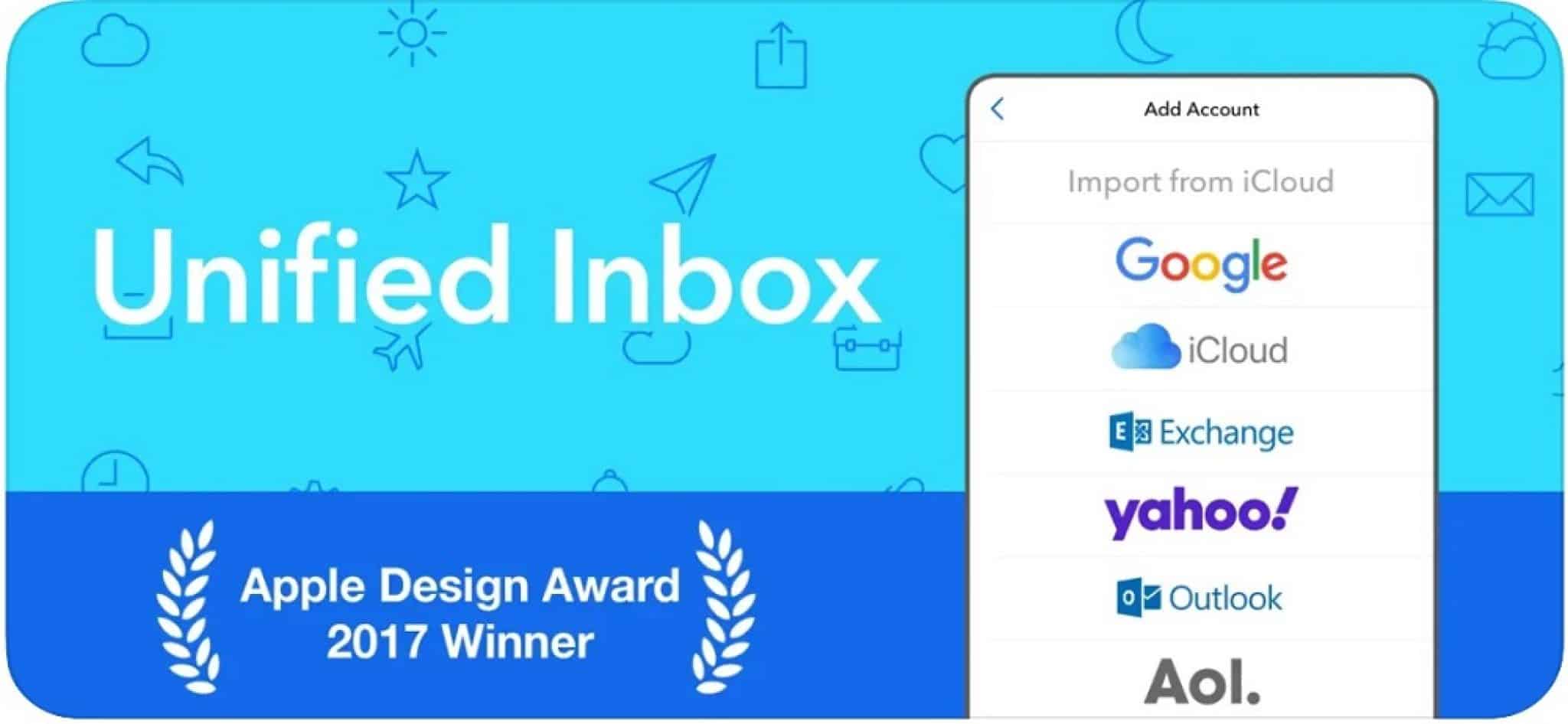 Airmail is well known as the lighting fast email client for the iPhone and Mac or iOS devices. It has been offering the best email services provider, and in 2017, they were awarded the apple design award. It not only supports one account, but you can have access to all multiple email accounts, including iCloud, yahoo, outlook, or google.
We rank Airmail as the best email app for iPhone for some reasons. Such includes the ability to snooze, send later options, privacy mode, access to a unified inbox, smart inbox services to sort important emails, and unmatched customization features.
Today, it also has an interactive notification to the users. Other than supporting POP, IMAP, and exchange. You also have access to the email templates at ago. You also have control to manage the contacts, undo the email sending, and easy method to complete a source code.
---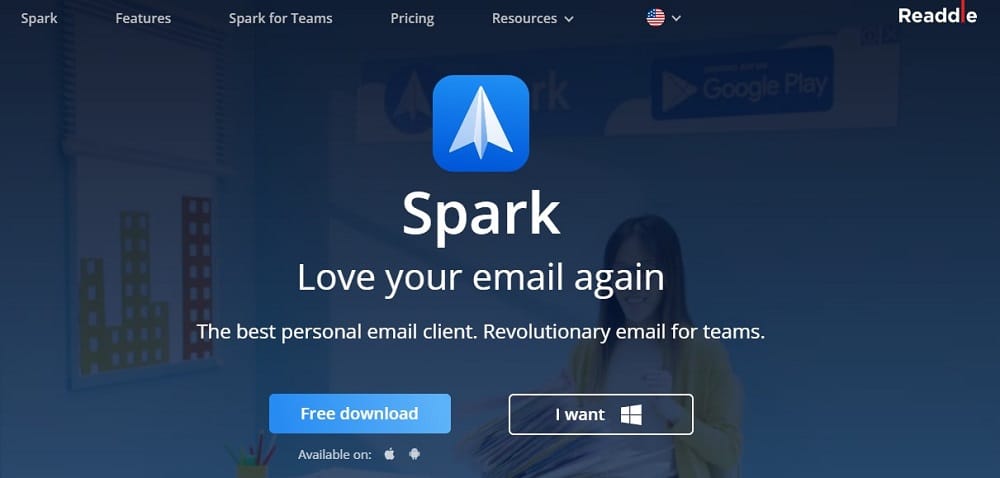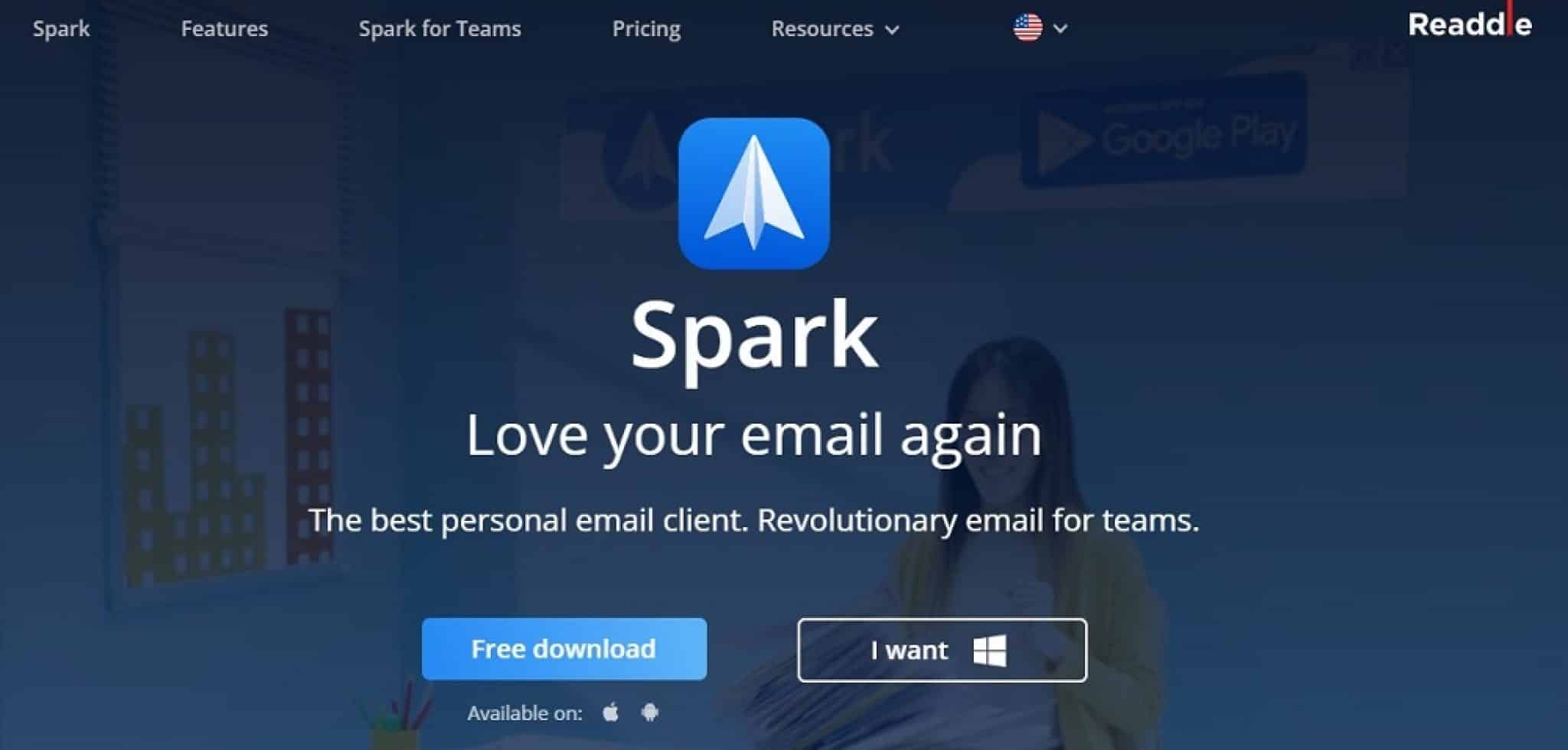 As the last option on our list, Spark is available for both Windows and Android devices. It comes with multiple important features. And immediately you launch and login into the Spark email app, you will have access to the beautiful user interface design and a well-presented inbox that is grouped automatically based on various categories.
With one tap, you get access to the reply page, and the swiping action can get you to the snooze email option; thus, in general, it also has a smart search menu where you can store the smart folders.
Another important feature is the calendar integration which you can rely on to schedule the meetings or tasks as well as share events through email. They have superior customization and management of push notifications on all the accounts supported. Also, remember that, though Spark is an iPhone email app, it also supports IMAP and is readily available to download for free.
However, they also have a premium version if you want to operate in an enterprise. The above and the signature make Spark the best email app for the iPhone. There are many more awesome features.
---
Conclusion
iPhones are becoming popular among apple product users around the world. And if you like the gadgets, you can still elevate your experience by enjoying other beautiful features that the iPhone supports.
While many messaging applications are compatible with the iPhone, email remains superior for office communication and other related purposes. Therefore, other than the mail app on the iPhone, there are plenty of other best mail applications on the app store for iPhone.
In the above list, we have highlighted some of the best, most reliable, secure, and efficient email apps for trying to sue on your iPhone. They all come with a friendly user interface and a free version. However, you can unlock the advanced features by upgrading to the premium versions and having more storage space. Get the app and have all your email accounts under one roof.