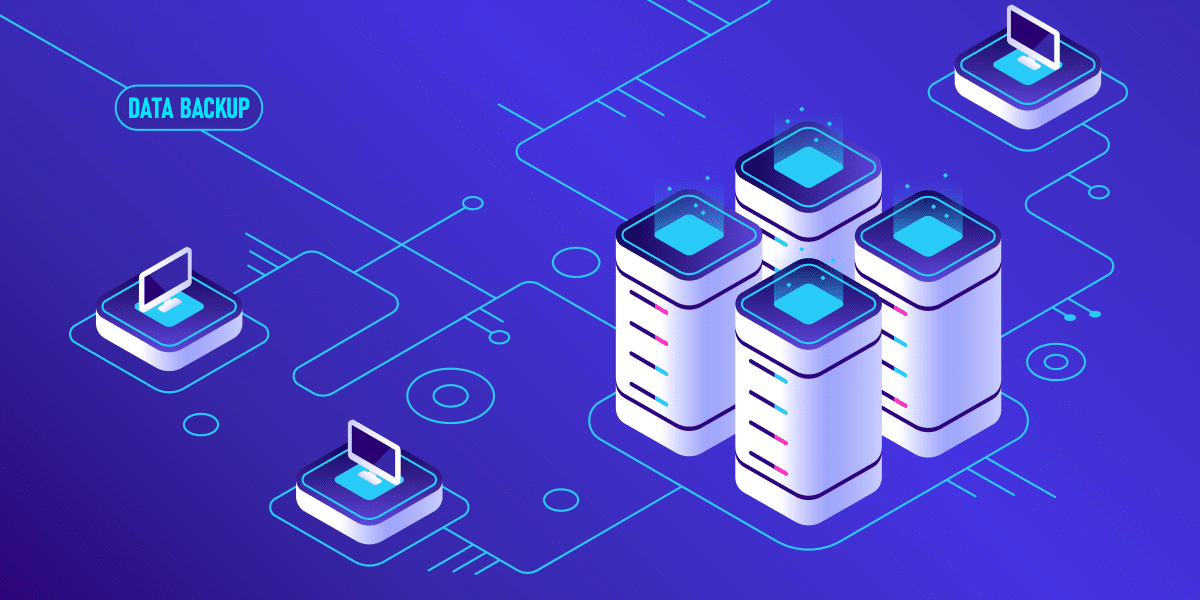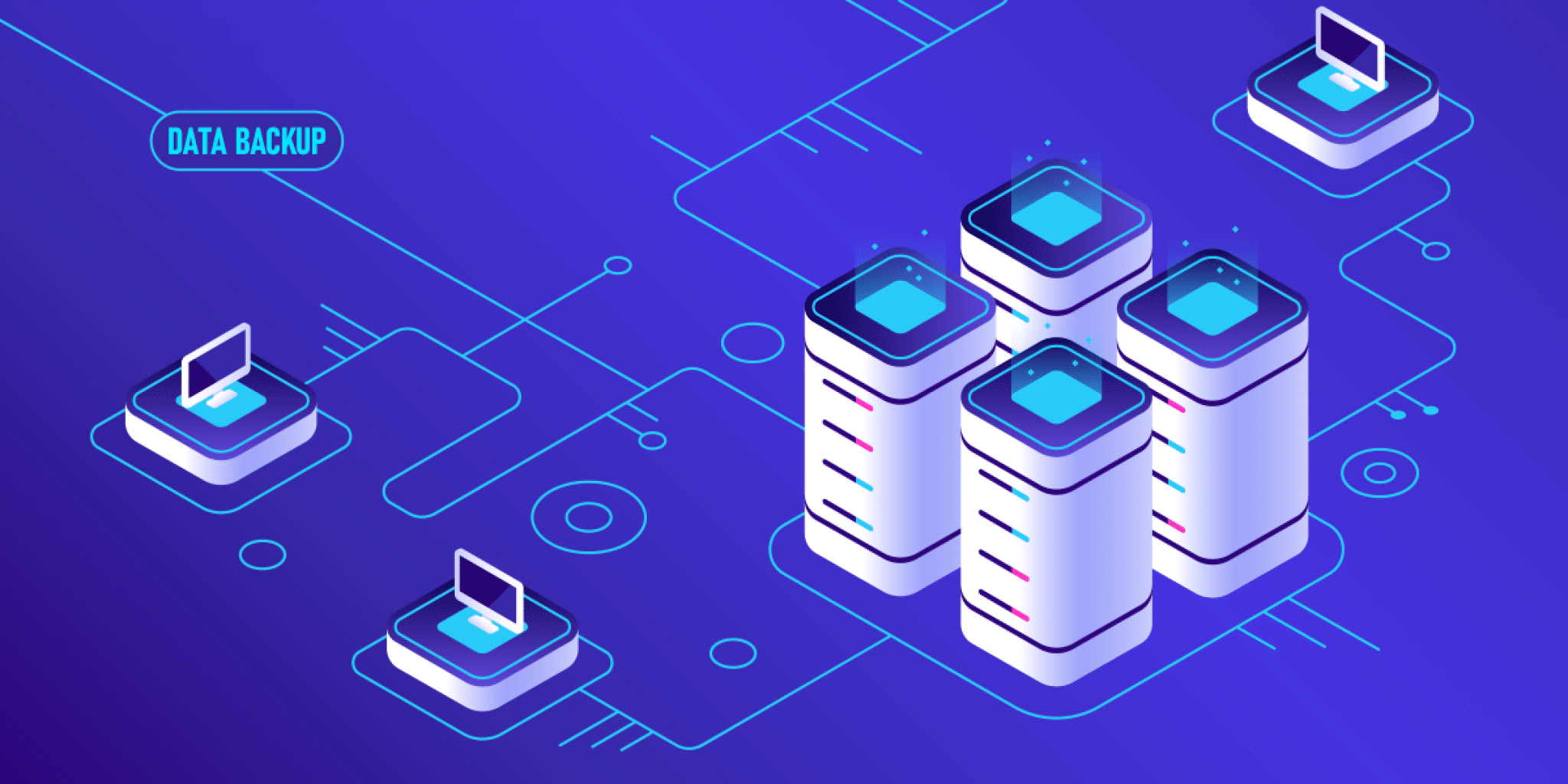 Are you wondering how to back up important data on your PC without losing crucial files? These top 20 best free backup software are the best choices for you.
Data backup is essential for both organizations and individuals. Hardware issues are capable of making important files inaccessible, the same way storage devices are not fail-proof. Also, there is often a ransomware threat that encrypts important files and holds the system for ransom. One of the best strategies for effective data protection is a regular back up of your files. To do this, it is important you choose the right backup software.
This article will examine the best free backup software available in the market. After digesting this article, it will be easier for you to decide which best free backup software meets your need.
Top 20 Best Free Backup Software
---
Features of pCloud
pCloud enables you to save file versions for a particular period
pCloud offers feature for individual access levels or setting the group permissions
It keeps an in-depth log for account activities
It provides digital assets management features, file backup, file versioning, securing, sharing, and file management.
pCloud is a free backup software that offers unbreakable security. It is accessible on all devices. pCloud allows you to receive, send, and work together with your colleagues on every file. It offers multiple facilities such as Activity Monitoring, Comments to files and folders, Shared folders, and Teams and access levels.
---
Features of AomeiTech
AomeiTech has a premium plan that offers recovery and protection services unlimited serves and PCs within your organization.
AomeiTech helps simplifies your backup activities with differential, incremental, full, and automatic backup
AomeiTech can clone SSD to SSD, HDD to SSD, HDD to HDD for data migration, and disk upgrades.
It offers real-time folder and file synchronization from source to target path
AomeiTech is a backup software that helps you to back up and restore data. It offers a disk partition manager that enables you to manage hard drives and protect your data. AomeiTech supports different versions of Windows OS like XP, Vista, Windows 7, Windows 8.1, and Windows 10 for 32 or 64 bit. It provides a backup solution for businesses and individuals.
---
Features of MiniTool ShadowMaker
MiniTool offers features for file synchronization
It enables you to schedule back regularly
It offers WinPE Bootable Media Builder to enable you to create bootable media and retrieve OS to the previous state
MiniTool also allows you to set an incremental backup scheme
MiniTool ShadowMaker is a restoring, cloning & backup software. It helps keep your computer secured with the highest level of data security. MiniTool ShadowMaker can backup partitions & disks, individual folders & files, and OS to storage devices. It allows you to restore the system to the previous condition from an external drive.
---
Features of Iperius Backup
Iperius Backup provides features for copying folders and files to ant mass storage device
It offers features for Disk Backup/Network, FTP Backup/Sync, and Tape Backup
It allows you to automatically send your backups to renowned cloud storage services such as Azure Storage, Amazon S3, Google Drive, etc.
It creates its whole disk image with Iperius without encountering any interruption
Iperius Backup enables you to encrypt and compress your backup files and copy them to any destination
This backup software offers backup solutions for numerous use cases. It offers Ransomware security to files that are encrypted. It can be installed on Windows services. Iperius Backup runs parallel and multiple backups. It also offers in-depth reports.
It offers a free solution for Windows. It provides an unlimited license. Its free plan provides various features such as incremental backup to RDX, USB, disk, NAS, and network.
---
Features of Zoolz
With Zoolz, you can easily set up your own schedule
It offers file filtering features
It allows you to save your local backup copy to your external drive, network, or server
It helps to securely transfer your files by encrypting them
Zoolz uses 246 AES encryption and stores your files on encrypted servers.
Zoolz is a backup and cloud storage service for home users. It can be used to back up network drives, external drives, and computers. Zoolz is a long term storage unit.
Zoolz allows you to save your data on the cloud indefinitely. Because it duplicates your files among numerous facilities worldwide, it provides you with a reliable long-term data storage service.
---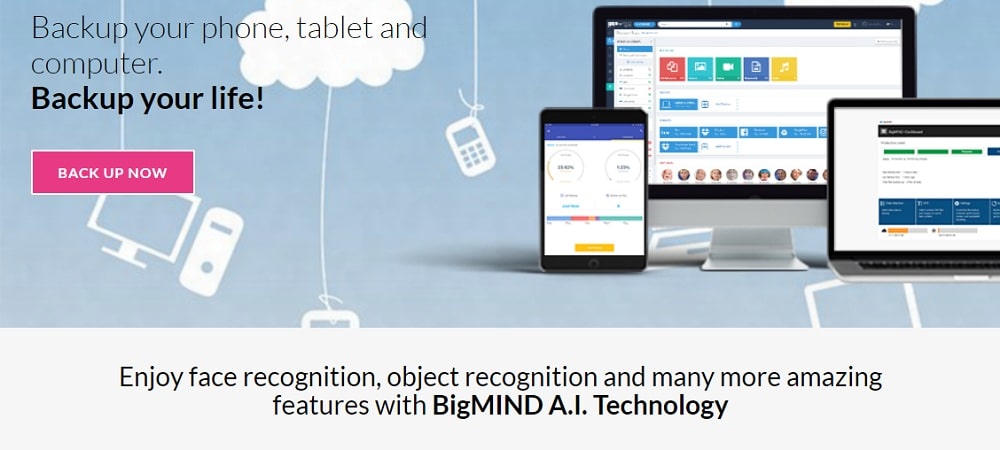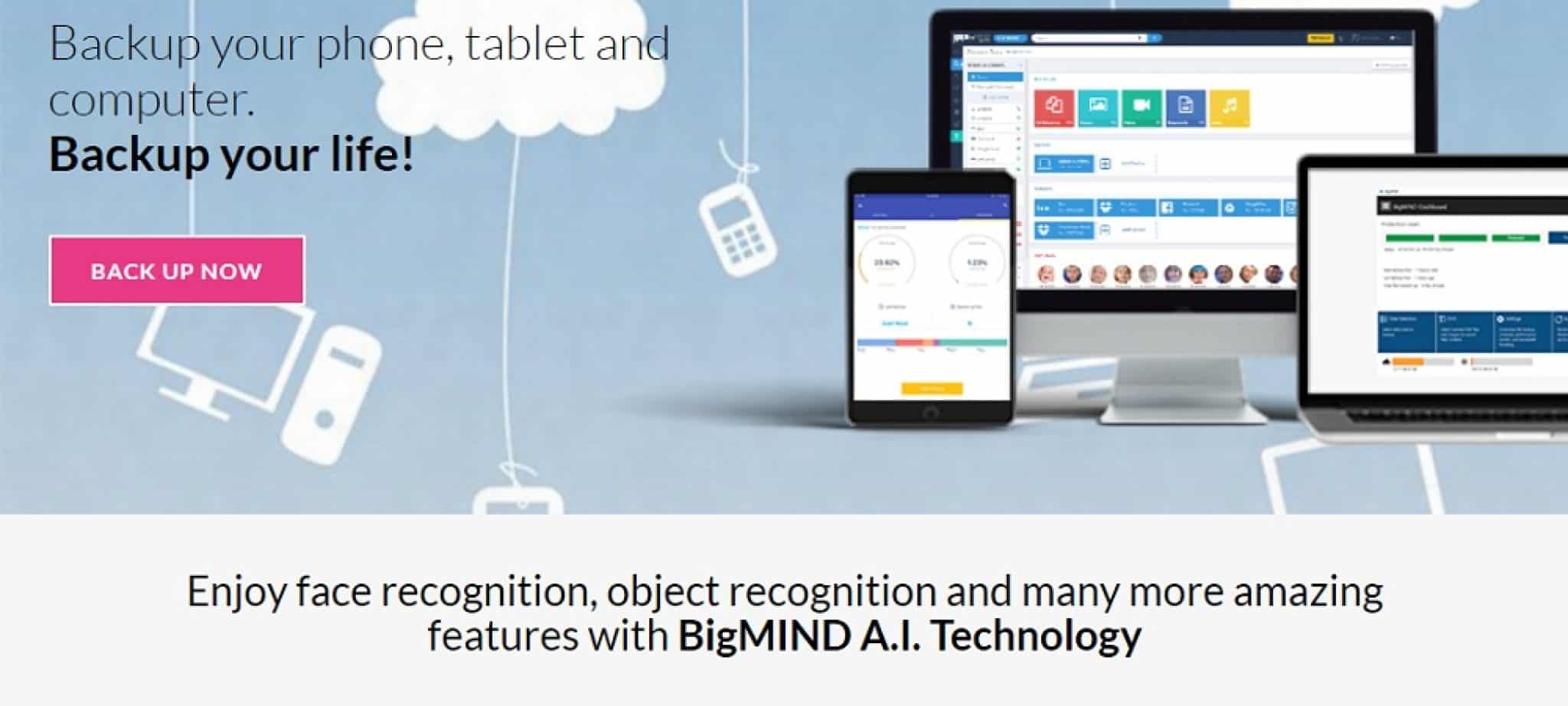 Features of BigMIND
BigMIND offers unlimited backup
Its home helps offer a reliable and safe data backup
BigMIND has a mobile application that enables you to have your data at your fingertips
It possesses a built-in facial recognition engine that helps arrange your images through the thumbnails of each person.
This backup software is an AI cloud backup platform form, individuals. It enables you to discover, back up, and access all your private files. BigMIND supports iOS, Android, Mac, and Windows devices. It also offers unique functionalities such as object recognition, face recognition, etc.
---
Features of IBackup
IBackup provides support for versioning
It offers features such as encryption, data compression, and automatic backups scheduling
IBackup supports Oracle Server, MS SharePoint Server, Hyper-V, MS Exchange Server, and MS SQL Server.
It enables you to backup limitless devices to one account
It also possesses secure local backup features
IBackup is a storage and online backup solution. It backs up limitless devices to one account. IBackup supports Linux, Mac, and Windows for backing up.
It also supports various types of backups such as databases, running servers backup, system state backup, and open file backup. IBackup's Web Interface allows you to manage backups, share, access, and upload files.
---
Features of EaseUS Todo Backup
EaseUS Todo Backup has both Cloud and Local backup
It provides Differential and Incremental backup
It enables transfer system
It offers outlook email backup
It also enables wipe disk partition
EaseUS Todo Backup is a backup software that supports individual folders and files backup. It also supports backups to Dropbox, Google Drive, and OneDrive. It possesses features such as migration and cloning.
---
Features of Acronis True Image 2020
Acronis True Image 2020 has both Cloud and Local backup
It possesses office 365 backup
It helps clone disks such as Ext2-4, Core Storage, APFS, ReiserFS(3), exFat, Fat 32, Fat16, HFS/HFSX, and NTFS
It supports full system images backup
Acronis True Image 2020 has numerous features such as AI and blockchain data notarization protection functionalities that help secure against crypto-jacking, ransomware, and other potential threats. It provides an easy and clean user interface that makes it easy to back up files.
---
Features of Cobian Backup
Cobian Backup provides FTP backup
It provides Differential and Incremental backup
It has strong encryption
It allows you to carry out a backup at various locations at the same time
This free backup software comes with numerous features. It can back up files and folders in various locations. Cobian Backup supports network and FTP backups by letting you carry out remote system backup.
It supports both new and old windows OS such as Windows 10, 8, 7, 2008, 2003, XP, 2000, NT, 98, and 95.
---
Features of NovaBACKUP PC
It supports automatic backups
NovaBACKUP has both Cloud and Local backups
It provides AES encryption
NovaBACKUP PC is an excellent backup solution for both small and established businesses. It supports advanced backup features such as AWS, Azure, NAS, and various cloud storage solutions.
NovaBACKUP PC can download one terabyte hard drive in just eleven hours, unlike the 20 hours average speed of other apps.
---
Features of Paragon Backup & Recovery
It helps you to create a recovery disk
It provides version control
It enables partition disks and volumes
It supports disks copying
Paragon Backup and Recovery helps create complete or partial systems and file backups. It supports advanced recovery environments such as ISO images and Windows PE. The software can be used to create USB drives and bootable ISO.
---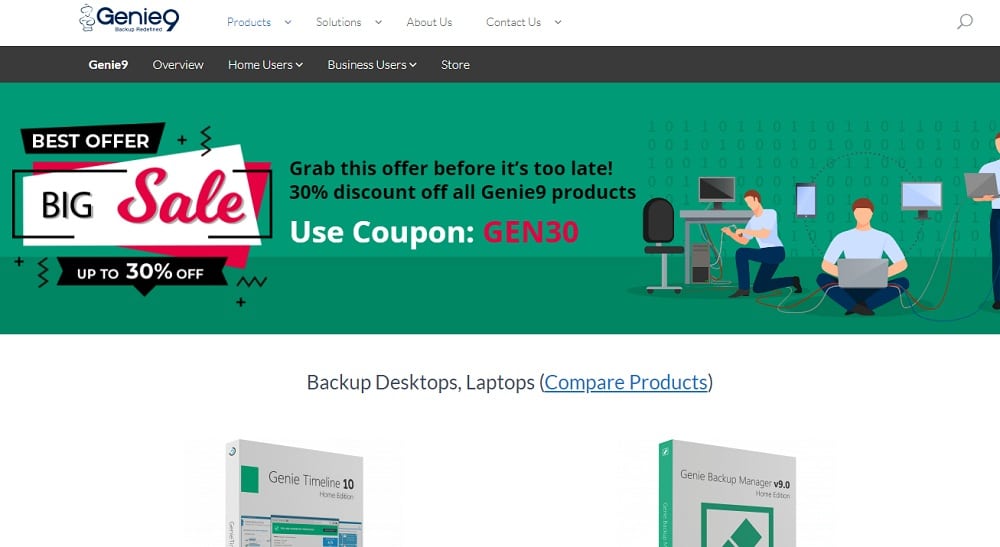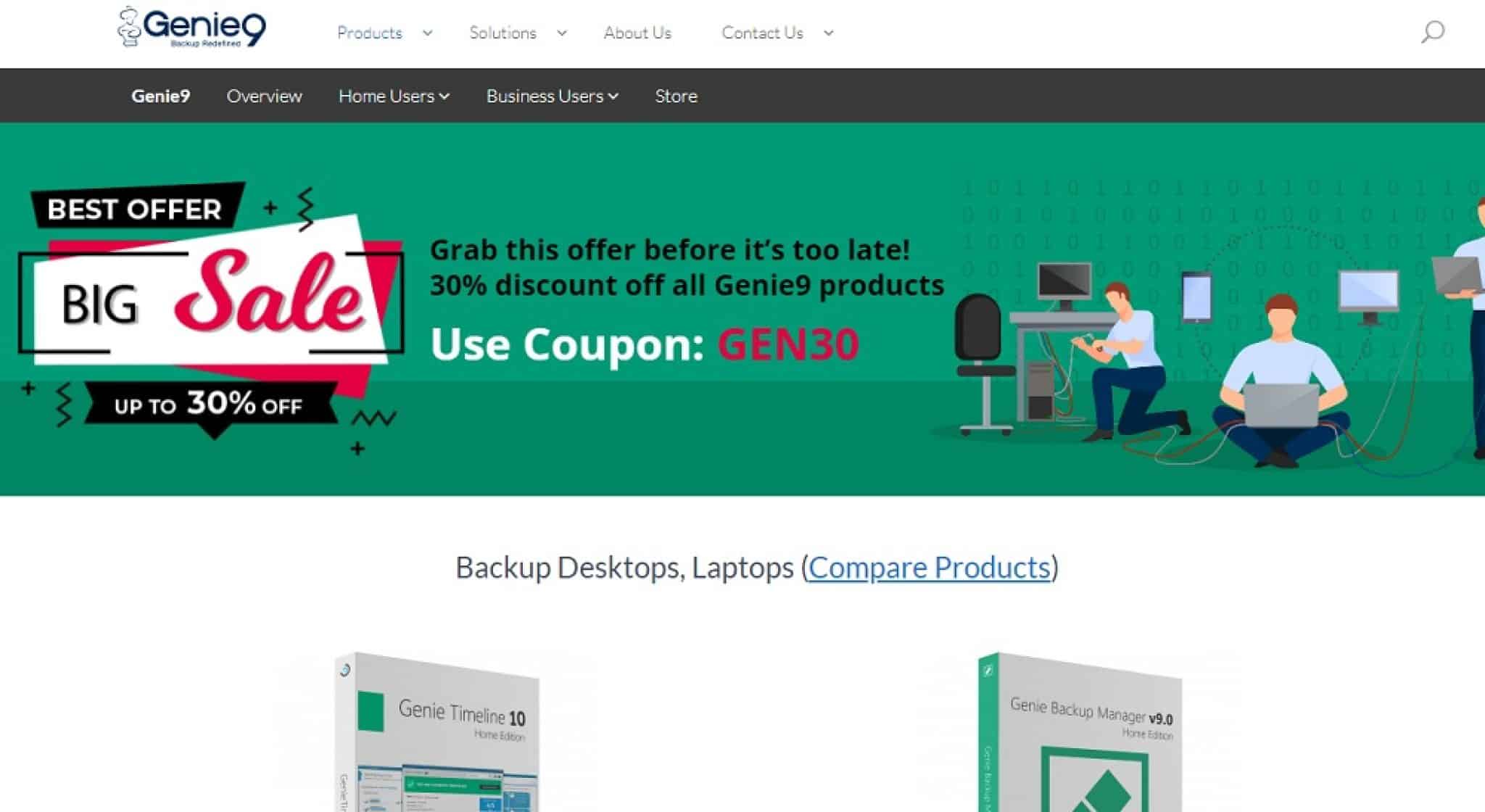 Features of Genie Timeline Home
Genie Timeline Home helps you create a bootable USB drive and ISO
It provides iPod, iPad, and iPhone disaster recovery
It provides backup to hard drive removable drive
Genie Timeline Home also offers Strong Encryption (AES256)
This free backup software is one of the best backup software tools that offer advanced functionalities. The software supports automatic backup, disaster recovery, one-click backup, and automated purge for reduced file sizes.
Its filter timeline displays deleted, new, and modified files. It allows you to backup partitions, disks, videos, documents, and emails.
---
Features of FBackup
It provides network and Local backup
It supports mirror backups
It also helps you backup files online
It protects your files' password
FBackup offers ZIP64 support up to 2GB
FBackup is one of the most professional backup solutions that enable you to backup specific folders and files. It enables you to store certain versions and create numerous backup files. FBackup also lets you backup files to Google Drive or a network drive.
---
Features of Google Backup And Sync
It synchronizes with Google Drive
You can easily assess back files using smartphones
Google Backup And Sync supports cloud backup
In the course of system failure, Google Backup And Sync is a backup software that won't allow you to restore your system if it crashes. It lets you back up selected files to Google Drive. Its backup speed depends on the speed of your internet. It allows broadband users to back up huge files within minutes. The files can be accessed from mobile phones using Google Drive.
---
Features of Backup4all
Backup4all provides cloud, network, and Local backup
It provides features for zip compression
It helps you backup files to Hubic, Hidrive, Azure, BOX, Amazon S3, Microsoft OneDrive, Dropbox, Google Drive, and 37+ compatible cloud destinations
It carries out remote backup using SFTP, FTPS, and FTP
This backup software comes with an advanced restore and backup features. It supports local backups to optical devices and hard drives. Backup4all also supports backup to external drives, cloud, remote, and network backup.
---
Features of Windows Backup and Restore
Windows Backup and Restore helps create system images
It supports Windows 7 and 10
It also supports folders and files backup
Windows Backup and Restore feature first emerged in Windows 7 and was later reintroduced in Windows 10, while it was removed from Windows 8.1. It allows you to backup and restores files from other devices using the app.
---
Features of FileFort Backup
FileFortbackup allows you to encrypt a backup and schedule backups weekly or daily. It also provides the option to run missed ones at startup
When you decide to choose data to include in a backup, FileFort Backup allows you to filter the files to include only the ones that are under a particular file type of size
It allows you to back up individual files/multiple folders to an external drive, network folders, Blu-ray/DVD/CD, or any other folder that is on the same drive as the source files
FileFortBackup is a free backup software that allows you to back up files to ZIP file, self-extracting EXE file, BKZ file, or a normal mirror backup that copies the files to the destination.
---
Features of DriveImage XML
It helps you clone or back up a drive to another without having to create an image file
DriveImage XML allows you to restore a backup image onto a hard drive (that is larger or of the same size as the original) or browse through the backup
Before carrying out a backup, DriveImage XML allows you to choose whether to split the backup into smaller sections, compress the files, and/or back up unused space
DriveImage XML enables you to back up system drive or other attached drives to two major files that can be stored on an external drive, local disk, or a network folder.
---
Features of Redo Rescue
This free backup software can be used to back up a drive to a shared network folder, FTP server, external USB device, or an internal hard drive
It is best used in cases where you desire to restore an entire hard drive
Redo Rescue is a free backup software that does not support backing up individual folders and files. Rather, it backs up a whole hard drive at a go by running from a bootable device like disk.
---
Conclusion
In this article, we have successfully reviewed various types of free backup software. With the curated list, you can easily decide which is best for you or meets your needs. If you need a restore software or a simple backup, then you can go for Windows Backup and Restore tool, Google Backup and Sync, and Cobian Backup.
Organizations should go for a software system with advanced backup features like Paragon Backup & Recovery, Backup4All, NovaBACKUP PC, and Acronis True Image 2020. Also, FBackup is free to use, and it is a nice app for both individual users and businesses.