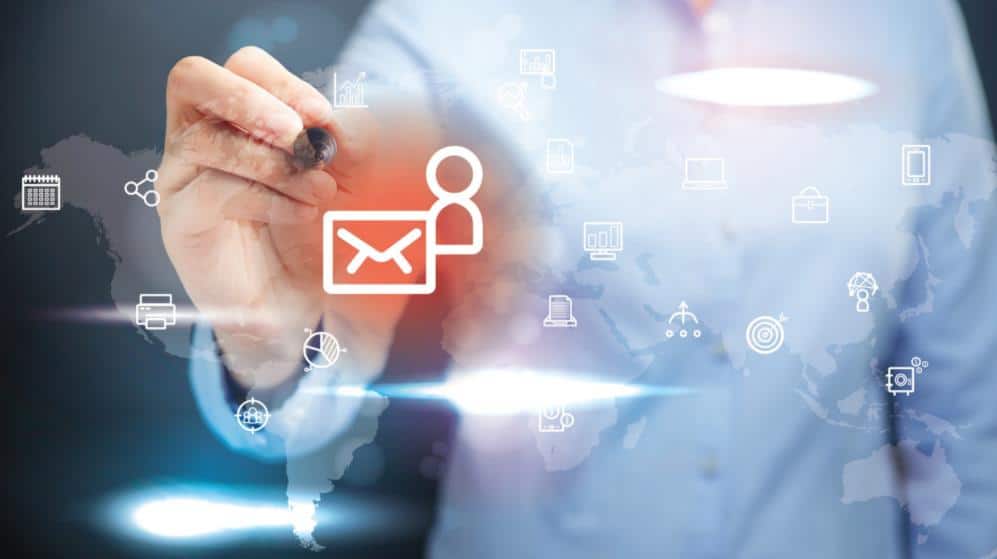 Monitor the effective delivery of your important emails with a top class email tracking tool that will notify you immediately an email is received and opened.
You might be contemplating on what email tracking tool to use and how best to deploy it into your business. The truth is that only a few does more than just email notification. There are some great email tracking tools that really increase your sales with intelligent analytical skills and cool features that you never knew existed and that's why I will focus on sharing with you the very best and effective email tracking tool to consider for your business in 2023.
---
MailTracker from Hunter is a simple and free email tracking tool for Gmail. To use it, you'll need to install a Chrome extension that will allow you to track all of the emails sent from Gmail.
As soon as your recipients open your email, you can see the tracking details directly in Gmail.
Integration with Gmail
MailTracker can be integrated inside your Gmail inbox to keep track of your email without disrupting the workflow.
Effective cold email tracking
If you send cold emails in bulk, for email tracking, you might find useful another free Hunter's tool called Campaigns. It not only allows you to schedule personalized emails and follow-ups, but also tracking all of the activities such as opens, clicks, and responses for you. Based on the tracking, you can get detailed reports of your campaigns' performance.
Pricing
MailTracker is absolutely free for everyone.
PROS:
It's free

Easy to use

Realtime tracking

Integration with Gmail

It provides high security and privacy
CONS:
It doesn't track user's location
---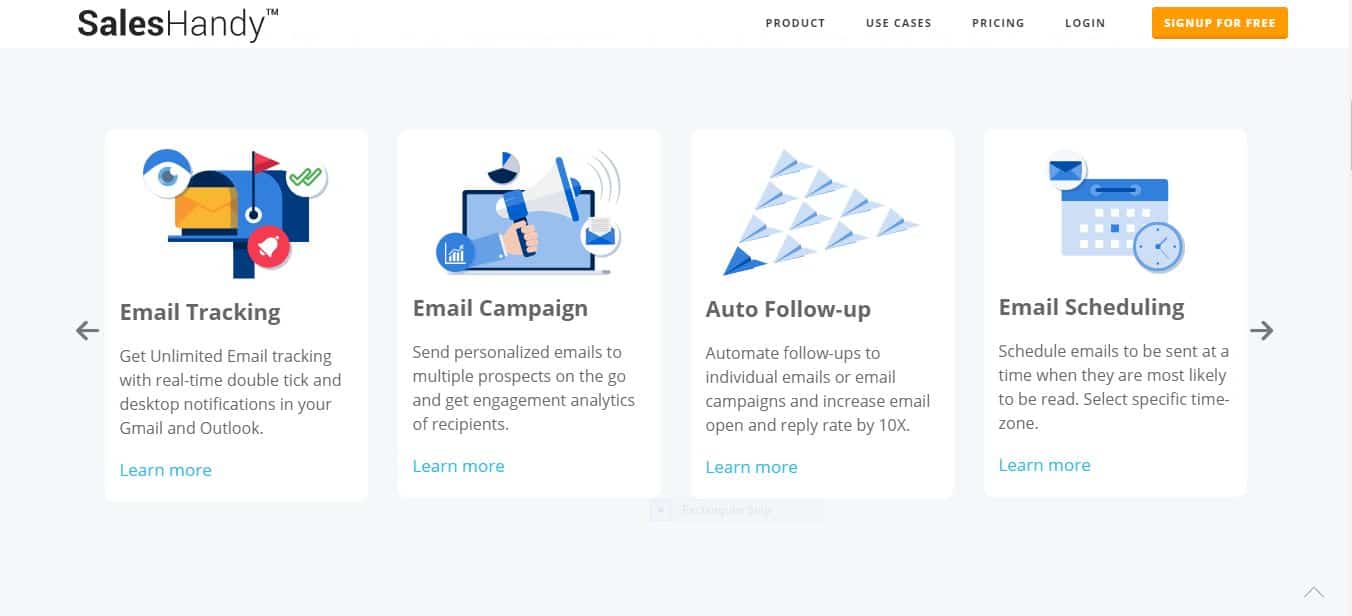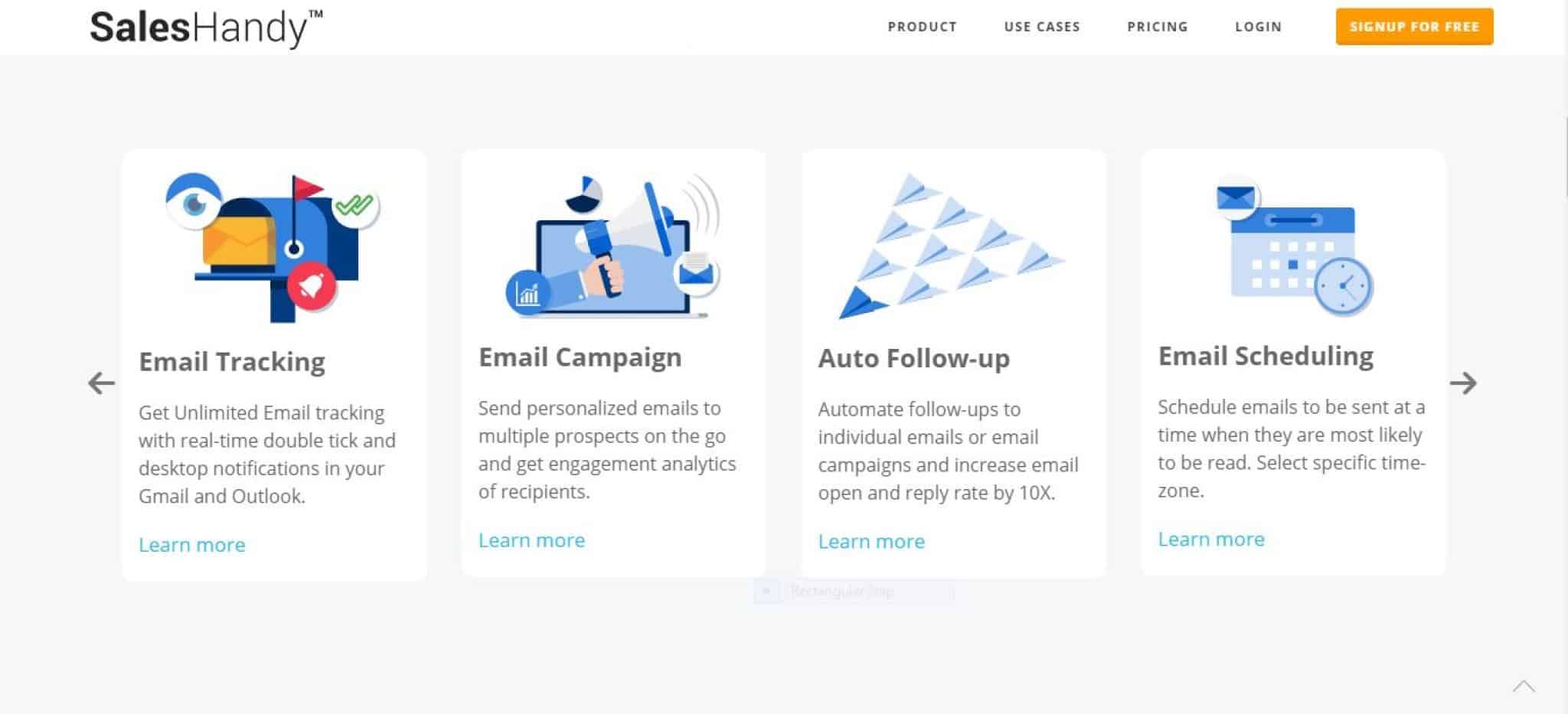 SalesHandy is a web-based email tracking and productivity tool that is mostly used as a plugin for Outlook and Gmail by sales professionals. It allows users to effectively track prospect's activities and follow up on their initial mail.
The following features make SalesHandy an ideal email tracking choice.
Effective Campaign tool
SalesHandy is an effective email engagement tool for email campaigns ideal for small and medium-sized businesses to generate prospects and convert them to regular customers. It allows real-time communication and data analysis for sharing files and initiating leads.
Integration
It integrates well with a household email client like Outlook, Gmail, Yahoo Mail, and many SMTP servers.
Email Scheduling
Never again will you have to keep track of time to send a specific email. With the SalesHandy tracking tool, you can design a pre-defined mail template and schedule it for delivery at any time you wish to. Now that's great, isn't it?
Pricing
Regular package: SalesHandy has a starting package of $9.00/ month.
Plus package:  for a $20/ monthly package, you have access to more features.
Enterprise package: This offers the best value in the business point of view at the price of $50/monthly.
PROS:
It is cost-effective.
It's an easy to use tool for tracking, monitoring, and email scheduling, especially for email campaigns.
They have an efficient customer support team to attend to queries via chat, email, and phone calls.
CONS:
It does not have an advanced email tracking mechanism. You can sometimes experience difficulty tracking specific emails.
The interface can be difficult to understand if you haven't read through the support page which offers insight on the tool.
---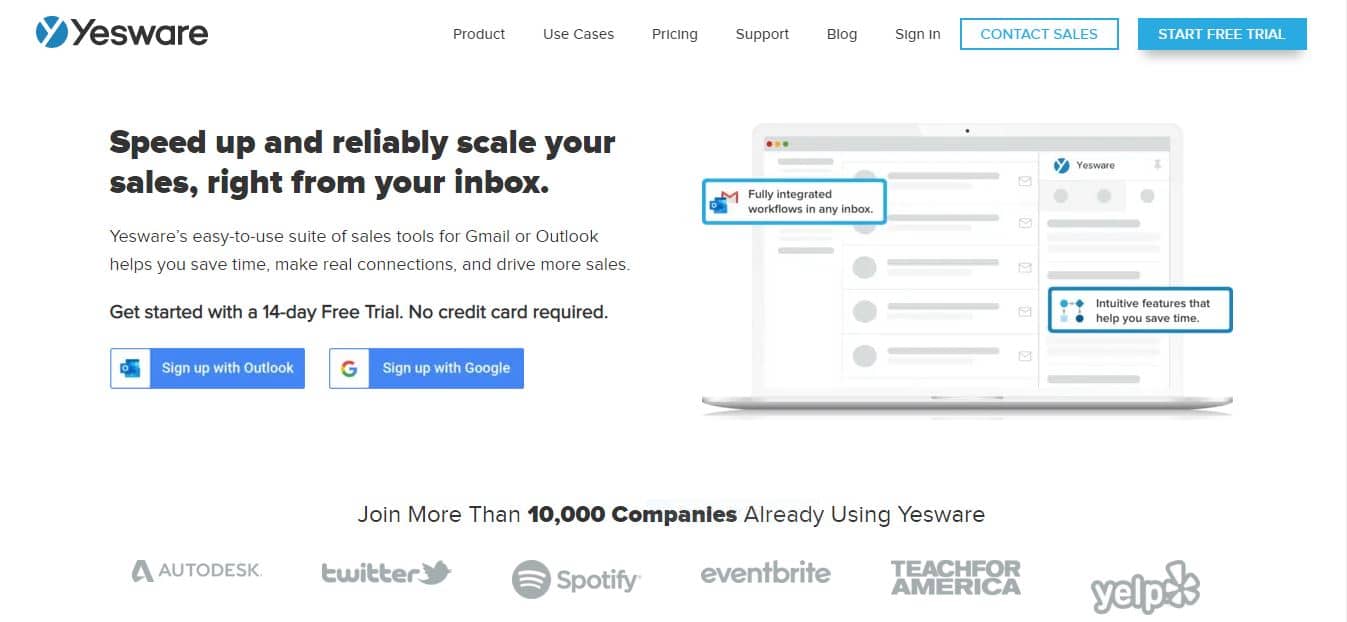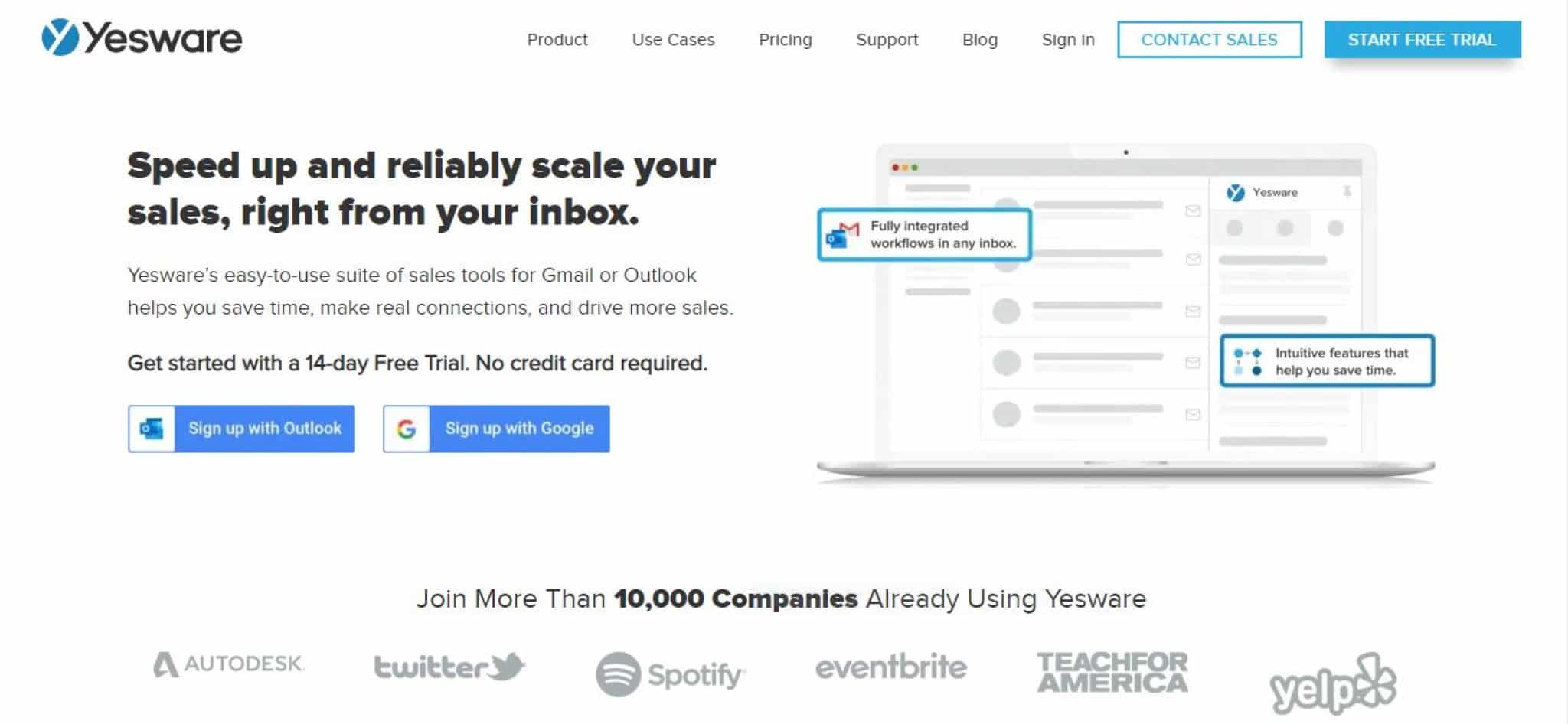 Yesware is one of the most reliable email tracking and intelligence tool when it comes to sales and real business connection. With Yesware, you can easily view and track email history and behavior for a particular customer by clicking the Yesware Activity feed.
It is a useful tool to filter emails for better arrangements. It also comes with templates, analytics, meeting scheduling, and many more cool features. It works best as a tracker tool for email clients like Microsoft Outlook and Gmail. It helps to provide the real-time notification. Yesware offers a paid subscription with a basic fee of $12 for a single user/account per month. To have unrestricted access to its services, you need to subscribe to an enterprise package that cost as high as $80 per month. Yesware doesn't currently have a free package plan. However, when you download and register the Yesware tool, you claim a free trial that lasts for 14-day.
The following features make Yesware an ideal email tracking choice.
Tracking and Analytics
Yesware offers real-time tracking and analytics of emails, links, and attachments that keep you informed of customers' interaction and behavior. The tool empowers small, medium, and big businesses to strategize on converting prospects into potential clients.
Integration with Gmail
Yesware can be integrated inside your Gmail inbox and Microsoft Office 365 to keep track of your mail without disrupting your workflow.
Pricing
Yesware comes in three billing packages
Pro package: This basic plan is billed annually for $12/monthly.
Premium package: This premium plan is an upgraded plan that is billed annually for a cost of $25/monthly.
Enterprise package: This package encapsulates all the cool features for a business enterprise. It comes at an annual cost of $55/monthly.
PROS:
It helps immensely to save time
It allows easy tracking of customer history
CONS:
The basic package has limited access to SalesHandy features and functionality, especially for campaign features.
Firewalls can alter analytics and give inaccurate email analysis, which could adversely affect sales.
---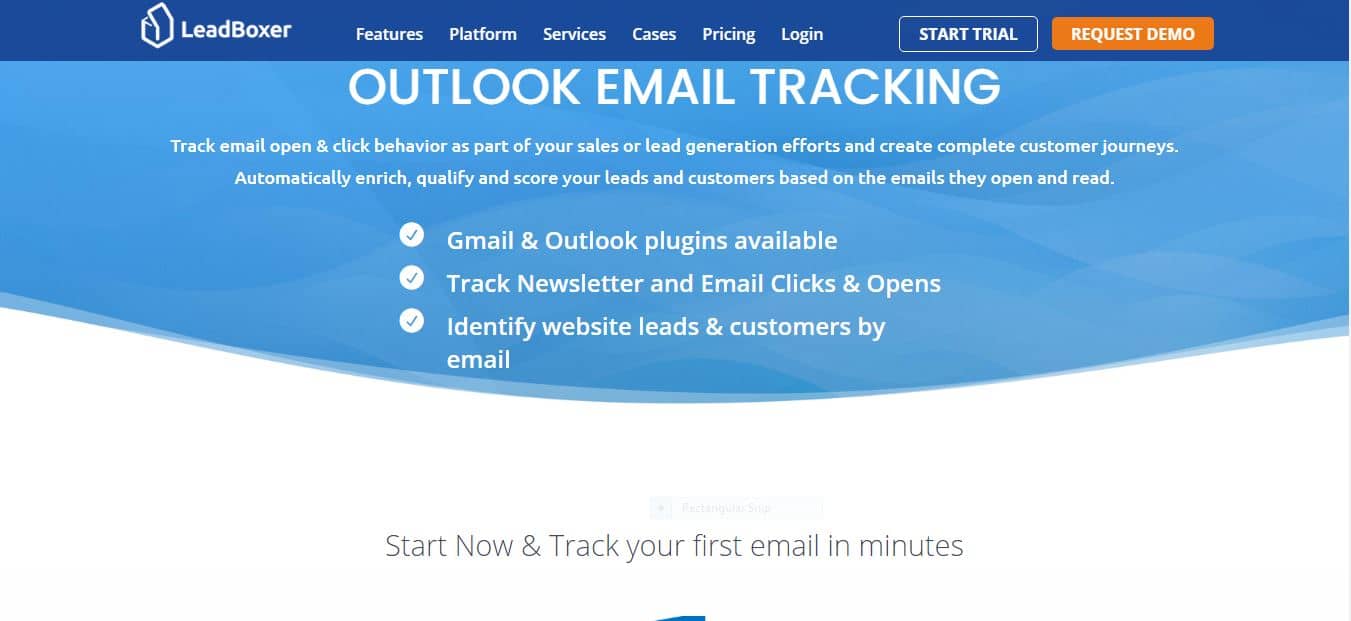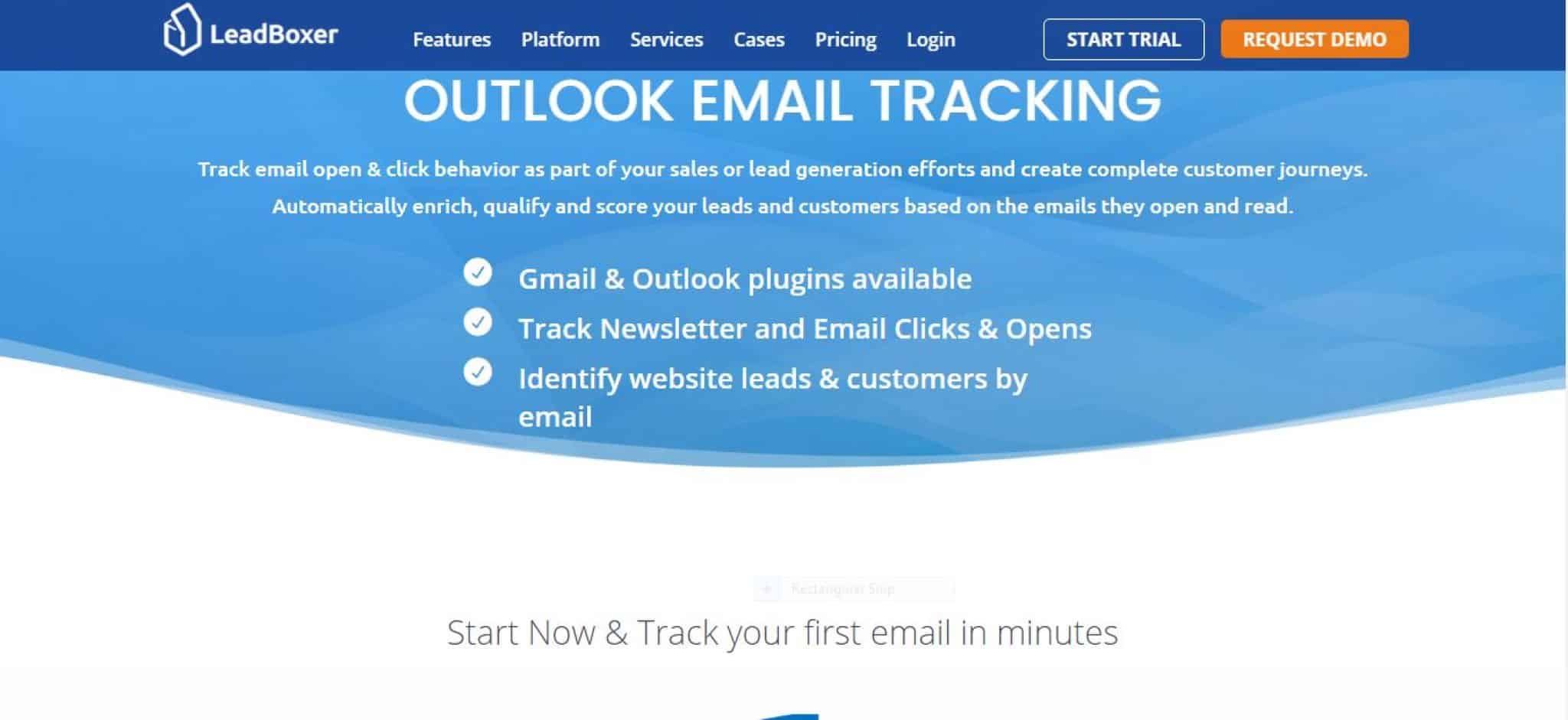 LeadBoxer is a top web-based email tracking tool available on the internet with various cool features. The tool provides businesses and individuals access to intelligent analytics and insight on customer's interests, behavior, and communication. Leadboxer creates a profile and a scorecard for various attributes on a prospective customer.
The following features make Leadboxer an ideal email tracking choice.
Notification
With Leadboxer, you can be assured of real-time notification, report on customer engagement with leads scoring parameter system. The tool allows you to view insights through analytics of who is visiting your website and what they click.
Integration
Leadboxer integrates well with CRM and other sales tools via an advanced API mechanism by LeadBoxer. It integrates with Zapier and some email clients.
Pricing
The pricing on Leadboxer starts from $149/ month; you can also activate a 14-day free trial.
PROS:
promptly notifies immediately an email is opened by the receiver.
It's a very good tracking tool for identifying leads and lead sources.
You can easily define lead scoring parameters by filtering and exporting data.
CONS:
It has limited functionality when it comes to data mining.
It would be great if the user interface could be redesigned to be more users friendly.
---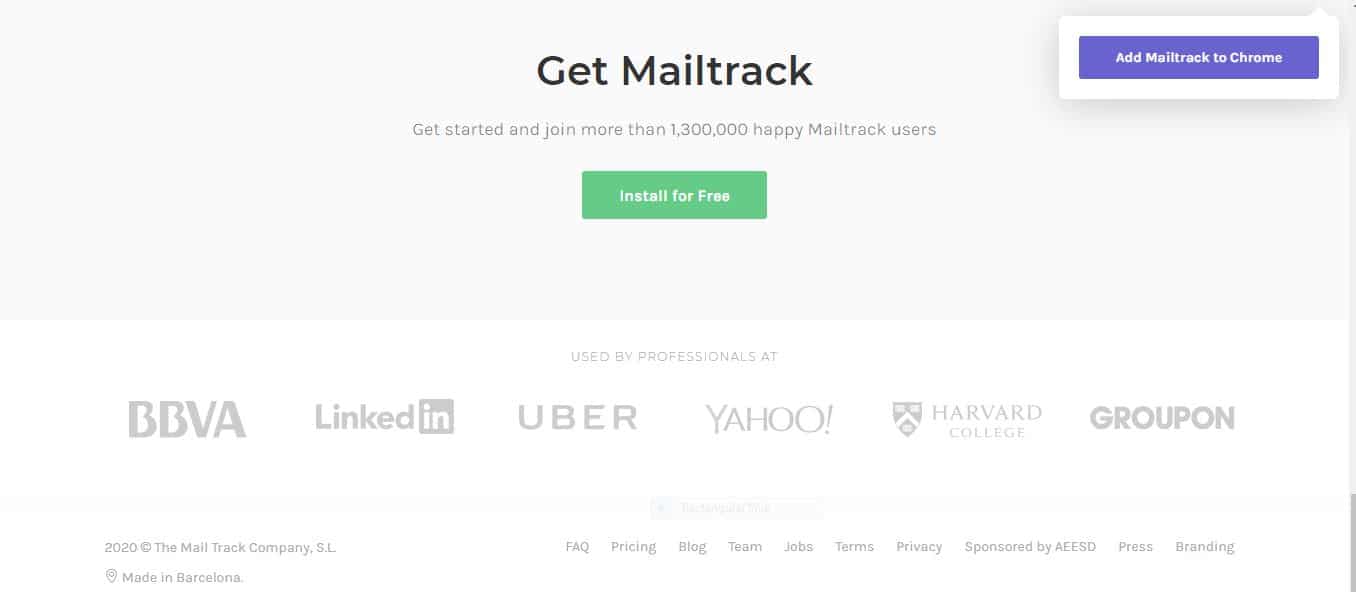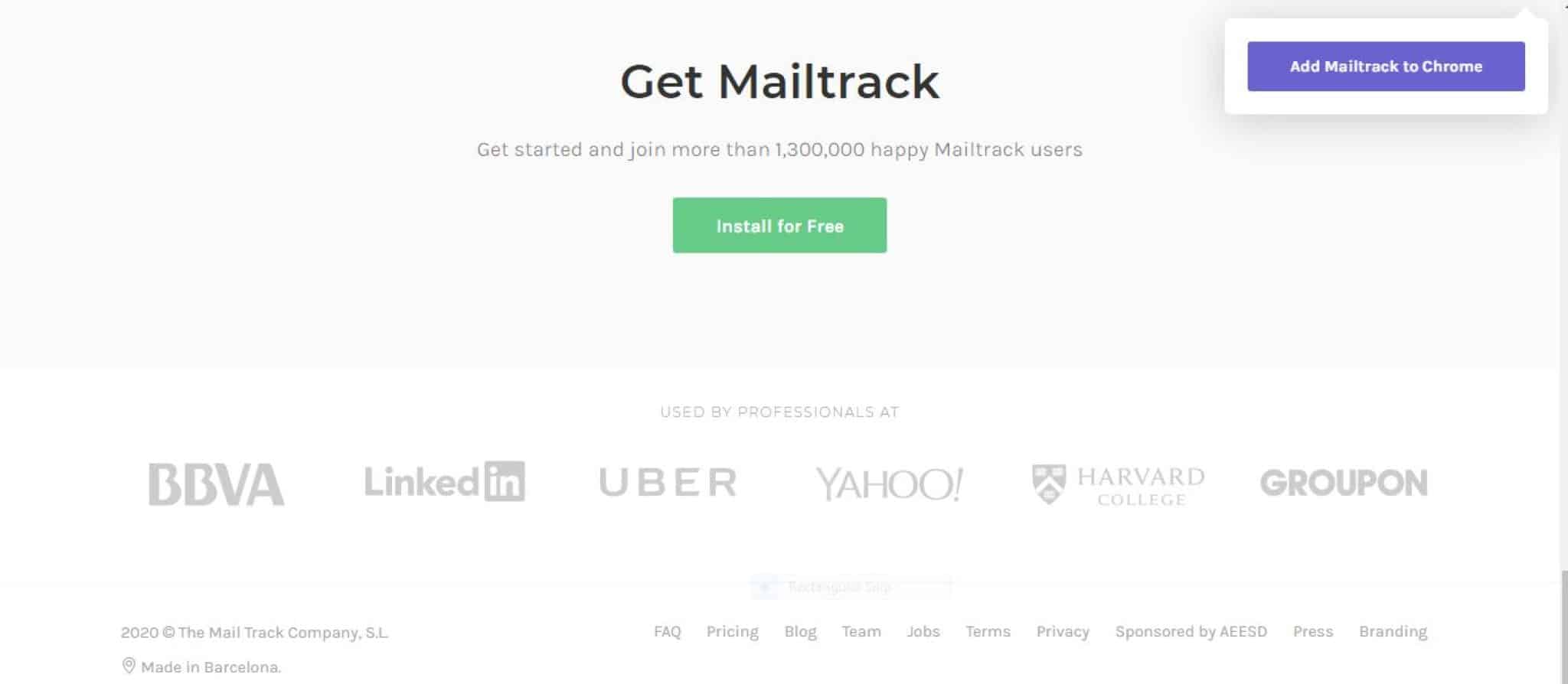 Mailtrack is one of the cheapest extensive email tracking and delivery tools that are compatible with many productivity tools like Streak CRM, Yesware, and Gmail. It's a tracking tool that is best for a cloud-based solution on Office 365 and GSuite.
The following features make Mailtrack an ideal email tracking choice.
Cross-Platform
Mail track is a popular choice for small businesses and individuals who want a cost-effective tool that is available on desktop and mobile platforms.
Notification
With the Mailtrack tool, you are informed by mail immediately your message is delivered and read.
Pricing
Mailtrack tool offers three packages.
Monthly PRO package: Mailtrack pricing starts from $4.95/ month.
Quarterly PRO package: It's billed quarterly as a one-time payment of $11.90 at $3.99/month.
Yearly PRO package: it's the best value that comes with the monthly price of$2.49 if you pay an annual fee of $29.
It offers a free plan and a free trial period.
PROS:
It's a cost-effective alternative.
You will have to pay for premium service not to have your emails signed by Mailtrack.
Mailtrack mechanism triggers an instant notification when a mail is opened and read by the recipient.
CONS:
You cannot identify which recipient opened a particular email especially when a lot of emails are sent out.
---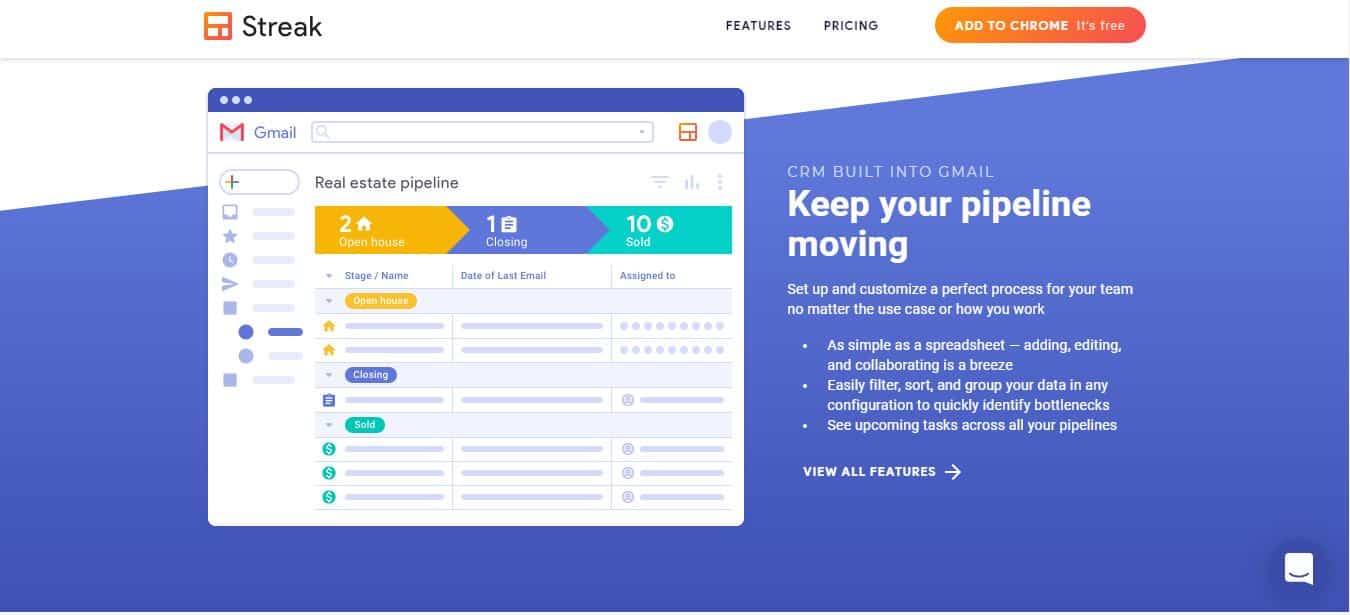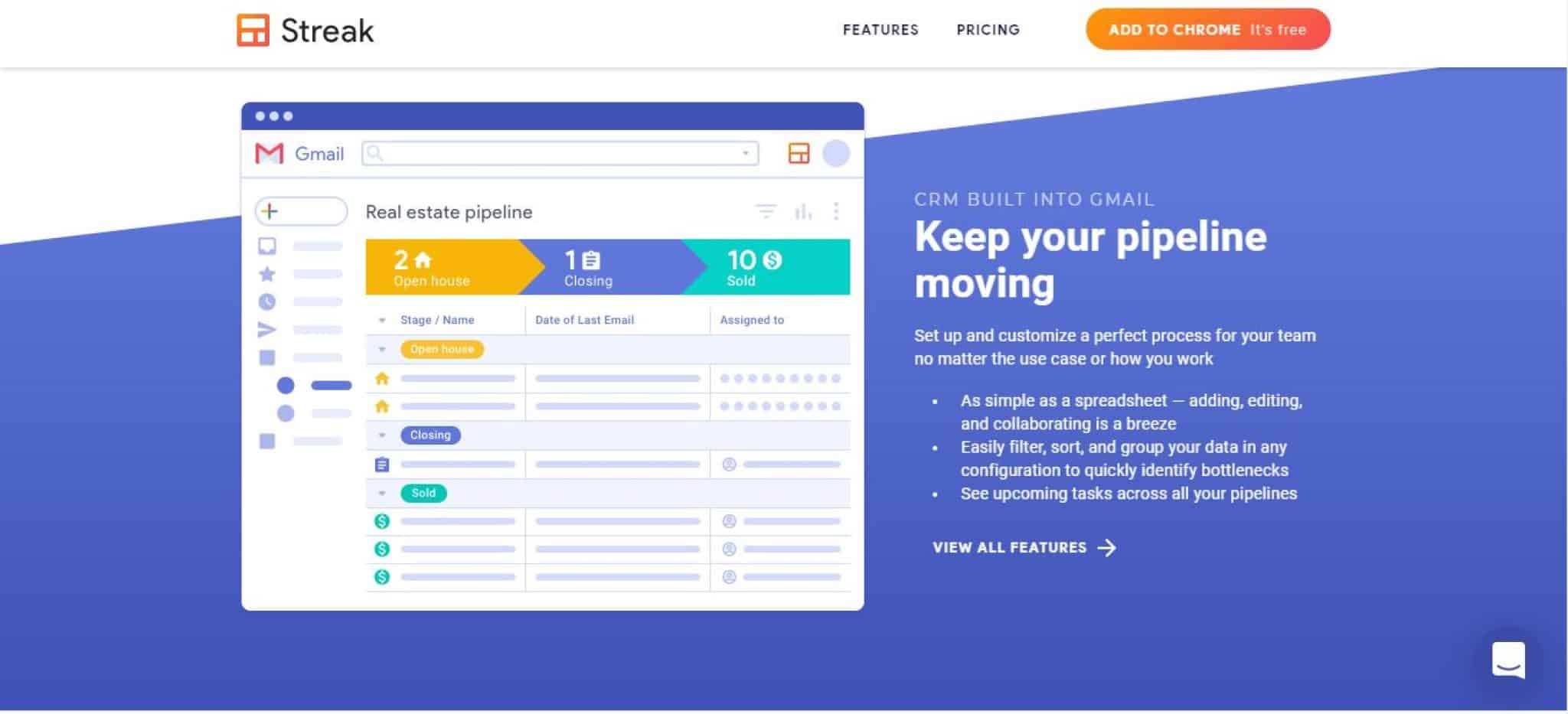 Streak is a Gmail CRM tracking tool that can be integrated with Gmail through its chrome extension browser. Streak is a fully embedded workflow and productivity software tool in Gmail that allows proper management of sales and customer relationships directly from Gmail.
The following features make Streak a useful tool.
Email Notification
Streak email client offers real-time notification. You get a return notification when an email is opened by the recipient, which allows for easy tracking of open emails and acceptance rates directly from your Gmail inbox.
Scheduling
Streak offers an advanced email scheduling system that allows the user's to program predefined emails to be sent automatically for business proposals or enquires that come in at the close of work. These ensure follow up and close relationships.
Pricing
The Streak tool has four packages you can choose from
The free package: This is 100% free for individuals trying out how the tracking tool works.
Solo package: This is for single users and professionals who want access to just the basic features. It cost $15/month for a user.
Pro package: This is the most popular choice with extensive features. The pricing for the pro package starts at $49/ month for a single user with a free trial of 14 days billed annually or a one-time monthly payment of $59.
Enterprise package: Enterprise offers more value and a highly efficient email tracking tool with premium support and custom roles, A business enterprise should typically go for the annual enterprise annual subscription of $99/month or a one-time monthly enterprise subscription of $129.
PROS:
It is available on Google web browser through chrome, and other web platforms of android and apple IOS.
It enables Mass mail merge, tracking, and pre-written templates.
It provides high security and privacy.
It's well suited for limited sales and pipeline management.
CONS:
It works only with very few selected email clients.
It does not have a complete functioning Customer relation manager.
It does not offer third party integration.