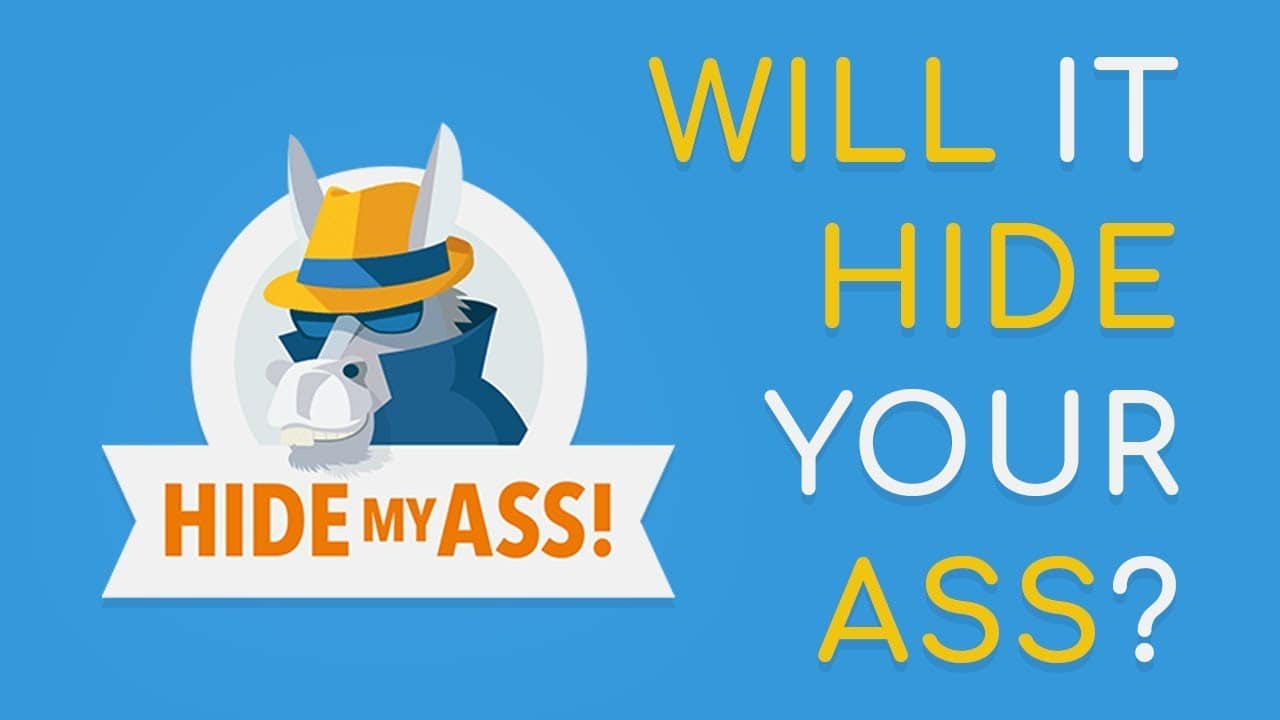 Protecting one's identity and security online has been one of the challenges which requires utmost attention. An antivirus or antispyware may protect your system, but you need something more than that for complete security. A system doesn't have a single point which may be attributed to be the main site for the cyber criminals to barge in. It may be many, and most importantly, the internet. An unencrypted connection may wreak havoc for your privacy and online security. This is where the need for a VPN service is required, which keep your privacy intact and your online presence secure.
---
Pricing
HMA provides convenience at your door steps with its moderately priced subscription plans. The plans are priced according to the features and services provided along with them. The pricing plans have been categorized into three brackets:
Special Features
Kick-ass Plan (Monthly)
Half-Ass Plan (6 months)
Smart-Ass Plan (12 months)
The prices are $8.33, $49.98, and $78.60 respectively. HMA prefers to continue their prices for long and hence there are less chances of any alteration in the prices.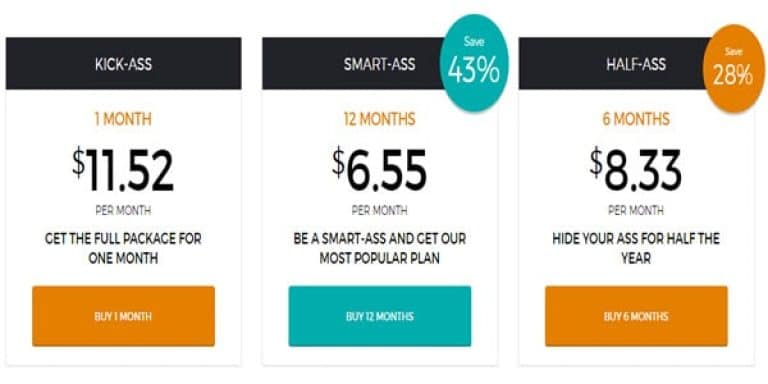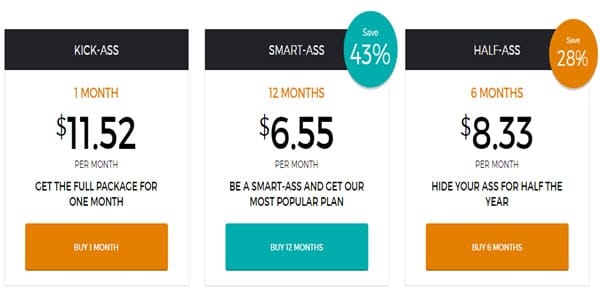 Apart from these, there's a 30-days money back guarantee if you're not satisfied with the services. Also, there is an automatic subscription renewal feature so that you do not have to fiddle around to get the subscription upon expiry of your earlier plan.
---
Servers
There are more than 890 servers located all around the world with over 340 server locations in 210+ countries. Apart from that, it has more than 121,060 active IP addresses to make sure that there are no congestions. According to the feedbacks from the users and the experts, the services offered are satisfactory with minor glitches.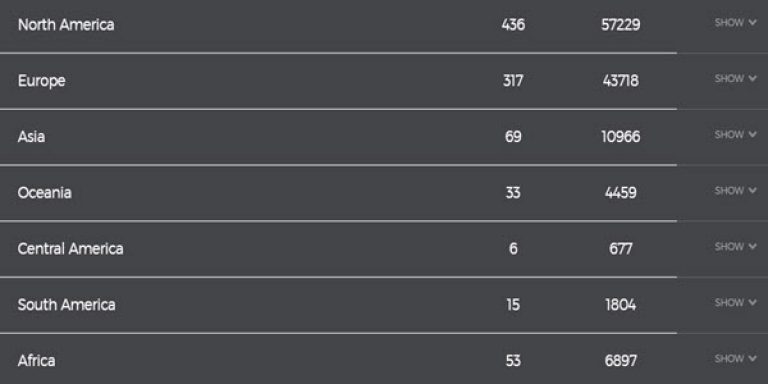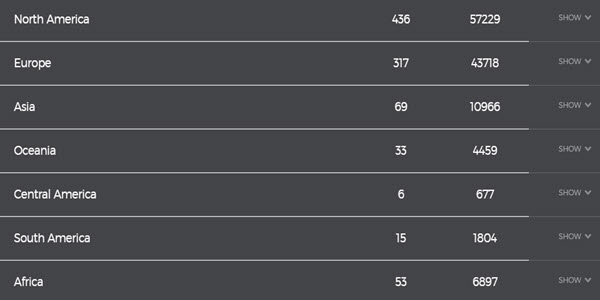 ---
Features
HMA provides a lot of features which is evident by the fact they have more than 8 million subscribers per month making it the most subscribed service in the market. The benefits associated with these features are excellent as far as browsing and downloading are concerned.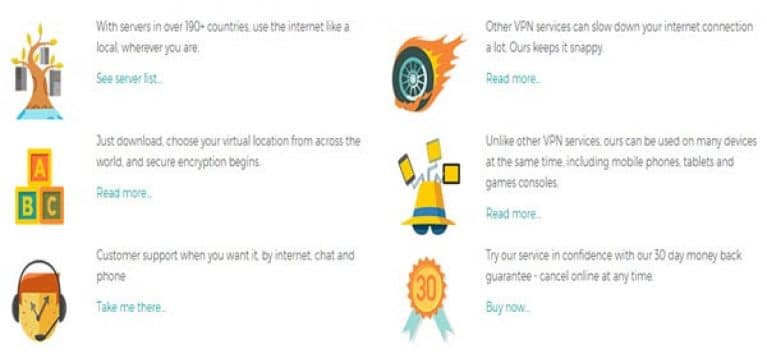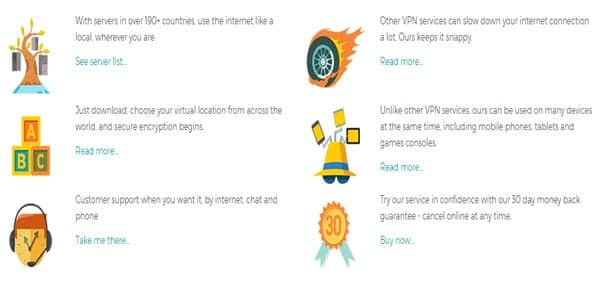 Let's have a look at some of the prominent features of the VPN:
1

Schedule IP Address Change
The unique feature of HMA is its ability to change your IP address periodically. You can set a particular time limit for using one IP address and upon expiry of the set time period, HMA will automatically connect you through another of its 121k active IP addresses. It ensures that your anonymity increases multifold making it difficult for the cybercriminals and agencies to keep a track of you.
With this feature, you can select a particular app to be connected via VPN only. In case, your VPN connection is lost or disconnected then the app will not be able to connect to the internet without an active VPN connection. What this actually does is those applications cannot get connected via normal connection thereby reducing the chances of your anonymity being compromised with. However, this feature is available only for the Windows user and the Mac users may have to wait a bit to get this feature.
The load balancing feature automatically routes all your traffic through a less loaded server based on your geographical location settings. What normally happens is if a lot of users are connected through a single server then due to overloading the speed may be compromised to accommodate the heavy traffic routing through the VPN. By switching the users from one server to another, the load is balanced which gives you better speed and stability.
The Speed Guide feature allows you to choose the fastest server present at a particular time and lets you connect through them. Although, the feature is not perfect but it still provides you an option to change to servers offering highest speeds. But readers are advised to connect to servers closer to their geographical location to enjoy uninterrupted and seamless network.
With this unique feature, you can set up an email address of your choice which is completely anonymous. No info of yours will be revealed to anyone when you email someone using this email. HMA also provides an auto-delete option which will automatically delete your email account after the set time period.
HMA allow you to upload securely your files and secure them with a password. The users can also share these files with their peers provided they have access to the password. Users can also set an IP range within which such files can be downloaded. With the self-destruct timer option, users can delete such files after a short interval. Similarly, you can also set a download count after which those files will be deleted automatically.
HMA provides a wide range of protocols including L2TP, PPTP, OpenVPN, and SSL protocols. Using these protocols, users can pick the one which is best suited for their needs and browse the internet without any hitches.
---
Speed
Speed is one of the main concerns while using a VPN service. The speeds offered are satisfactory with variance found in the speeds while connected to different protocols. The decrease is of only about 2-3 MBPS compared to the normal internet speed without any VPN.
---
Compatibility
The Client is available across all major platforms and can be easily set up. Apart from the PC and Mac Clients, there are also applications available for iPhone, iPads, and Android devices which are very easy to set up and configure.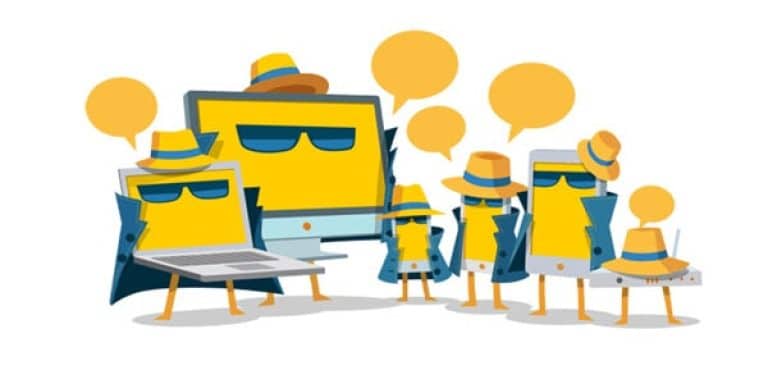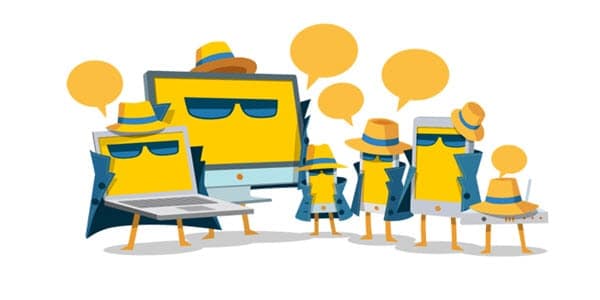 HMA also provides a client for the Linux-based devices which is a welcome move as most of the VPN service provider excludes Linux from their list of compatible OS.
---
Customer Support
One of the biggest drawbacks in this service is the availability of the customer service for only 12 hours a day which can be a big problem in the case of an emergency like situation. The services can also be reached through email, and common queries can be sought on their Support Page. Further, the community page also offers a solution to most of your problems.
---
Cons
The biggest con of using this service is the presence of their log system, in which they are required to maintain a log report of their users in compliance with the UK laws. Maintaining the logs are necessary as the service is based in the UK and hence their local laws apply to them.
Another major drawback in HMA is the lack of Live Telephone Support for their customers. Although Live Chat and email supports are present yet the absence of Live Telephone Support makes it difficult to resolve any problem. Also, the overall quality of customer support is satisfactory only and not great. The staffs at the tech-support are lazy and are not knowledgeable enough to take care of all your needs.
There is an absence of free trial which may dissuade a lot of their customers from using their services. However, the free services are present on the web, but the service is not as reliable as the premium services, which is obvious.
---
Conclusion
Concluding this HideMyAss review, we would like to rate HMA VPN service. The range of services it provides is unparalleled, and the quality is more than satisfactory. Anyone willing to shell out few buck for the sake of their privacy will be content with the services which are being offered at a reasonable price.