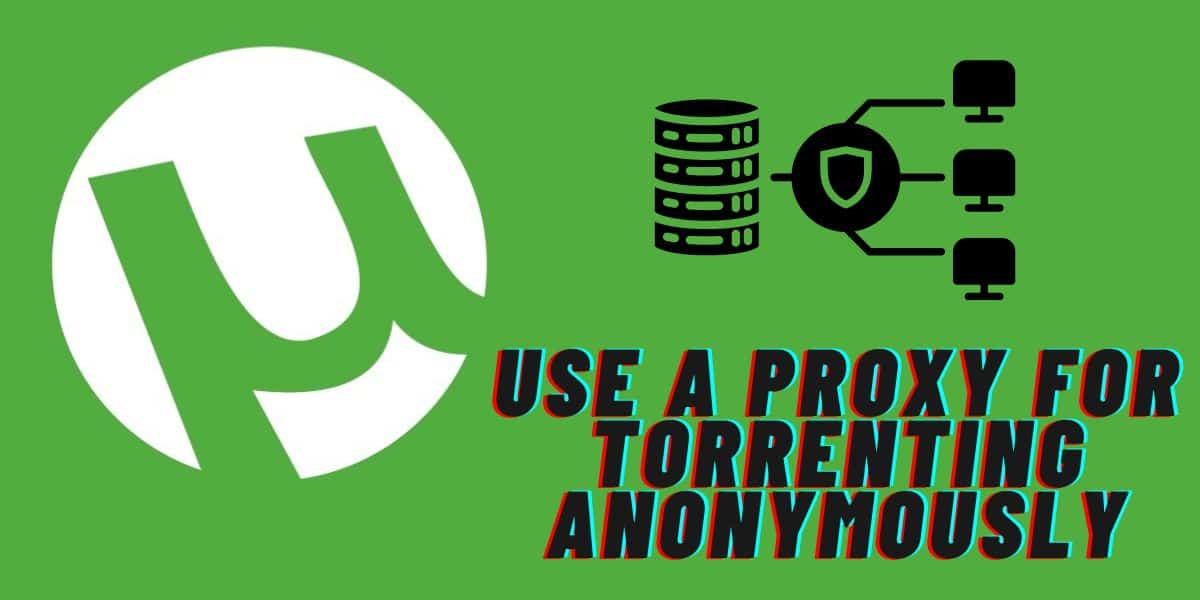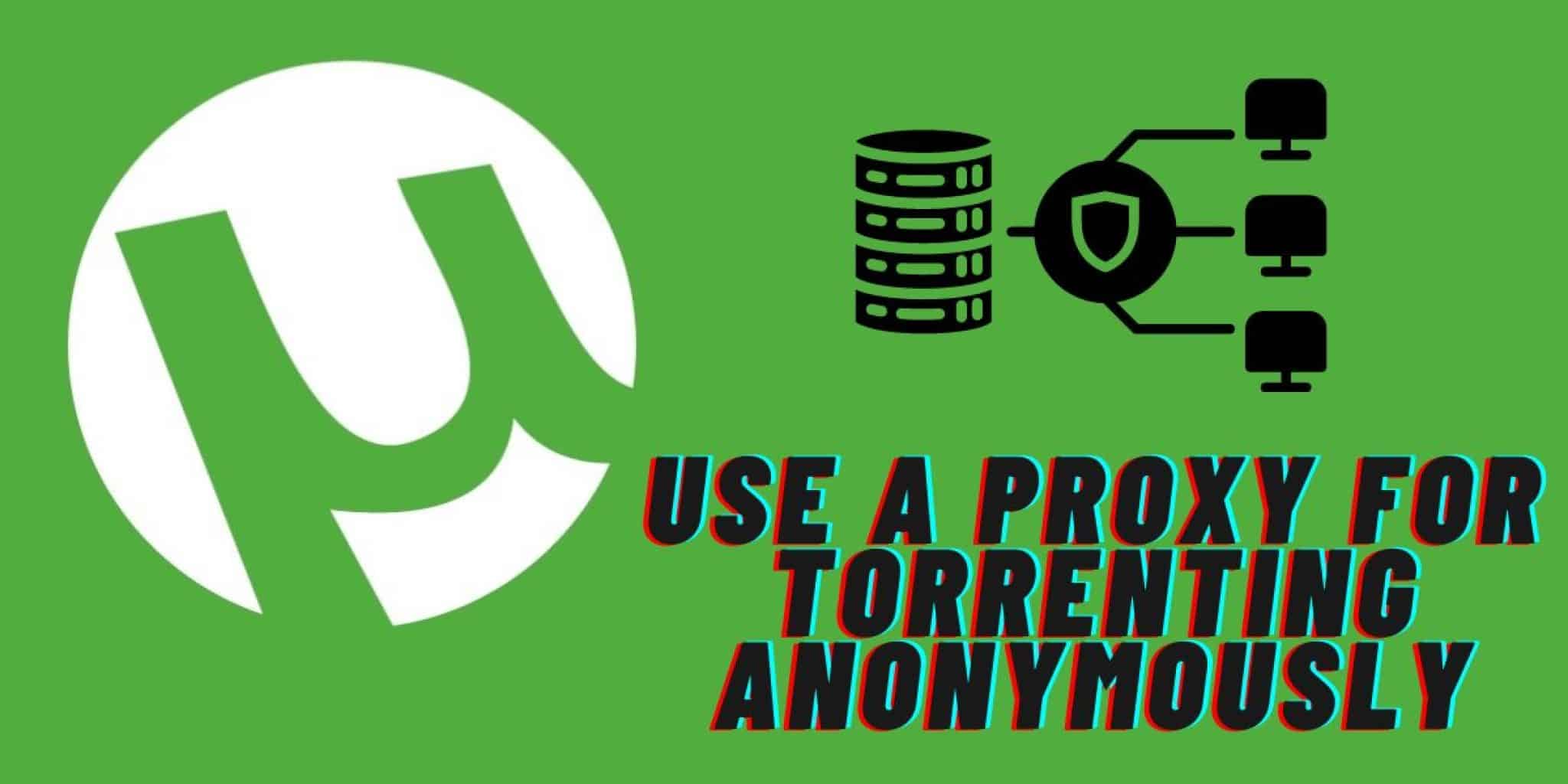 If you like sharing or downloading files using torrents, this article is for you. Read on to learn how to set up proxies in your torrent client for easier torrenting.
Do you like to download or upload files on the internet anonymously using torrents? Torrenting is a widespread method of peer-to-peer file sharing. As good as torrents are, you would want to stay safe and anonymous when sharing or downloading files. To stay safe, we recommend that you use proxies to protect your identity.
---
Why Use a Proxy for Torrenting Anonymously?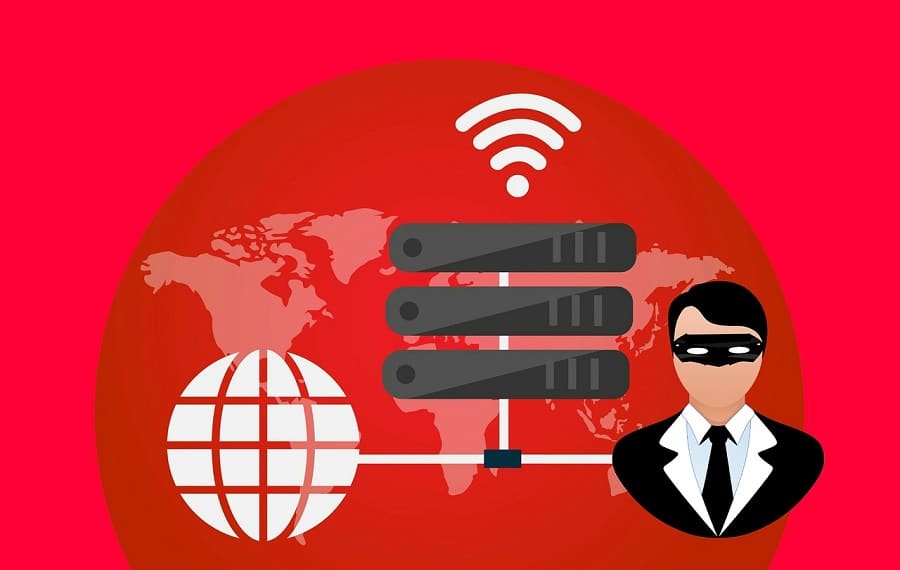 Obviously, most of the files shared through torrents are copyright material. They could also be sensitive materials that can attract interest from the authorities. Here are some reasons for using a proxy to download or upload files in torrents.
Your Identity Remains Hidden
This is the first and major reason for using proxies when torrenting. Proxies mask your IP address to prevent it from being discovered by unwanted parties. A proxy is a link between your computer and the internet.
Therefore, your fellow peers can only see the IP address of your proxy instead of yours. With many hackers, identity thieves, and trolls in the torrent swarms, it is best to protect yourself with a good proxy server.
To Unblock Restricted Sites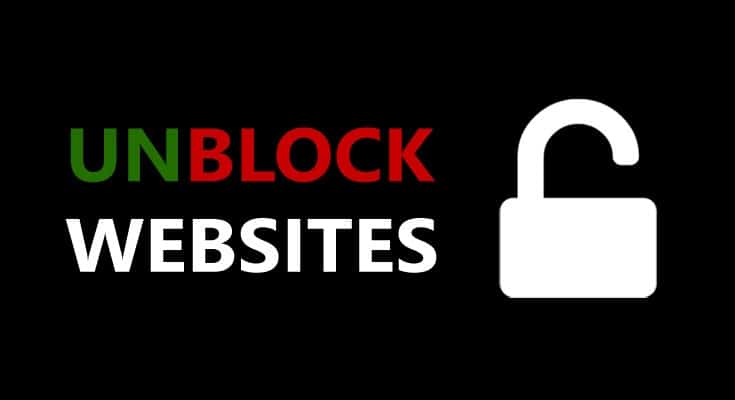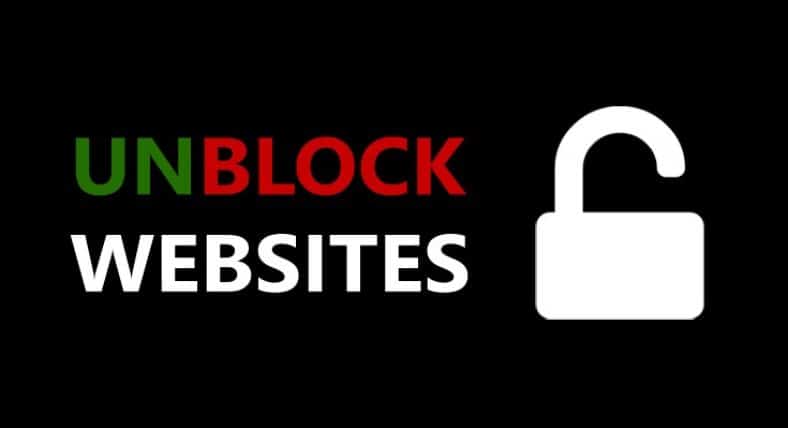 Are you living in a region where certain torrent sites are blocked? It is typically done by local ISPs. The reason is to reinforce copyright policies and intellectual property rights. It is why torrent sites are here to stay. They allow people to share files without the risk of getting discovered which is why proxy use when torrenting is vital.
Faster Transfer of Torrents
Proxies, unlike VPNs, don't encrypt your data. Instead, they only hide your actual IP. They are less secure than VPNs but work faster with higher download speeds. A good proxy, assures you of faster torrent speeds and seeding.
User Logs Are Not Kept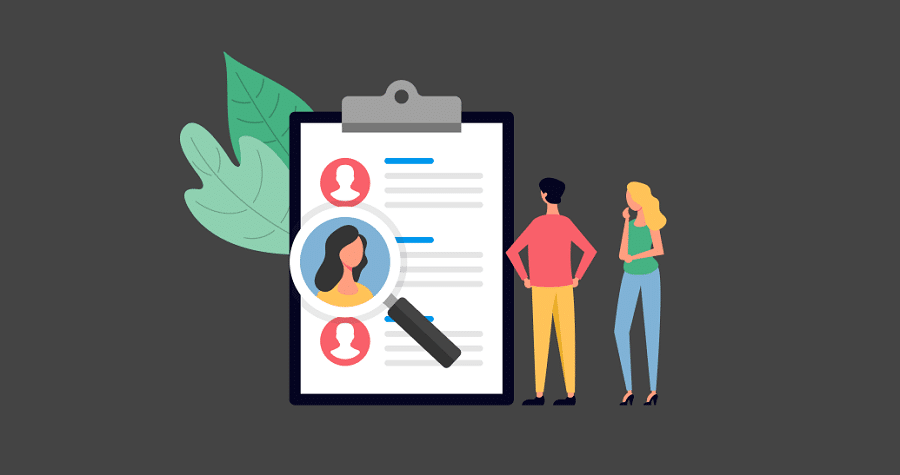 Good proxy servers don't retain your user logins. Keeping your user logins would show the connection between your proxy and your actual IP which is dangerous. A lot of free proxies actually store your user logins to sell to third-party advertising and marketing companies. However, paid proxies to don't, which makes them the best and safest for use while torrenting or surfing the web.
---
What Type of Proxy Should You Use for Torrenting?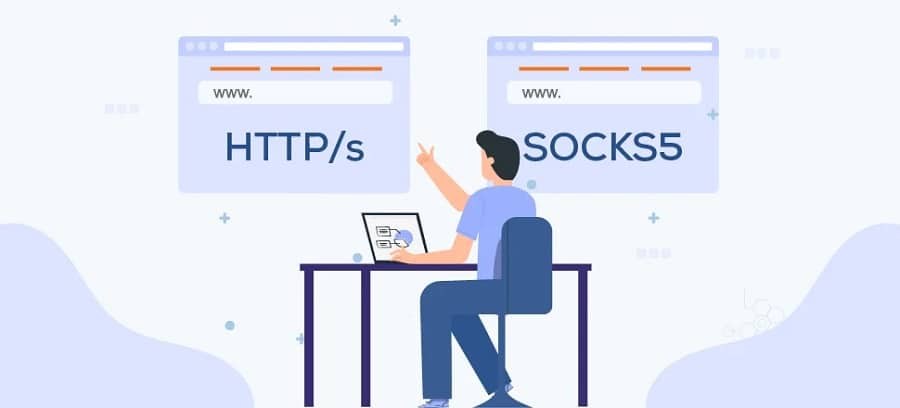 Various proxies are used when torrenting but the best two, are HTTP and SOCKS5 proxies. HTTP proxies are great for anonymous browsing, but not great for P2P sharing.
SOCKS5 proxies, on the other hand, are better and more lightweight. They can handle many protocols such as HTTP, SMTP, POP3, and HTTPS. This makes SOCKS5 proxies the best for most activities on the internet, including file transfers, web browsing, and torrenting.
SOCKS5 proxies work by running your internet traffic through their ISP or router's firewall. The data is routed via the proxy server, thereby masking your identity. You will, therefore, be seen as one browsing or torrenting from a different location and IP address.
A VPN encrypts your data considerably, slowing your connection, but a slowdown on SOCKS5 proxies is very minimal. This means you will have more speed and fewer errors while torrenting. To understand a SOCKS5 proxy better, here is a walkthrough of how it works.
You send a request to connect with the server with methods of authentication your proxy supports.
The server receives the request, inspects the methods, and chooses one. If it can't accept any of them, it sends back an error message.
If accepted, data can be transferred between the server and your computer.
SOCKS5 proxies don't keep your login data. Therefore, there is less likelihood of malicious attacks while torrenting or surfing the internet. They also provide optional authentication whenever you're connecting to a torrent site.
---
How to Configure the Proxy for a Torrent Client?
Having agreed that SOCKS5 proxies are the best for torrenting, read on to learn how to set up different torrent sites.
Setup Proxy in uTorrent
uTorrent is supported by various platforms including Linux, Microsoft Windows, Android, and macOS. Among the ways you can access uTorrent includes the uTorrent Web, uTorrent Remote, uTorrent Mobile, and uTorrent Pro and Classic.
Understand that not all uTorrent clients allow proxy rotation. Among them are uTorrent Mobile and uTorrent Web. However, uTorrent Pro and Classic do allow proxy rotation. Let's see how you can set it up for Windows.
Step 1: Go to the Windows console and search for uTorrent
Step 2: Select "Options", then "Preferences", then "Connection"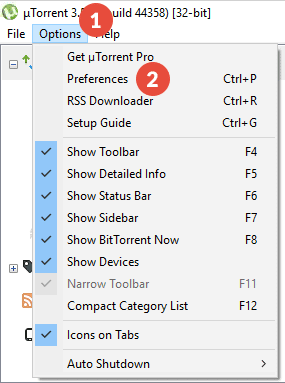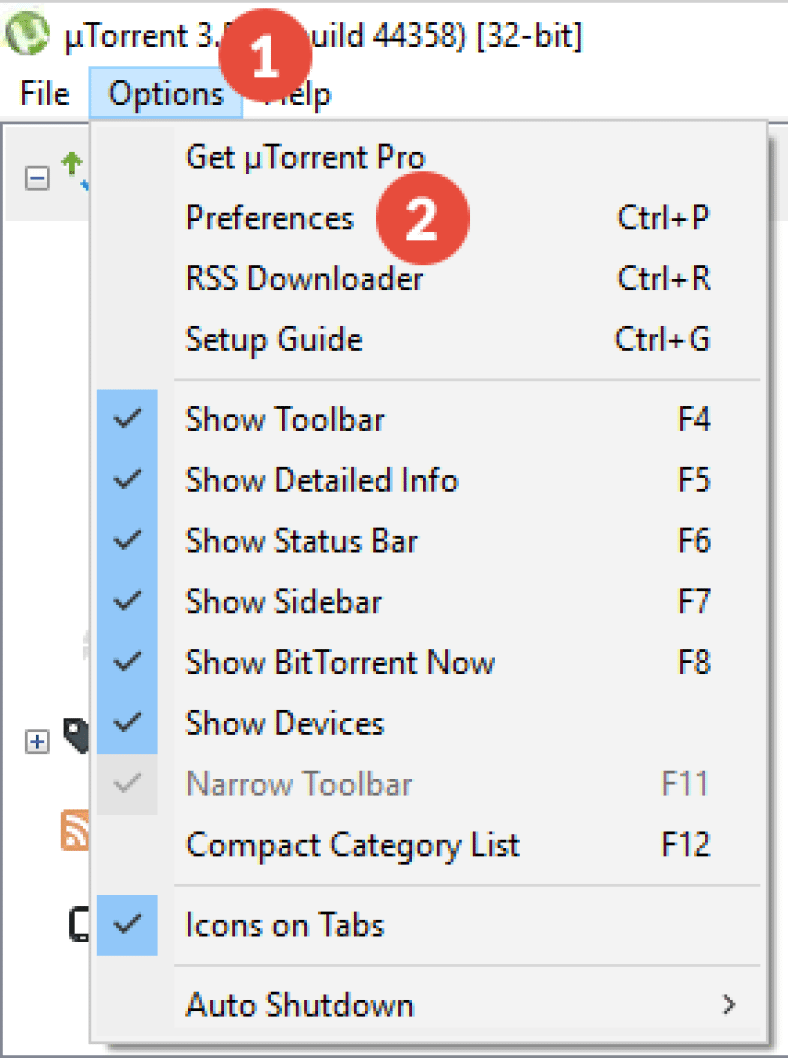 Step 3: You'll get to the proxy server settings
Step 4: Choose your SOCKS5 proxy server (typically 1080) to get to authentication. Fill in your domain, port, and proxy IP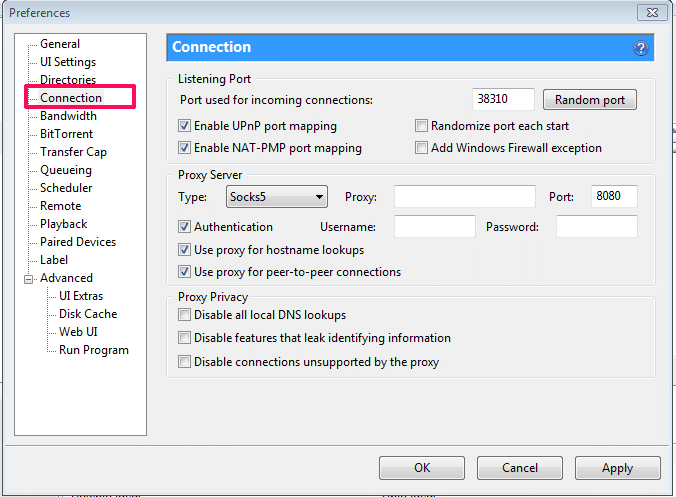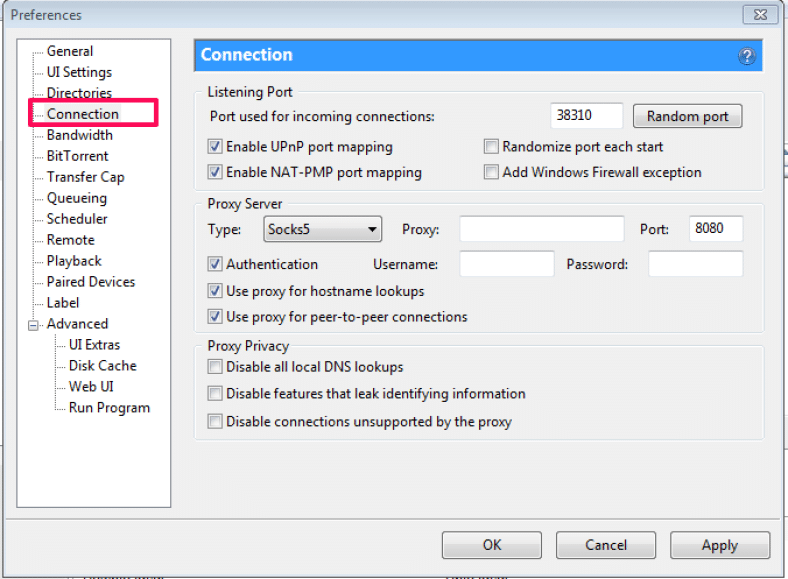 Step 5: Disable connections unsupported by proxies and click "Use proxy for peer-to-peer connections"
To increase your anonymity, here's what you can do in your proxy configurations:
Step 1: Tap "Use proxy for hostname lookups" to remove any chances of DNS leaks. It makes the uTorrent client send queries about your DNS to the SOCKS5 proxy instead of solving hostnames directly.
Step 2: Tap "Use proxy for peer-to-peer connection". This allows the proxy to be used on all peer-to-peer connections.
Step 3: Allow every point under the "Proxy privacy tab" to prevent the possibility of IP leaks.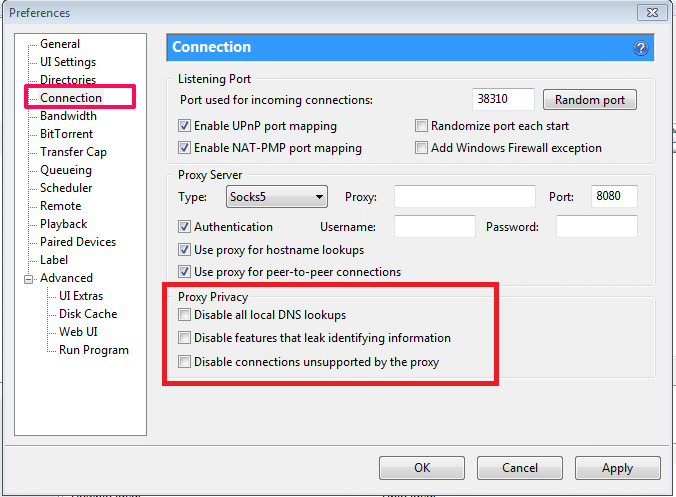 Step 4: Check "Apply" then "Ok" to save your settings, and then restart the uTorrent client.
---
Setup Proxy in BitTorrent
In almost every aspect, BitTorrent looks just like uTorrent. However, they have some differences, such as the frequency of updates. BitTorrent is supported by various platforms. These include Linux, macOS, Android, and Windows. You can also get the web and classic versions of the software. To configure BitTorrent, here is what you need to do.
Step 1: Open the BitTorrent app on your Windows console
Step 2: Select "Options", then "Preferences", then "Connection", and lastly Proxy server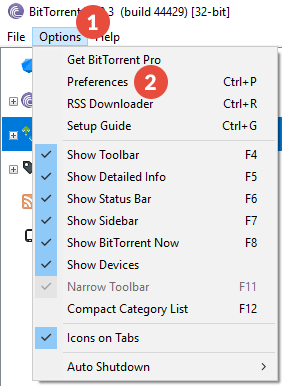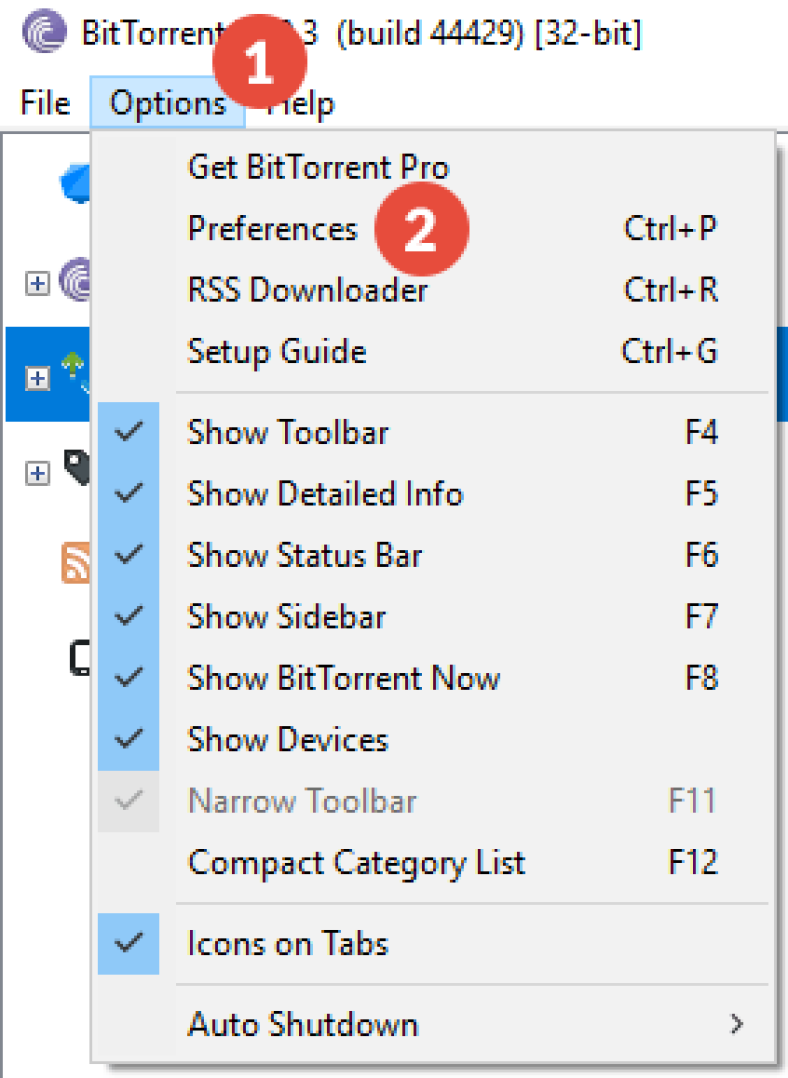 Step 3: Fill in your proxy server information, hostname, or your IP. If needed, put in your credentials
Step 4: Check "Use proxy for peer-to-peer connections" as well as "Disable connections not supported by proxies"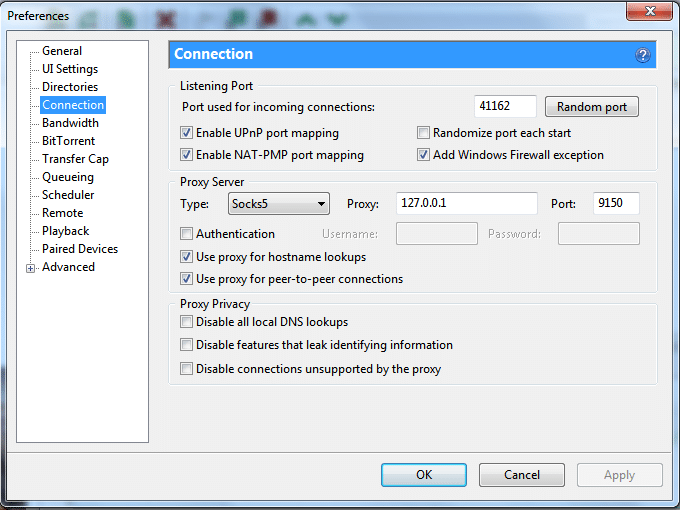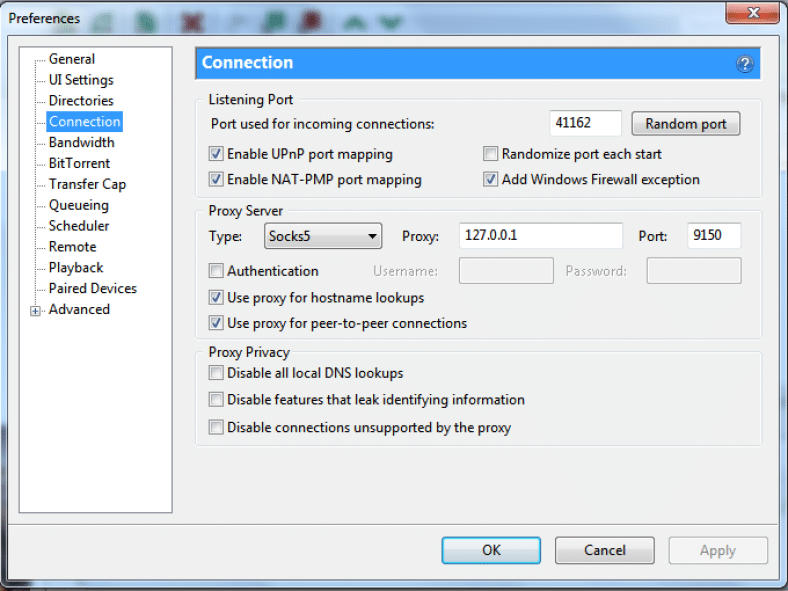 To prevent detection, strengthen your proxy configurations through the following ways.
Step 1: Enable "Enable proxy for hostname lookups" then "Use proxy for peer-to-peer connections"
Step 2: Enable all options under the "Proxy Privacy" tab
Step 3: Tap "Apply", then "Ok". You can restart the BitTorrent client after.
---
Setup Proxy in Deluge
Another torrent client used by many is Deluge. It is supported by various clients including Windows, Linux, and FreeBSD. Read on to learn how to configure Deluge proxy settings.
Step 1: Open Deluge and go to proxy settings > "Preferences" then "Proxy"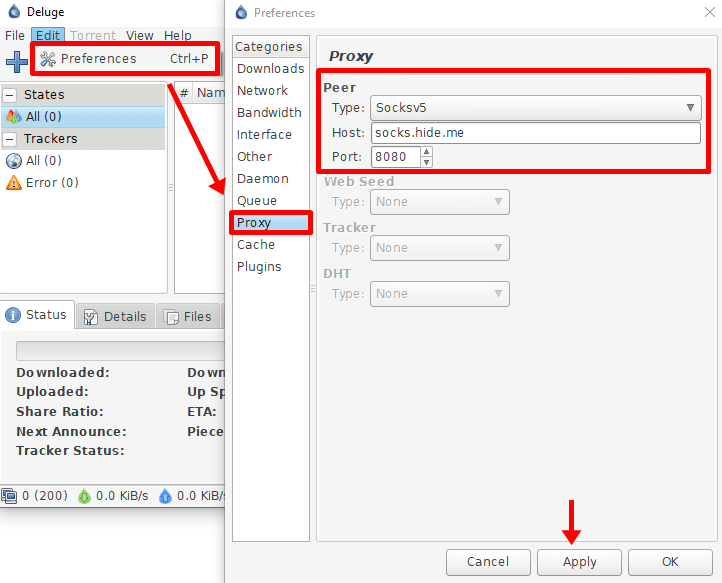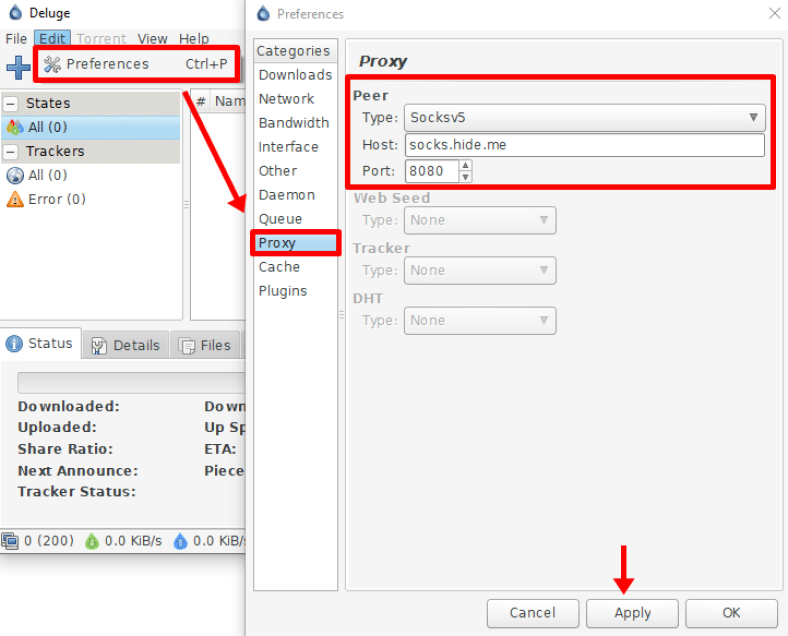 Step 2: Configure all four sections therein which are Web Seed, DHT, Tracker, and Peer
Here's what the four proxy settings on Deluge mean.
Peer: You can exchange torrents through proxy
Web Seed: Some of the content can be shared with a server
Tracker: IP information can be exchanged through a proxy with a tracker
DHT: You can share IP information with a Distributed Hash Table
All four sections must be configured before torrenting with Deluge. If required, enter your SOCKS5 login details, and then add the port number and hostname.
---
Setup Proxy in Vuze
Vuze, a popular BitTorrent client, uses the BitTorrent protocol to transfer files. It is supported by various platforms including Windows, macOS, Android, and Linux. Here's the process to follow while setting up your SOCKS5 proxy.
Step 1: Select "Tools", "Options" then "Connection" and lastly "Proxy"
 Can't find "Proxy"? Click "Options" then "Mode" then "Advanced". This will unlock all features and settings on Vuze.
Step 2: Go to "Connections" and select "Proxy"
There are two tabs for configuring proxies which are peer-to-peer communications and tracker communications.
Step 1: Enable "I have SOCKS5 proxy". Go to "Enable proxying tracker communications" and click "Restart required"
Step 2: Fill in all SOCKS5 proxy information including the port (usually 1080), host, then authentication
Step 3: Click 'Enable proxying of peer-to-peer communications" then "Inform tracker of limitation". Thereafter select the SOCKS version on the menu (indicated as V5)
Step 4: Enable "Use same Proxy settings for tracker and peer communications proxy"
Step 5: Save your settings
Step 6: Use the Vuze feature to test your SOCKS proxy connection
A small icon will appear showing the status of your connectivity at the lower part of the interface.
---
Setup Proxy in qBittorrent
This is another popular torrent client used by many and supported by platforms such as Linux, OS/2, macOS, Windows, and FreeBSD. The biggest advantage is that you can configure qBittorrent in all the versions mentioned here. Follow this process to configure it on your Windows computer.
Step 1: Enter "Tools" then go to "Options" open "Connections" and click "Proxy"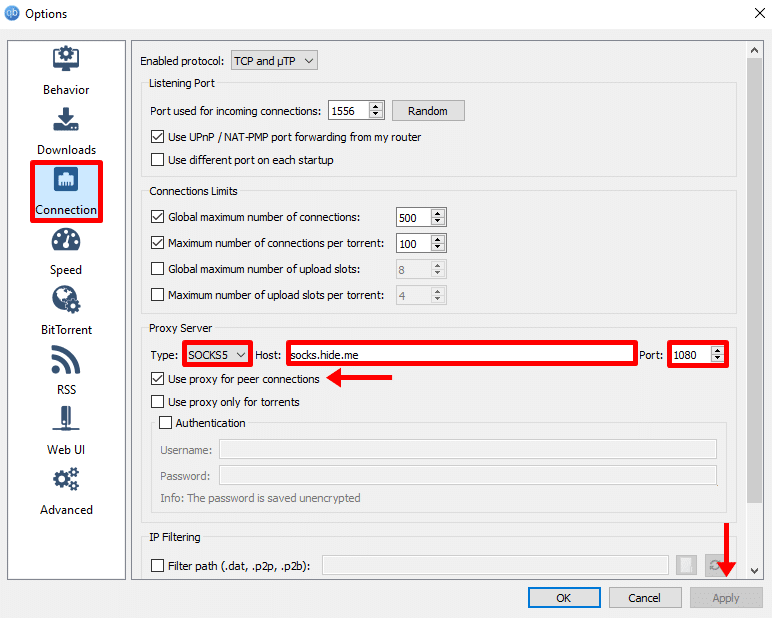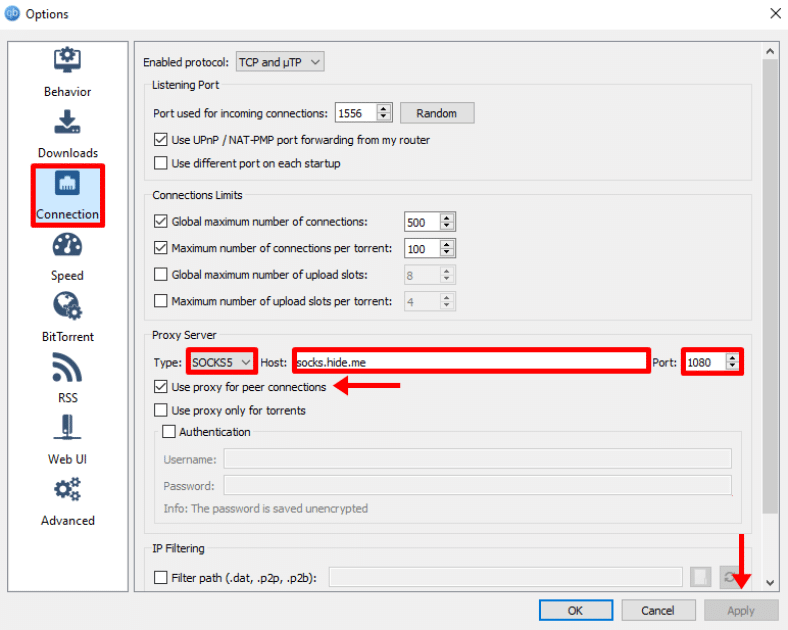 Step 2: Enter the proxy you're using in the proxy server tab.
Step 3: Fill in the proxy's IP, host, and port number, then save your settings
Step 4: Enable "Use proxy for peer-to-peer connections" to prevent any IP leakages
---
Check Your Torrent Proxy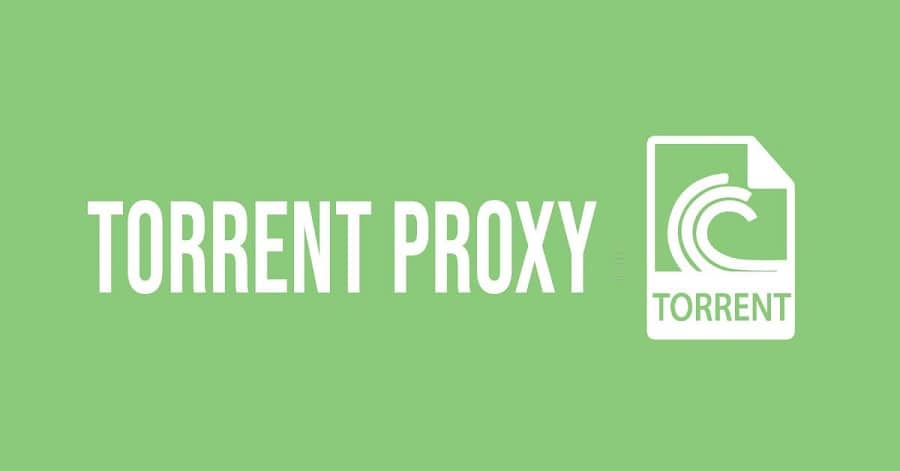 As you can see, setting up proxies is easy and doesn't need rocket science. Don't worry about leaving your tracking torrent open indefinitely. It helps to verify your IP address whenever you begin torrenting. Through the torrent tracker, you can see the IP address you're using while torrenting. To access it, go to the trackers tab and check the exact torrent file.
To know if the proxy is working, the torrent IP should be different from your browser's IP. However, if they match, the proxy is not performing optimally. Your identity can, therefore, be easily discovered while torrenting.
Other than the torrent tracker, you can also use web services to track your torrent IP. Among the websites that help you include the following.
---
FAQs
1: Do all Torrent clients support proxies?
Not every one of them supports the configuration of proxies. While a good number have maintained it, a few popular torrent clients have reduced their support because of data leaks.
2: What are the best Torrent Proxy Services?
Various firms provide excellent proxy services. Among these are TorGuard, Private Internet Access, and Rapidseebox. The three are mostly known to be VPNs, but they also provide proxy services.
3: Can I use free SOCKS5 proxies for my Torrenting?
It may look like a great deal to surf the web and torrent using free proxies since you're not hurting your pocket. However, free proxies are usually insecure, and slow, and can steal your data to sell to third parties. We advise that you use paid proxies while torrenting and surfing the web always.
---
Conclusion
There you have it, torrenting using proxies is easy and fun. Your sessions are secure, and some of these proxies enhance torrent transfer. Setting proxies up on your torrent client is also not as tough as you might think. Remember to use secure SOCKS5 proxies whenever torrenting to prevent malicious cyber attacks.