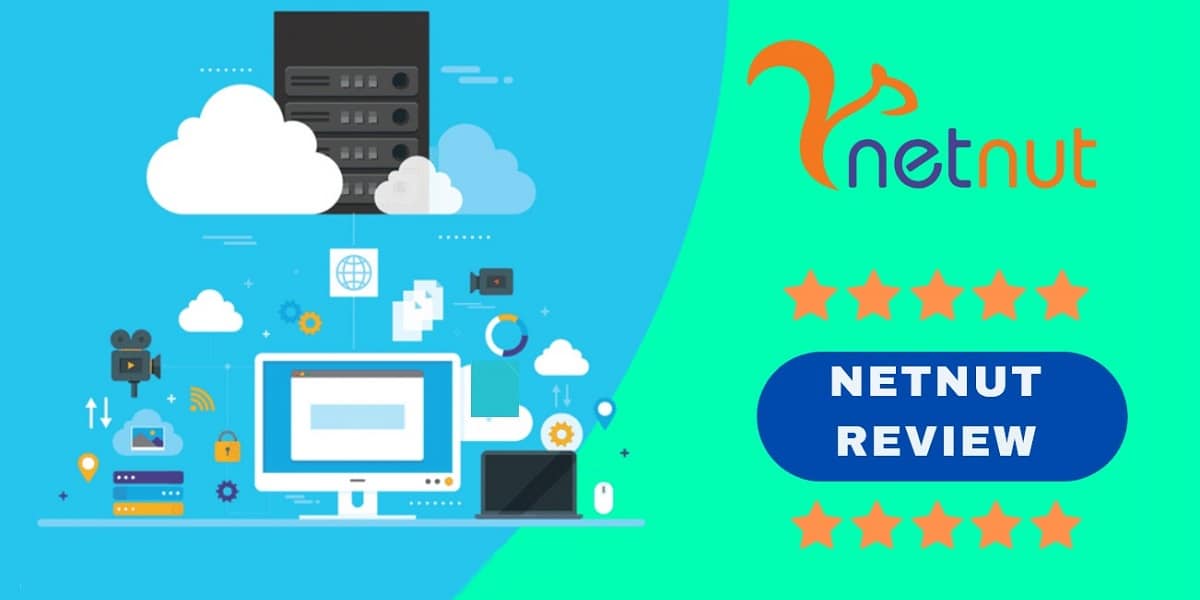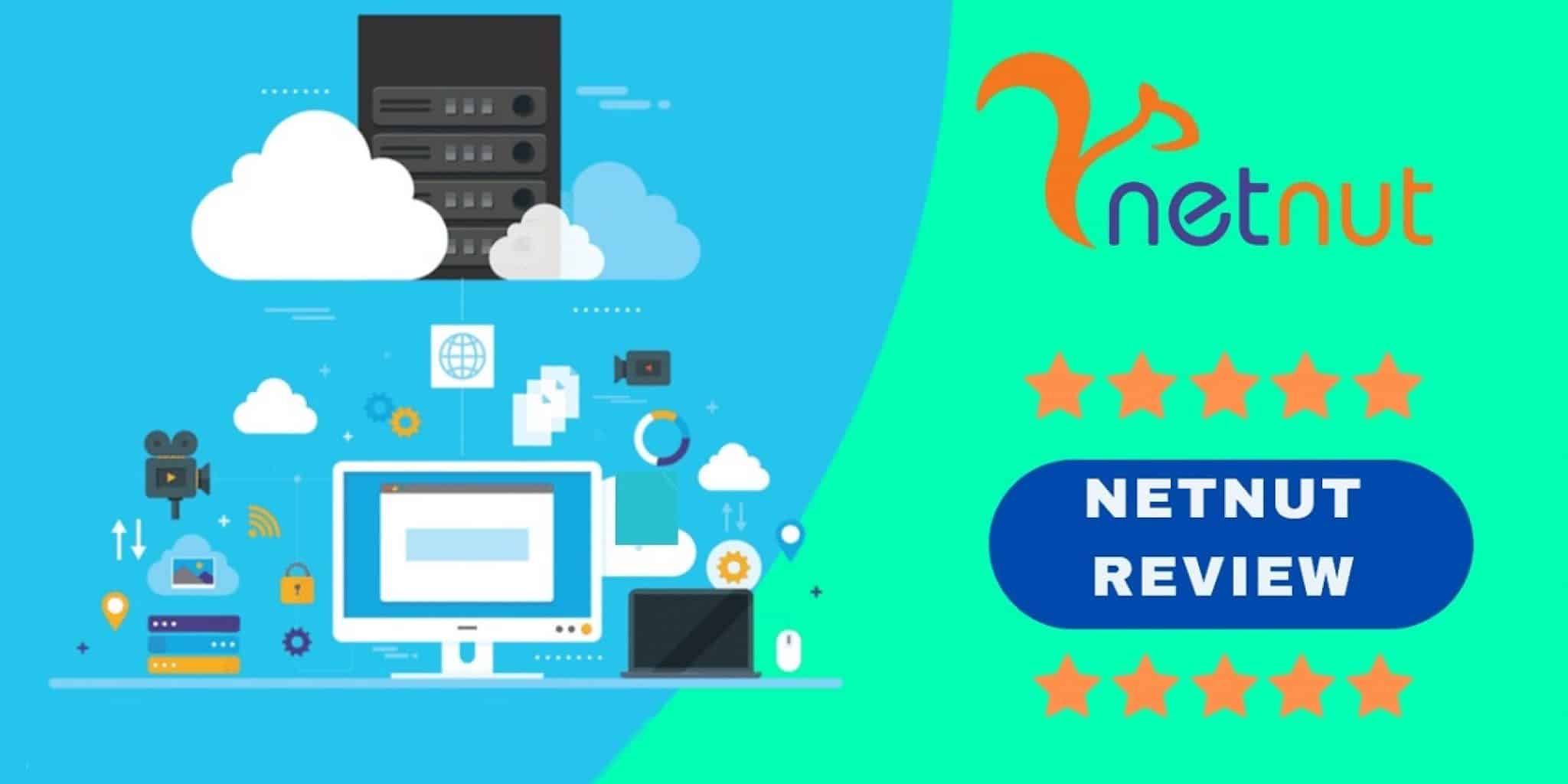 Do you want to scrape data using some of the best proxies on the market? Netnut is the solution for you. Their updated set of features makes this provider even a better choice than before.
Several years ago, we reviewed Netnut, where we had some very nice things to say about it. Even though it wasn't the absolute best proxy provider available on the market, the overall offer, price, and performance were spot on.
At the time of our initial review, Netnut was just a small Israeli proxy, providing a company that people didn't think it would succeed. Fast forward about two years, and we start to see some improvements in areas that were crucial to some users as well as a new set of features. The main thing we praised Netnut in our previous review was that unlike most of the providers on the market that rely on a peer-to-peer network, here you are looking at a direct connection. It means that all proxy addresses are available all the time. Additionally, they also have a dynamic p2p network, so you are getting the best of both worlds, thus ensuring your project's highest success rate.
---
Overview
Speaking of proxies, the pool of available IP addresses has increased. Today, they can offer you over 10 million proxies, and the number is growing weekly. The number isn't record-breaking, but it manages to surpass some of the competitors that have been on the market longer.
User RatingUser Reviews
Netnut Review
5 out of 5 stars (based on 1 review)
User Reviews
Been working with NetNut for a while now, just needed to point out that there are many other providers, but none with the commitment to help you succeed and make the best of users using their products.
---
Regarding the proxies' locations, they have not changed, and you get access to proxies from around 50 countries. All of them are located in America, Europe, and Asia from the more prominent countries:
United States (US)
Sweden (SE)
Finland (FI)
Switzerland (CH)
Spain (ES)
Mexico (MX)
Italy (IT)
France (FR)
Canada (CA)
Germany (DE)
Denmark (DK)
Norway (NO)
Russia (RU)
Ukraine (UA)
Poland (PL)
Portugal (PT)
Netherlands (NL)
Turkey (TR)
United Kingdom (UK)
India (IN)
Madagascar (MG)
Brazil (BR)
Hungary (HU)
Ireland (IE)
Australia (AU)
China (CN)
Qatar (QA)
Iraq (IQ)
Saudi Arabia (SA)
Jordan (JO)
Philippines (PH)
Taiwan (TW)
Japan (JP)
Hong Kong (HK)
Kenya (KE)
Cyprus (CY)
Malaysia (MY)
Singapore (SG)
Indonesia (ID)
Vietnam (VN)
Bangladesh (BD)
Luxembourg (LU)
Nepal (NP)
Argentina (AR)
Thailand (TH)
South Korea (KR)
Israel (IL)
United Arab Emirates (AE)
Proxy Types
Since the start, Netnut has only offered residential proxies, and nothing is changed there. Even though they don't provide datacenter proxies, the way their packages are set up, you will have that option as well.
There are two types of packages: bandwidth and request based. The main difference between them is the rotation, but there are others as well.
The bandwidth-based proxies are the static ones, where you can keep a connection from a specific IP address active for as long as you need it. For them, you get to choose from six pricing plans, out of which five are predefined, and the last one is technically custom. For that one, you'll need to reach out to the sales team to get a price.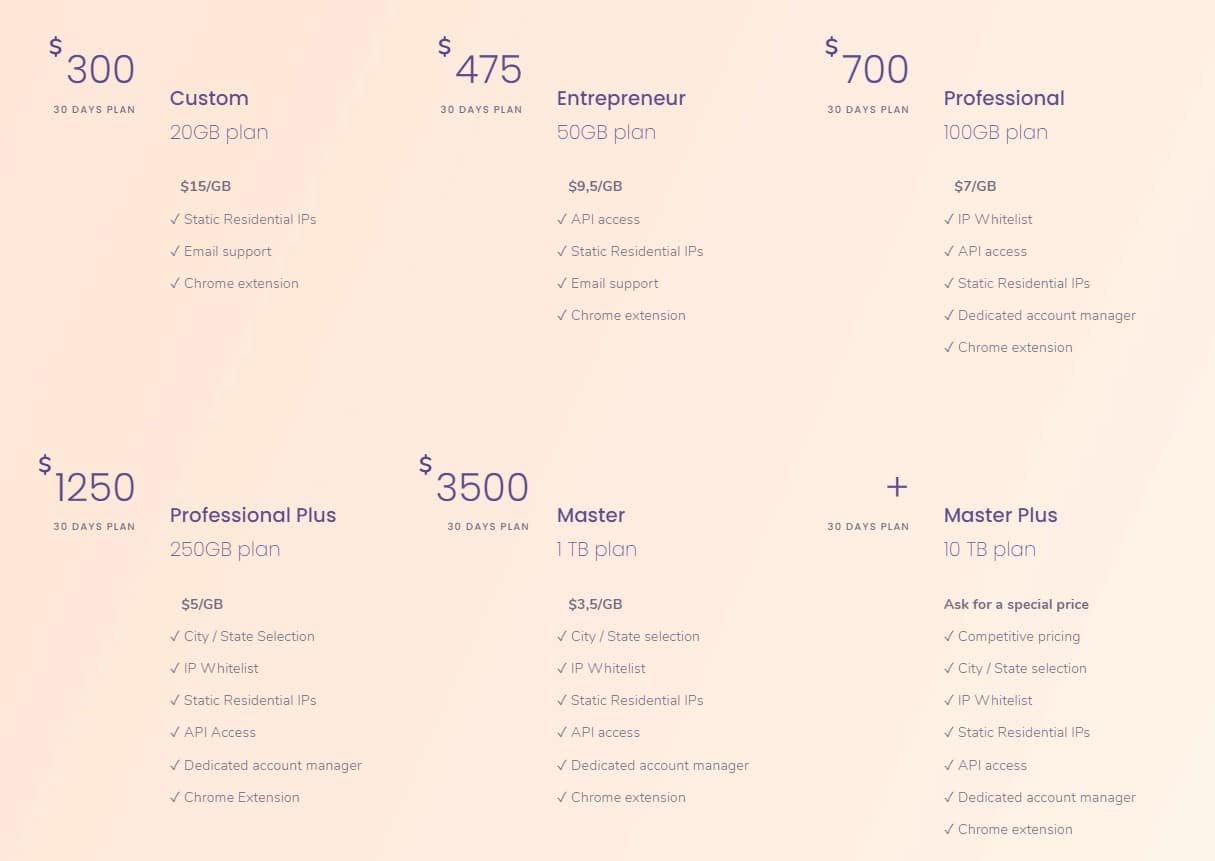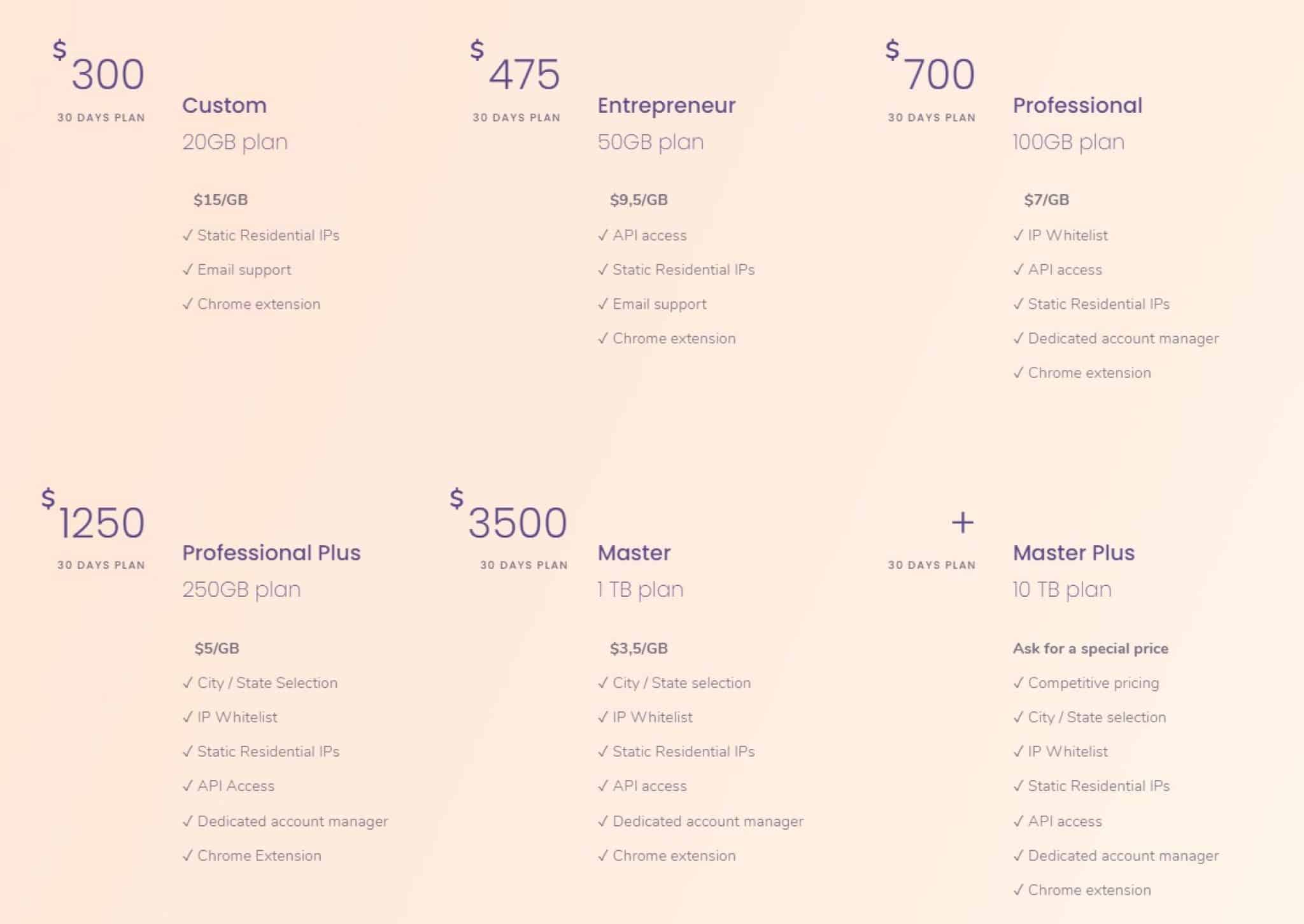 The pricing plans offer a different set of features, and the higher the price, the more features you'll get. The plans range from 20GB plan all the way up to 10 TB. The cheapest one will get you the basics – static residential proxies, chrome extension, and only email support, which will set you back $300 per month. If you need more features, you will need to pay more. The most expensive is Master Plus, where you get everything fully loaded, from geo-targeting, IP whitelist, account manager, API access, and a lot more. This set of features is also available on the Professional Plus and Master, but you get less included bandwidth.
If static proxies don't work for you, you will need to look at the Request Based pricing plans. You don't get as many plan options with this, but they are carefully thought out to fit almost any user.


All three plans get the same set of features, and the only difference between them is the number of requests included. That also dictates the price of the plans. They start from $7500 to $25000, which may sound a lot, but considering what you get for it; it is reasonable. Each plan will provide you with access to Netnut's API, chrome extensions, advanced geo-targeting option, account manager, etc.
Netnut Pros
Last time we looked at Netnut, we had a lot of good things to say about it, and today is no different. On top of the previous advantages we mentioned, the added features and improvements will include a few more pros.
We start with the trial because Netnut's packages are not cheap for you to buy and try, and they have thought about that. If you sign up for the free trial, you will have the option to test out the proxies, and with that, you will be able to determine how much bandwidth you'd need.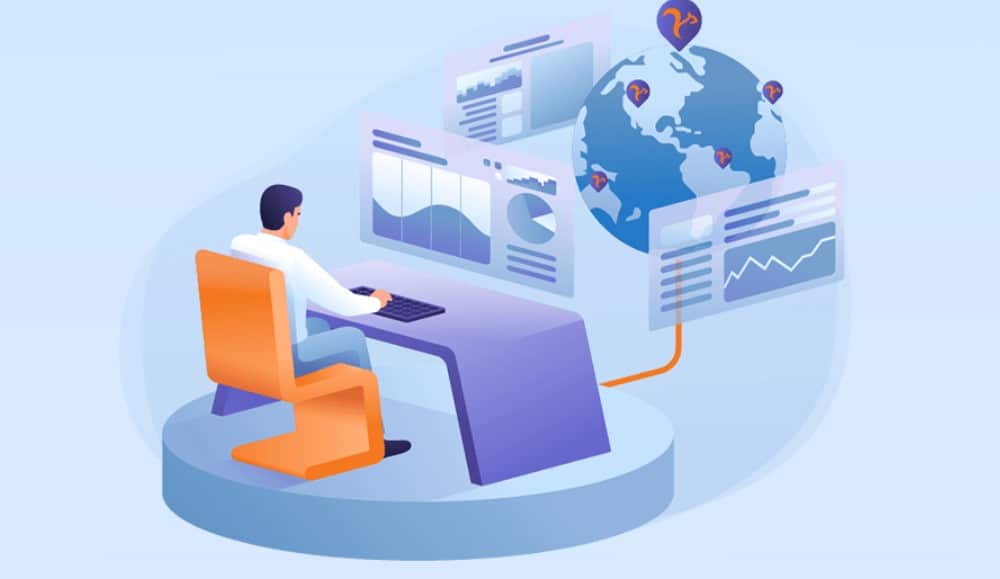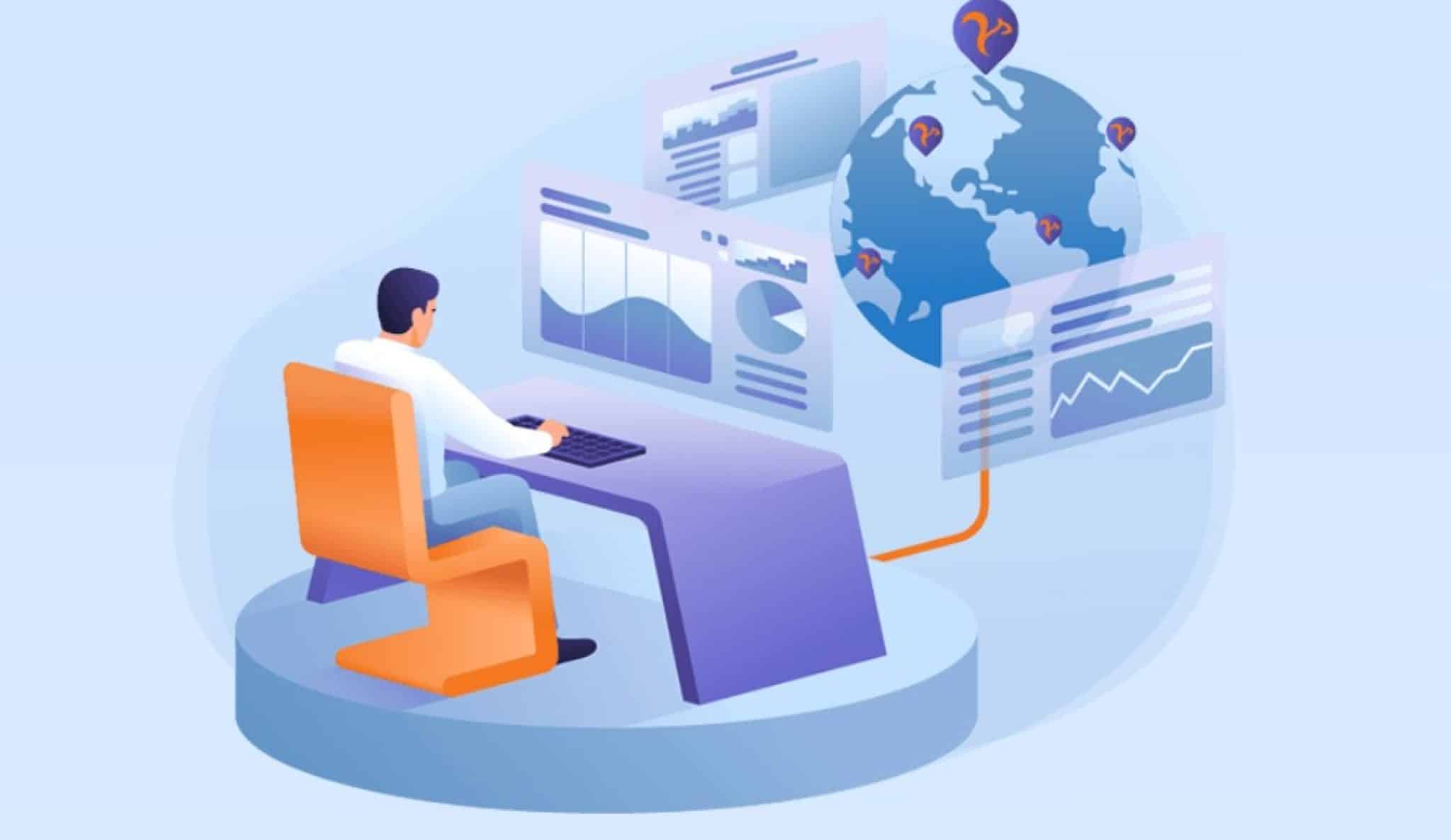 Even though they are not the first choice when it comes to scraping, residential proxies are the best type of proxies you can get. The fact that they come from existing internet connection makes them undetectable, and you'll have no restrictions.
Residential proxies can unlock any restriction that datacenter proxies cannot, but in many cases, the provider will have some limitations. Unlike their competitors, Netnut allows you to access or scrape from any website on the internet, no restrictions, no additional payments. That means that search engines, social media, etc. will be yours for the taking.
Netnut has offered geo-targeting specific countries since its early days. One thing we critiqued the last time we looked at them was the lack of city-level targeting, and we got it. Even though it is still limited to the US only, you can get proxies from specific states and cities. We are eager to see this option expand to the rest of the proxies from non-US locations.
For some, this may seem pointless, but anyone who used proxies for longer than 5 minutes will be happy. Netnut offers a direct connection to the proxies, and even though you may think that's bad, it actually goes in your favor. A direct connection to the proxies means that the data won't have to bounce around from one location to another. That reduces the latency and may have a positive impact on the speeds.
The incorporated dynamic p2p network is a great addition mostly for users who need to scrape, market research, or track SEO. This type of network provides excellent scalability and will provide better success.
Offering flexibility when it comes to authentication is one of the best news features that Netnut has to offer. When we last visited this provider, we mentioned that the lack of IP whitelisting is missing and needed. There is nothing wrong with a username and password authentication, but the lack of a choice is what we didn't like. Even though not all packages offer it, having the feature available is a nice thing to see.
Unlike some proxy providers that offer bare bone usability, Netnut has a few goodies that you'd like to use. The chrome extension eases the burden on users that are not too tech-savvy to use the proxies. There is the API access for the professionals that can make Netnut a very powerful proxy provider in the right hands.
Netnut is not a cheap proxy provider, and that is not something they can deny. On the other hand, taking into consideration everything we mentioned above, every feature, every advantage, then you are looking at very competitive prices. They will not be for everyone's pocket, and smaller companies on a tighter budget will go to cheaper providers. At the end of the day, the price per performance ratio of Netnut oi excellent.
Netnut Cons
As much as we'd like to skip this part, Netnut is not perfect, and there are a few downsides that we should mention.
Frankly, this is not a downside with Netnut only, most residential proxy providers have it, and that is the limited bandwidth. There are some use cases where unlimited bandwidth is needed, and some companies will be prepared to pay for it, but unfortunately, Netnut doesn't offer it.
In previous articles, we discussed the advantages and disadvantages of SOCKS5 proxies and said that there are more pros than cons. When we looked at the new features that Netnut had, we were disappointed that we didn't see SOCKS5 support. It's not that HTTP or HTTPS protocols are bad and won't get the job done, but the flexibility in which protocol you'd want to use is still not there.
---
Conclusion
Did we change our minds about Netnut? Absolutely not. In the previous review, we had some nice things to say about it, and even though it was a relatively new provider on the market, it managed to get a lot of things right. Today, we feel like they managed to re-convince us to recommend them.
The combination of direct proxies with the dynamic p2p network is an excellent tandem that utilizes both sides' best. The advanced geo-targeting option with city-level targeting, as well as the flexibility in the pricing plans and authentication options, is why we can safely say that you should definitely reach out to them and get your proxies.
If you think we don't know what we are talking about, head over to their website, sign up for the 7-day free trial, and see yourself.
---
Submit your review