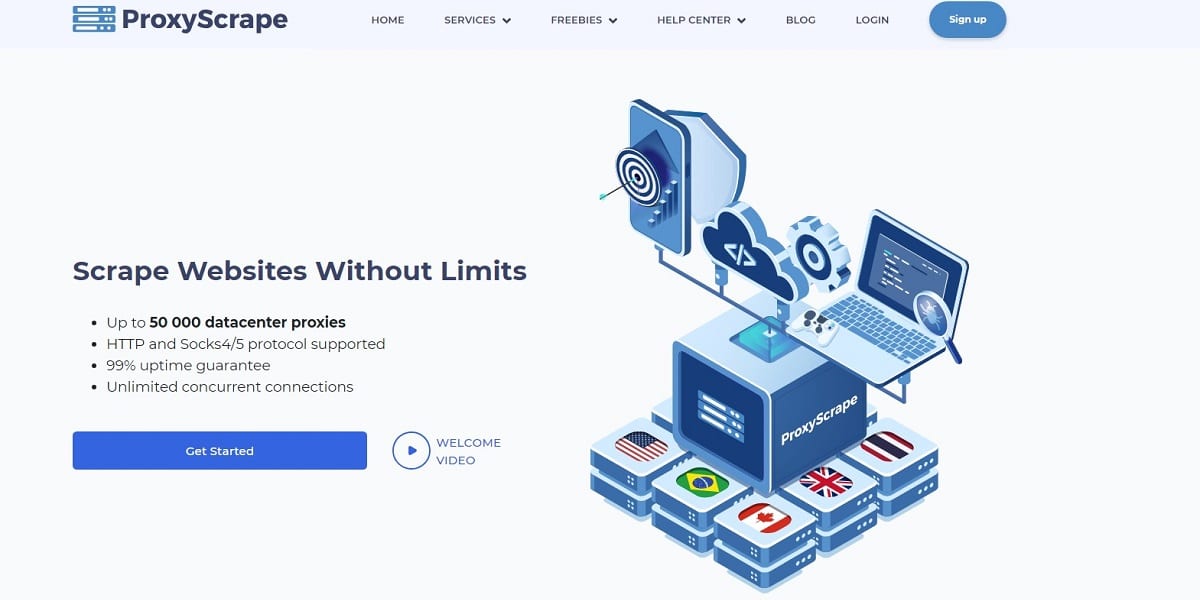 Are you looking for a good alternative to ProxyScrape? Check out today's list of your picks for the best ProxyScrape alternatives on today's market.
Whenever we talk about a service, we usually check how long it's been on the market, which usually gives us a clue if it's any good. Older companies usually mean that they are good because they've remained on the market for longer. With that said, things aren't always that simple.
In the scraping part of the internet, some services have been around for a long time, and we know they're good. Also, there are services like ProxyScrape that have existed for several years but still climbed up the popularity ladder. This is because they offer excellent products and services.
For the sake of argument, what if there is something about ProxyScrape that you don't like or want to try a different service? You're in luck because, in today's list, we'll be outlining the best ProxyScrape alternatives for you to try.
---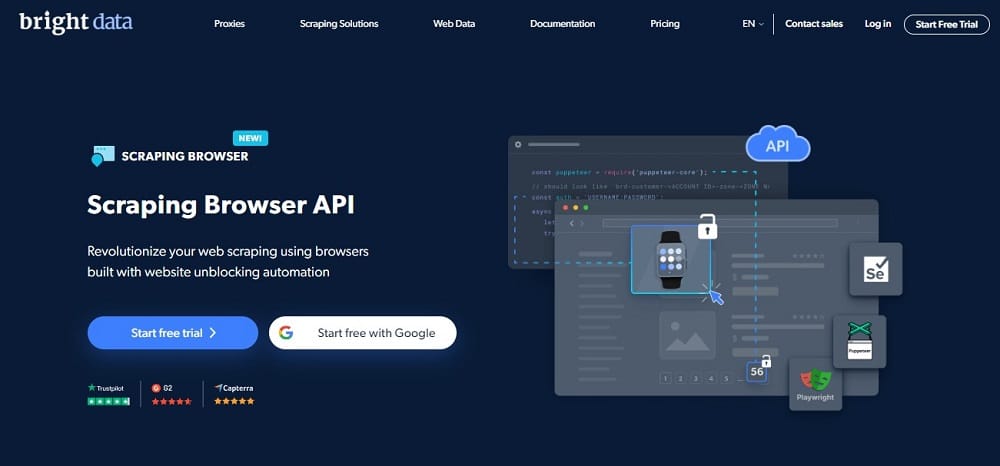 In the world of proxies, Bright Data is a name that everyone recognizes. Considering that the company offers plenty of services, it's only natural to mention the important one for today and that's the scraper.
The recent addition to the lineup means that Bright Data brings its A-game into the scraping world. It offers a browser API designed to help you with grabbing data from various websites using browsers designed for that. This means that you'll be relying on a tool capable of scraping the data and bypassing any restrictions along the way.
Looking at the pricing structure, you can see that Bright Data offers a lot of flexibility. There is a pre-paid package where you can pay based on your needs. If you're after a monthly commitment, there are two packages depending on the size of the package. If none of those work, you can always reach out to the sales team and ask for a custom package.
Bright Data isn't the most affordable service, so the free trial option is a nice touch. The best part is that it's a 7-day package, so you have more than enough time to test the service before you decide if it's worth it.
---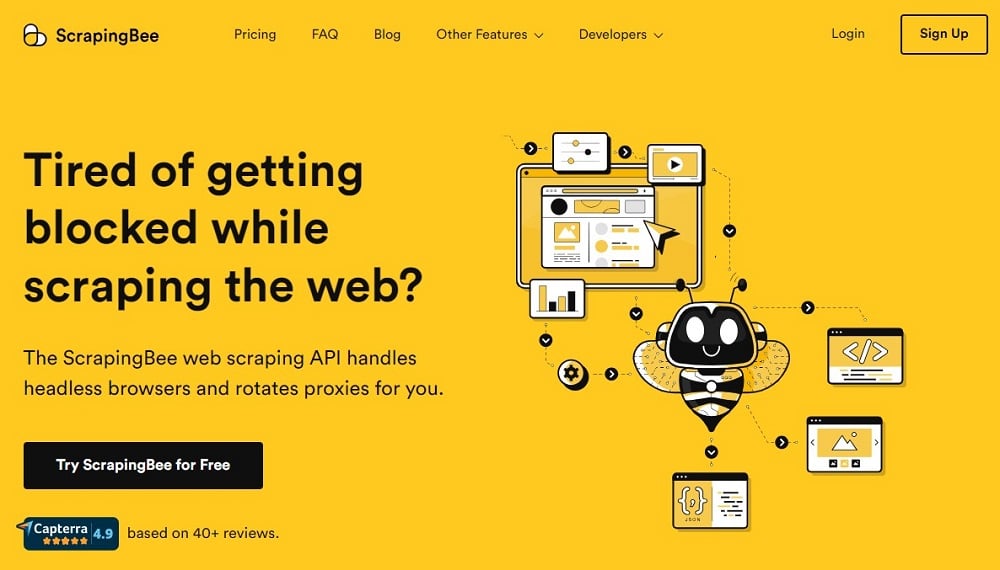 Next on the list is ScrapingBee, a popular option for people looking for a more affordable option when compared to the previous one. As a scraping option, this is also a solid alternative to ProxyScrape.
As a full-fat scraping solution, ScrapingBee is a service packed full of features, meaning that you won't find anything missing. The scraper relies on thousands of headless instances under the Chrome platform, so everything is rendered as if you are using a real browser. This also means that you'll be able to grab data from sites using Vue.js, React, AngularJS, and more.
The pricing structure is a standard one, meaning that there are predefined packages. You have 3 to choose from, and they differ in terms of the number of API credits and concurrent requests. As for the other features, the cheaper packages don't get priority support or a dedicated account manager. There is an option to ask for a custom package if the largest one isn't enough for your project.
Having a free trial is a nice way to test a service before making a purchase, and ScrapingBee offers that. The package includes 1,000 free API calls, which may not sound like much, but it should be enough to see if the service works for you.
---
Now we come to a service that differs from most of the ones you'll find on this list, but it's a scraper, nonetheless. Apify has a web scraper that works pretty well, so that's one reason you see it on this list.
The web scraper works like an actor to grab data from websites, structuring it and allowing you to download it in a format of your choice. Even though it shouldn't be your first choice if you have no experience with coding, the process is relatively simple. You'll need to point the actor to the website or page you want to scrape and point to the data you want to be scraped.
One thing that makes Apify stand out from the crowd is the free package. Unlike some of its rivals, you can use the service for as long as you want, if you are okay with the limitations. If you need more, there are 3 paid plans that offer more, or a pay-as-you-go option. Lastly, the service also offers a custom plan, meaning that you can get even more.
Having a free plan means you won't need a free trial. That is true, but up to a point. The great thing about Apify is that you can reach out to the sales team and ask for a demo of some of the paid packages to see how the service works when scaled.
---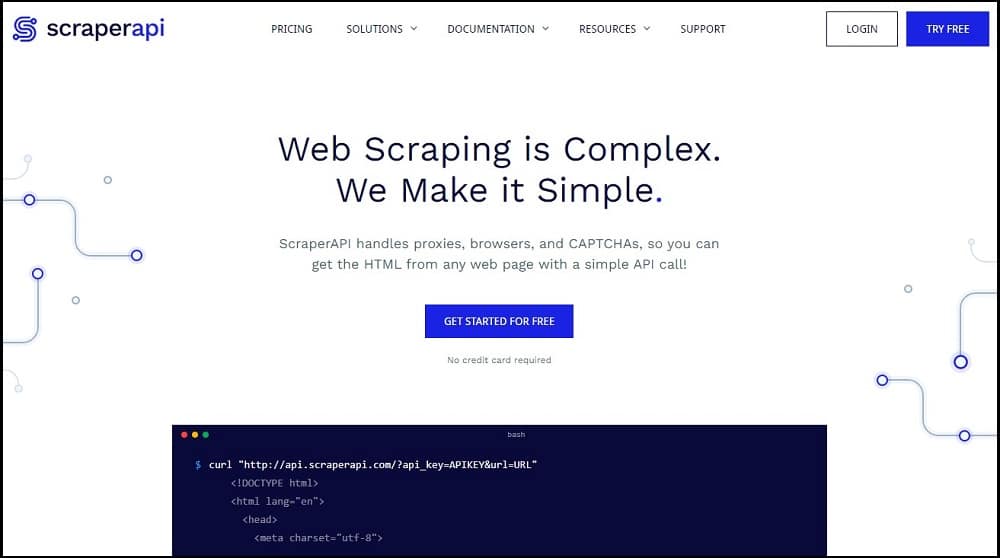 When it comes to scraping, ScraperAPI is a service that you'll find on most lists. The ability to grab anything from the internet is the main reason we included it in our list of ProxyScrape alternatives.
Even though the service isn't like some of the point-and-click options on the market, it's still a relatively easy option to use. You need to enter the site or page you want scraped and call the API. The tool will start the scraping process and handle everything in the background. This includes using and rotating proxies, bypassing restrictions, and everything else to get the data extracted.
There are 4 predefined packages to choose from, depending on the size of your project. The difference between them is in the number of API credits and concurrent sessions you can use. Also, for the first two packages, the geo-targeting is limited to US and EU only, while the other two offer worldwide targeting. There is also an enterprise package, meaning that you can customize it based on your needs.
Similar to its rivals, ScraperAPI offers a free trial for you to test the service. It comes as a 7-day package with 5000 API credits, which is more than what some of the other options on this list offer.
---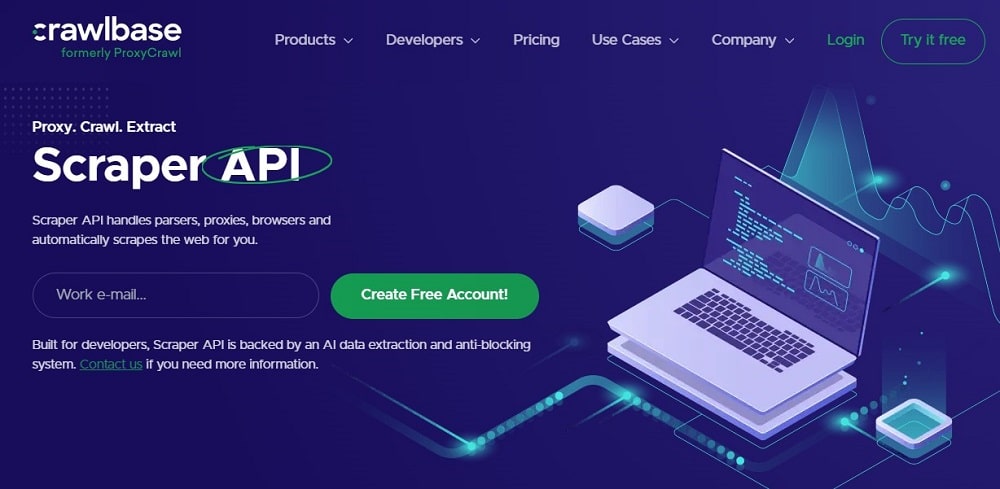 Another popular option we often mention with scraping is Crawlbase. The company advertises itself as an all-in-one solution for scraping, making it an excellent alternative to ProxyScrape.
Being an all-in-one solution means that Crawlbase has you covered, regardless of what you need. This scraper can go through any website and get any data you need. It does all the heavy lifting for you, meaning that you won't have to worry about proxies of CAPTHAs. On top of that, as part of the service, you can also get leads or screenshots, depending on the project at hand.
The best part about Crawlbase is that it has one of the most flexible packaging solutions on the market. There are multiple tiers depending on the number of successful requests. The higher you go, the price per request drops. Also, for JavaScript pages, the structure is similar, but the price per request is slightly higher.
Crawlbase also offers you the option to test it before you commit to pay. There is a free trial package, offering you 1000 requests for free. It's not the most we've seen, but should be enough.
---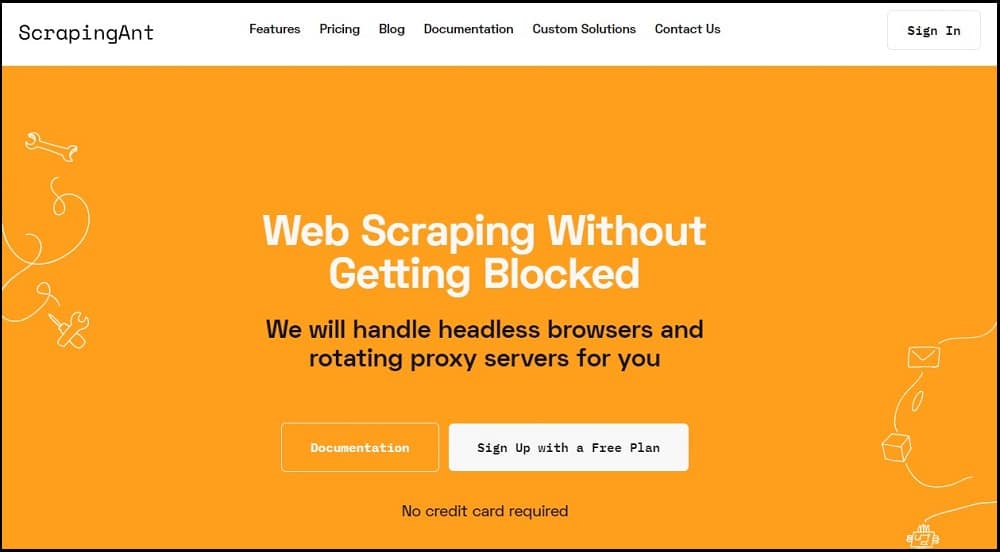 Now we come to a name that many of you may not heard of. ScrapingAnt is a web scraper designed to gather data without you having to worry about the details.
As a scraping API, ScrapingAnt offers a scraping solution without dealing with the finer details of the process. Once you have the pipeline set up, including the target website and data, the service will do its thing and you'll get your data. The service will deal with the proxies, cookies, renders, and more, so you won't have to.
ScrapingAnt offers 3 pre-made packages, depending on the number of API credits included. All 3 come with unlimited concurrencies but differ in other features. The cheapest package comes with standard email support, while the other two have premium. With the most expensive package, you can get custom proxies, avoidances, and a dedicated manager.
Despite the packaging structure we mentioned, ScrapingAnt also has a free option. It's free to use as long as you want and includes 10000 API credits monthly. This is by far the most flexible free package you'll find.
---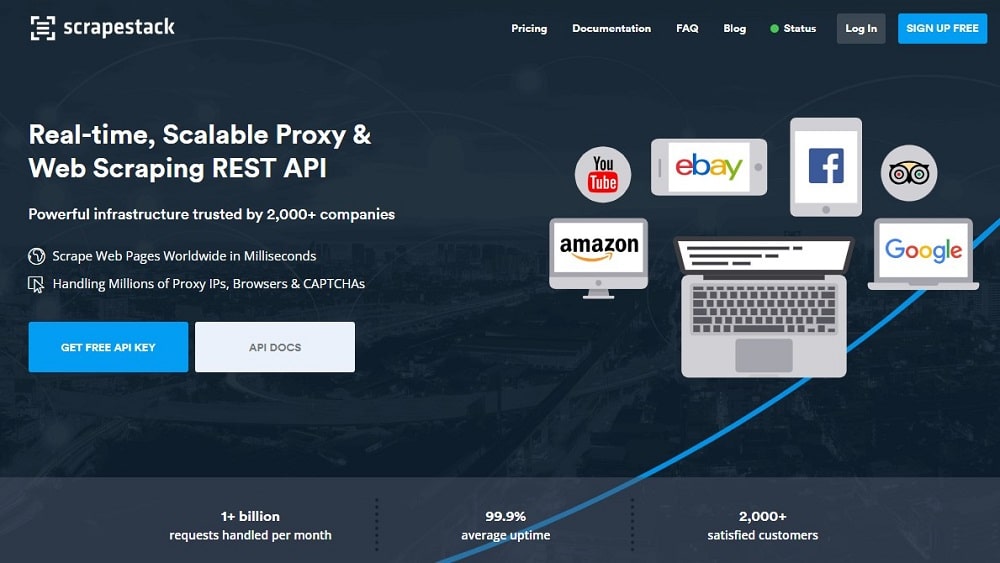 In our list of best ProxyScrape alternatives, we have another popular solution called ScrapeStack. The service has been on the market for several years and during that time it has gained a lot of popularity, thanks to its success.
The service works like most of the ones we mentioned so far. Once you enter the website and send out an API request, the tool will crawl through the side and grab data. To remain undetected, ScrapeStack relies on millions of proxies that rotate constantly to keep the activity anonymous. The pool consists of worldwide proxies, which additionally reinforce the anonymity of the scraping task.
With ScrapeStack you have 3 paid packages to choose from, each coming with a different set of features. The most notable difference is in the number of requests included in each plan. Besides that, the cheapest package doesn't get access to the premium proxies. The largest package is quite flexible, but for people that need more, the service offers a custom package.
ScrapeStack has a similar offering as the previous service. There is no need for a free trial because the service offers a free package. It is limited to 1000 requests, but unlike some of the trial options, this one is free forever.
---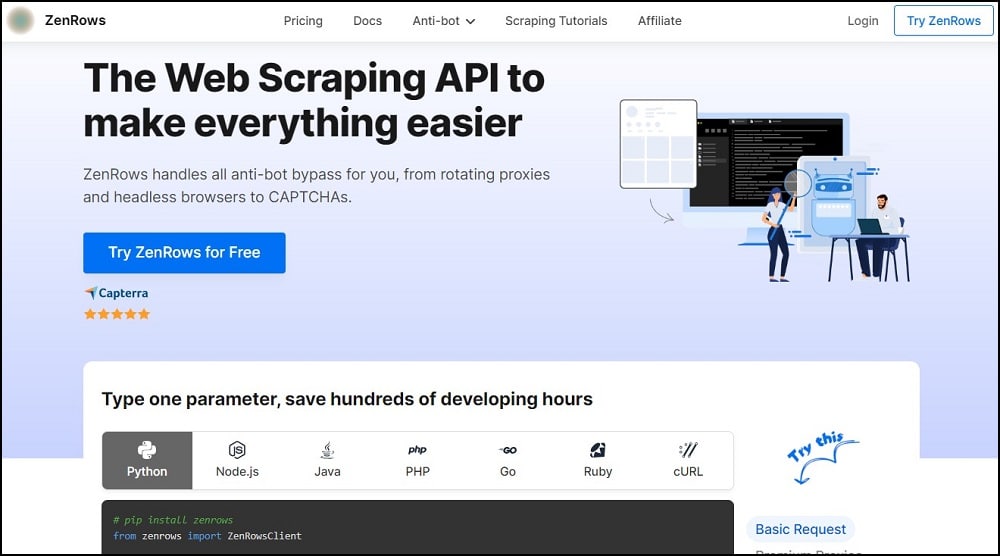 Moving on, we have a service that may not be the most popular option on this list, but it's still an excellent scraper. ZenRows has a proven success record from thousands of customers, which makes it a good alternative to ProxyScrape.
ZenRows designed the scraper to be a tool that can grab as much data as you need without detection. To achieve that, the service uses headless browsers and a large pool of rotating proxies to ensure that the process remains undetected. In addition to that, you can add JavaScript rendering into the mix for those scraping projects where you'll need to log in or click on elements.
The pricing structure consists of 3 pre-made packages that range in terms of the features they offer. There is a wide range of credits you can choose from, along with the type of proxies, locations, and a few other features. The only thing missing from the cheapest package is the automatic retry. For large enterprise use cases, ZenRows offers an option to get a custom package.
Unlike the previous two services, ZenRows doesn't offer a completely free package. Instead, your only option to test the service is the free trial that comes with 1000 API credits.
---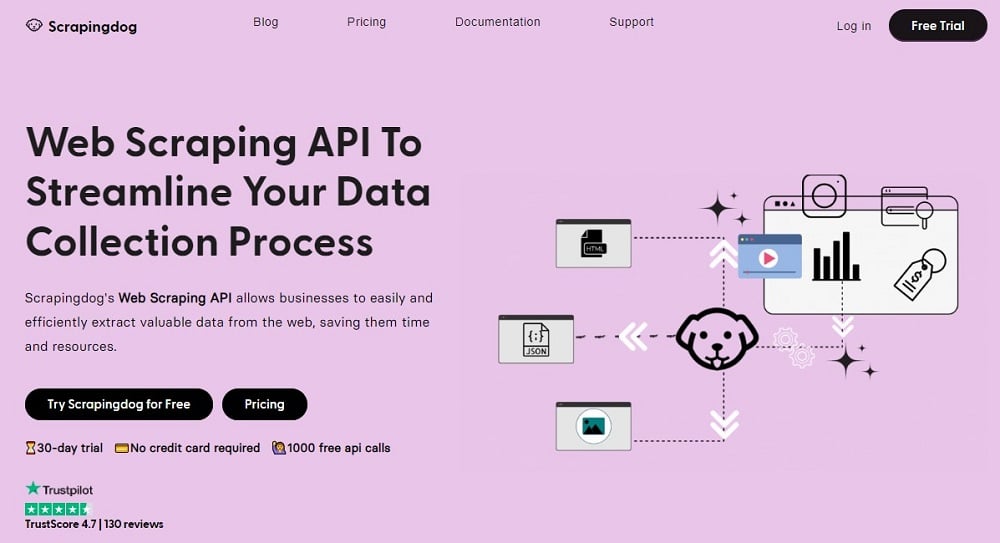 We had an ant and now we have a dog, a ScrapingDog. The service has been around for a few years, but it's backed by people with well over a decade of experience, so you can expect this to be an excellent alternative to ProxyScrape.
The scraper is made to help you get any data without having to deal with the finer details. ScrapingDog relied on headless Chrome to render the website, which, combined with the pool of over 40 million proxies, makes the entire process anonymous. It can deal with anti-bot systems of CAPTCHAs, meaning that there are no obstacles that can prevent you from grabbing the data.
ScrapingDog offers 3 packages to choose from, similar to what most services offer. For the most part, the set of features is similar between them, apart from the number of request credits and concurrent requests. Also, the smallest package doesn't get email support. In cases where you need more than what the largest package offers, the service has an enterprise package that you can customize.
Like with ZenRows, a free package isn't available, but there is a free trial. You can test the service with 1000 API calls and up to 5 concurrent requests.
---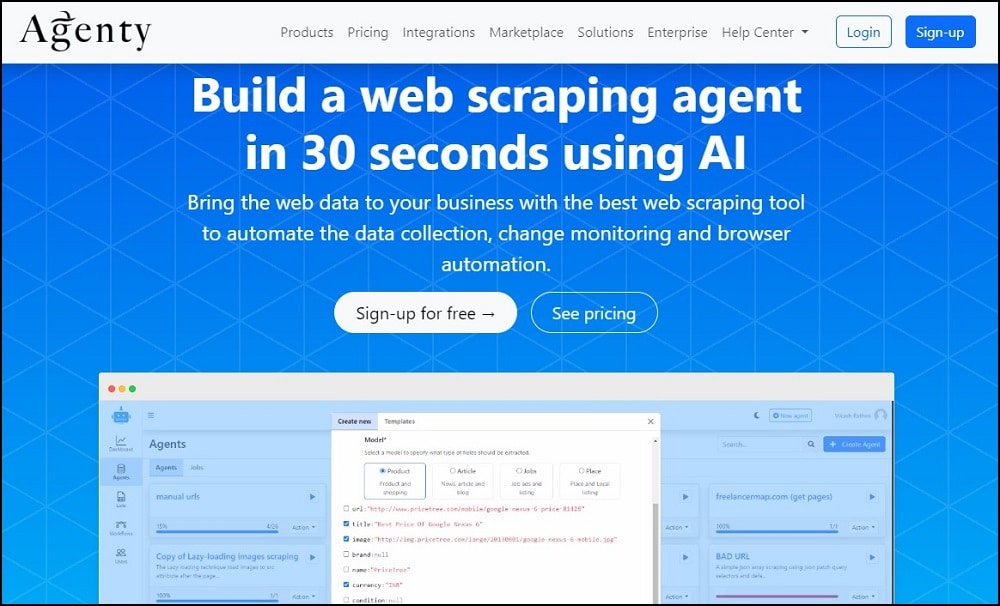 The last entry on today's list is a ProxyScrape alternative that's designed to be a bit more user-friendly. Agenty is a powerful scraper that can help you grab data from a website with no prior coding knowledge.
Agenty says that the scraper is a point-and-click tool, meaning that the service does everything for you and all you need to do is point out which content to grab. Thanks to the automated IP rotation, you can be sure that the scraping process goes unnoticed. Additionally, you can schedule the process whenever you need, in cases where new content may pop up on the website.
The service comes in the form of 3 packages for you to choose from. There is a different set of features for each, ranging from how long the data is retained to the number of agents you can use. Naturally, each package comes with a different number of pages you can scrape per month.
To test out Agenty, the service offers a free trial that allows you to go through 100 pages, and you can use that for up to 14 days.
---
FAQ
Q. Will I need proxies for the ProxyScrape alternatives?
In most cases no. When you're paying for these kinds of services, the company uses its own proxies. The first reason is that they are integrated into the system and the service rotates them as needed. The second reason is that they are quality proxies, meaning that you won't have to worry about detection.
Q. How to tell which package I will need?
Considering that all the ProxyScrape alternatives have different pricing structures, you'll need to check them first and then look at your project. In my opinion, the best approach would be to reach out to the sales or support staff of the service you want to use and get their opinion. They would be happy to help you pick the package that will cover your needs.
Q. Are there sites that the ProxyScrape alternatives cannot scrape?
The idea behind these alternatives is to offer a similar product to ProxyScrape, meaning that they shouldn't have any issues grabbing data from any website. With that said, with well over a billion websites, there may be a situation where a scraper may not scrape the data. Therefore, it's a good idea to reach out to the sales department of the service and ask.
---
Conclusion
ProxyScrape is an excellent tool that many people have used, us included, and it offers all the right features most of us need. With that said, there are use cases or people that want to try a different route or need something more.
To help you with that, we've compiled a list of the best ProxyScrape alternatives on the market for you to try. Most of them have a trial or a free package, so you won't have to pay to find out if they work for you.