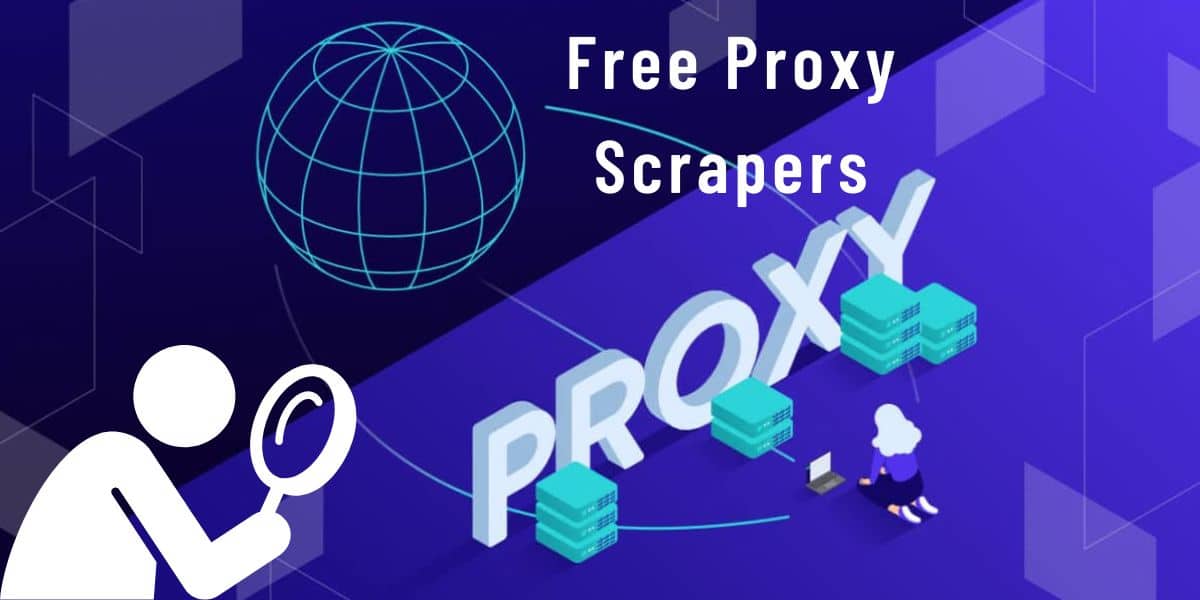 Do you want to scrape proxies from the internet without paying for it? On today's list, we'll be talking about the best free proxy scrapers on the market, options you can use if you're on a tight budget.
There are plenty of internet services we rely on in our daily online activities. Most times, many of these activities are doable with no additional services, but sometimes we need some help. In other words, if you're browsing the web, then all you need is a browser. With that said, often, we come across some exceptions, like when gathering data.
In the earlier days of the internet, the only way we grabbed data from websites was with the traditional copy-and-paste method. It worked well, but it was a boring task, and it took a lot of time to get done, especially if we were talking about a larger dataset.
The best solution for this was the introduction of data scrapers. These are automated services that enable you to gather data much faster and with no errors. The idea is to set the service up and let it do its thing while your job is to monitor it or verify the data.
In recent years, scraping for proxies has become a popular activity, which is what we'll be talking about today. Grabbing a set of free proxies from the internet can be enough for some use cases, and using the proper tool is important. Therefore, in today's list, we'll be talking about the best free proxy scrapers.
---
The first entry on this list comes from Apify. It's a proxy scraper designed to grab IP addresses from multiple sites that offer free proxies. Yes, the service has a paid package, but there's one where you won't need to pay if you're willing to work with some limitations.
Apify offers a free package that enables you to run the tool 400 times in a day, which should be fine as long as you don't need thousands of proxies. The service works with 17 sites that offer free proxies, so you can expect to get a decent amount. Based on the company's claims, you should expect to get around 20 to 60 IP addresses with each run. If you need more, you can always go for some of the paid packages that increase or remove the limits of the free option.
This tool is as autonomous as possible, meaning that you'll only need to set a few parameters, and you'll be good to go. The best part is that it has a built-in proxy tester and a duplicator checker, so you get a clean list of working IP addresses. Once you're done with that, you can use the proxies for whatever you want.
---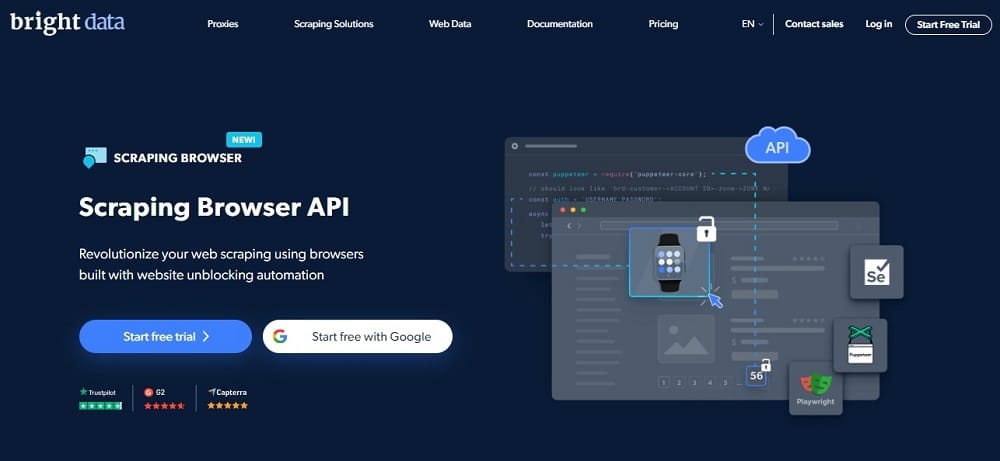 This is a name you're familiar with if you've ever used proxies. Bright Data is considered the best in the industry, but the company also offers additional products and the one we're interested in today is the proxy scraper.
The first thing you should note is that Bright Data doesn't have a free package. This means that you'll need to use the free trial option, which lasts up to 7 days. Depending on the number of proxies you need, this may be enough, but if it isn't, there are paid packages that can help you get more. The best part about the free trial is that there aren't too many limitations, so you can grab as many free proxies as you can in that timeframe.
Unlike the previous service, with Bright Data, you choose which free proxy websites you scrape. This means that you can go after as many sites as you can find online. With that said, since this isn't a dedicated proxy scraper, you'll need to test the proxies yourself or with another service. On the flip side, you won't have duplicates to deal with once the process is completed.
---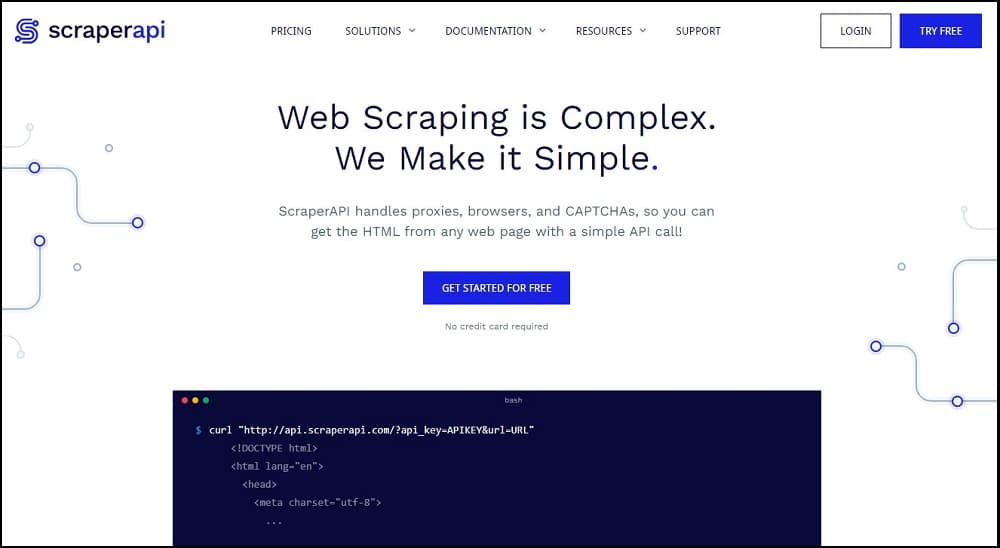 Next up we have ScraperAPI, another scraping tool you can use to grab proxies. Unlike Bright Data, this is a service that only deals with scraping, and based on our previous experience, it does that very well.
In terms of paying for the service, there is a free option, but with a slight twist. When signing up for ScraperAPI, you get a free trial account for 7 days, which comes with 5000 API credits. Once the week is over, you can remain on the free plan, which reduces things to 1000 API credits. You are also limited by the number of concurrent sessions and you can run only 5 at a time. For use cases that need more, the service offers paid packages with higher limits.
ScraperAPI exists to allow you to get a set of free proxies easily without too much hassle. It will handle everything that you'd need and your only task is to make an API call. Considering that we're not talking about a dedicated proxy scraper, you don't get a tester, but you can choose which free proxy sites you want the service to scrape.
---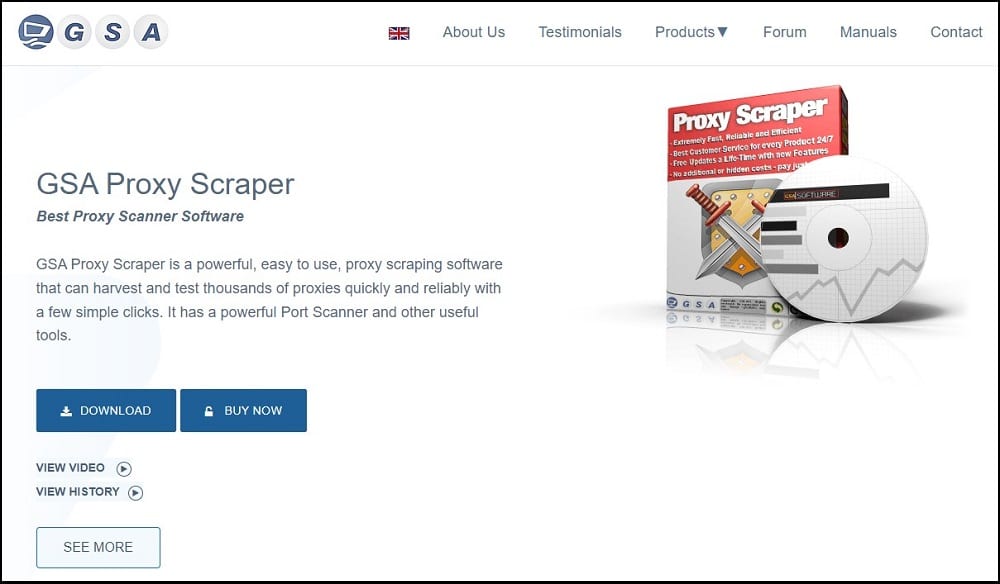 Moving away from cloud-based services, we come to a downloadable proxy scraping tool. GSA Proxy Scraper is a dedicated Windows tool that can grab free proxies at a click of a button.
The tool relies on thousands of sources, meaning that you can get thousands of proxies without too much hassle. Since we're talking about a dedicated tool, with GSA Proxy Scraper, you have features that the previous services didn't have. The main one is the proxy tester and duplicate checker, both of which are essential. Thanks to those, you will get a list of working proxies. The best part about this tool is that you can also filter which proxies you want to be excluded from your list.
GSA Proxy Scraper is technically a paid tool, so you'll need to rely on the free trial. It lasts for 5 days, which should be enough to get you a good number of proxies. If you feel like the tool is worth it, you can purchase the license. The only slight drawback is that the tool is only available for Windows machines.
---
Going back to the online services, we have a direct competitor of ScraperAPI. ScrapingBee has been on the market for long enough for us to consider it one of the better scraping options, or in this case, a free proxy scraping solution.
Similar to some of the other services you'll see on today's list, ScrapingBee isn't a fully free option. Instead, getting your free proxies goes through the free trial option the service offers. There is a trial account that gives you access to 1000 PI calls. This should be enough to grab a decent number of free proxies. If you need more, then you'll need to pay for some packages ScrapingBee has.
With this provider, we're looking at an all-around web scraper, so there are some features you may miss out on. These include a proxy tester or a filter. On the other hand, the service will do an excellent job of grabbing all the free proxies from any site that you need. This means that it will cover a wider range of sources when compared with a tool like Apify's proxy scraper.
---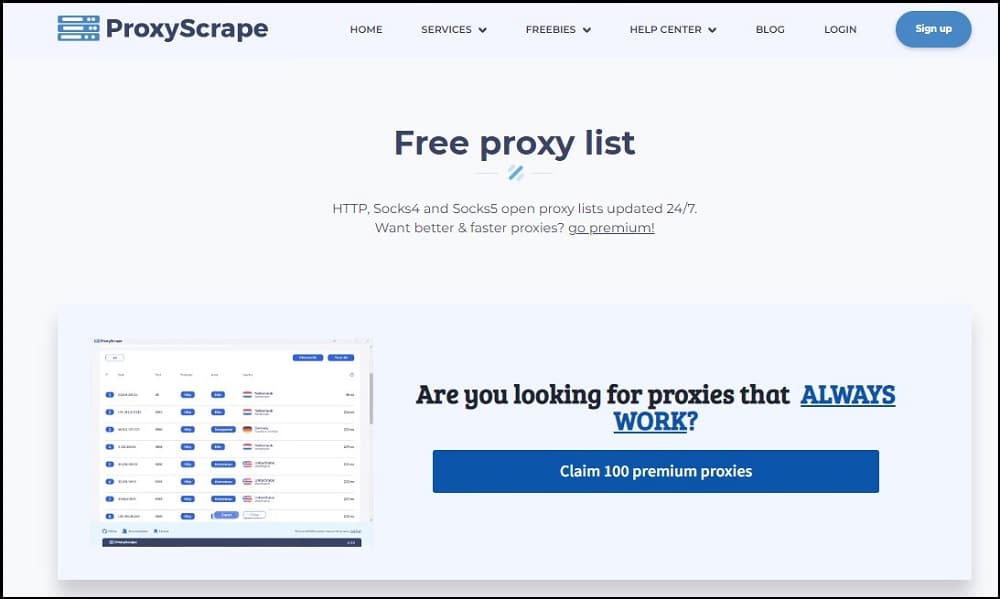 Now we come to a different service, which will provide you with a list of free proxies, but you'll need to work to get them. ProxyScrape is an excellent proxy provider that also offers free proxies, which is what we'll be talking about.
The proxies are completely free, and you don't have any limitations in terms of how many proxies you can download. At any given moment, ProxyScrape offers over 1000 IP addresses from numerous locations and multiple protocols, including HTTP, SOCKS4, and SOCKS5.
ProxyScrape isn't a scraper, but the website has the proxies lined up nicely, meaning that you can select all of them and copy the information. The best part about this service is that there is a free proxy checker on the website, so you can double-check the proxies you just got. You won't find any duplicates, but you'll need to verify if they work or not.
---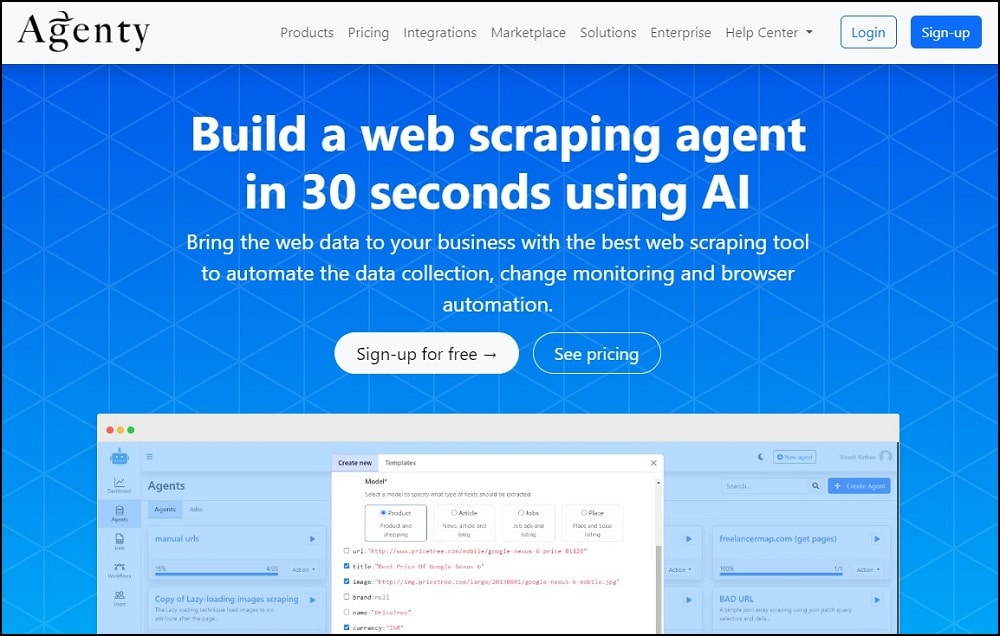 In the world of web-based scrapers, there are lesser-known services like Agenty. In terms of what it offers, this service is very similar to some of the more popular options, which is why we're including it in this list of proxy scrapers.
Things are similar to ScrapingBee, meaning that you don't get a fully free service for you to use. Instead, Agenty offers a free trial limited to 100 page credits for 14 days. The duration of the free package is longer than most of its competitors, but the page credits won't offer tons of flexibility. If you don't mind paying, then you can go with some of the paid packages and get a lot more.
Agenty is a point and click the type of service, meaning that all you need is a list of free proxy websites. Once you compile those, you can enter them into the system and let the service do its job. Like most of the web scrapers on this list, you'll get the list of free proxies, but you'll need to test them separately to see if they work.
---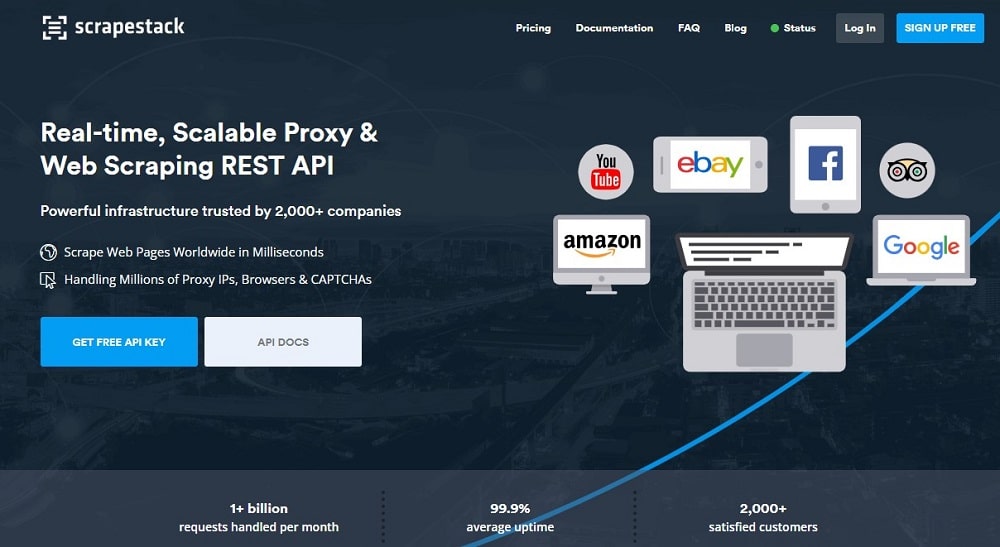 Another scraping service that won't win any popularity prices is ScrapeStack. The service works as a web scraper, meaning that you can grab any data from any website, which is what you need if you want to scrape free proxies.
The advantage ScrapeStack has over the previous option is that it offers a completely free package. For $0 per month, you can get 1000 requests, which isn't the most in the world, but for smaller batches, it will get the job done. The paid packages offer a lot more, but they sit behind a paid subscription, which isn't the point of this article.
Even with the free package, ScrapeStack offers the same set of features as the paid packages. This means that you can set the source websites and the service will scrape. You'll get a list of all the proxies from there, but since there isn't a built-in proxy tester, you'll need to do that manually. The good news is that there are plenty of free tools for this task.
---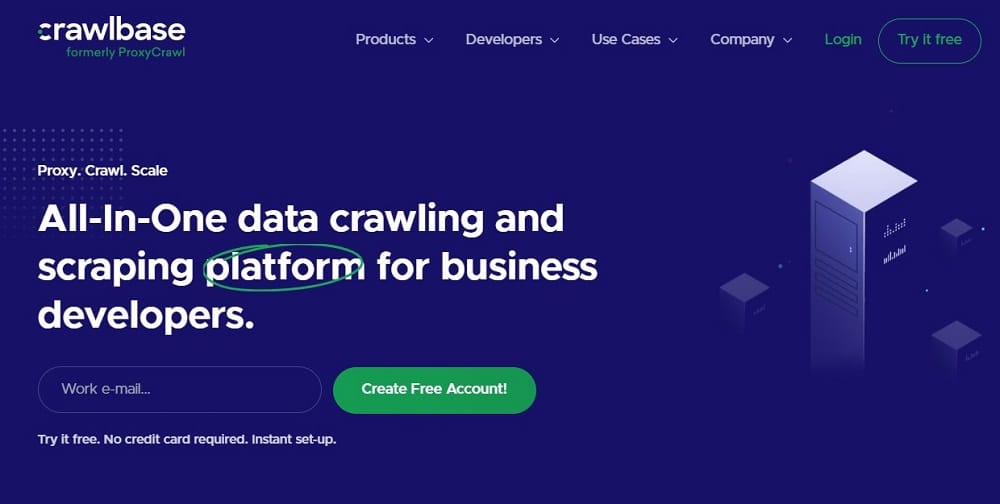 Don't think we've forgotten about the leader in the scraping industry. Crawlbase has been the go-to service for people looking to scrape data off the internet, meaning that you cannot go wrong for scraping free proxies.
The free part of this service comes only as a free trial. Crawlbase offers a test package with 1000 requests, which should be enough to get you a decent number of free proxies. Since there is a limitation to this, if you need more, you'll need to pay for more requests.
Crawlbase makes scraping easy, meaning that you won't have to deal with anything except a call to the API. The service works with most websites, so you shouldn't have any issues with any of the free proxy sources you may want to use. With the duplicates aside, the only thing you'll need to do afterward is to check the proxies and you're good to go.
---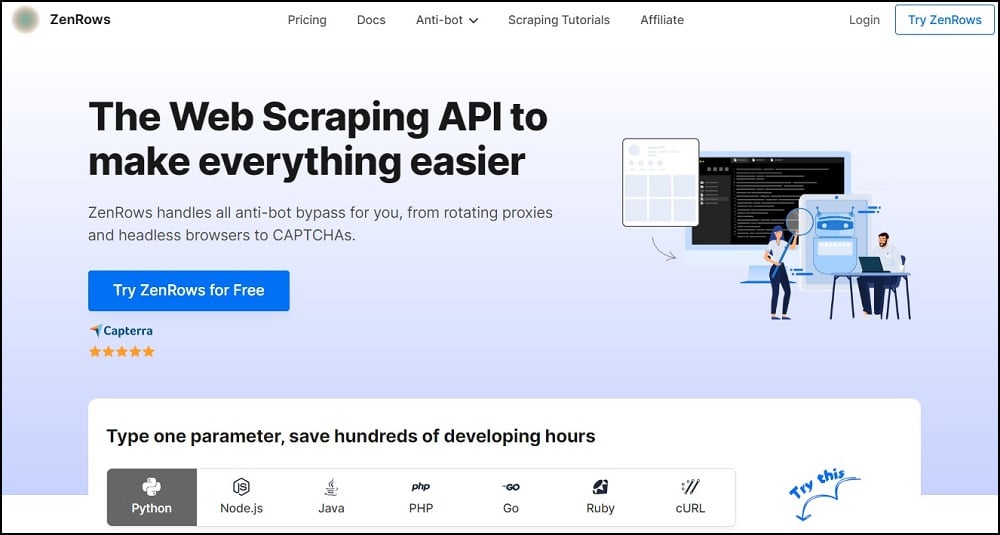 Last but not least, we have another web scraper that you can use to get free proxies. ZenRows works like most cloud-based API solutions for gathering data. It's designed to work autonomously, so there's very little input from your end.
Similar to Crawlbase, with ZenRows you don't get an entirely free package to use for as long as you want. The service offers a free trial with 1000 requests, meaning that you can get some proxies for free, but you'll need to pay if you want to get more.
The idea behind this tool is to grab the data as easily as possible. This means that you'll need to get the list of sources and call ZenRows' API for the service to grab the data. If there are some duplicates, the tool will remove them, but like with some of its rivals, you'll need to check if the proxies work.
---
FAQ
Q. Are proxy scrapers legal?
Yes, proxy scrapers or any kind of scraper are legal. Some websites try to prohibit scraping, but the proxy scraping tools we outlined are prepared for that, meaning that you shouldn't have any issues.
Q. Are free proxies good?
This is where we reach a problem. Free proxies aren't the best choice, especially if you're looking to use them for some specific tasks where sensitive data is involved. In these situations, it's best to go for paid proxies because they are monitored by a company that won't gather data on you or your activities.
Q. How many free proxies can I scrape?
The limit in terms of the number of free proxies you can scrape depends on the service you use and the sources. Some sources have thousands of IP addresses, while others may have a couple of hundreds. As for the scrapers, most of the free options are limited, so the number can vary.
Q. How long can I use free proxies?
The lifespan of free proxies is anyone's guess. Keep in mind that if the proxies are publicly available on a website, then there's a chance that you're not the only one using them. On top of that, we don't know who controls the machine with the proxy, which can be someone's home computer. Once that person shuts down the computer, you won't be able to use the proxy.
---
Conclusion
We often mention how important proxies are in some of our online activities, making them essential. With plenty of free proxies on the internet, there are situations where you may want to utilize them to save a few dollars.
To help you with the gathering process, we made a list of the best free proxy scrapers that you can start using today. Some of them come as a free trial, while others have free packages. Regardless of that, if you need more free proxies, you can utilize more than one service.