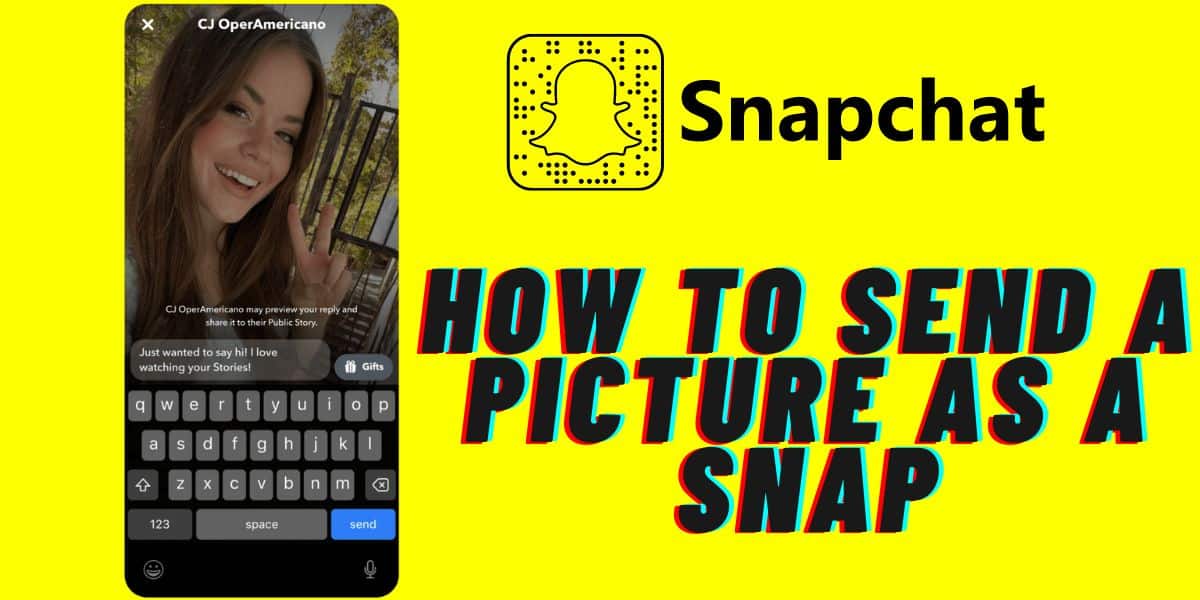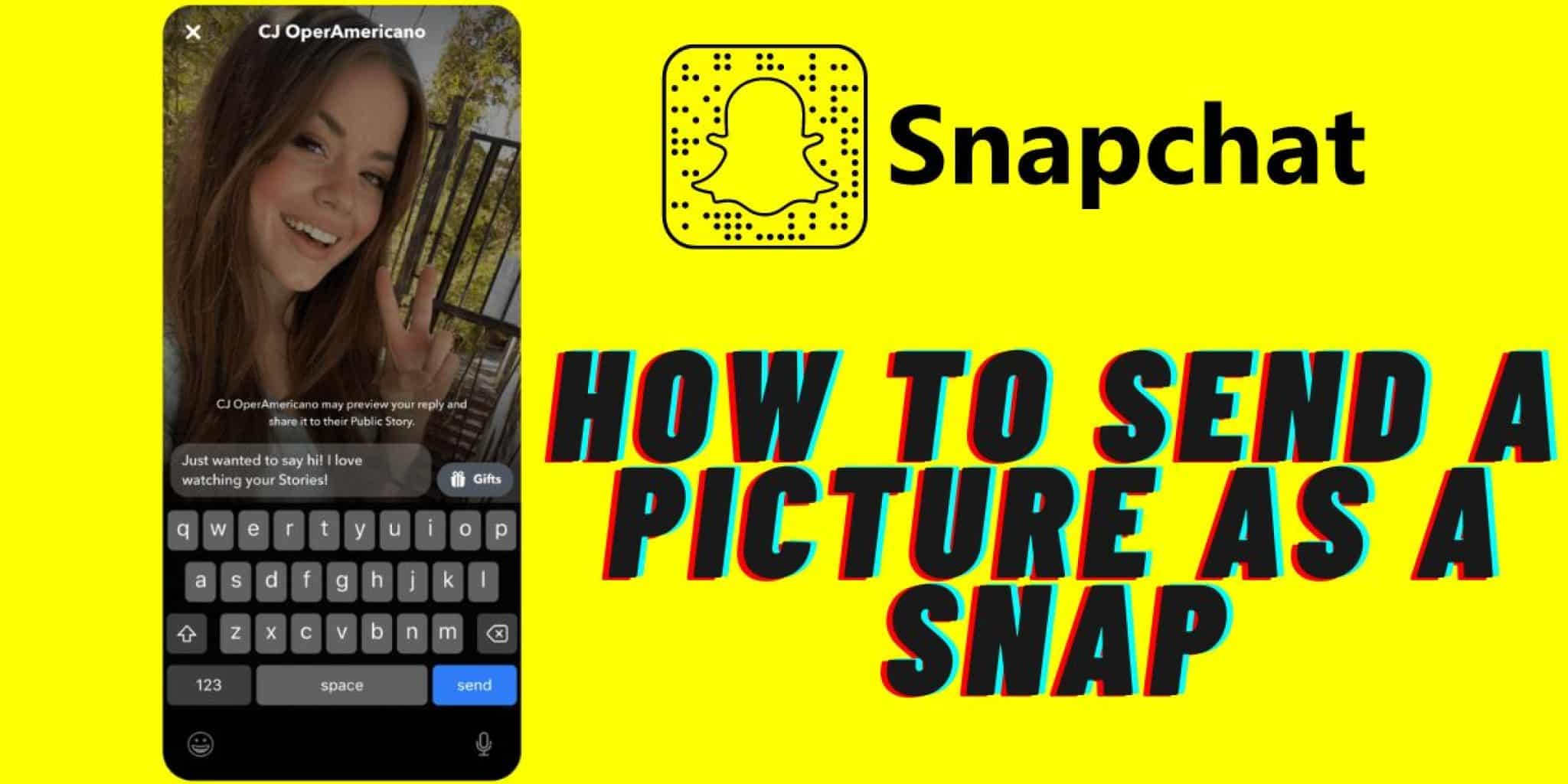 Do you want to share pictures from your gallery through Snapchat? Read on to learn about the easiest and most reliable method to do this.
Snapchat is a popular messaging app that allows you to send pictures and videos that disappear after a few seconds. You can also send messages with text, drawings, and other kinds of media. It's about expressing yourself through pictures and sharing your life with friends and family.
Sending pictures as a snap is not a difficult procedure. In fact, it can be done with utmost ease. However, there are some aspects that you need to keep in mind while doing so.
So, Snapchat is one of the best apps for people who love sending pictures and videos to friends and loved ones. The only thing that makes it unique is its time-limited feature. The pictures and videos sent via Snapchat get deleted automatically after a certain period has passed.
So how does one send a picture as a snap? Read on to learn about this:
How to Send a Picture As a Snap?
Capturing a photo and sharing it via Snapchat is quite easy and a task anyone can handle. However, sending quality photos may need more than just the usual know-how. There's a way you can send what was initially a compelling and clear photo only for it to be received as blurred and quite dissatisfying.
So, if you want the best methods that you can share your photos and have them received as original and in good quality as they are, here are the best methods for you:
1
Send a Camera Roll Photo as a Snap
While Snapchat has made it easy to share photos, sending them as snaps from your Camera Roll or other albums on your phone is not as simple. This can be frustrating if you have a lot of photos stored in another album and want them to appear in your Snapchat account. Here's how to do this:
Step 1: Open the Snapchat application on your device. You'll notice the camera will also open up.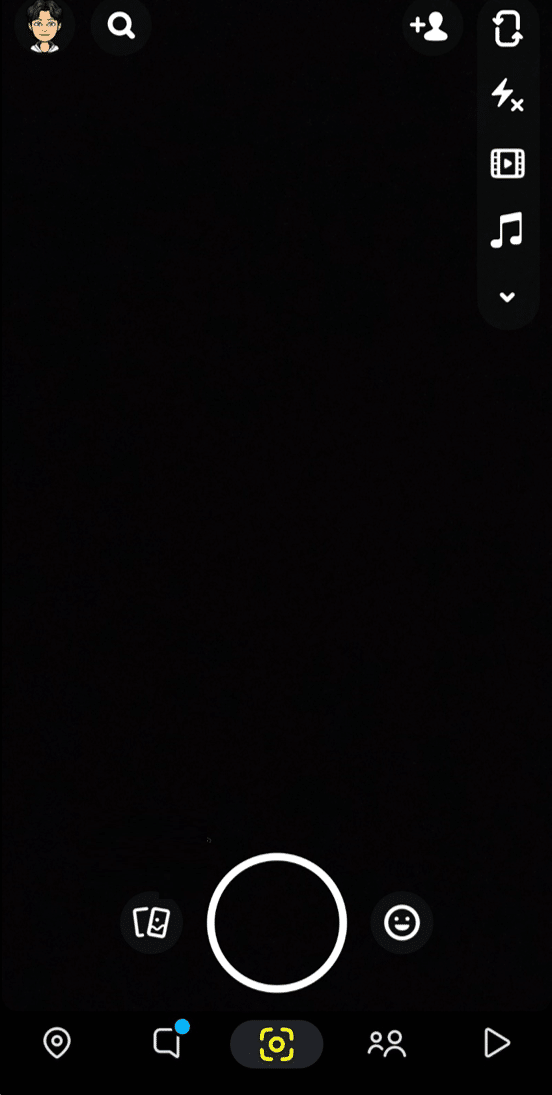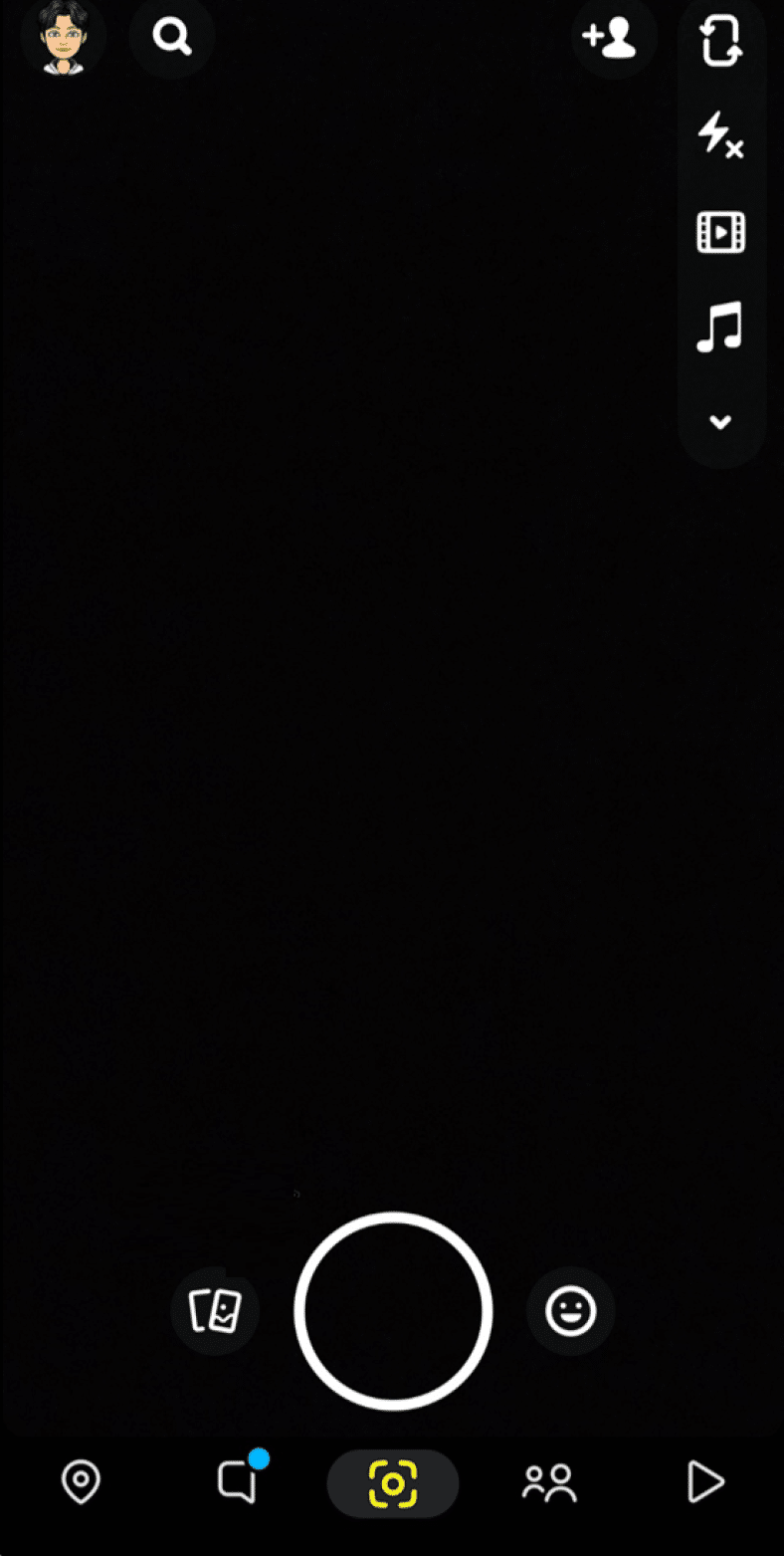 Step 2: Enter [Camera Roll] in the search bar and touch the search icon. Next, scroll through the results and click on the Snapchat [Camera Roll Picker] option.
However, with either of these lenses from the search results, it is possible to select a picture from your gallery.
Step 1: Choose the picture you'd like to send as a snap from your gallery.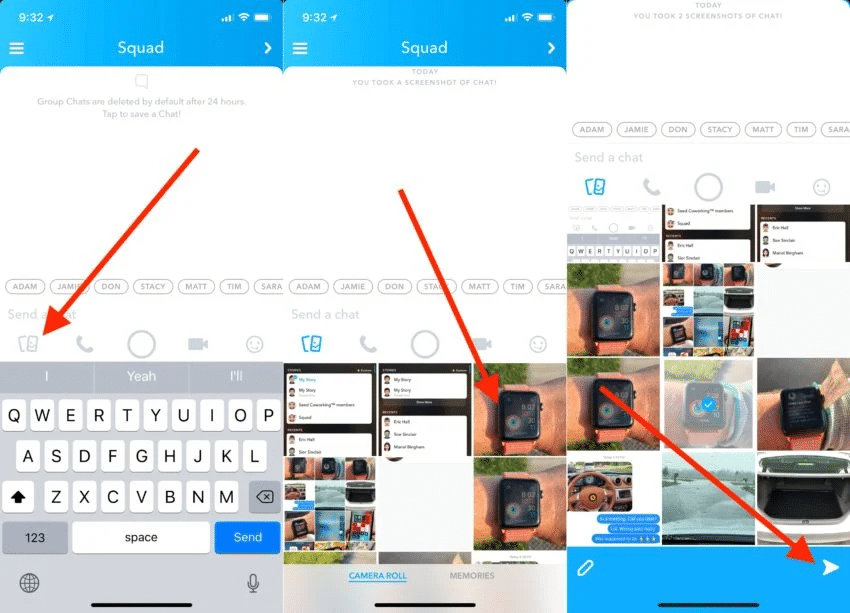 Step 2: You can make a few edits, then send the snap to anyone you want.
Step 3: Once sent, it is best to open the message's category to see if your snap has been delivered.
However, if you note the snap has a pending status on the screen, then there must be a problem with the app.
One way to know the difference between Snap camera captures and those sent from the Snapchat application is; Snaps sent directly from Snapchat are red. While snaps sent from the camera roll are blue.
---
2
Use LMK App  to Send a Picture As a Snap
The LMK app is an excellent option for those who want to send their friend's photos but do not have enough time to wait for their friends' response or those who want to send photos without worrying about them being deleted after a short time. The LMK app provides various options for users to share photos with friends.
If you want to send pictures as snaps on Snapchat using LMK App, please follow the steps below:
Step 1: Launch your Snapchat application, then touch the [Camera] icon in the middle of the lower navigation bar.
Step 2: Swipe upwards to open your Snapchat memories.
Step 3: While on the memories page, touch the [Camera Roll] icon to open your photo gallery.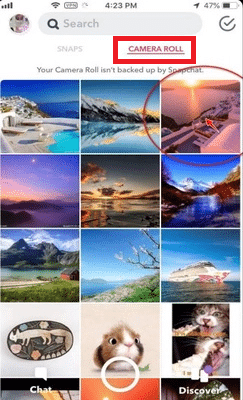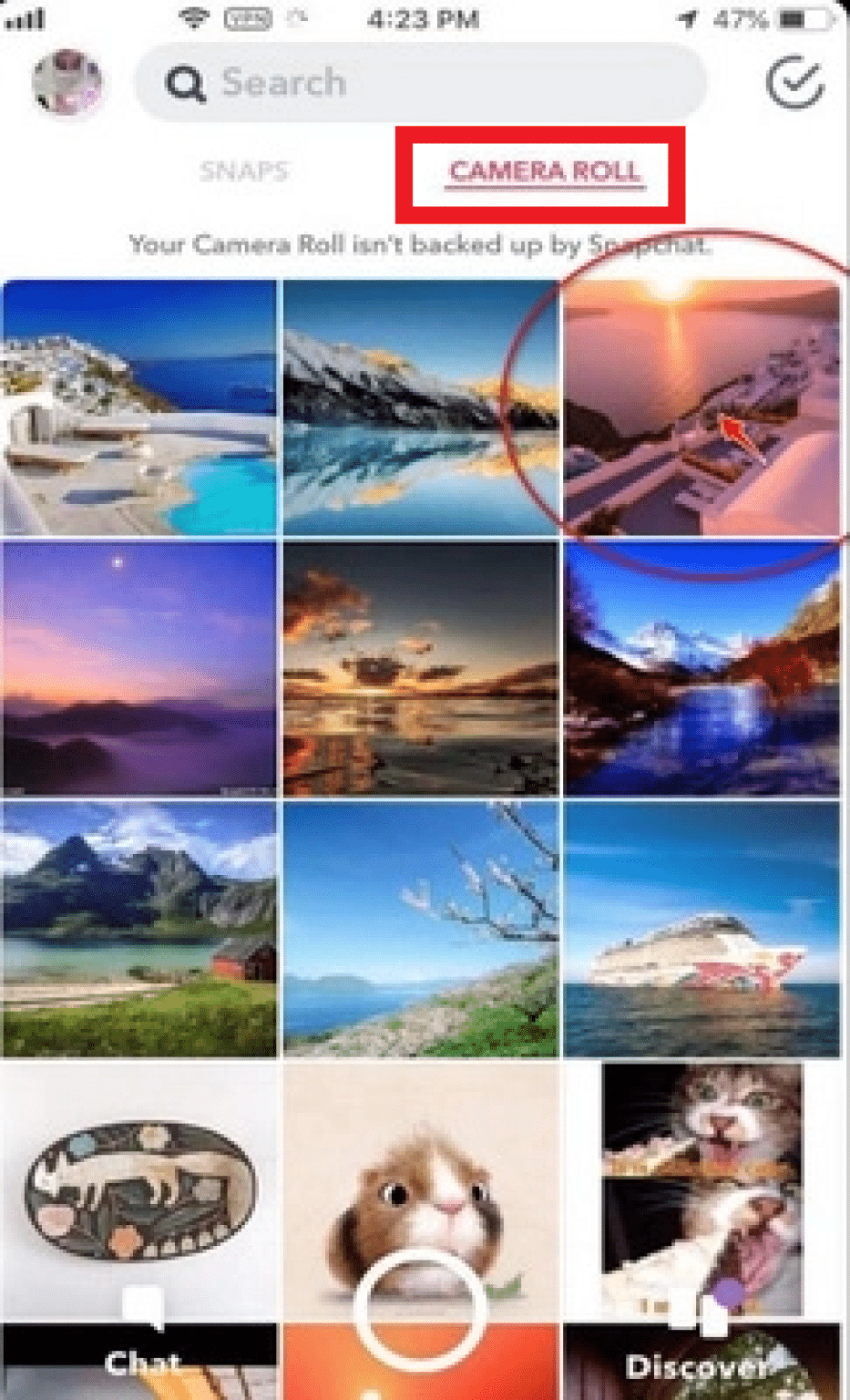 Step 4: Before sending the picture, you'll need to edit it on Snapchat and remove its black borders. This will aid in making your snap appear as an authentic snap.
Step 5: To edit the picture, touch and hold on to it for 3 seconds.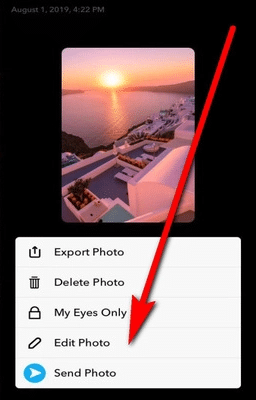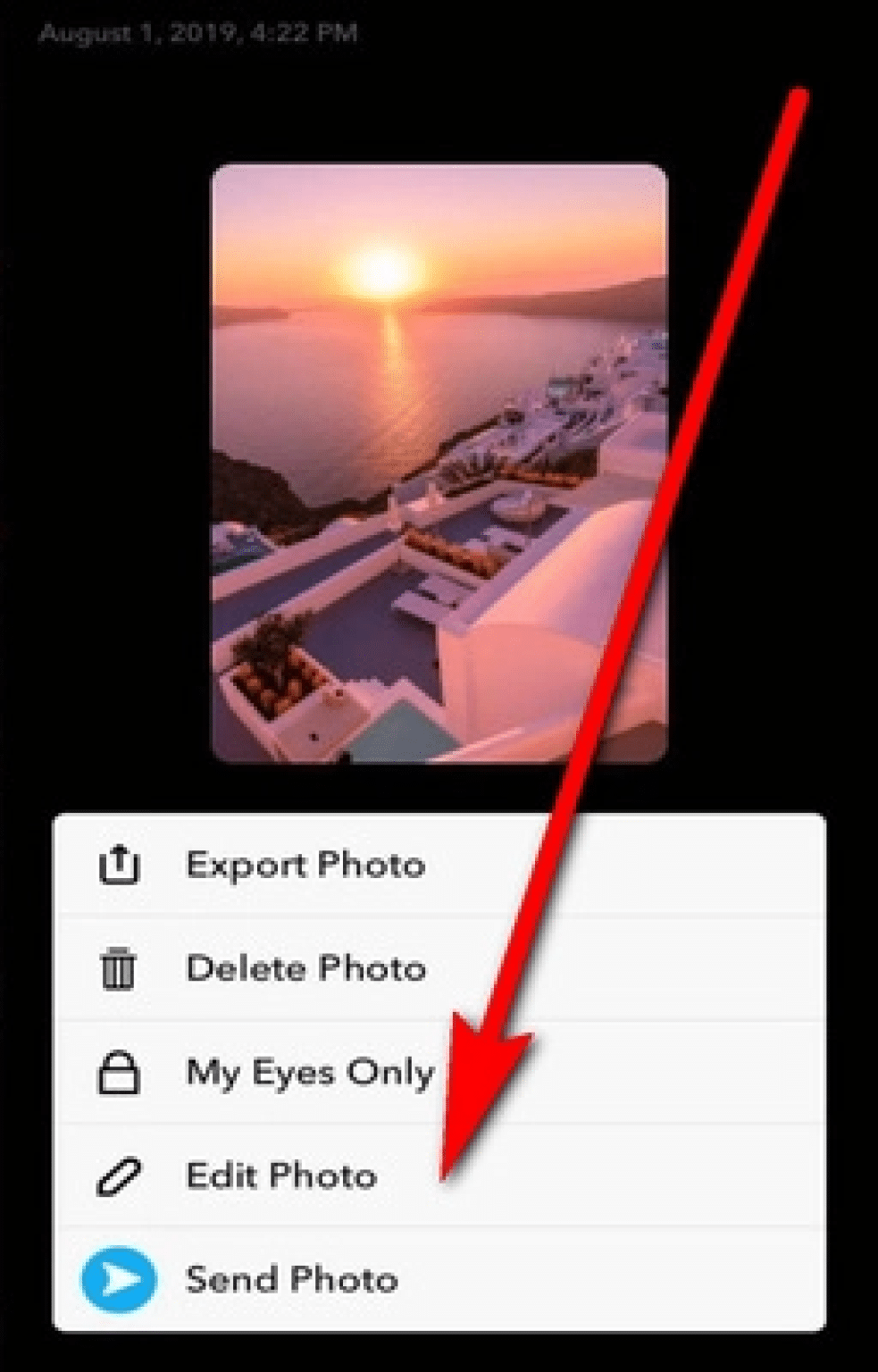 Step 6: Touch the [Edit Photo] option from the five options in the popped-up menu.
Step 7: Once on the editing screen, note the two black bars on the top and bottom of your photo. Remove the bars, then touch the [Share] icon from the left of your lower screen.
Step 8: Touch the [Save] button to save the edited image directly to your camera roll.
Step 9: You'll need to download the LMK app either from App Store or Google Play Store.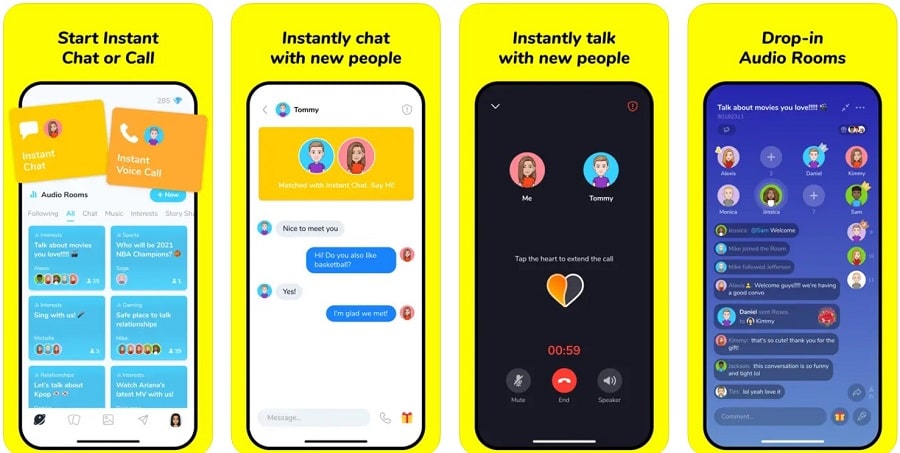 Step 10: Once downloaded, open the app and link it to your Snapchat account. To do this, click on the [Sign in with Snapchat button].
Step 11: Touch the [+] icon and click on the [Post] option, to open your camera roll.
Step 12: Next, scroll through your camera roll and choose the previously edited photo or video. Remember, you can't select more than one photo or video.
Step 13: Touch the [Post to Snapchat] option.
Step 14: Immediately, your photo will be visible on the background. It will, however, have a sticker on it.
Step 15: Drag and drop the stick into the trash bin to delete it. Then touch the [Paper Clip] icon to remove the attachment.
Step 16: Finally, touch the arrow icon on the bottom right to open a list of friends.
Step 17: Choose the friend you'd like to send the snap to and touch the [Arrow] icon to send it.
---
3
Use Snapchat to Take a Picture of the Device's Screen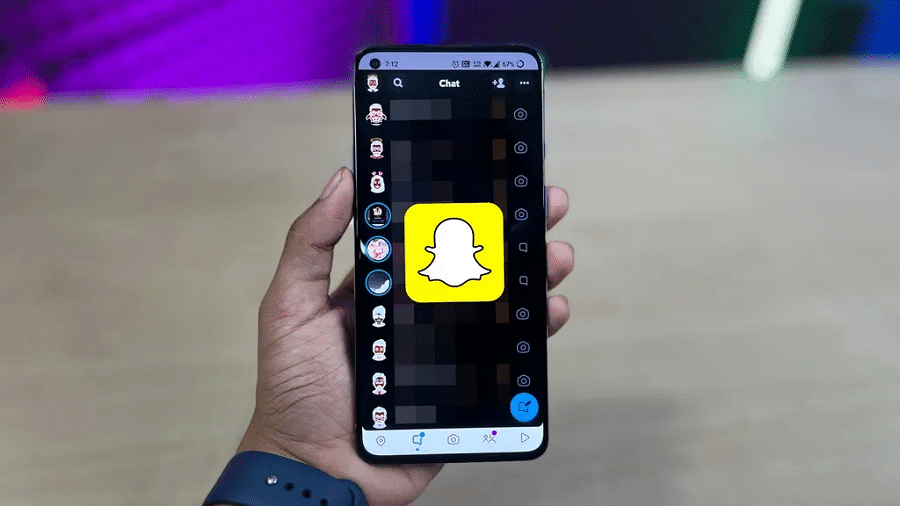 This is great when you want to show off what's on your phone or tablet but don't want people to know what device you have. Additionally, the practice is quite common and not illegal. So what you do is, using your Snapchat camera, you take a picture of your picture or a video of your video.
Basically, you'll need to open the video or picture on its respective device. Then using Snapchat, take a picture or video of the displaying device's screen. However, the quality of the video or picture may suffer, but it's the best you can do.
Take Notice!
Clearly, the best and most known way to send pictures to your Snapchat friends from your gallery is via Chat. Snapchat permits this. Furthermore, the platform has also allocated its users the means to send pictures via chat.
This means all other methods besides the above are known to Snapchat as illegal. This is also because Snapchat is very serious about borderline illegality when using third-party apps to access your account. So, using accounts such as Phantom for jailbroken iOS and Casper for Android can result in your account getting locked.
You must also know that if Snapchat locks you out of the platform, the locking may most probably last for at least 12 hours. One rule that will aid in reinstating your account's services is uninstalling any third-party apps you use. So, even if you successfully logged into the apps and uploaded snaps from your gallery, you cannot abuse or fool the system in any way.
Conclusion
Today, creating snaps is a lot easier than it ever was before. But there are still some things to keep in mind while you send one. The easiest way to send your snap friends and lovers a picture is from the photo album.
It is best to follow the chat method to avoid violating the platform's Terms and Conditions regarding third-party apps. When unsure about a specific step you can always refer back to this article and have your snap sent within seconds.