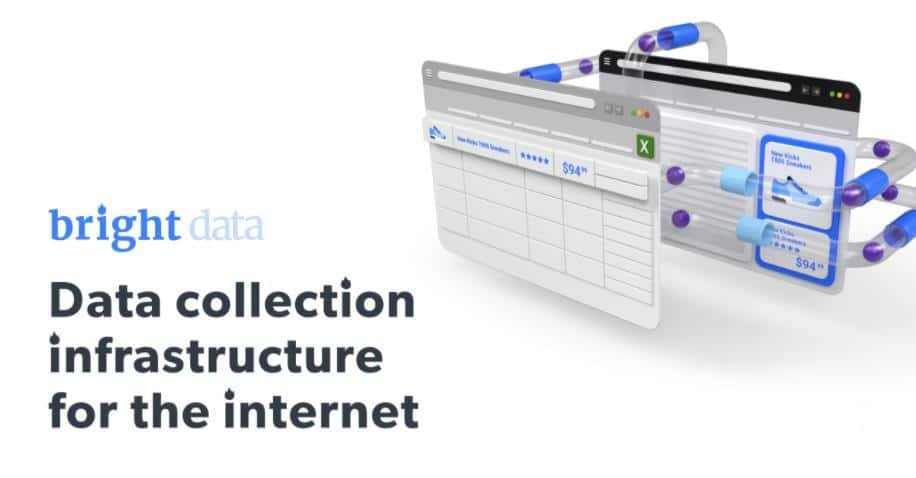 Luminati Networks was famous for providing residential proxies. It was one of the largest proxy networks offering datacenter, residential and mobile IP addresses.   The company had more than 72 million IP addresses in its proxy network. You could access their proxy services from 200 countries in the world.
The proxy provider is among the best proxy networks in the world. Therefore, we are going to explore what exactly led them to rebrand.
---
Luminati is Now Bright Data
Initially, Luminati was known for exclusively offering proxy services. It was the leading proxy provider in the world. However, the company felt that they should step into the data collection world. Therefore they rebranded and are now Bright data.
Bright data has added a data collection infrastructure to their already existing proxy network. The company enables businesses to automate their web data collection. Therefore, it helps businesses to focus on other tasks while Bright data does all the data collection work.
---
Services Offered by Bright Data
Proxy Network
There are no changes in the company when it comes to offering proxy services. The proxy network provides solutions for different business needs. Bright data offer proxy services like Data Unblocker, residential proxies, datacenter proxies, ISP proxies, and mobile residential proxies.
These proxies allow you to own real IP addresses across the world for as long as you want. They are also called static residential IP addresses. They are exclusively leased to you and ensure that you are never detected. Every request looks like it is coming from an actual residence.
The unblocking process is automated. It allows you to access all your favorite sites. These tools require you to pay for the successful requests alone. Additionally, Bright data guarantees that all your unblocking requests will be successful.
Since the process is automated, the company verifies content before use. You have the liberty to rotate through different browser profiles. You can also do this when sites require fingerprints for verification.
Rotating Residential Proxies
Bright Data offers the fastest and largest peer-to-peer proxy network in the world. The proxy provider offers its customers over 72 million proxies to use. The IP addresses are in over 200 countries.
These residential proxies are bought directly from Internet Service Providers. The company uses household Wi-Fi-based IP addresses. Therefore, the requests look like real residential IP addresses.
Bright Data residential proxies have a high uptime of around 99%. The company guarantees you that the residential IP addresses are ethically sourced. You can also send unlimited concurrent requests without being detected.
Bright Data gives you an option to choose between exclusive or shared Datacenter proxies. The proxy network has over 770 thousand IP addresses around the world. You are guaranteed to get a high uptime. Additionally, you can target the proxies by countries and cities.
Mobile Residential proxies 
Mobile proxies consist of a network of real peer 3G or 4G IP addresses assigned to specific mobile devices. These mobile devices are real gadgets with access to either 3G or 4G networks.
Bright data has over 7 million IP addresses in its proxy network. Mobile proxies are in all countries in the world. You have the option to target locations through ASN and carrier targeting. These types of IP addresses are more expensive and more reliable than residential proxies.
---
Data collection
The data collection tool allows you to fetch data from any website in your desired format. You can view the internet from 70 million real devices. The data collection tool is reliable and authentic.t focuses on promoting data transparency, fighting social injustice, and ethical data collection.
There are three options to choose from when requesting your data. You can use a data extraction template to get data from popular websites. The brighter Data experts can customize a template to fit your business needs.
The second option involves using a code editor. The editor allows the user to specify the location, the action, and how to extract data. Lastly, there is a data collection browser extension that collects data right from your browser. It used AI and Machine learning technology to extract data.
Features of data collection tool 
 The data is accurate and reliable.
No coding is required.
Data extraction templates make them easy to operate.
Data is in a  spreadsheet.
The search crawler enables a user to get keywords from any search engine on the internet. The search crawler is a great SEO tool for businesses seeking to reach their market. The company guarantees a high success rate when using the crawler.
---
Conclusion
The main addition to the Luminati proxy is the data collection tool.  Bright data's objectives when introducing the new feature were to promote web transparency, fighting injustice, and promoting ethical data collection. Their decision to venture into the data world was a good move. A lot of organizations depend on data to run their businesses efficiently.
Bright data continues to offer proxy services. They offer a data center, rotating residential, ISP, mobile, and a data Unblocker. The company remains one of the most competitive proxy providers in the world.