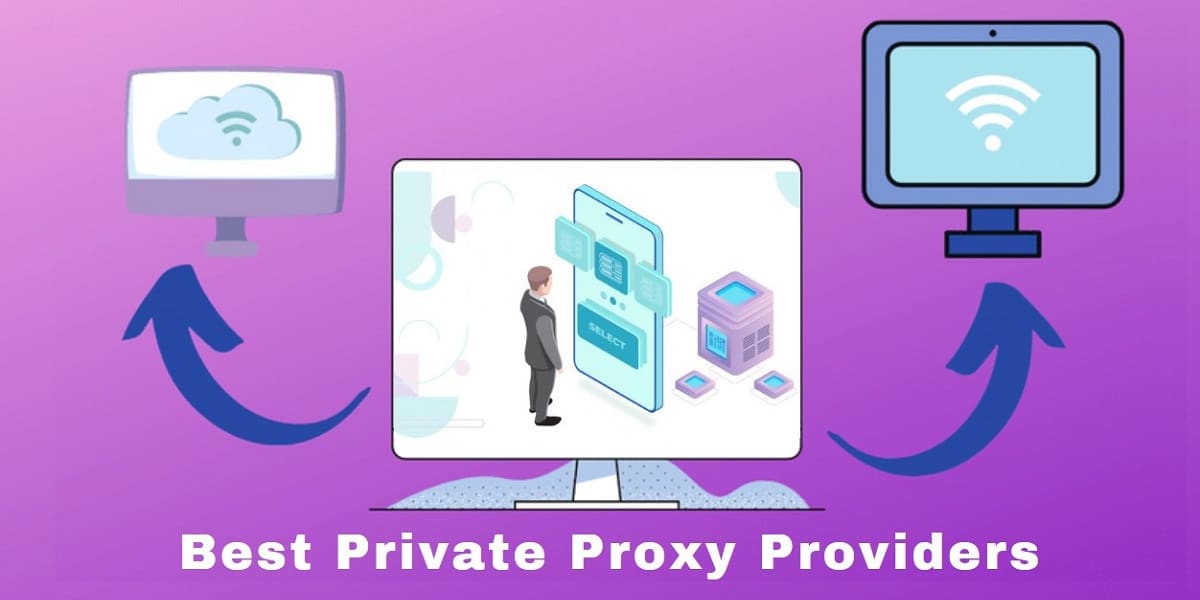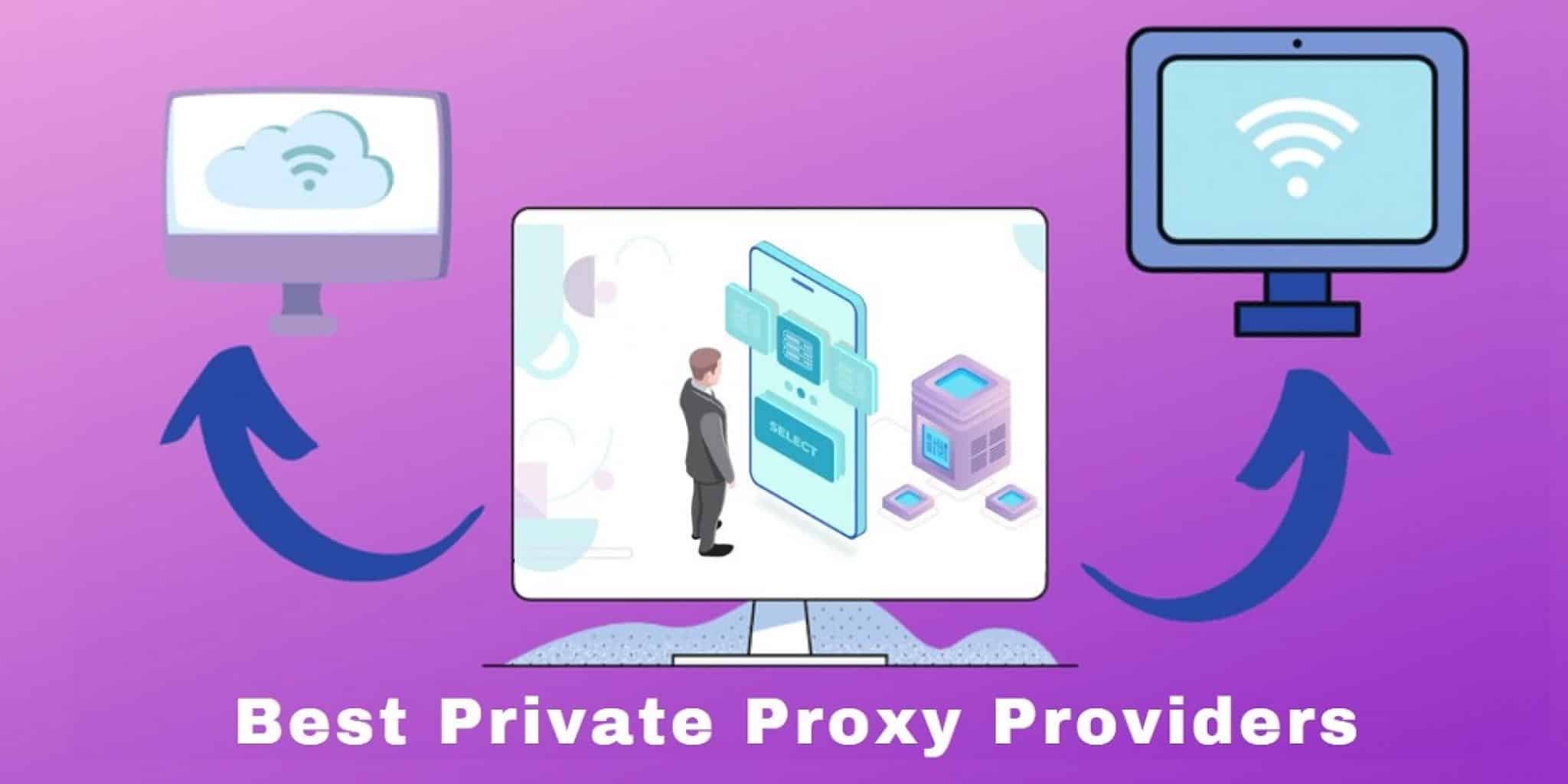 In today's age, everyone needs a private proxy to protect their identity and to work their business on the internet. Read the guide to buy the best proxy for yourself!
One way or another, we will need some kind of a private proxy in our everyday life. Whether it's for surfing the web anonymously or making banking transactions more secure, Private proxies are of great use to us and can help us if we are ever in a nutshell with our internet problems.
In this guide, I will tell you about the Top 10 Best Private Proxy providers of all time.
| Rank |   Proxy Provider | Proxy Type | Significant Features | Link |
| --- | --- | --- | --- | --- |
| 1 | | Datacenter, Residential | Their dedicated datacenter proxies have exceptional speed, and good for social accounts management. | Visit Site |
| 2 | | Datacenter | Have the best service on the internet, Guaranteed working proxies | Visit Site |
| 3 | | Datacenter | Best proxies for social media marketing, e.g., Instagram | Visit Site |
| 4 | | Datacenter | Very popular and trustworthy sites and have reliable proxies to work with | Visit Site |
| 5 | | Datacenter | They provide proxies which are not restricted to anything, which is great. | Visit Site |
| 6 | | Datacenter | They provide a wide range of coverage location | Visit Site |
| 7 | | Datacenter | Instantproxies provide good proxies at the cheapest rates as compared to others | Visit Site |
| 8 | | Mobile | The Social Proxy provides high-quality 5g & 4g mobile private proxies | Visit Site |
| 9 | | Datacenter | Their proxies are generally the best when it comes to classified ads site like Craiglist | Visit Site |
| 10 | | Datacenter | LimeProxies is also a popular website, and they support Socks5 Proxy | Visit Site |
But before we begin with that, let us get some basic questions out of the way which is mainly directed towards newbies of the proxy world.
What is a Private Proxy?
A private proxy is the type of a proxy server which is solely being used by one person at a time. This proxy server hides your IP address and makes it untraceable.
This means that if you're using a private proxy, your IP address becomes untraceable, masking your IP address given to you by your local ISP.
It is a dedicated IP address which is exclusively by one person at a time, to conceal their public IP address.
Now that we know what exactly is a private proxy, the question that arise in your mind now is that, Why should you use a private proxy?
---
Why use a Private Proxy?
There are lots of companies and individuals out there that use private proxies web scra[ing tools. These tools include Import.io., Webhose.io, Dexi.io (formerly known as CloudScrape), Scrapinghub, ParseHub, VisualScraper and more.
When you use web scraping on different websites your IP gets banned from those websites. In that situation, you will have to use a private proxy to mask your IP address with that of a new one to continue your work of web scraping. When you use a private proxy, you will then be used to access the website even if your IP was blocked.
Bypassing GEO Location Restrictions
There are certain websites on the internet that are only available if you are present in a certain geographical location. If you are not present in that region, the website will not show its content.
Therefore you can use a Private proxy to bypass this location restriction by masking your IP with that of someone located from that region. US Netflix is only available in the US, and a private proxy can be used to bypass location restrictions from outside of the US.
Search Engine Optimization (SEO)
Search Engine Optimization is powerful and necessary to rank websites on the search engines. Better the optimization, the more chance your website has to rank up to the first page of the search engine.
There are various SEO based tools that run requests on different websites based on your needs. In most cases, when tools run too many requests which are coming from the same IP address, the website identifies it as spam and blocks out the IP address. In this situation, you can use a private proxy to change your IP address to use those tools without a problem.
Private proxies are of use in the SEO field as well. For example, if you are a UK based company owner, and a majority of your clients are from the USA, this can prove to be a problem. When a person from the USA searches for a keyword related to yours, the search result will show the websites from the USA first, and then in other regions.
In this way, you will not be able to get much traffic from the search result. You can overcome this problem by using a private proxy to change the IP address to the USA if you have your major clients in the USA. In this way, your website will be ranked on the first page of the search engine, or even the top-ranked!
Private Proxy for sneaker websites
Private proxies can be used to place buying orders on sneaker selling websites when they are releasing sneakers. These private proxies are specially made to be used on these sites and are termed as "Sneaker Proxies". They are the major contents of sneaker coping on the internet.
Private Proxy for Classified ads site
Private proxies can be used to post ads on a classified ads site like Craigslist from a certain geographic location. Most proxy providers have specific proxy packages made for use on Craigslist. You can use these proxies to post ads on these ads sites from a certain location of your choice.
Ticketmaster proxies are those proxies that are used to automatically scalp tickets on the internet. Various proxy providers provide ticketing proxies and you can buy them to automatically buy tickets for what you desire.
Private Proxy for Instagram
You can use private proxies to manage multiple Instagram accounts for yourself or for anyone else. Private proxy providers provide dedicated Instagram proxies that are made specifically for this purpose. If you have more than one account, you can use Instagram Proxies to manage your accounts without a problem.
Private proxies are also used by gamers to automate their gaming accounts and a secure connection during game connections as today people can fetch people's IP addresses through gaming servers just by the click of a button.
Private proxy can be utilized to use those types of application which do not support HTTP protocol. These socks proxies can be used instead to use those applications.
More security on the internet
Hackers and malicious users can hack your computers using your IP address and gather information like banking credentials to steal your money.
However, if you use a private proxy, your IP address if fully masked and you don't have to worry about malicious hackers preying on your secret data. This is why private proxies are very handy to use and can get you out of a serious internet problem.
---
Top 10 Best Private Proxy Providers
Each proxy provider has its pros and cons and their significant features. Each proxy has its use, and not one proxy can be used for doing everything.
Now that you know a general comparison of the best proxies, I will now explain each of the given proxies above and how they are different from each other, their pros and cons, and why you should buy them.
---
Smartproxy is a new private proxy provider on the market. Their private proxies come with a lot of perks like IP randomization option,99.99% uptime, and above all, the user has complete control of their IP addresses. The fact that their proxies are unique with stellar speed, they only provide US IP addresses.
But never get down to dumps because of that; their private proxies from the US keep you safe and secure. They are suitable for managing social media accounts, web scraping, creating traffic(SEO analysis), and they can take you to the next level in the sneaker industry.
Feel the unlimited power of Smartproxy's private proxies when it comes to threads. Slay on your website with unmetered connections and threads. Again, their private proxies come with unlimited GBs offering users freedom to unlock geo-restricted locations, evade bans and firewalls, and name it all. The list is endless.
The threads and GBs are not only unlimited but come with a listening speed. Still, the proxies are flexible and can work on all devices that support HTTP/HTTPS proxies. Grab your gold pot today.
PROS:
Unlimited GBs and threads 

IP randomization option

Full control of IP

Easy proxy management

Faster and stable IPs

Compatible with SEO tools

HTTP/HTTPS protocols
CONS:
IP addresses are based in the US only
Expensive for short-term beginners
---
SquidProxies have been around for a long time, and they provide the best private and shared proxy services on the internet. Their proxies are guaranteed to work on the internet, and they provide fast and reliable proxies for people to use. They have the best packages of private as well as shared proxies, their proxy management is great, and they provide very good support to their customers.
SquidProxies provide their customers with HTTP/HTTPS proxies. This means that the proxies can be used and are compatible with all the popular browsers like Google Chrom, Firefox, Safari, etc. These proxies provide high-level anonymity on the internet as they support HTTP/HTTPs proxies.
SquidProxies are providing fast and reliable HTTP/HTTPS based proxies which are better than the other proxy providers out there. These proxies are a perfect option for those people who are looking to do SEO work with private proxies and use web scraping tools. Squidproxies provide proxies that are fully compatible with web scraping tools such as ScrapeBox. However, a certain web scraping tool Xrumer, which is used for posting backlinks is not allowed on the proxies, and the proxies are incompatible with it.
SquidProxies are currently providing only two types of proxy packages, Private proxy package, and shared proxy packages. Their proxies work for every legal use on the internet, and for that, they provide a guarantee. If your proxy does not work or you are not satisfied with their product, you can easily get a refund and get your money back. They provide proxy which is directed more towards online marketers, with their shared and private proxies for the best marketing. They have fast and reliable servers, packing a speed of 1000 MB/s and high anonymity, all of this at an affordable price.
With Squidproxies, you can get multiple GEO locations for use. Currently, they are offering USA & Europe (Bern, Switzerland, Canada, UK, Sweden, Zurich), India Proxies, China Proxies, and More.
The locations provided are both for private proxies as well as shared proxies. If you need a specific location for the proxies, you have to submit a ticket after you checkout. Otherwise, the location of your proxy will be allotted from one of the above and will not be changed in the future.
When it comes to proxy authentication, SquidProxies are only providing IP Authentication. Once you buy the proxies, you can easily log in and get your IP authenticated and can get you IP: Port from them.
SquidProxies are a great private and shared proxy website, and generally, they provide the best service on the internet, providing the best security and safety online.
PROS:
Guaranteed working proxies
Unlimited Bandwidth
Multiple IP Subnets
Compatible with all browsers and SEO tools
Non-Sequential IP's
Highly anonymous
Super fast servers
CONS:
Not Compatible with Xrummer
---
HighProxies, which was set up in 2015, Offers Private Elite Proxies and VPN service. The Proxy support HTTPs protocol and the VPN server support PPTP, L2TP and open VPN protocol. They have 28 servers located in 11 different US cities. HighProxies offer stable and dedicated proxies for social network websites.
They offer special proxies for Craigslist, Ticketing, and Instagram proxies, and their significant part lies more towards social media proxies. The social media proxies that they provide are one of the best on the internet. They have a secure and anonymous internet network, which is currently being used by hundreds of SEO agencies and social media marketers. They have earned their reputation around the globe.
HighProxies provides private proxies that work with several popular sites, such as Google, Facebook, Twitter, YouTube, Amazon, Pinterest, eBay, PayPal, Tumblr, and more. HighProxies host faster servers which pack a blistering speed of 1 GB/s, and 16 GB RAM. Their proxies support both HTTP/HTTPs proxies, so basically, this means that their proxies work on all popular and major internet browsers.
Although they are a US-based online company, they have data centers in other countries as well. Using their subscription service, you can get a private UK IP address. Other countries that they have data centers include Canada, the Netherlands, Germany, France, Italy, Australia, and Spain. They are working on their site to include more and more locations to provide versatility and flexibility to their proxy service, which is great for all their clients.
HighProxy gives their users and their potential buyers the choice to choose the location fo the proxy on the server map. This provides a great facility to the buyer and makes HighProxy more flexible than other private proxy providers as this makes the client more strategic about choosing which server to buy for their proxy. Not only do they have proxy server locations all around the globe, but their servers are in a proper location to cover every area and leave no wasted coverage. This makes it better for potential buyers to decide the location of the server.
HighProxies is currently supporting both types of proxy authentication. IP Authentication and Username/Password Authentication. This makes HighProxies more versatile since people can whitelist the IP's they want to use, as well as username and password authentication when needed. They are a fast growing service with good proxies on the internet, and you should definitely give them a go if you want.
PROS:
Speedy HTTP/HTTPs Proxies
Monthly updatable fresh IP's
Quick Activation TIme
Vast data center spread across major countries
Full refund within three days
CONS:
Do not offer sneaker proxies
Do not accept credit cards
---
MyPrivateProxy is an all-rounder private proxy provider. MyPrivateProxy or more commonly known as the MPP Group was founded in 2011 with a basic resolution, which was to provide quality and support to their customers at the most affordable prices. Now they have reached a point where they are now operating more than 220 servers worldwide. Their thousands of customers, using approximately 121,000 IPv4 addresses from over 520 different subnets, with multiple locations over 15 major US cities and 8 European cities. They have 24/7 live support which makes them the best on the internet. They are very popular on the internet and have been providing proxies for the people on the internet for quite a long time now. They have also been rated the number 1 Datacenter private proxy provider among other proxies by privateproxyreviews.com.
MPP is providing very good proxies for internet marketing and SEO tools which are used by various web scrapers and data miners all over the internet. MPP supports tools like Scrapebox, Sick submitter, Bookmarkwiz, ZennoPoster, TweetAdder, SenukeX, Answer Assault.
MPP now offers proxies which are bound to work on dedicated websites. These proxies are specially designed to work on these websites, and they guarantee that the proxies that they are providing will work on those footsteps.
So, if you want to use their proxies for Adidas, Barneys, Supremenewyork, Footlocker, Finishline, Footaction, Yeezysupply.com, Sneakersnstuff and other similar websites, you can use their special proxies to do so. MPP is also offering shared proxies, which are proxies which are shared by several users across the globe. However, if you're on the serious campaign, I would suggest that you use dedicated proxies for your work.
All of MPP proxy servers are hosted on 464 Dedicated XEON servers consisting of 32GB RAM and 20 GBPS internet connection, with multiple subnets which pack more than 226,000 dedicated IPs and increasing. Their servers are hosted on multiple locations which are usually in one of the 21 major cities of the US. They are also working on adding newer locations to the website to expand their servers throughout the world.
They are a leading proxy company, and as all better proxies out there, MPP supports both types of Proxy authentication
IP Authentication
Username/Password Authentication
MPP offers a ticketing system in their support section. Their support usually replies between 2 and 6 hours, which is a little slow as compared to other proxies. They had a live chat option on their website, but it was closed in the year 2016 for some reasons. They are also offering 72 Hour money back guarantee on packages MPP 1, MPP 5, MPP 10, MPP 20 MPP 50  and MSP 50.
MPP is a great website for everyone, and if you're in need of trustable data center private proxy providers, then MPP might be the solution to your problems.
PROS:
HTTP/HTTPS protocol
Best for White-hat SEO
Fresh monthly IP's
Instant activation
Multiple cities and subnets
Unlimited bandwidth
CONS:
Slower support
No live chat
---
Buyproxies is old private proxy providers that literally have no restriction to use on any of their proxies! They also provide great API integration on Chrome and Firefox.
Buyproxies was founded in March 2011 and have been doing a good job on the internet ever since. Their proxies are great for doing general SEO stuff and are very fast and reliable. They provide unlimited bandwidth, hundreds of locations for the proxies and of course, their API integration. They offer four types of proxies.
Dedicated proxies
Semi-Dedicated proxies
Sneaker proxies
Ticketmaster proxies
Their private proxies work with Instagram, Google, Facebook, ScrapeBox, Twitter, and more. They also claim and guarantee that they are the original owners of all the proxies that they provide, meaning that there is a very minute chance of you getting banned or used proxies by them. They have high quality and eco-friendly servers.
They are providing a great deal for IMer who are using Scrapebox, GSA search engine ranker, SENuke and so on. What makes them unique is that their proxies come with NO Restrictions at all. Their proxies are fully compatible with Xrummer and SEO Powersuite software.
Scraping can cause your proxies to get worn out after a week or so, but you can easily replace your proxies with buyproxies if you're willing to keep an eye on your proxies!
You can request proxy locations in the US or Europe, which includes the Netherlands, Switzerland, Germany, France, and UK proxies. You cannot be very specific about which locations you desire, However; they only offer to purchase proxies in the USA or Europe.
After that, they pick where in the USA or Europe those proxies will be. So while the options are diverse, your ability to choose between those options is unfortunately limited. You can refresh your IP's monthly or let them be the same; it's entirely your choice
They are offering both types of proxy authentication which is definitely a plus. As you can authenticate your proxy both by IP authentication and by Username/Password, it's easier to access your proxies from anywhere.
They have a ticket based system and claim to respond quickly. They have resolved more than 49,000 tickets which emphasizes how long they have been on the internet. They are a good proxy service with great services on the internet.
PROS:
NO restrictions on proxy connections
Supports X Rummer
Fresh monthly IP's
Multiple Subnets
Unlimited bandwidth
Cheaper
CONS:
Only HTTP protocol
No specific location
No live chat
---
Proxy-seller is an online platform where proxies are sold as single proxies or in bulk. The website is popular because it only sells reliable private proxies. Therefore, you do not share the proxy you buy. The proxy service sells both IPv4 and IPv6 proxies. These proxies offered are compatible with HTTPS and SOCKS5 protocols.
You can get proxies for Social networks, scraping data, online games, surfing, coping sneaker sites, and placing Ads. The internet channels of the proxies have speeds of 1 Gbps. It makes proxies fast and reliable. Proxy-seller has IP addresses for 24 different countries. You can buy proxies from the USA, Germany, France, Italy, Netherlands, Ukraine, Russia, and many other countries.
When making your purchase, you choose the number of proxies, country, and the period you want to use it.  The company offers a 24-hour money-back guarantee if you encounter problems with the residential proxies. The site offers fast proxies from a selection of 150 different networks and 450 subnets. The network has fast speeds and 24/7 customer service support.
Proxy-seller offers cheap proxies with fast speeds and outstanding performance. The prices are more affordable when you buy the proxies in bulk. Buying proxies for a longer period will make the package cheaper. Purchasing proxies for a whole year will save you up to 40%.
The site offers flexible payment options. The duration to buy the proxies varies from 1 week to a whole year. You get to choose the country you want the IP addresses located. The proxy service allows different payment methods like PayPal, Bitcoins, and credit cards. The whole process of buying, installing, and using the proxies is easy. Proxy-seller has a simple dashboard that only allows username and password authentication.
Proxy-seller has an affiliate program. The program allows you to earn from the customers you attract to buy proxies from the site. All you need to do is to attract customers using a coupon. They will get a discount on their first purchase. The client is associated with you. Therefore, you will get a percentage each time they buy a proxy from the site.
The only downside is that proxy-seller does not offer specific proxies for sneaker sites, or Netflix. The dedicated proxies are not compatible with strict anti-spam websites like Netflix and sneaker sites.
PROS:
Fast and reliable
Cost-effective
Affiliate program
Anonymous
HTTP, HTTPS, and SOCKS5 protocols
CONS:
Not compatible with strict anti-spam sites
No trial version
Single authentication
---
InstantProxies is one of the cheapest private proxy providers on the internet. They provide the cheapest rates on private proxies out of all other providers. You may think that they are selling reasonable proxy with 3rd Class quality, but that is wrong.
They are providing good proxies at the cheapest of rates. InstantProxies service provides quality and private HTTP/HTTPs proxies. You can test your ping to General Browsing, Amazon, Craigslist, Facebook, Google, Ticketmaster, Twitter, and Youtube via their proxies.
There are a lot of people using InstantProxies for their businesses. The feature which makes them a better choice for business is their low price, as it can prove very reliable for people who require a ton of proxies for their business. Those people can buy proxies from InstantProxies at a cheap rate and carry out their work without any difficulty at all.
InstantProxies, as the name suggests, provides its clients with instant proxy activation. Seconds after purchasing the proxy from their website, you will get an email from them which will redirect you to your activated proxy. They are a great choice for people who are in a rush and want to get their hands on a lot of proxies in the minimum amount of time.
InstantProxies provides its clients with multiple cities to choose from for their proxy location and offer unlimited bandwidth. Their proxies are highly anonymous and protect your identity on the internet. They have good support. However, there is a debate on the internet that their promise of "24/7" live support may not be true, as several people have claimed that they have really slow support.
InstantProxies is currently offering only one type of Proxy authentication, IP Authentication. You can whitelist up to 10 IP addresses and use them to access your proxy.
InstantProxies is a good proxy provider which provides the cheapest rates on the internet. If you want fast and reliable proxies with the cheapest packages rates, then InstantProxies is your option.
PROS:
Cheapest rates on the internet
HTTP/HTTPs/
Allows webmail
Multiple Cities
Unlimited bandwidth
Monthly IP Refresh
Five-day refund
CONS:
Only IP authentication
High latency on proxies
Slow support
---
The Social Proxy is considered one of the best private proxy providers in the market. There are several reasons why one should choose The Social Proxy mobile proxies. First, its high-quality proxies. The Social Proxy provides incomparable private proxies that are fast, reliable and secure. They do offer proxies from the United States (New York, Texas, San Francisco and Miami), United Kingdom, Austria, Israel and Austria. 
Second, they have dedicated support. Their support team is available 24/7 to assist users with any issues or concerns they may have. Their support team is knowledgeable, friendly, and responsive, ensuring that users receive the best possible service.
Third, they do offer 24-hour free trials (or even longer than that) so you can conduct testing before engaging in any monetary commitment. They also offer discounts for bulk orders, which can further reduce the cost per proxy.
Lastly, their proxies are easy to set up. The Social Proxy proxies are basically plug-and-play. Once you subscribe, you will get your host, port, username and password and you can immediately connect the proxy to your desired platform. Further, they provide step-by-step guides and support for various devices and operating systems, ensuring that users can get started quickly and easily.
Overall, The Social Proxy is a great choice for anyone looking for high-quality private proxies that are fast, reliable, and secure. With their dedicated support, free trial for testing, and easy setup, The Social Proxy is an optimal choice for anyone. 
---
StormProxies is one of the newest proxies on the internet. StormProxies was formed in 2016 by Seach Engine Optimizers and provide highly anonymous rotating proxies which rotate with three options.
Every 3 Minutes
Every 15 Minutes
Every HTTP request
Stormproxies mainly provide backconnect proxies which are great for Web scraping data on the internet. Their proxies are fully compatible with web scraping and SEO tools like Scrapebox, RankerX, GSA search engine ranker, SENuke, Domain Hunter Gatherer, SEO Powersuite, and so on.
Although it was mainly for SEO proxies, over the years, StormProxies has turned into a general proxy provider, and now they are also providing rotating proxies and dedicated proxies for the people who use their website.
The rotating proxies provided by StormProxies change the IP address on the user's request, or on a fixed time. StormProxies are currently providing two types of rotating proxies. One which uses Data Centre IP address. With this proxy, you have access to more than 70,000 shared Datacenter IP addresses. The other type of rotating proxy uses residential IP addresses. With this rotating proxy type, you have access to more than 40,000 residential IP addresses
The Datacenter rotating proxies use private data center IP's and use backconnect proxy to rotate IP's when needed. These proxies are mainly for SEO tools and web scraping on the internet. When you buy a Datacenter Proxy package, you get access to 70,000 Datacenter IP pool. Your IP address will rotate in the following way
Every 3 Minutes
Every 15 Minutes
Every HTTP request
You get one IP for the gateway server. Once connected, the server connects you to one of the 70,000 IP addresses from that IP pool. Then you can use the sites or the web scraping tool that you want. Then, when it is time to rotate the IP address, the server connects you to another IP in the IP pool. In this way, your IP address is rotating automatically without you having to do anything!. Also, this server pool is updated every seven days, so you have very less chance of getting banned IP's. However, the proxies can only be authenticated via IP authorization.
The rotating residential proxies use residential IP address and rotate. The IP addresses of these proxies change every 5 minutes, and you have access to an IP pool of 40,000 IP addresses. You can choose the EU residential IP's or US Residential IP's based on your needs. You can use these proxies for your work, and these proxies will change IP addresses every five minutes, automatically! These proxies are also only authenticated by IP authentication.
StormProxies is a relatively new company, but their proxies are very good and great for SEO tools and Web Scraping. They also offer 48-hour money back guarantee so you can test their proxies as well, without a real investment. I suggest to give them a try.
PROS:
Proxy servers SEO Optimized
Best for Web scraping
Auto-Rotating Proxies
Residential IP's and Data Centre IP's
Both US and EU proxies
Non Sequential IP addresses
2 Days risk-free trial
CONS:
Only email support, no chat support
Do not support Username/Password authentication
---
SSLPrivateProxy was also founded in 2012, with the sole purpose to provide security and protection to the users. It is a global leader in providing highly anonymous private proxies and VPN's. They have access to more than 200 locations worldwide and have established themselves as leaders in the proxy world.
SSLPrivateProxy provides the proxies which are responsible for your projects. They offer the most elite and anonymous proxies on the internet. Approximately all of their proxies work on Classified ads site, so they are of great use on Classified ads site like Craigslist.
This company provides both Highly anonymous working private and shared proxies, as well as Virtual Private Network (VPN) services if that is your need. All their proxies and VPN servers are hosted on fast servers, dedicated dual Xeon servers with 16 GB RAM. They have 99% uptime and provide multiple locations and subnets, which add versatility to their services. Their proxies are great for social media, and all of them are working on Classified Ads site.
So you can do data scraping on Craigslist with these proxies as well. The hardware they are using for their proxies is run by wind, which makes them eco-friendly. They are also working on adding the solar-powered machine to become a green company on the internet and make the world a better place.
SSLPrivateProxy also has special proxy packages for different needs of the people. Currently, they are offering Instagram Proxies, Pinterest Proxies, LinkedIn Proxies, Ticketing Proxies, Classified Ads Proxies, Gaming Proxies, Sneakers Proxies, and Pokemon Go Proxies. The proxy that they provide are highly anonymous, and fully secure you and your personal information on the internet to secure you from the malicious users on the internet.
Their special services of proxy packages can cost a little more expensive than their normal proxy packages, but this is due to the difficulty of getting a proxy to work on those sites. They offer everything you can ever ask for and have a wide range of products and services. They are offering a 7-day refund. If you can give them the order back within the seven days of the purchase, they will give you a 100% refund, which is great!
They are providing fast dedicated proxies with a wide range of 120,000 IP addresses from their stock. They have more than 33 data centers located in major cities of the US and 5 Europe cities. This provides you with a lot of options as compared to other proxy providers
Their service includes both types of Proxy authentication, IP authentication as well as Username/Password authentication. You can whitelist three upcoming IP addresses. So whatever your circumstances are, you can easily access your proxies from anywhere.
They offer 24/7 support on their website and claim to reply rapidly to their customers. They have a ticket based support, and can also be reached through an email provided in their "About us" section. They offer great, fast and reliable testing with great reviews from their buyers.
PROS:
HTTP/HTTPS protocol
Works on all classified ads sites
Fresh monthly IP's
7 Day refund
Multiple cities and subnets
1000 gigabit connections
Eco-Friendly
CONS:
Slower support
1/3 non-working proxies in their packages.
---
LimeProxies was founded in 2010 and have been in the business for eight years now. Their headquarter is in India, and they provide Private Proxies, Premium Proxies, Socks Proxies, Dedicated Proxies, Ticketing Proxies, and Gaming Proxies.." They have use of cutting edge technology which makes them the best in the business. Limeproxies have moved beyond generic everyday products to provide a range of proxy solutions to improve productivity, increase profits and empower their customers.
LimeProxies are currently providing access to more than 40 geolocations on their proxies, which is great for clients and they can choose location prior to purchase and can set up their proxies according to their locations and the needs of their business.
Their proxies support a SOCKS5 protocol which is great for leading business marketers and entrepreneurs. They offer a free trial on their proxies and provide a 3-day refund if you're not satisfied with their quality and service. Their servers are hosted in USA locations as well as International locations as well.
Their support is great and available 24/7 with live support option. They respond to queries and help their clients with their websites. They have a 99.99% uptime guarantee and their site is almost never down. Their proxies are really easy to use, and they have a great layout of their website.
Currently, LimeProxies is only offering IP authentication. You can whitelist up to 25 IP address which can be used later on to access your proxy from your desired location.
Limeproxies is a good proxy provider with elite and highly anonymous private proxies which set the standards for high business rankers and marketers. If you are on the lookout for highly anonymous elite proxies, LimeProxies might be the answer to your question.
PROS:
Supports SOCKS5 Protocol
Free trial
Highly Anonymous and Elite Proxies
Multi-Location Proxies
Specified proxies for gaming and ticketing
Monthly IP Refresh
Five-day refund
CONS:
Only IP authentication
Does not support Xrumer and Scrapebox
---
ProxyFish is an established private proxy provider that provide elite and anonymous proxies on the internet. Their proxies are generally good for streaming movies and videos, gaming, SEO tools, Skype, Proxifier, Major Messenger Clients and also Google Chrome. They are known to offer offering reliable proxies to their clients and provide dynamic Private proxies that support HTTP/HTTPs and SOCKS5 proxies.
They have various locations in the US and international locations as well. Their location includes the USA (East Coast), USA (West Coast), Canada, Germany, Netherlands, and London. They offer elite private proxies which are highly anonymous and have great packages for private proxies on the website.
ProxyFish does not keep user logs on their website which is a great advantage for people who don't want to share information with their providers. However, this does not mean that they allow any type of illegal activity on their proxies. They do not accept any type of fraud or illegal activities through their proxies and ban people who do that. They provide high anonymous proxies with higher connection speed and low pings to ensure the best quality for their clients.
They are offering both types of proxy authorization. Username/Password authentication and IP authentication. This is great as you can whitelist the IP's that you want to use to access your proxies as well as you can use username and password to access your proxies as well. In this way, you will be able to access your proxies no matter your circumstances.
ProxyFish is an established proxy service provider who has over six years in the business. They have provided thousands of proxies to our customers who stay with them for their fast, private, and wide location selection. They respect your privacy and provide you with their best!
PROS:
Supports SOCKS5 Protocol
NO usage logs
Highly Anonymous and Elite Proxies
Multi subnets per country/state
Best proxies for movies, streaming, and gaming
CONS:
No torrent usage
Do not allow any SMTP/POP3/IMAP Mailing
Does not support Xrummer
Does not support Scrapebox
---
Choosing the best proxy can be overwhelming, but it shouldn't be. Start by thinking about the key things that you want in a proxy, and then use the guide provided above to see what proxy fits your needs. This way you will be able to choose the best for yourself without wasting any money or time!