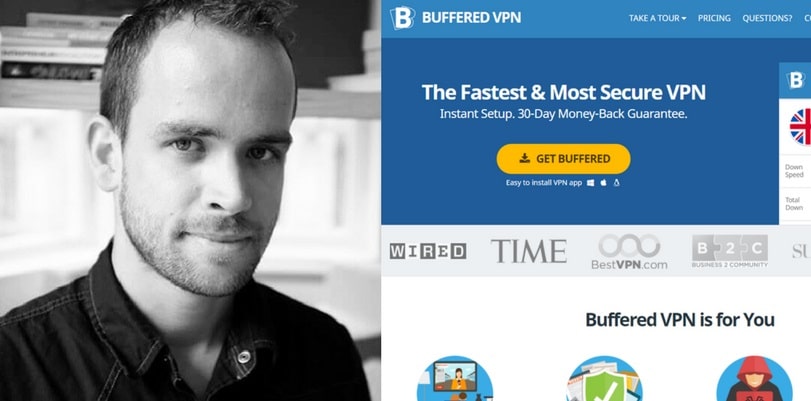 Pete Zaborszky owner of BestVPN.com, arguably the biggest VPN review site on the internet, has recently acquired VPN company–Buffered VPN. Buffered VPN is a Bulgarian based VPN company now owned by Bulgarian based CEO, Pete Zaborszky. This controversial move, while not publicly known yet, is sure to cause a stir.
BestVPN.com's model is based on affiliate earnings by ranking VPN providers. When a user comes to the site they are looking for information on which VPN to choose. If they click a link, and buy a VPN, the site earns money. The website's mission is to educate people on the internet to help them stay safe online. According to the site, "BestVPN.com was formed in 2013 and is part of 4Choice Ltd, a UK-based company specializing in price comparison websites." The site makes it clear that they don't "recommend inferior services and mislead our readers for our own financial benefit." However, with the recent acquisition, BestVPN's original mission seems to have changed without proper legal disclosure.
Jordan Fried is the former CEO and founder of Buffered.com. In late 2017 he sold the entire business to Peter Zaborszky of BestVPN.com and 4choice ltd, and is now an investor with Hashgraph – a blockchain startup. Jordan sold Buffered for an undisclosed amount, and the exact details of the transaction were kept private, untill now. Immediately after the acquisition, Buffered VPN has appeared top ranked on all BestVPN pages, and is promoted aggressively as their top choice.
Buffered VPN is a VPN with a 30-day money back guarantee, and advertised features such as the ability to watch content from anywhere, protection from hackers, and total privacy protection while surfing the web.
Disclaimer: The information reproduced on this page does not represent the views of this site. The reprinted content from VPNscam.com of the originality, authenticity, integrity, timeliness of the site does not make any guarantee or commitment, please readers for reference and self-verification.