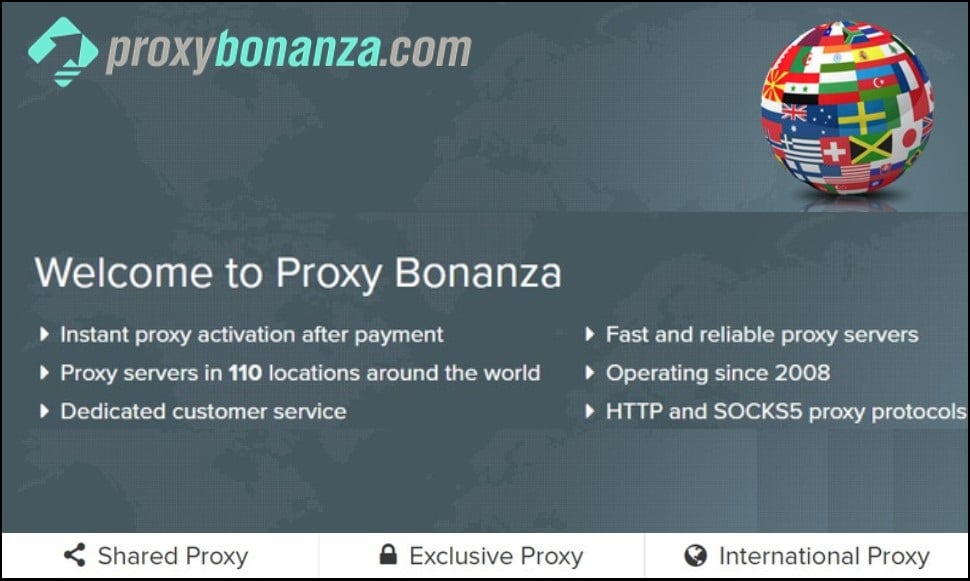 ProxyBonanza is an online elite proxy company with great proxies for use. It was created back in 2008 and has been selling quality proxies for more than 11 years now.
They are an elite proxy selling service which provides HTTP/HTTPs and Socks5 proxies for use. Their proxy quality is up to the mark which accounts for their slightly higher proxy prices.
---
Overview
Currently, They are providing the following packages on their website.
Shared Proxies
International Proxies
Exclusive Proxies
Special Proxies Package
ProxyBonanza DetailsUser RatingUser Reviews
| | |
| --- | --- |
| Dedicated Proxy | Yes |
| HTTP/HTTPs Proxy | Yes |
| Socks5 Proxy | Yes |
| Speed | 1000 Mbps |
| Multiple Cities | Yes |
| Multiple Subnets | Yes |
| Bandwidth | Limited |
| Uptime | 99.9% |
| Non – Sequential IP's | Yes |
| Customer Support | 24-Hour Ticket Support + Live Chat |
ProxyBonanza Review
0 out of 5 stars (based on 0 reviews)
User Reviews
There are no reviews yet. Be the first one to write one.
---
ProxyBonanza provides HTTP/HTTPs and Socks5 proxies. They have really fast servers which can pack up a speed of more than 1000 Mb/s. Their proxies, having both types of protocols, are fully compatible with most of the softwares on the internet and are very smooth and fast when it comes to their performance.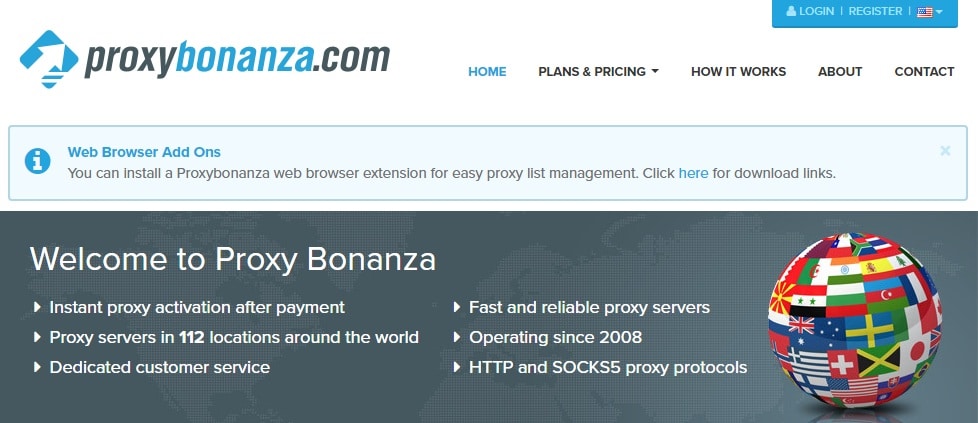 ProxyBonanza is one of the leading proxy providers on the globe and has made their name strong among the best. They have a wide range of proxy servers which are located in the USA as well as a lot of international data centers for their customers. Their datacenters are mainly USA based, which is why a large proportion of their data centers are present in the USA. They have slowly been expanding their online business over the last eleven years and have come to a point where they are one of the biggest proxy providers in the world. They have a huge customer base with hundreds of thousands of five-star reviews which make them one of the best proxy providers.
ProxyBonanza has a lot of dedicated IP addresses which are readily available on their websites in the form of proxy packages. They offer a lot of proxies which can be categorized under different sections like Shared Proxies, Exclusive Proxies Proxies, and International Proxies. They have a dual proxy authentication method which can prove to be very reliable. You can easily access your proxies from anywhere, and the data of your proxies are fully protected as well. Moreover, They do not charge any type of setup fees on their proxy packages as well.
They have great customer support which responds to your queries as fast as possible with a ticket based system where you can submit any type of complaints or questions regarding their website. They have an easy to use website interface which can be used to navigate through their website with ease.
They also offer a money back guarantee on all of their proxies. Moreover, they support both IP Authentication and Username/Password authentication, which makes your proxies not only easier to access but with an extra layer of security as well.
ProxyBonanza s an old proxy seller that has set high standards of quality on their website and their products. They provide some of the best proxies in the market and have been doing so since their foundation back in 2008. Following are the advantages that you receive by using ProxyBonanza.
Professional and Trusted Company
ProxyBonanza is one of the leading proxy companies in the world. They have a lot of happy customers throughout the world with thought-provoking reviews about their excellent proxy quality and customer support. Whenever you buy a proxy, we tend to look for companies which are trusted among their users, so the money that you're spending on the proxies does not go to waste. MyPrivateProxy has been in the proxy business since 2008 and has surely gained enough experience in their own work field to be trusted.
ProxyBonanza is a professional company which has been selling the best quality proxies for a very long time. It is one of the few companies on the internet that have a very high credibility factor. Since their foundation, their motto has been quality over quantity, and I think most of their happy customers will agree on that.
Multiple Locations and Datacenters
ProxyBonanza has surely expanded into a big online company and has now various datacenter locations around the world. Currently, They have data centres in more than 112 locations worldwide. The expansion of these data centers to International locations provides better speed and minor latency on their proxies for the people that are present outside of the US. You can also check the location of their data centres on their website as well.
ProxyBonanza has strategically positioned data centres distributed across the United States as well as in European countries. These data centres provide more coverage and exposure to distant locations as well, Meaning that you don't have to worry about proxy speed even if you're present in a country which is farther away from the United States.
They have different locations assigned to different proxy packages on their website. A summary of all these locations are as follows
Shared Proxy Locations
USA Locations
Arizona
Atlanta
Buffalo
Chicago
Dallas
Detroit
Herndon
Houston
Indiana
Kansas City
Kenmore
Las Vegas
Los Angeles
Miami
Monticello
New Jersey
New York
Pheonix
Salt Lake City
San Jose
Stafford
Tampa
Walnut
Washington
Columbus
Edmond
Jacksonville
Pennsylvania
Raleigh
Exclusive Proxy Locations
USA Locations
Atlanta
Chicago
Los Angeles
New York
Bend
Seattle
International Proxy Locations
International Proxies contains all the locations which have been mentioned under the category of shared proxy locations. In addition to those locations, ProxyBonanza is providing the following International locations.
Locations
Argentina
Australia
Austria
Belgium
Brazil
Bulgaria
Canada
Chile
China
Colombia
Cyprus
Czech Republic
Denmark
Egypt
Estonia
Finland
France
Germany
Greece
Hong Kong
Hungary
Iceland
India
Indonesia
Ireland
Israel
Italy
Japan
Latvia
Lithuania
Luxembourg
Malaysia
Malta
Mexico
Moldova
Netherlands
New Zealand
Norway
Panama
Peru
Philippines
Poland
Portugal
Romania
Russian Federation
Saudia Arabia
Serbia
Singapore
Slovakia
Slovenia
South Africa
South Korea
Spain
Sweden
Switzerland
Taiwan
Thailand
Turkey
Ukraine
UAE
United Kingdom
Proxy Authentication
ProxyBonanza is currently supporting both types of Authentication, Just like most of its competitors. The two proxy authentication methods that they are providing are ;
IP authentication

Username/Password Authentication
Having two types of proxy authentication methods provides you with an easier approach to your proxies, and you can easily access these proxies on the go. With IP Authentication, You can save your IP addresses and can access your proxies at any time using the proxy that you have already enrolled. However, it is to be noted that you will not be able to access the proxy using a different IP address that you have not enrolled.
Username/Password Authentication is also a great way to access your proxies as we are already used to logging in with our credentials on social media sites. So logging in with a particular username and password won't be that hard as well. Fortunately, ProxyBonanza supports both types of proxy authentication methods, Meaning you can use either of them or combine both of them to make things even easier!
Blistering Speeds and Better Uptime
ProxyBonanza  provides blistering speeds on their proxies with 1 Gb/s server speeds. Having a greater server speed ensure the better quality of the proxies, which provide a smoother experience once you start using the proxy on the internet. ProxyBonanza  provides faster speed on their worldwide servers, which makes their international customers a convenient way to choose their proxies and get the proxy speed they want. Connection speed is crucial, and it determines the quality of the proxy provider. ProxyBonanza  has great speed servers and provides smooth usage of proxies.
Better Proxy Packages
BuyPersonalProxy is currently providing three proxy packages on its website, which are as follows.
Shared Proxy Packages
| | | | |
| --- | --- | --- | --- |
| Package | Multiple Cities | Subnets | Price / Month |
| 50 IPs | Yes | 2 | $19 |
| 450 IPs | Yes | 18 | $159 |
| 700 IPs | Yes | 24 | $231 |
| 1000 IPs | Yes | 30 | $305 |
| 2500 IPs | Yes | 60 | $635 |
| 5000 IPs | Yes | 103 | $1065 |
| 10000 IPs | Yes | 154 | $1745 |
Exclusive Proxy Packages
| | | | |
| --- | --- | --- | --- |
| Package | Multiple Locations | Multiple Subnets | Price / Month |
| 1 IP | Yes | Yes | $10 |
| 13 IPs | Yes | Yes | $66 |
| 26 IPs | Yes | Yes | $105 |
| 38 IPs | Yes | Yes | $137 |
| 50 IPs | Yes | Yes | $167 |
Special Proxy Packages
| | | | |
| --- | --- | --- | --- |
| Package | Multiple Locations | Multiple Subnets | Price / Month |
| 10 IPs | Yes | Yes | $7.50 |
| 100 IPs | Yes | Yes | $21.00 |
| 460 IPs | Yes | Yes | $65.00 |
| 200 IPs | Yes | Yes | $70.00 |
| 2000 IPs | Yes | Yes | $250 |
Great Customer Service
Having a happy customer base is the dream of every organisation, but not all companies fulfil this dream. Fortunately for ProxyBonanza, they have a very large and happy customers list. They have a ticket based system on their website. If you have any queries regarding their products, you can submit, and ticket and they will immediately get back to you. They also have numerous amounts of testimonials from their happy customers on their website, which are a sight for sore eyes if you're searching for good proxies on the internet.
---
Limited Bandwidth
ProxyBonanza does not provide unlimited bandwidth on their proxies. Meaning that you cannot use these proxies to the fullest with a bandwidth limit hanging around your head. Having unlimited bandwidth is very crucial to a proxy selling service, and with their higher price point, Unlimited bandwidth should be an integral part of their service.
No specific Proxies
ProxyBonanza only provides three types of proxies which are categorized as Shared, Exclusive, and International Proxies. It does not provide proxies which are specified for certain purposes like Instagram proxies, Craigslist proxies, etc. Having a separate proxy for specified purposes ensures the satisfaction of the customers and also guarantees the working of these proxies. The absence of these specific proxies is a serious downside.
---
Do we recommend ProxyBonanza?
Yes, we definitely do. ProxyBonanza has established itself as the leading proxy selling company on the internet and have a huge customer base from all around the world. They are a professional company with high standards of morality for their customers and deliver their products with quality and efficiency.
---
Submit your review