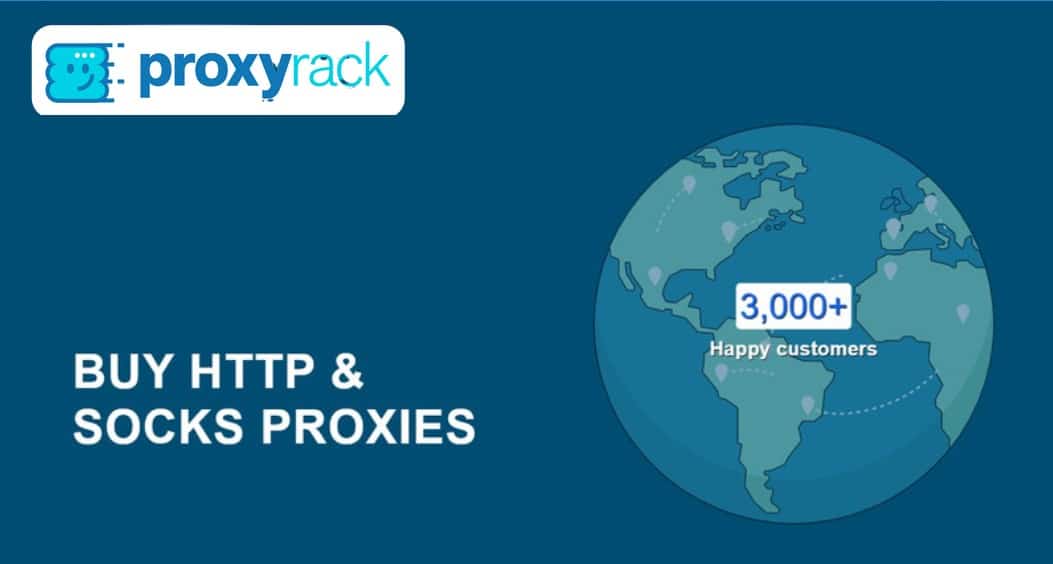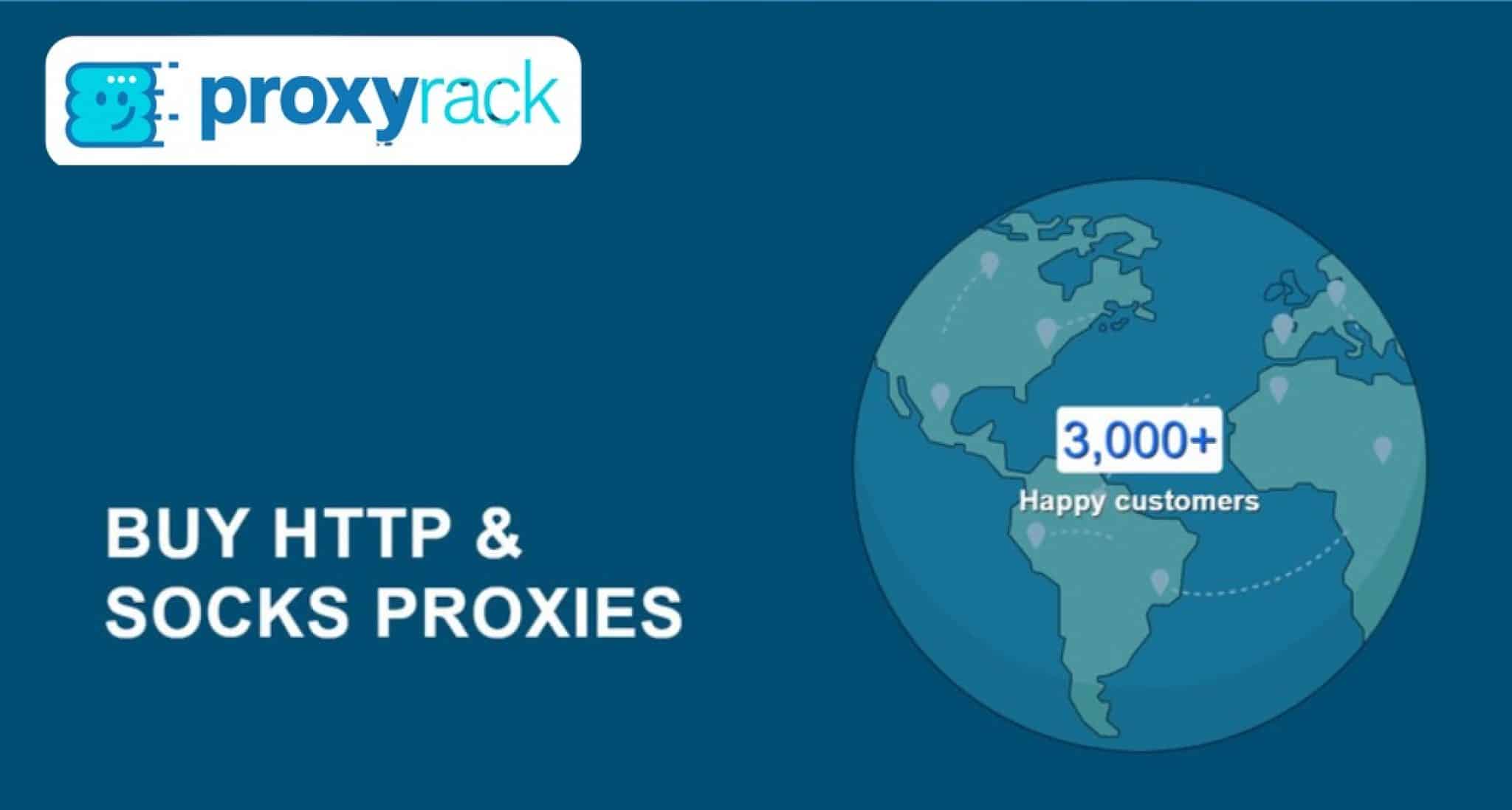 ProxyRack is a proxy selling company that has been selling quality HTTP/HTTPs and Socks5 proxies since 2012.
They are an Australian based company which provide Rotating Residential Proxies to their customers. They have a pretty decent customer base on their website.
They provide more prominent features on their proxy packages like Unlimited Bandwidth and a 2 Week Refund Policy. They are providing multiple locations in more than 40 locations from all around the world. Their Proxy Packages are simple and straightforward. Their proxies support Socks5 Protocol which provides an extra layer of security to the proxy.
---
Overview
Following are the packages provided by ProxyRack on their website.
Residential Rotating Proxies
USA Rotating Proxies
Mixed Rotating Proxies
Shared Proxies
ProxyRack DetailsUser RatingUser Reviews
| | |
| --- | --- |
| Dedicated Proxy | Yes |
| Socks5 Proxy | Yes |
| Residential Proxy | Yes |
| Speed | 1000 Mbps |
| Multiple Cities | Yes |
| Multiple Subnets | Yes |
| Bandwidth | Limited |
| Uptime | 99.9% |
| Non – Sequential IP's | Yes |
| Customer Support | 24/7 Live Support + Live Chat |
ProxyRack Review
0 out of 5 stars (based on 0 reviews)
User Reviews
There are no reviews yet. Be the first one to write one.
---
ProxyRack provides both Residential Proxies and Datacentre proxies. Their Residential proxies are rotating proxies whose IP address keeps changing after every recurring time period.
These IP addresses are selected from an IP pool consisting of 2 million IP's.  When you subscribe to their proxy package, You get access to this pool of 2 million IP's through which your IP is rotated after every Request or every ten minutes.
Residential proxies are safer and secure than normal datacenter proxies and more expensive as well. Residential proxies contain an IP address provided by an Internet Service Provider (ISP) to a resident. Almost all of the residential proxies are mainly rotating proxies. This means that your IP address keeps changing after a short period and it never stays the same.
Hence the Proxy IP address cannot be traced back to you. The IP address of the rotating proxies provided by ProxyRack changes after every subsequent connection . This ensures better safety and security to your online identity and a lesser chance of getting your IP blacklisted considering you don't have just one IP address.
ProxyRack provides Residential as well as Datacentre proxies. Although the price of these proxies provided by ProxyRack is nowhere near cheap, The quality of these proxies is great, and that is what makes them one of the top Residential Proxy sellers in the market!
ProxyRack offers both types of proxy authorization, Username/Password authentication, and IP authentication. This is great as you can whitelist the IP's that you want to use to access your proxies as well as you can use username and password to access your proxies as well. In this way, you will be able to access your proxies no matter your circumstances.
ProxyRack provides datacentres in more than 40 countries from all around the world Including eight major cities of the world. They have a vast datacentre map which provides their customers with a versatile and different choice of selecting the best location for their proxies.
ProxyRack offers a great website interface which you can easily navigate. Finding your way through their website is very simple, and you can easily get all the information that you need on the click of a button. Their website is really user-, which is why they are one of the best proxy selling services on the internet.
Generally speaking their proxies will work with any kind of software that supports HTTP(s) or Socks proxies.
Below is a list of software that we have either personally tested their proxies with or have had users report that the software is working perfectly fine with ProxyRack's proxies.
Google Search bot
XRumer
Scrapebox
Scrapejet
No Hands SEO
Bookmarking Demon
Decaptcher
GSA Search Engine Ranker
Features of Proxyrack Proxy
14-day money back guarantee
It is a shame that they don't offer a free trial period, but the 14-day money-back guarantees period is almost as good. Getting access to their proxies for two weeks is more than enough to decide if they will work for you.
Unlimited Bandwidth
With Proxyrack the sky is the limit. Actually, there is no limit. All of their proxy packages come with unlimited bandwidth. That means that there is no extra charge.
There are 3 residential IP providers that also offer Unlimited Bandwidth residential proxies, They are the Stormproxies, microleaves, Flipnode.
Multiple authentication methods
For those that are looking for providers that offer IP whitelisting and username/password authentication, Proxyrack will work excellent. You can whitelist up to four IP addresses, and you can also authenticate with a username and password. We will cover this in a section later on.
ProxyRack is one of the leading proxy selling companies on the internet. They have been selling quality proxies to millions of customers around the globe with exceptional proxy quality and great service.
ProxyRack had slowly expanded their company to one of the biggest proxy selling organizations on the internet since the time of their foundation back in 2012. With their 14-Day refund policy and Unmetered Bandwidth, ProxyRack sure is a winner in the proxy business.
Following are the advantages that you will receive when using proxies from ProxyRack.
Versatile Proxy Seller
ProxyRack provides very extensive services on the internet. They have been providing the best proxy and VPN services on the internet for the past couple of years and have surely become one of the best proxy services on the internet.
Starting from scratch, They now have proxy data centers in more than 40 countries from all around the world. Moreover, They provide solutions like Residential VPN's. The multiple geolocations from all around the world that they are providing gives their customers a better choice to get the best location for their proxies for which they are paying for.
Residential Proxy Provider
Residential Proxies are more secure and safer than datacenter proxies. Almost all the residential proxies are rotating proxies. This means that the IP address of your Residential proxy keeps changing after every recurring period, and your IP never stays the same. Residential proxies have an IP address of a Resident, which is provided by an Authentic ISP.
The best thing about ProxyRack is that they provide Residential Proxies. Residential Proxies are the best when it comes to proxy solutions. Despite their higher price point, they are still one of the most used and demanded proxies on the internet.
Numerous Locations
ProxyRack provides a long list of locations for their proxies. They are providing up to 40 different countries. In these countries, they have hundreds of different geolocations. Hence the options for choosing the best location for yourself become diverse.
This long list of numerous locations of the world provides the customers with a better opportunity to select the best location for their proxies. If you're looking for specific locations for your proxies, ProxyRack should be your choice!
Although ProxyRack has not fully disclosed all of the locations provided by them, here are some of the popular locations that have been provided by them in their proxy packages.
Locations
USA
Canada
UK
Australia
Russia
Spain
Easy-to-use Porting System
ProxyRack offers you an easy to understand system using which you can convert between sticky IP's and Rotating IP's. The First system allows you to connect through a single port. However, After every connection you make, Your IP address is changed and a different one is assigned to you. Hence in this way, Your IP address keeps rotating. This system is termed as Port 222
The second system, which contains 250 Ports from Port 1500-1750, allowing you to keep a static IP address for a time interval without changing after every connection. The time interval between the changing IP address can be set up by you.
Authorization and IP Refresh
ProxyRack, like all the other good proxy selling services out on the internet, Provide both types of authentication methods on their proxies.
They provide the best Residential Proxies which have both types of Authorization methods enabled. You can use either of the authorization methods to access your proxies from anywhere in the world easily. Following are the authentication methods provided by ProxyRack.
Username/Password Authentication
IP authentication
Having both types of authorization methods provided can help you in accessing your proxies much faster while also provide better security to your own proxies. You can use whichever method suits you the best.
Moreover, With ProxyRack, You can easily refresh your IP your Proxies once every month. This provides you with better proxy quality and management as you can easily refresh your proxies every month with ease.
Affordable Proxy Packages
The Residential IP's provide by ProxyRack may not be some of the cheapest proxies on the internet, but they are of the topmost quality and have been deemed as the safest forms of proxies which can be used on the internet. These proxies are best used for unlocking Geo-Targeted content and Social Media Marketing.
Following is the proxy Package offered by ProxyRack.
MegaProxy Package
| | | | |
| --- | --- | --- | --- |
| Package | Proxy Connections | Bandwidth | Price |
| Standard | 50 | Unlimited | $60/ Month |
| Elite | 100 | Unlimited | $80/ Month |
| Guru Monthly | 200 | Unlimited | $120/ Month |
| Guru Annually | 200 | Unlimited | $1200/ Year |
For the Guru Annual Package, You will receive 12 months for the price of 10 Months!
Unlimited Bandwidth
All proxies that you buy from ProxyRack comes with Unlimited bandwidth. This means that you do not have to worry about any sort of data limit when you're using the proxy, and you can use the proxy to the fullest.
Most proxies come with a bandwidth limit, and once you finish up on that limit, you cannot use the proxy anymore. In the case with ProxyRack, there's no such thing as a Limited Bandwidth. There are no restrictions when it comes to using your proxies limitlessly. You can use your proxies as much as you want, provided that you pay for them each month.
Refund Policy and Customer Support
ProxyRack does not have any option for having a trial period and using the proxy beforehand to check the quality of the proxies. However, this drawback is excellently overcome by the availability of a refund policy. HighProxies is currently offering a 14-day Refund policy.
If you don't like the experience, ProxyRack has to provide, or if you simply think the proxy isn't suitable for your needs, you can easily refund the money you invested in the proxies in 2 weeks time.
Not only do they provide one of the best proxies on the internet, but their customer support is also commendable. They have a ticket support system.
If you have any queries related to their website or the proxies, you can submit a ticket, and they will respond in around 10 minutes. Moreover, there is also a live chat option where you can chat with one of their customer support representatives.
---
No specific Proxies
ProxyRack only provides Residential Proxies and Shared proxies. It does not provide proxies which are specified for certain purposes like Instagram proxies, Craigslist proxies, etc.
Having a separate proxy for specified purposes ensures the satisfaction of the customers and also guarantees the working of these proxies. The absence of these specific proxies is a serious downside.
---
Proxyrack has two ways of authenticating available: with IP whitelist and username and password combination.
IP Whitelist
Whitelisting IPs is a great feature if you are accessing the proxies from a certain computer with a single IP address. The advantage of this is that you don't have to enter the username and password. To whitelist an IP go to the profile menu, navigate to "Proxy Settings." Add your IP address in one for the fields and click "Save." It takes 15 to 20 minutes for the settings to be applied.
Currently, Proxyrack limits the number of whitelisted IPs to four, which might be an inconvenience to some users. A solution to that is to authenticate with a username and password.
Username and password
There is hardly any settings that you can change here. A password is generated automatically, and you can see it in the "Rotating Megaproxy" menu.
---
Do we recommend ProxyRack?
Yes, we definitely do. ProxyRack has established itself as the leading company on the internet when it comes to proxies and other products.
They have surely strengthened their grounds based on their experience since they started and have evolved into a leading proxy company with data centers all across the globe. ProxyRack should be everyone's choice when it comes to buying Residential Proxies.
---
Submit your review