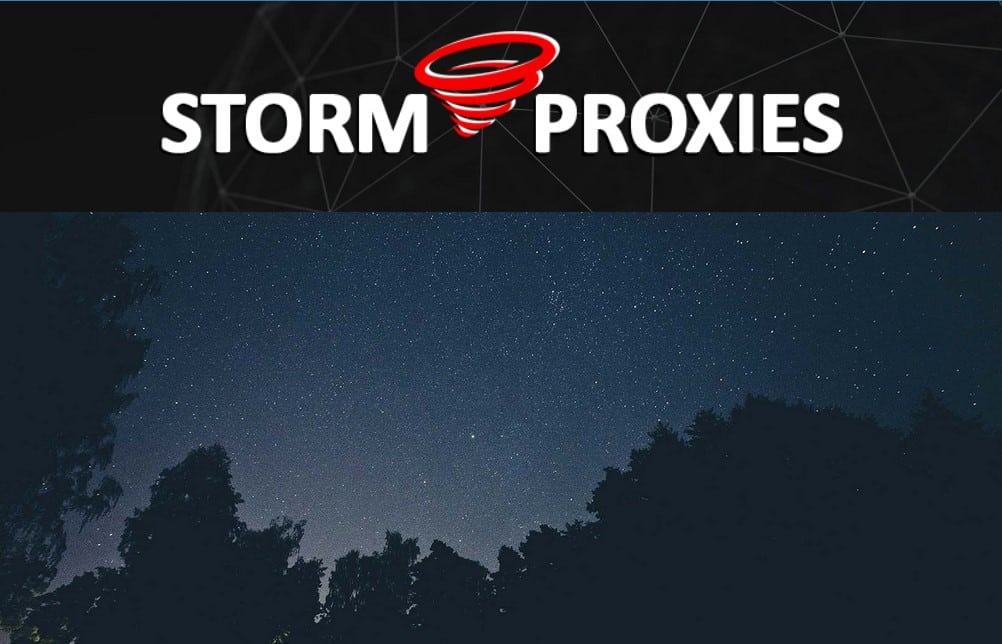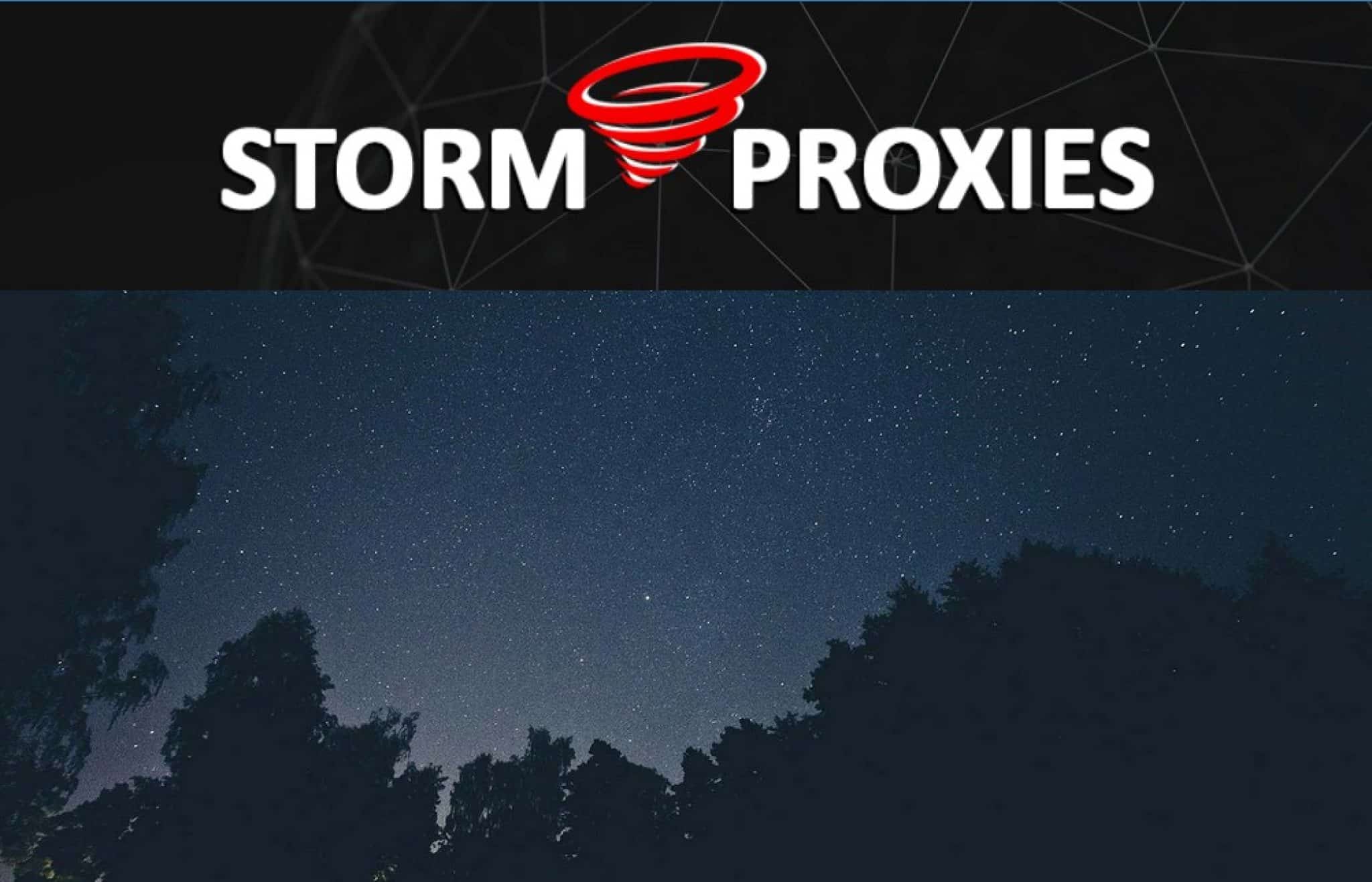 StormProxies is an elite proxy providing service that provides both Residential Proxies and Datacentre proxies. They are a relatively new company being made in 2016 but have made high standards of quality in the proxy community.
Storm Proxies mainly provides backconnect proxies which are great for Web scraping data on the internet. Their proxies are fully compatible with web scraping and SEO tools like Scrapebox.
StormProxies are more famously known for their proxies which are compatible with Search Engine Optimization tools and have made thousands of happy customers content to their services throughout the world.
---
Overview
They are providing a lot of different packages on their website, which are listed as follows,
Rotating Proxies
Dedicated Residential Proxies
Residential Rotating Proxies
Sneaker Site Rotating Proxies
Ticketing Website Rotating Proxies
Dedicated Proxies
General Dedicated Proxies
TicketMaster Proxies
Instagram Proxies
Facebook Proxies
Snapchat Proxies
Tumblr Proxies
PokemonGo Proxies
….
StormProxies DetailsUser RatingUser Reviews
| | |
| --- | --- |
| Dedicated Proxy | Yes |
| Rotating Proxy | Yes |
| Residential Proxy | Yes |
| Speed | 1000 Mbps |
| Multiple Cities | Yes |
| Multiple Subnets | Yes |
| Bandwidth | Limited |
| Uptime | 99.9% |
| Non – Sequential IP's | Yes |
| Customer Support | 24/7 Live Support + Live Chat |
StormProxies Review
0 out of 5 stars (based on 0 reviews)
User Reviews
There are no reviews yet. Be the first one to write one.
---
Although it was mainly for SEO proxies, over the years, StormProxies has turned into a general proxy provider, and now they are also providing rotating proxies and dedicated proxies for the people who use their website.
The rotating proxies provided by StormProxies change the IP address on the user's request, or on a fixed time. StormProxies are currently providing two types of rotating proxies.
One which uses Data Centre IP address. With this proxy, you have access to more than 70,000 shared datacentre IP addresses. The other type of rotating proxy uses residential IP addresses. With this rotating proxy type, you have access to more than 40,000 residential IP addresses
The Data center rotating proxies use private data center IP's and use backconnect to rotate IP's when needed. These proxies are mainly for SEO tools and web scraping on the internet. When you buy a datacentre Proxy package, you get access to 70,000 datacentre IP pool. Your IP address will rotate in the following way
Every 3 Minutes
Every 15 Minutes
Every HTTP request
You get one IP for the gateway server. Once connected, the server connects you to one of the 70,000 IP addresses from that IP pool. Then you can use the sites or the web scraping tool that you want. Then, when it is time to rotate the IP address, the server connects you to another IP in the IP pool. In this way, your IP address is rotating automatically without you having to do anything!. Also, this server pool is updated every seven days, so you have very less chance of getting banned IP's. However, the proxies can only be authenticated via IP authorization.
The rotating residential proxies use residential IP address and rotate. The IP addresses of these proxies change every 5 minutes, and you have access to an IP pool of 40,000 IP addresses. You can choose the EU residential IP's or US Residential IP's based on your needs. You can use these proxies for your work, and these proxies will change IP addresses every five minutes, automatically! These proxies are also only authenticated by IP authentication.
StormProxies is a relatively new company, but their proxies are very good and great for SEO tools and Web Scraping. They also offer 48-hour money back guarantee so you can test their proxies as well, without a real investment. I suggest to give them a try.
StormProxies, Although it is a new company, has made major progress since the in the of its foundation. They provide both Datacentre Proxies and Residential Rotating Proxies on their website.
StormProxies was formed under the supervision of several SEOers and is the reason why their proxies are mostly used for Search Engine Optimization Tools.
They are one of the best proxy selling services for SEO and Web scraping and continue their progress into the future of Proxy selling services.
Following are the advantages that you will receive when using proxies from StormProxies.
Extended Services
StormProxies, unlike many other proxy selling services on the internet, is a versatile service which provides extended solutions on their website.
They have a lot of different solutions on their website which provides great benefit to their customers. They have different proxy packages for different purposes like Facebook, Twitter and PokemonGo.
They are also providing Residential Rotating Proxies on their website. Their services are really flexible and you can easily get the proxies that you want, either it is for the general use or for any specific purpose.
Residential Proxy Provider
Residential Proxies are more secure and safer than datacenter proxies. Almost all the residential proxies are rotating proxies. This means that the IP address of your Residential proxy keeps changing after every recurring period, and your IP never stays the same. Residential proxies have an IP address of a Resident, which is provided by an Authentic ISP.
The best thing about StormProxies is that they provide Residential Proxies. Residential Proxies are the best when it comes to proxy solutions. Despite their higher price point, they are still one of the most used and demanded proxies on the internet.
Locations Provided
StormProxies provides numerous locations for their proxies provided on their website. However, They do not provide any information at all on the whereabouts of these locations. However, When you are buying proxies from them, You can select whether you want USA based proxies, European Proxies or USA or European proxies mixed.
Authorization and IP Refresh
StormProxies like all the other reasonable proxy selling services out on the internet, Provide both types of authentication methods on their proxies.
They provide the best Residential Proxies which have both types of Authorization methods enabled. You can use either of the authorization methods to access your proxies from anywhere in the world easily. Following are the authentication methods provided by StormProxies.
Username/Password Authentication
IP authentication
Having both types of authorization methods provided can help you in accessing your proxies much faster while also provide better security to your own proxies. You can use whichever method suits you the best.
However, On some of the proxy packages, only a single type Authentication method, which is IP Authentication method.
Moreover, With StormProxies, You can easily refresh your IP your Proxies once every month. This provides you with better proxy quality and management as you can easily refresh your proxies every month with ease.
Unlimited Bandwidth
All proxies that you buy from StormProxies comes with Unlimited bandwidth. This means that you do not have to worry about any sort of data limit when you're using the proxy, and you can use the proxy to the fullest.
Most proxies come with a bandwidth limit, and once you finish up on that limit, you cannot use the proxy anymore. In the case with StormProxies, there's no such thing as a Limited Bandwidth. There are no restrictions when it comes to using your proxies limitlessly. You can use your proxies as much as you want, provided that you pay for them each month.
Affordable Proxy Packages
The Residential IP's provide by StormProxies may not be some of the cheapest proxies on the internet, but they are of the topmost quality and have been deemed as the safest forms of proxies which can be used on the internet. These proxies are best used for unlocking Geo-Targeted content and Social Media Marketing.
Following is the proxy Package offered by StormProxies.

Dedicated Rotating Proxies
| | | | |
| --- | --- | --- | --- |
| Package | Multiple Locations | Access IP's | Price / Month |
| 40 Threads | Yes | 1 | $39 |
| 80 Threads | Yes | 2 | $59 |
| 150 Threads | Yes | 3 | $97 |
 Residential Rotating Proxies
| | | | |
| --- | --- | --- | --- |
| Package | Multiple Locations | Access IP's | Price / Month |
| 5 Ports | Yes | 1 | $50 |
| 10 Ports | Yes | 1 | $90 |
| 20 Ports | Yes | 1 | $160 |
| 50 Ports | Yes | 1 | $300 |
General Dedicated Proxies
| | | | |
| --- | --- | --- | --- |
| Package | Multiple Locations | Multiple Subnets | Price / Month |
| 5 Proxies | Yes | Yes | $50 |
| 10 Proxies | Yes | Yes | $90 |
| 20 Proxies | Yes | Yes | $160 |
| 30 Proxies | Yes | Yes | $300 |
Instagram Proxies
| | | | |
| --- | --- | --- | --- |
| Package | Multiple Locations | Multiple Subnets | Price / Month |
| 5 Proxies | Yes | Yes | $15 |
| 10 Proxies | Yes | Yes | $30 |
| 50 Proxies | Yes | Yes | $100 |
| 100 Proxies | Yes | Yes | $200 |
These are only some of the proxy packages that have been listed on their website. If you want to check out all the packages, You can visit their website,
Refund Policy and Customer Support
StormProxies does not have any option for having a trial period and using the proxy beforehand to check the quality of the proxies.
However, this drawback is excellently overcome by the availability of a refund policy. HighProxies is currently offering a 2-day Refund policy.
If you don't like the experience, StormProxies has to provide, or if you simply think the proxy isn't suitable for your needs, you can easily refund the money you invested in the proxies in 2 Days time.

Not only do they provide one of the best proxies on the internet, but their customer support is also commendable. They have a ticket support system.
If you have any queries related to their website or the proxies, you can submit a ticket, and they will respond in around 10 minutes. Moreover, there is also a live chat option where you can chat with one of their customer support representatives.
---
Lesser Locations
StormProxies aren't providing a lot of locations for their proxies on their website. They are only providing the USA and European locations for their proxies.
Moreover, they are not disclosing any information about the specific locations of their proxies. If you're in need of proxies from a specific location, StormProxies may not be the best choice for you in that criteria.
---
Do we recommend StormProxies?
Yes, we definitely do. StormProxies has proved itself to be a contender in the sea of proxy selling services on the internet.
Although they are a relatively new company which came into realization in 2016, They have made excellent progress in selling both Datacentre proxies and Residential Proxies and are continuing to do so in the near future!
---
Submit your review