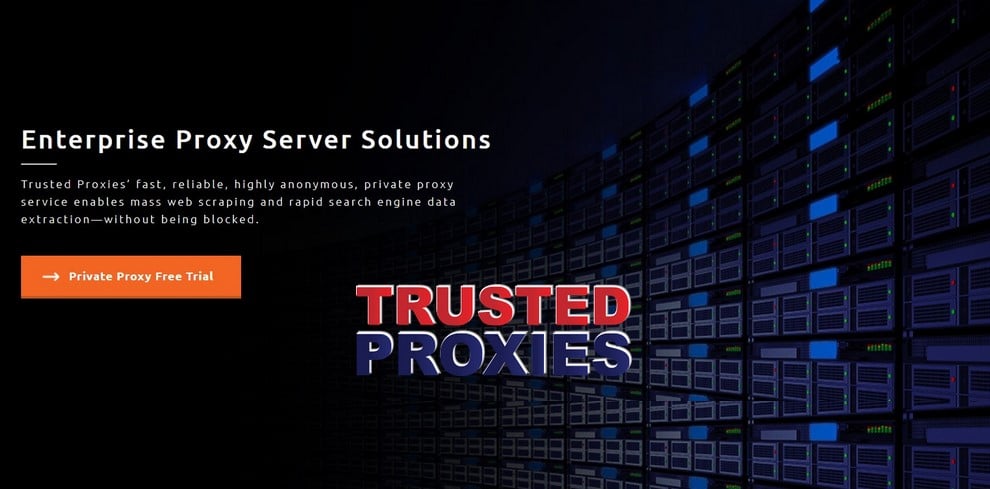 TrustedProxies is one of the best and complex proxies selling services on the internet today.
They are a lot different from your average proxy selling platforms but are widely known for their great proxy service, Their great customer support and a great website overall.
They also provide different types of Proxy solutions on their website and is one of the best websites for proxies for Search Engine Optimization. They are an elite proxy service which provides diverse solutions to the people of the internet.
---
Overview
Currently, TrustedProxies is providing the following proxy solutions on their website.
Parallel Private Proxy Servers
Geo-Targeted Proxy Servers
Big G Stealth Extractor
Proxy Server Clouds
TrustedProxies DetailsUser RatingUser Reviews
| | |
| --- | --- |
| Dedicated Proxy | Yes |
| HTTP/HTTPs Proxy | Yes |
| Socks5 Proxy | No |
| Speed | 1000 Mbps |
| Multiple Cities | Yes |
| Multiple Subnets | Yes |
| Bandwidth | Limited |
| Uptime | 99.9% |
| Non – Sequential IP's | Yes |
| Customer Support | 24-Hour Ticket Support + Live Chat |
TrustedProxies Review
0 out of 5 stars (based on 0 reviews)
User Reviews
There are no reviews yet. Be the first one to write one.
---
TrustedProxies is a sub-company of the Appstractor and has been selling proxies for more than nine years. They are an elite company and sell HTTP/HTTPs protocol proxies at relatively cheaper rates, Given the quality of their proxies being tremendously good.
TrustedProxies provides proxies which work on most of the websites on the internet, and they have surely made a huge customer base for themselves. With their fast and secure proxy connections and dual authentication methods, TrustedProxies has surely made their names in the hall of fame of proxy sellers. Their proxies are the best for all white hat purposes like Scrapebox and other SEO related stuff. However, Their proxies will not work on Black Hat SEO softwares like Xrummer.
TrustedProxies provides fully anonymous and elite proxies for their customers. Their proxies are really secure and anonymous with blistering speeds and smoothness. The proxies are activated instantly after purchase, and you can proceed to use them without worrying about anything at all. You can also test their proxies for use before buying them first hand for a better experience as well.
TrustedProxies is providing both types of Authentication methods for their proxies, namely IP Authentication along with Username and Password Authentication. Having both types of authentication methods makes it easier to access your proxies from anywhere whilst having better safety of your proxies as well.
TrustedProxies provides HTTP/HTTPs protocol proxies. Their proxy location options are diverse, and location for your proxies can be chosen different locations which are present in the United States and a lot of International locations. This gives the customers a wider range of choice when choosing the best location for their proxies.
They are an elite proxy service with wider options for proxy packages as well as in the proxy locations. They have great customer support and have been in the proxy business for more than 9 years now. Their proxies support all the white hat SEO software and websites. However, You cannot use Black Hat SEO Softwares with these proxies.
---
Versatile Proxy Seller
TrustedProxies is a really versatile proxy seller as it provides its customers with a wide range of proxy solutions with several locations from all over the world. Their proxy packages are really unique not like packages provided by most proxies out there on the internet. They provide all the necessary features in the proxies that they provide and have been doing so for more than nine years since they laid the foundations of their company back in 2010.
They proxies are equipped with HTTP/HTTPs protocol although SOCKS proxies would be more appreciated. They provide dual authentication methods on their proxies and have unique proxy solutions on their website. They provide great customer support and have a datacenter in various parts of the world, which gives their customers diverse options in selecting the best location for their proxies.
Diversity In Locations
TrustedProxies not only provides proxies from the US only, But their data centers are located in several parts of the world. You can get a proxy from almost any locations that your heart desires as TrustedProxies has a long list of locations for their proxies.
If you are unsure of which location that you want to choose from, You can easily check the datacentre map given on their website. It is more convenient to choose the location, which is the nearest to you as it provides better speed and ping when using the proxy. You can access the data center map at here https://trustedproxies.com/parallel-private-proxy-server-plans/
Following are the locations provided by TrustedProxies for their proxies.
Locations
USA
UK
Argentina
Australia
Austria
Bangladesh
Belgium
Bermuda
Brazil
Bulgaria
Canada
Chile
China
Colombia
Costa Rica
Croatia
Cyprus
Czech Republic
Denmark
Egypt
Estonia
Finland
France
Georgia
Germany
Greece
Guatemala
Hong Kong
Hungary
Iceland
India
Indonesia
Ireland
Isle of man
Israel
Italy
Japan
Kazakhstan
Latvia
Lithuana
Luxembourg
Malaysia
Malta
Mexico
Moldova
Morocco
Netherlands
New Zealand
Norway
Pakistan
Panama
Peru
Philippines
Poland
Portugal
Puerto Rico
Romania
Russia
Saudia Arabia
Serbia
Singapore
Slovakia
Slovenia
South Africa
South Korea
Spain
Sri Lanka
Sweden
Switzerland
Taiwan
Thailand
Turkey
UAE
Ukraine
Uruguay
Venezuela
Vietnam
Blistering Speeds and Better Uptime
TrustedProxies provides blistering speeds on their proxies with 1 Gb/s server speeds. Having a greater server speed ensure the better quality of the proxies, which provide a smoother experience once you start using the proxy on the internet.
TrustedProxies provides faster speed on their worldwide servers, which makes their international customers a convenient way to choose their proxies and get the proxy speed they want. Connection speed is crucial, and it determines the quality of the proxy provider. TrustedProxies has great speed servers and provides smooth usage of proxies
Proxy Authentication and IP Refreshing
TrustedProxies is a leading proxy selling platform on the internet. Their proxies not only come with the best quality, but they provide both types of authentication methods on their proxies as well. Having both authentication method makes it easier for customers to access their proxies quickly and easily. The proxy authentication method provided by TrustedProxies are ;
IP authentication
Username/Password Authentication
This provides you with a better approach to your proxies whilst adding mobility and flexibility as well. You can easily authenticate your proxies with either of the methods indicated above without any problem at all.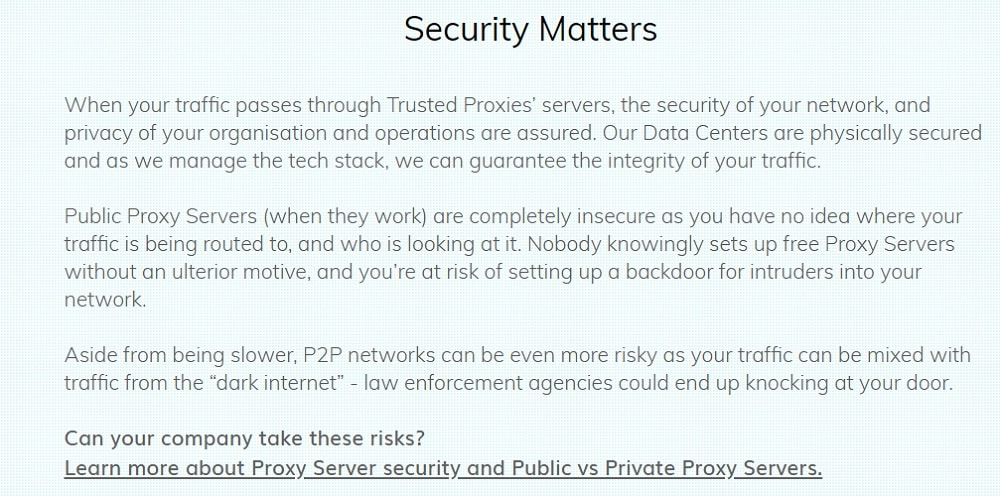 Moreover, TrustedProxies comes with an option to refresh your proxies every once a month. This provides you with better proxy quality and management as you can easily refresh your proxies every month with ease.
Good Proxy Packages
TrustedProxies may not have some of the cheapest proxies on the internet, But the quality of their proxies is great and works best on almost all the websites that you might need them on. These good quality proxies serve an excellent purpose in Social media marketing and White Hat SEO errands that you need to fulfill. Following are the packages that are provided by trust proxies.
Parallel Private Proxies
Package
Multiple Cities
Multiple Subnets
Price / Month
5 Private Proxy

5 Shared Proxy

Yes
Yes
$81

$30

10 Private Proxy

10 Shared Proxy

Yes
Yes
$137

$54

20 Private Proxy

20 Shared Proxy

Yes
Yes
$247

$97

30 Private Proxy

30Shared Proxy

Yes
Yes
$331

$130

90 Private Proxy

90 Shared Proxy

Yes
Yes
$895

$351
It is to be noted that the proxy package mentioned above is for the proxies with USA location only. The proxy packages for Other locations like the UK, Italy, Spain, and other such countries have similar prices and are provided on their website.
Geo-Targeted Proxies
GeoTargeted Proxies contains proxies from all the locations which have been mentioned under the heading "Diversity in Locations". They provide a lot of locations for this category of proxies. A handful of these proxies are mentioned with their given prices below ;
The following package is for dedicated proxy only.
| | |
| --- | --- |
| Location of Proxy | Price of Proxy |
| US | $17 |
| UK | $18 |
| Argentina | $47 |
| Australia | $23 |
| Austria | $48 |
| Belgium | $32 |
| Canada | $18 |
| China | $67 |
| Estonia | $32 |
| Denmark | $38 |
Customer Support and Refund Policy
TrustedProxies has great customer support on their website, and if you have any queries related to their website or their products, you can easily contact them via Support Ticket or by email.
Customer support is very supportive and replies quickly without wasting any time. Good customer support is like the backbone of a good website. It is safe to say that TrustedProxies has a very responsive and fast support system, and they respond to queries of their customers as fast as possible.
Also, They are providing a 7-day refund policy on all of their proxies. This gives their customers a better insight of their proxies and other packages, which makes them one of the best proxies on the internet. New customers who feel reluctant or hesitant in buying a new proxy can use their 7-day refund to satisfy themselves completely and feel comfortable in buying proxies from them.
---
No specific Proxies
TrustedProxies only provides three types of proxies which are categorized as Monthly Datacenter, Daily Datacenter, and Monthly Residential Proxies. It does not provide shared proxies or the proxies which are specified for certain purposes like Instagram proxies, Craigslist proxies, etc.
Having a separate proxy for specified purposes ensures the satisfaction of the customers and also guarantees the working of these proxies. The absence of these specific proxies is a serious downside.
Limited Bandwidth
The most highlighted disadvantage of TrustedProxies that they do not provide unlimited bandwidth on their proxies. Although only some of their proxy packages do have unlimited bandwidth, It is still is a great disadvantage that they do not provide unlimited bandwidth on all of their proxies.
---
Do we recommend TrustedProxies?
TrustedProxies is one of the best proxy sellers on the market and has been selling proxies for more than 9 years now. They have many proxy packages listed on their website and have provided a lot of locations for their proxies.
---
Submit your review