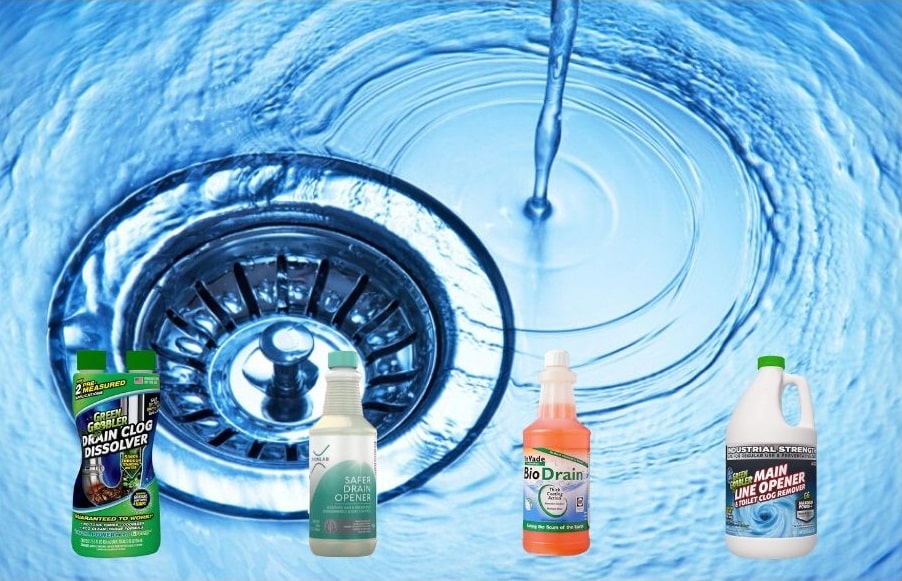 Cleaning clogged drains can be a nightmare. More so if you don't have the right equipment to get the job done. Herein, we've enlisted some of the best drain cleaners for you. Read on for more.
Dirty and clogged drainage is a common in our residential homes and apartments. There are many chemicals and gadgets that can be used to unblock your home sewerage systems. Drain cleaners are best suited for this task. So, which one suits you in particular? The answer to that question is the reason for this review.
As you'll soon find out, we've rounded up some of the best brands in the market to help you with this particular task. In the meantime, it is important to get to know what it is that clogs our drains right there at home. Come to think of that and the first suspects are grease from the oil and fat we use when cooking.
That is for kitchen drains. On the other hand, bathroom drains are often blocked by soap scum, hair, dirt, soil particles, and many more. There are countless reasons out drains get clogged. All that notwithstanding, drain cleaners will help you fix this common problem. These devices and chemicals employ different mechanisms of actions to remove and even dissolve the clog leaving your drains clean and uncontaminated.
Our Picks: Overview of Best Drain Cleaners
Why do you need a Drain Cleaner?
As we have already established, blockage to out drains is commonplace. Therefore, it is imperative to have something to fight. After all, block drains will lead to a series of additional problems. You can avoid all this by using a good drain cleaner.
There are two main types of liquid drain cleaners, both serving the same purpose, but using different techniques. The first is the slower enzymatic-based cleaners and the second is fast-acting chemical-based cleaners.
Below, we did compile a list of top ten drain cleaners. These cleaners contain a range of formulas. Therefore, you can choose the one that suits your needs to perfection.
---
Types of drain cleaners
As the name suggests, these are mostly powders, liquids, or gels used to unclog our drains. These powerful chemicals work by dissolving the dirt build up, hair and even microbial growth that is clogging the drains. So, which are some of the types of drain cleaners in your local store? Let's find out.
These are basic agents that we use for unblocking out drains. These agents are enriched with lye and caustic potash which are powerful chemicals in as far as dissolving clog goes. Caustic drain cleaners work on greasy and oily dirt causing them to be hydrophilic hence more soluble in water. They also remove bacterial growth from our drains.
This category of drain cleaners constitute peroxides, nitrates, and household bleaches. As the name suggests, they act as oxidizing agents. As such, they penetrate and oxidize the clog. The resulting heat and gas leads to unblocking of the drain. They are comparatively more effective than caustic drain cleaners. In actual sense, however, they aren't. It is only that they target different agents that cause the blockage of drains.
These of very rare. In fact, they are often the preserve of experts like plumbers. The reason being that acid drain cleaners have high concentrations of sulfuric acid or hydrochloric acid. Because of their composition, these substances emit immense heat and gas upon reacting with the clog. As such, they cause the unblocking of the drain.
---
How to use drain cleaners
The direction for using drain cleaners is largely dependent on the particular cleaner. The way you'd use a drain stick, plunger, or sewer rods is very different from how you'd use chemical drain cleaners. So, how exactly do you use a drain cleaner? In this case, we'll focus on chemical drain cleaners. Here's the break down.
First, it's important to know what drain cleaners are and what they do. Also, use drain cleaners on the right kind of drain. This is one aspect that many people often overlook. Just as a reminder, drain cleaners are not meant for use in toilets, tubs, garbage disposal systems, etc.
With all that in mind, we head straight to the actual use of chemical drain cleaners. Before we start, it is important to note that these chemicals are corrosive. As such, can cause severe skin burns if not handled correctly.
First open the container bottle and pour sufficient amount of the cleaner into the drain. Wait for half an hour for the agent to act on the clog. Next, flush with adequate amount of warm or cold water. For a step by step break down of the directions for use, be sure to read the product insert.
---
Things to look for when buying a drain cleaner
There are many brands of drain cleaners in the market today. Unless you are conversant with these unclogging chemicals, you are far more likely to end up with a low grade product. Fortunately, you can count on us to give the necessary help and assistance to help you get the best drain cleaners. So, here are some of the things to look out for when shopping for the best liquids, powders or gels for unblocking your sewer system.
Drain cleaners come in different types. Drain cleaners can be broadly classified as chemical cleaners, Hand augers & sewer rods, drain sticks, and plungers. Because most of the product in our listicle are of the chemical category, we'll focus our attention on just that. So, some of the common chemical agents include basic drain cleaners, oxidizing chemical agents, and acidic agents. Be sure to choose the best one for your household's drainage system. If you aren't sure of what's best for you, be sure to consult an expert on the same.
Another crucial aspect to consider when shopping for the best drain cleaners. You don't want to over stretch your budget. Also, remember not to compromise quality for affordability. Often times, top quality drain cleaners attract high price tags. The choice of the best depends on a whole lot of factors. For instance, the type of clog, your household plumbing system, etc.
Suitability for your type of plumbing
Another very important aspect. The choice of drain cleaner depends on the type of plumbing. For instance, kitchen sewer blockage is often the result of greasy clogs, debris, food particles, etc. O the other hand bathroom drain clogs are due to hair, soil, debris, etc. Now, plumbing in each of these systems are uniquely different to suit the particular system.
Similarly, the type of drain cleaner will depend on the type of plumbing. In case you aren't very sure of what's best for you, I suggest that you consult an expert plumber. Alternatively, you can go ahead and check your home drainage system in order to have an idea of what's ideal.
Some drain cleaners may have a warranty coverage. That only applies to plungers and may be Hand Augers & Sewer rods. The good thing with such products is that you can get free replacements in case of damages and malfunctions. You don't find that with the chemical cleaners however. So, depending on your specific drain cleaner needs, you'll go with what suits you best.
Some drain cleaners are best used by experts. Acidic powders, gels and liquids for instance, are not safe for the inexperienced used. They are often the preserve of plumbers. An experienced user may also use them comfortably.
Top 10 Best Drain Cleaners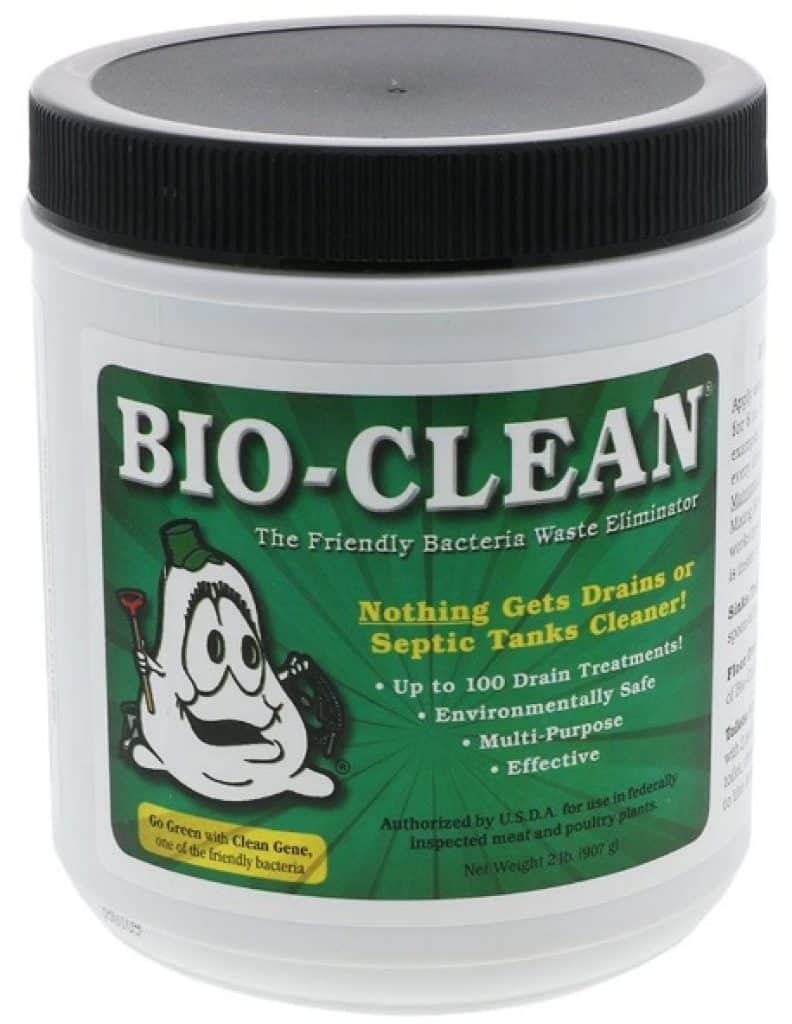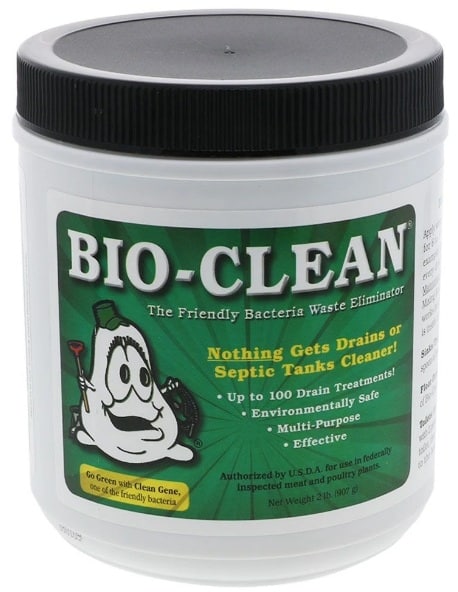 Check Pricing and Availability
With time, the waste tends to build up against the walls of your drainage. If you leave them unchecked, they will cause complete blockage, something you should avoid at all costs.  Fortunately, you now have Bio-Clean, one of the leading drain cleaners on the market.
Bio-clean is a combination of special enzymes and natural bacteria. The amazing formula targets only the dead organic waste in your plumbing system. It will remove paper, cotton, food particles, soap scum, hair, and grease to restore the full functionality of the drainage system.
The great thing about Bio-clean is that it does not have any sort of adverse impact on inorganic materials including the plastic pipes of the plumbing system.
Unlike other strong cleaner using dangerous chemicals that would harm the piping system, Bio-Clean offers complete restoring of your system without 0% harm to the pipes.
Regardless, how clogged the drainage system is, using Bio-Clean once can do wonders. It will completely clean the drainage system. Once cleaned, you really do not have to use Bio-Clean every other day. On the contrary, once a month would do the trick.
Using Bio-clean once every month would will not only keep the drainage clean but also it will help you Go Green. After all, you would not like your house at the expense of the environment.
PROS:
Environmental Friendly
Has no adverse effect on the inorganic material
Economical, 100 drain treatments
Produces no heat or boiling chemicals
CONS:
Expensive
Requires more time for larger  clogs
Ineffective at removing non-organic waste
---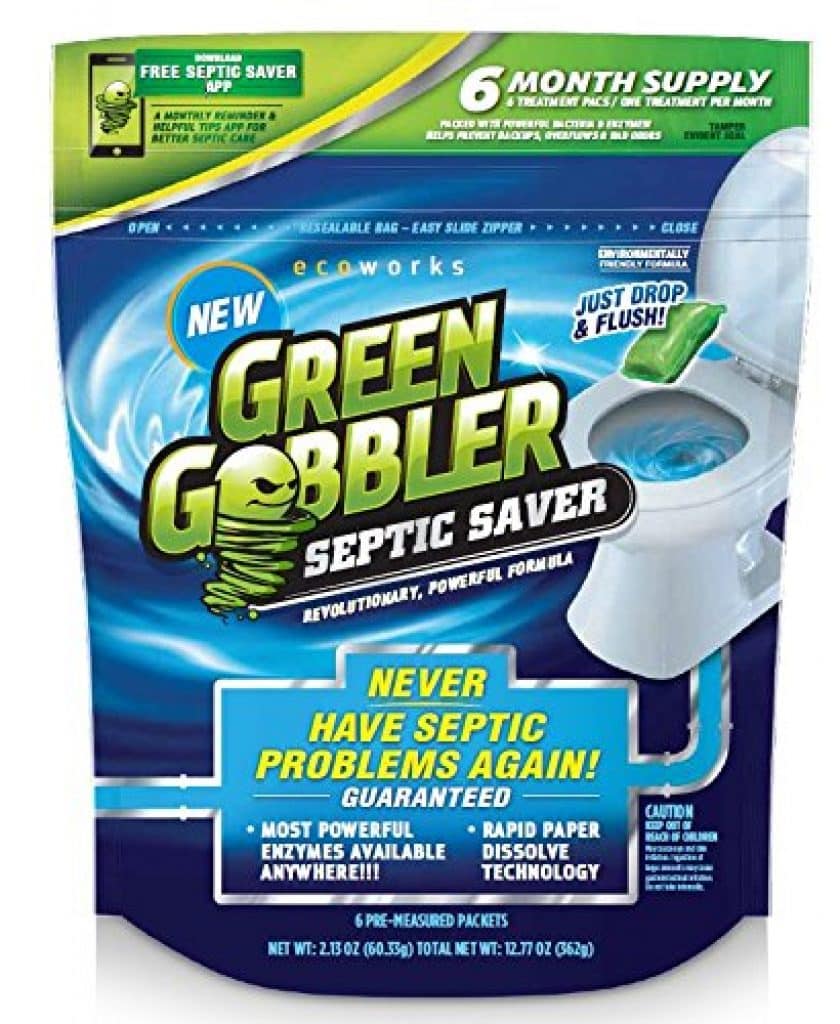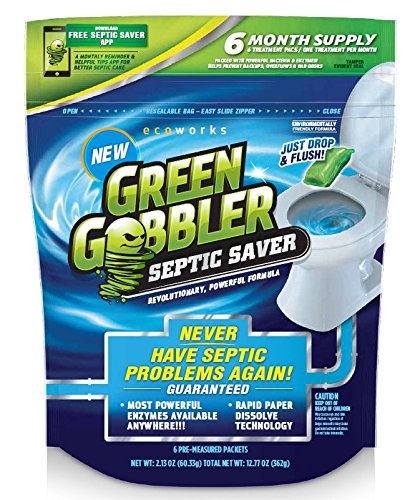 Check Pricing and Availability
The septic tank acts as the central receptacle for all the wastewater and waste of a household. The tank is responsible for holding organic matter such as paper and sludge from all household drains such as the showers, laundries, sinks, and drains.
Once the waste reaches the septic tank, it then separates the solid waste from liquid matter. Since it is an imperative part of your drainage system, therefore, it requires regular cleaning.  If left untreated, it can slow down the water flow.
Green Gobbler Septic saver is an eco-friendly, user-friendly, safe and fast-acting septic saver that you will find on the market. The formula contains water-soluble pods, and these pods use bacteria enzyme technology to generate outstanding results.
These strong enzymes have the ability to dissolve oil, grease, fats, matter, and paper quickly. In addition, they are extremely effective when it comes to controlling the drain odors. One-flush of the cleaner will generate amazing results.
In addition, you can download its iPhone application to know when to use the product.
PROS:
Delivers outstanding results
Environment-Friendly
Affordable
Eliminate Odor
Safe to use
CONS:
Can have an adverse effect on septic tanks leach lines
May leave a green residue
---


Check Pricing and Availability
Rockwell Labs has made in our top ten best drain cleaners list because it is all natural. The ultimate green cleaner is more effective in comparison to some strong chemical cleaners. It generates outstanding results especially when it comes to cleaning areas with organic matter and chronic moisture.
The formulate uses Citrus oil and natural microbes for efficient and effective cleaning. Once the microbe spores meet organic debris, they activate and start the cleaning process. To get great results, the specialized thickened formula sticks to the sides of the drains ensuring maximum contact.
This maximum contact enhances the scum digestion process and it acts as an excellent odor eliminator. Once cleaned, your pipes would smell nice. Since the formula does not contain any harsh fumes or chemicals, thus it has no adverse effect on the municipal water treatment operations or the septic systems.
The green product promises to deliver outstanding results while ensuring no negative effects.  You just need water to use the formula, and only 4 ounce is enough for a single application of this amazing product.
PROS:
Natural and Biodegradable
Removes Drain Flies
Last for a long time
Creates Strong adhesion
CONS:
Sometimes the gel gets stuck in pipes
May damage metal or porcelain
---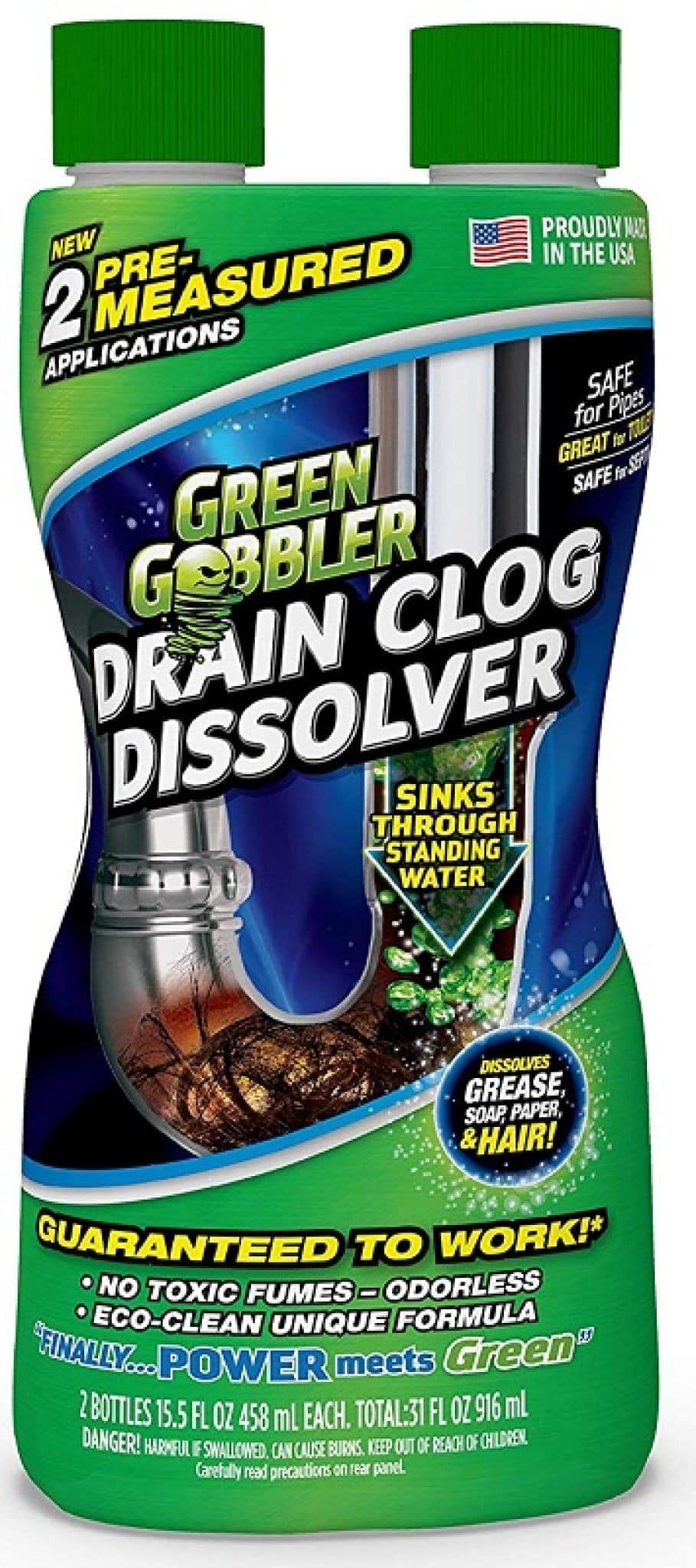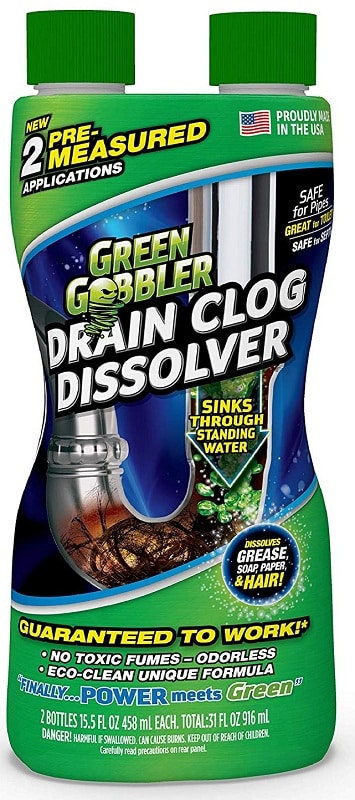 Check Pricing and Availability
Dissolve liquid hair and grease clog remover is among the best products on our list of top ten best drain cleaners. It makes safety paramount. You will never regret using this amazing cleaner. In addition to generating outstanding results, the cleaner is 100% natural and safe to use.
The drain cleaner does not harm the material of your pipes. Likewise, it does not cause any damage to your skin as well. You can effortlessly use this powerful cleaner in your showers and toilets. It is the perfect way to get rid of all the unwanted grease, paper and hair stuck in your bathroom drainage.
Its ultra-thick formula clings to the sides of the pipes to ensure both short as well as the long-term results. The formula works by lowering the pH level of the pipes. The odorless formula is the perfect solution for all your drain-clogged problems.
We highly doubt that you will find better drain cleaner than this one. However, if you are looking for instant results, we do believe this drain cleaner is not for you.  As the cleaner takes some time to show results.
PROS:
Odorless
Biodegradable
Lowers pH levels
Can be applied to all surfaces
CONS:
Does not generate instant results
---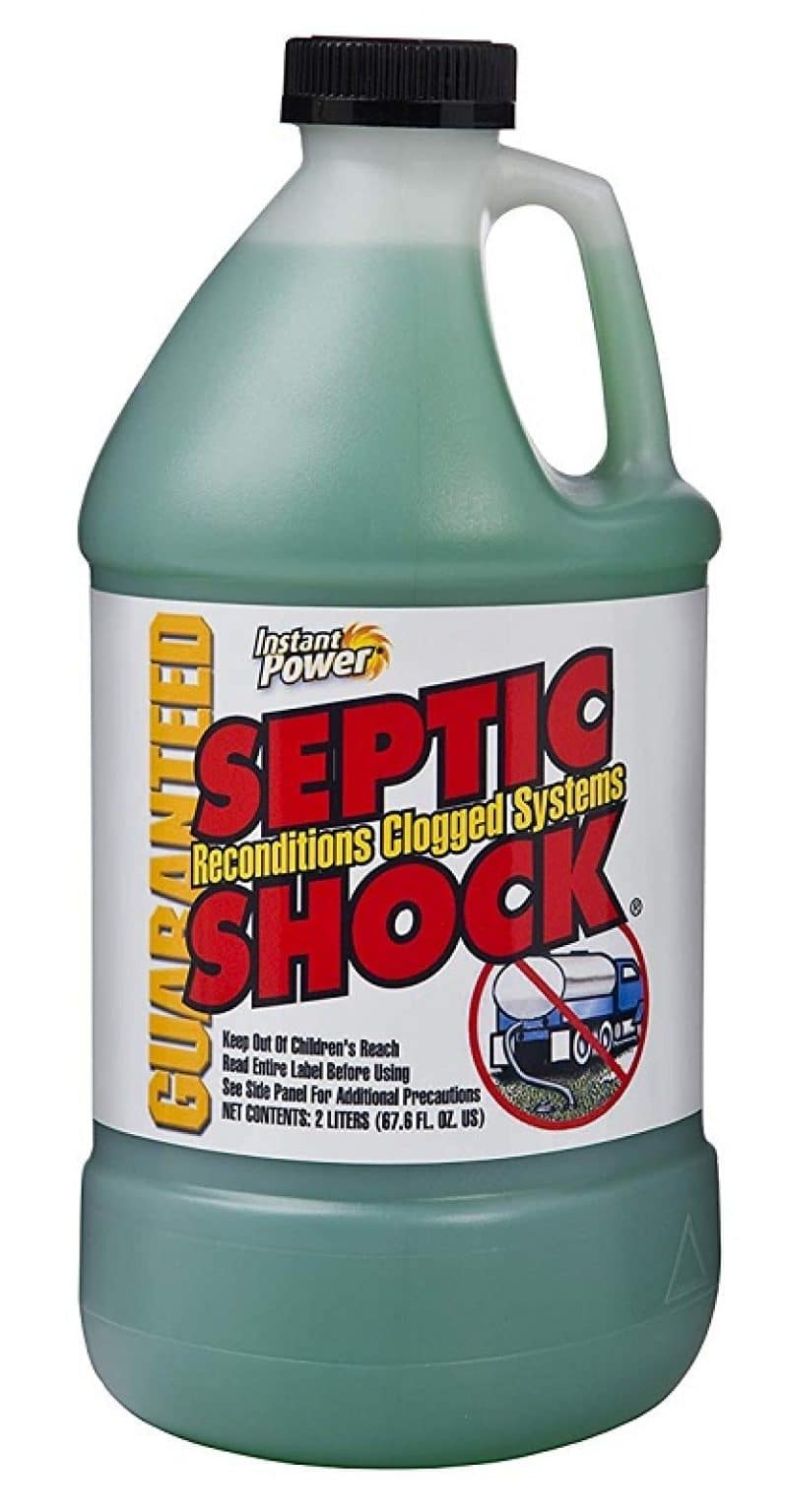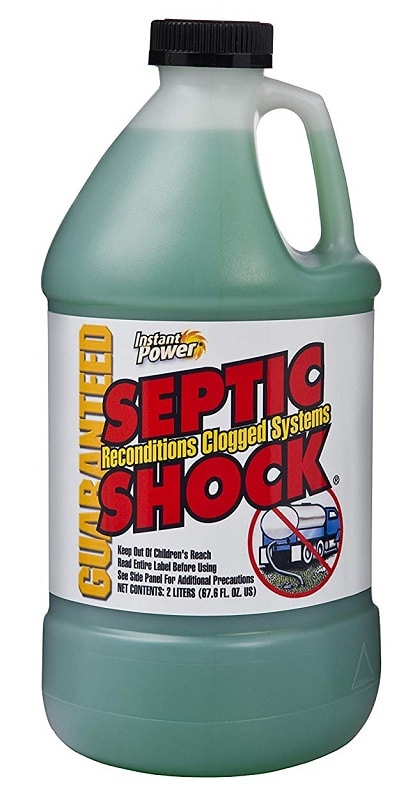 Check Pricing and Availability
Instant Power 1868 is a leading eco-friendly septic tank cleaner. It generates outstanding results without causing any harm to the material of the septic tank. Due to its strong formula, Instant Power 1868 is the perfect solution for your under-performing cesspool or septic tank.
To allow complete porosity, the formula uses live bacteria and enzymes. It works by clearing the crystallized soil accumulated around the drain field. In addition to cleaning the crystallized soil, the enzymes are also excellent for digesting organic materials that are leading to clogging of the system.
Not only does the power remove waste and open up clogged septic tanks, but it also eliminates the odor. Something we would love to have. After all, you would not want your house smelling of repulsive odors.
PROS:
Biodegradable
Excellent for septic cleaning
Safe to use and Ecofriendly
Eliminates odor
CONS:
Takes time to show the result
---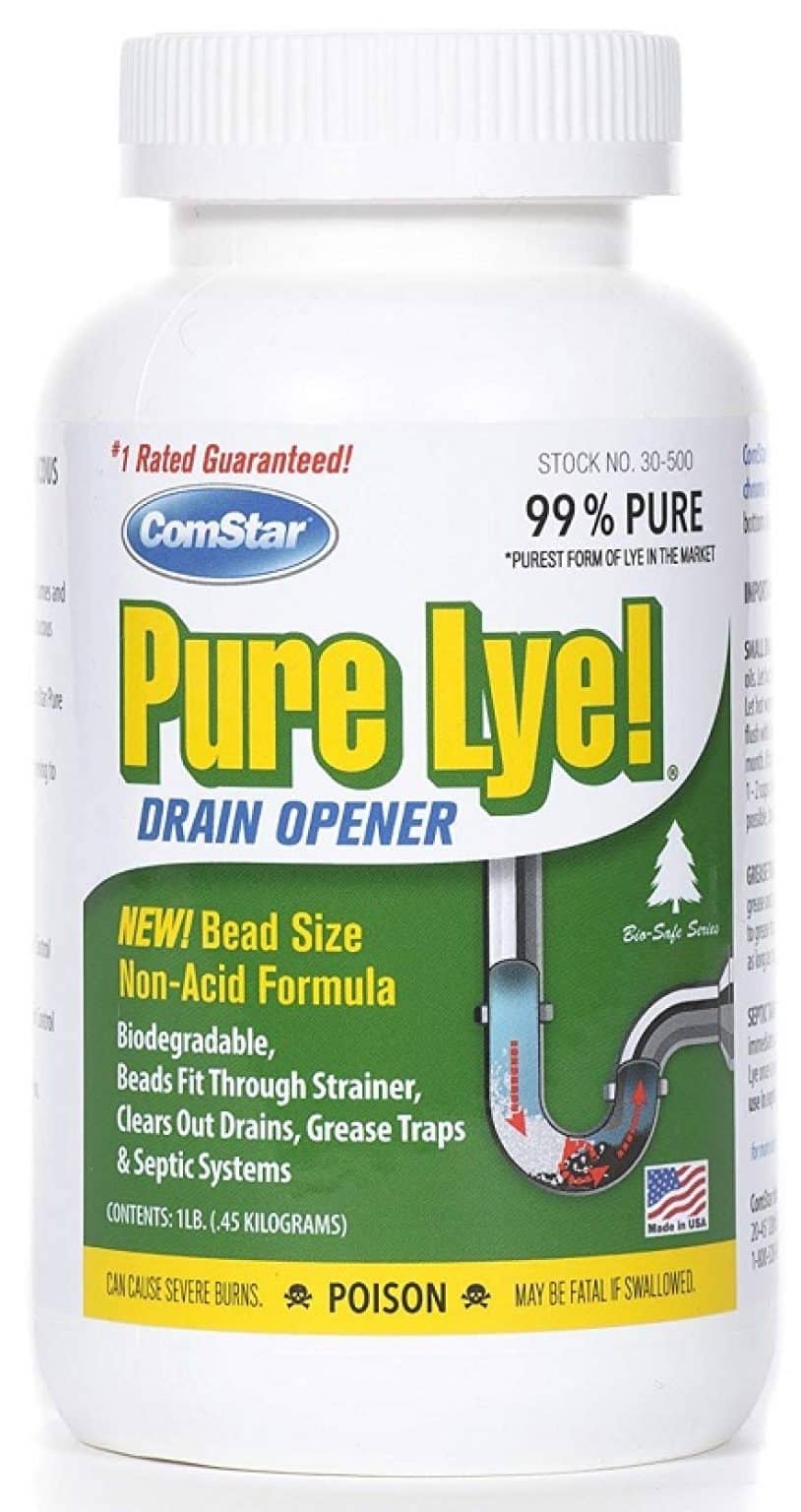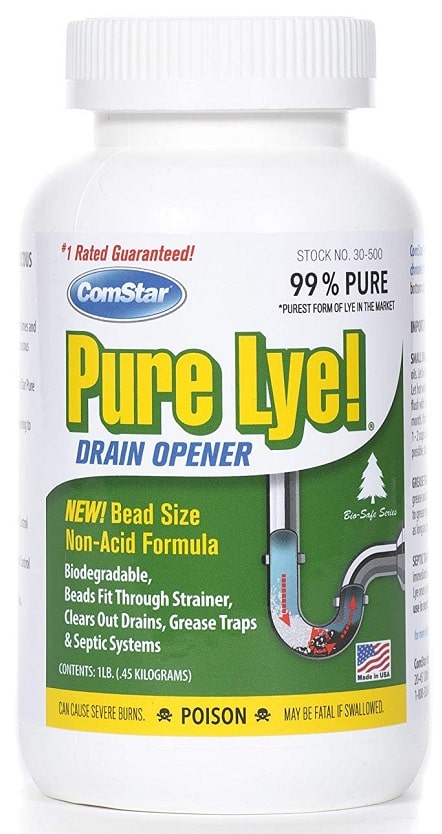 Check Pricing and Availability
Comstar is among the best drain cleaners. You will be able to enjoy unclogged and clean drains within 5 minutes. Despite showing instant results, the cleaner does not use any harmful ingredients. So, no matter how stubborn the clogged drains our, the cleaner will ensure outstanding results in no time.
The powerful organic cleaner works well with all types of drains including septic systems, bathtubs, toilets, kitchen drains, or grease traps. Its industrial-strength ensure that nothing stands in its way.
Since the cleaner works wonders on the toughest clogs, thus it is the first choice for both residential as well as commercial purposes.
You can effortlessly use the cleaner on plastic pipers, chrome trims and fine fixtures. It will clean all the clogged things, without causing any harm to the subject. An important thing to remember here is that pure lye can cause a severe burn to human skin. Thus, ensure that you wear gloves while using it.
To use the Pure Lye cleaner, you will have to place the beads around the drain according to the instruction. Now simply start pouring in lukewarm water. It will take only a couple minutes, and your clogged drains will start to open.
PROS:
Affordable Price
Results within 5 minutes
Clear out all types of septic systems, grease traps, and drains
100% sodium hydroxide
Biodegradable and Odorless
CONS:
Avoid using it on aluminum
Direct skin contact can cause burns
---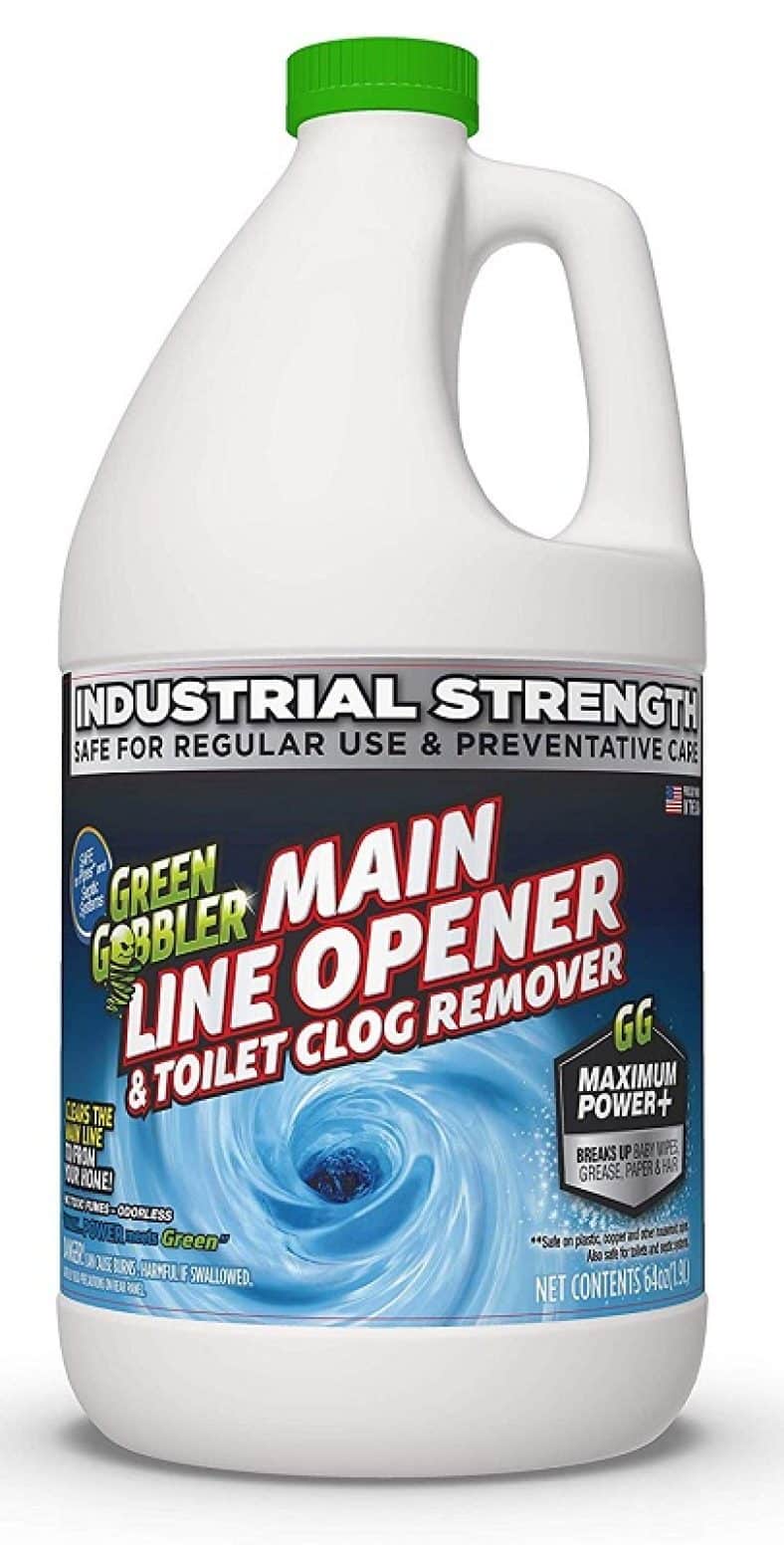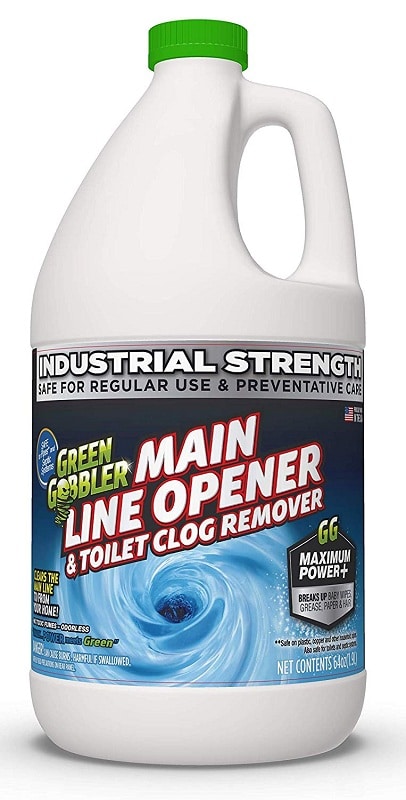 Check Pricing and Availability
Another excellent main drain opener is Green Gobbler Ultimate Drain cleaner. The drain opener promises to deliver outstanding results. It works where professionals have failed. The cleaner can remove all kinds of blockage including grease, paper, hair or even baby wipes.
In addition to removing the unpleasant obstruction, Green Gobbler also prevents their accumulation by altering the pH of the water in your pipes. This unique formula ensures the doom of any unwelcome blockage. At the same time, it makes sure that the water runs smoothly through the drains.
The special formula also ensures the safety of your pipes. Even when cleaning the toughest obstruction, it will not damage the drains or the pipes. Its non-caustic and non-corrosive ingredients guarantee a long life of the pipes
The manufacturer has a strong faith in the product, thus they offer a 30-day money-back guarantee. So, if you are not satisfied with the product, you can always get a 100% refund. However, we do believe that it will not come to that. After all, it is on our best drain cleaners list.
PROS:
Can remove toughest Blockages
Removes unpleasant lingering odors
Extremely gentle on pipes of all kinds
30-day money-back guarantee
CONS:
May not show effective results for extremely stubborn clogs
---


Check Pricing and Availability
XIONLAB safer drain clog remover is among the most durable and consistent working product. The manufacturer is extremely confident about the results, thus they have a 100% money return policy intact.
In case you are not satisfied with the product, simply reach out to the manufacturer and get your money back. Of course, once you use the amazing cleaner, you will never think of using another one.
Its thick and consistent formula can remove even the toughest obstructions. It will open up your drains in literally no time. It is among the fastest drain cleaners available out there.
In addition to being completely biodegradable, the formula does not have any smell. Its non-corrosive properties allow you to use it on any pipe that you want. It will never cause damage to the material of the pipe.
The strong and steady product is a good choice, however, the poor packaging does leave a bad after taste. The product does not come with a cap. This is a serious mishap on the company's part.
Something this strong needs to be fully sealed after the usage. Nonetheless, XIONLAB Safer Drain Clog Remover is among the leading drain cleaners that you will come across.
PROS:
Biodegradable
Instant results
Non-flammable, non-toxic and non-corrosive
Gentle on the pipes
---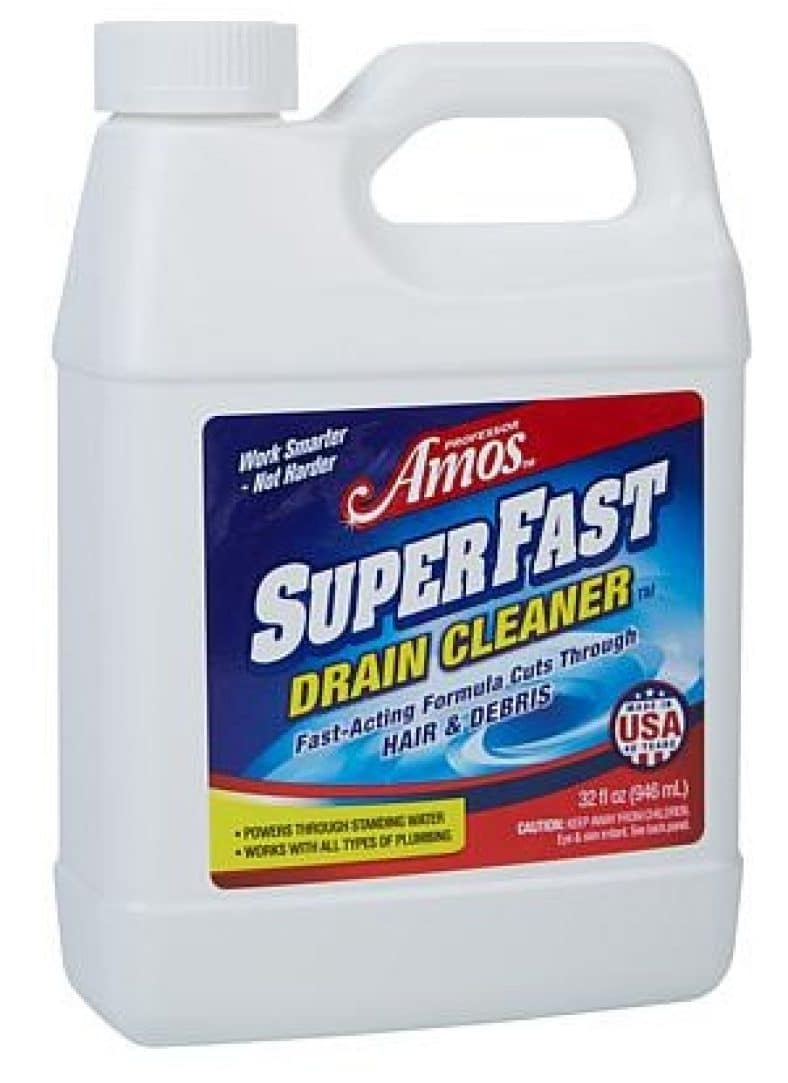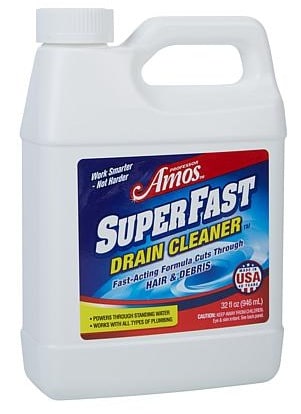 Check Pricing and Availability
Professor Amos' SuperFast drain cleaner is famous for delivering superior cleaning performance. So, regardless of the blocked locations, the amazing drain cleaner would open it up. Its special accelerated formula makes it safe cleaners for laundry tubs, kitchen sinks, bathroom drainage, septic tanks, and cesspools.
Despite being safe, the cleaner is extremely powerful. Thus, you can effortlessly it for public sewage.   The accelerated formulate is good for about 6 applications and it is very cost effective.  The powerful formula effortlessly dissolves grease, fat, food, soap sum, pet, and human hair.
It does have the ability to liquefy even the toughest obstructions. To use the cleaner, you first need to apply it and then simply flush it using hot water. The cleaner is safe, it does not end up causing noxious fumes or bad smell.
Even if you accidentally spill the cleaner, it will not cause any sort of irritation to your eyes or skin. It is suitable for all types of plumbing including copper and PVC. The cleaner is the perfect choice for old apartments and homes as it is extremely gentle on the pipes.
PROS:
Superior Cleaning Performance
Cost-effective
Used for all types of drains
Powerful formula
Safe and easy to use
Does not cause irritation to the skin
CONS:
Does not work well on the garbage disposal
---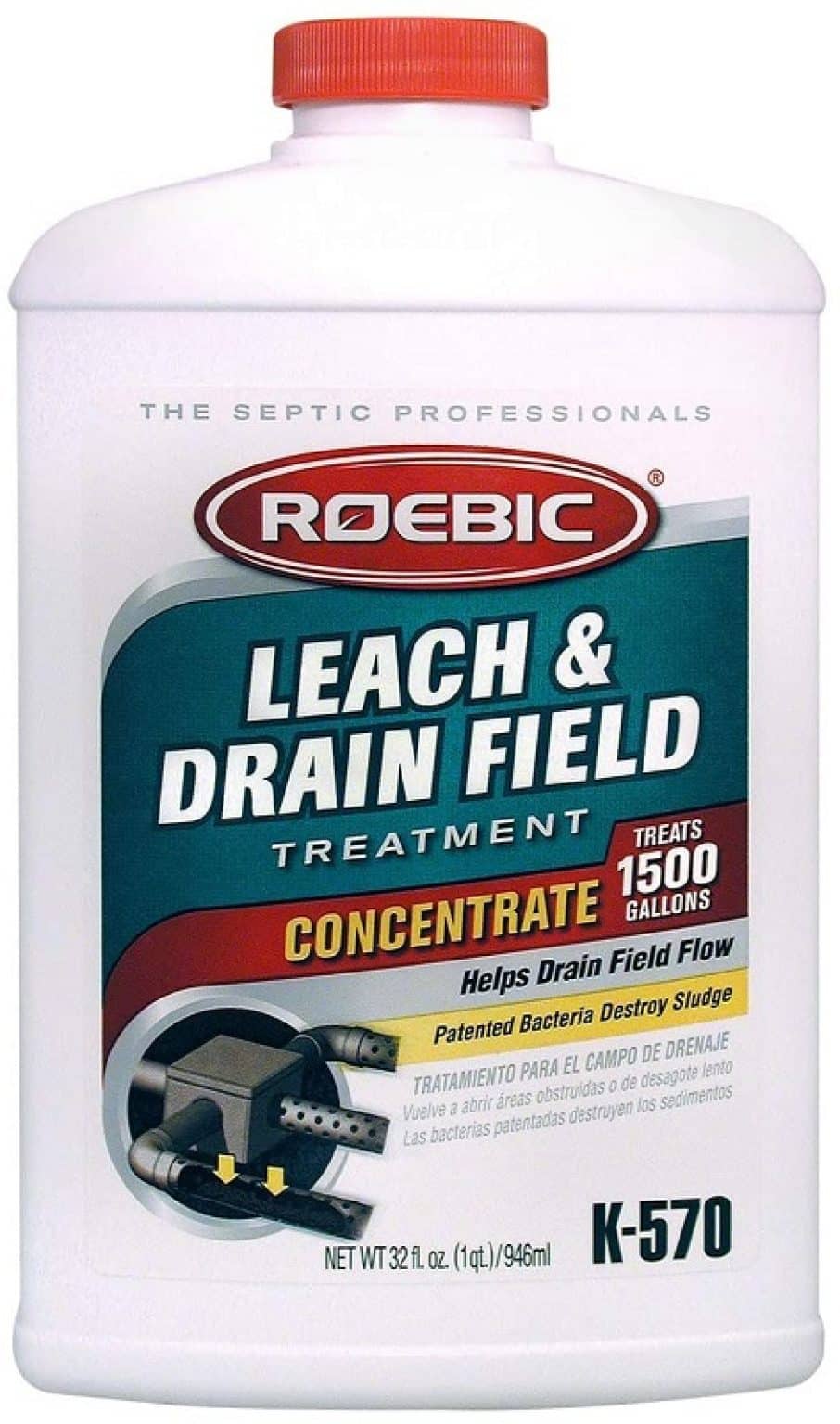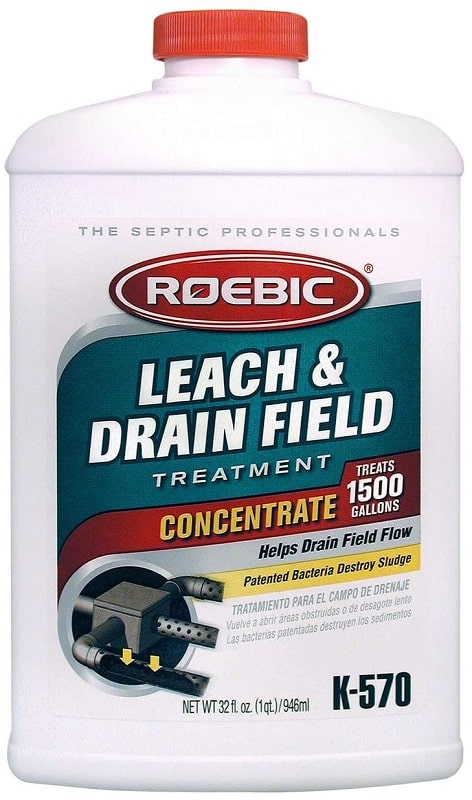 Check Pricing and Availability
Roebic drain cleaner is a biodegradable formulation that is expertly prepared to get the job done naturally. Unlike most ordinary brands of drain openers that only add to your drainage clog, this one actually works magic on your kitchen drains. According to the manufacturer, the formula can also be used to unblock larger septic systems. It is an upgraded version of the original drain cleaner by the same Roebic group. The main improvement being the patented Roetech bacterial infusion. If you want to get a permanent solution to the perpetual drain blockage, I recommend Roebic K-570 drain opener. It is affordable, biodegradable, and delivers superior results always.
PROS:
Ecofriendly formulation
Uses patented Roetech bacterial infusion
Works for kitchen and bathroom drains
It is safe and easy to use.
---