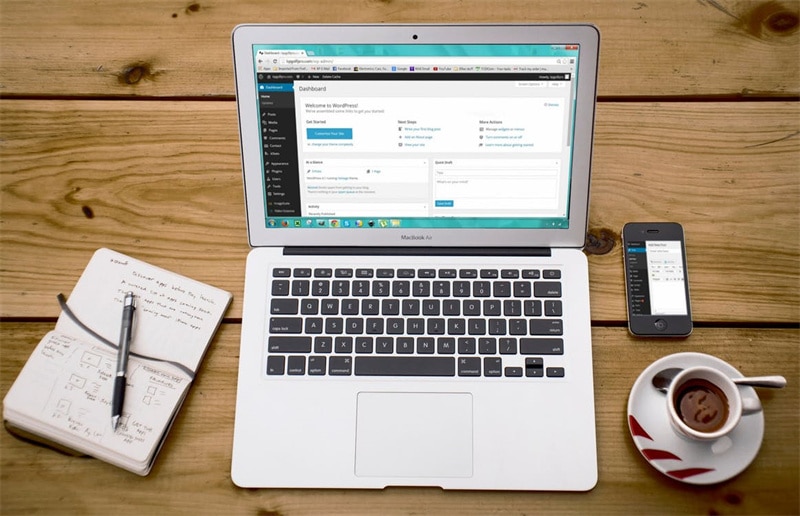 Web site designs are often referred to as themes. In the search for the most popular content management system, there are many free themes available that will be ideal for small businesses.
It's also worth pointing out that a theme is not always the best way to go. When a small business wants a unique website that doesn't look like another site, using a WordPress page builder and other add-ons might be enough.
Being limited on a budget though, if they don't wish to go the route of hiring a web design studio to create an expensive custom theme, what other choices are there? We'd suggest that a standalone website builder is an interesting, alternative option to explore.
A website builder would allow someone within the business to tailor a site to their exact specification. It skips most of the expense while adding extra time to the development. But most of all, it'll be unique to that business, so it's another worthwhile option.
---
Templated Site Builder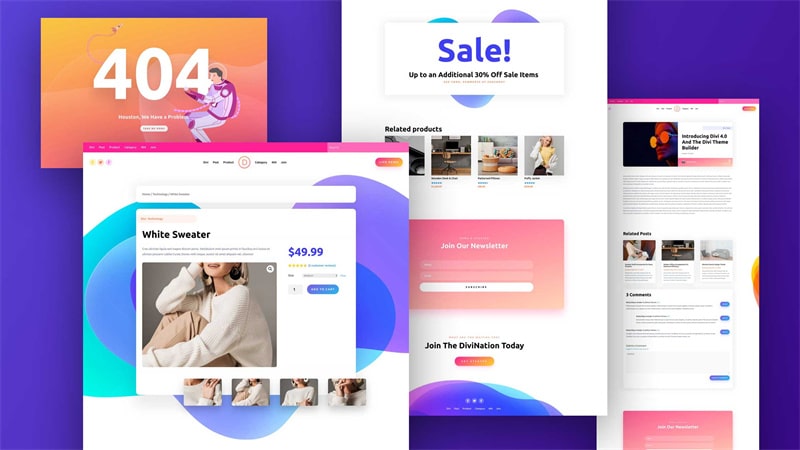 As mentioned in the introduction, a site builder is an option separate from a free WordPress theme. When starting with a site builder that includes plenty of templated designs, it can avoid needing to begin from a blank slate, which can be daunting. Instead, a site builder like Sitepro is a platform which offers more than 200 templates and the drag-and-drop site editor that gives you a lot of control over customizing your site.
Customizing a website theme is not a simple matter. Even advanced users may struggle to do so effectively. When you want a unique website builder that's designed for building modern websites and online stores, Site.pro is a viable alternative. To learn about this website creation tool, read the Sitepro reviews here.
Let's now look at the nine best free WordPress themes for small businesses.
---
1. GeneratePress
GeneratePress has both a free and premium version. It is designed to be a basic WordPress theme that delivers an instant website out of the box. When looking for a business appearance, it can do just that. Not only can sites be created using only pages, but it also has the option to add a blog or to make the site present as a blog from the outset.
Over 80,000 businesses and individuals use this theme. There are the optional starter sites designed – effectively templates within the theme – that come with the premium theme option. However, there are still ways to make some modifications through the free version and by adding some CSS code within WordPress itself to customize the presentation.
E-commerce options can be added to the theme by installing the WooCommerce plugin. There are also enhanced features including presentational modules and speed enhancements with the premium version to consider for the future.
---
2. Astra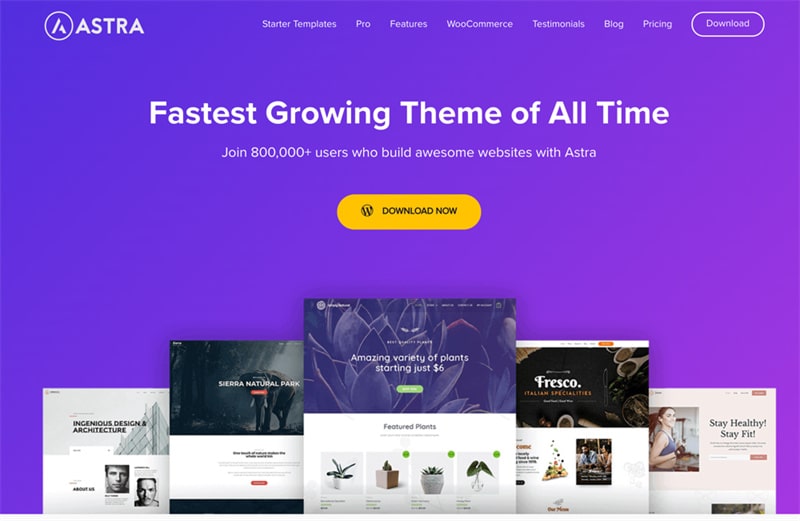 Astra is a widely used WordPress theme that's completely free. It also has both a free and premium option, which is quite common. It's worth pointing out that this is possibly something to look for even with free themes. Why is that? Because a developer is unlikely to maintain a theme if they're not benefiting from doing so.
When there is a premium option in addition to a free theme version, it allows them to build a recurring revenue stream that significantly increases the likelihood of further updates, including patching security holes. This is best for small businesses concerned about security and who want to keep 'everything WordPress' as updated as possible.
Coming back to Astra, it loads extremely quickly too. While there are fewer customization options including colors and sizing in the free version compared to its premium theme, it's good enough for most businesses that don't require too many changes.
---
3. Hestia
Hestia from Theme Isle is an excellent free theme that uses the Material design that became common on Android smartphones a few years ago. It, too, is available in both a free and premium version.
There are multiple starter sites included within the free package. This provides the ability to swap these in and out to see which ones might be best for your small business. Also, the Hestia theme is compatible with premium page builders to make more serious design choices.
Page builders within WordPress do come with a steep learning curve and they slow down the site loading time due to their design complexity. Therefore, a templated page builder is often a better option for small businesses wanting a custom site appearance for minimal cost and not requiring WordPress.
The Hestia theme is compatible with and tested on over 100 WordPress plugins too. This includes WooCommerce, so e-commerce transaction-capable sites can be created. Furthermore, the theme is updated usually a couple of times each month, which takes care of security update concerns.
---
4. Sydney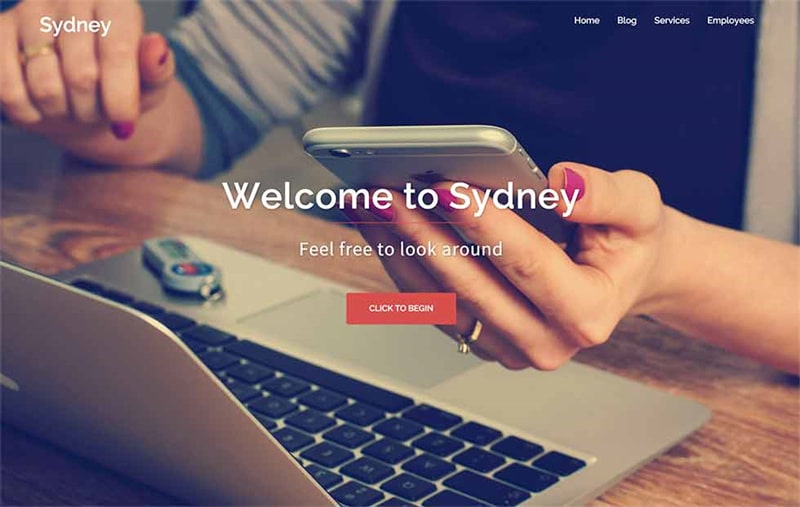 Sydney is a free theme available directly from the WordPress theme repository. It has a clean front-page appearance that's ideal to showcase a product or service. A slider can be included that changes the image to showcase several product releases if desired. There are no restrictions on color choices, so the hues can be selected to match the corporate colors or the logo coloring.
Changing the fonts and switching to Google fonts for more variety and selection is possible. It will cause the site to load a little slower because the fonts aren't always loaded in the visitor's web browser and so need to be downloaded (a system font is shown initially before being replaced with the Google Web font).
The theme also includes parallax scrolling for some nifty visuals, sticky menus at the top, and a mobile-compatible menu option too.
---
5. Neve
Neve is a WordPress theme from Theme Isle. It is available as a free and premium version too. The theme is more visual with the ability to add large images for different sections of the site.
As such, for companies that wish to show off impressive-looking products or services where powerful imagery will sell it, this theme is worth strong consideration. Customizing the header and the footer too, along with layout adjustments is built in to save time.
Speed tests have been performed and it passed with flying colors. Some versions of the theme install are tiny compared to heavier theme designs. However, that will also depend on what size images are added and how well optimized they are for file size.
To get the best out of this theme, using VPS hosting and a content delivery network (CDN) is recommended, so static files will load faster anywhere in the world.
---
6. Foodica
Foodica is a food-oriented theme that will be perfect for food delivery businesses, catering companies, and blogs about delicious recipes. There is a slider to graphically show different impressive dishes that can be clicked on to learn more.
Also, WooCommerce is possible to sell items online and dispatch them directly to consumers. There is a demo to see what the site can do. Also, a Pro version adds to the features when they're just not enough in the free version.
---
7. Customizr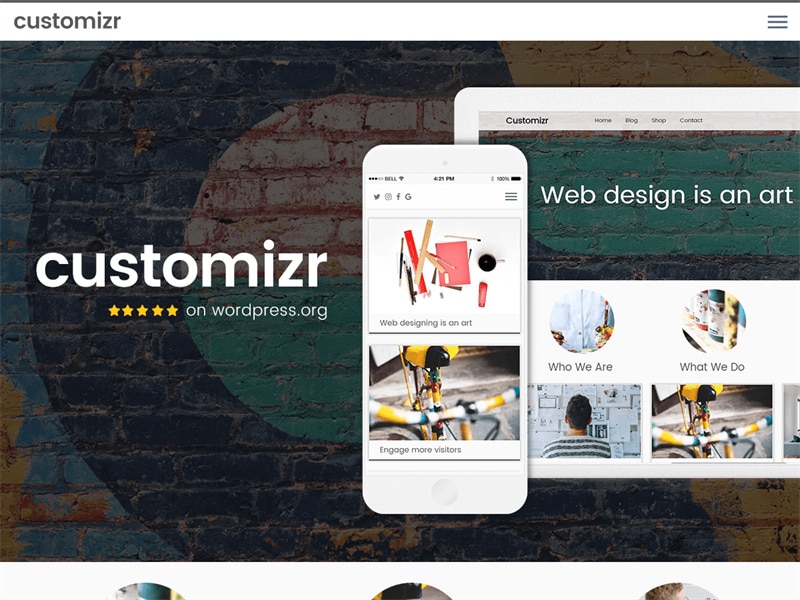 Customizr is a well-regarded theme that's maintained regularly. It has over 60,000 current installations too. The site design is fairly minimalistic with space for a header image, a neat menu at the top (or a mobile version for smartphone and tablet users) and is mobile-ready.
This free theme is clean, and one of the most used for small business and online sales. The support forum is well maintained to answer questions that users have as well.
---
8. Minamaze
Minamaze is a free theme that aims to be minimal and no fuss. There are up to two menu systems supported at the top of the desktop layout.
It also has a customizable home page that allows for changing featured sections, adding new images, retitling them, and so forth. Companies can retool this theme to support their various endeavors and won't need much time or special skills to do so.
For company owners who don't like overly complicated websites and like to keep things clean, the Minamaze theme might be a solid choice for desktop and smartphone users.
---
9. Avant
The Avant theme has a strong fashion industry vibe going on, though it could lend itself to support other industries too. Colors are quite muted on this site, preferring to let the images stand out from the dim background and overall design aesthetic.
WooCommerce is fully supported here. The design of the home page and elsewhere definitely will look excellent with products loaded into the WooCommerce database.
The other possible customizations include changing the header and footer, modifying the colors, and more.
---
In Conclusion
Deciding whether to opt for a standalone templated page builder or a WordPress theme is a decision best made at the start. Once committed to one or another platform, it's difficult to switch later.
For custom designs and those wishing to keep costs to a minimum, customizable templates from standalone page builders have much to recommend them.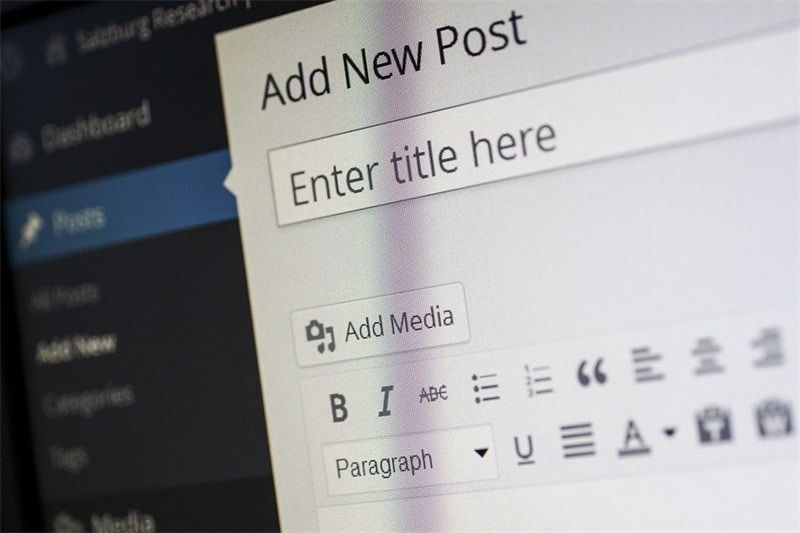 However, if you wish to go with the WordPress CMS for its wide adoption and use a free WP theme, then it'll be necessary to learn and use a premium WP-based page builder.
These have the disadvantage of producing slower sites due to some code bloat, but when you insist on WordPress and a custom appearance, it's difficult to do so without using one.